This article was produced in partnership with Live Bearded
For the past decade, the beard has come back in a big way. It's no longer a sign of lackluster grooming. Quite the opposite: When a beard is well-cared for, it's acceptable in the office and a terrific confidence booster. The key though, is in its care. While growing a beard is no novel idea, proper beard care separates superior scruff from itchy, unruly attempts.
In addition to giving you the softest, most cooperative beard, the best products also nourish and fortify the skin underneath. This prevents further itching and the dreaded beard dandruff.
Both of these tenets (beard care and skincare) are wrapped up in Live Bearded—a brand that wears its ethos quite literally on its face. With a straightforward assortment of natural beard-care products, Live Bearded makes it easy to grow your beard to its full potential, even if you're navigating some patchiness.
Common Beard Problems (and How Live Bearded Solves Them)
Live Bearded built its assortment by first addressing common beard problems. The following list should look familiar to anyone who's grown or attempted to grow a beard. Read on to learn how they can all be avoided with the right regimen.
Itchiness: When a beard isn't nourished, it becomes brittle, and its ends become itchy as they curl back over onto the skin. Secondly, the dry skin underneath becomes irritated too, whether it's dry from malnourishment, or having been improperly or insufficiently cleansed.
Dryness and flakiness: Without hydration and nutrients, dry skin begins to flake—exactly like dandruff on the scalp—and some of that dead skin can even get trapped in the beard itself.
Unruly hairs: Beards don't grow straight and orderly. They're curly and wiry. However, they're much easier to tame and style with proper conditioning and softening products.
Tangling: A common concern for longer beards is knotting, especially when facial hair isn't combed and conditioned regularly.
Splitting: Dry hairs of any length will start to split at the ends, requiring trimming and conditioning efforts to be multiplied. (It's easy to prevent, though, with the right nourishing regimen.)
Smell: Beards shouldn't smell like a bird's nest, and yet, it's alarmingly common that they do, especially without a proper cleansing regimen.
Live Bearded's product lineup addresses each of these concerns, and allows men to enjoy growing out their facial hair as much as the final product itself. Best of all, it's a straightforward, simple regimen to add into your daily routine.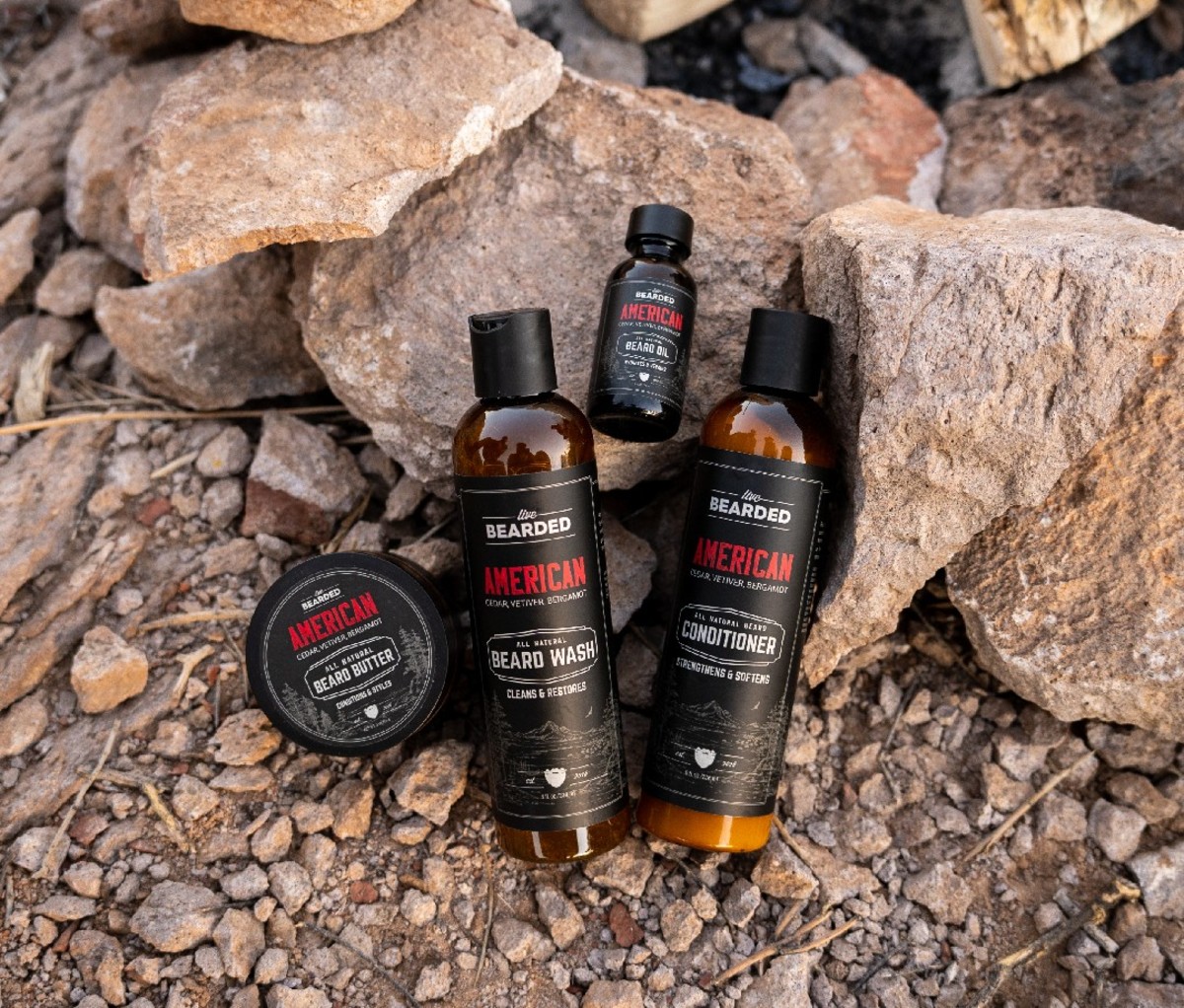 Beard Oil: Oils of argan, jojoba, and grape seed combine to soften whiskers, add healthy shine, and nourish the skin underneath the whiskers (without clogging pores). This prevents itching, flaking, and splitting, while also making the whiskers much easier to style into place.
Beard Wash: Its cleanser rinses away excess oil and buildup from the day, dissolving dead skin cells with gentle citric acid, which in turn prevents clogged pores and dandruff. Aloe vera soothes hair and skin.
Beard Conditioner: This daily conditioner is rich in oils of coconut, argan, jojoba, avocado, and hemp seed, as well as biotin, keratin, caffeine, and aloe vera. All in, that means this product pumps excess nourishment into each hair and follicle, as well as the skin. It promotes stronger growth, softer strands, calm skin, plus improved circulation and nutrient delivery to all parties. This is especially important after a wash, when the skin and hair are most in need of a boost.
Beard Butter: A shea butter base helps condition, soften, and tame hairs, while a roster of oils—jojoba, coconut, avocado, almond, and grape seed—add nourishment, shine, and softness throughout.
All four products are in the brand's Complete Beard Kit (which is $13 less than if you bought all the products on their own). If you want to test them out (as well as the six different, naturally derived fragrance options), then go for the Sampler Pack to pick and choose the scents from each core product. You can then go back and buy the preferred products or the Complete Kit in the scent(s) you most prefer—with a $10 credit applied from your original Sampler Pack purchase.
The 3 Most Essential Beard Care Steps
Don't let all this information distract from the fact beard care is simple—and Live Bearded's assortment makes sure of it. Here are the three essential steps to incorporate into your daily regimen. These steps utilize the four core products in the brand's Complete Kit.
1. Wash & Condition
Leather the shampoo and rinse, followed by a minute-long application of conditioner. Do this during your shower or sink-ledge cleanse. Remember, cleansing is always the first step in any regimen, for skin, hair, and beards alike. The conditioner should be used separately and after the wash, or else its nourishing powers will be rendered ineffective. Make sure both products are massaged through the beard and onto the skin underneath, and they're fully rinsed away after.
2. Apply Beard Oil
Next, towel dry your beard and apply beard oil to the skin underneath your beard. A few drops go a long way. Warm them into your fingertips, then massage onto the skin and base of the facial hair. Run a comb through the beard to distribute oil evenly. For longer beards, you may want to use a couple extra drops, and target the ends of the beard with those, to prevent splitting. This will prevent dandruff and itching, while softening the scruff and boosting healthy shine.
3. Apply Beard Butter
The last step is to shape and style with beard butter. Live Bearded's butter has a light to medium hold and is an amazing conditioner that softens your beard with every use. Scoop out a dime- to quarter-size amount, based on the size of your beard, then warm it up between your palms. The butter will melt so you can easily apply it into your beard. Once applied, comb your beard into the desired style and conquer the day.
For access to exclusive gear videos, celebrity interviews, and more, subscribe on YouTube!