If you took a scroll through your Instagram feed Tuesday morning and noticed some of your friends were fawning over a lot of over-the-top getups, or behind-the-scenes video of Madonna performing "Like a Prayer," that's thanks to Monday night's Met Gala. The annual event is arguably the most spectacular party of the year, but it's also the kind of thing that can easily pass you by if you're not interested in the worlds of fashion, philanthropy, or celebrity culture. Still, some of your more engaged friends will want to talk about it at drinks this week, or at the barbecue you're headed to this weekend. And to prepare you for that eventuality, we've compiled pretty much everything you need to know about the event in the handy guide below.
So … what's the Met Gala?
Let's start here: The Metropolitan Museum of Art's annual Costume Institute Gala (also known as the Met Gala or #MetBall) is, at its core, the world's fanciest fundraiser. The event has for decades raised money to fund the activities of the museum's Costume Institute, a department whose curators treat clothes the same way other areas of the museum treat other art and antiquities. So while the rest of the museum is working on exhibits of ancient sculpture or crafts from half a world away, the Institute plans an annual exhibit around a specific theme or designer. This year the show is called "Heavenly Bodies: Fashion and the Catholic Imagination," on display from May 10 to October 8. (The curators were going to do something a little more pan-religious, but once they delved into all the pomp and circumstance and embroidery of Catholicism, they decided it was, uh, detailed enough to merit its own exhibit.)
When is it?
It's always the first Monday in May. (There's a documentary about it literally entitled The First Monday in May. It is on Netflix.)
Who gets to go?
You have to be famous, influential, super rich, hyper-talented, or all four to get an invite to the event, a standard which can often turn it into this uncommon nexus of lots of different cultural worlds. It's not weird to look at photos of the party and see rappers dancing with Academy Award winners and politicians schmoozing with the Jenner-Hadid-Kardashian family. That's all thanks to the woman behind the event: Vogue editor-in-chief Anna Wintour, who uses her own considerable influence to plan it. (Fun fact, Wintour has raised so much money for the Met over the years that in 2014 the physical space that houses the Institute was re-named The Anna Wintour Costume Center.)
For the 2018 edition, she invited everyone from athletes Tom Brady to actors Justin Theroux to musicians like Migos and polymaths like Donald Glover. She also suggests what they should wear, and which designer should make it. (The invited designers have famous "dates" at this event who often sit at their tables, which is why Cardi B walked in with Moschino creative director Jeremy Scott.)
This sounds insane and also very expensive.
It is! Leaving aside the cost of commissioning or purchasing over-the-top threads to wear to the event, standalone tickets are rumored to have set attendees back by $30,000 this year. Of course, if you're a multi-millionaire like former Massachusetts Gov. Mitt Romney (he was there!) or, you know, 2 Chainz, that's chump change. (And they can't even write it all off: as of 2016, only the first $9,252 of a $10,000 donation to the Met was tax deductible.)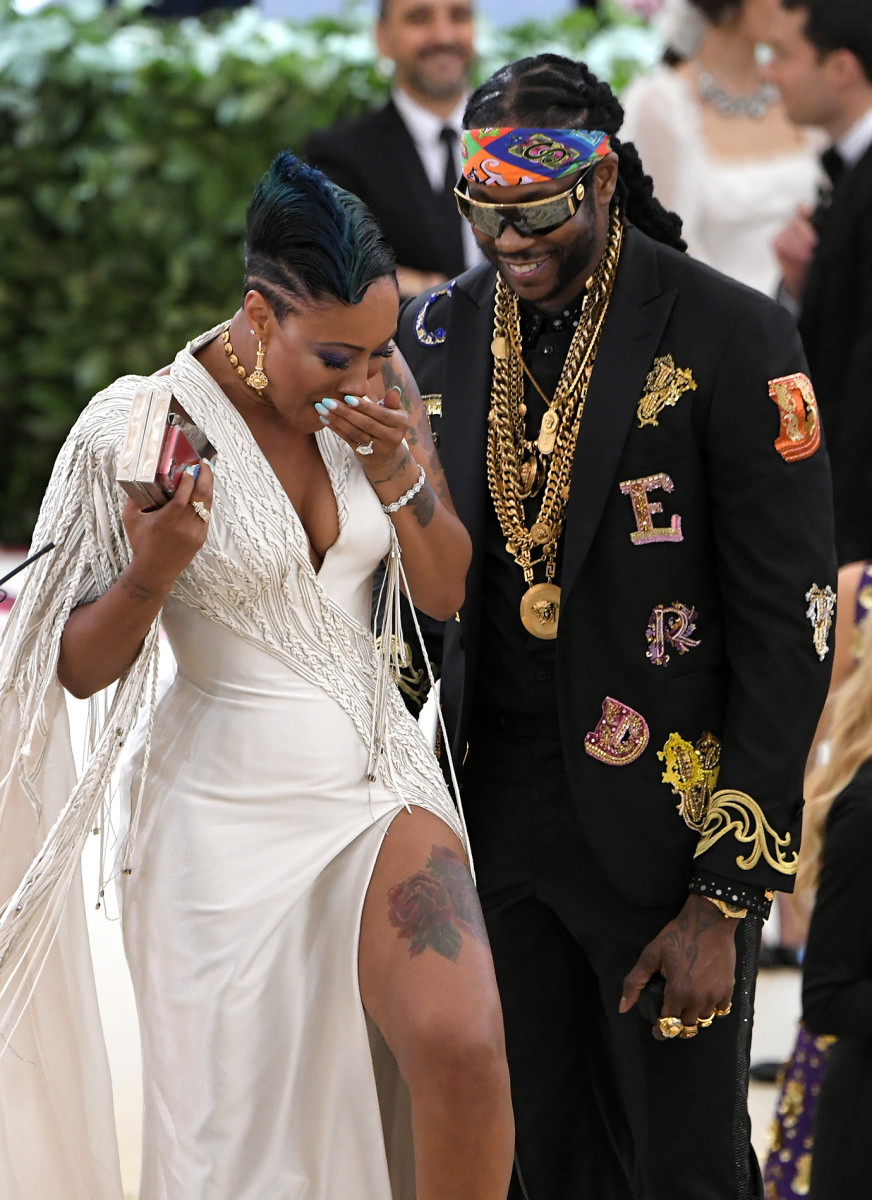 Worth noting: 2 Chainz (above) also proposed to his girlfriend Natasha Ward on the steps walking into the event (she said yes!), and judging by the size of that rock, the tickets definitely weren't the most expensive element of his evening.
So what did people wear?
The exhibit's theme examines Catholicism's impact on secular fashion, but the red-carpet theme was Sunday Best. Lots of people split the difference. While many of the women who showed up dressed in sensual takes on papal regalia (like Rihanna) or as modern versions of various saints (Zendaya Coleman as Joan of Arc, for example), some of the guys just wore rosaries or pinned cross-shaped lapel pins to their suits.
Any actual clergymen show up?
Actually, yes! Cardinal Timothy Dolan of the Archdiocese of New York was there, and so was Father James Martin, Twitter's favorite Jesuit priest. Father Martin actually got a lot of compliments on his outfit, even though he technically showed up in his work clothes.
Actually said to me at the #MetGala tonight:
"I love your costume."
"Is that, like, for real?"
"Funky outfit!"
"You're the best dressed dude here, bro." (High fives me.)
"You look just like the real thing."
And, truly: "I love that you got dressed up as a sexy priest."

— James Martin, SJ (@JamesMartinSJ) May 8, 2018
And who were the best-dressed guys at the Met Gala?
We thought you'd never ask. Below, all the guys who looked sharp on the red carpet Monday night.
For access to exclusive gear videos, celebrity interviews, and more, subscribe on YouTube!