A classic is a classic for a reason. Enough aspects of it work and feel so well that the idea lasts – in the case of the peacoat, for nearly three hundred years. And while even a classic must evolve over time, the things that make it classic still remain.
The first peacoats likely originated in the Dutch Navy of the late 17th, early 18th-century. The traditional coat worn by sailors is dark "midnight-blue," with today's U.S. Navy issue "Blue 3346" versions bordering on black. It's high-collared, double breasted, and made with heavy-weight melton wool for warmth and weather resistance.
It was a comfortable, durable, and highly functional jacket that just happened to have an extremely flattering look for most every man. Even if you buy a Navy issue coat today, or find one in a vintage Army/Navy store, the broad shoulders over the trim fit lend a sleek appearance that feels like no other jacket. And yet everything, from the fouled-anchor design on the buttons to the hand-warmer pockets and collar, is steeped in practicality and tradition.
Today, the pea coat remains a great looking and iconic piece of action, probably why they're remain so popular worldwide and continually turn up in movies. Whether it's Nicholson's uniform in The Last Detail, Redford eluding the CIA in Three Days of the Condor, or Daniel Craig's Bond in Skyfall, using his hand-warmer pocket for a pistol, we will always see the pea coat on the move and looking sharp. Here are three outstanding versions – reimagined straight from the source.
Brooks Brothers Classic Pea Coat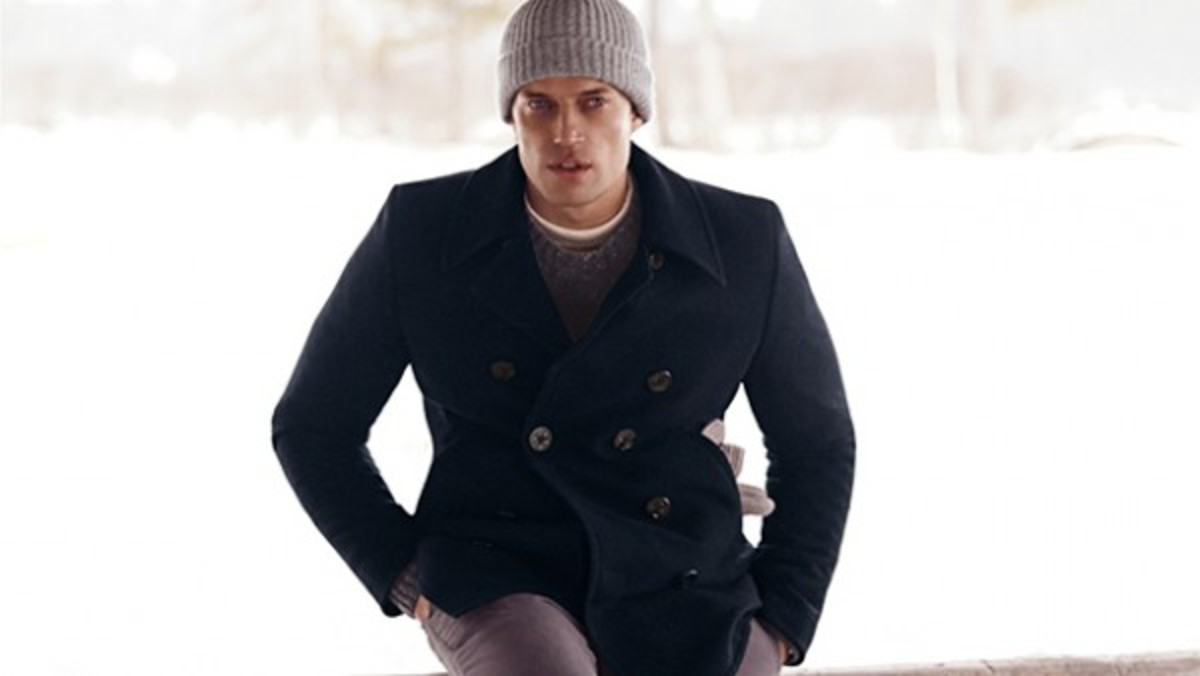 For a dressed up yet unadulterated example of this iconic jacket, the Classic Pea Coat from Brooks Brothers is updated and modern yet true to the timeless style. The traditional double breast with anchor buttons, functional high collar, and side pockets keep it authentic and warm. Brooks Brothers then adds an opulent Loro Piana Italian wool to its trim, European cut, and a dense weave to fend off weather that's soft and comfortable. Details like corduroy in the pockets and a full Bemberg lining make this substantial and flattering coat feel as good as it looks. [$698; brooksbrothers.com]
Outlier Liberated Wool Peacoat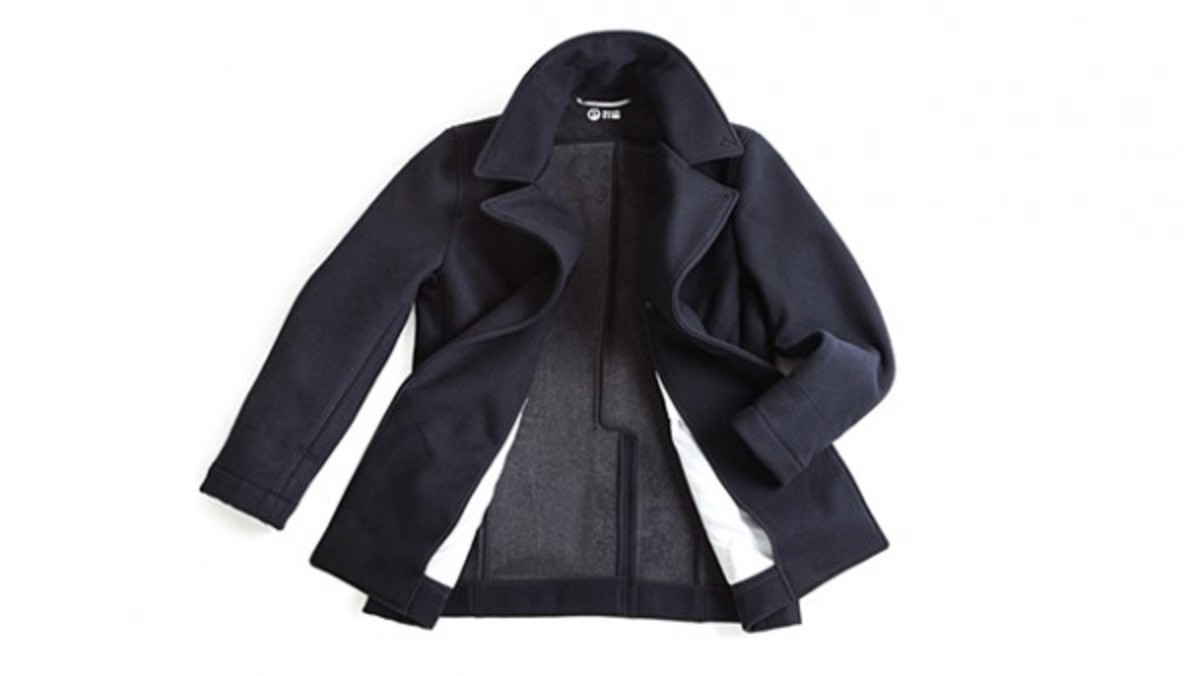 Outlier has reinvented their peacoat with the original's practicality in the forefront. While early sailors were climbing ropes, they weren't riding their bikes through the city to work. With a vintage aesthetic in it's clean lines and very practical pockets, Outlier uses its "Liberated" wool: a 2.5-layer fabric with a yarn-dyed wool face and a soft fleece interior bound together by a water-resistant, flexible polyurethane. It can take the wind and weather but leaves you free to move, even beyond the restraint of its traditional model. In classic navy, it also takes a turn in charcoal gray. [$650; outlier.cc]
Ibex Runout Coat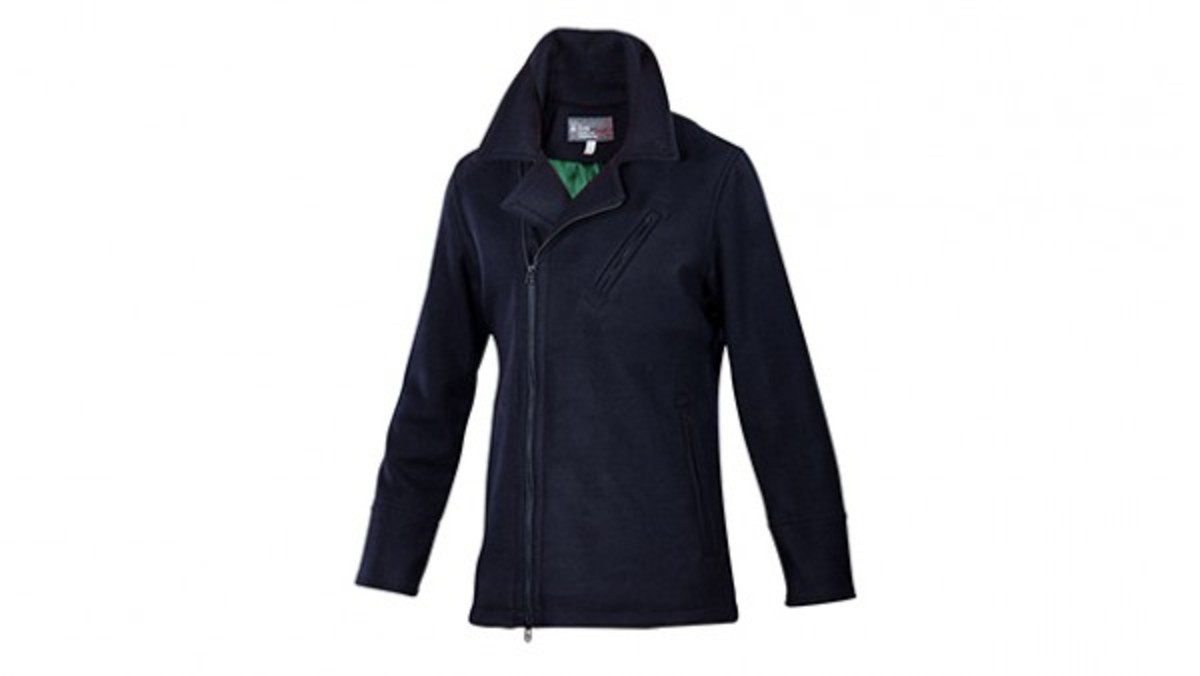 For a departure, Ibex takes away the buttons, but keeps a double-breasted line, adding asymmetry to the front of its Runout Jacket, effectively setting sail from tradition. While the zippers would have this stray a tad far, you can't miss the peacoat here at its core. In a tight weave melton wool, its functional high collar, deep blue-black color and sleek cut is all pea coat. Ibex zippers its classic hand-warmer pockets, along with a chest and interior stash pocket. With a collar you can button for warmth, and a full silk lining for comfort inside, it's slightly lighter in weight than a classic as well, suited to be worn over layers. [$475; ibex.com]