For more than 150 years, Sunspel has been supplying English gentlemen with stylish basics. In 1947, the innovative company introduced the British Isles to boxer shorts, and in 2006's Casino Royale, it introduced the world's most famous spy to a better breed of polo. Now, the London-based brand is looking to expand across the pond with a new collection of decidedly American staples: baseball tees and varsity jackets. According to CEO Nicholas Brooke, the brand is looking to marry English formality with American cool. 
What was the initial inspiration for using classic American looks?
There's quite a strong link between Sunspel and America. Our previous owners liked the elasticated, American-style boxer. They thought it was a great product and introduced it to the UK. That sparked our interest in looking at classic American style.
How did you put an English twist on the varsity jacket and the Raglan tee?
The varsity jacket is all about the tradition of U.S. sports teams and culture, but we've stripped the lettering element. In terms of fabric, we used a traditional loopback which is soft and lightweight. It's understated and cut to be neat and tailored rather than athletic, which is very English. Sunspel is about being understated. That's why there's no branding. It's for people who know they're wearing something of great quality and that's enough.
How do you define British style?
If you want to get specific, I don't think we're British, I think we're English. Britishness is sort of a political construction and represented in symbols like the Union Jack, the pound, the red bus. I don't think of us like that at all. We are English. And that's about a certain type of attitude. I think this is why it should resonate with Americans. Englishness is about a belief in liberalism, and individualism, and the right to be eccentric or do what you believe personally which is, in a way, completely the opposite of Britishness, which is being told to do this or that. Englishness is about taking the piss. 
What do you think American men can learn from English men in terms of casual-wear, and vice versa?
Historically, America has made us more comfortable with casual-wear, and inspired us to be more casual. If we can offer anything to American men, it's how to be more formal while wearing something casual. Formal might not be the right word. It's a more structured, tighter look.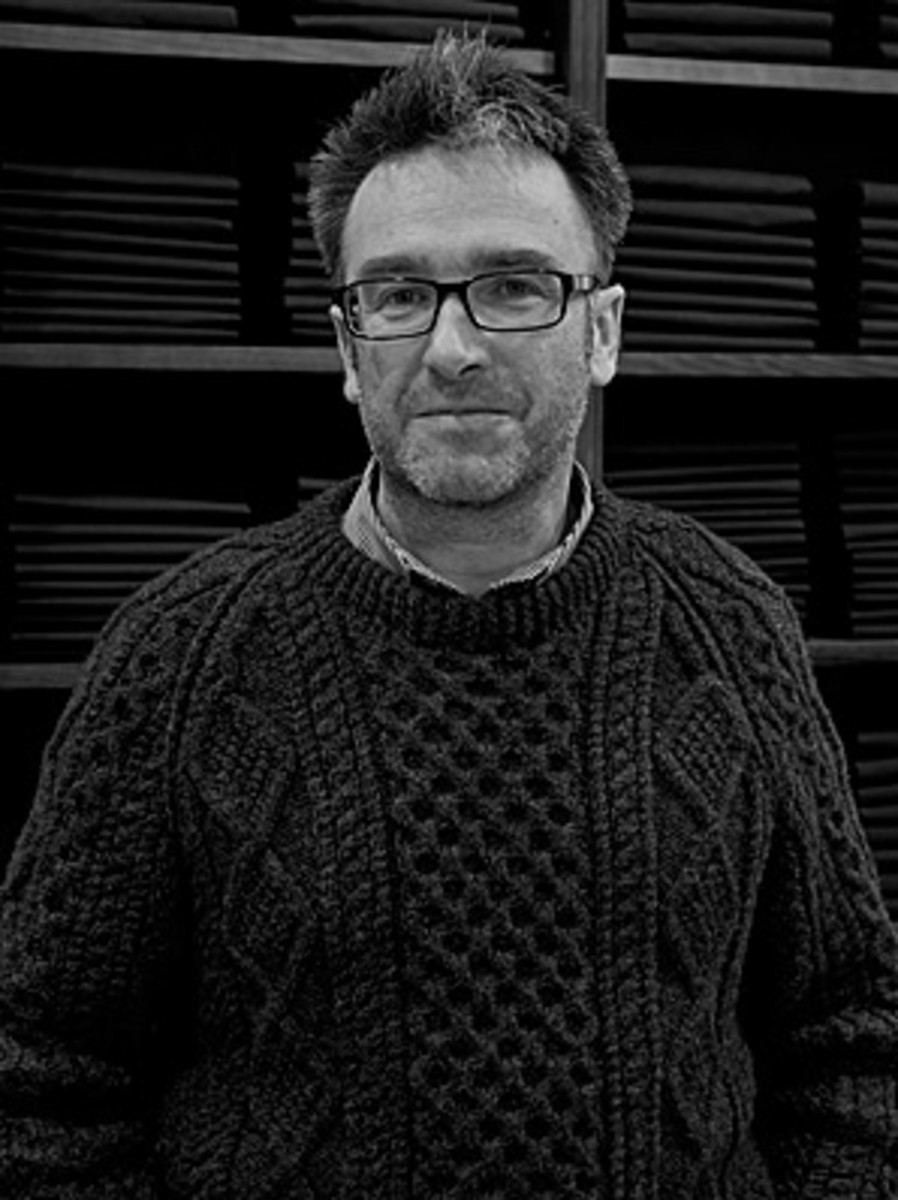 What makes Sunspel's t-shirts different?
Our t-shirts have a relatively structured feel to them. That is part of the fabric design and requires countering the twist of the cotton. It's luxury style t-shirt that doesn't have to be just an undergarment. 
Did anyone in particular inspire this collection?
Steve McQueen. The colors in particular. It was based on a few iconic photographs of him that we were working with.
What are the biggest changes you've made since you and Dominic Hazlehurst bought the company in 2005?
We did everything very slowly. The only things we changed within the first year and a half were the fit and packaging. We reduced the waist sizes and modernized some of the looks. For example, the brief had a very deep rise. The proportion of fabric below the elastic on the thigh went quite a long way down. We tightened that.
What's it like to be associated with Bond?
We're associated with Bond because we were selected by the stylist. She had used the products at the National Theatre, and it was not a commercial thing. It was an incredible piece of luck. We thought it was a good fit because when they reinvented the character with Daniel Craig, they went back to the way Bond was written to be: A tough, no nonsense man with a gun.
What are some of your favorite brands at the moment?
I really like this Japanese Brand Loopwheeler. And Maison Kitsuné is doing great stuff as well.
What's on the horizon for Sunspel?
We're doing a lot in cashmere – our varsity jacket, a hoodie, even sweatpants. If there's anything I really want from our fall collection, it's those. 
For access to exclusive gear videos, celebrity interviews, and more, subscribe on YouTube!