Mechanical marvel. Status symbol. Family heirloom. No matter how you look at a Rolex GMT Master, there's one thing we can agree on: It's a classic, timeless watch that's at the top of many wish lists. At a glance, its sporty steel bracelet balances out the sophisticated dial and case, and its third hand ushered in a new category of elegant watches with a purpose, making it a favorite among watch aficionados and collectors alike.
"The GMT Master's bicolor bezel is immediately recognizable," says Win Betteridge, COO of Betteridge, who's been selling Rolex watches for most of his career. "It's a great investment that actually accrues interest over time because it's a finely tuned piece of machinery. It does require an appreciation for the mechanical innovation inside the watch. But it also says something about who you are. It has more personality than many other fine watches out there."
Invented in the 1950s in association with Pan Am Airways, the Rolex GMT Master (then ref. 6542) was a tool for pilots so they could quickly tell time in multiple time zones. While the watch's signature snowflake hour hand tells time in one city, an additional red hour hand shows a different city's time by pointing to the 24-hour markers on the colorful outer bezel.
It's just one of the technical achievements inside this watch, which is automatic and not battery operated. It's powered by a hand-made movement, which makes the watch a certified chronometer. Translation: Its time telling is accurate within plus-or-minus two seconds in a day. That's an extraordinary feat—it nearly has the same accuracy as a quartz movement, except it's powered by the motion of your arm instead of a battery, which can run out of power.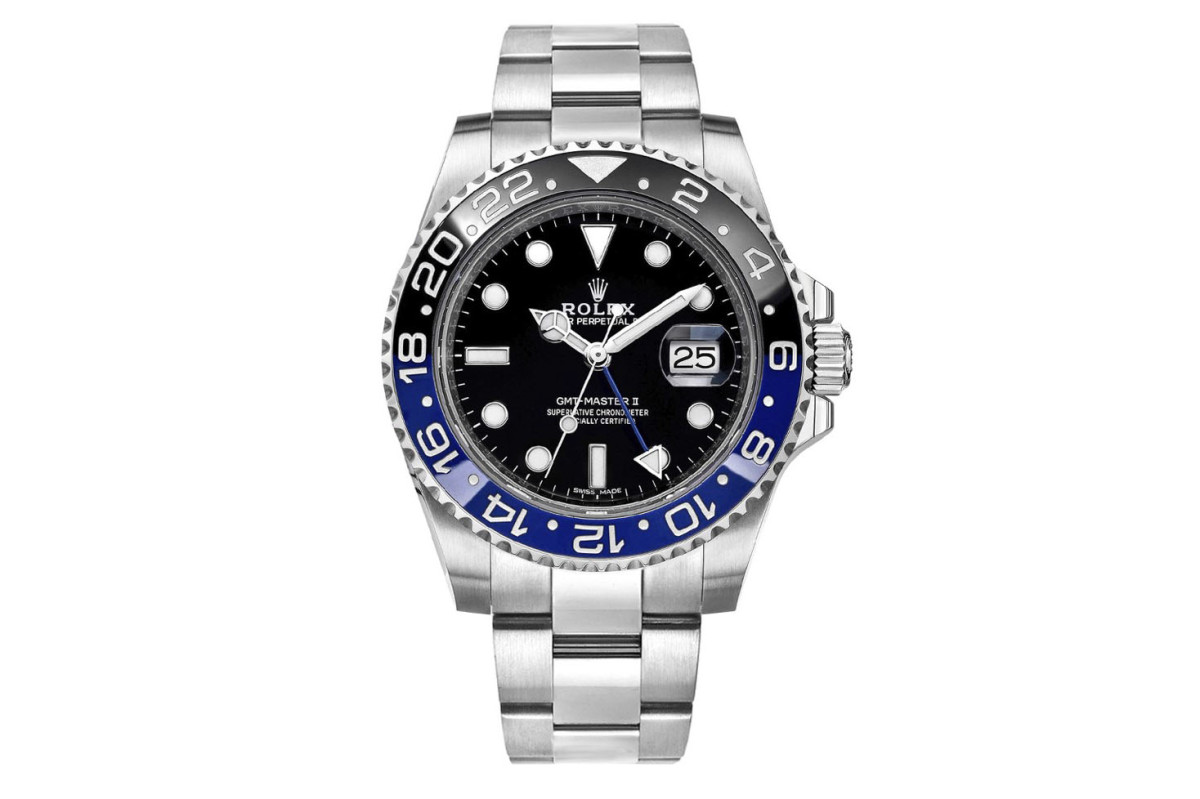 "The hand-made movement contains hundreds of pieces put together by hand that come together to make one incredible timepiece," Betteridge says. "Just like a fine car, it's not only attractive—you have to appreciate the craftsmanship inside, too."
The blue and red bezel, which helped indicate day and night respectively, eventually caught on and became a cultural icon. "Tom Selleck wore one in Magnum P.I. Fidel Castro actually wore two GMT Masters together so he could tell time in Havana, Moscow, and wherever he was going at the time. That definitely adds to its legacy," Betteridge says.
Marlon Brando was also known to wear one as he did in Apocalypse Now. That watch was lost for many years, but was finally found and sold at auction in late 2019 for a staggering $1,952,000 at Phillips, solidifying its position as a top collectible.
Rolex has also made many different iterations of the GMT Master, each with its own nickname and place in fine watch collections. "'The Pepsi watch, of course, has become the nickname for the original red and blue bezel. There's also a red and black bezel that people call the Coke watch. Root beer has a brown and gold insert, and so on," Betteridge says. "They're all very sought after and worth many times the original sale price."
The newest models of these watches have modern advancements, like new ceramic bezels that allow for even more vibrant colors within the same piece of ceramic. "The colors on new watches won't fade like old bezels—although some collectors favor the faded hues. This new ceramic, unlike aluminum, is virtually scratch-proof as well."
Whether you're enamored by the colorful façade, the history in pop culture, or the complex mechanics inside, the Rolex GMT Master is an indelible classic that's an undeniable investment. However, whether you opt for a vintage classic or a brand-new timepiece, this watch has the potential to become the centerpiece of your collection and an heirloom you can pass down for generations.
For more about this watch and other luxury timepieces, visit Betteridge, which is a family-run fifth-generation fine jeweler with over 120 years in the business. Follow Betteridge on Facebook, Instagram, Twitter, and Pinterest.
For access to exclusive gear videos, celebrity interviews, and more, subscribe on YouTube!