Victor Cruz is back—but in some ways he never left.
Even though the New York Giants wide receiver was out of action for nearly two years with injuries, off the field he was keeping as busy as ever.
Between intense training sessions and rehab work to get healthy, Cruz continued to be at the at the forefront of style and fashion among NFL players. Whether it was sitting front row at Fashion Week, being one of the faces of Givenchy, releasing signature sneakers with Nike, creating his own Young Whales clothing line, or helping design the official Hublot watch of the New York Giants, Cruz continued to build a reputation as one of the most fashionable athletes in sports.
Now that he's returned from injury for the Giants—helping the team make the playoffs for the first time since 2011—Cruz is showing no signs of slowing down. One way that Cruz has been able to stay successful on the field this year is by staying cool under pressure while using Gillette Clinical Clear Gel. "It definitely speaks to me, not just because I'm a fan of the brand, but because the stuff actually works," Cruz told Men's Fitness. "It actually does what it says it's going to do. That's all you want, especially as an athlete."
Cruz spoke with Men's Fitness about his partnership with Gillette, his essential grooming tips, and his style advice for guys.
(Editor's note: This interview has been edited for clarity.)
MEN'S FITNESS: How does it feel to be back playing with the Giants after such a long road back from your injuries?
VICTOR CRUZ: It feels great. Obviously being on the couch or being in those hospital rooms and being away from the game for so long, to come back and to come back in a major way is a great feeling and it's a great thing. You just want to continue to build on that as each game goes on here. It's something that I'm excited about. The best part is my teammates. My teammates are excited to see me play and excited to see me out there, and that's the best part.
How has it been working with Gillette and using their Clinical Clear Gel this season?
I've been friends with Gillette for a few years now and especially as an athlete, you want to make sure that what you're wearing, especially as your deodorant, actually works for you. For me, the Clinical Clear Gel is not just something that I'm promoting just because that's what I'm doing—it really works for me. I like that it smells great, and it goes on clear, which is good. I think sometimes it can bleed, or you put on black and you see it on your shirt. The fact that it goes on clear and you don't have any remnants or any residue anywhere on your body afterwards is a beautiful thing—you gotta stay clean at all times.
What has it meant to you to play with the Giants, being from New Jersey and growing up in the area?
It's unbelievable. It's a gift and a curse because you get to play at home, and my mom can come to all the games and cherish those moments and watch my entire career. But it's a con because you've got to order at least 30 tickets every game at home because you friends don't understand what no means. But yeah, it's a beautiful thing. To grow up and drive past Giants Stadium each and every day almost and now to be physically playing in there like that's my home for the past seven years, it's just been phenomenal.
Fans love cheering for you at home, but even on the road you hear the chants of "Cruz" from fans. What does that feel like to hear that even when they're hating on your team?
It's humbling, man. It's humbling because when you hear it in opposing stadiums and when you hear it against opposing teams in their homes—it's unreal to be honest with you.
What other products Gillette do you use in your grooming and style routine?
I'm a big moisturizer guy for my face. As far as day-to-day, that's my biggest thing—making sure my face is moisturized As a kid I didn't come around to moisturizers as often, so there were times where I would just put lotion on my face and it would dry out. Moisturizing and taking care of your face is a big deal.
What is your pregame grooming routine like? Is there anything that you feel like you have to do to feel good when you get out on the field?
I take a shower before every game. That allows me to put on the Gillette Clinical Clear Gel and just be ready to go on the field. That's one of the biggest grooming things I do before the game. Everything after that is all football. Just making sure that I'm smelling good, at least for the beginning of the game, and then by the end not so good. By the end I can shower and then reapply, so I'll be ready to go.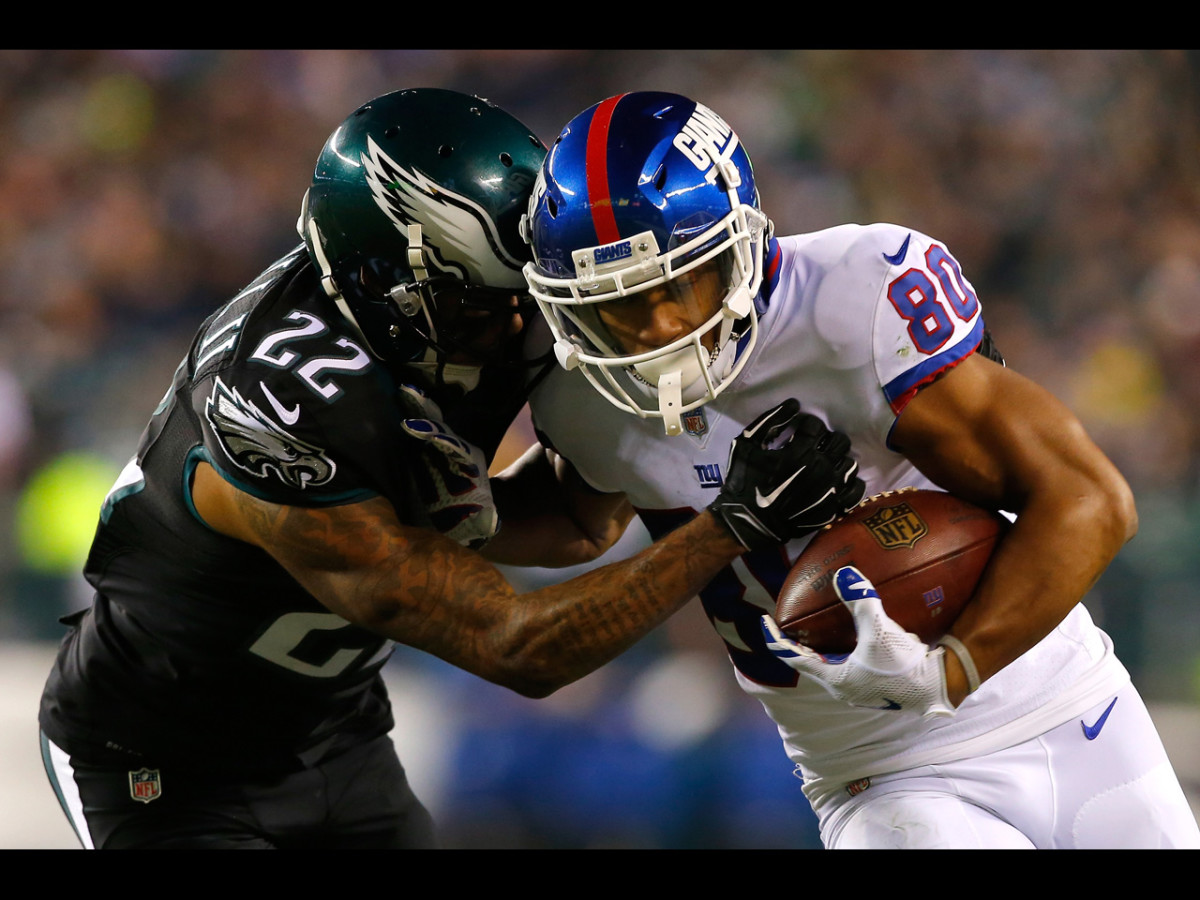 Outside the locker room, what are some important parts of your grooming and style routine?  
I think the biggest thing for me is my haircuts and making sure my face is groomed. You want to make sure you don't have have excess hair anywhere that shouldn't be there. For me it's just making sure I stay on top of my hair cuts and my face grooming so I don't look like a fuzzy monster.
What are your essential grooming tips that guys should know?
Two things. Moisturizer is one—guys think moisturizer is just for women, but we can use some moisturizer too. Second is to trim your nose hairs. I don't think guys really know that. Your nose hairs shouldn't connect to your mustache—that's not okay. Make sure we trim that down so there's some separation there, and then you can go about your business for the rest of the day.
How would you describe your style and fashion preferences?
I would describe my style as kind of simple, but yet male chic, if you will. Just making sure that I always have a piece that's stylish. Even though I'm not loud, I don't wear loud colors, but when you look at me, or you look at what I'm wearing, you look at one piece and you're like, "Wow, that's nice." Or "Wow, his sweats are nice," or his jacket or trench coat, whatever the case may be. I try to always make sure I have one piece that kind of stands out in the crowd.
What are some of the workouts and exercises you used during rehab and training that you felt helped you the most to get healthy and back on the field for the Giants?
Obviously a lot of it is lower body, so between straight leg raises, hamstring curls, leg press, ankle mobility, everything and doing that a hundred times a day. That's what's the biggest thing is being diligent. Rehab is a lengthy process. It's not just for two weeks and then you're done. It's months and months of it and gradual progression as you reach these goals after these months pass by.  
What is your nutritional routine like? What are some of the main meals and foods you like to use to supplement your training?
Especially after practice or games, I always got to get my kale salad maybe and grilled chicken and baked potato. I like to have that balanced meal and get those nutrients back into my body and those carbs back after a game. I'm always into the eating healthy. I don't eat a lot of fried foods or sweets or candies or things like that, but I do have my cheat days.
Favorite cheat meal?
Oh man [laughs]. I go to Hillstone at least once a week. Their apple cobbler—it calls my name each and every time, and I go as far as getting an extra scoop of ice cream, which isn't the best thing, but it is what it is at this point. I'll work it off the next day.
For access to exclusive gear videos, celebrity interviews, and more, subscribe on YouTube!