The holiday seaons is officially here, and chances are you wish there was a way to cheat your way through and eat what you want—without getting a belly. You know we shouldn't succumb to the candy that keeps appearing in the office or have the second helping of dessert. But alas, it's the holidays and sometimes that second helping of pie just shows up on our plate. I mean, you're only human, right?
Well, if you can really relate to this, then you may be a candidate for a new procedure appealing to more and more men.
BTL Vanquish ME
is the latest in the category of non-invasive fat reduction, also referred to as body contouring. Lately, we have seen an uptick in curiosity about procedures like this. Think
CoolSculpting,
but treating the fat without any pain and by using heat instead of cold. Now, before you read any further, this is not liposuction. This will not drastically change the shape of your body. BTL Vanquish ME is best for men who work out, eat right, and still just can't get rid of that little bit of fat around the love handles, abs and thighs—the most stubborn areas.  
We chatted with Board Certified Dermatologic Surgeon Dr. Jason Emer about what exactly to expect with BTL Vanquish ME. Dr. Emer earned his MD at the University of Illinois at College of Medicine in Chicago and went on to complete his preliminary medicine internship at Chicago's Saint Joseph Hospital. He then completed a 2-year dermatopharmacology fellowship at Mount Sinai Hospital in New York, where he also served as chief dermatology resident. He's currently a member of the American Academy of Dermatology and the American Academy of Cosmetic Surgery and resides at his own private practice in Beverly Hills, which has an over 60% men's business. Although Beverly Hills is where you would expect something like this, it is available nationwide. Just click here to find a physician close to you.
3 Velvet Party Blazers Perfect for the Holidays >>>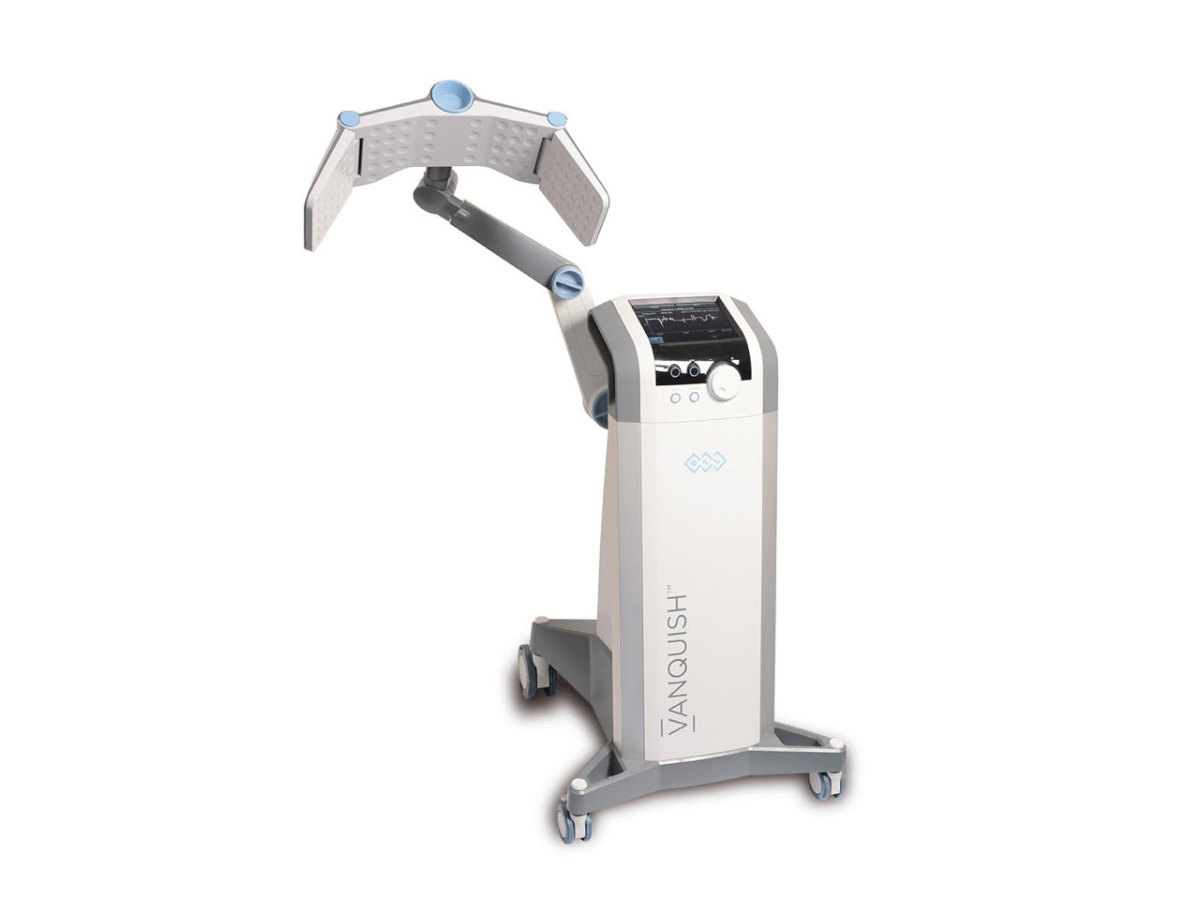 Men's Fitness: How exactly does this whole BTL Vanquish ME contraption work:
Dr. Jason Emer: BTL Vanquish ME is large area radiofrequency (RF)  treatment that heats the fat and causes it to decrease, permanently. The device does not come in contact with the skin and requires no downtime. Deep tissue heating causes cell disruption and effects fat at selected depths. Prolonged exposure to deep heating leads to fat cell destruction and volumetric reduction in the fat layer.
MF: What are the advantages of BTL Vanquish ME
JE: There is absolutely no contact. It is noninvasive with no pain or downtime. It currently has the largest applicator which means no lines of demarcation or unevenness.
MF: Are men really doing something like this?
JE: Actually, between 2012 and 2015, there was an annual increase of 22.6% in the number of U.S. men who scheduled noninvasive body contouring treatments. In 2015 alone, 16.7% of nonsurgical fat reduction procedures were performed on American men, mirroring trends seen in other countries. I specialize in male aesthetics with a concentration on high definition surgical and non-surgical body contouring. Men come in daily for treatments that will give them more of a six pack, definition, or a decrease in problem areas. Our current clientele is 60% male and that was built in a very short time.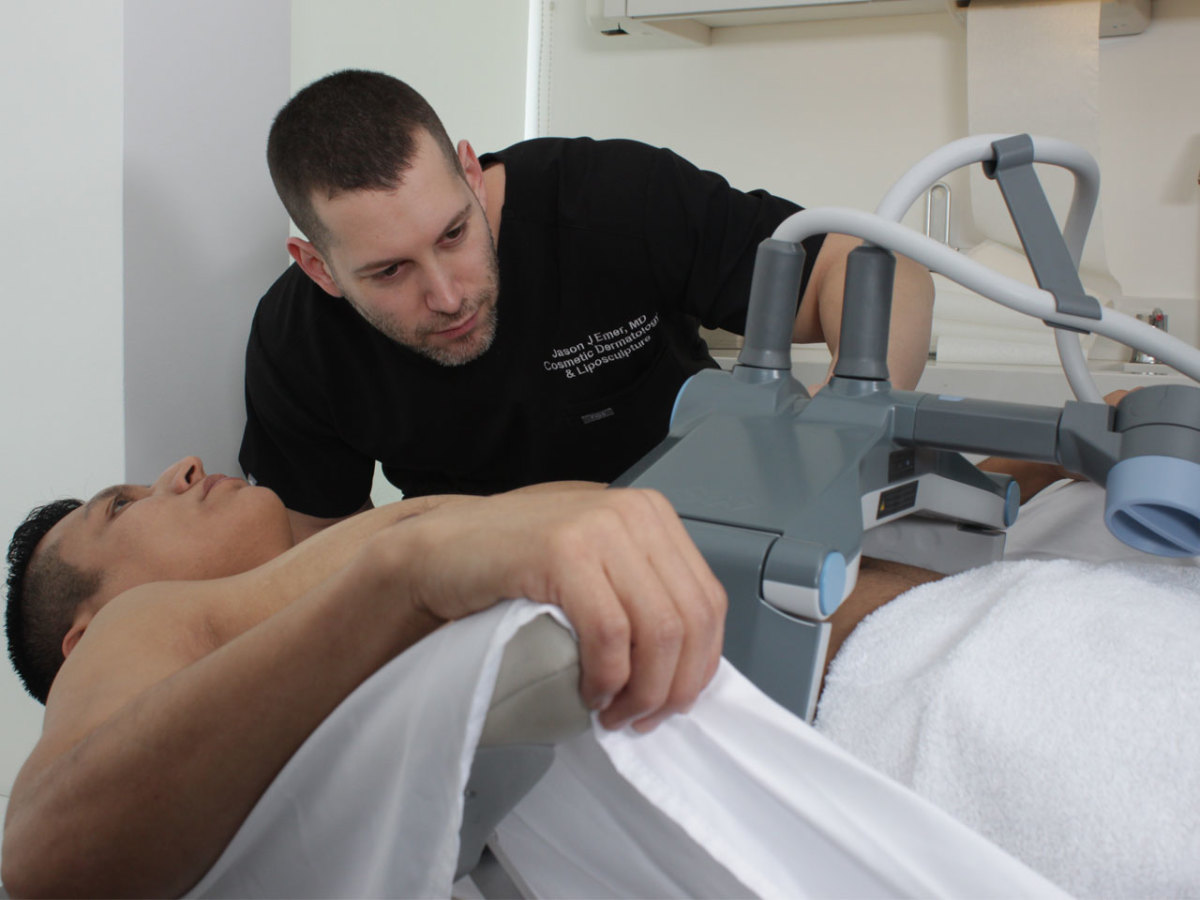 MF: So when men are coming in, are they typically complaining about something different than women do?
JE: The number one body part both men and women are most dissatisfied with is the stomach. Men want a defined and chiseled look. In the age of CrossFit or HIIT, people want more than just fat loss, they want definition, contour, tight skin, vascularity. Believe it or not, more and more men are looking for decreased chest fat and increased butt size; these are big trends beyond the six pack. In comparison, most women are looking for a softer, curvy look. With that said there, is a difference in behavior. Women go in for Botox and end up with body shaping. Men go in for body shaping and end up with Botox. Psychologically men fear pain and needles and are more open to addressing their stomach first for a variety of reasons.
MF: Are there other areas, besides the abdominal region, that this can effectively be used on?
JE: Yes, the brand recently received FDA clearance for treatment on the thighs; the flex applicator allows us to simultaneously treat the inner and outer thigh.
5 Ways to Keep Your Facial Hair from Getting Gross >>>
MF: How many treatments until you can see desired results?
JE: The standard protocol is 4 treatments, with treatments being administered weekly.  Depending on the weight and overall patient goals, he may require up to 6 treatments to maximize results. Some thinner patients looking for more sculpting may require up to 6 treatments, by typically 4 are good. There is also the opportunity to combine BTL Vanquish ME with the BTL Cellutone device that uses shock/vibration therapy to improve tissue blood flow and circulation. One can obtain both faster and enhanced results.    
MF: How much does it cost?
JE: Depending on your physician, you can expect to pay between $2,500 to $3,000 for 4 treatments. 
7 Ways to Boost Your Body Image (and Happiness) >>>
For access to exclusive gear videos, celebrity interviews, and more, subscribe on YouTube!