Wooden accessories have become more refined in recent years, with accents appearing on everything from belts to eyewear. The crowning achievement, though, is the wooden watch band and face.
Wooden watches can often be a blocky, awkward look that resembles the kind of beach bum jewelry you've shed since your teen years. But some new offerings now rival the style and design of fine Swiss makers, which is even more impressive when you understand the limits of wood as a medium.
"There are just certain things that you can't accomplish," says Abby Peskorse, director of retail development for Jord. "It can get bigger or smaller based on the humidity in the room – so you can't do everything with a wooden watch."
It also needs some help from other materials. Obviously it's hard to create the mechanics of movement without metal as well, so, no, you're not wearing 100 percent tree on your wrist. But what wood lacks it flexibility it makes up for in visual appeal. Blending two grains creates contrast that will be a great addition to your look as the weather cools.
And it's a resource-saving process: some brands get their wood "from furniture factories and the pieces are too small to make another piece of furniture," Peskorse adds. "The pieces are the perfect size for our machines and our tooling."
It's not a diving watch, but these are designed to handle a bit of light water contact. The company says the cases are waterproof, but submerging the band could cause expansion in the wood. For upkeep, simple cleaning and maintaining with a bit of oil keeps the sheen. "Wearing it on your wrist over time, it will absorb the natural oils from your body."
How do you wear it? At your own discretion. Depending on the style and your choice of grain, a wooden watch can work with a suit or weekend jeans. It works fine for meetings and a weekend outings alike, though more natural finishes pair better with sturdier fall fabrics and clothing with more texture (knits and corduroy welcome).
Jord has a limited edition version available right now of their mechanically-styled semi-steampunk Dover (below left, $295; woodwatches.com). If you're more interested in embracing the natural finish look, consider the Fieldcrest ($120, woodwatches.com). We like the zebrawood and maple model.
There are others on the market too, and though they might not all rely on tons of real wood to deliver the look they definitely deliver. You can go for a bit of mid-Sixties style with the wood-faced Winston from Komono. The simple band and bezel mix with the kind of grain you'd have expected in a corner office from the same decade. (below left, $109; komono.com) Or lean a bit more modern with a design that brings wood in as a highlight over metal links and skeleton with this model from Original Grain. The luxury metal-wood combo makes just as much of a statement on your wrist as it would on, say, desk accessories or luxury car interior. ($149; originalgrain.com)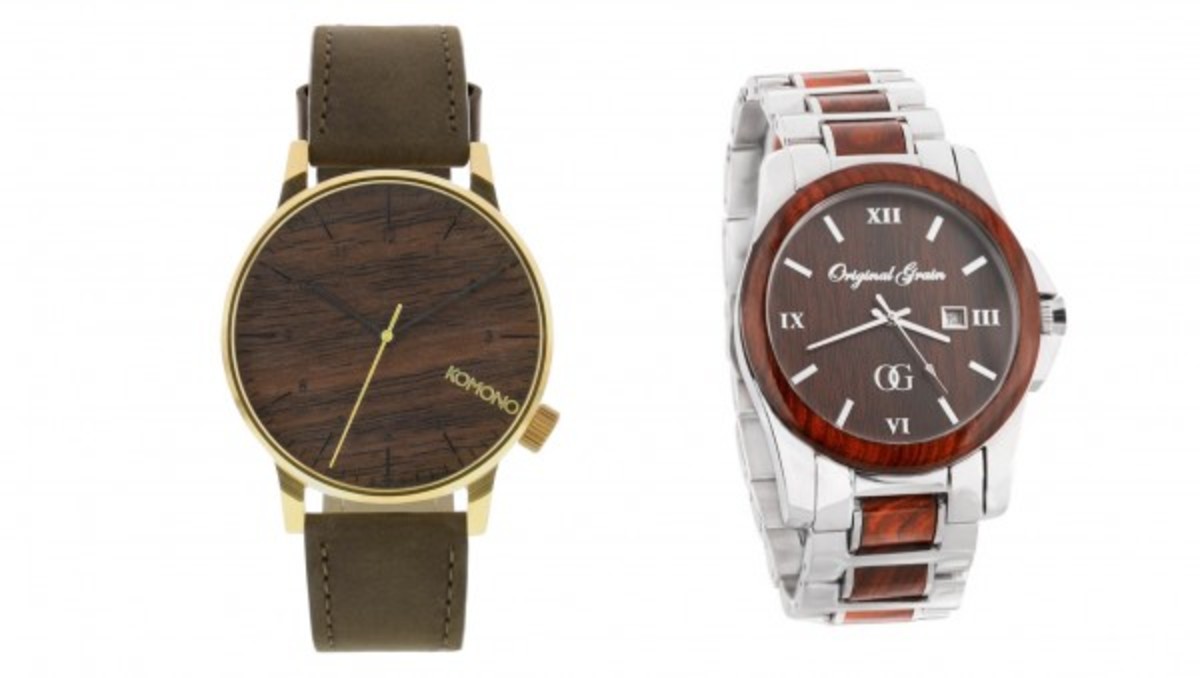 For access to exclusive gear videos, celebrity interviews, and more, subscribe on YouTube!