Tucking into a hearty plate of deep-fried bird nests in a Hong Kong restaurant with purple velvet walls and a flat-screen TV flickering between North Korean missiles and the Nelson Mandela death watch, you might never realize that bird nests were among the most expensive animal products consumed by human beings, worth up to $5,000 a pound — making them one of the great luxuries of Chinese nutritional therapy coveted by Chinese billionaires everywhere. If you were like me, in fact, or maybe like Seamus Mullen, the three-star New York chef whose ten-year struggle with epic and mysterious health nightmares motivated our three-day safari through all the herbal remedies, spa treatments, eating philosophies, and medicinal foods that collectively make up Traditional Chinese Medicine, or T. C. M., you might not realize you were eating bird nests at all.
Edible bird nests, just for starters, look unlike any bird nest you've ever seen. Cliff swallows make them, mostly in Thailand and Sumatra, spinning their own saliva into mucilaginous bundles reinforced with feathers and twigs. Men with ropes rappel those cliffs to steal the nests and workers then remove all the twigs and feathers and send the leftovers to Hong Kong, world epicenter of the international trade in these little white webs of what appears to be translucent gelatinous twine.
Presentation was another factor, the culinary trickery that made our particular bird nests look like fried chicken wings on big white plates. Chef Kam-fu, at a two-Michelin-star eatery called Celebrity Cuisine, on the second floor of a boutique hotel in trendy central Hong Kong, worked for decades as private cook to a Chinese tycoon — thus the restaurant name, a reference to all the Chinese celebrities he apparently served. Kam-fu developed, in those years, an exquisitely contemporary version of Chinese healthy eating, one that captures almost everything fascinating about Hong Kong today.
Much of ancient Chinese culture — art, music, literature, religion — got wiped out by the Cultural Revolution of the late 1960s, but T. C. M. survived intact, largely because the communists couldn't afford to install widespread western medicine. Forty years later, in this hyper-modern Chinese megalopolis — the world's most vertical city, with seven million people teeming through more than 7,000 high-rise buildings — T. C. M. forms one of the last remaining links to ancient Chinese culture. Amid the vast construction booms currently transforming Chinese cities, with pollution so bad in places you can't see across the street, and tainted food scandals making headlines, that link to the nostalgic past has only grown more powerful, a kind of folkloric system for healthy living embraced even by educated urbanites.
Chef Kam-fu, for example, in composing his menus, incorporates both the playfulness and refinement of international luxury dining with the codes and principles of a nutritional philosophy that dates back to The Yellow Emperor's Inner Canon, from 300 B. C. Forget about evidence-based medicine and nutritional science, polyunsaturated fats and fresh vegetables; based on pre-modern ideas about human anatomy, the T. C. M. approach to healthy eating is all about balancing symbolic notions of hot and cold, yin and yang.
Our first course, for example, was a piping hot winter melon soup that had been designed, we were told, "To cool you down, so you have less thing to think about, to calm your mind."
"And that flower bud, floating in it?" Mullen asked the chef, through a female interpreter.
"Good for eyesight, and liver,"the interpreter replied.
"And what's that other stuff floating in there, lotus seed?"
"Good for complexion."
Growing curious, I asked if Kam-fu's dishes were mostly Cantonese standards.
"Sometimes influence of western,"he said.
"Oh really? Like what?"
"Like salad," he said, "but healthy."
While I tried to make sense of that — of the implication that salad, under normal Chinese circumstances, might be considered bad for you — our bird nests arrived. Once again through an interpreter, Chef Kam-fu explained that his tycoon had asked him to create a dish nobody had ever heard of, something utterly new. In precisely the same high-low spirit motivating chefs like Daniel Boulud to stuff foie gras into hamburgers, Kam-fu removed all the meat and bone from chicken wings, that lowliest of Chinese street foods, and then he stuffed the wing skins with top-shelf bird nests, which are widely believed to beautify women's skin while strengthening male focus and virility. Kam-fu then stitched those chicken wings closed and deep-fried them, creating what had since become his signature dish. Picking up one of these crispy little packages, and biting through that skin, I felt the warm flood of swallow spit in my mouth and — instead of virility and mental focus — a kind of exquisite bewilderment.
Hong Kong can be overwhelming to the first-time visitor. Just reaching the lobby of our hotel, the Langham Place, required an elevator ride up through a giant four-story shopping mall. Our rooms, on the 27th floor, looked out at countless buildings infinitely taller, and the Langham Place's outdoor pool on the 42nd floor, where we took a late-night swim in a futile quest to calm down, only deepened the vertigo. Views from the water stretched across the neon-pulsing mid-section of the world's most vertical metropolis, through an infinitely dense concrete-and-steel forest of more glittering towers than I'd ever known could exist on this earth, including many soaring to well over 1,000-feet in the jet-black sky.
The next morning, after T'ai Chi lessons on the vast open quay of Hong Kong harbor, where Master William Ng teaches the ancient art of shadow boxing to Hong Kong residents and tourists like ourselves, we rode that Langham Place hotel elevator to the sixth-floor Ming Court Restaurant for a two-Michelin-star brunch of gilded tofu. That's right, tofu, wrapped in genuine gold leaf — just right to fuel a speed-walk through miles of Hong Kong streets so tightly packed with humanity it made Times Square look like Wyoming. Yet another elevator took us up into the office of a lovely young female T. C. M. doctor — at the Hong Kong Baptist University, of all places — who riddled Mullen's bare white ass with acupuncture needles before putting me face down on a white bed and nailing the back of my neck so thoroughly that a single wrong move on my part could easily have left me paralyzed and bleeding out.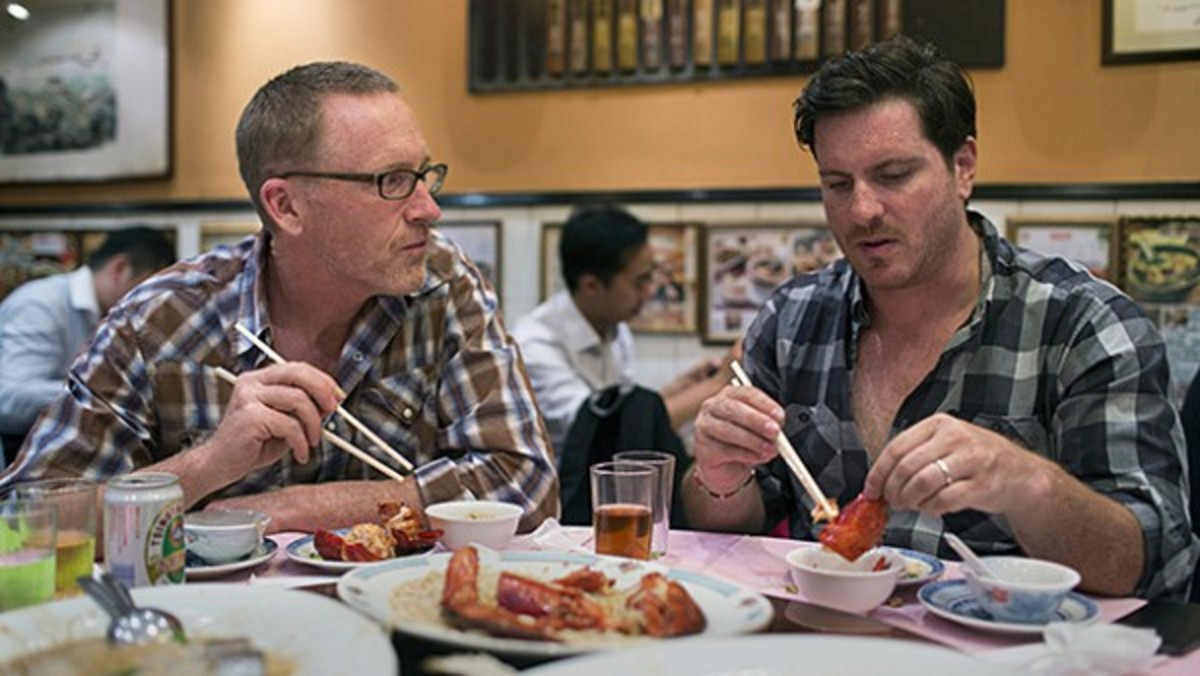 The author (left) shares a meal with chef Seamus Mullen.
A Traditional Chinese Tea Ceremony came next, and then Mullen marched me through crushingly crowded streets, among giant busses and sidewalks lined with sweaty shirtless men butchering hogs in open-air unrefrigerated shops — blood spattering onto sidewalks piled with seemingly-infinite heaps of dried abalone, scallops, shrimp, sea cucumber — to a famous little snake soup restaurant. Ser Wong Fun turned out to be a little hole-in-the-wall at ground level, looking like any New York City neighborhood Chinese restaurant but specializing in so-called functional soups — like pig lung soup, which was apparently "good for respiration," and the milky-gray snake soup rich with remarkably tasty strips of snake meat, said to be "good for virility."
Mullen was on a mission, and I was just an accomplice, so he devoured every last spoonful of soup, graciously thanked the proprietor, and was off yet again: onto the sidewalk, through a door, down an escalator into a subway station four-stories deep, into a vast underground warren crisscrossed with escalators running in every direction, with the walls of each and every floor packed tight with shops and restaurants all seemingly jammed with millions upon millions of customers. Into a subway car, hurtling through some buried tunnel, then off the subway into yet another multi-story underground shopping mall. Multiple escalators got us back up to street level and then into Lan Yuen Chee Koon, a Michelin-recommended restaurant run by a seventh-generation Chinese Medicine doctor famous for his signature tortoise shell jelly.
The doctor himself, a kindly — but, to be perfectly honest, not-so-healthy-looking fellow with the gentlest of eyes — sat down to show us the twenty-plus Chinese herbs and genuine tortoise-shell belly plates utilized in his proprietary version of this ancient health tonic, thought to be good for skin, circulation, muscle growth, itching, acne, and kidney issues. The tortoise-shell jelly arrived as a quivering black mass in a white ceramic bowl. Looking around the room, as taxis idled smoking outside and the blue sky hid somewhere above all those forty-story towers, I realized that every table had at least one man taking a break from his busy day to consume this wildly expensive tar-like substance, costing up to $80 a bowl, widely known to taste awful, and devoured purely for the health effects. Scooping up a jiggling spoonful, Mullen slipped that tortoise jelly into his mouth and made a face that said Okay, not too bad.
Mullen polished his bowl with admirable determination. Then he led me on a final urban walk/sprint into some random sky-scraper's elevator where we shot upward, emerging into a windowless lounge with soft pink light and soothing music and pleasant-looking women in vaguely nurse-like costumes. Mullen exchanged words with a powerful-looking older woman with a headset who then ordered a younger woman to lead us away — down a windowless flight of stairs, into a windowless corridor, into a windowless room with three beds.
Following Mullen's lead, I sat on a stool, took off my shoes, put my bare feet into a bucket of hot soapy water while a tiny woman in a mask stood behind me and somehow jammed her elbows into my shoulder muscles with the force of an outside linebacker, an absolutely excruciating experience during which I caught her muttering in Chinese, to the woman who was working on Mullen, a phrase that almost certainly translated as, "This guy's a mess."
Those women had us lie on our backs next, looking up at the white ceiling and dreaming of all we'd experienced — the T'ai Chi and the tortoise, the snake soup and the acupuncture — while they sat on stools and probed the deepest recesses of our feet according to the ancient principles of reflexology, driving thumbs and fingers into pressure points so potent that, whatever their philosophical basis, sent me into a trance-like state so deep I thought I might never get back up again.
For access to exclusive gear videos, celebrity interviews, and more, subscribe on YouTube!