Isla Nublar, the island setting for the Jurassic Park franchise, has always seemed like an idyllic place. Lush rainforest. Scenic mountaintops. Blue water. Sandy beaches. It's always seemed like the place for the perfect off-the-grid vacation, if it didn't happen to be home to murderous dinosaurs. In the novels by Michael Crichton, the franchise's source material, Isla Nublar was said to be located off Central America's Pacific Coast somewhere near Costa Rica. But Steven Spielberg brought production to Hawaii to find the raw, untamed rainforest where he could set the science-fiction tale. Since then, every one of the Jurassic movies have been shot at least in part on the islands. Jurassic World: Fallen Kingdom is no exception.
In order to capture the epic vistas required, the Jurassic World crew returned to a few familiar locations from the first movie, while also launching their own expedition to chase down a few new gnarly locales on Oahu. "Hawaii is just a spectacular place to be and a great place to shoot a movie," says location scout Laura Sode-Matteson, who has worked with the franchise since Jurassic World III. "The islands are covered with this perfect mix of mountain and jungle terrain."
For fans of the franchise, visiting can have a stirring effect, which is why Colin Trevorrow went on his own little Jurassic-themed trip when he got the gig for Jurassic World. "I showed Colin all of the spots," Sode-Matteson says. The itinerary included boots on the ground and helicopter rides. "He was looking around like a little kid."
Getting to the island has never been easier, with Hawaiian Airlines doing non-stop flights to Honolulu. According to Sode-Matteson, there are a number of great tour companies on Oahu where they shot Fallen Kingdom, that guide guests around the island on ATVs. But sometimes you want to get out there on your own. Just make sure you bring flares, just in case you come across a wandering T. Rex.
Places to Visit
He'eia Kea Harbor
On the windward side in Kaneohe Bay, this harbor plays a main role in Fallen Kingdom. You can rent a jet ski and see the island from the ocean.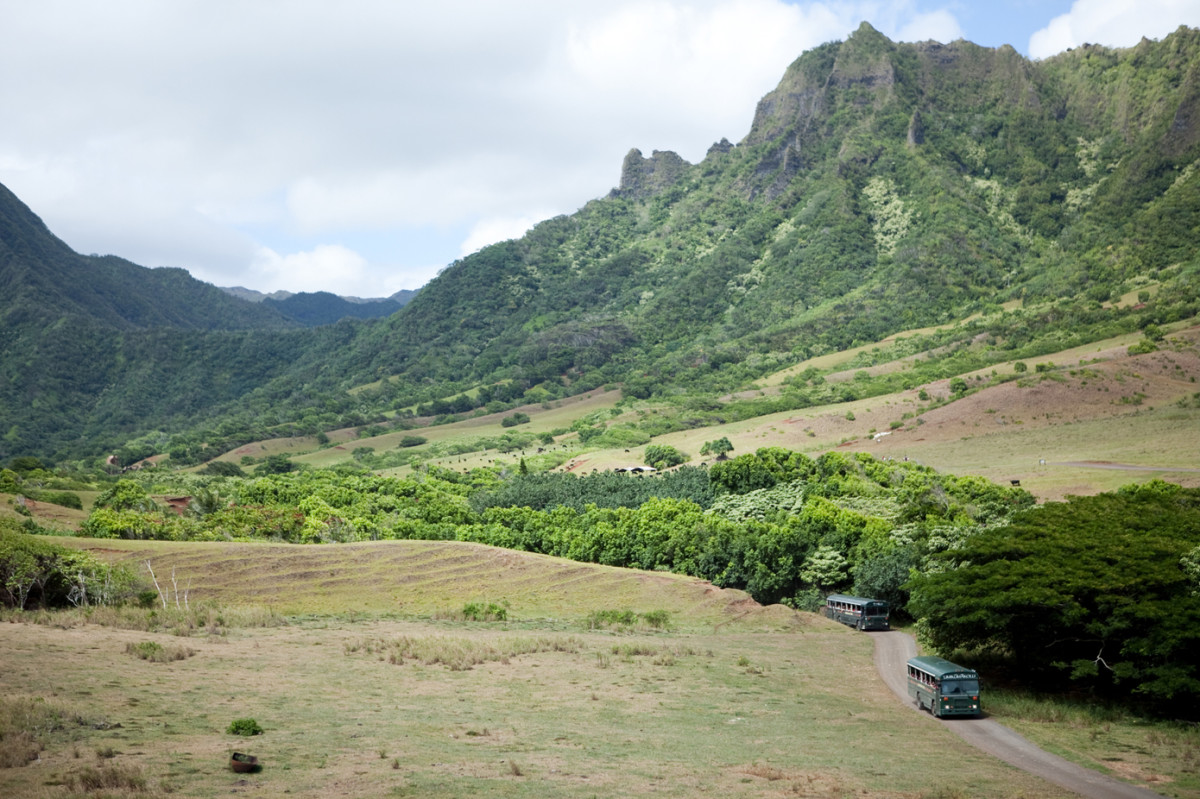 The Kualoa Ranch
This private nature reserve has been used in a number of the Jurassic movies, like the Jurassic Park scene where Doctor Alan Grant and the kids watch a T. Rex chase down a herd of Gallimimus. For Fallen Kingdom, the T. Rex returns to his old stomping grounds.
He'eia State Park
Chris Pratt's character, named Owen Grady, and a velociraptor reconnect in this park with views of the Ko'olau Mountains.
Police Beach
This remote beach on the island's North Shore gets a visit from an Apatosaurs in Fallen Kingdom. The area is also known for its surfing, so pack a board if you can.
Makai Research Pier
This scenic pier on the windward side looks out to pristine blue waters, and was used as the gateway that received visitors in Jurassic World.
Oahu By Helicopter
Enjoy the island in all its glory, and get great pictures, with a helicopter ride. The roughly one-hour trip covers the entire island, and includes views of Pear Harbor.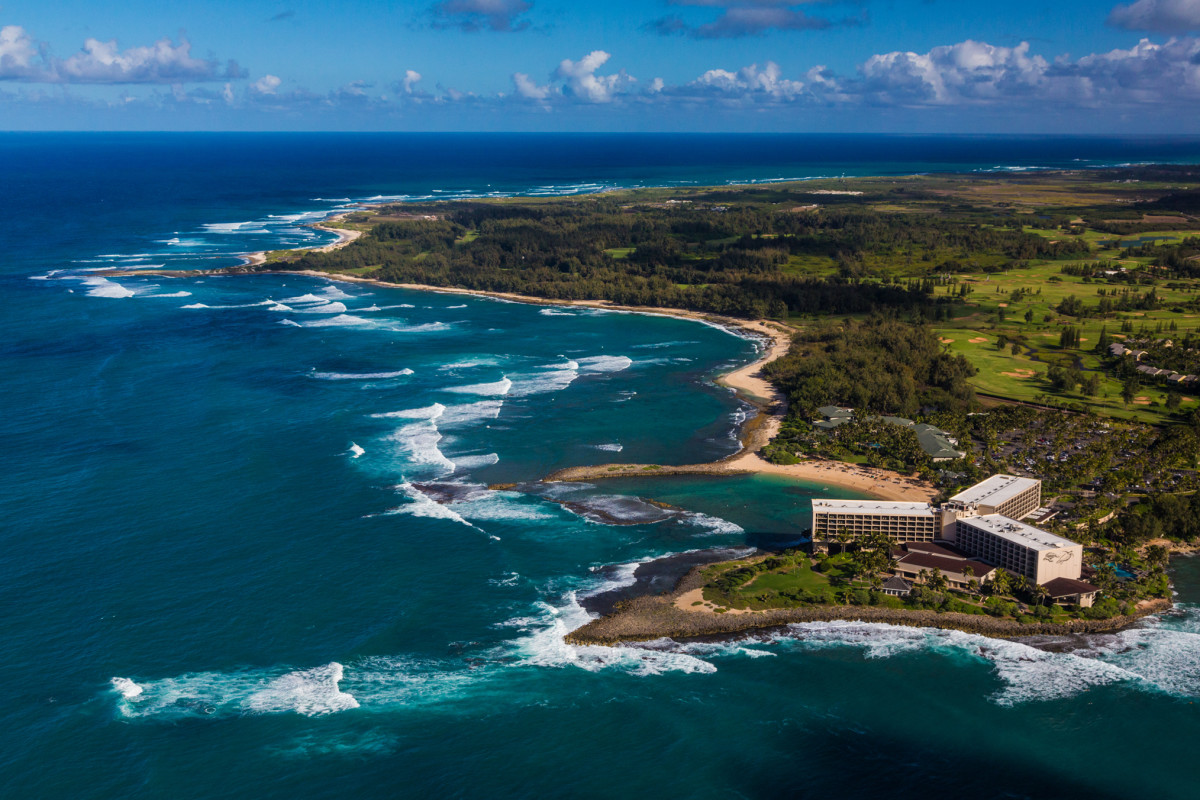 Places to Stay
The Turtle Bay Resort
On Oahu's north shore, this secluded resort also has locations that were used to shoot Fallen Kingdom.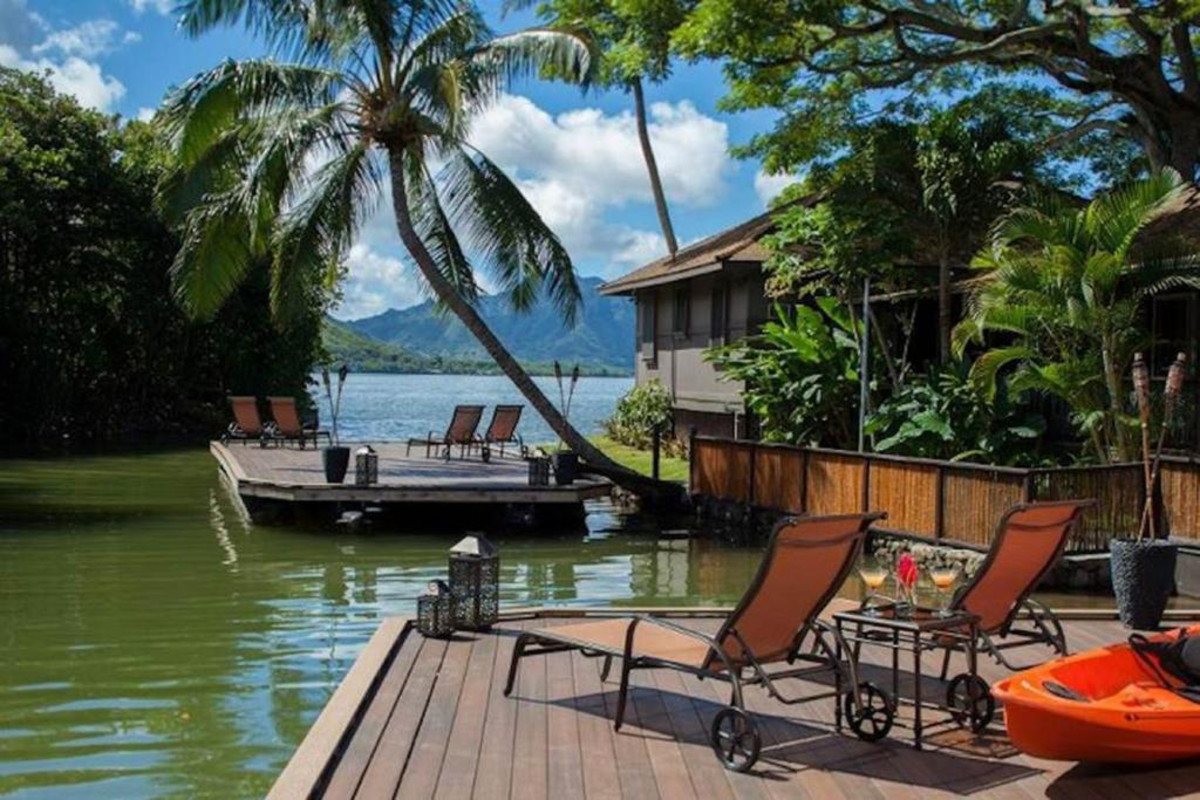 Paradise Bay Resort
Located near the He'eia Kea Harbor, this island-inspired spot brings the environment into play.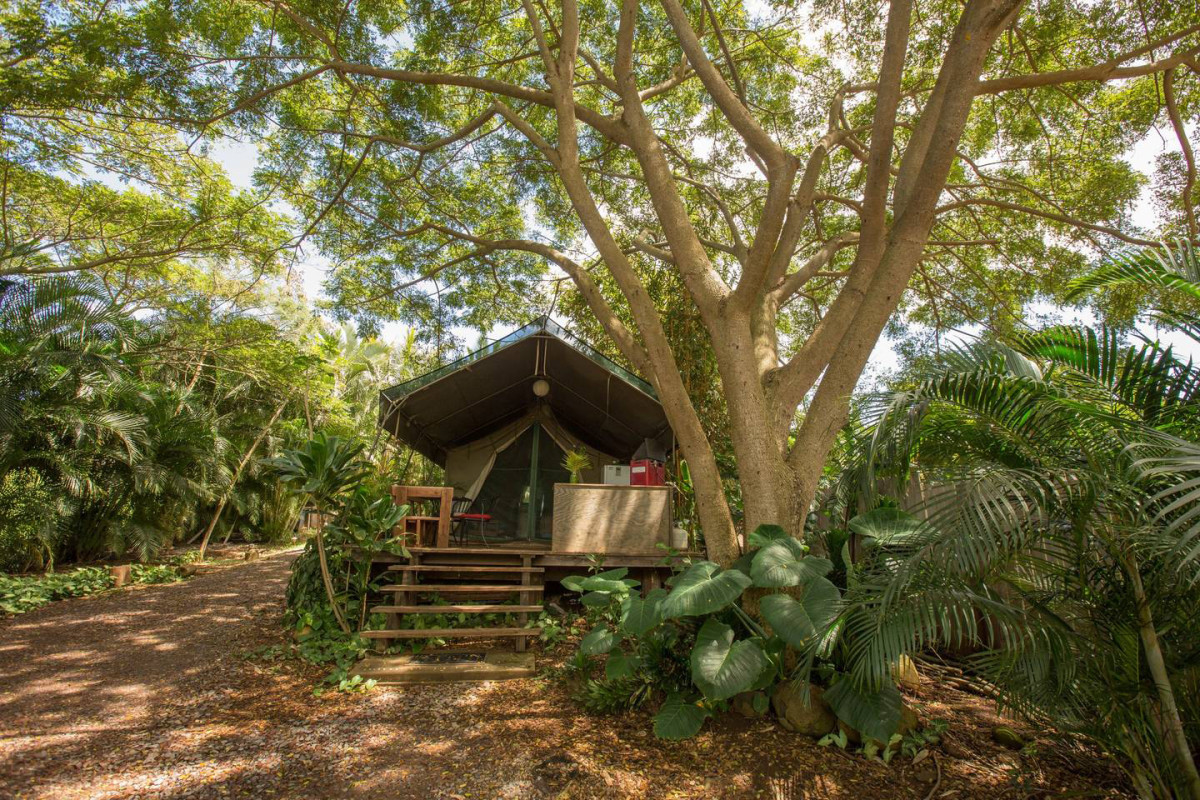 AirBnB: North Shore Hideway
This unique eco-hideway is located in a river valley at the base of Mt. Ka'ala on the windward part of the island, where many scenes were shot. The property is completely off-the-grid. Bonus: It's solar-powered, too.
For access to exclusive gear videos, celebrity interviews, and more, subscribe on YouTube!