Parker Young might not be a household name (yet). And Bravo might not be your most-watched channel either. But the actor's gig on the drama Imposters is the kind of television fodder that gets you excited about cable TV again.
Skeptical? Imposters earned 100% on Rotten Tomatoes' tomatometer and an average audience score of 4.4/5; the Critics Consensus? "Imposters meshes slapstick comedy, top-notch writing, unexpected twists, and a noteworthy lead performance, with satisfying—and surprisingly ambitious—results."
The show revolves around a beautiful con artist (played by Inbar Lavi) who scams her love interests, robbing them of all their money. Three of her latest victims (played by Parker Young, Rob Heaps, and Marianne Rendón) team up to track her down.
We caught up with Parker Young to get his take on the new season, discuss some of his favorite adventures, and get the low-down on the gear he can't live without.
Imposters is back for Season 2. What are you most excited for people to see?
Throughout Season 1, we don't get to find out much about my character, Richard—where he came from or his relationship with his ex-wife. This season is just bigger. There are cooler locations, we get to push the envelope, and it's a little bit darker and funnier at the same time.
What were some of your favorite adventures as a kid?
I learned to scuba dive with my dad when I was about 13. He, my brother, and I went to Mexico and got certified. We did some shark dives and night diving in the Bahamas. I was scared because the instructors were putting chain mail on while we were sitting there with regulators in our mouths and oxygen tanks on our backs in swim trunks. I remember thinking, 'Where's our chain mail?' They said, 'If a shark knocks you over, don't flail your arms to try to right yourself, because they might mistake you for a fish.' But I think the night dive was almost scarier, because it's pitch-black and you're just dropped in the ocean. You can't see anything except for what's right in front of you with this little beam of light. We also did a fresh-water cave dive where we rode out in the middle of the jungle. Unfortunately, I had some ear problems. I couldn't get up to the surface to lessen the pressure and equalize, because we'd already ventured into the cave. I remember scooting along the top edge just waiting until we made it to an opening.
Any upcoming endeavors you're taking on?
I'm actually on my biggest one currently. My fiancée and I are having a baby, so that's quite the adventure. And recently we went to Bali and just backpacked around. Then we went to Vietnam, Cambodia, Thailand, Montenegro, Croatia, and Serbia. When I have time off from work, I need to decompress; so we'll take a backpack and, without any real plans, just go bounce around, take some pictures, meet some new people.
Do you have any tips for backpacking?
I think the best thing is to relinquish any expectations. Don't try to plan everything, because if you over-plan things, you risk removing the serendipity out of your travels. That's when all the magic happens—when things unfold as they should rather than as you planned. And pack light. You always need less than you think. Don't worry about what you look like. Go have a blast.
Any trips you're dying to go on?
I just moved down to San Diego and haven't been camping in a while, so, I'd love to go on a little camping adventure.
What's your go-to drink or cocktail?
I like my alcohol straight up. It can be a vodka or gin martini, or some scotch on the rocks or neat—depending on how cold it is outside. I'm still discovering what I like, but Macallan 12 Year Old is something most people have. I usually like single malt scotch.
Do you have a favorite piece of gear or something you can't live without?
I have a very standard military backpack I bought six or seven years ago from a military surplus store. I use it all the time; it's so reliable. It's got a little water reservoir, and a pouch for your camera or whatever you need. I swear, it's the best purchase I've ever made. Other than that, I guess a hatchet always comes in handy—and a knife. Those are some of my go-tos.
You're from Tucson, Arizona. What's a must-see attraction someone should visit if they're passing through?
There's this place called Sabino Canyon that runs up into the Catalina Foothills. It's got this river running down through it and it's so beautiful. Every time I go home, I go back there for a hike and go jump in the river. You can see little spots on stones where Native Americans would grind corn to make tortillas. It's cool to think about the indigenous people who used to roam in these mountains and live and thrive out there.
Don't try to plan everything, because if you over-plan things, you risk removing the serendipity out of your travels.
You competed in the Miami Triathlon. What's the hardest part for you: swimming, biking, or running?
I'd say the bike because it lasts the longest. It's just long and you're winded, so that's probably my least favorite.
Did you make any mistakes your first time around?
My buddy likes to drink the night before, which is not conducive to waking up at 5a.m. and jumping in the ocean. I also had a friend loan me a fancy, expensive bike that had aero bars so you can lean on your elbows. Your main goal is to stay firmly planted with your ass on the seat and just pedal to stay aerodynamic. Well I was feeling like a badass and I shifted my weight forward and tried to stand up to go up a hill. I wobbled and wobbled, and almost fell over. I learned my lesson.
Do you have a training philosophy?
Don't get too comfortable. Growth occurs, not when we're firmly planted in our comfort zone, but when we're forced to leave it and expand our mind and body's capacity to handle adversity. Be willing to try new things, like slack-line, jiu-jitsu, handstands, or back flips. It used to be about pushing weights around in the gym to get bigger. But then you start to lose a bit of mobility and you start to become a beefcake. I'm still in the process of focusing more on flexibility and yoga—undoing a lot of the wear and tear I put on my body. I'm entering this next stage of my life at 29. I've hurt myself doing CrossFit and being too competitive. Now I just want my body to function well. I want to be able to fight. I want to understand how to move and box or wrestle.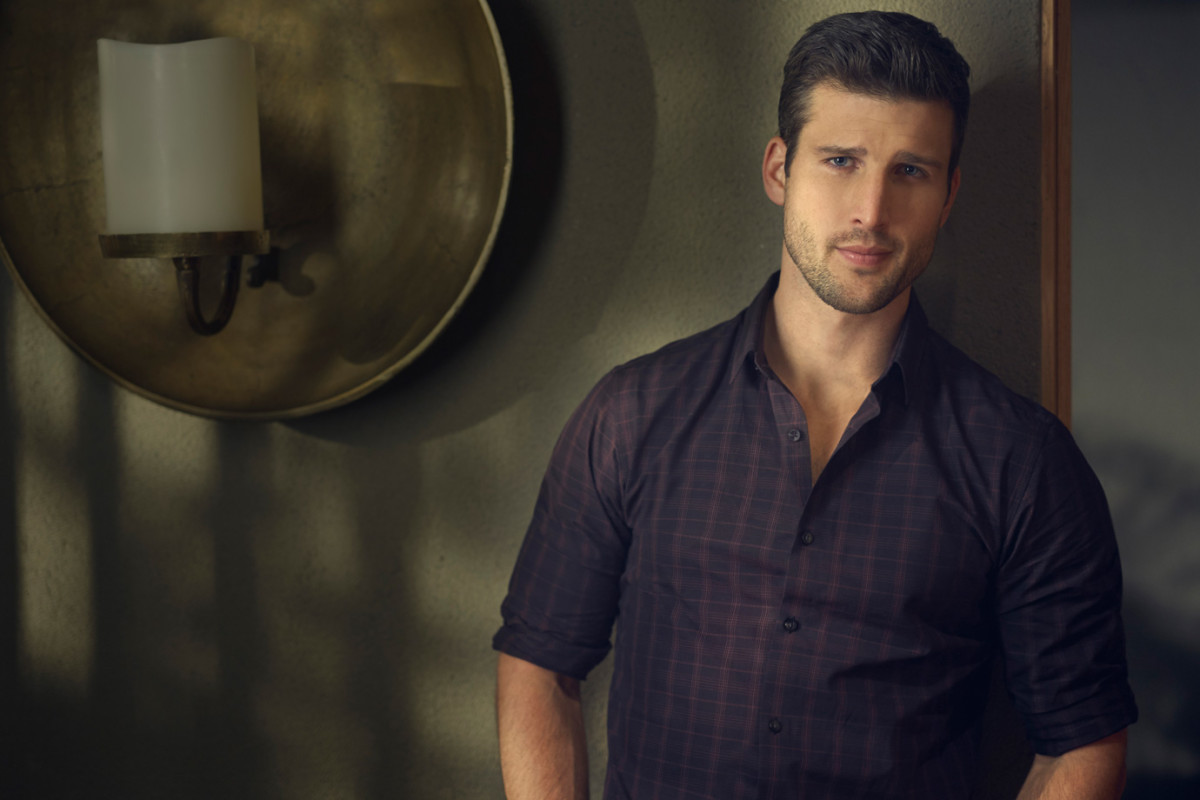 How dialed-in is your nutrition?
I was really into this whole paleo thing—just eating like a caveman—and I enjoyed it. It felt right, more or less, until it became about all these fatty animal products. It didn't feel right, ingesting all this pig fat. I looked great, but I don't know that it was the healthiest for my body. I tried being vegan for a while, but I noticed I was losing weight and muscle because I wasn't careful to eat like a vegan bodybuilder—getting enough protein. I was just eating whatever my girlfriend wanted to cook.
Now I'm at this place where I'm trying to mix the two. I try to eat as clean as I can—as vegan as I can. But I'm not strict. I eat a lot of chicken. I'm trying to cut back on red meat, trying not to eat pork. I feel bad about eating cows and pigs, especially when they just show up on my plate as a finished product. I would love to go hunt something myself. I have a problem with the food industry right now and the way that food is handled.
What's the best piece of advice you've ever received?
I specifically remember my dad telling me to do what I loved. Let the money fall into place. Always give 110%. I think that was instilled in me at an early age, so I've always done what I loved and tried to have a great time doing it, while working harder than anybody else.
Catch Imposters on Bravo Thursdays at 10/9c.
For access to exclusive gear videos, celebrity interviews, and more, subscribe on YouTube!