This Is No Vacation
Travel Outfitter AdventureX Pushes Its Clients to the Limit—and Nearly Over
MATT PRIOR MAY know where we are going, but he's doing his best to keep the rest of us from having any idea. Somewhere in eastern Bhutan, we ease our Royal Enfield Classic 500 motorcycles to the side of a gravel mountain road and begin layering to stave off the chill of nightfall. We're six hours into a five-hour motorcycle tour—"We should be in before dark," Prior said before setting out—and now he estimates there are another 26 kilometers to our stopping point at Trashigang. That shouldn't take more than an hour, so, bundled up against the cold, we fire up our engines and snake up the rugged road. An hour later, still picking our way through the night, a sign flashes in our headlights: "Trashigang, 26km." The element of surprise is a hallmark of this trip, and Prior is clearly keeping us guessing.
We've come to Bhutan for the launch of Prior's new travel company, AdventureX,* which was conceived, in part, as an antidote to what he sees as the milquetoast adventure offerings from other tour operators. "So many companies just hit all the same tourist spots, check all the boxes," Prior says. "It becomes about constantly increasing volume, in terms of both travelers and trips. Where's the adventure in that?" By contrast, AdventureX is going live with just two high-dollar programs, one in Bhutan and the other in Mongolia. All trips take in extremely remote areas, and, with itineraries scouted personally by Prior, not one of them is anything close to what other tour operators are offering. Groups will be small (four to eight), slots available by application only, and Prior and his co-founder, Chris Plough, will co-guide each trip.
The company reads like an outward expression of Prior's wanderlust. Trained as a jet pilot for Britain's Royal Air Force, Prior's day job is as a commercial airline pilot based in Hong Kong. But his passion has always been adventuring: He's traveled to more than 120 countries and has undertaken countless expeditions, including driving a London cab to 17,143 feet on the Tibetan Plateau. Last year, in his role as director of the Hong Kong chapter of the Explorer's Club, he led a team of paleontologists and adventurers through Mongolia's Gobi Desert.
With AdventureX, Prior hopes that carefully vetting participants will allow for the bonding and growth that you typically get only when you travel with friends. Prior also wants to push clients out of their comfort zones, which is part of why he provides no advance itineraries, even once the trip is under way. "People say they want adventure, but we mostly just cruise through life doing the same old things," he says.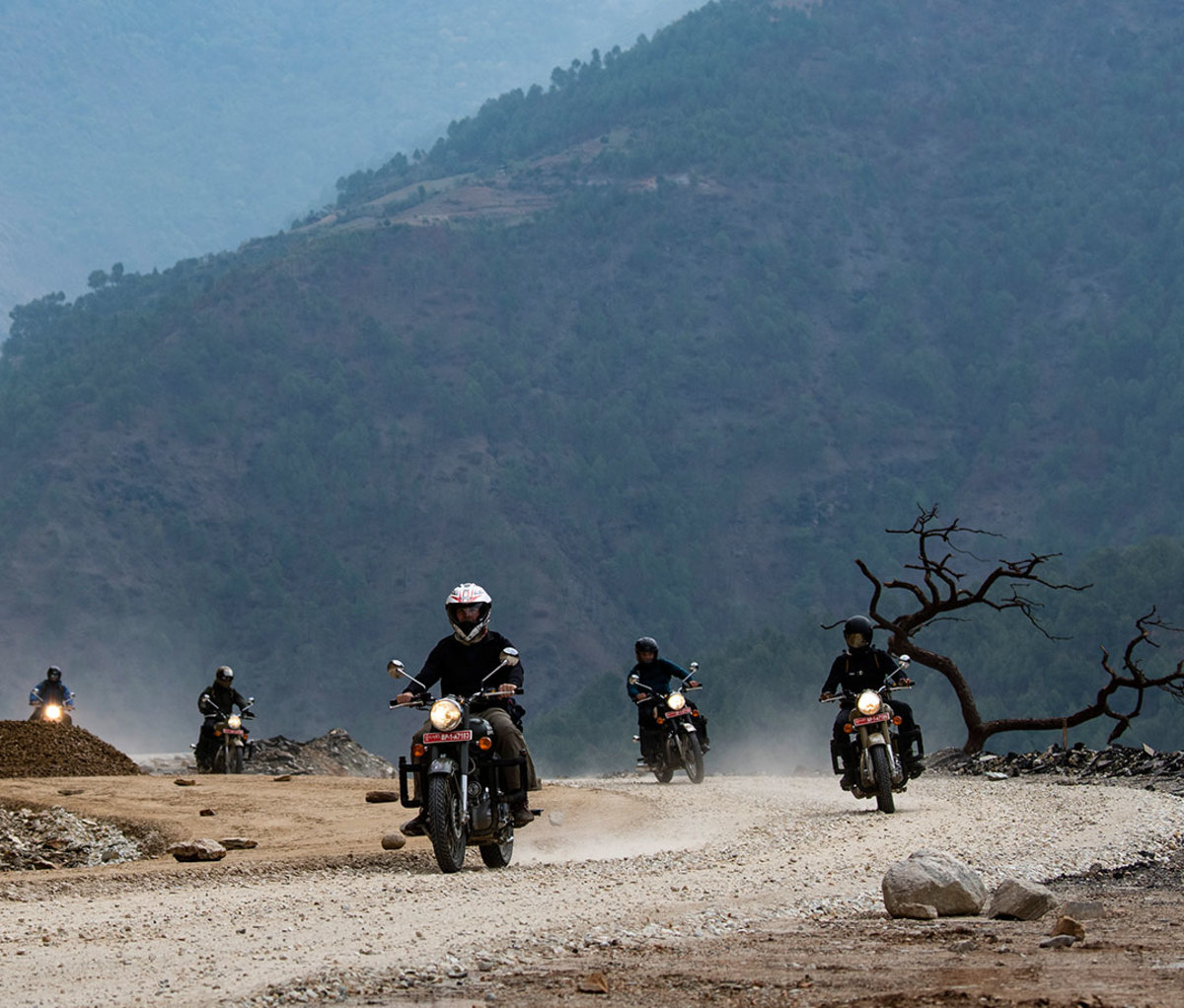 For our Bhutan departure, a motorcycle tour of the world's last Buddhist kingdom, the only specifics five clients and I received were to arrive on a set date in Guwahati, India, and arrange a return flight from Bangkok, Thailand, a week later; pack a sleeping bag, pad, and layers for the mountains; and don't forget your motorcycle license.
Which brings us to night one, six hours in: My fingers are numb from the cold, and I'm drowsy from jet lag. Others must feel the same because Prior corrals us from the rear every half hour or so and we stop to stamp around and wake up. At 10:30, we arrive at our accommodation for the night, where huge plates of rice and stewed meat await. There's lots of celebratory backslapping and clinking of beer bottles. But there's little time for reflection.
"Breakfast at 5:30 a.m. Depart at 6," Prior announces. "Get some rest, fellas. You're going to need it."
AT BREAKFAST on day two, we find out the plan is a two-day hike for an overnight at the mountain village of Merak. More than just a run-and-gun throttle through the kingdom, this trip also aims for some insight into our host country.
Buddhism in Bhutan is pervasive, and on the hike, we pass stands of prayer flags commemorating the dead, a shrine built into a cave, and prayer wheels, some of which are powered by tumbling springs and strike a bell with each revolution. We walk through steep, open groves of three- and four-story pines and down a creek-fed valley. A sign declares "Entering Bigfoot (Megoe) Valley." Locals swear that yetis live in the area, and they tell stories of leopards and tigers killing cattle, though the only animals we see are herds of yaks. A mile later, we reach Merak.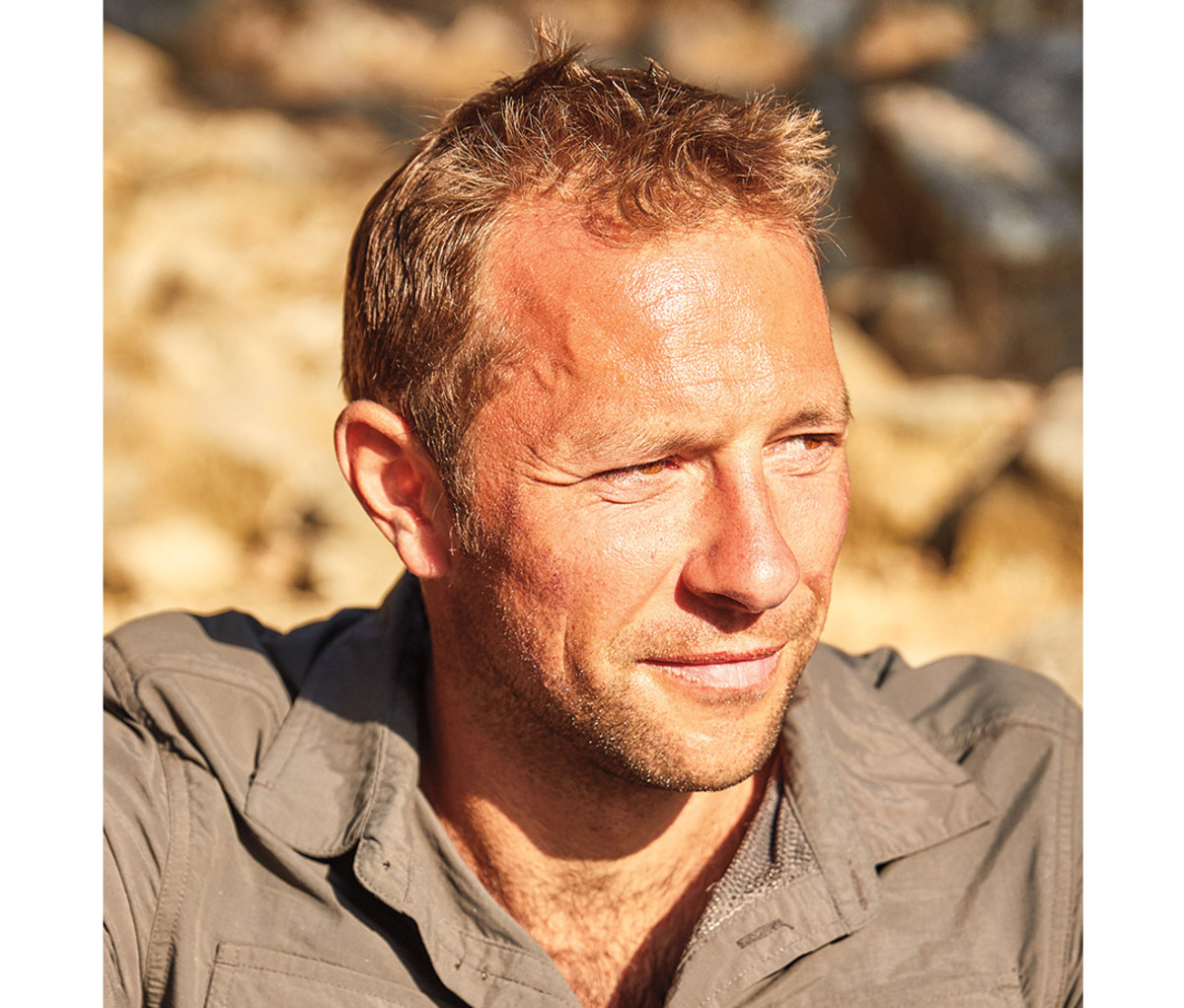 While we're there, a few of the village men show us the archery range. There they use basic bows of sticks notched with string to hurl arrows at a target so far downrange that it's barely visible. When we try, the men burst with laughter when we can't connect from 30 yards. Afterward, the villagers perform a series of clamorous dances that culminate in a two-man dress-up yak gulping whole bottles of ara, the local firewater. These sorts of displays usually come across as forced, but here it feels welcoming. Every family gives us a bottle or two of home-brewed ara, and a trio of women are tasked with topping us up. No sooner do you take a sip than one of them hurtles in for a refill. "I wish they had bartenders like this everywhere," says Tony Ricciardi, an entrepreneur from Maine.
Bhutan strictly regulates tourism—all visitors pay a minimum daily fee of $200 per person—and the high cost of entry keeps the country's tourist numbers low, just 70,000 international visitors in 2018 compared with 1.1 million in nearby Nepal. For us, it means that outside the capital, Thimpu, we see almost no other tourists. Keeping numbers low also helps preserve the land, and we find mountains on top of pristine mountains on the return hike, which takes us over a 13,500-foot pass. The all-day trek includes a rugged, slightly risky, two-mile side slope through deep snow that would turn back most tour companies.
Prior is intent on pushing people as a means of personal growth. He often cites a Navy SEAL maxim that when you think you're completely done, you've really accessed only 40 percent of your ability.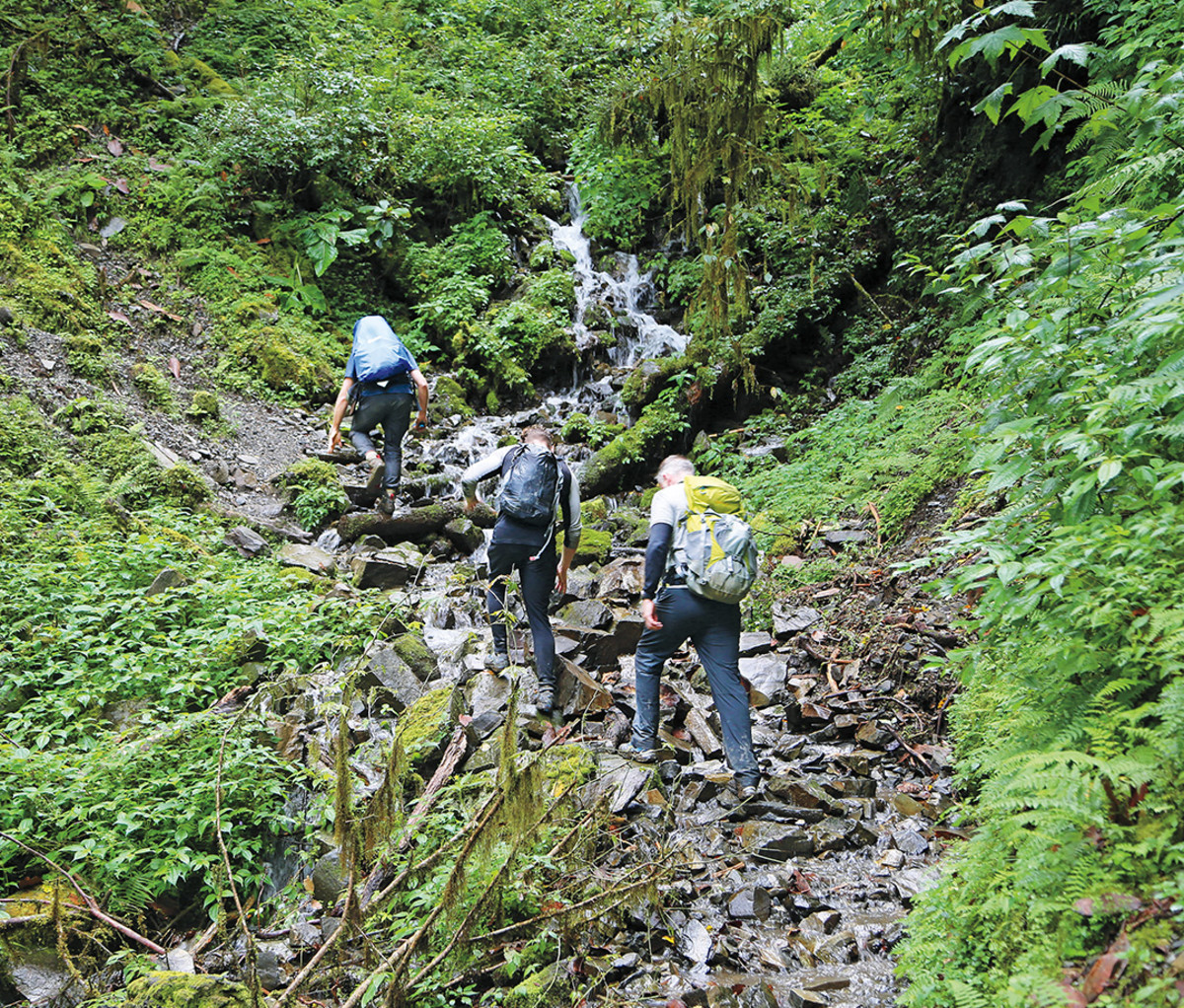 "That means we all have 60 percent more that we can tap into! Imagine what you can do!" he exclaims. If there's one guiding principle on the trip, it's to get people beyond their sense of limitations. Says Prior, "I don't want to break anyone, but I have to get them close."
RESTLESS FROM two days off the bikes, we strike out early on day four, and everyone is heavy on the throttles. We snake down a valley, then blast along a coil of pavement above the Drangme Chhu river. We make our way west, linking epic stretches of road as we go. More than once, we're sidelined for hours when we come on rockslides that have covered the road. The mountains here are so sheer that any precipitation can bring down an entire hillside.
One such delay means we end up riding the route's highest pass, 12,309-foot Thrumshing La, late in the night in icy rain and fog. Patchy pavement gives way to snot-slick mud that occasionally forms ruts taller than our tailpipes. We fishtail and swerve at slow speed at the edge of dark maws that tumble thousands of feet to the valleys below. A few days later, to avoid such a late night, we leave the hotel at 4 a.m. and spend the first few dark hours negotiating thrashing rain in near-freezing temperatures. Every 20 or 30 minutes, we're forced to pull over and warm our hands on the steaming tailpipes.
Whereas most tour operators would do everything they could to avoid such hardships—missed turns, late departures, road delays—Prior seems to relish them. "If you never intentionally make yourself uncomfortable in life, you miss the opportunity to expand and grow," he says.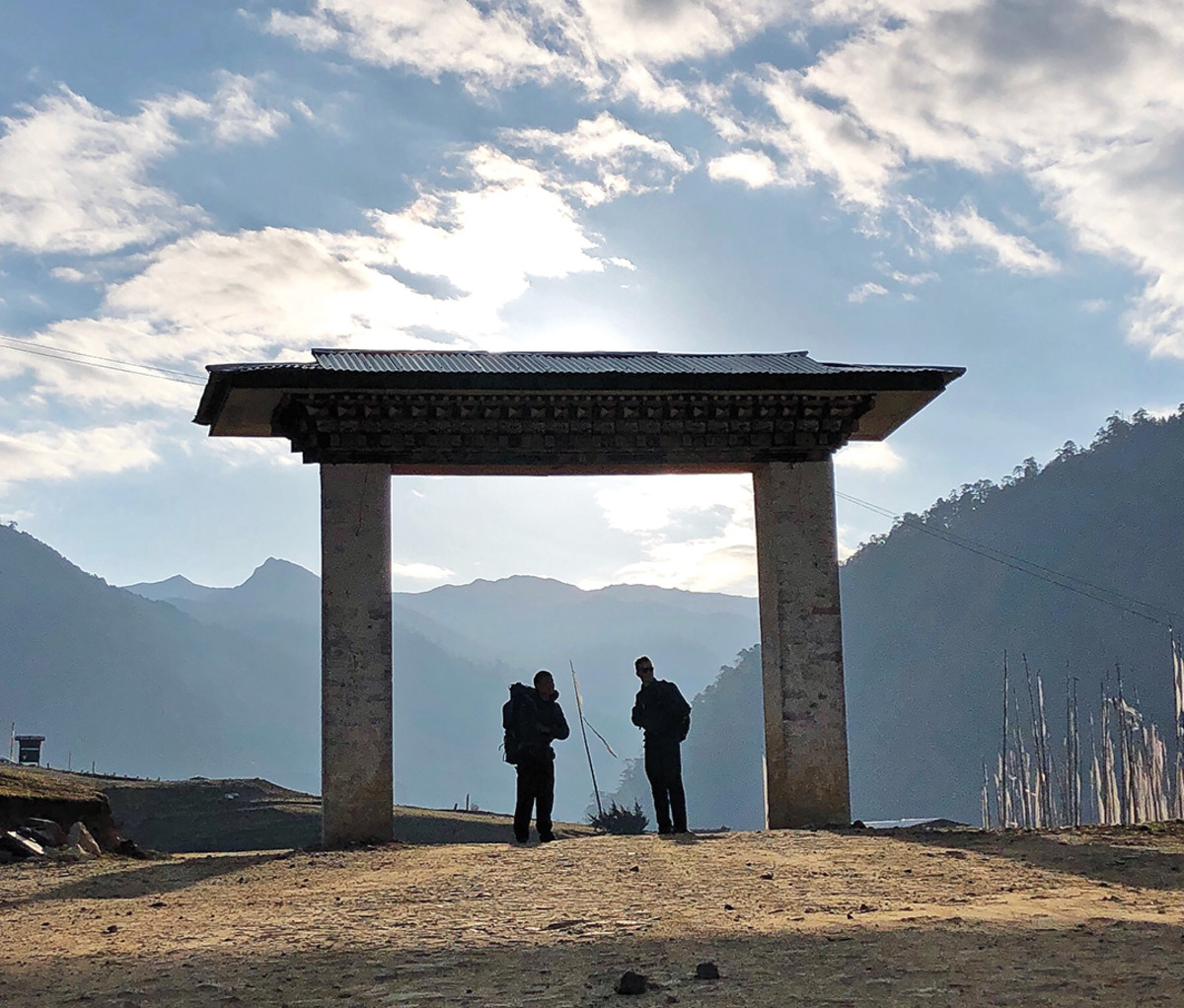 Of course, it's not all hardship. Our penultimate night is in the hills west of Thimpu, where there's a seven-course dinner and rounds of beer and K5 Himalayan whiskey. Over drinks, we start talking about our trip. "There are areas that have been uncomfortable," says Tony. "But it's those moments that make things fun." Scott Thompson, who owns a home hospice care business in D.C., concurs and adds that the physical demands made it clear he needs to take better care of himself. "It hit me in the gut," he says. "It's time to make a move, time to make a transformation."
Prior lets us sleep in till 7 the next morning, our final full day in Bhutan. After breakfast, we make the 2,000-vertical-foot hike to Paro Taktsang, the 17th-century Buddhist temple carved into a cliff face. It's Bhutan's best-known site, and despite the crowds and the heat, it's a marvel. Afterward, we ride up Chele La, the highest motorable point in the country, at 13,084 feet. At the top, the clouds clamp down, and heavy wet snow begins to fall. We plunge off the other side, and by midway through the 12 hairpins on the slippery descent, my eyes are iced over and stinging and my hands feel like throbbing meat hooks on my brake levers.
"I always worry that a trip will be too easy," Prior told me the night before. "No one has ever told me that. But I definitely worry about it."
*The AdventureX model is based on putting together a team that blends well together during hardship, which means there are just four to eight clients per trip, and slots are available by application only. The next expedition is to Bhutan in November, with more trips scheduled for 2020. Apply at adventurex.com.
For access to exclusive gear videos, celebrity interviews, and more, subscribe on YouTube!