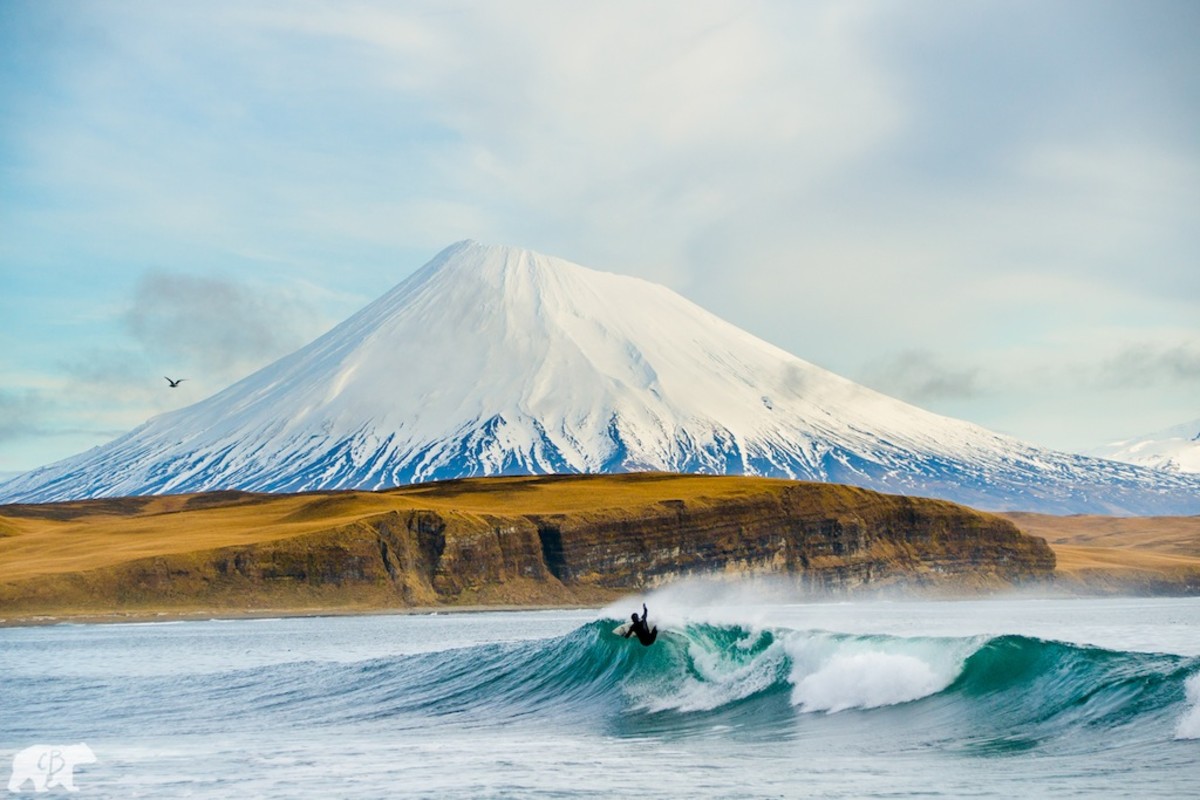 Finding "the perfect wave" is every surfer's fantasy, and has been ever since a couple of barefoot adventurers found surfing nirvana in a remote corner of Africa in Bruce Brown's 1964 documentary film "The Endless Summer." In the 50 years since, there have been dozens of landmark discoveries, but nothing quite like last week's reveal, as a group of surfers released the first video of an incredible wave discovery on the far reaches of the Aleutian Arc, on a lonely Alaskan island that's home to eight people.

"The Aleutian Islands have been called 'The Cradle of Storms' and 'The Birthplace of the Winds,'" wrote Surfer magazine correspondent Ben Weiland. "But in the wintertime, to those who think about them at all, they're simply a weather-beaten hellhole."
See the full length version of Cradle of the Storms
Once laughably off limits, over the past few decades improvements in wetsuit technology have made chasing "The Endless Winter a possibility for those who dare. Peter Devries is walking proof of the advances. He grew up surfing on Vancouver Island, British Columbia, and in 2012 became the first Canadian to win an international ASP event.
[grind_gallery id="31″]
Nowadays, when he's not competing, he's usually exploring the frigid frontier that is his backyard. As for Alaska, this was his second attempt at verifying rumors he'd heard via the fishermen and hunters who knew something about high-quality surf. His first visit to the island six years ago was a washout. So too was the first surf mission up here nearly 20 years ago. It's not enough to find the perfect setup. The trick is to find the perfect weather window too, when all the elements come together to make things magic.
"Because of the weather, we could only surf two of the 10 days we were there," said photographer Chris Burkard. "But both days were magic. And when we struck gold with that right-hander—I mean, that's something I'll be talking about for the rest of my life."
While they found a handful of fun waves, the hollow right reefbreak they stumbled upon was world class. "When we spotted it we were in total disbelief," says Burkard. "Conditions couldn't have been better, but it looked really shallow. We watched a couple waves spin down the reef and before we could even determine if it was rideable Alex Gray was sprinting for the water in his wetsuit. But his first wave erased all doubts. He dropped right into a hollow one, pulled up and inside a spinning cavern, and came flying out about 30 yards down the line."
An image of Josh Mulcoy surfing inside a picturesque bay appeared on the cover of Surfer magazine a month after their trip, but video proof, which is far more revealing, has just landed with the debut of "The Cradle of Storms." The short documentary is an inside look at their amazing mission. For Mulcoy, who made his first surf trip to Alaska back in 1993, this was the culmination of a dream he's had for two decades. "There was never a doubt whether perfect waves existed up here; it was just whether they could be had. I've had a lots of 'fun' surf sessions up here, but this trip surpassed anything I've ever seen in Alaska—by far."
More from GrindTV
Skeleton Bay in Namibia roars to life
Watch round 2 of the Fiji Pro live from Cloudbreak
For access to exclusive gear videos, celebrity interviews, and more, subscribe on YouTube!