Branded Content
America's Newest National Park Does Autumn Like Nowhere Else
This article was produced in partnership with the West Virginia Department of Tourism

During any given season—and definitely in the fall—there's a long list of reasons why West Virginia has been nicknamed "Almost Heaven" by all fans of the greater outdoors, from casual leaf peepers and luxury travelers to thrill-seeking, roughing-it types.
Lush technicolor forests. Magnificent mountains. Raging rivers. Gorgeous gorges. Luxury retreats worthy of presidents and royals. What's not to love here?
The Mountain State's latest news is its biggest headline ever for nature lovers: Last December, West Virginia's New River Gorge officially became America's 63rd designated national park—and the first one in the state's history. Not long after this nearly 73,000-acre Appalachian wonderland was re-titled New River Gorge National Park and Preserve, Time tapped it as one of the "World's Greatest Places of 2021."
Running for over 50 churning miles through the heart of it all is the curiously named New River—which is anything but. Over the millennia, this overachieving waterway (one of the world's oldest) has carved the longest and deepest river gorge in the Appalachian Mountains, creating a spectacular hub of natural wonders and thrilling outdoor pursuits along the way.
The park naturally draws sightseers year-round, but it hits an obvious peak in the fall when those verdant canopies go all crimson, cinnamon, and gold. From epic river runs and land-based adventures to the simple joys of foliage ogling during an autumn-intensive road trip, there are countless reasons to add America's newest national park to your Almost Heaven bucket list this season.
Need some quick direction? Here's a timely travel guide, shortlisting the best fall experiences, must-sees, lodging picks, and more in and around New River Gorge National Park and Preserve. For more trip-planning info, order a free print or digital vacation guide.
How to Get There
New River Gorge National Park and Preserve is the perfect destination for road trippers in search of an adventurous autumnal escape. The sprawling park is located near multiple major interstates, making it easily accessible from a range of metropolitan hubs. It's just a four-hour drive from Washington, D.C., about seven hours from Philadelphia and Atlanta, and roughly eight hours from New York and Chicago.
Better yet, fly into Yeager Airport in Charleston, West Virginia, then rent a car and take a scenic drive down U.S. Route 60, the Midland Trail, to the New River Gorge. It's a quick, hour-long drive, and the spectacular waterfalls along the way are an added bonus.
Can't-Miss Experiences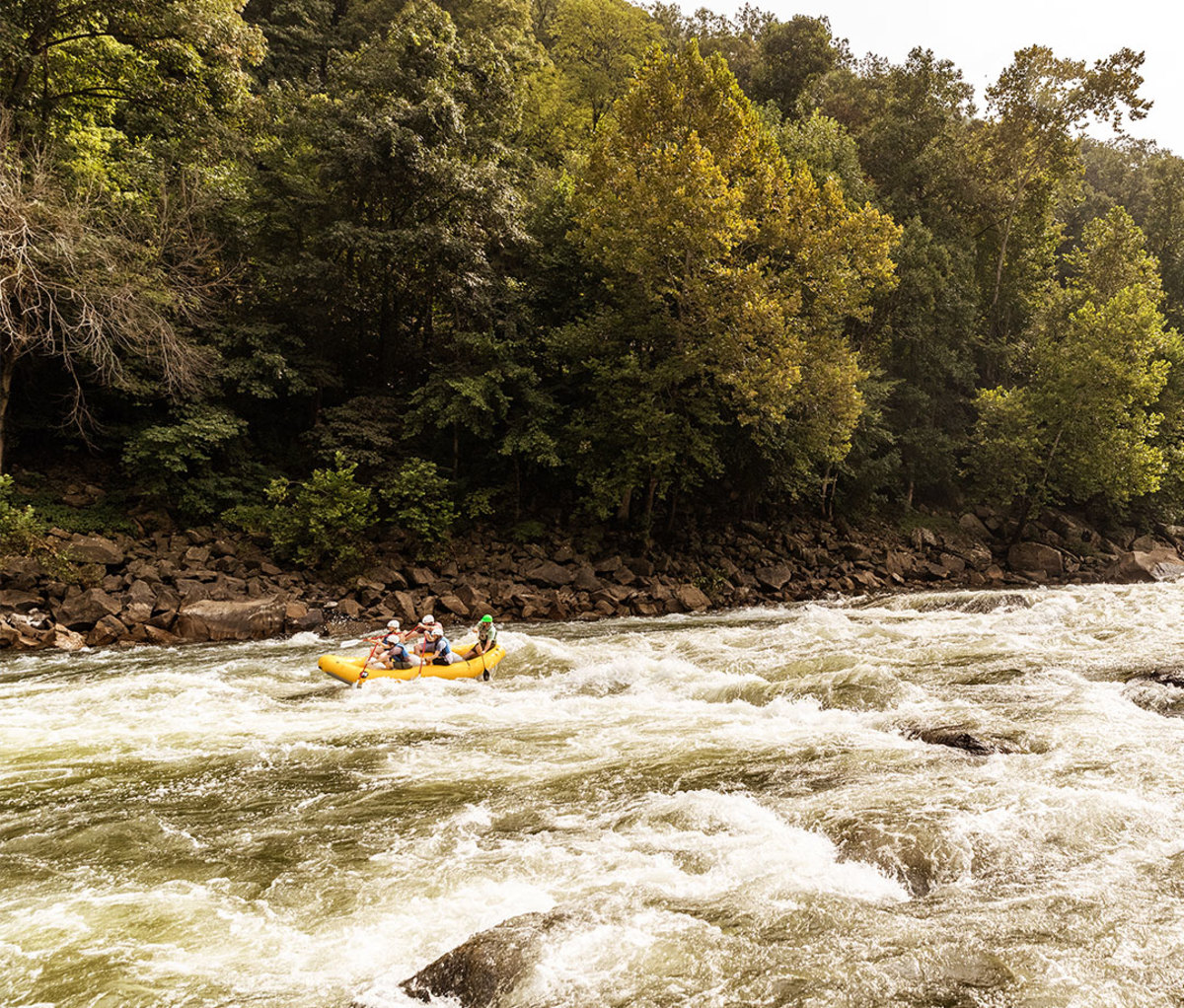 Get Ready for Gauley Season
Savvy thrill-seekers have been flocking to West Virginia's New River Gorge long before its latest national park designation. The area boasts some of the frothiest waters in the world and has developed a reputation for being one of the country's top whitewater rafting destinations. When's the best time to take a wild spin? Right about now—during a three-week window between late September and mid-October, known as Gauley Season. This is when the Army Corps of Engineers lets loose a scheduled water release from the Summersville Dam for flood control purposes, creating ideal water levels for rafting. Rapids range from class III to V, culminating in more than 26 miles of phenomenal froth along the Gauley River. Multiple outfitters offer half-, full-, and multi-day tours down this wild, wet road. Want a more mellow alternative? The area also offers float trips.
Embark on a Mountain Biking Adventure
Another heart-pumping way to navigate America's newest national park is on two wheels. With its extensive singletrack and picturesque landscapes, the region is quickly becoming a hot spot for mountain bikers in one of the few national parks that permit this activity. More good news: Most of the park's purpose-built mountain biking trails were developed by the Boy Scouts of America—some of the country's best trail builders. Caveat: Many of the corridors are tight and narrow, creating a challenging journey, but you don't have to go it alone. The region is home to several bike shops and outfitters that lead guided tours through the New River Gorge and beyond.
Explore Scenic Hiking Trails
One of the best ways to soak in West Virginia's peerless leaf peeping is by hitting the trails. Over 100 miles of hiking routes carve through the park, letting hikers experience everything from flat and smooth paths to more challenging steeps. Wind your way through hardwood forests crested in amazing fall foliage, trace along staggering cliffs, and relish the unobstructed panoramas of the gorge, rivers, and shuttered mines below. Some favorite hiking options include the 2.4-mile Endless Wall Trail, the 3.2-mile Long Point Trail, and the 5.6-mile Glade Creek Trail. For something a bit more strenuous, go for the Kaymoor Trail, a steep 2-mile trek that leads to an abandoned mine.
Discover World-Class Rock Climbing
Rock climbers can't resist "the New's" towering sandstone cliffs and ever-expanding bouldering scene. The sport started taking off in the 1980s and it's been full throttle ever since. Today, the park is regarded as one of the premier rock-climbing meccas along the East Coast, offering more than 1,400 established routes and counting, with new additions being explored every day. While the park is best suited for advanced and expert climbers, there are also plenty of milder routes for intermediates and beginners as well. With options in the 30-foot range to multi-pitch trad and sport lines that soar upwards of 120 feet, there's something for every type of climber to sink their hands and feet into.
Must-See Sites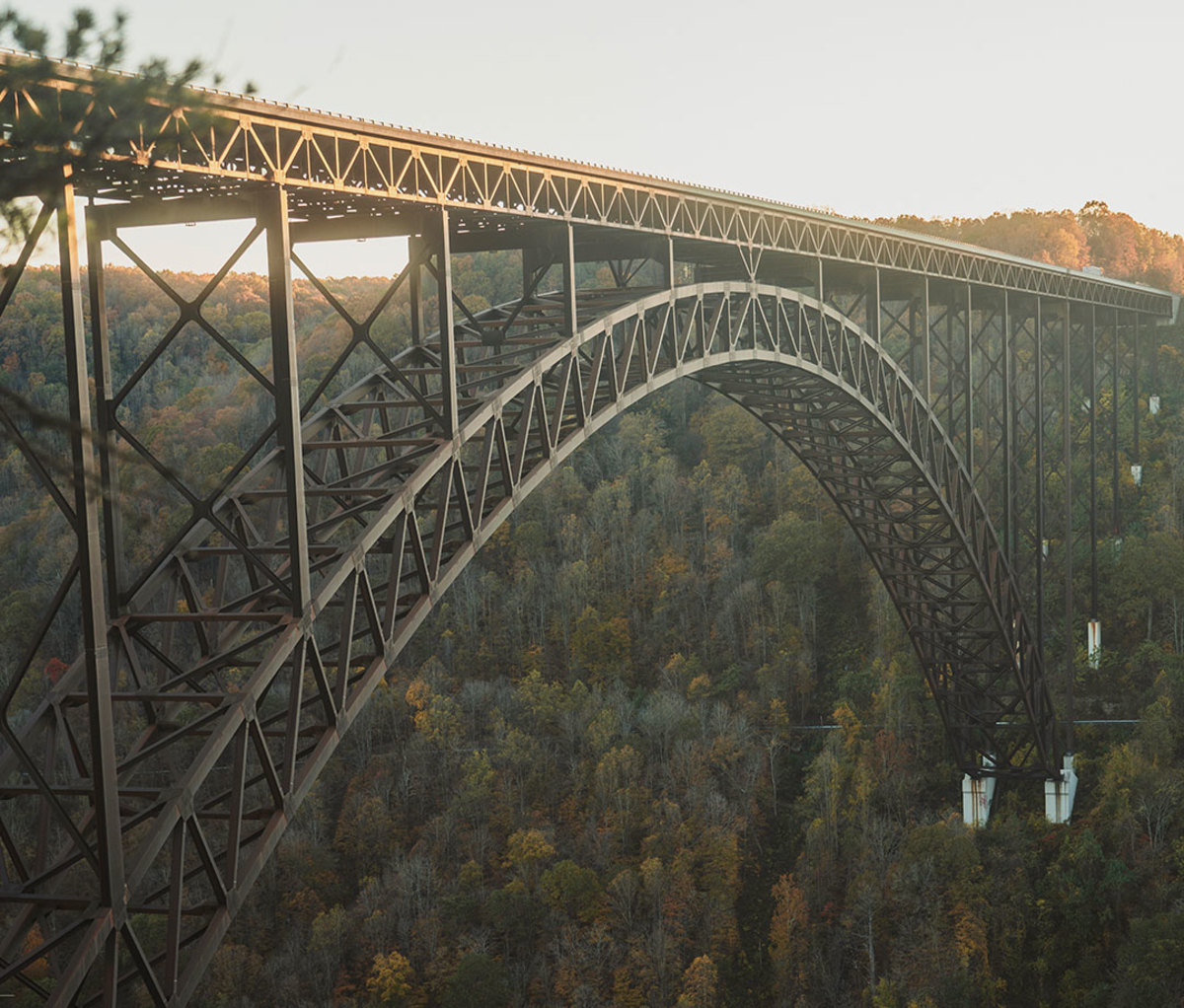 Canyon Rim Visitor Center
The Canyon Rim Visitor Center is an obvious first stop at the park to get oriented. The striking facility offers a wealth of intel and resources, including maps, interpretive displays and exhibits, and the requisite book store for additional reading. The center—constructed from local materials including sandstone and red oak that seamlessly echo its natural surroundings—features a short boardwalk descending into the gorge and a pair of observation decks for perfect overlooks of the iconic New River Gorge Bridge. Additional seasonally operated visitor centers include the Sandstone Visitor Center, Grandview Visitor Center, and Thurmond Depot.
Grandview
Grandview is no misnomer. The serene escape offers some of the most awe-inspiring vistas of the park, with an overlook perched 1,400 feet above the New River (the highest in the park) stretching seven miles on a clear day. From here, visitors can also spot an active railway and the historic town of Quinnimont, where coal was first shipped from the gorge back in 1873. This section of the park also houses a seasonal visitors center, picnic area, playground, five hiking trails, and Theatre West Virginia, which organizes outdoor drama performances in the summer months.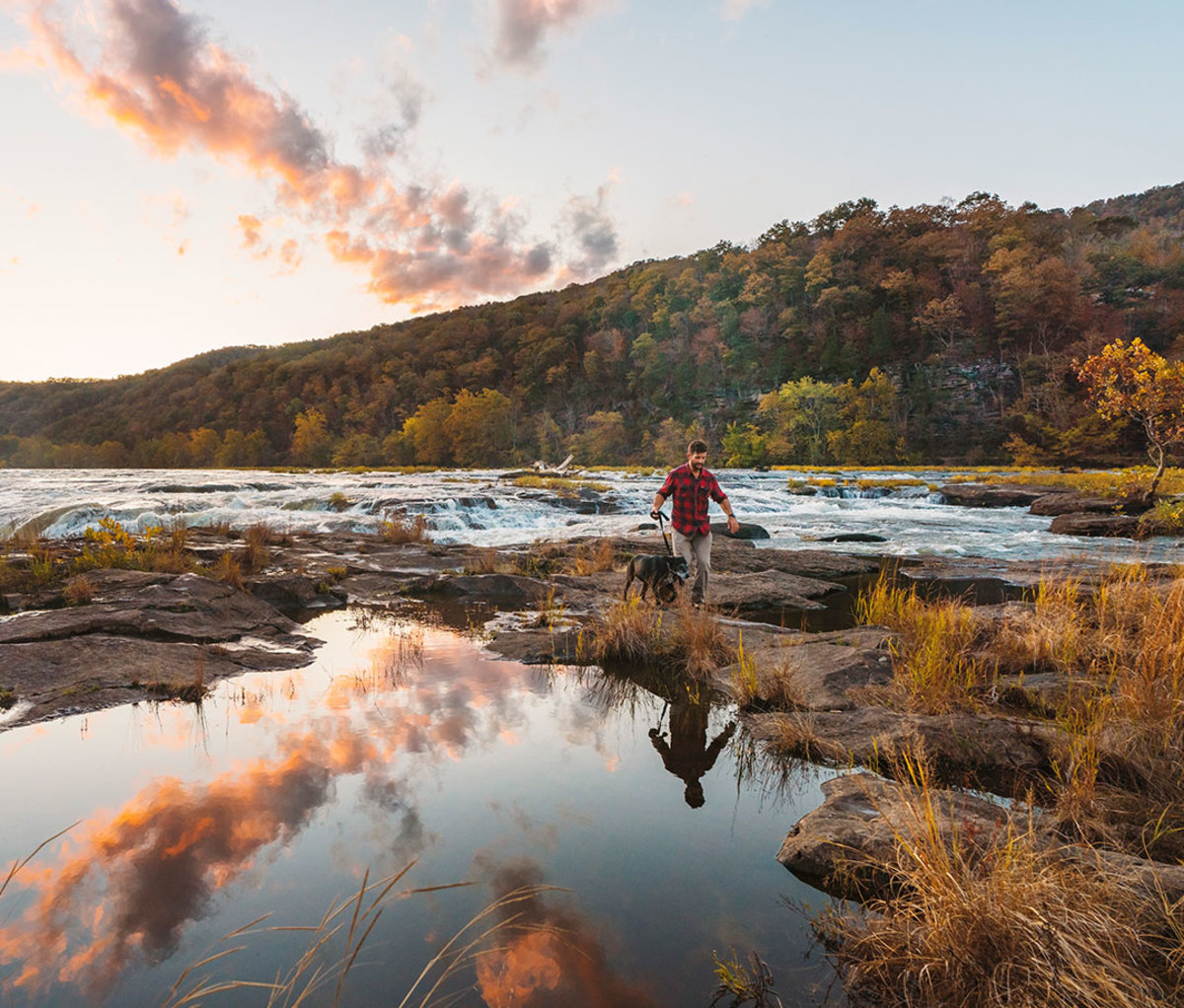 Sandstone Falls
Among numerous spectacular waterfalls throughout the park, Sandstone Falls is the easy fan favorite. The largest waterfall on the New River spans the waterway at one of its broadest points—about 1,500 feet wide—before abruptly dropping 25 feet and transitioning into a narrow, raging whitewater gorge in its final descent through the Appalachians. Rushing waters have gushed through this magical spot for eons, creating one of the park's most magnificent river-borne natural wonders.
Fayette Station Road
A winding drive along Fayette Station Road is like cruising back in time. Over a century old, the route includes everything you want in a thrilling road trip: hairpin twists and turns, a narrow bridge crossing, and white-knuckle views along the way. The serpentine journey descends into the bottom of the gorge, coiling through dense forest and the remnants of long-gone communities once bustling with life. Many of these ghost towns are semi-concealed under layers of vegetation—which is equal parts historic and beautiful.
Bluestone National Scenic River
The Bluestone River draws its name from the deep blue limestone streambed found in its upper reaches. Flowing about 80 miles, the river's lower ten has been designated as the Bluestone National Scenic River—part of the National Wild and Scenic Rivers System. Whitewater boating here is permitted (at some water levels) and the area serves a biologically diverse refuge for hundreds of different plant species. The peaceful escape is also a haven for mammals, birds, amphibians, and reptiles, providing excellent wildlife watching opportunities.
Where to Stay
Courtesy Image
Lafayette Flats
Those in search of modern digs teeming with historic charm will find just that at Lafayette Flats. Neighboring New River Gorge in the heart of Fayetteville, West Virginia, this stately boutique property is listed on the National Register of Historic Places and appointed with four spacious flats, each with its own unique décor and thoughtful touches. Guests of Lafayette Flats are steps away from Fayetteville favorites, including eclectic boutiques, award-winning restaurants, and lively bars.
ACE Adventure Resort
For nearly half a century, family-owned and operated ACE Adventure Resort has been curating unforgettable West Virginia vacations. The compound sits on 1,500 wooded acres along the New River Gorge in Oak Hill, West Virginia. Guests can choose from more than 50 rustic cabin rentals that serve as an idyllic basecamp to explore the park. They also organize adventure experiences like whitewater rafting tours, rock climbing adventures, mountain biking excursions, and the only zipline tours with views of the gorge. Kids will love the on-site Wonderland Waterpark, complete with inflatable mountains and water slides.
Arrowhead Bike Farm
Arrowhead Bike Farm is a multifaceted retreat welcoming adventurers of all ambitions. Located on Fayetteville's outskirts, here's where you'll find a variety of camping and RV sites with easy access to multiple points of interest, including the popular Long Point Trail. The convenient spot is equipped with a full-service bike shop which offers both rentals and clinics. Fuel up before hitting the trails at The Handlebar + Kitchen, locally famous for their casual fare and impressive assortment of craft brews.
The Greenbrier
Lavish travelers look no further than The Greenbrier—an iconic world-class resort that opened its doors in 1778. Located in White Sulphur Springs, the castle-sized historic property is a National Historic Landmark and boasts a legendary guest list comprised of royals, presidents, celebrities, business magnates, and virtually every other VIP-type. The 11,000-acre luxury retreat offers a variety of accommodations, from guest rooms and suites to legacy cottages, and extra-extravagant estate homes.
Camping in the Great Outdoors
For a fully immersive (and free!) experience, New River Gorge National Park and Preserve offers primitive camping in designated areas located along the river. Yes, the sites are barebones. No hookups, running water, or reservations. But also no fees. It's first-come-first-served to camp in the park, with stays generally limited to two weeks. All filled up when you arrive? Check the other sites and nearby state parks for an unforgettable camping experience on the new New River Gorge.
For access to exclusive gear videos, celebrity interviews, and more, subscribe on YouTube!