There are plenty of factors travelers have to take into consideration when hunting for the perfect hotel room, like unique layouts, price points, and amenities. But this artsy newcomer in St. Louis is planning to throw one more unconventional variable into the mix: mood.
The Angad Arts Hotel will officially open its doors in November 2018, making it the world's first hotel to allow guests to book a room based on color and desired emotional response during their stay.
It might sound a bit quirky at first pass, but hear us out. Anyone hoping for a rejuvenating respite would be directed to one of the green-themed digs, a color believed to promote renewal and wellbeing. Those pursuing a passionate escape would opt for a signature red suite. Blue-hued accommodations are reserved for travelers in need of calmness and tranquility; and, of course, yellow suites are used to invoke happiness in holidaymakers.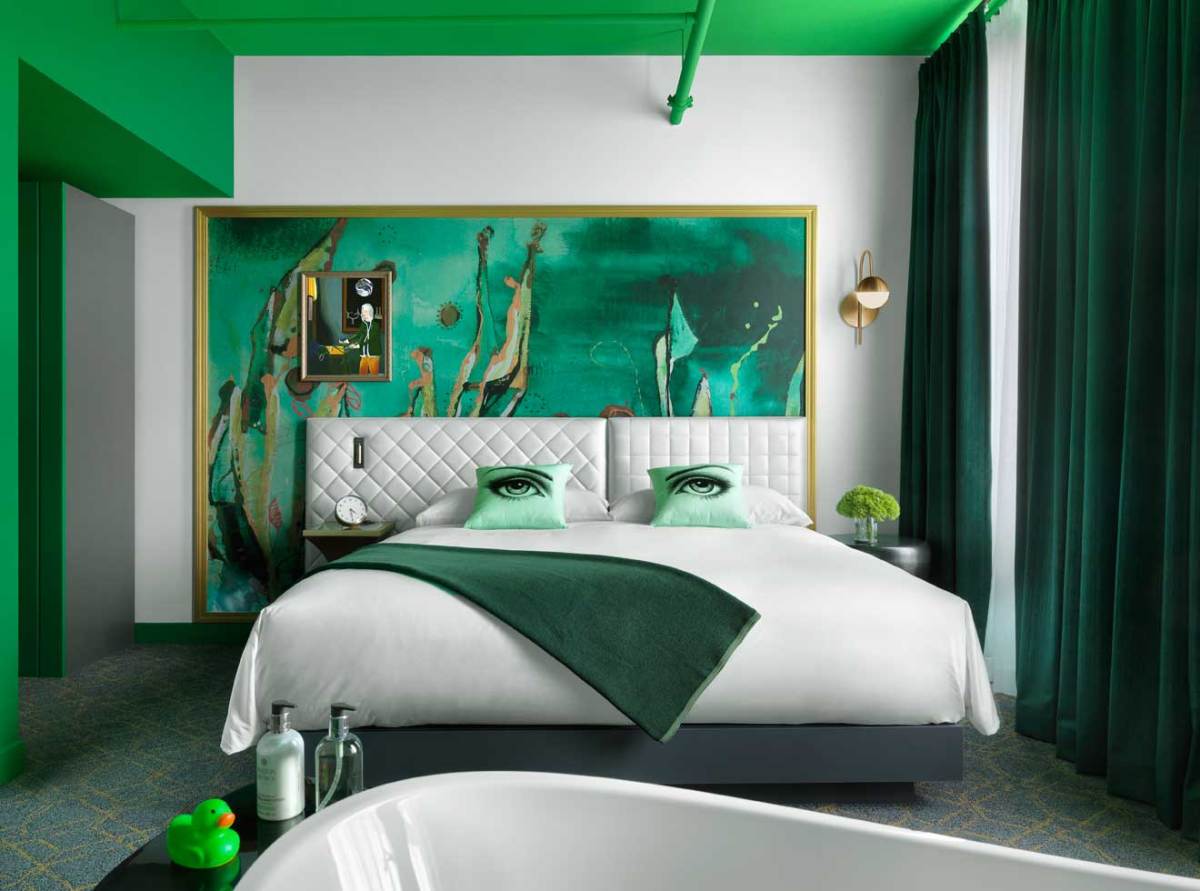 All in all, the property will feature 146 artfully designed guest rooms, including 38 suites and 25 extended stay rooms complete with kitchenettes. Tapping into the diverse roster of local talent, each will highlight various works by St. Louis artists that were carefully vetted by the Angad team.
"The hotel is intrinsically whimsical in the way it provides guests an immersive experience that delves into the thoughts and feelings behind color," said Steve Smith, CEO and co-founder of Lawrence Group, the firm tasked with creating the hotel's experiential design.
"We conducted extensive research into the overlays of color theory and color dynamics, looking at an array of color palettes, from muted tones to primary colors and even neon schemes. We found that the primary colors corresponded well to the attributes of the rooms, which would allow for a deeply engaging experience for guests…thereby allowing us to take guests on a journey into the emotion of color."
If you think the whole concept of color being able to sway your mood is a bunch of marketing mumbo jumbo, think again. It's one of the most important factors when it comes to branding because of its powerful influence over consumers.
"Color is the vital conveyor of moods and their emotional effects," says Leatrice Eiseman, color consultant and executive director of the Pantone Color Institute. "From the moment you enter a space, you're inundated with a sense of the surrounding colors. It's the first thing that forms an impression, and the final message you take away when leaving it."
But the hotel's artistic approach extends far beyond color-coded rooms. Located in St. Louis' eclectic Grand Center Arts District, the hotel is housed in the storied Missouri Theater Building. Constructed in 1927, the venue was originally home to the Rockettes—long before their relocation to New York's Radio City Music Hall—so the legacy of creativity is in the building's bones. Transforming the iconic theater into a luxury boutique hotel required a massive renovation that cost $65 million, but the final masterpiece was well worth the investment.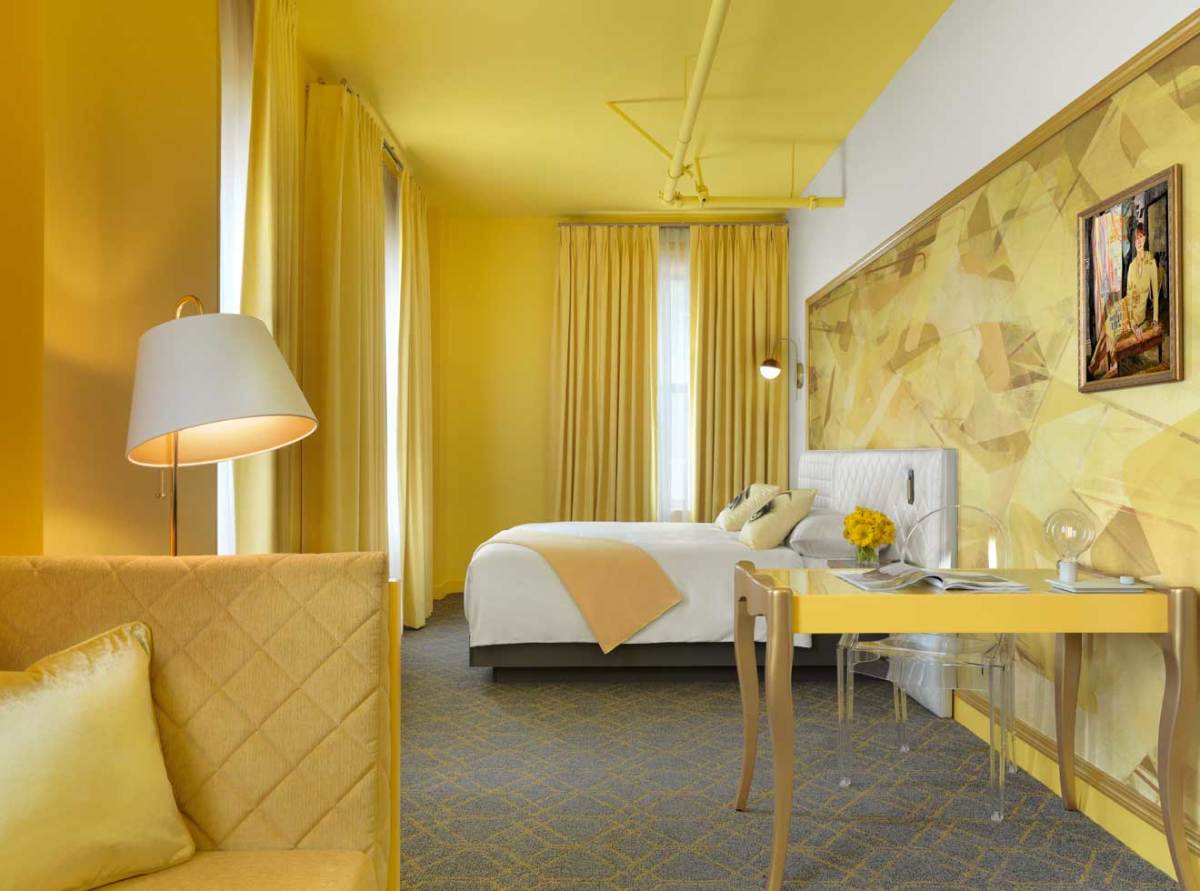 In lieu of a traditional lobby, guests will enter into a working art gallery, where all the pieces on display will be available for purchase. On the 12th floor sky lounge, a 360-degree video art instillation will be projected onto a giant Chameleon Lamp, which will run around the clock. Even the elevators will be leveraged as canvases to showcase a rotating collection of works commissioned from local artists.
Fashion will also play a key role, and hotel employees will be outfitted in signature bold prints created by St. Louis-based designer Reuben Reuel. Guests can anticipate plenty of pop-up performances and impromptu collaborations during their stay, with the hotel serving as a cultural hub and overarching living arts incubator, supporting local St. Louis talent and visiting creatives alike.
"A local dance troupe might create a Dirty Dancing performance, unannounced," says David Miskit, executive managing director of the new hotel and former night manager of New York's iconic Studio 54 nightclub. "Or the lobby lights might dim, and a student from the Grand Central Arts Academy across the street might walk in and sing an aria."
The goal is to infuse artistic expressions into every touch point, sparking spontaneous moments of creativity and inspiring an anything-can-happen atmosphere—much like the vibrant spirit of St. Louis.
Last but not least, the team behind the project wanted to ensure the culinary arts were well represented, so they partnered with renowned chef David Burke to oversee the hotel's food and beverage operations along with ESquared Hospitality. Dubbed Grand Tavern by David Burke, the onsite restaurant will offer whimsical takes on contemporary American dishes. It marks Chef Burke's St. Louis debut, joining his portfolio of eateries like Tavern 62 in Manhattan and BLT Prime in Washington, D.C.
Needless to say, the St. Louis community is already abuzz with anticipation ahead of the hotel's November opening.
"To complement our world-class cultural institutions, we'll finally have a gathering place for the people who visit or call it home," says Smith. "The Angad Arts Hotel will take this incredible district of St. Louis to a new level."
For access to exclusive gear videos, celebrity interviews, and more, subscribe on YouTube!