Our paddles ply the placid water of the Saco River, and our dog-laden canoe rolls down the current at a healthy pace. Thick oak trees hang over the shoreline, the waterline high due to a week of rain. We're lost in the quiet lowlands beneath the White Mountains, deep in the woods, our senses unable to detect so much as an echo of civilization. But as we casually give ourselves up to the calming pace of the current, a deep growl is heard downstream.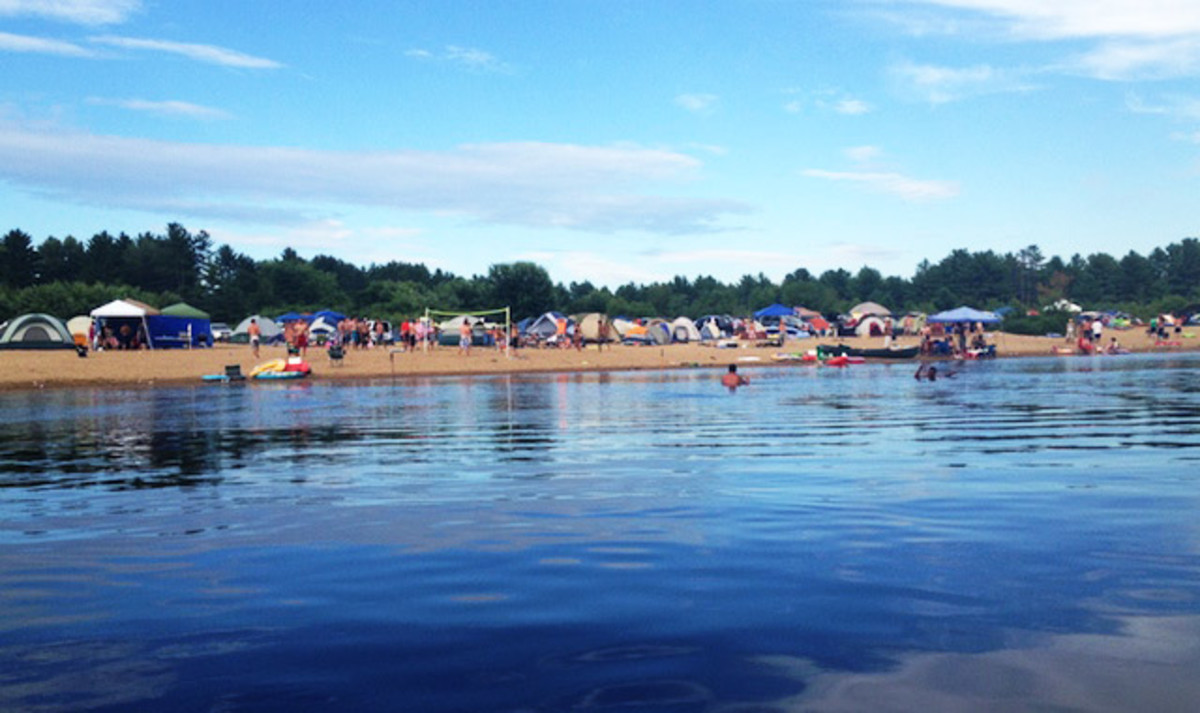 Although all that's visible are deep woods and mountains in the distance, a raucous stereo-fed stream of hip-hop blares towards us. We negotiate around a downed tree in the river, make the corner, and then come upon a site we could have never anticipated—a quarter-mile of beach packed end to end with raging college students encamped on the sand like a standing army of fraternity brothers. Beirut tables are set up in knee-deep water, a squad holding red Solo cups cheers on a beach volleyball game, and everywhere wasted people are dancing, drinking, and getting sunburns to full-volume DJs. Several canoes lashed together support a float equipped with a grill and bar, and shoreline spectators with beer guts and wearing leis heckle my girlfriend to take her top off with calls to "Dump 'em out!"
Like a scene from Apocalypse Now, this singularly wild outpost appears spontaneously in our journey deep down the reaches of the Saco River, and then fades away as trees retake the shoreline and the heavy bass gives way to quiet.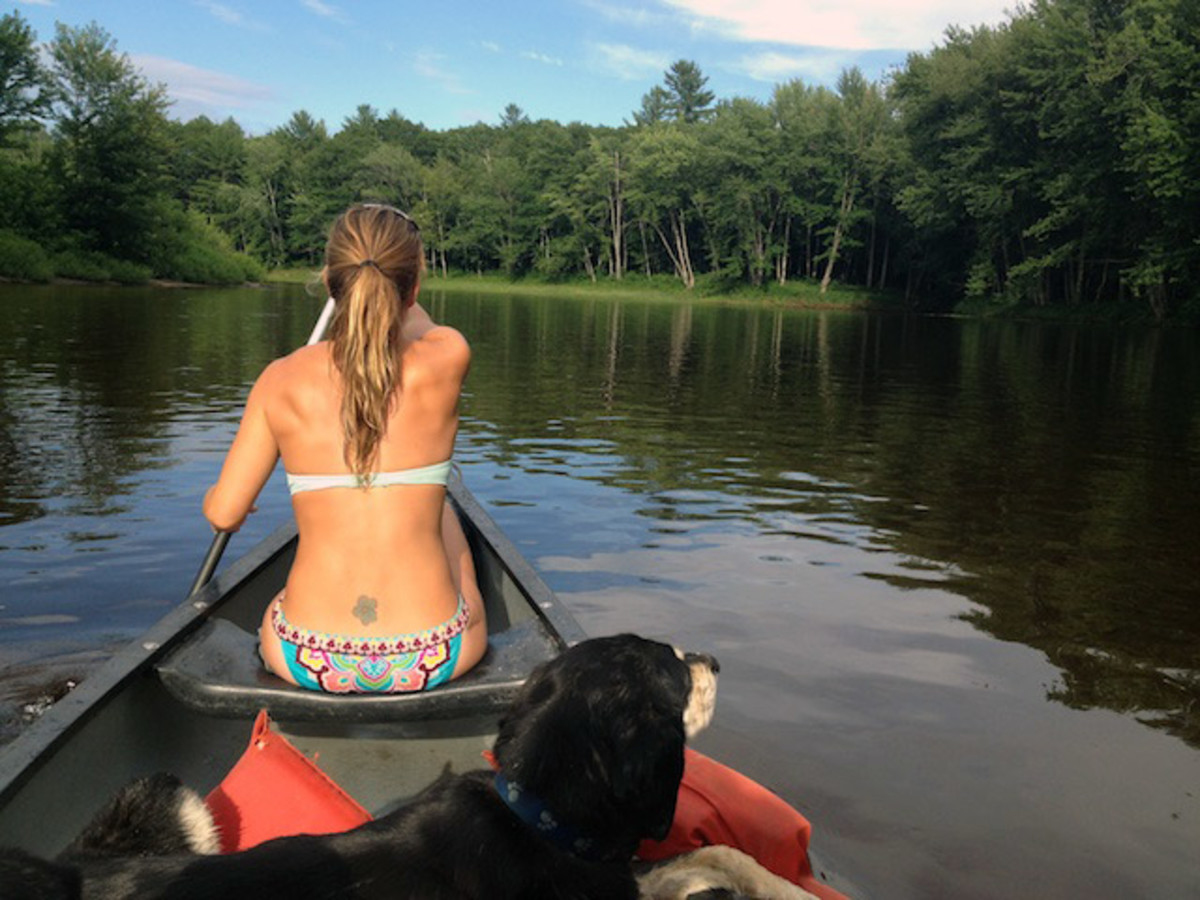 Touring New Hampshire's Saco River, a journey that starts in Center Conway and ends just over the border in Maine, is summer pastime for legions of locals and visiting Bostonians, almost all of whom float in a large group down the current surrounding a giant cooler of beer floating on its own innertube. Over the course of our overnight paddle, we were among the few with any greater purpose than that, and spent the weekend covering too many miles, passing the vast majority that were in no particular hurry.
While us perma-athletes are tempted to make an exhaustive marathon of any vaguely athletic activity, the reason for our hurry was logistics; starting out from the headquarters of Saco Bound canoe rentals, we could either camp anywhere on the side of the river we saw fit for the first four miles, or be stuck paddling another seven miles through the section of river that's set aside for reserved fee camping.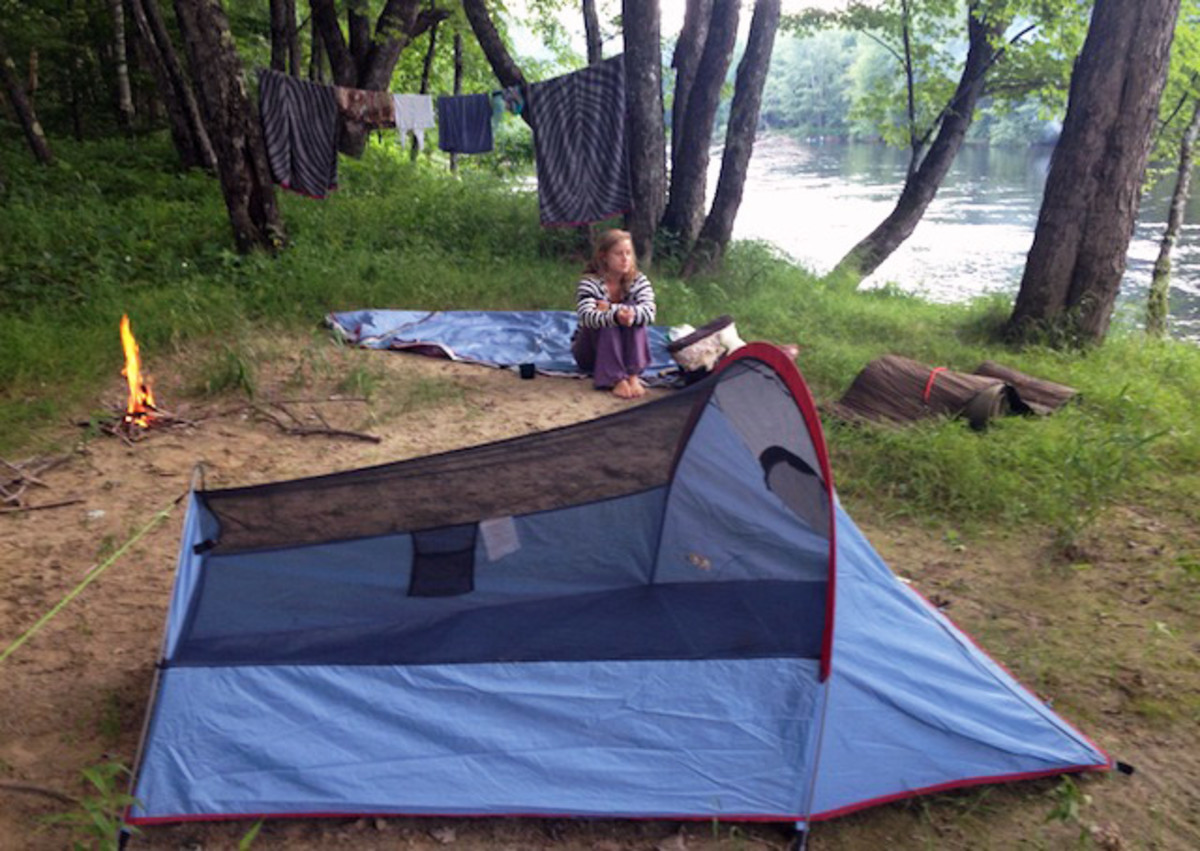 Even once we cleared that hurdle—and negotiated a short portage around an active dam—all the best beach sites had been claimed by extended families who had packed an impossible amount of gear into their canoes: tents, pop-ups, towels, hammocks, stoves, coolers, beach games and fireworks to last a week. We had to get creative, and my normally risk-averse girlfriend pointed us at what appeared to be a campsite lodged up the bank in the woods. It required a crafty landing between two giant downed trees that would serve as our impromptu dock. Once we heaved the two dogs and our duffels up to high ground, we set about collecting wood from under the beautiful stand of willows that lined our section of the river. We whipped out our boxed wine and munched on olives and cold cuts, enjoying a long-awaited private respite away from the mobs on the river.
Although there were sections of a mile or so where we had the river to ourselves, paddling the Saco River is best done with enough friends to fill a few canoes and enough booze to carry you through a day and a night. An experience of pure wilderness it is not. But the laissez-faire management and policing of the activities on the river make it a pretty stellar venue for a bachelor or bachelorette party for more outdoorsy groups who will still enjoy the many beautiful sections of river, calm warm water, and mountain views of the Saco River. Just be sure to put your campfire out and take your trash.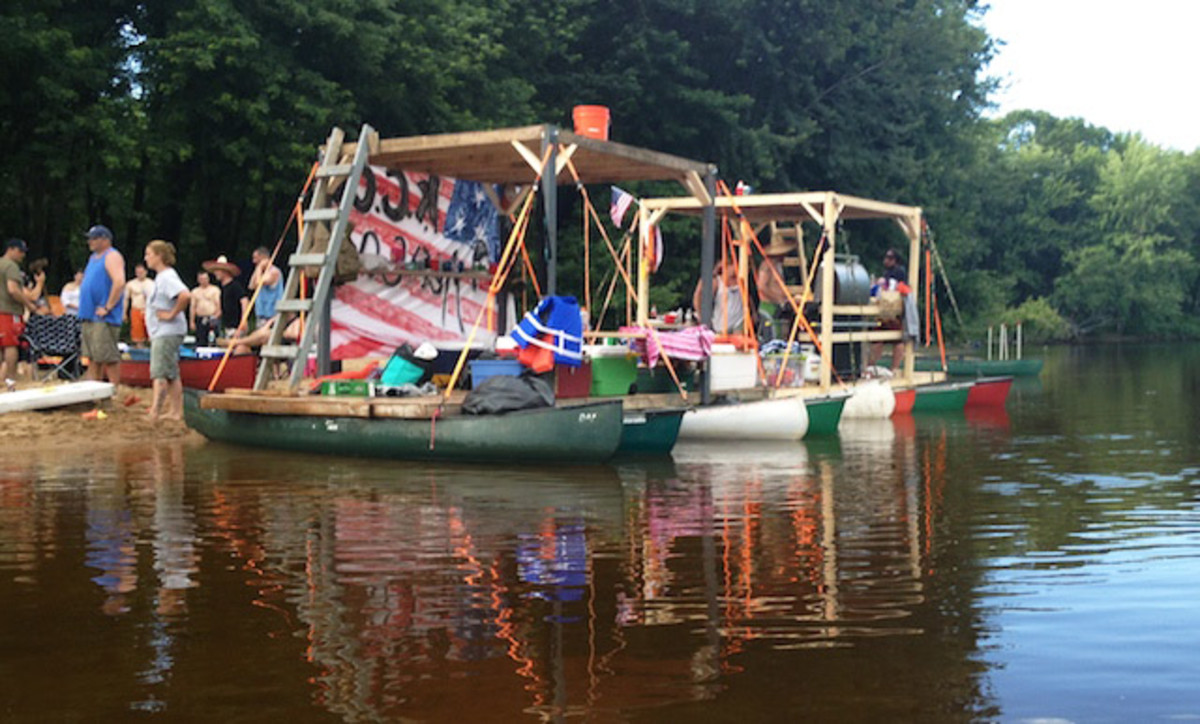 Details:
While several canoe, kayak, and float rental companies are pulled up under a quick Google search, we went with Saco Bound on Route 302 in Center Conway. The canoe rental was $45 a day (the summer price), with the shuttle back from Lovewell Pond in Maine costing $15. Kayak rentals are the same price, while tube rentals with an included shuttle go for $20/person. Leaving at two pm and getting a noon shuttle the next day, we covered 22 miles.
For access to exclusive gear videos, celebrity interviews, and more, subscribe on YouTube!