Travel
German Spa Town Baden-Baden Is the European Retreat of Your Dreams
Baden-Baden is the spa town so nice, they named it twice—and so exceptional it was recently listed as a UNESCO  World Heritage Site alongside 10 other standout European spa towns. Should you find yourself commuting through Frankfurt on your next pass through Europe—or spending extended time in Germany—this Black Forest beacon should be on any dedicated sybarite's secret hideaway list. Who comes to Baden-Baden looking to escape and relax? Presidents, shahs, high-end honeymooners, and anyone else who recognizes this town by its enduring tagline: Baden-Baden is the good-good life.
Tucked in southwestern Germany, Baden-Baden has been keeping vacationers young for two millennia. The Romans built their baths atop a predestined luxury getaway outfitted with nearly thirty natural springs. The main tree-lined promenade—Lichtentaler Allee—hugs a babbling brook that is the River Oos. Neoclassical and Belle Époque masterpieces rise up beyond the foliage. A night out can include Michelin-starred dining and high-rolling at the stately and storied Casino Baden-Baden, followed by days of peacefully luxuriating in gorgeous resorts, at famed spa facilities, on scenic leafy hikes, and through a historic town that's always been about unplugging and recharging.
Planning Your Trip to Baden-Baden
Set aside at least a few days to properly indulge in the town's myriad offerings. Baden-Baden is compact enough to explore on foot, but renting a car lets you spend a day out in the Black Forest and explore nearby towns at your own relaxed pace—including a quick border hop to Strasbourg, France, a mere 38 miles away.
Baden-Baden is about 100 miles from Frankfurt (the hub for Lufthansa) and 160 miles from to Zurich (SwissAir). The town's train station runs quick 20-minute trips to neighboring Karlsruhe, which then connects you to the rest of Germany. From here, either Berlin or Hamburg is an easy six-hour train ride.
Where To Stay in Baden-Baden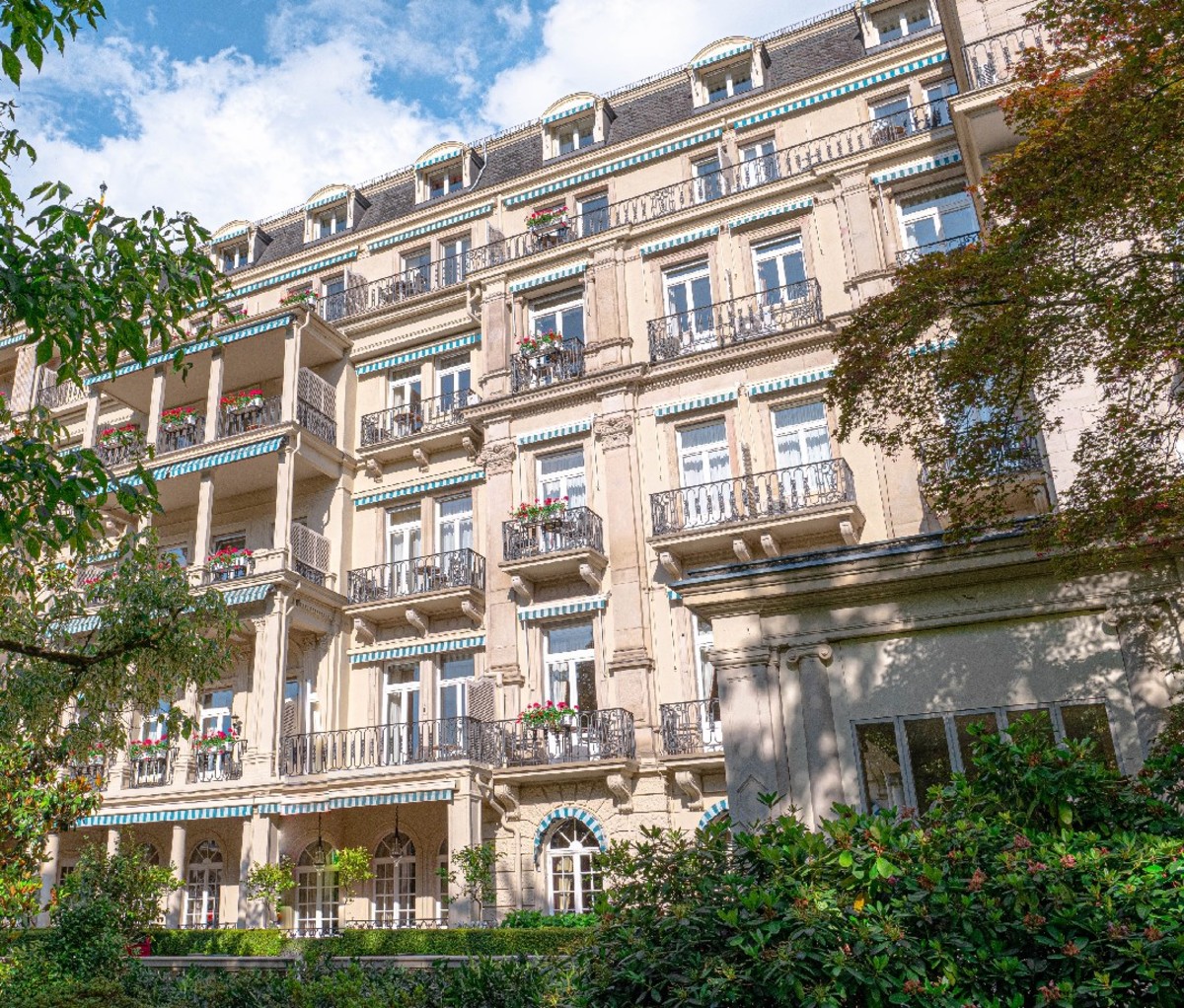 1. Brenners Park-Hotel & Spa
Brenners Park-Hotel & Spa is an Oetker Collection gem, and worthy of the heaps of praise it receives. This retreat is Baden-Baden. It's really a destination all its own. From impeccable hospitality to several of the finest dining options in town (starting with Fritz & Felix),  the hotel's not-to-be-missed feature is its 54,000-square-foot, world-class spa, Villa Stephanie. Come for a facial, massage, body treatment, physiotherapy, workout, sauna—or simply book your stay around nutritional and detox programs. Staying somewhere else? You don't need to be a Brenners guest to book one of numerous treatments offered at the hotel's iconic spa facility.
Guests can also visit the hotel's own private medical offices, staffed with top experts in dentistry and oral implantology, aesthetic medicine, as well as naturopathic diagnostics and therapies. Yes, there's a charming town awaiting your discovery outside of this incredible property—though it may be hard to tear yourself away from Brenners.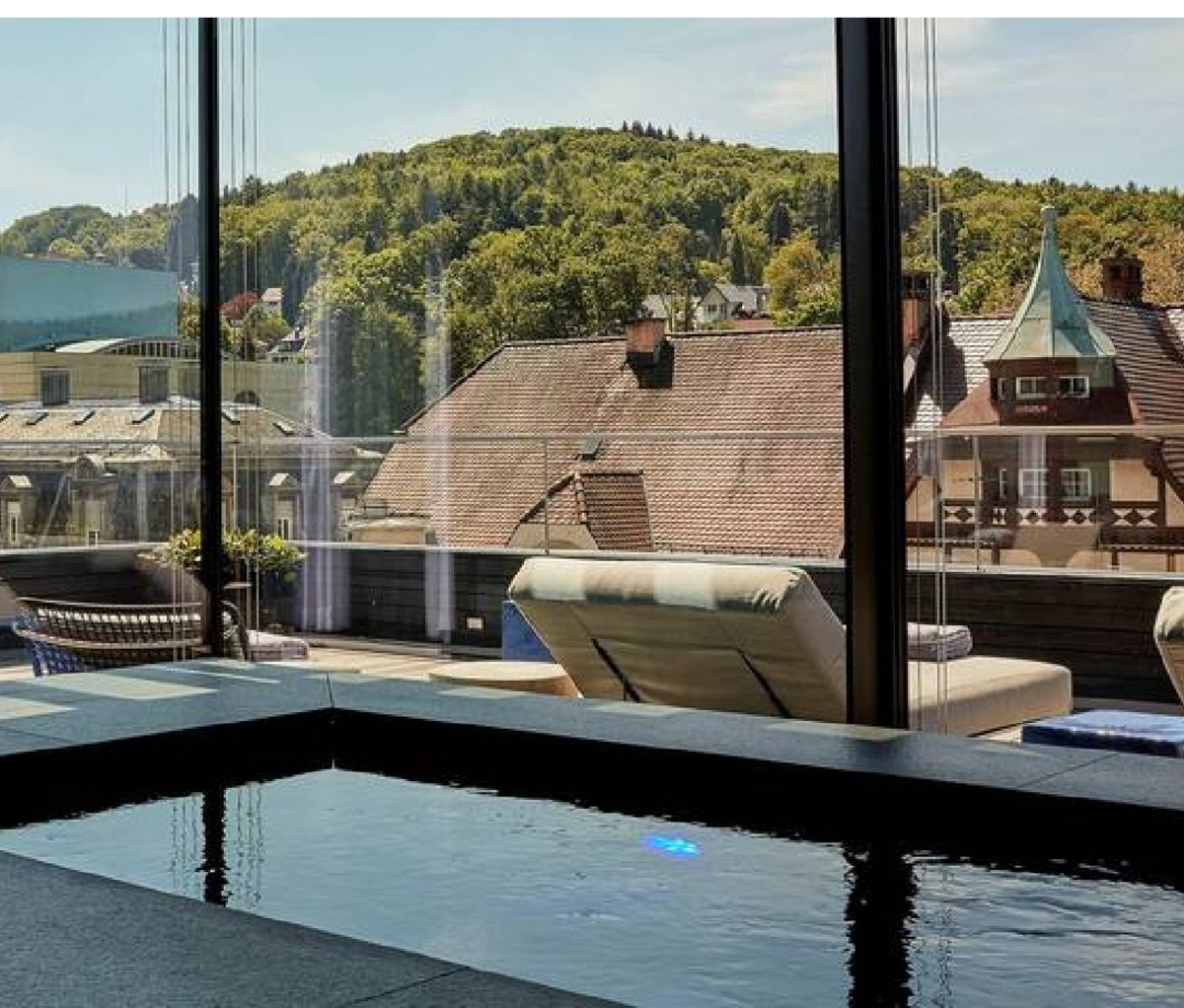 2. Roomers Baden-Baden
Roomers Baden-Baden is a much more energetic and youthful alternative for your stay—featuring a rooftop pool, modern furnishings, Pop-Art details, and a private spa and sauna for guests. This five-year-old, five-star fixture is perfectly situated for quick access to the town's core attractions—especially the hill-lodged public thermal baths. Hotel rates here are a comparative bargain, especially considering the generous level of service and amenities offered.
What to Do in Baden-Baden
1. Hit the Spas
This is what you came here for. In addition to your hotel's own offerings, Caracalla Spa and the Neo-Renaissance Friedrichsbad (closed during the summer) are well worth experiencing. The former lets you casually alternate through a cook-and-cool cycle of saunas and pools of varied temperatures. The latter is a thorough spa experience comprised of 17 distinct stages that will require advance booking.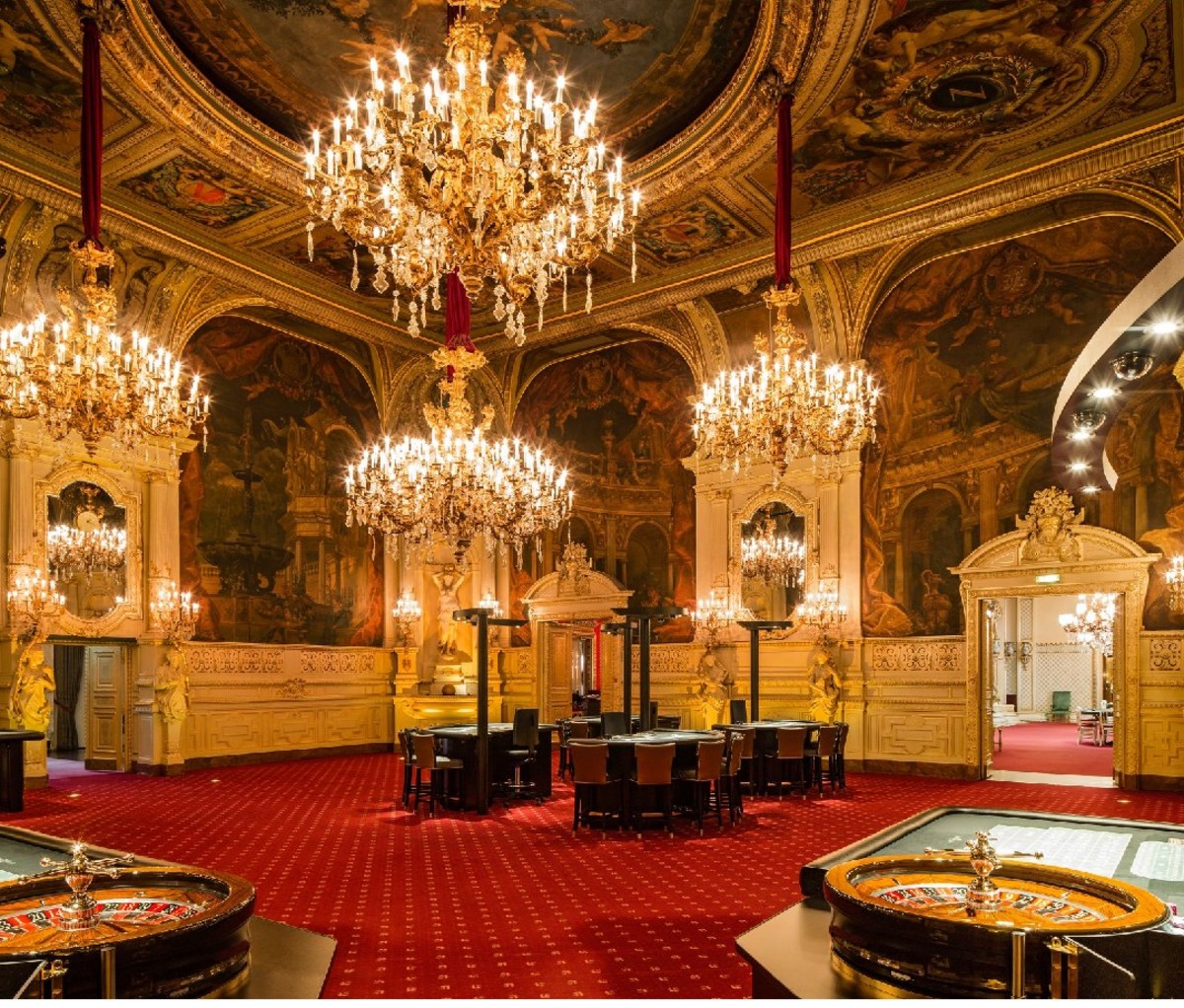 2. Spend an Evening at Kurhaus and the Casino
Even if you don't gamble, the Baden-Baden Casino and adjoining Kurhaus are architectural masterpieces well worth seeing. Built to emulate neoclassical and colonial Parisian grandeur, the property's first wave of early 19th-century guests included Frenchmen beelining here to try their luck when gambling was banned next door in France. One of Baden-Baden's core attractions, the Casino enforces a dress code—so remember to pack that blazer. The Kurhaus—which has played host to NATO summits and Olympic Congressescan—can also play host to your buttoned-up pre-Casino meal, at the Kurhaus Restaurant.
3. Eat a Michelin-Starred Meal
While Baden-Baden has no shortage of world-class wine bars and restaurants, its standout Michelin-starred eatery is Restaurant le Jardin de France. Owners Sophie and Stéphan Bernhard opened this destination dining spot in 1998, and within two years it had earned its star. The ornately presented French fare (they call it la cuisine du coeur—"food of the heart") is as much a feast for the eyes as the town's greatest attractions.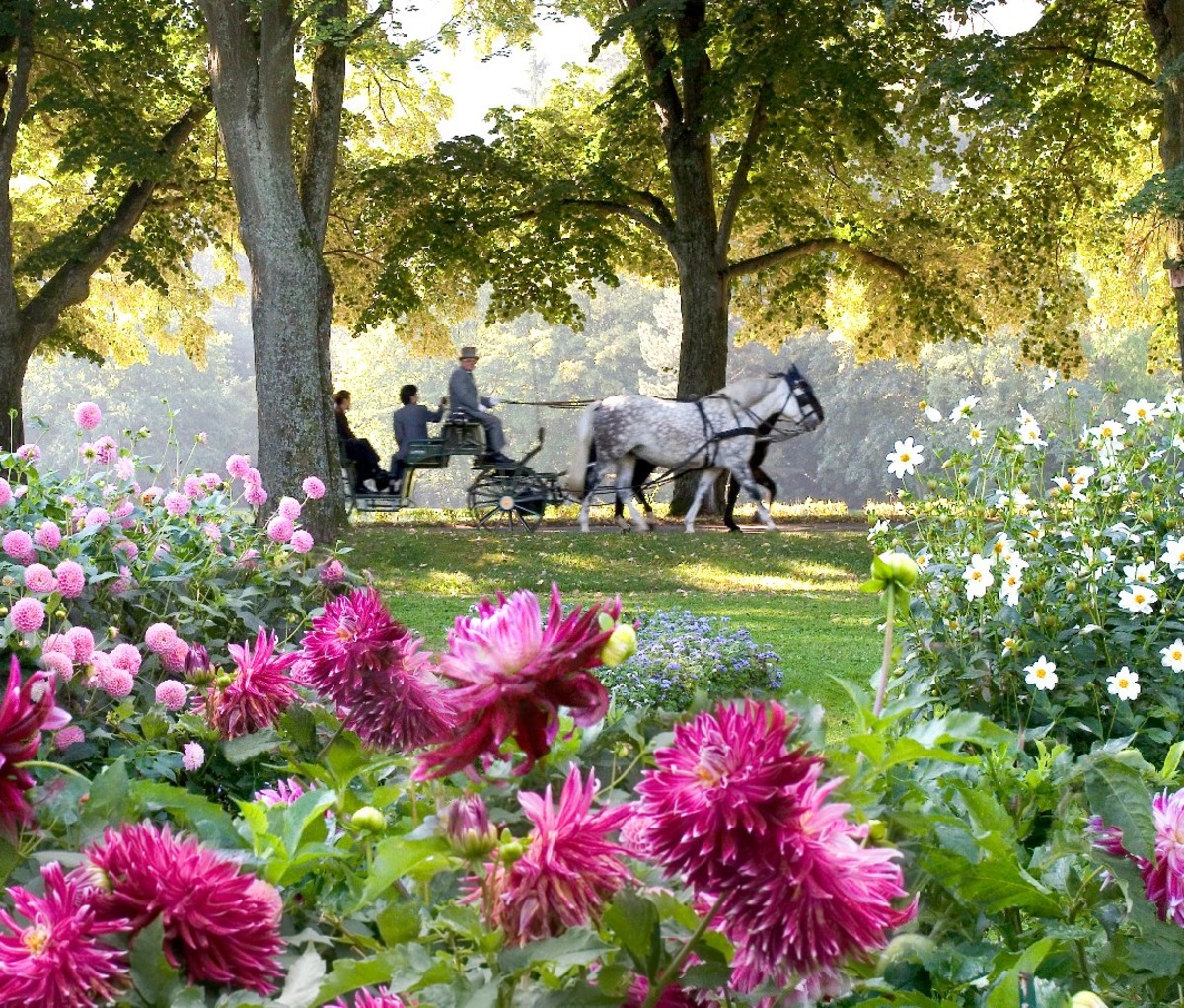 4. Stroll Lichtentaler Allee
The further you meander down the instantly charming Lichtentaler Allee promenade, the more adorable it becomes. Featuring a zen-like Oos Rive soundtrack amidst horse-drawn carriages, oversized rose gardens, jaw-dropping homes, and sprawling fields of green, this little jaunt is nearly as remedial as a spa appointment.
5. Visit the Museums
There's no shortage of art in Baden-Baden—so pace yourself and pick your favorite era. The Museum Frieder-Burda showcases modern art. The Fabergé Museum includes over 1,500 works by Fabergé—including a handful of those famous eggs. For contemporary art, visit Staatliche Kunsthalle—and check out the Richard Serra installation out front.
6. Tour Ancient Roman Baths
Spare a couple bucks and twenty minutes to traipse through the excavated ruins of 2,000-year-old Roman baths. The space is only open for two separate one-hour time slots each day—typically 11am-noon and 3-4pm.
7. Take a Hilly Hike or Ride the Funicular for a Sweeping Vista
Whether you prefer to hike for your views or take the expedited option, Baden-Baden caters to both modes of elevated sightseeing. You can hoof up into the peripheral hills of the city center to the Hohenbaden Castle ruins or visit the peak of Merkur Mountain via the funicular—which is also trekkable.
8. Hit the Links, or Catch a Horse Race
Golf and horse-racing are rather different, but arguably cut from the same general cloth. Many Baden-Baden visitors venture to Germany's third-oldest golf club—the nearby Golf Club Baden-Baden. These very same folks may time their stay to catch one of three annual international horse races that pass through town.
9. Explore the Black Forest
If you rented a car, spend a day or two exploring the best of the Black Forest. Grab lunch in medieval Freiburg. Gaze at waterfalls—specifically Geroldsauer, Triberg, or Strahlbrusch. Pick an 18th-century schloss (that's a palace) to explore—Schloss Rastatt and Schloss Favorite are of the more popular ones. Head to Titisee-Neustadt for a jaunt on its lakeside promenade, or a hike around Titisee (that's the lake) itself. Don't leave without a drive down the 37-mile Schwarzwald Hochstrasse (the Black Forest Highway), flanked by towering forest of evergreens.
For access to exclusive gear videos, celebrity interviews, and more, subscribe on YouTube!