Four days in Berlin, the capital of Germany, go by in a blur. Between the history, global cuisine, nightlife, art scene, and constant flow of beer, a long weekend feels like a day. With this Berlin travel guide in hand, you'll look back and wonder how you did so much so quickly.
But there's plenty of time to rest over a four-day weekend in Berlin. Berliners do that impeccably well, too: In public saunas, beautiful parks, on bar stools. It's not like you're going to be overworked all weekend. What is true, though, is how vividly it all plays in your memory. Every sense is heightened here, and once removed, you'll be nostalgic for the Berliner's easygoing (and affordable!) way of life. Perhaps you'll even be convinced to move here permanently. (I was.)
If you're planning a visit, then consider the following itinerary for your stay. It's perfect for a Thursday evening through Monday morning. Note: Some sights require reservations well in advance. Rest assured, though: there's plenty of stuff to create a memorable, off-the-cuff backup plan should you have to wing it.
Berlin Travel Guide: Where to Stay
Stick to the Berlin city center, ideally near a U-Bahn station. They're all well connected, efficient, and on time, so it's your most reliable means of transportation. Trains run (with varying frequencies) until 1 a.m. Friday, then resume at 4 a.m. all weekend long. In general, the best neighborhoods to consider are:
the southern halves of Mitte and Prenzlauer Berg,
the northern half of Neukölln,
the eastern half of Kreuzberg, or
Friedrichshain
Airbnb is frowned upon and heavily regulated in Berlin, so you might have better luck with a hotel. Michelberger Hotel in Friedrichshain is an affordable yet hip option. Lots of business travelers and creative professionals choose to stay in the SoHo House. The central Mandala Hotel has top-notch amenities in a very central, attraction-dense location.
Thursday: In Berlin, a Taste of the World
Evening: The best food in Berlin isn't German, it's everything else: Korean, Thai, Vietnamese, Italian, Turkish, Lebanese. Start your visit with dinner at Kim Chi Princess for some A+ bulgogi, or nearby ZOLA Pizza for a pre-weekend carbo-load. (You'll need it!) Both are relaxing ways to shake off your jetlag, especially if you chase each meal like a German—with a pint or two of beer.
After dinner, walk ten minutes northwest, past Kottbusser Tor to Luzia for a craft nightcap or… another beer. (Stop counting.)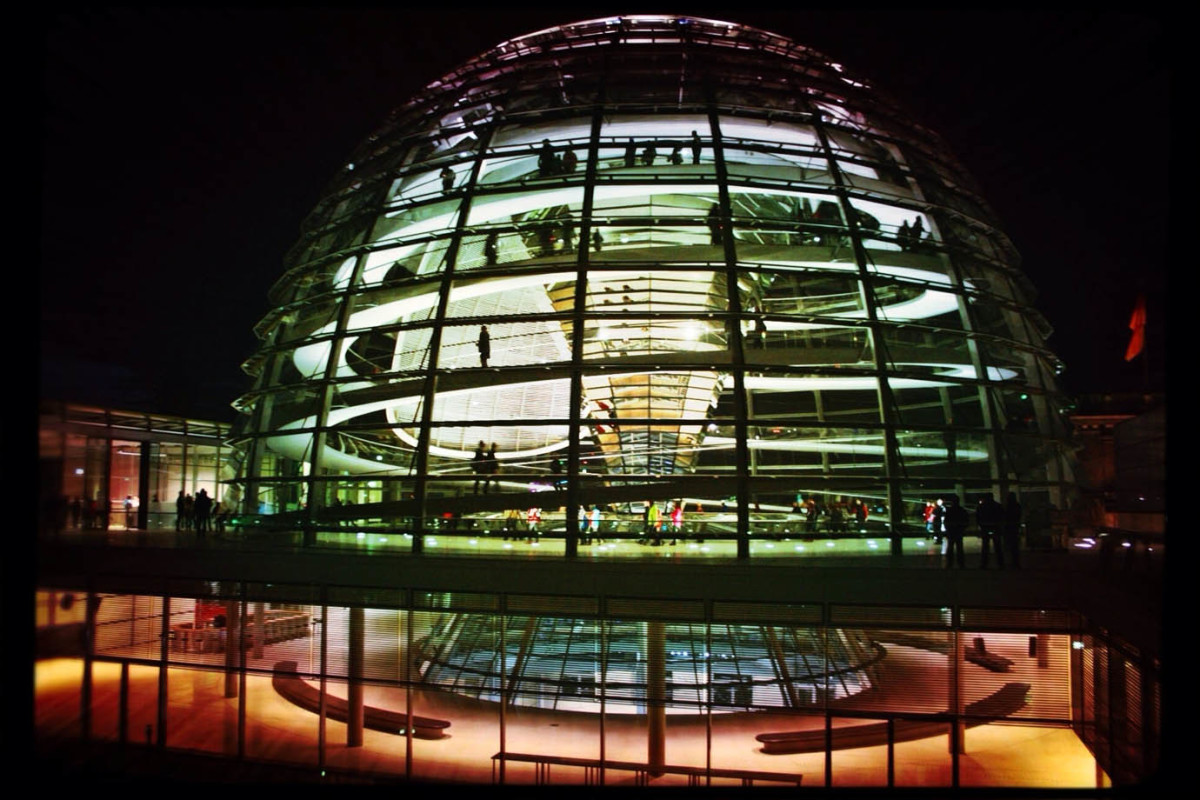 Friday: Museums Underground, Beers on the Rooftop
Morning: Start the day with a scramble or toast at Factory Girl in Mitte, then walk to Sammlung Boros for your tour of the war-bunker-turned-rave-club-turned-art-museum. (The Boros own one of the most prestigious contemporary art collections in Europe, and have converted the space into an impressive gallery.) You're half there for the art, half to learn about the impressive space that has history as thick as its walls. However, you have to book this tour in advance—two months, even, or call to see if there are any cancellations. If you didn't do that early enough, then you can book a same-day Underground Berlin tour instead. Picking from a war bunker, a bombed-out flaktower, cold war nuclear shelter, or the civilian-dug tunnels beneath the Berlin Wall. Just head to the Berliner Unterwelten EV Office, at Brunnerstrasse 105, by the Gesundbrunnen U-Bahn station. You can buy your tickets with cash there.
Afternoon: This is your chance to see the main memorials in the city center, like the Brandenberg Tor, Holocaust Memorial, Checkpoint Charlie, and the Reichstag building. (Be sure to book your free tour of the rooftop and dome in advance.) If you have an extra hour or two, stop into the free Topography of Terrors to learn how fascism and Nazism progressed during Hitler's time. It's bleak, but Berlin puts these things on display as a way to remind people "never again."
It's been a long day of history and walking at this point, so if the weather is nice, point yourself to Klunkerkranich in Neukölln for an open-air sunset beer atop a parking garage. To get there, enter the mall's garage, take the elevator to the top floor, and then follow the ramp up. The drinks are cheap, the live music is cheerful, the views are panoramic, and it's so perfectly Berlin.
Evening: After drinks, take it easy on your wallet and get some of the best Middle Eastern food you've ever had. That's at the Lebanese Azzam, just down the street from Klunkerkranich. Order at the counter—the photo menu overhead will help you decide, but be sure to have ample hummus for the entire bag of pita bread they'll give you.
Head to the nearby Nathanja & Heinrich for a post-dinner wine. Alternatively, if you're feeling adventurous and rebellious, you can check the event schedule for KitKatClub to indulge in some of Berlin's infamously mischievous nightlife.
Saturday: The Park That's Also an Airfield
Morning: Another steady start—this time, it's coffee and fresh fruit at Rose Garden in Mitte. Follow that with a hike through the neighborhood's many side streets, whether you're after new glasses at Yun Berlin, books and art house magazines at Do You Read Me, tea leaves at Paper & Tea, adidas Originals at the Berlin flagship store, or fantastic secondhand clothes at Picknweight.
Afternoon: Once you're feeling refreshed, take the U-Bahn to the East Side Gallery to see 101 murals painted onto a stretch of the Berlin Wall. It's healing through art, on full display as yet another reminder of what must not be repeated.
You'll spend the better part of the day at Tempelhof Field, an airport-turned-public-space (see a theme?). If you're still in the mood for a tour, you can take a two-hour guided walk to learn about the airport's history through the war and as a refugee shelter in the postwar decades. The park itself is the main attraction here. Sprawl out with beers and lunch, run alongside kite surfers, or ride bikes around the entire runway loop. It's a relaxing way to pass the time, made perfect as the sun sets to the west and humbles the thousands in attendance. (Or dozens, if it's a cold day, though it's still worth a visit.)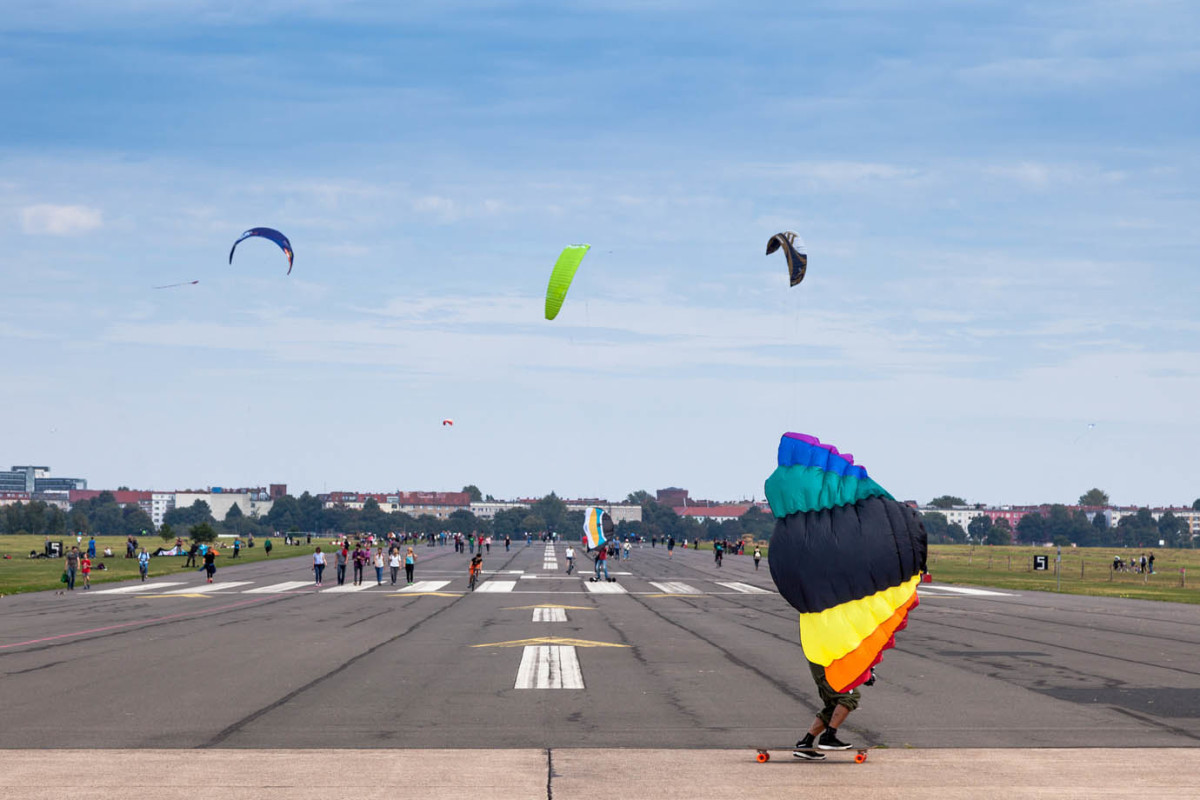 Evening: Treat yourself to the chef's menu at Kin Dee on the border of Kreuzberg and Schöneberg, booked in advance. The upscale Thai restaurant is your requisite "fancy" meal for the weekend, made unforgettable by the range of flavors each course offers. The hospitality is as warm as the place is cozy.
Bar: Walk down the street to BRLO Brewhouse, which is also a hearty dinner option, and cap the night with craft beers aplenty.
Sunday: Karaoke, Dancing, and Nudity (Not in That Order)
Morning: Same drill, this time at the charming Café Krone in Prenzlauer Berg.
Afternoon: At noon, there's hilarious public karaoke in the grandstand of Mauerpark; you can participate, or laugh along with those who do. If you're craving some physical activity, you can rent bikes and trek an hour west to the abandoned Teufelsberg radar station. There you'll get to explore the former Cold War spy tower, covered in paint by street artists from around the world. Best of all, it offers a clear, bird's-eye view of Berlin to the east.
Then, wind down with a visit to Liquidrom, a public sauna near Potsdamer Platz. To the American, it may seem curious that men and women mingle together, platonically, in the nude. You can be as wrapped in a towel as you feel comfortable, or as free as you please… as long as you let others do the same in peace. And that's what you'll get from this sonically engineered masterpiece: Serenity through sauna and sound.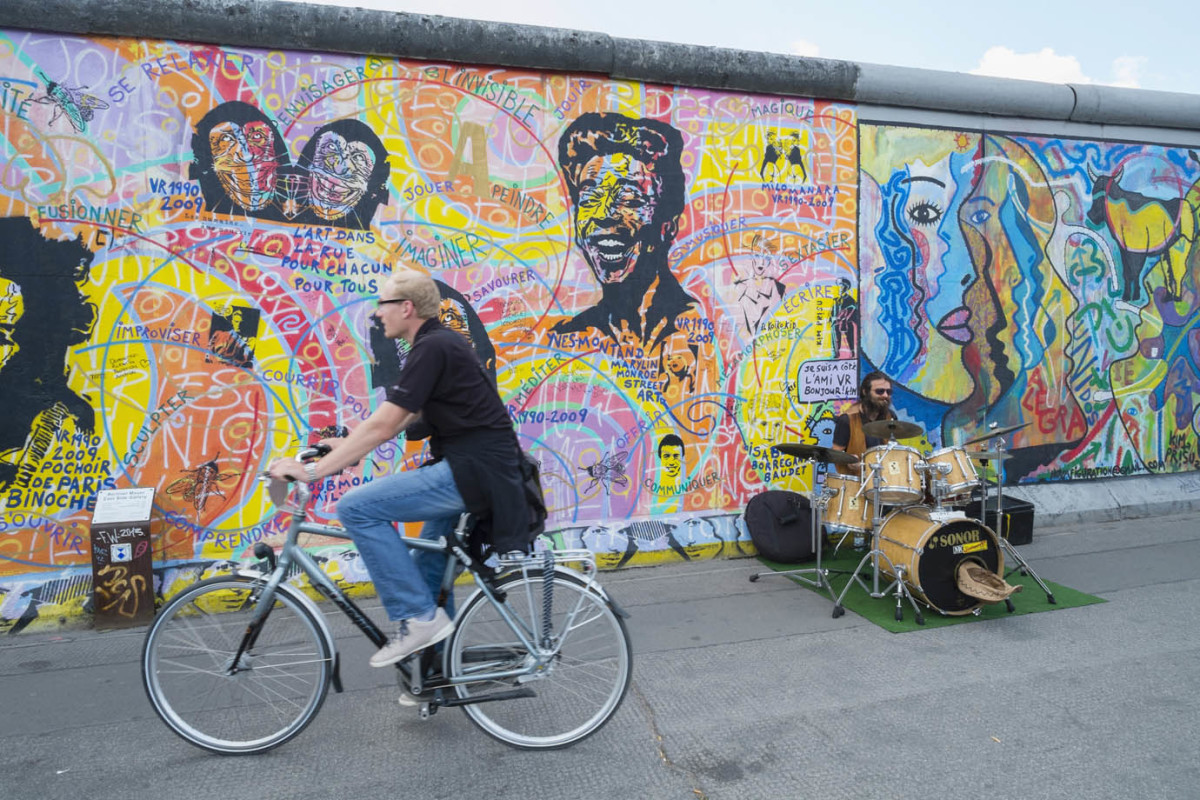 Evening: Make reservations at Lokal in Mitte for a taste of local, fresh cuisine (finally, German food!), with an ever-evolving seasonal menu. If you're feeling lucky, you can try to cap the weekend with a night of dancing in Berghain, Kater Blau, or Sisyphos, since that's when the locals prefer to go. (It's after all the other tourists have left, see.) The bouncers tend to be picky, so you might want to research how to dress and behave in line. (And if you've befriended any locals over your time here, bring them!)
Monday: Auf wiedersehen, Berlin
Morning: Fuel up at Milja & Schäfa in Friedrichshain, and if there's time before your flight, stop at the various vendors and thrift shops nearby. At the very least, hop into any spätkauf (a corner store, which you can abbreviate and call "Shpayt") to burn your final euros on a victory pilsner as you meander back to the hotel. Nobody's gonna judge you for the Monday morning pick-me-up; judgment is not the Berliner way. (And speaking of Berliners, now's the last chance to grab a fresh donut, too!)
For access to exclusive gear videos, celebrity interviews, and more, subscribe on YouTube!