Need a reminder that no nation offers more geographic, geologic, and cultural diversity than the USA? These five American road trips will help restore your sense of wonder and hope in what lies ahead.
Editor's Note: What's open or closed shifts regularly during a pandemic. Check before you go.
5 American Road Trips That Will Restore Your Sense of Wonder
1. Pacific Northwest
Old-Growth Adventure
Surf the Olympic Peninsula
The weather-battered Olympic Peninsula is famed for dense forest and craggy peaks, but there's killer surf to be found, too. La Push houses wild beaches 14 miles from U.S. Highway 101, where the mouth of the Quillayute River empties into the ocean and creates an array of point and beach breaks with year-round waves. Even in the summer, you'll need a wetsuit: Rent from North by Northwest Surf Co.
Sip Seattle
Ballard hasbeen called "Seattle's Beer Epicenter" since it features 13 breweries, including regional heavies Reuben's and Stoup Brewing. Better yet: They're all walkable. The Ballard Brewery Passport links most of them together in a challenge: Grab the pamphlet from one of the breweries, and have it stamped at every stop. Once filled, you can get a piece of glassware commemorating your tour.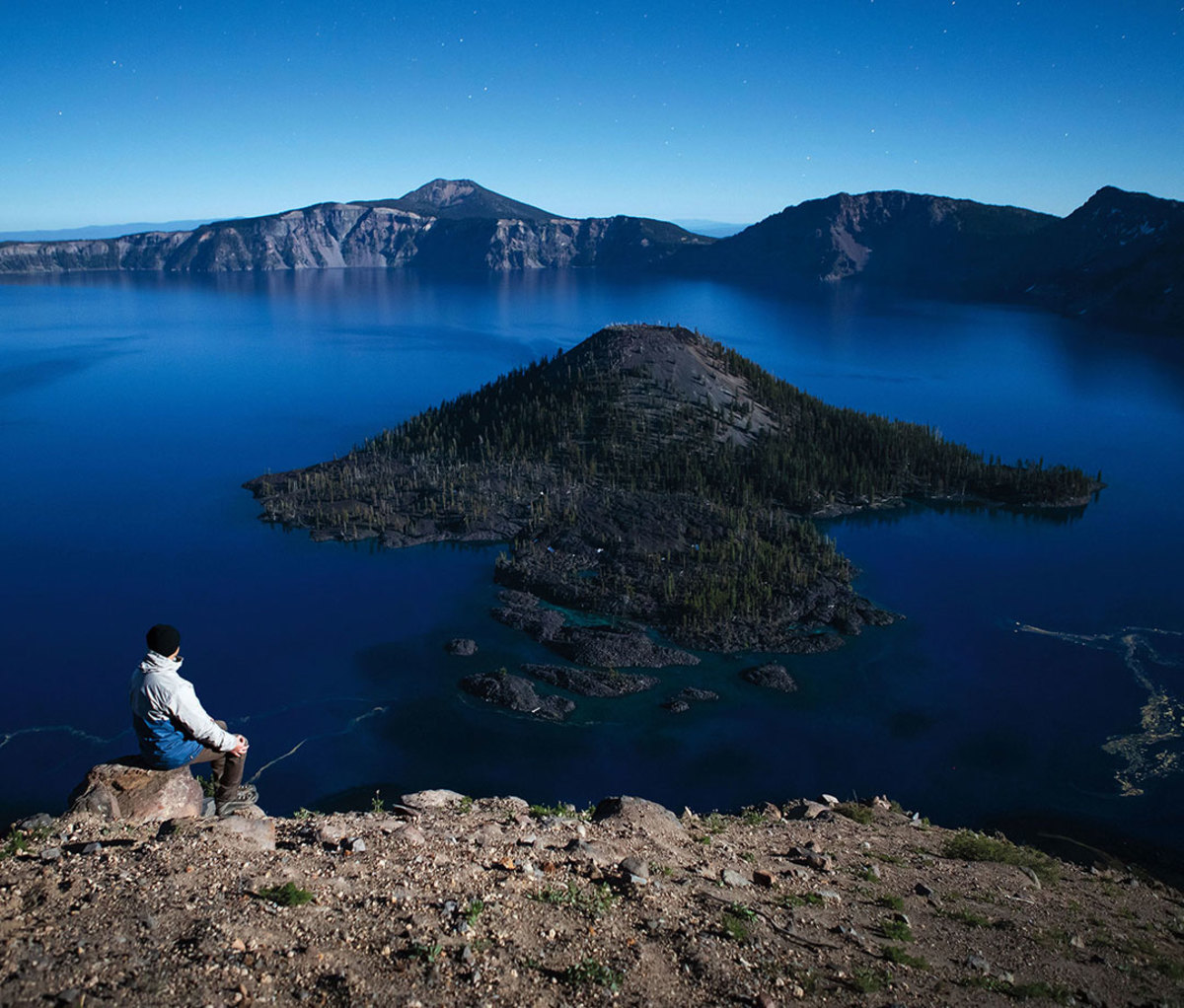 Gaze Into Crater Lake
At nearly 2,000 feet, Crater Lake is the deepest lake in the U.S. and one of the clearest—it's worth the drive regardless of the distance. Searching for some spiritual cleansing in its chilly summer waters? Hit the popular Cleetwood Cove Trail, a one-miler (each way) with a 623-foot descent. If you're looking for a wider angle on the crater, or to avoid crowds, take on the Rim Trail on the west side of the lake, between Rim Village and the North Junction.
Thruhike Portland…in a Day
For a unique perspective on the City of Roses, try hiking it all. The 30.2-mile Wildwood Trail traverses the entirety of Portland's 5,200-acre Forest Park. This year, you're less likely to get injured (or lost) in the attempt, thanks in part to the new multi-million-dollar Barbara Walker Crossing footbridge at a formerly sketchy section. Afterward, hit the sauna at KEX, the first U.S. location of the Icelandic design hotel, which re-opens in spring 2021 in a historic apartment building at the Burnside Bridgehead.
Paddle the Columbia
The world-class Lower Columbia River Water Trail spans 146 miles, beginning 40 miles east of Portland and ending at the Pacific Ocean. The staggeringly diverse "trail" encompasses placid tidal estuaries and more challenging, commercially trafficked water, and features a multitude of launch points—so it's perfectly suited to a choose-your-own adventure approach. To bite off just a piece, go with a wildlife-rich half-day adventure in a kayak rented from the Scappoose Bay Paddling Center.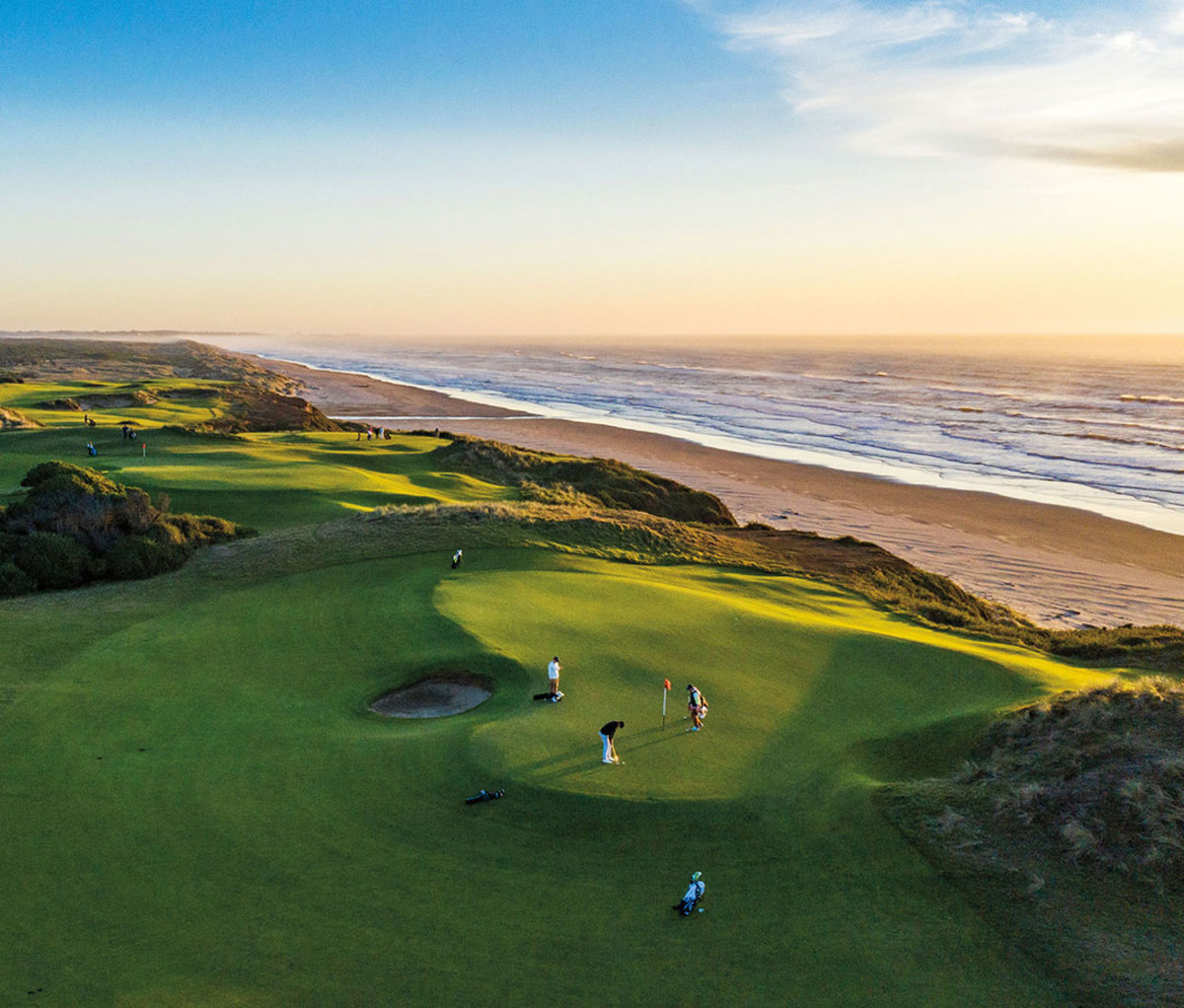 Dream Golf
On the bucket list of any golfer, Bandon Dunes is known for its links-style courses set in front of a jaw-dropping coastal backdrop. Its newest, the Sheep Ranch, might be the most spectacular of them all, since it hugs the coast for over a mile—the most of any course in the resort. Each of the holes on the 6,636-yard, par-72 course feature views of the ocean, and half of the greens balance perilously atop cliffs. Bring extra balls.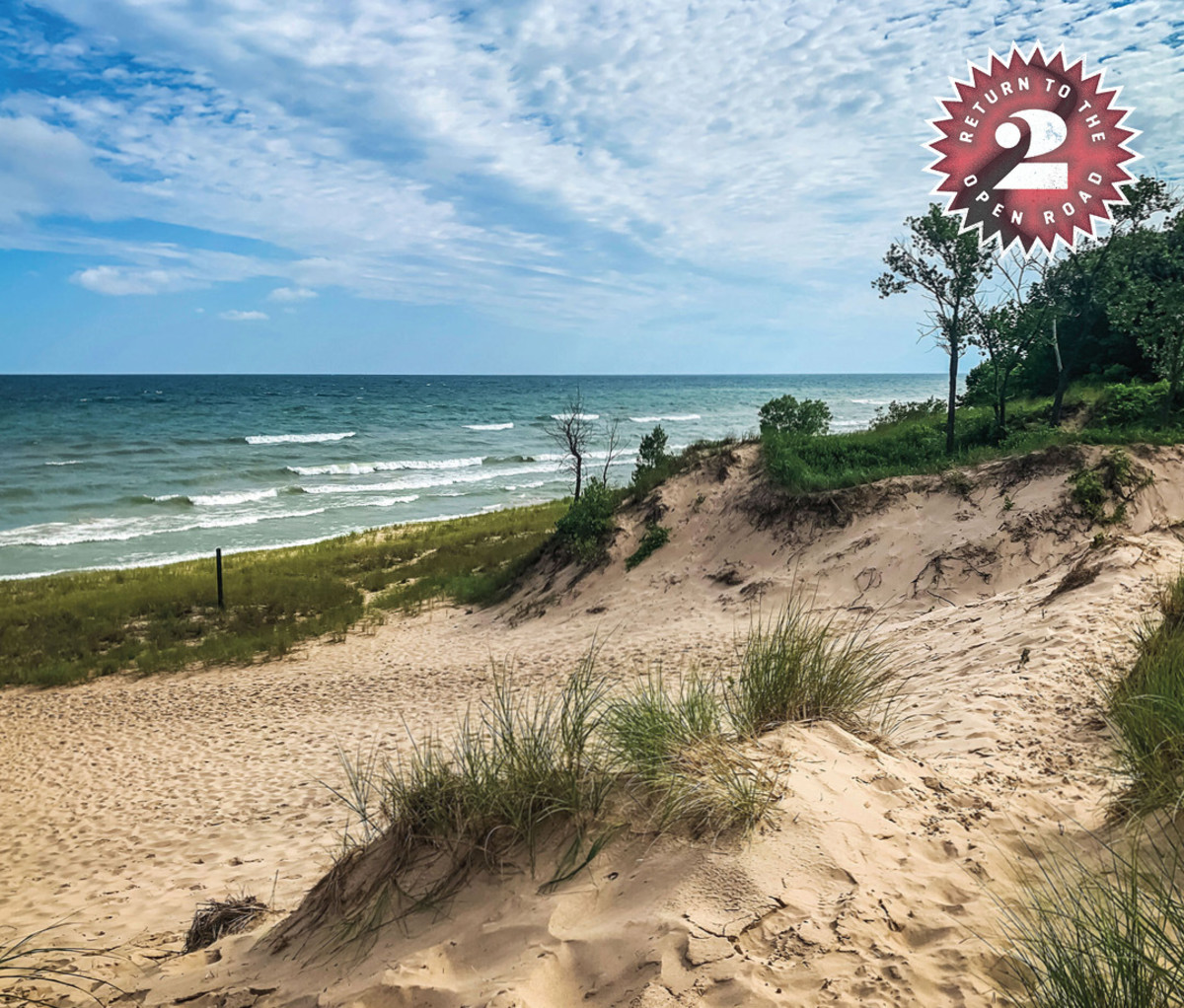 2. Lake Michigan
The Midwest's Best Coast
Visit a Newly Minted National Park
At just about 15,000 acres, Indiana Dunes is small for a national park, but the system's second-newest member boasts 15 miles of Lake Michigan shoreline and endless views—including the Chicago skyline. Before (or after) getting wet at one of the beaches, check out the more than 50 miles of trails traversing bogs and prairies. And summit a sand dune while you're here—at nearly 200 feet high, Mount Tom tops them all.
Tee Off Like Brooks Koepka
In September 2021, some of the best golfers in the world will play for the Ryder Cup at Whistling Straits, a dramatic, Pete Dye-designed Irish links-style course. And you can, too, with some planning: The Lake Michigan-facing course is public, part of the five-star Destination Kohler resort complex. Just watch out for the herd of sheep—and a thousand-plus bunkers.
Take in the Mighty Manistee
Flowing into Lake Michigan south of Traverse City, the Manistee is renowned for its trout and salmon fishing, but you don't need to bring a fishing rod to appreciate it. The 11-mile Manistee River Trail offers an excellent overview, traversing rolling hills on the east side of the waterway that deliver stellar views of the river, surrounding wetlands, and a tumbling waterfall. Combine it with a stretch of the intersecting North Country Trail—via a suspension footbridge—and you can make it a two-night backpacking loop.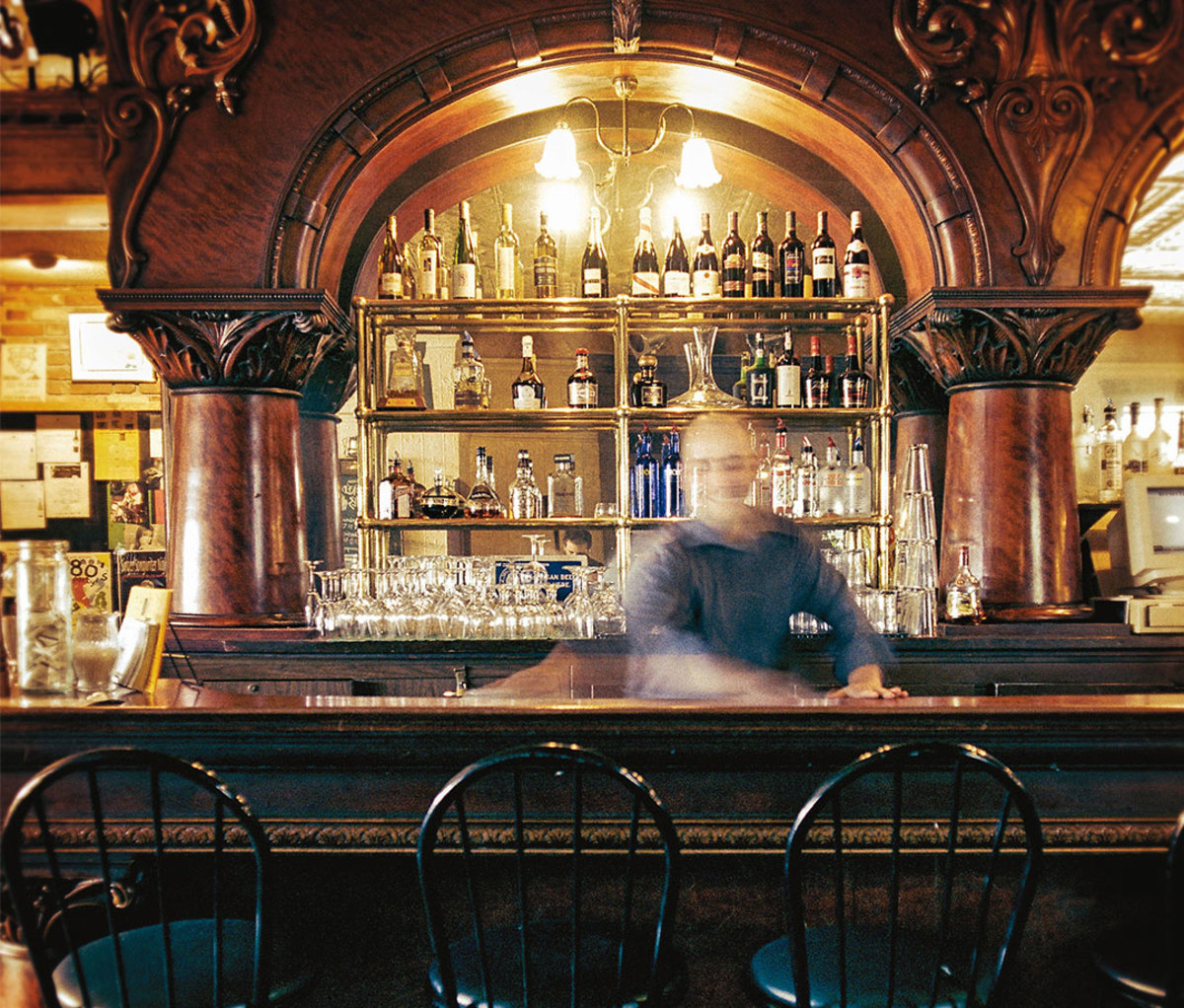 Sit at Hemingway's Barstool
A little over a century ago, Ernest Hemingway found Northern Michigan so appealing that he made it his summer home as a young man. These days, you can still imbibe just as Papa did, by sipping a strong cocktail while seated on the second barstool from the end of a 32-foot mahogany bar, at the City Park Grill.
Trade Suds for Cider
Breweries like Bell's have put Michigan craft brews on taproom chalkboards all over the country, but don't sleep on Northern Michigan's cidery scene. Among the most popular is Virtue, which crafts ciders in an old-world style from Michigan apples. Take in some fresh air at the Virtue farm while trying The Mitten, a cider aged in bourbon barrels.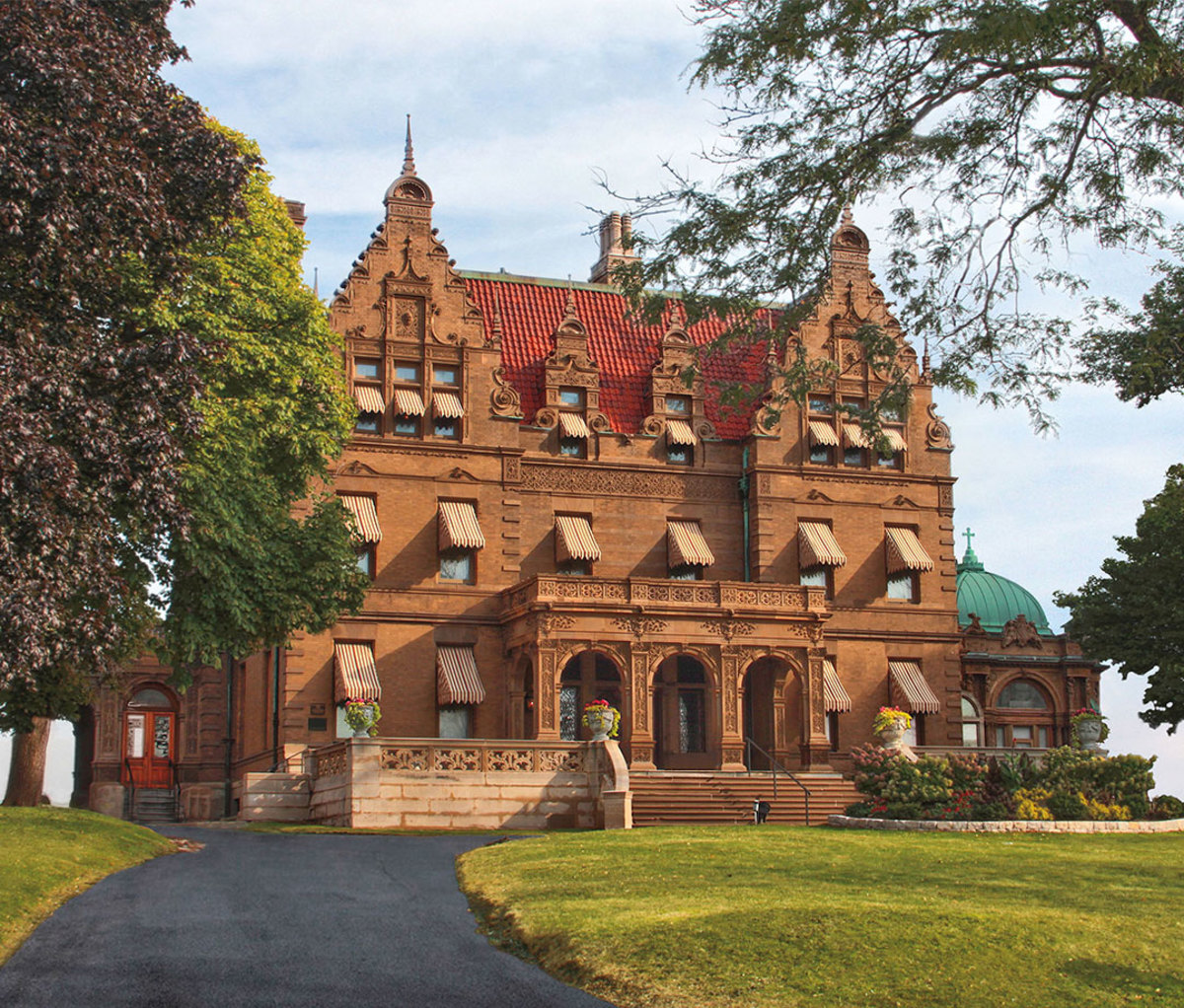 Visit Cream City
Pre-pandemic, travelers were swarming Milwaukee—Airbnb reported a 729 percent increase in bookings for 2020. Visitors were lured by the mix of urban energy and small-town convenience, with the city connected by everything from an extensive bike share program to a streetcar line to a 60-plus-mile urban water trail. Meanwhile, the Pabst Mansion provides a glimpse at how beer barons lived in the 1890s. For a follow-up pint, hit Bryant's Cocktail Lounge—it's an American classic.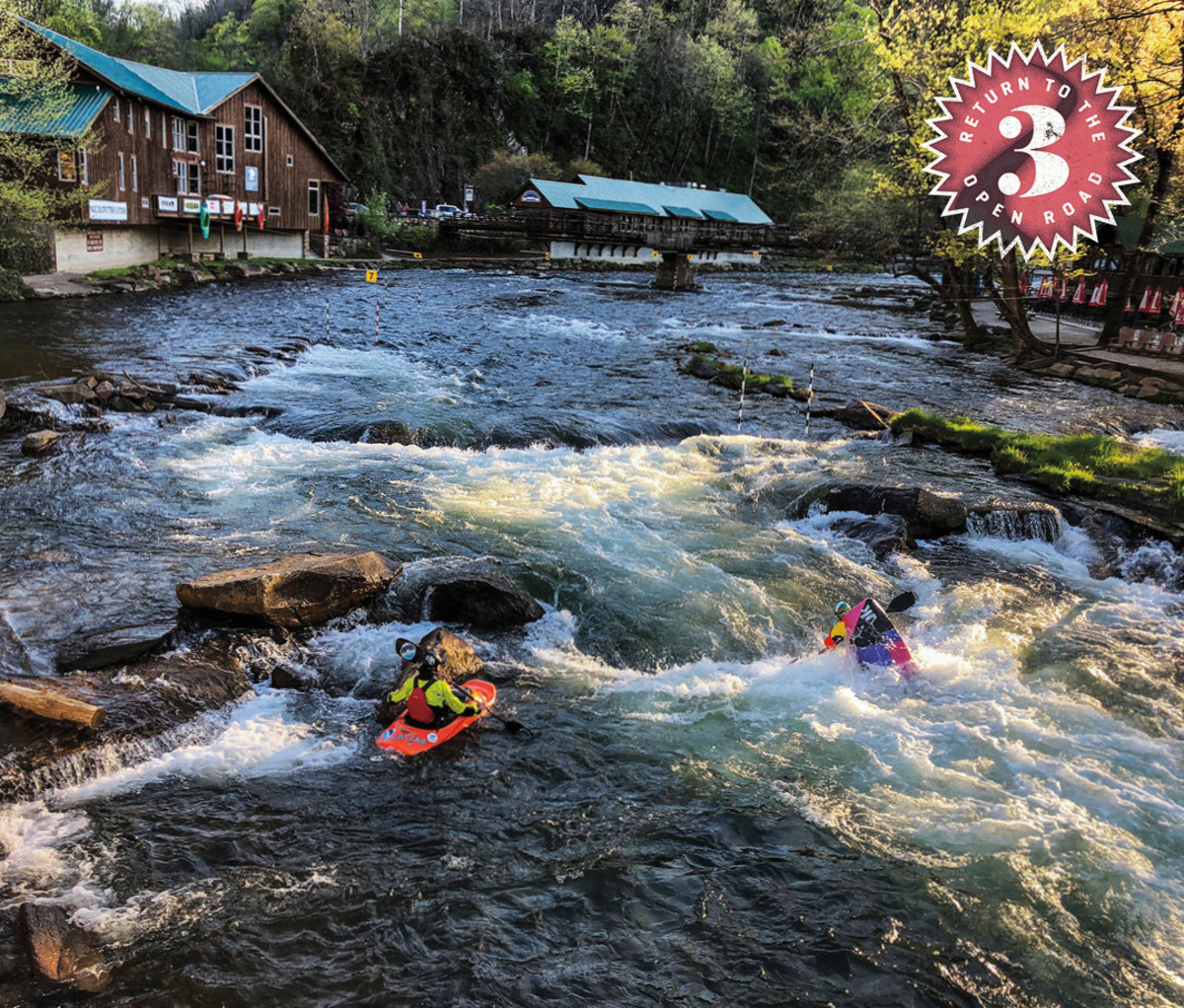 3. Blue Ridge
Old Hills, New Thrills
Paddle With the Pros
Western North Carolina's legendary dam-controlled Nantahala runs 350 days a year and features an eight-mile stretch rich with Class II and III whitewater. Access, instruction, and gear are readily available at the nearby Nantahala Outdoor Center, where hundreds of thousands of paddlers—and more than a score of Olympians—have taken courses. Word of warning: Brace for chilly water temps, as the river gets little sunlight.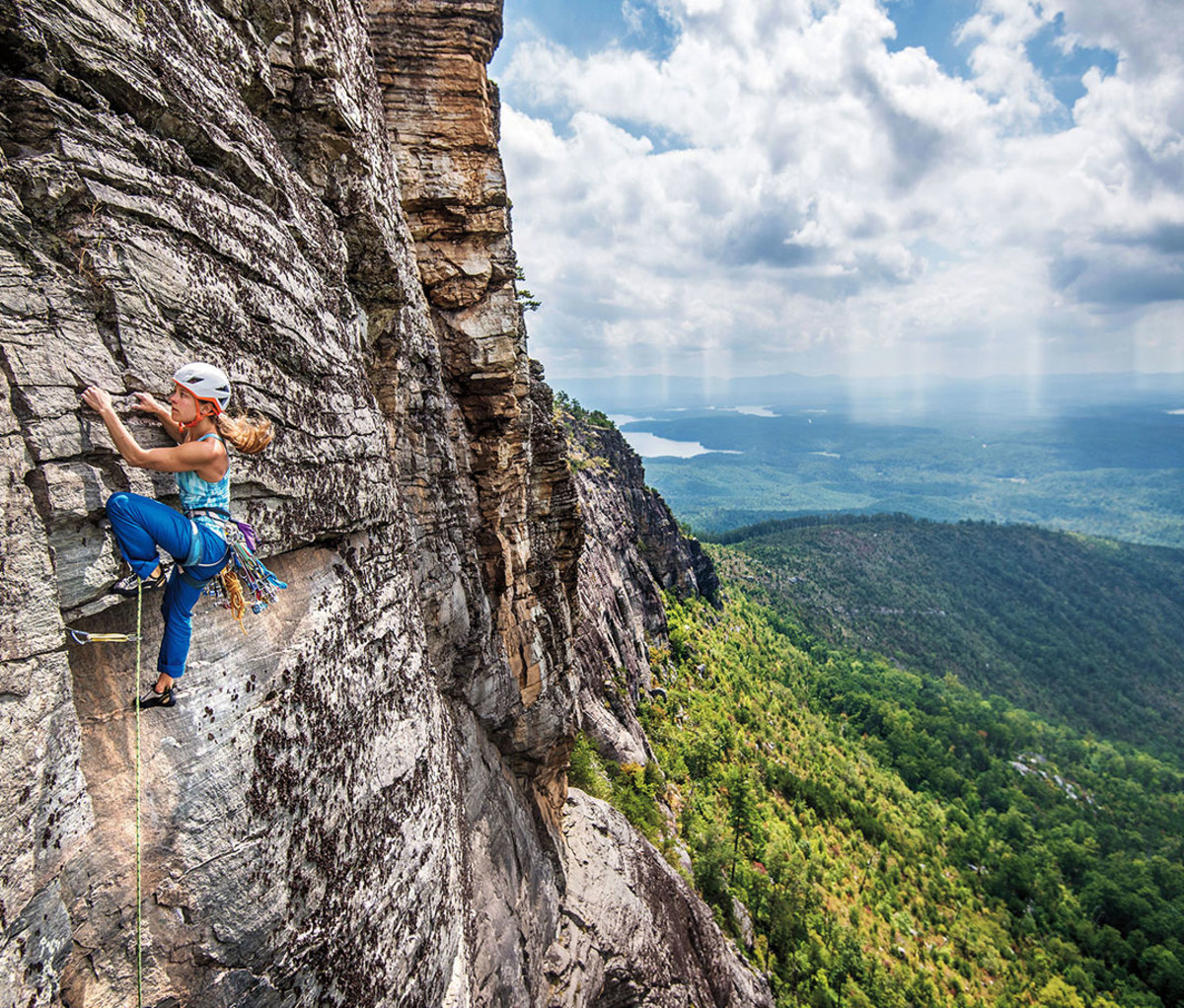 Climb the Gorge
If climbing's your thing, Linville Gorge has it all, from bouldering to top-rope to multipitch traditional routes. This isn't pulling plastic at the gym; it's a rugged, remote tract. Book Fox Mountain Guides for both safety and shortcuts to the good stuff.
Pedal the Tsali
The four hard-packed trail loops at Tsali Recreation Area offer some of the most entertaining singletrack in the Southeast, with views of Fontana Lake and Great Smoky Mountains National Park. Combine both the Right and Left courses for an 18-mile loop with relatively gentle elevation changes. Rigs can be rented at Tsali Cycles in nearby Bryson City, NC, where you can also stop for a local draft beer after your ride.
See Forever
In this part of the Appalachian Mountains, dense forests can make ridgeline views hard to come by. But the Art Loeb Trail covers a 30-mile stretch of tree-free peaks that provide sweeping views from over 6,000 feet. If you don't have three days and two nights to spare, you can capture the trail's essence in a day hike to Shining Rock (10 miles round-trip).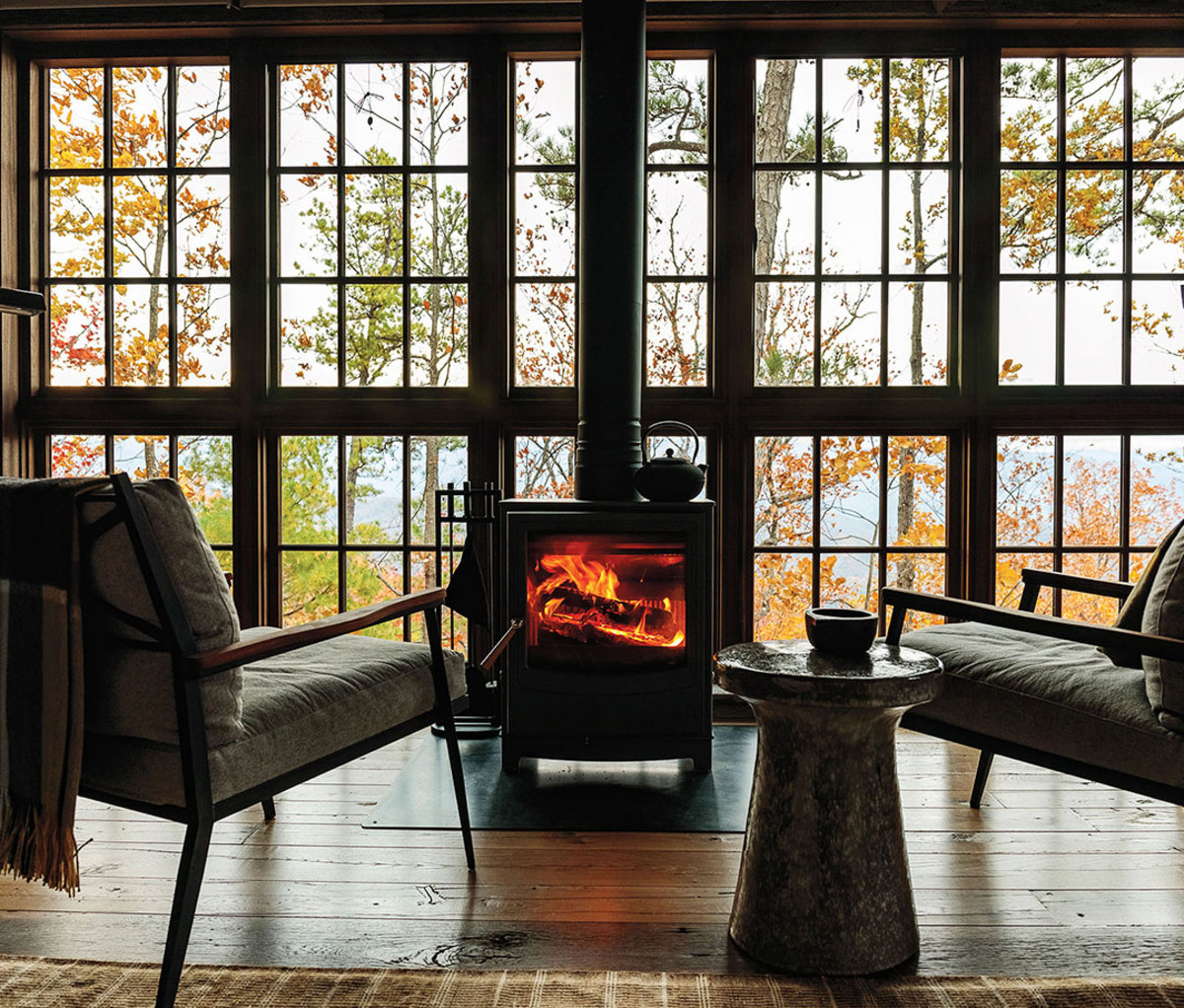 Hit the High-End Hay
If your idea of adventure ends with five-star meals and legit spas, check out Blackberry Mountain in Walland, TN. With 5,200 acres of hiking and mountain biking on site, plus easy access to Great Smoky Mountains National Park, this new resort can help you recover with massages, meditation, and mountaintop yoga. You may never go back to peanut butter sandwiches again.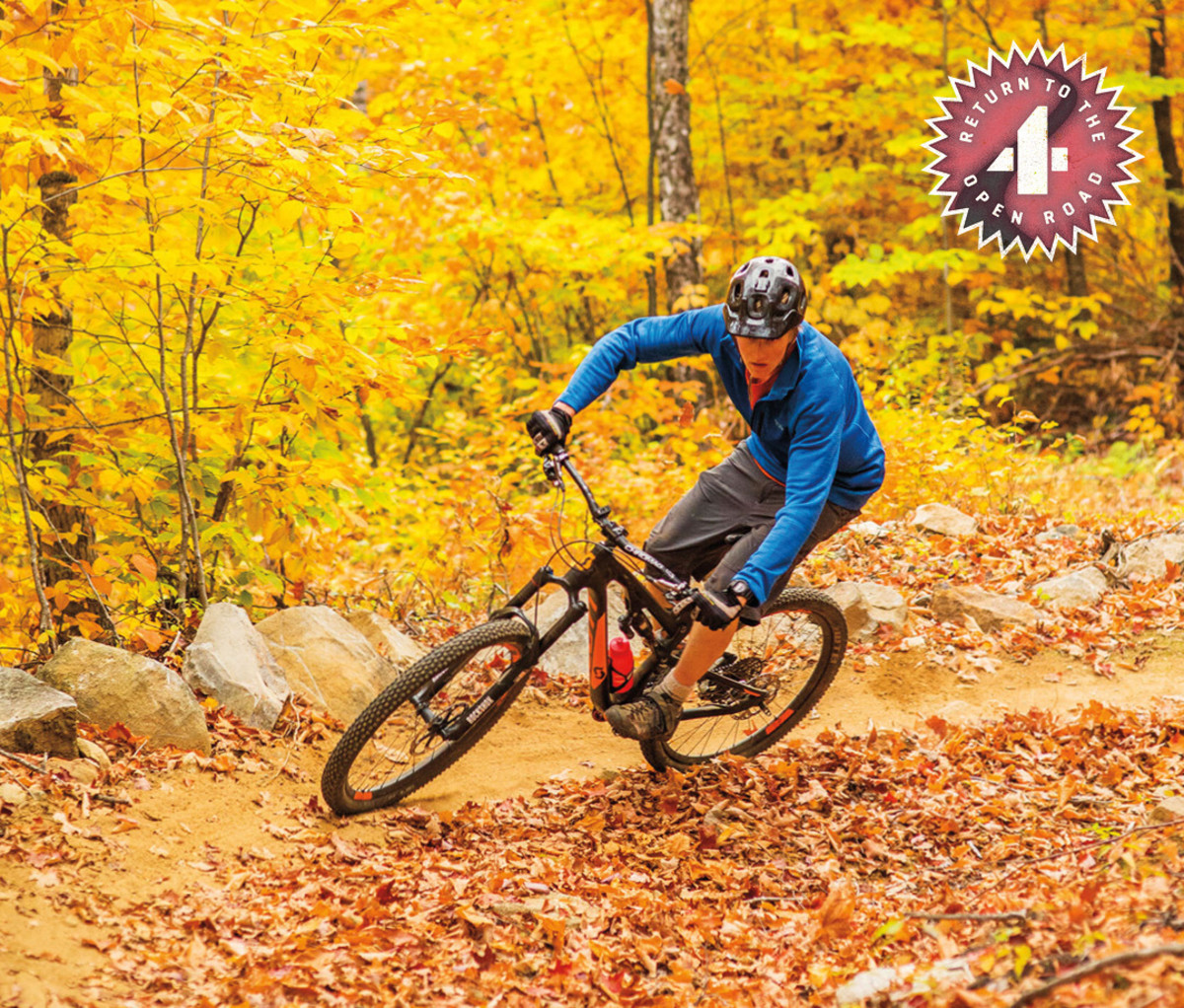 4. Maine
The Northeast's Outback
Mountain Bike the Carrabassett Valley
Maine Huts & Trails operates a string of four backcountry eco-lodges connected by 80 miles of trail, so you can set off for a few days without having to equip your bike with camp gear. You can overnight in a bunkroom or reserve a private room in advance; food, beer, and wine are available for purchase, too. For the best itinerary, connect the Poplar Hut, Stratton Brook Hut, and Sugarloaf Outdoor Center.
Glamp Acadia
Somewhere between a designer lodge and roughing it, the brand-new Terramor Outdoor Resort sits just outside Acadia National Park. Each of the 64 two- to five-person "tents" is outfitted with WiFi, electricity, a Chemex Coffeemaker, and a ceiling fan. The line is drawn, however, at air conditioning—it's all natural. The units are scattered in the woods around a lodge with a bar and restaurant, so packing has never been easier.
Paddle Moosehead Lake
The largest mountain lake in the eastern U.S., Moosehead is 40 miles long, contains over 80 islands, and features a peninsula that hosts Mount Kineo, a sheer-faced volcanic beauty you can paddle right up to—and even climb. Base yourself at The Birches Resort to join a seven-hour guided tour or rent a sea kayak for the journey.
Get a New Look at Katahdin
Mount Katahdin is the highest point in Maine and the northern terminus of the Appalachian Trail, but if you don't want to climb it you can still get quite a view from the recently opened Katahdin Woods & Waters National Monument. It encompasses 87,563 acres of remote wilderness located along the East Branch of the Penobscot River. Before setting out with your mountain bike, kayak, or backpacking gear, get a map from Map Adventures.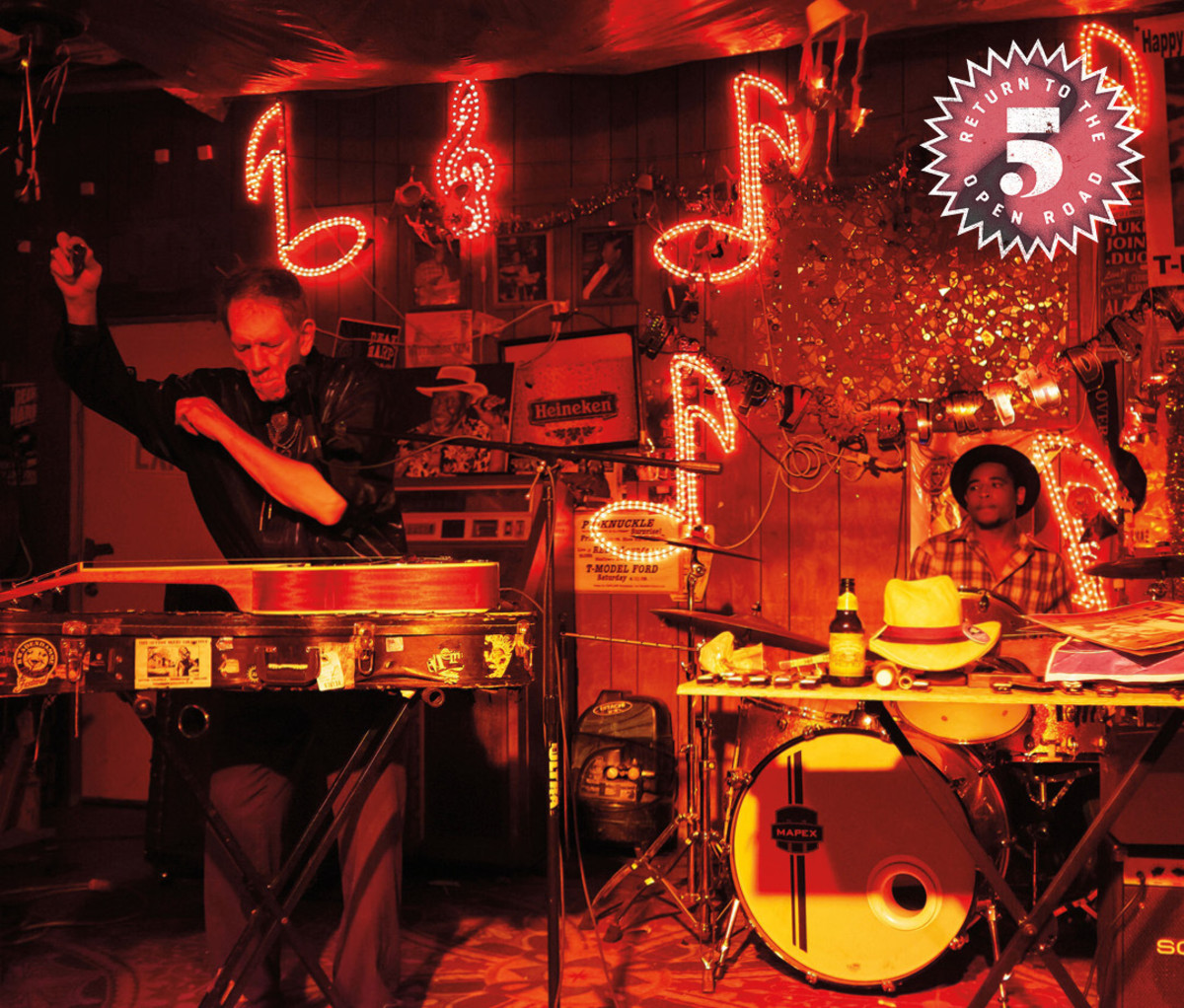 5. Nashville to Austin
The Backbone of American Roots Music
See Nashville's Retro Side
Music City always had great food and tunes, but great hotel rooms are a more recent development. The latest example: The Dive Motel, a circa-1950s motor lodge that's been thoroughly reworked in full retro glamor with a decadent 1970s vibe (including the pool, as well as the disco balls in every room). Even if the place is booked, stop by for a beer and disco fries in wood-paneled confines of its Dive Bar & Lounge.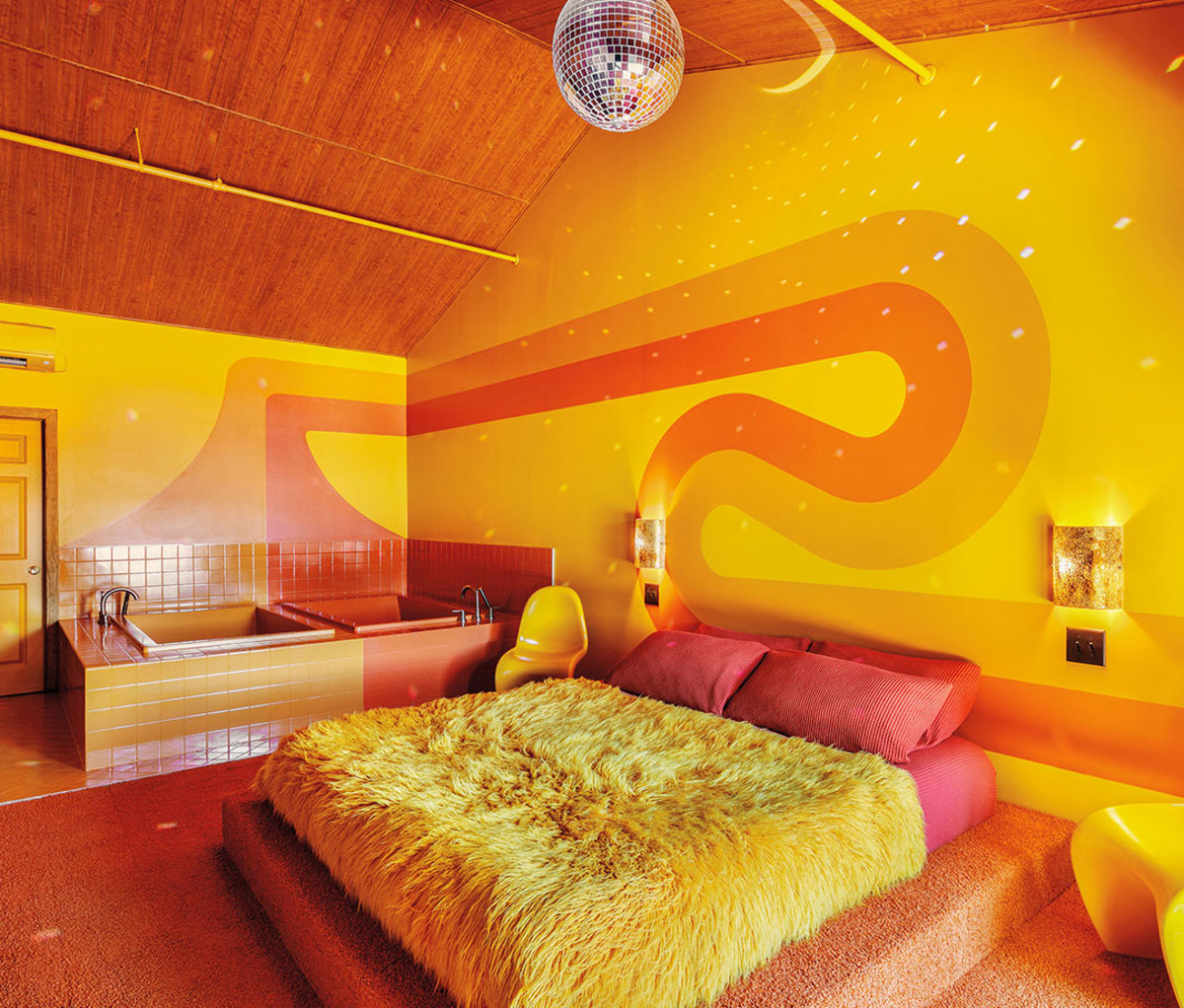 Ride the Natchez Trace
The Natchez Trace is worthy of a road trip in itself. Originally a Native American footpath, it's now a network of trails along a 444-mile graceful ribbon of tarmac running from outside Nashville clear to Natchez, MS, flowing through stunning southern scenery. Taking even part of this serpentine scenic parkway will lengthen your trip, as the speed limits are slow (mostly 50 mph or less), which just leaves more time to listen to your mix.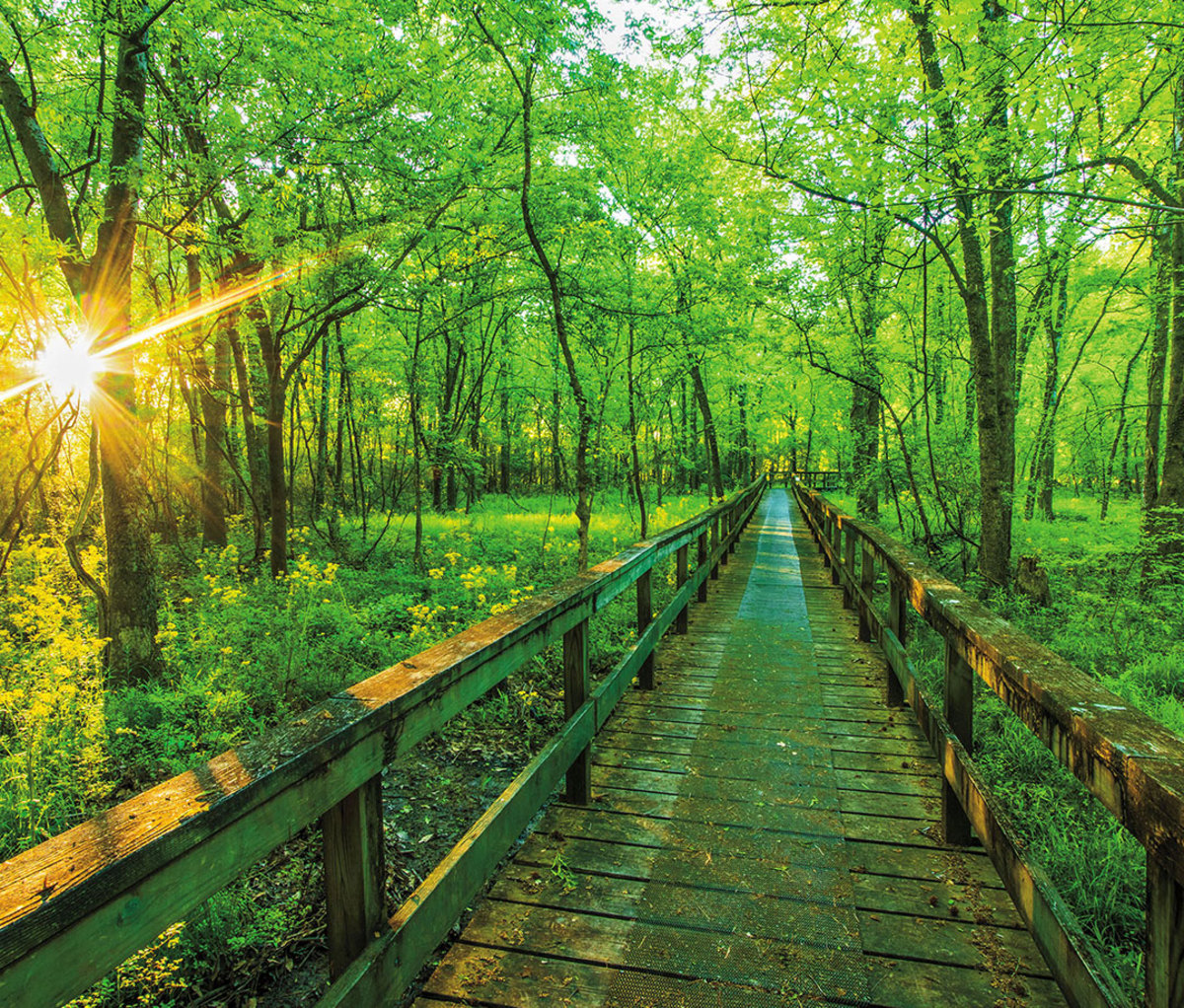 Find Memphis' Soul
Music is elemental to Memphis, but before checking out what's new you must pay respect to the old. Start at the Stax Museum, which tells the story of the legendary soul label on its original footprint. Continue onto Sun Studio, where the first rock & roll records were cut. And no musical journey through Memphis would be complete without a visit to Graceland, where Elvis' Jungle Room
still stands in all its shaggy glory.
Get Down to the Cross Roads
Even casual blues fans should know the significance of the "crossroads"—the intersections of U.S. Highways 49 and 61, where legend has it Robert Johnson sold his soul to the devil in exchange
for otherworldly guitar skills. The sign commemorating the transaction is a landmark worth a photo, but you're here for live blues. Get your fill at Red's Lounge, or Ground Zero Blues Club. In the morning, when your ears are still ringing, hit the Delta Blues Museum.
Get Weird (and Outside) in ATX
Austin may be the nation's capital of live music, but if venues are shuttered due to the pandemic, head just outside of town. Some of the best listening (and beer) can be found at breweries like Jester King and Vista, which are nestled into the region's sprawling hill country. Both offer plenty of live entertainment, enjoyable from socially distanced outdoor stages.
For access to exclusive gear videos, celebrity interviews, and more, subscribe on YouTube!