Travel
Best Boutique Hotels That Offer Local Charm and World-Class Hospitality
Overwhelmed by all the hotel options on your next trip? Here's a good suggestion: Start by narrowing it down to the best boutique hotels in your destination. Of all the different hotel categories out there, boutique hotels have the most unique point of view—typically a local one, given they aren't standardized properties like the big-name brands.
On top of that, "boutique" can mean so many things, from design-centric to ultra-luxury to homegrown BnB-style hospitality. So, on your next vacation, a boutique browsing is likely to turn up something suitable to your tastes and budget level.
There are varying ideas of how large a hotel can be before it's no longer "boutique." That's because after a certain point, large properties can't exactly offer their guests that personable, charming, boutique experience. That's not a knock on the large properties—it merely means they're in a different category. And today, we're focusing on 10 of our favorite boutique hotels, with a range of rooms from eight to 129.
Sure, it's impossible to call any 10 hotels "the best boutique hotels in the world," but we think this is a pretty damn good roster. Notice the range of offerings, then note the common thread between all 10 properties: charming ambiance, localized POV, and world-class hospitality.
1. Paradero, Todos Santos
Baja California Sur, Mexico
Mexican magic town Todos Santos is halfway between vacation-station Cabo San Lucas and the capital city La Paz (aka the world's aquarium). And the slow-paced surfer's paradise has a new attraction: Paradero, the 35-suite experience-driven wellness retreat with beautiful concrete-and-cacti contrasts. Paradero is set against five distinct ecosystems: Cardon cacti-dotted desert, undeveloped Pacific beaches, Sierra La Laguna Mountain range, 5,000-thick palm tree oasis, and sprawling farmlands, all under 355 days of sun the area experiences each year. Wellness spaces are inspired by secret watering holes found across the mountain ranges, with sound healing and Tamazcal ceremonies offered, among other rituals. Chef Eduardo Rios captains the culinary wing, putting his Pujol-trained perspective into each flavorful dish, with all ingredients grown or sourced locally (including 12 different types of peppers to power the dishes). It's the first hotel from the company, which plans to expand to other "unspoiled destinations" across Mexico.
Learn More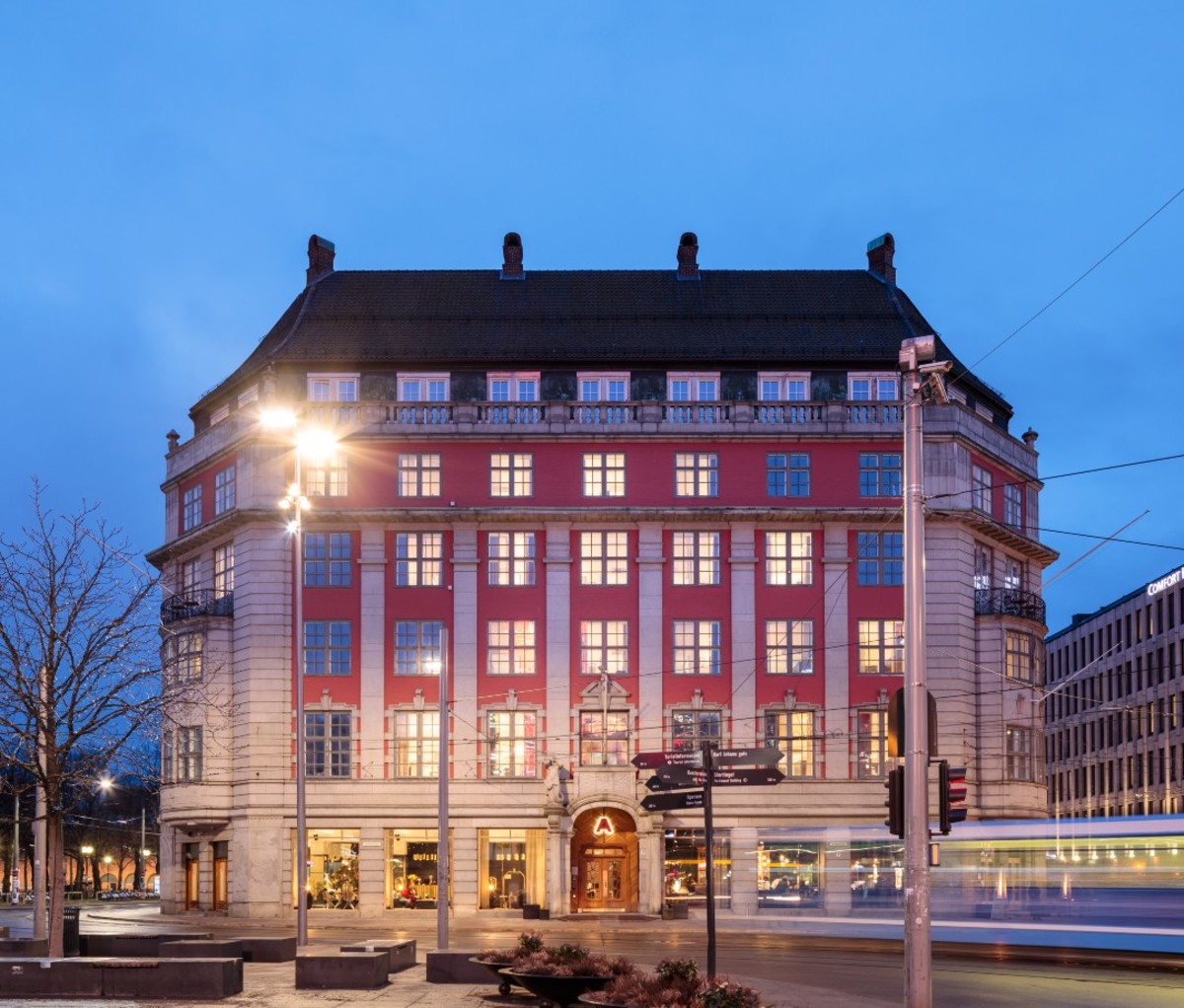 2. Amerikalinjen
Oslo, Norway
Amerikalinjen keeps watch over Oslo's Central Station, and its walls tell the stories of the century-old Norwegian-America passenger fleet, whose headquarters were on this very site. Many interior details have been preserved in the building's makeover, preserving a century-old charm that Wes Anderson would fancy. Residents of the Scandi-cool capital love it, too: They flock to onsite brasserie Atlas (which serves comfort foods Europeans introduced to the U.S.), as well as the critically decorated cocktail joint Pier 42 and underground jazz club Gustav. The hotel boasts beautiful furnishings from Norwegian designers, contrasted against images and found treasures from SS Kristianiafjord and co. Among all the stories these walls tell, the best-kept secret is that Amerikalinjen has the coolest, vibe-iest hotel gym we've seen.
Learn More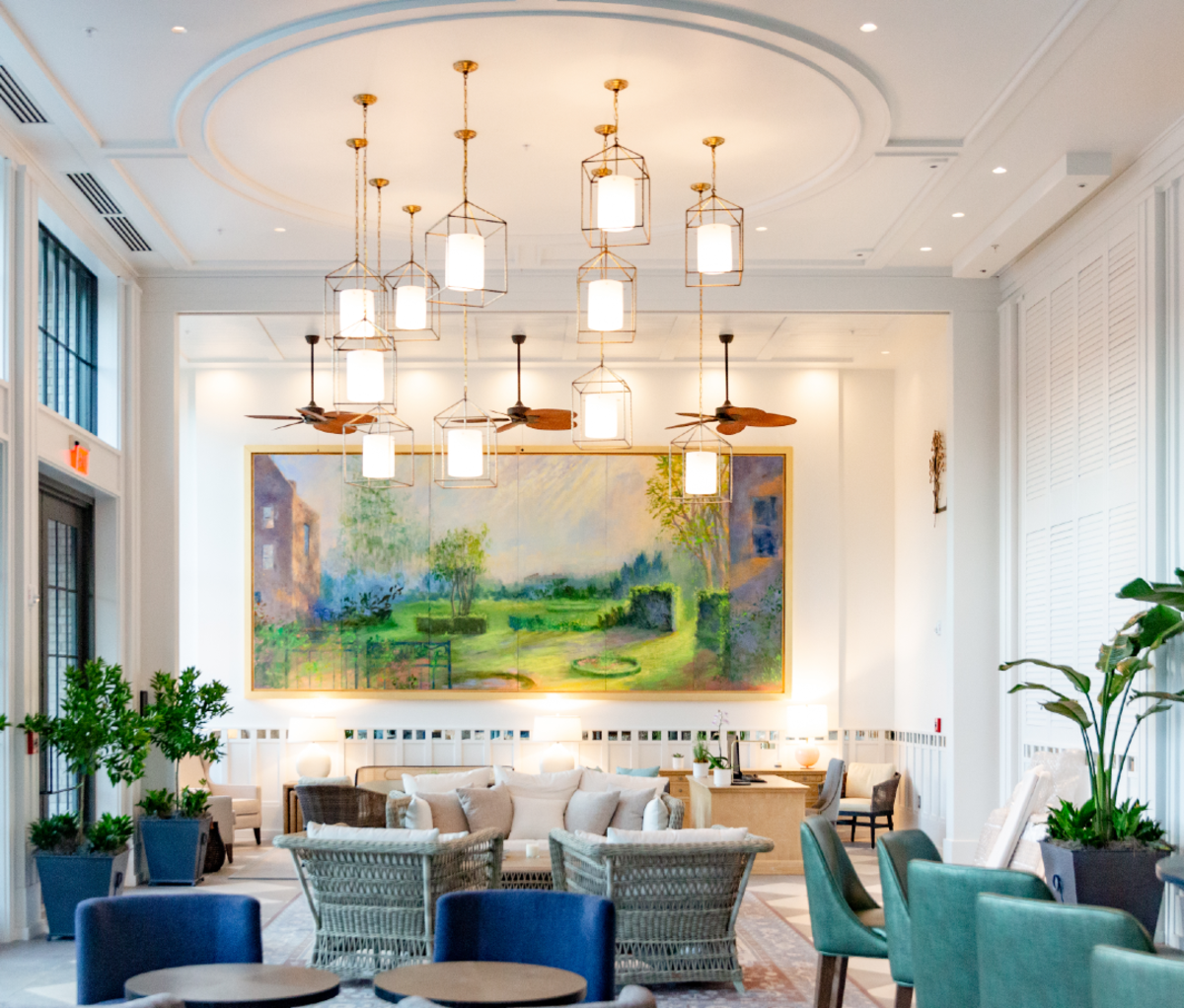 3. The Loutrel
Charleston, SC
Of the many excuses to visit charming Charleston, here's the latest: The 50-room Loutrel opened its doors in November, revealing an Art Deco-meets-Southern charm gem in the Holy City's center. One of our favorite aspects is the blue-green-gold color popping at every corner, from the Veranda Lounge (with its citrus trees and porch swing) to the corner rooms with views of Charleston Harbor and Ravenel Bridge. Guests receive a complimentary Swizzle cocktail upon arrival, and can access The Loutrel's Clubroom throughout the day for complimentary snacks, canapes, desserts, and more. That front-porch hospitality also extends beyond the hotel, since guests can book private tours of Charleston, custom picnics with Picnic Charleston, as well as a day on the water with Carolina Girl yachts.
Learn More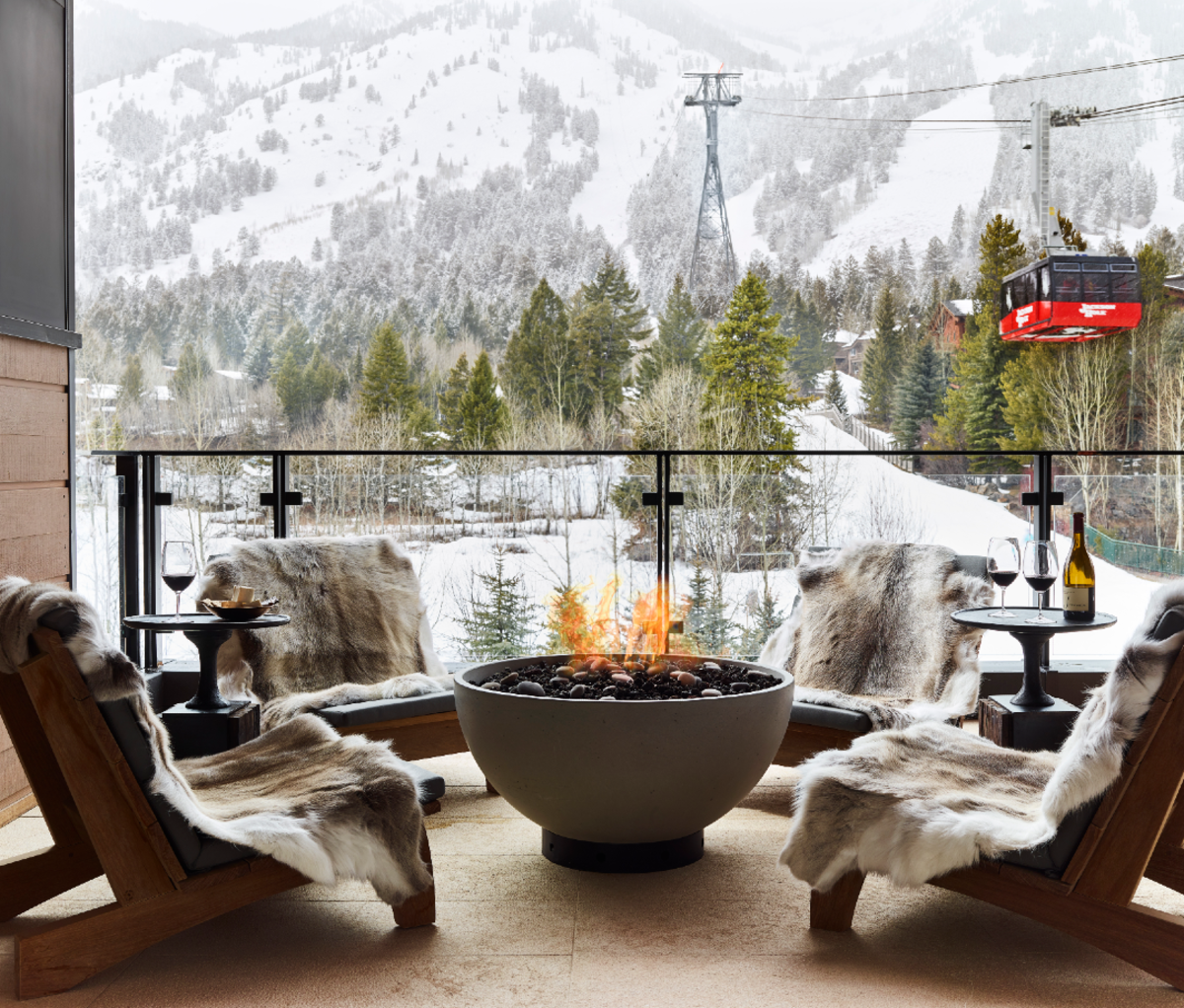 4. Caldera House
Jackson Hole, WY
With only eight bookable units, Caldera House might seem small on paper, until you realize how mighty each unit is: Half are 1,500-square-foot two-bedroom suites with Americana cabin accents, and the other half are contemporary four-bedroom homes at 5,000 square feet apiece (featuring Solus fire pits, wood-burning fireplaces, master bedrooms with soaking tubs, and more). Caldera offers guests ski-in/ski-out convenience and is a few minutes' drive to Grand Teton National Park. It doubles as a members-only alpine club, and has two onsite restaurants, a ski shop, as well as a spa (with treatments also available in-room). With Jackson Hole rising as one of the country's top luxury destinations, Caldera House will remain its top luxury accommodation.
Learn More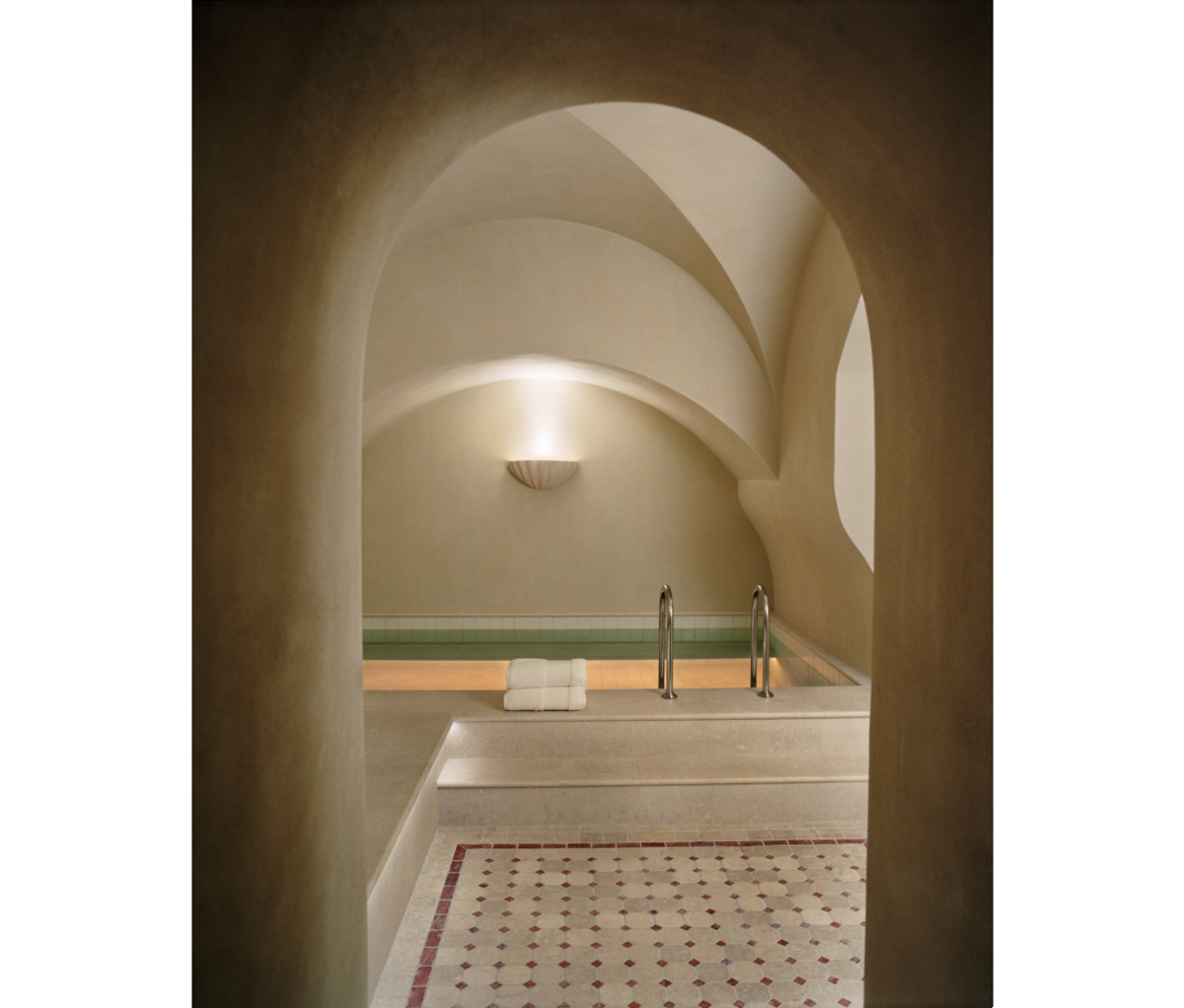 5. Chateau Voltaire
Paris, France
Chateau Voltaire is a grounding presence among Paris' luxury class hotels. Tucked off the grandiose Avenue de l'Opéra, the 32-room hotel occupies three different buildings from the 17th and 18th centuries, in a sophisticated and stress-melting ambiance. Gone are the frills of Parisian luxury, but ever present are the pillars of its hospitality. Guests and locals alike gather in CV's cozy public spaces, namely Bar La Coquille d´Or—which feels like the village watering hole. Perhaps best of all, is the hotel's private sauna and pool, which you can book for an hour. It makes for a peaceful respite from the city, or a romantic one with your +1.
Get it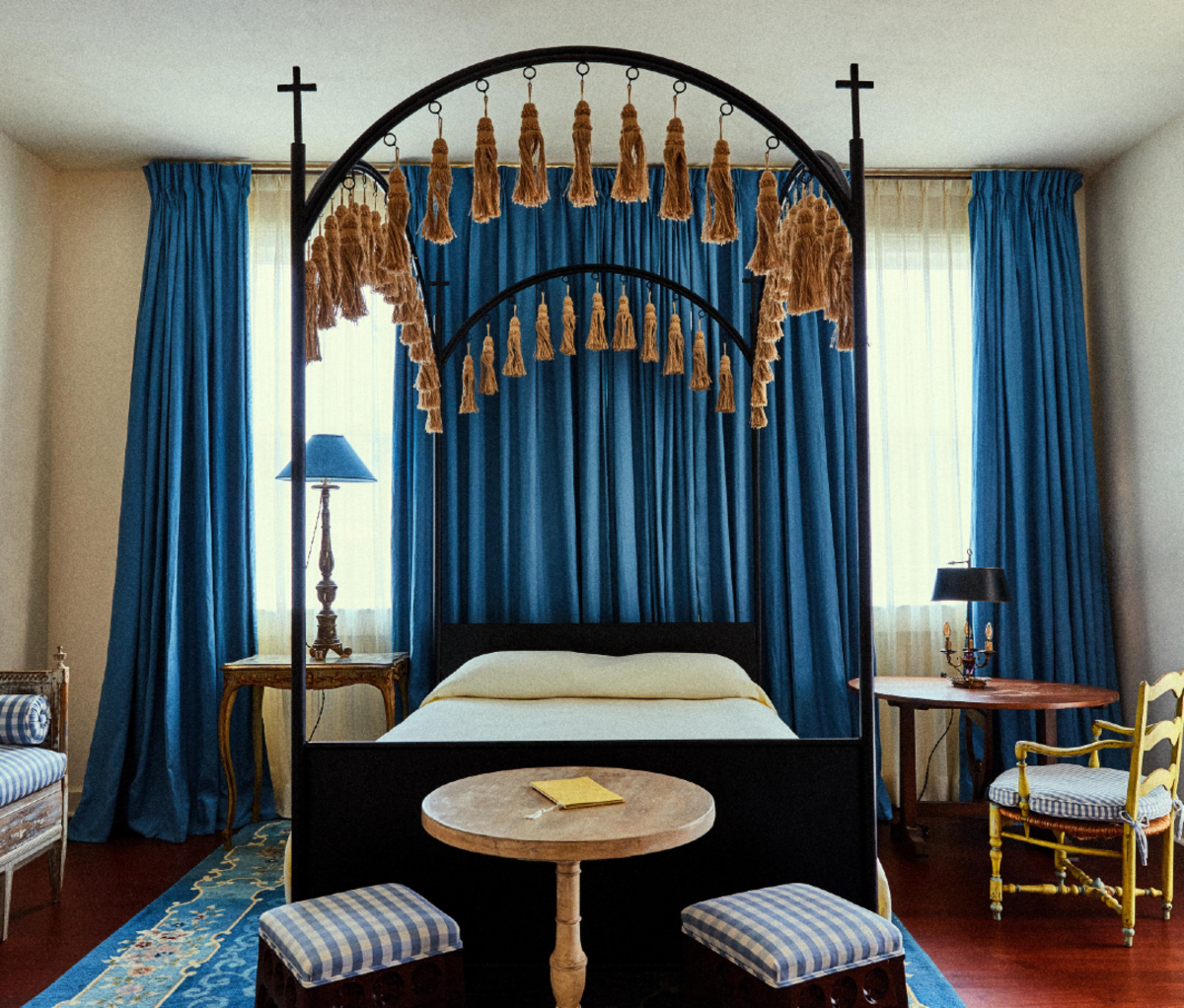 6. Hotel Peter & Paul
New Orleans, LA
The 71-key Hotel Peter & Paul occupies the grounds of a 19th-century church, rectory, schoolhouse, and convent—as if its native New Orleans wasn't storied enough. Many of the site's original details were reimagined with the renovation (by ASH NYC), from its cypress wood moldings, stained glass windows, wainscoted corridors, marble fireplaces, and even the original rectory flag pole. Chandeliers, custom rugs and canopy beds, locally designed furnishings, and found antiquities give P&P its charm, and make it right at home in the Big Easy. Savor something sweet at the onsite ice cream parlor, Sundae Best, or something spiked at the all-day Elysian Bar.
Get it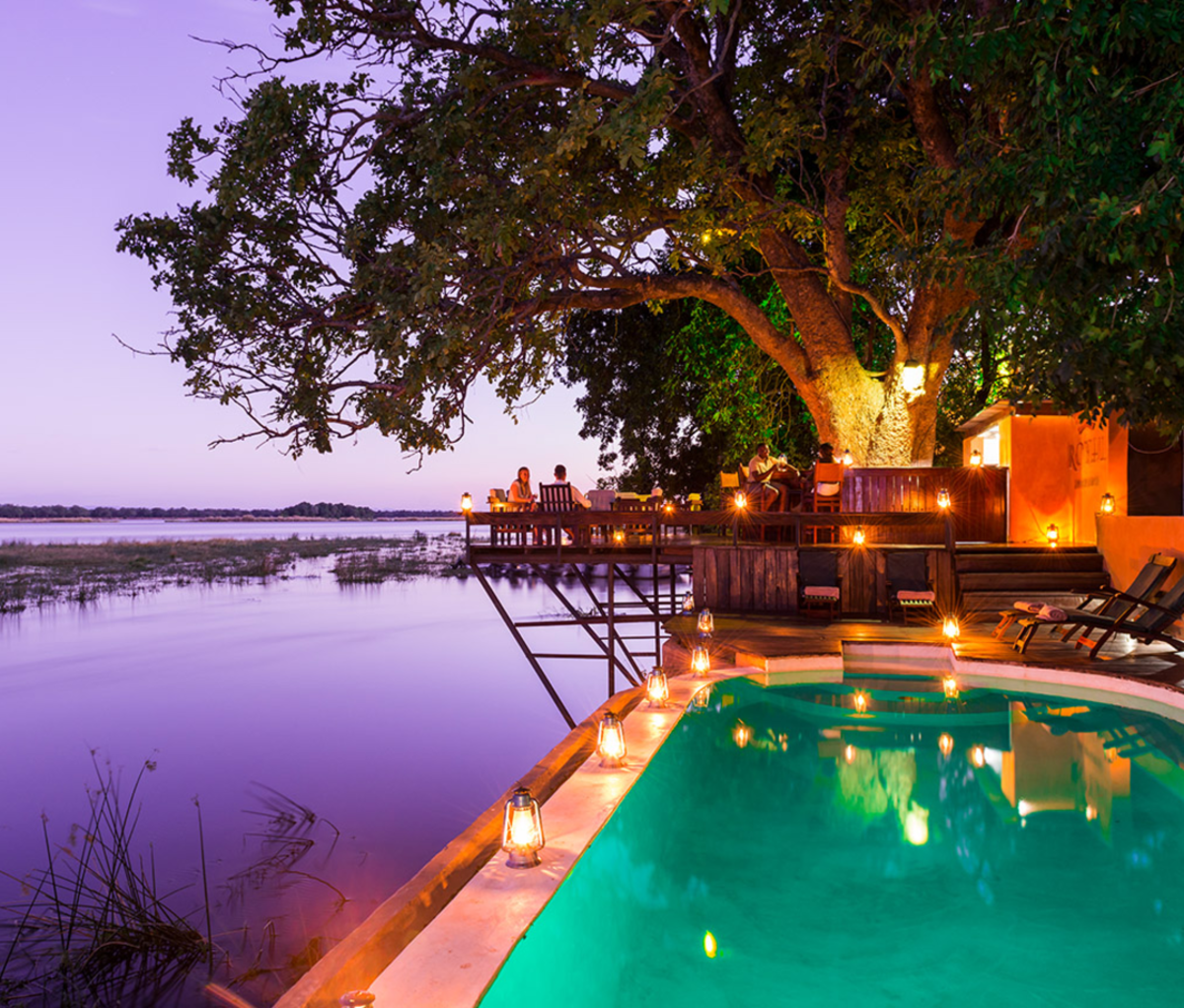 7. Royal Zambezi Lodge
Zambezi National Park, Zambia
Minutes from Lower Zambezi National Park (and tucked within the Chiawa Game Management Reserve), Royal Zambezi Lodge offers guests both tranquility and once-in-a-lifetime experiences. You'll rest in one of its 15 beautifully furnished canopied tents—perhaps with the sound of lions in the distance, or a casual visit from Gap the Elephant—and by day you can embark on game drives, bush walks, delta canoeing, cruising, angling, and even birding, led by its team of local experts. Wind down with another highlight, the river-adjacent infinity pool or the onsite cocktail-flowing Sausage Tree Bar. Its remoteness requires some planning upfront (check their "Getting Here" page to start coordinating), but that same isolation is a reward itself. (May we suggest pairing it with the "relatively" close Victoria Falls?)
Get it
8. Troutbeck
Amenia, NY
This Hudson Valley estate looks and sounds worthy of royals. "I'm off to Troutbeck!" you'll announce, and instantly your peers will imagine you among the property's 250 acres (with as many years of history in the books). The property has a pool, tennis courts, walled gardens, wood-panel library, farm-to-table restaurant, and 36 inn-like rooms and suites. Troutbeck is a mental escape all its own—and a terrific come-down from the bustle of NYC, just a two-hour drive south—but the property's latest addition offers even more for your respite: The Barns, its onsite wellness retreat offers yoga, pilates, meditation, acupuncture, massages, sauna, Technogym fitness equipment, and more.
Learn More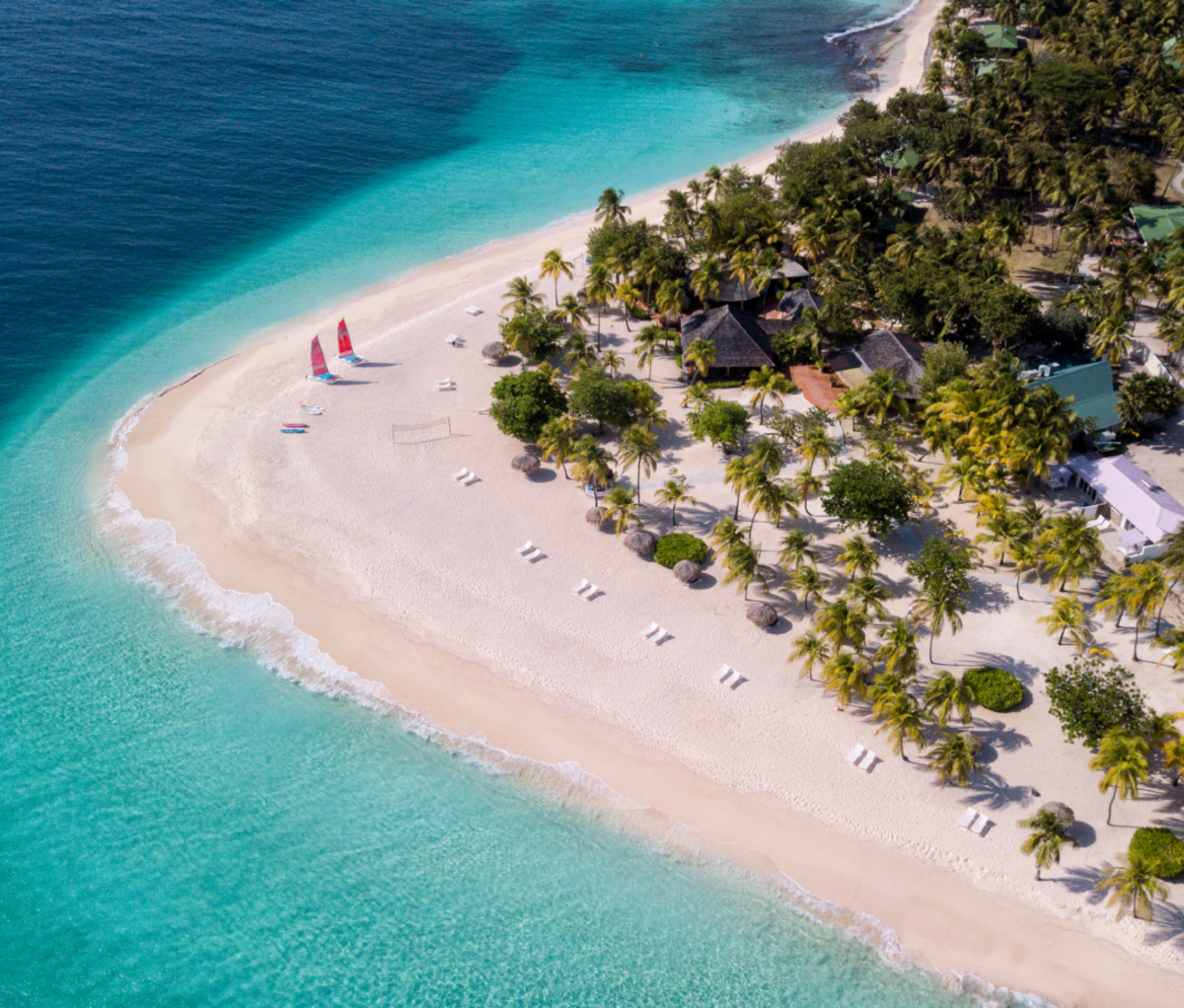 9. Palm Island Resort
Palm Island, St. Vincent and The Grenadines
If you want a Caribbean vacation, then book something with backstory and heart: Palm Island was converted from swampy and uninhabitable into a coconut-palm paradise by John and Mary Caldwell. They leased the land for $1/year from the U.S. government on the promise of building a hotel and employing local residents. What started as a 10-key hotel is now the 41-room (and suite) all-inclusive property, offering freshly caught cuisine and island-life activities, both on land and at sea. It's the remoteness you dreamt off, minus the pretentiousness that many luxe escapes fail to overcome.
Learn More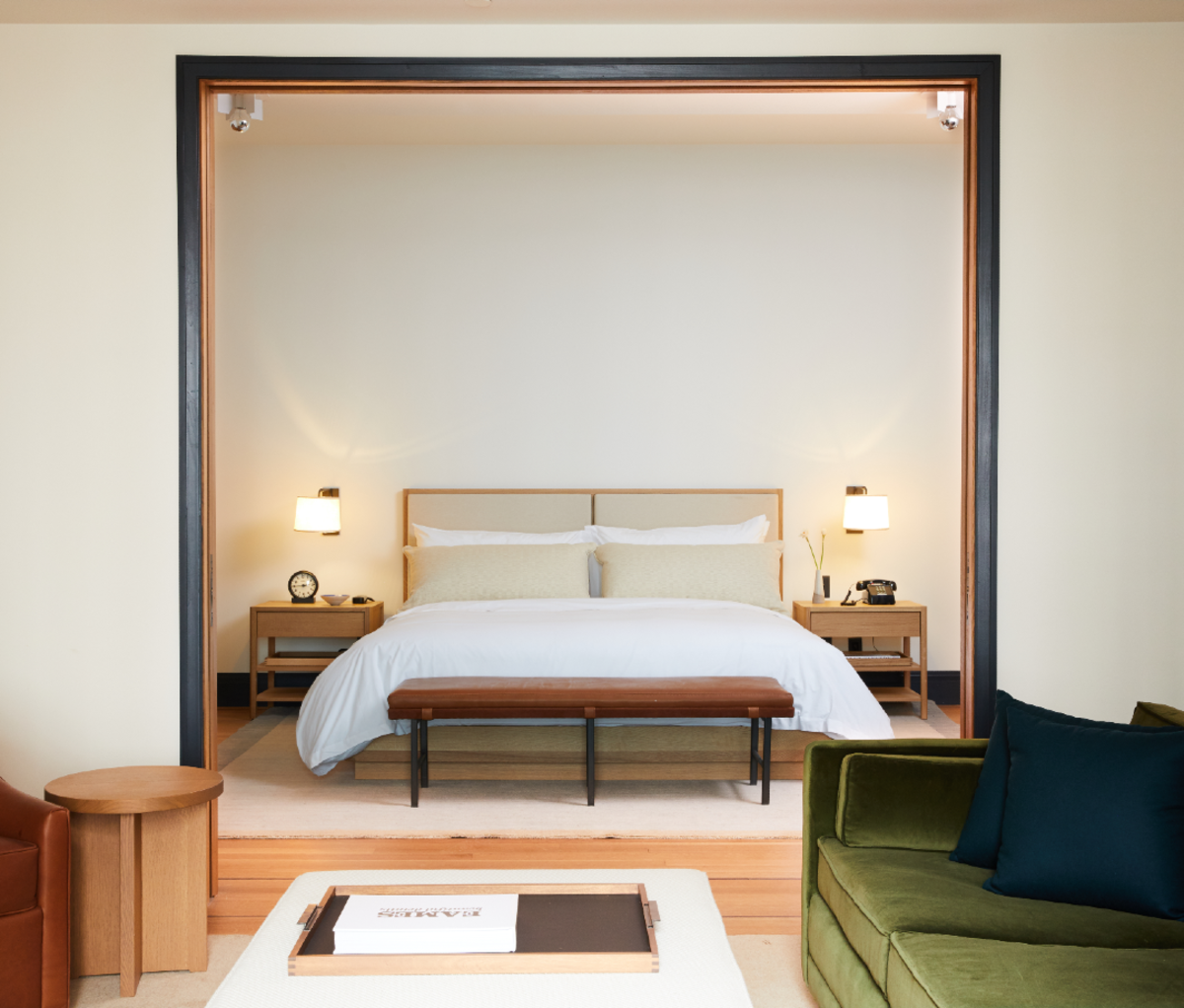 10. Shinola Hotel, Detroit
Yes, it's that Shinola—Detroit's Shinola. This 129-room hotel is like diving into the pages of a Shinola catalog, with wood and leather furnishings, woven panels, a brick facade, and a retail runway that includes a beauty bar, cafe, florist, streetwear, as well as posts for Le Labo, Madewell, and of course, Shinola itself. Nosh on Italian fare at San Morello or Detroit-style fried chicken at The Brakeman and Penny Red's, chased with a local brew. Everything about Shinola Hotel oozes Detroit and characterizes the city's steady revival.