Mission: Outdoors
Best Road Trip Destinations for Adventure Die-Hards
Even with speakers blasting, driving doesn't make a road trip great—adventure does. You want places that get you out of the vehicle and into new worlds. So we put together the best road trip destinations for those seeking thrills.
These nine roadside excursions scattered across the interstate grid converge on a single point: It's time to exit the car and enter carpe diem mode. No time to plan? Tap one of these adventure specialists for a plug-and-play trip.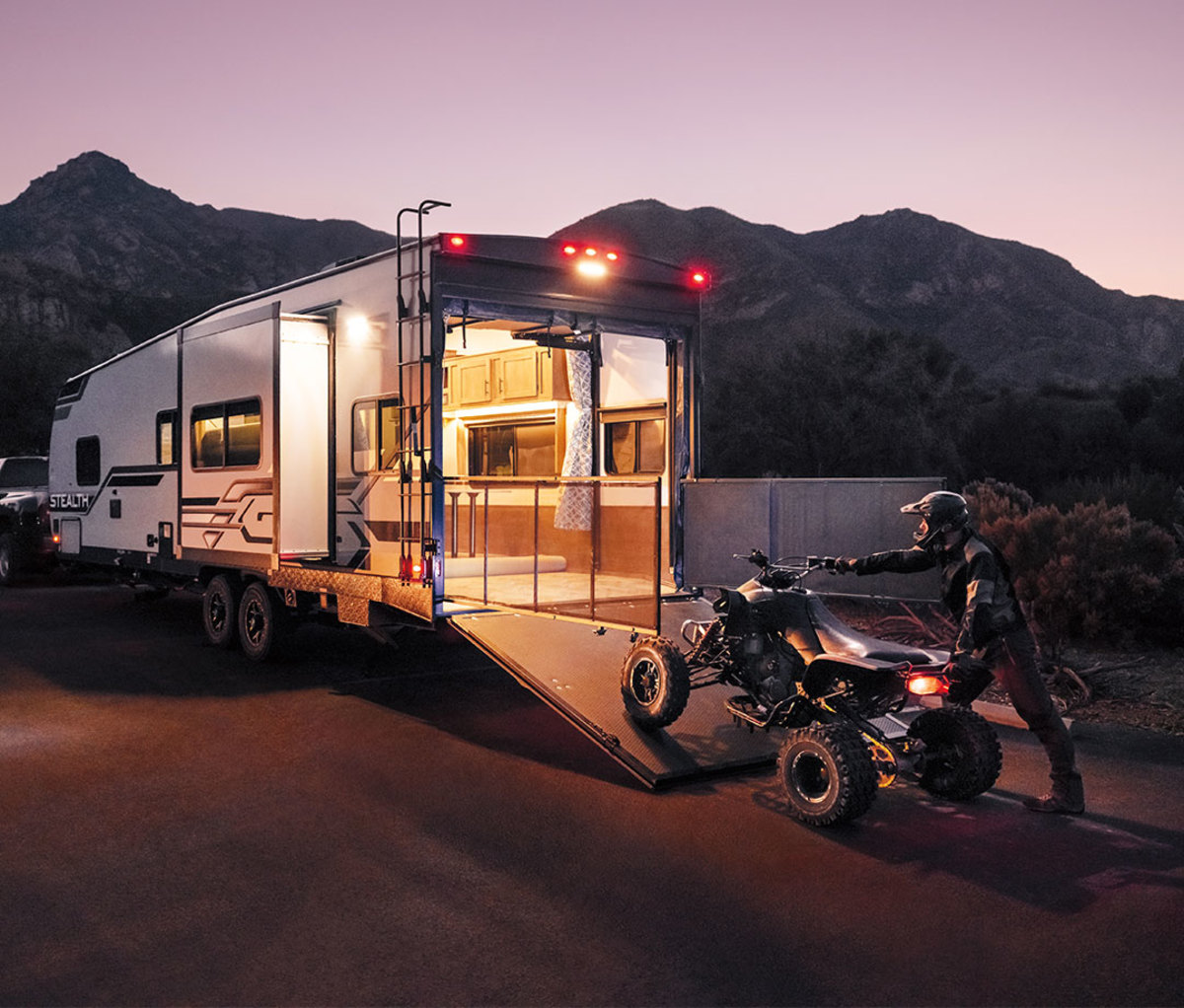 1. Guidesly
This website and mobile app lets you browse and book a fishing guide from wherever you are—on lakes, rivers or ocean. You can filter by fish species to select only guides that specialize in targets such as redfish, steelhead or bonefish. Personalize the trip for groups or young children, and share photos and videos through the chat platform.
Learn More
2. Uncharted Society
Like a travel agency for power-sports adventure, this booking platform connects travelers to outfitters that offer spectacular trips using Sea-Doo watercraft, snowmobiles and side-by-sides (all manufactured by Bombardier Recreational Products). When you pull up to Lake Powell or Fort Meyers Beach, you don't have to be envying everybody else's joy machines—you can be on one of your own.
Learn More
3. Toy Hauler
Sport utility RVs are built for hauling motorcycles, dirt bikes, ATVs or other motorized rigs on the road while you're RVing. Genius! The back of the Toy Hauler drops down forming a ramp for access into a mobile garage area where your favored adrenalizers can be stored and accessed quickly. This type of RV can be made as a travel trailer, 5th wheel or Class A motorhome.
Learn More
Best Road Trip Destinations for Adventure Die-Hards
Hot springs (shown above)
Eastern Sierra, California
Driving U.S. Route 395 between Bishop and Bridgeport, California, doesn't just get you astounding views of the Sierra Nevada's precipitous east side. It links a smattering of hot springs—some developed into comfy resorts, others left unpolished. The largest is Keogh's Hot Springs, where 130°F spring water feeds a soaking pool and swimming area, all accessed from furnished canvas "glamping" tents. For a more all-natural experience (including access via unpaved roads), Hilltop Hot Springs has satisfyingly warm water (the source water exceeds 100°F) and a pool surrounded by meadows and bogs framing the Sierra's peaks. As the name suggests, Crab Cooker is too hot for human comfort, but visitors can adjust the temperature using pipes and valves that feed the tub.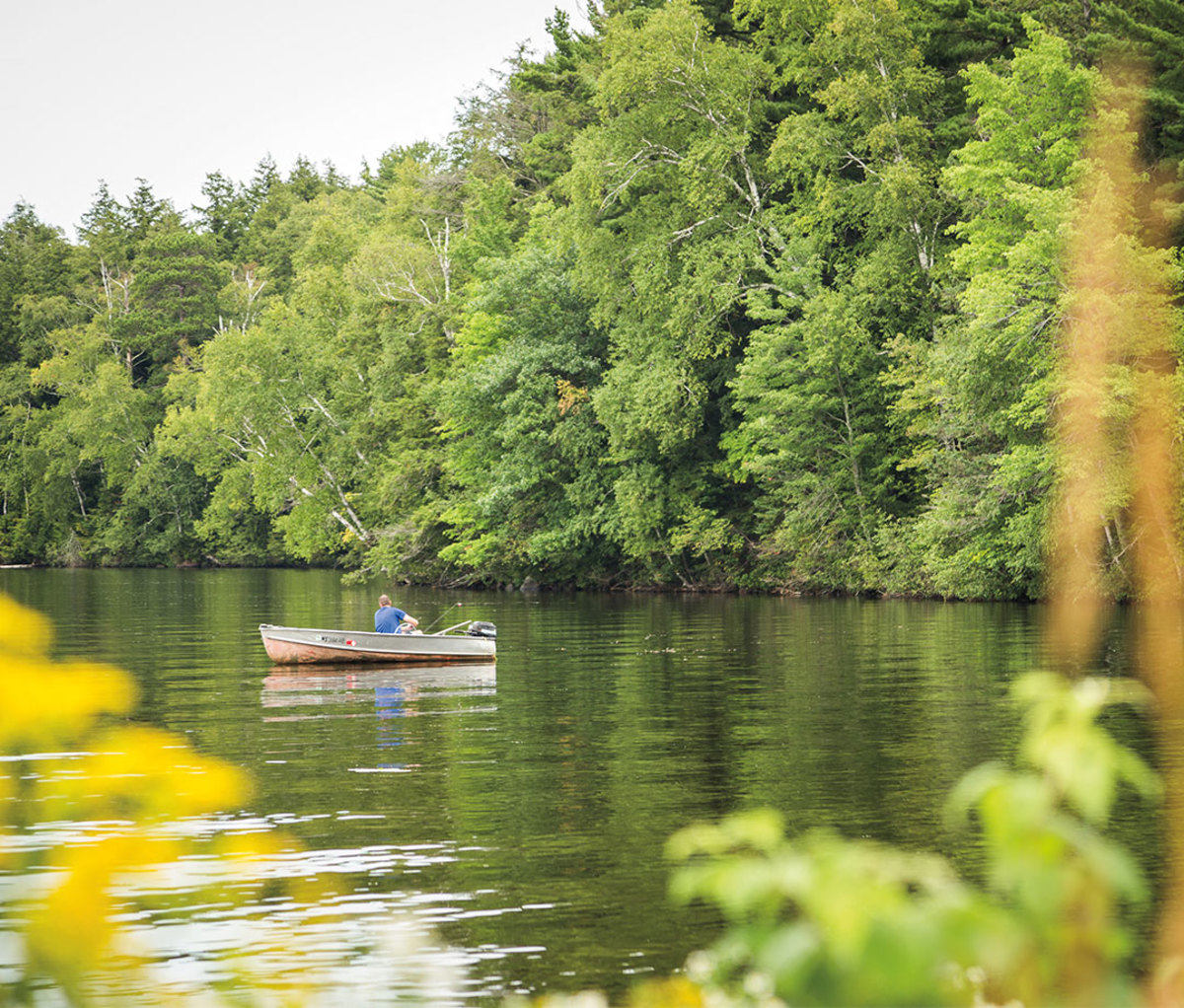 Fishing
Driftless Area, Wisconsin
Welcome to trout heaven! The Midwest's Driftless Area—mostly in Wisconsin but also chunks in Minnesota and Iowa—was largely spared the pummeling of ice age glaciers, so it lacks glacial deposits, called drift. (Get it?) That's given this unique topographical area lots of cold, spring-fed streams that nurture teeming populations of gem-hued wild trout. In fact, 98% of this region's fish are naturally reproducing. Not only are their colors more vibrant than hatchery spawn, but these brookies and browns are also wilier. Fat, predatory lunkers do inhabit these creeks, and landing a 30-inch brown trout on light tackle is a genuine resume-builder. But many are palm-length beauts won with sleuthy stalking and delicate presentations.
Hook In: In Viroqua, Wisconsin, the Driftless Angler is a fly and guide shop that can get on you top of some of the region's best fish. Owner Mat Wagner recommends the Timber Coulee outside the town of Coon Valley. "There's plenty of public water to spread out on, and good fishing all season long," says Wagner.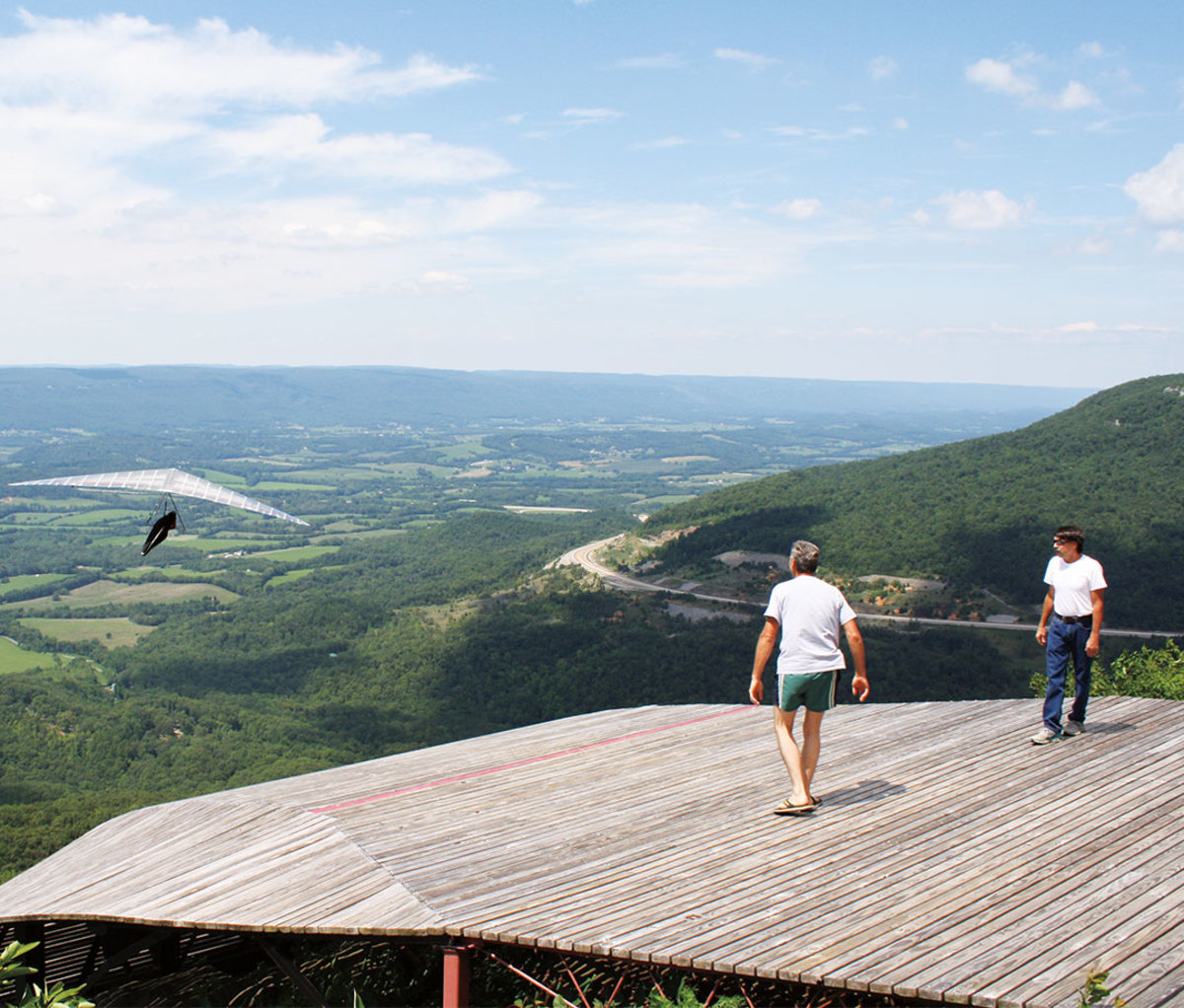 Paragliding
Henson Gap, Tennessee
Apologies, Wright brothers, but his Appalachian ridgeline is the premiere place to take your first flight. Rocky cliffs rise abruptly above the Sequatchie Valley's cornfields and treetops 1,800 feet below. To further improve the site's aerodynamics,
Dennis Van Dam (an aeronautical engineer who loved hang gliding) designed a radial ramp that aids airflow as pilots stride into the sky. Famous among hang gliders and paragliders, the ramp attracts pilots from far and wide, but also facilitates beginner flights. The forgiving aerodynamics allow for even fumbled launches to become soaringly successful leaps.
Fly By: Flying Camp Paragliding offers tandem flights and solo pilot certification courses. After a few
steps on earth, your feet ply the breeze and you and the area's raptors settle into a shockingly long flight supported by the valley's gentle thermals.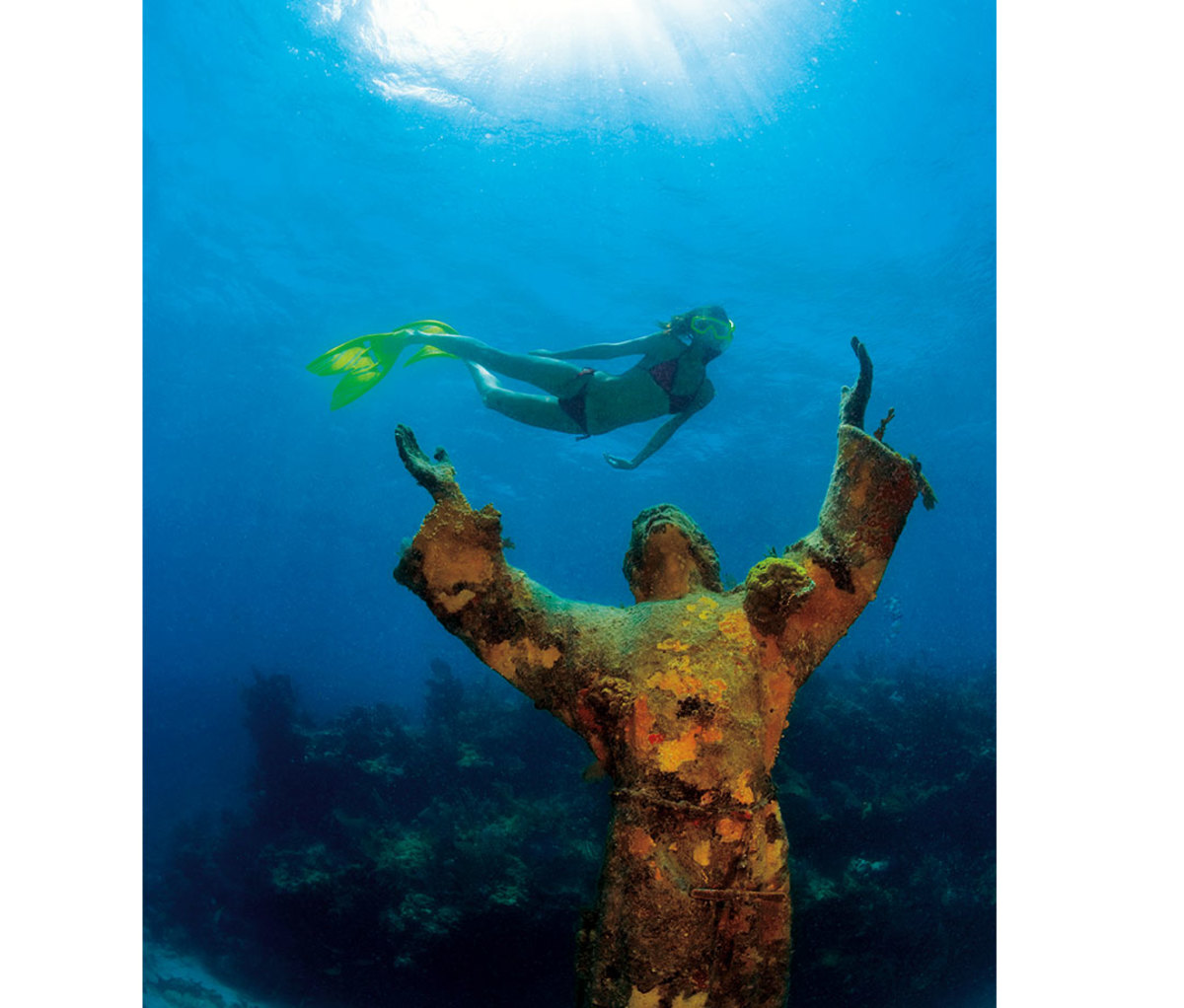 Scuba & snorkeling
Key Largo, Florida
Fatigued from land yachting? There are reefs and wrecks all along the Florida Keys, but Key Largo bests the competition with an unparalleled concentration and diversity of underwater attractions. John Pennencamp Coral Reef State Park, the first underwater preserve in the United States, spans some 70 square miles and includes kaleidoscopic reef communities suitable for beginner and advanced divers. Even Jesus is encrusted in coral—the well known Christ of the Abyss statue is one of Pennencamp's most popular destinations for divers and snorkelers. The statue sits in water 25 feet deep. But even greater undersea riches await, with scores of reef sites accessible within a 20-minute boat ride from Key Largo.
Sail On: For the best chance at solitude, hire a boat through Silent World Dive Center. Located in north Key Largo, its captains quickly reach sites that downtown shops deem too distant. Carysfort is one of the best-preserved and most remote reefs off Key Largo.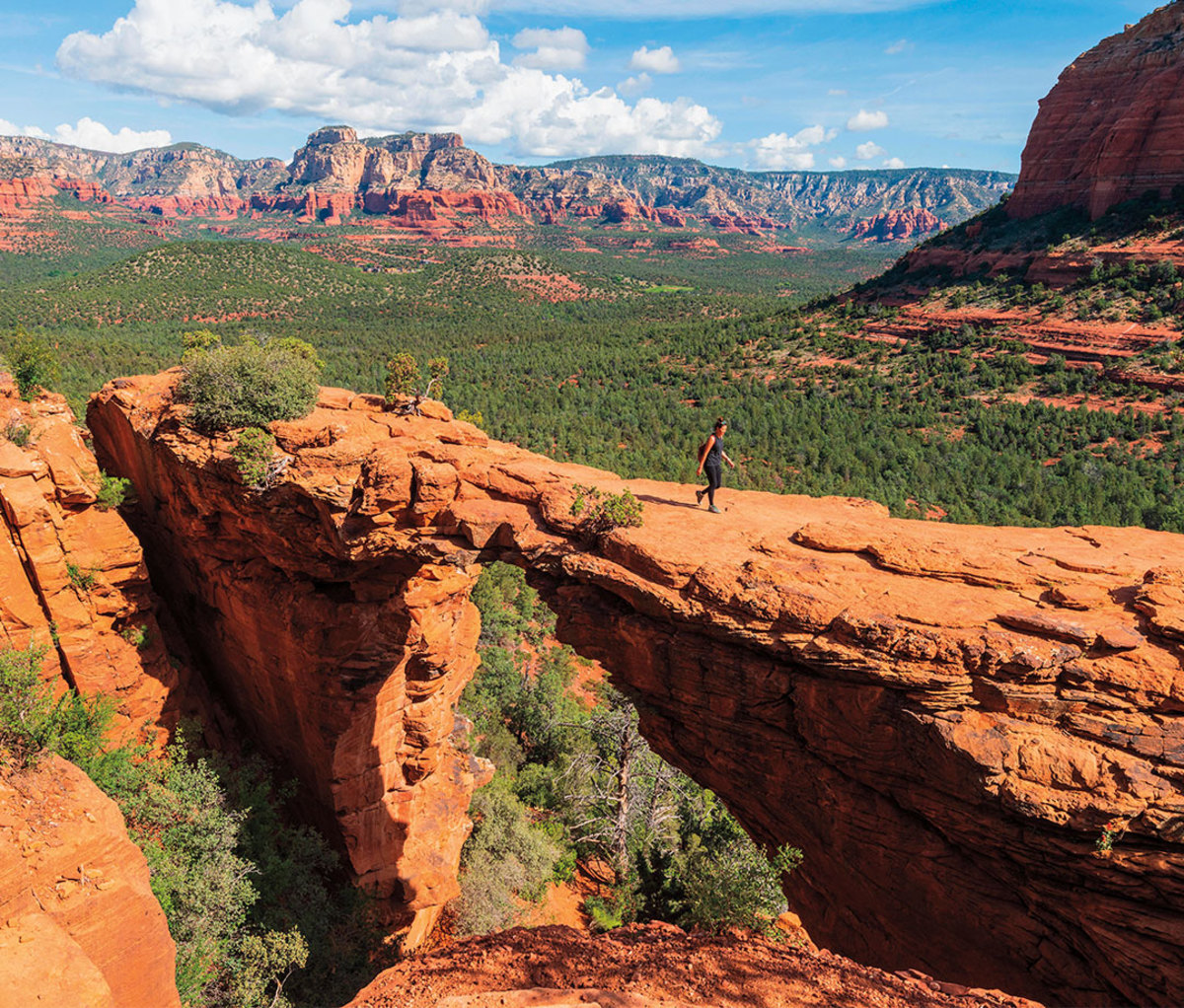 Hiking
Sedona, Arizona
Sedona's sculpted sandstones, limestones and shales make it a beloved spiritual hangout, but the gorgeous rock also buffers some 150 trails that lead to an inexhaustible array of destinations. The "H" trails (Hangover, Highline and the Hog Heaven/Hog Wash combo) wind through glorious red spires and across airy ledges surrounded by otherworldly panoramas. For a lung-busting hill climb that avoids mountain bikers, Wilson Mountain Trail to First Bench leads to a high-elevation perch with vast views of the aptly named Verde Valley.
Step Up: The Hike House gear shop serves as the de facto visitor center for Sedona hikers with an info center full of guidebooks, topo maps and staff eager to help. Shop owner Greg Stevenson authored The Sedona Hiking Guide Book.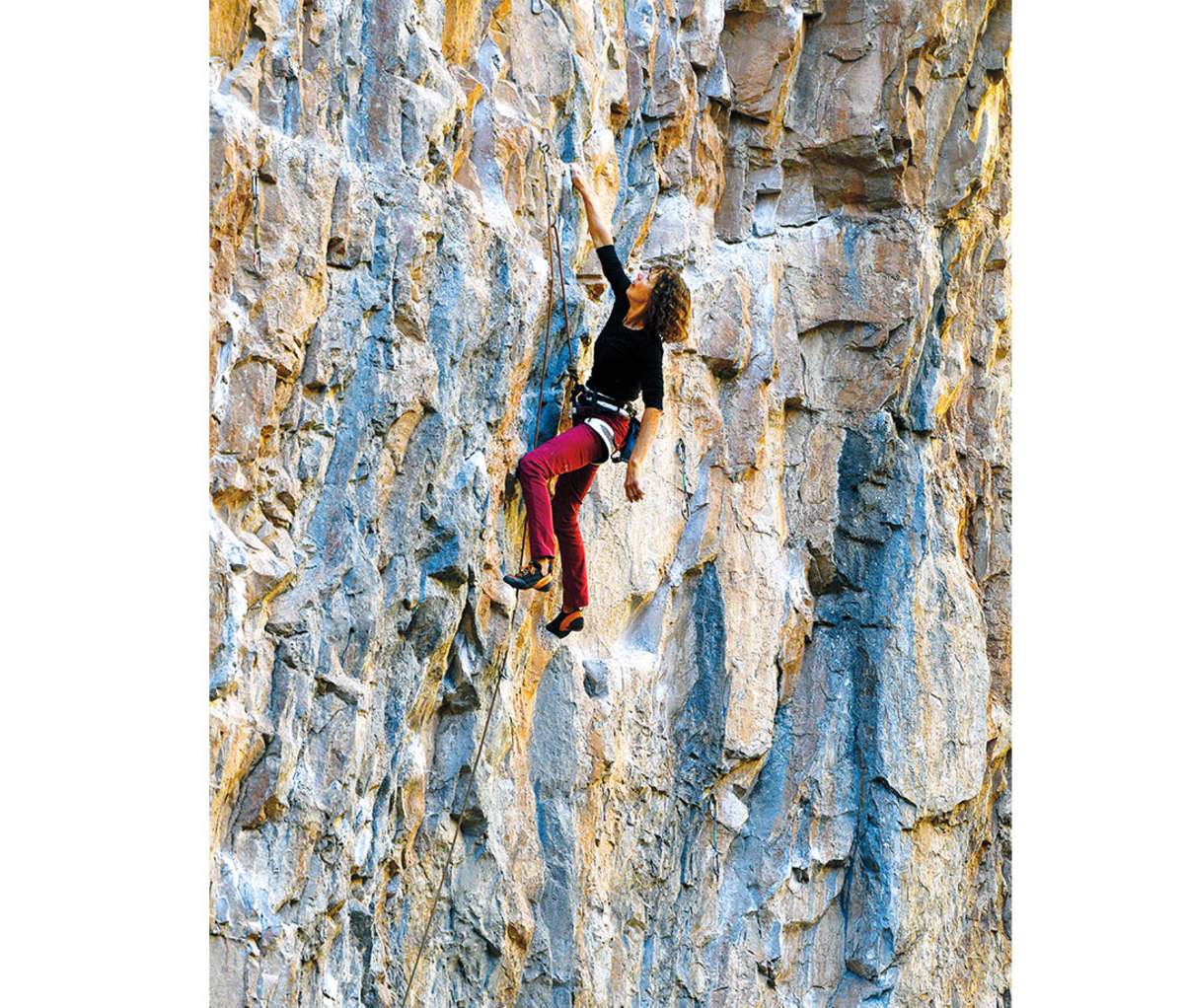 Rock climbing
Rifle, Colorado
A road trip that passes anywhere near Rifle Mountain Park has to include a stop and a go at its 250 bolted sport routes. Just 17 miles off Interstate 70, this climbing mecca is easy to access. The canyon's campsites ($15 a night) sit within a boggling concentration of routes, all stacked beside one another and reached with virtually no hiking.
That's where easy ends. Steep and puzzling, the limestone walls aren't for beginners, and even pros find plenty of challenge. "Initially, for most people, the climbing is very insecure, powerful and pumpy. Intimidating to say the least," says Five Ten pro Jon Cardwell, who honed his moves at Rifle. "It was no different for me, but after many years of practice I started to learn and adapted strongly to the style there." First-timers should pack a 30-meter rope and ascend Beer Run, a 5.13a that epitomizes Rifle's rigors with an up-high crux that tests mental and physical endurance. Some even tougher classics include Zulu (5.14a) and 7 PM Show (5.14).
Watch It: Not a climber? There are lots of places to chill with a drink and watch experts scaling rock walls along the easy 0.7-mile Koper's Trail.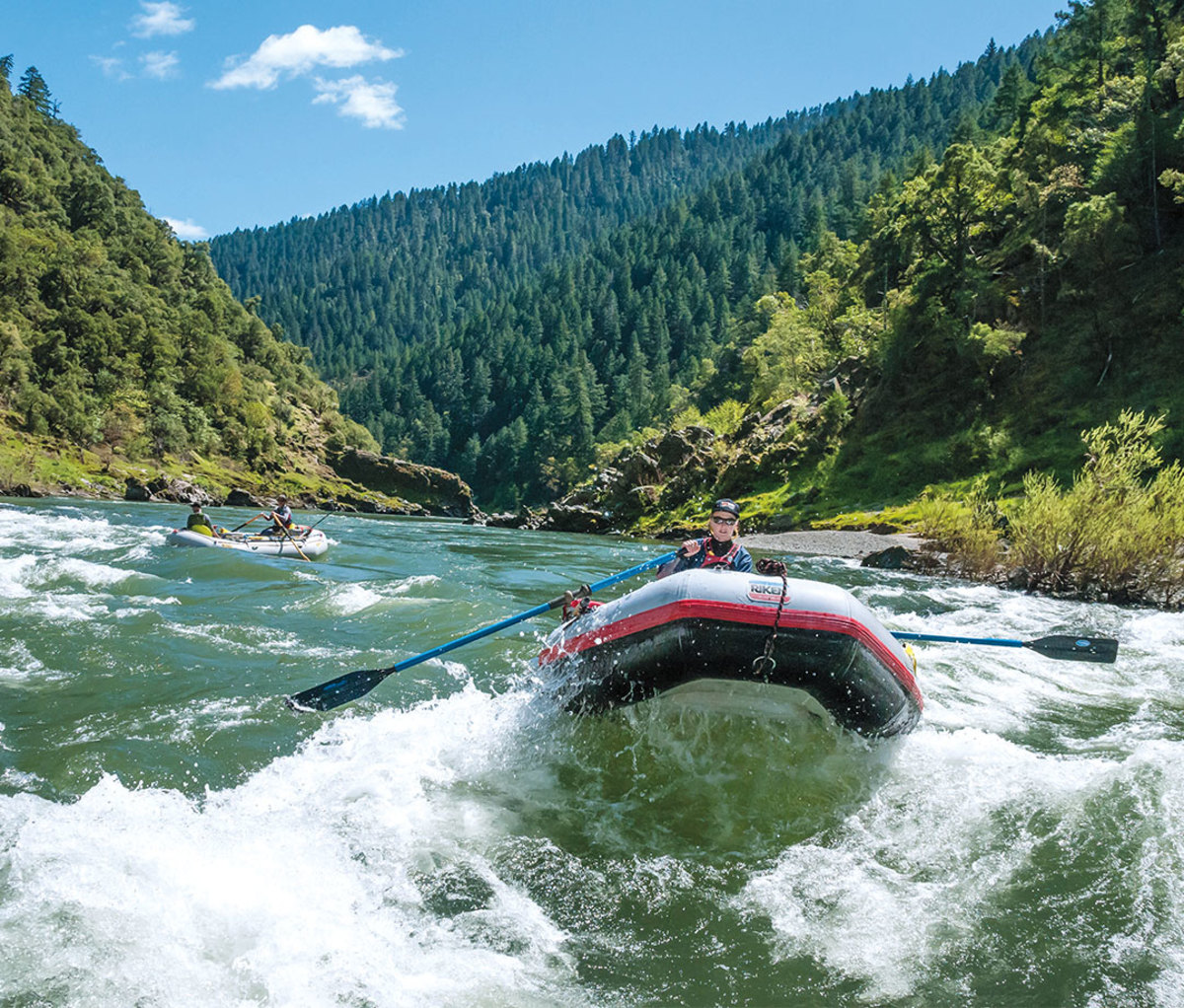 Whitewater rafting
Rogue River, Oregon
Plenty of great whitewater routes run through wilds across the continent, but the Rogue River varies the sit-and-splash formula with an unusual variety of experiences beyond rapid-running. Sure, you can hit the frothy highlights on a half-day trip through Hellgate Canyon, filming location for River Wild and Butch Cassidy and the Sundance Kid. But better is to go whole enchilada on a 40-mile trip through the section of the Rogue that's earned Wild and Scenic designation with over 20 class II-IV rapids—a three- to four-day trip that pauses for swimming holes, hikes to waterfalls, check-ins on resident black bears and camping beneath black velvet skies that burst with stars.
Trout are intensely colored (many are wild, not stockers) and anglers can cast for Chinook salmon and steelhead—the Rogue is one of the few remaining rivers with a summer steelhead run. With overnight lodges along the journey, rafters averse to roughing it can enjoy beds and flushing toilets.
Run It: Morrisons Rogue Wilderness Adventures and Lodge runs multi-day raft trips. The lodge has cabins across a variety of budgets.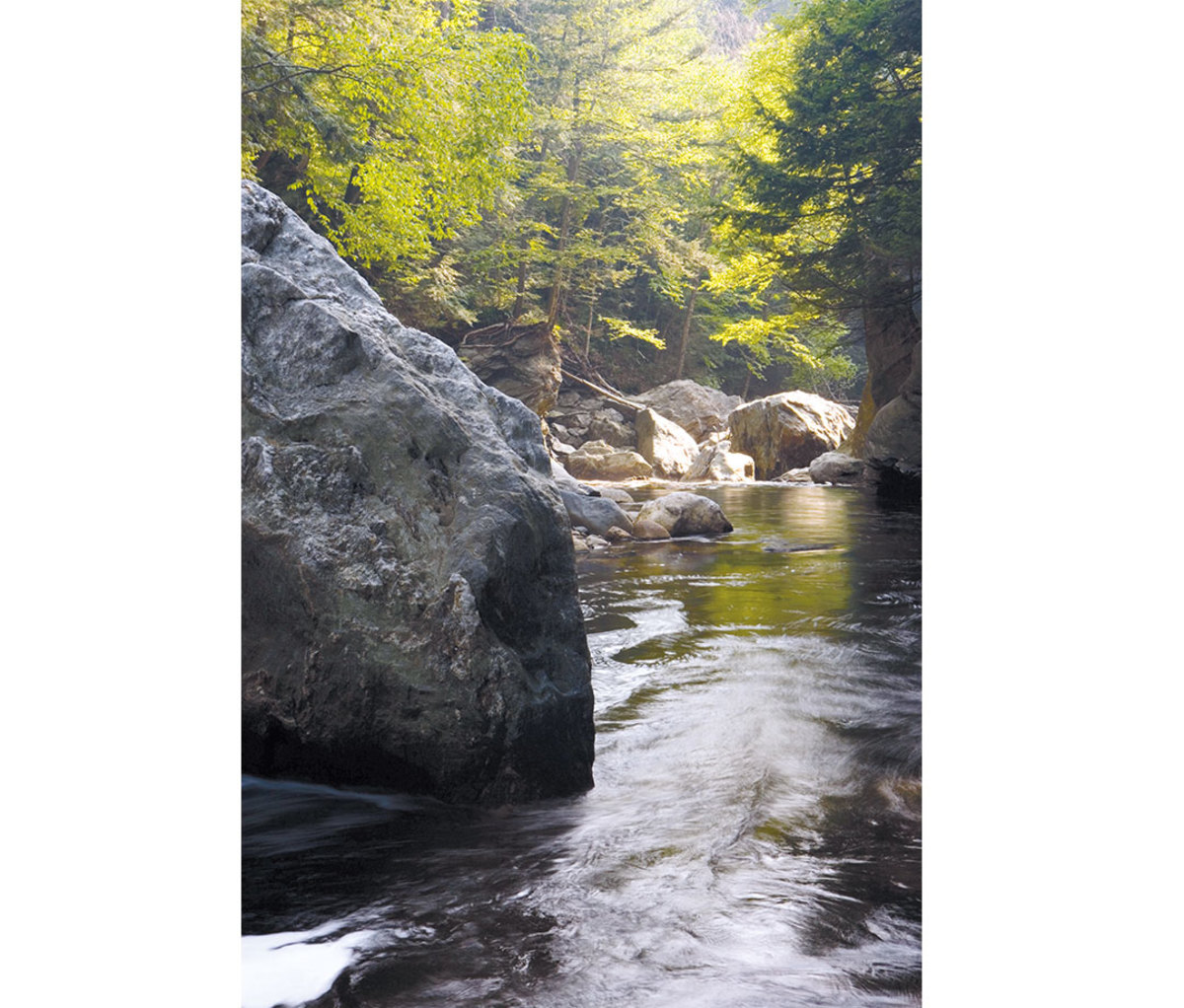 Backcountry swimming
Gilsum, New Hampshire
Swimming holes are a rite of summer around the country, but no region embraces them as heartily as New England, where winter-hardened locals crave watery ways to escape summer heat waves. Virtually everywhere that a road approaches a stream or river, you'll find cars pulled over and beach towels strewn on rocky shorelines. Most swimming holes are too shallow for a full-body bath, but The Deep Hole on the Ashuelot River near Gilsum is deep enough for cliff dives. Flanked by a 30-foot boulder that serves as a launching pad for the bold, this deep swimming hole revives heat-weary drivers with one plunge.
Jump In: Park at the Stone Arch Bridge on Route 9 and walk downstream into the rocky gorge.
Camping
Holland Lake Campground, Montana
Beach camping in Montana? It's true. From June through September, Holland Lake becomes a paradise of sun, sand and snaggly summits that saw into the high-elevation air. At 4,050 feet elevation, Holland Lake Campground in the Flathead National Forest has 40 campsites, many along forested shoreline bordering 416 acres of shimmering glacier- and stream-fed water. You can launch a jet boat from the campground's primitive ramp, but stand-up paddleboards and inflatable tubes are more popular ways to stretch out after hours in the car. This is coastal fun, Rockies style—views include the glacier-draped Mission Mountains to the west and Swan Range (backed by the Bob Marshall Wilderness) to the east. That's where you can make the 1.6-mile trek to Holland Falls, which fill a narrow gorge.
Go Plush: No tent? No prob. Near the campground, Holland Lake Lodge is a log-walled getaway on a peninsula jutting into Holland Lake. It features some of the best views and best food in the Rockies.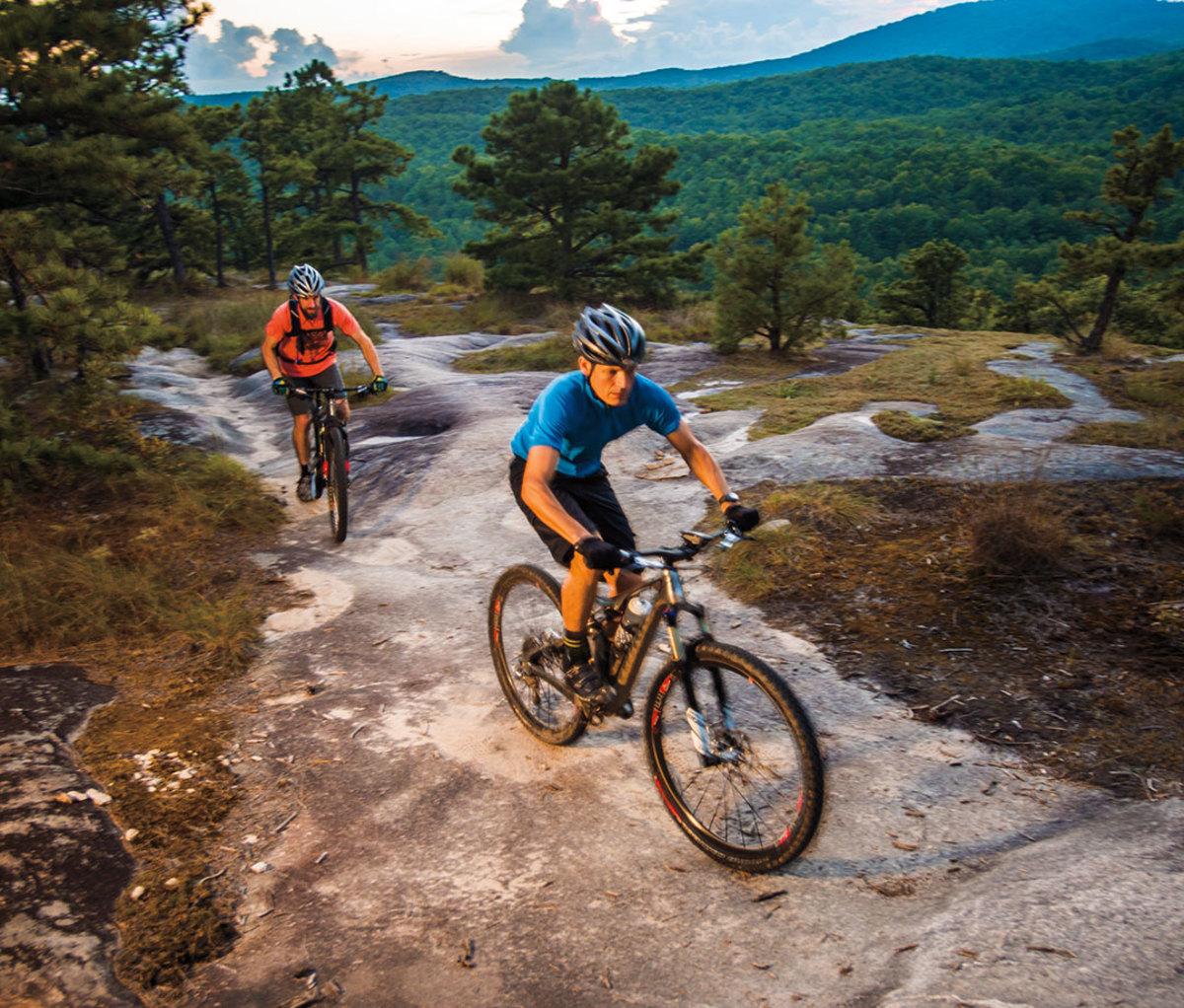 Mountain biking
Brevard, North Carolina
The only thing better than Brevard's riding is its all-inclusive vibe. No need to be a badass shredder to earn a nod from the cycling-obsessed populace in this chummy, 8,000-resident mountain town. Brevard's portfolio includes plenty of fast, flowy trails and buttery dirt climbs with sweeping Blue Ridge Mountain vistas. The Lake Imaging loop and Ridgeline trail are among the smoother paths at DuPont State Forest—riders roll across vast slabs of granite reminiscent of Moab's famous slickrock sandstone. Cedar Rock and Big Rock trails both feature panoramas from open slabs and treeless balds.
Suds and Cycle: On Fridays, Squatch Bikes & Brews owner James Mattey leads social rides for anyone wanting to check out the 400+ miles of singletrack winding through the Pisgah National Forest and DuPont State Forest. His eight regional draft beer taps at Squatch also vary in lineup.
For access to exclusive gear videos, celebrity interviews, and more, subscribe on YouTube!