There is nowhere on the East Coast quite like the Outer Banks. While New England offers pointbreaks, reefs and that clam-chowdery charm, ten months of winter can get old. Florida offers some gems in its 1,350 miles of coastline. New York and New Jersey both have rich beach cultures just short drives from metropolitan areas. But if you're talking about a solid sojourn, North Carolina is where it's at. And compared to other spots on the East Coast, you don't have to sell plasma to fund a visit.
The Outer Banks boasts miles and miles of Cape Hatteras National Seashore, little seaside villages and fantastic local fare – plus, you can surf in a shorty or less about half the year.
They say you're not truly a local unless your great-grandfather was a pirate. But the following guide will give you the insider's track to summertime in the Outer Banks, sans the tourist fanfare and without draining your bank account.
Charting Your Course
There aren't too many ways to get to the Outer Banks. The local airport is Norfolk, almost two hours away from Nags Head. If you're coming from the south you have to drive either all the way to NC Highway 64, or you can take the ferry system from the south. Driving yourself is pretty much the only affordable option. And even if you were to find a way to this storied coastline, having a vehicle is a must once you arrive. There are no shuttles. Everything is so spread out that even a bike isn't useful for much more than a surf check.
The hub of civilization is clearly in the Nags Head, Kill Devil Hills, Kitty Hawk region, which have grown from Southern-style outposts to small cities in the past three decades. Hike the massive dunes at Jockey's Ridge (no fee to enter) or learn the history of the Lost Colony at Roanoke. The Mateo Aquarium is well worth it for families and the Wave Riding Vehicles shop, a legacy brand on the Right Coast, is a Mecca of all things surf and skate. The surf can fire here and favors a southwest wind. Set this up as your base camp if you're looking for restaurants and nightlife.
Get Some Shut Eye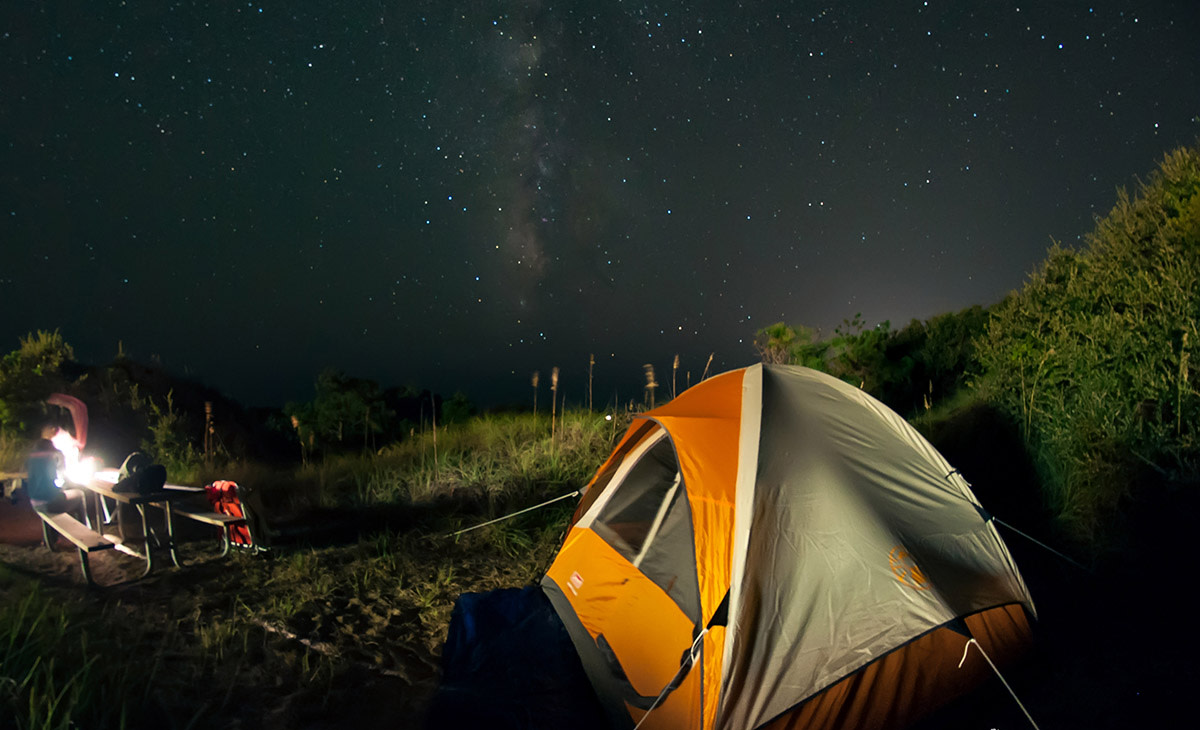 All three of these towns have hotels on or across the street from the beach where you can score a room – even in the high season – for $125-$200 a night.
But hell, you can get a standard hotel anywhere. One of the best ways to do a few days on the Outer Banks is to just grab a house. Rentals are easily available through the local realtors as well as VRBO and Airbnb. These are very affordable especially if you have a group.
One of the cheapest ways to stay is camping. Just beware of the elements. Heat, wind and thunderstorms are all part of the summer fun. The Outer Banks are one of the few areas you can get a campsite with easy access to quality surf on the Atlantic. During the summer, there's more than a dozen RV parks and campgrounds that offer recreational vehicle spots or tent sites. In town, the OBX Campground RV Park, in Kill Devil Hills $70/night for your camper. Kitty Hawk RV is comparable at $60/night. Adventure Bound Campground, located on the edge of a maritime forest is $32/night for a two-person tent.
Among the most affordable are the federal campgrounds that are part of the Cape Hatteras National Seashore system, which all have RV, trailer and tent sites – Oregon Inlet, Cape Point, Frisco and Ocracoke. These run about $25 to $35 per night with utility hookups.
There are also spots where you can stay that cater specifically to your pursuits. Rodanthe Watersports & Campground, which has 30 sites, is right on the sound directly across Highway 12 from the beach, and offers surfboards, SUPs and kayaks to rent.
Surf and Sound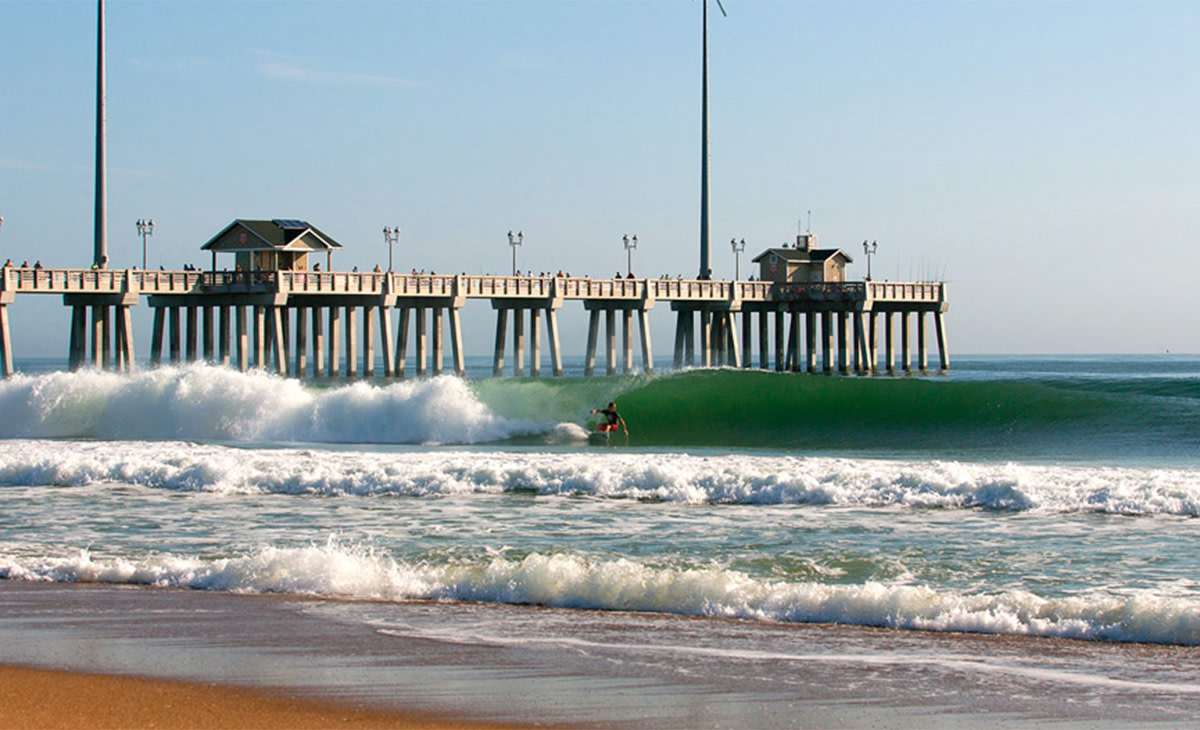 These beaches have a way of picking up any bit of north or south swell traveling through the Atlantic, offering more size than pretty much anywhere else on the East Coast in the summer. But it's more than that. It's the Right Coast mecca for kiteboarding or windsurfing, and the fishing is absolutely legendary. Just to the west of these skinny barrier islands is Pamlico Sound, which offers paddling when the surf is flat as well as even more options for wind enthusiasts and back bay angling, not to mention loaded with shellfish.
The Outer Banks might also be home to more quality skateparks per capita than anywhere else in the free world. Carve and speed oriented, there are solid parks like Aviation Skate Park and Dare County's Kitty Hawk Skatepark , Manteo Skatepark in Manteo, and even the Fesseden Center Skate Park down in Buxton. They're all free, just note which ones require pads and helmets.
Southern Fare Meets Seafood Flair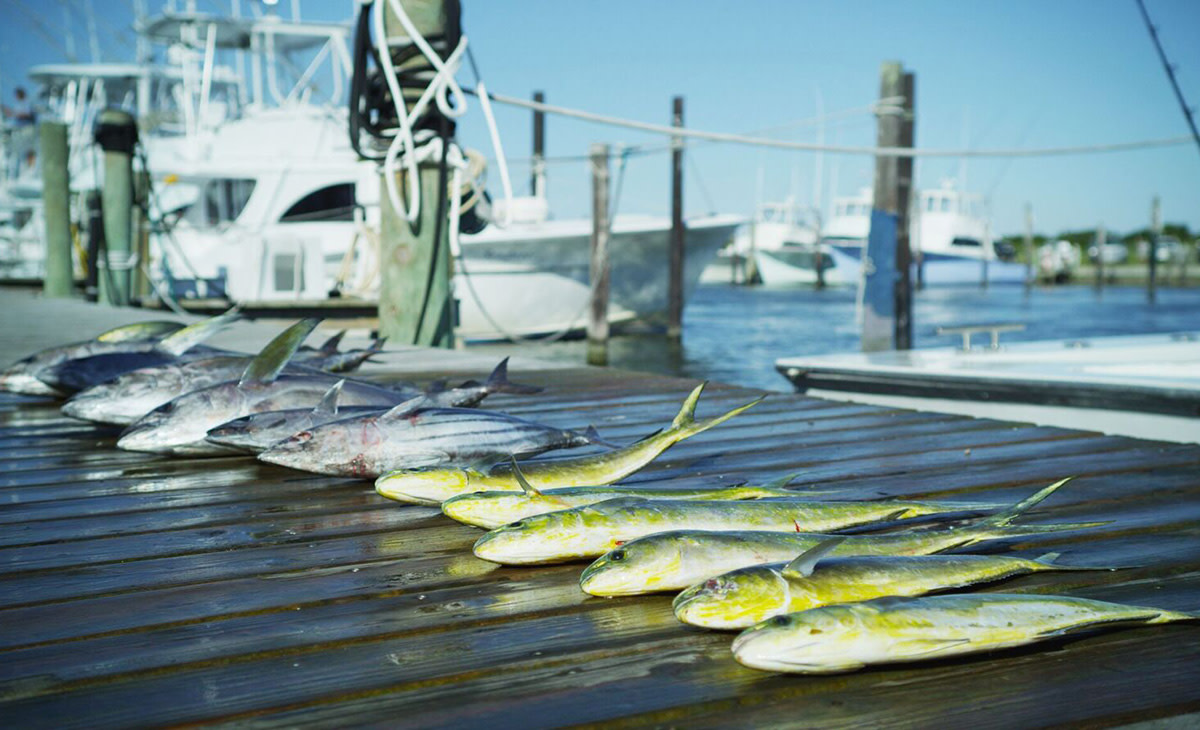 Coastal Carolina food is a mix of traditional Southern cooking and fresh seafood. Most of the surf-inspired spots are still pretty authentic, standing out from the more cheesy tourist spots. The colorful, surf-themed Bonzer Shack (draft beers $5-$7, PBRs $2.50) and creative Bad Ben Baja Grill in Kill Devil Hills are sure shots.
The Outer Banks Brewing Station is popular for good reason. Not only do they have an extensive menu (including specific gluten-free fare) and 12 of their handcrafted brews on tap at any time, but they are the first wind-powered brewery in the US. (There's no shortage of wind on the Outer Banks.) Order the Backyard Pizza for $9.99, whipped up with fresh basil from their garden and their brewer's spent grain crust. It's also a top spot for entertainment, hosting mid-level national acts that come through town.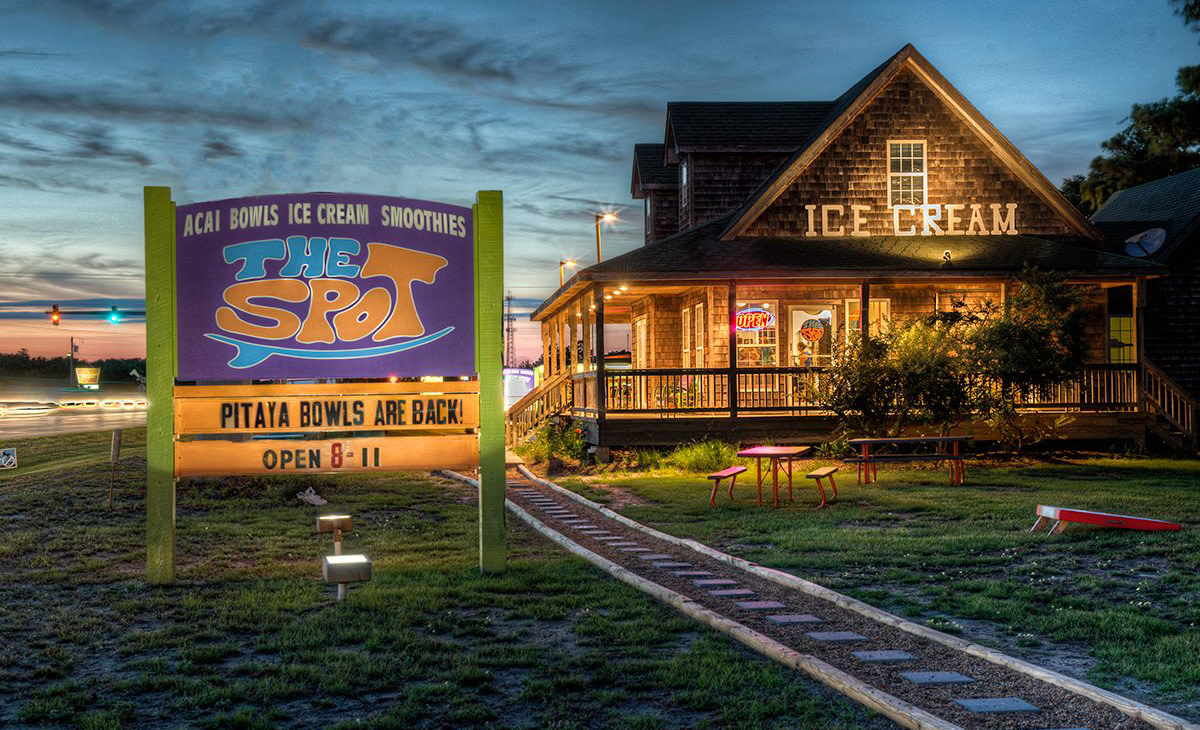 Surfers run a lot of the best places to stop. Grab acai bowls ($6-$10), smoothies or ice cream at The Spot, which is run by the folks at Secret Spot Surf Shop in Nags Head. The Pit Surf Shop has all the gear you'd need and the adjacent Pit Boardriders Grill is a music/event venue with bar food, burgers and sandwiches. The 3-pack of tacos is always a value, $5 for bean or $6 for beef.
The Outer Banks is known for happy hour deals like 10 or 15 cent steamed shrimp. You have to peel them so you earn your meal, but you can fill your belly without emptying your wallet from about 4 to 6 p.m. at places like Fish Heads in Nags Head and Hurricane Mo's in Kitty Hawk. Longboard's Island Grill in Kitty Hawk has 30 percent off all apps at happy hour.
Even Further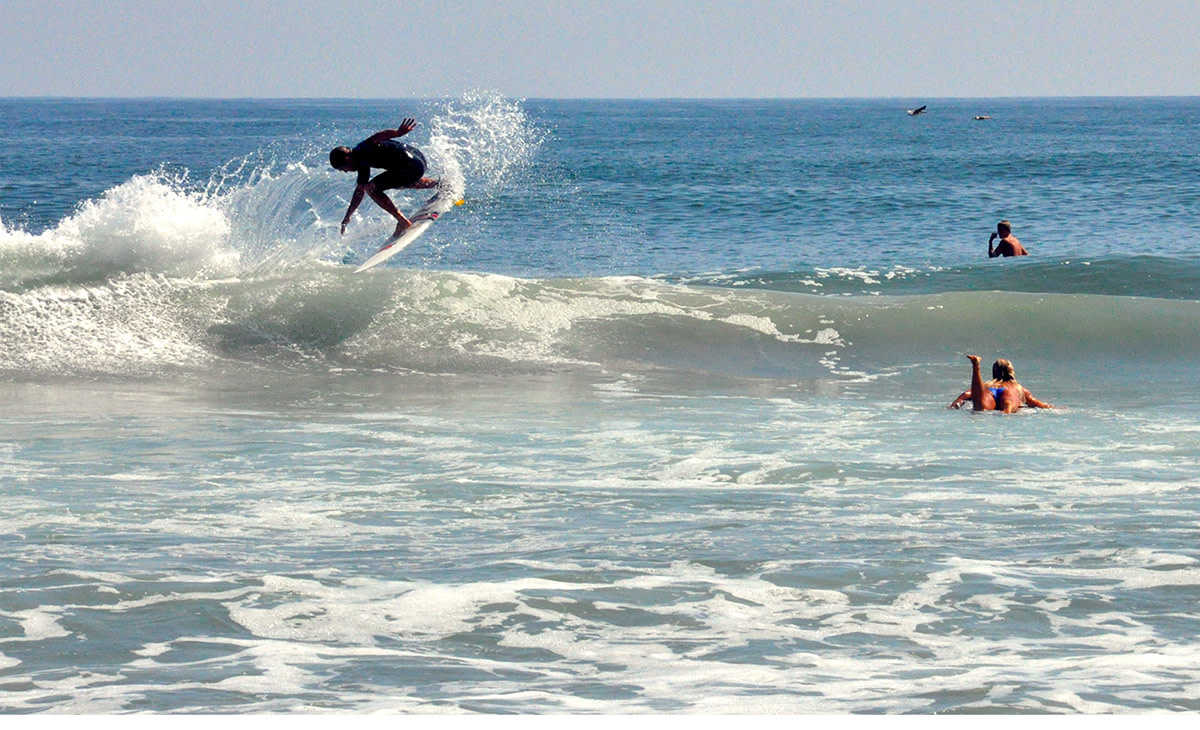 Heading out of town and south of Oregon Inlet is when you really get into the Outer Banks experience. The tiny towns are isolated from the rest of the world by water and long expanses of undeveloped coastline. It's a place where surfing, exploring and fishing dreams come true (if the sandbars are set up, anyway.)
The towns of Rodanthe, Waves and Salvo border each other, amid miles of National Sea Shore. Avon is further south, with a sizable Food Lion grocery store to stock up on snacks, and is just a few miles above the elbow of Buxton, where the island faces south. Here, Cape Hatteras Light offers some of the best waves, wind and angling between Maine and Miami.
This area is also offshore on a northwest wind with the groins giving some protection as nor'easters start to clean up. Further south, a north wind is fully offshore. This area doesn't have the same dining options as its northern relatives, but there's some fine food and drink nevertheless. Breakfast at the Orange Blossom Bakery will keep you full until dinner with huge, sweet glazed "Apple Uglies" for $3.50. Natural Art Surf Shop is one of the most authentic shops in the country. By the time you get down to Frisco and Hatteras Village, you feel as if you've reached the end of the earth.
Like traveling to Baja from the West Coast, the Outer Banks are a rite of passage for those on the Atlantic. And yes the area is changing. Spas might outnumber tackle shops these days, but it can still be done on a budget.
For access to exclusive gear videos, celebrity interviews, and more, subscribe on YouTube!