While we're sorry to hijack Maine's state motto, Copenhagen's culture is truly "the way life should be." Here are some reasons Copenhagen, and Denmark as a whole, deserves this title:
Denmark is actively working toward a waste-free society.
Copenhagen is easy to traverse by bicycle, and residents pedal along in perfect harmony.
The number of Danish restaurants has skyrocketed in the past decade, since the 2004 New Nordic Food Manifesto (written by Danish food activist Claus Meyer) redefined seasonality and locality in fine dining.
Don't even get us started on Scandinavian design.
The military personnel guarding various government buildings, with their hulking weaponry, smile and say hi as you pass. They're happy to see you.
Hygge permeates every street corner. You've seen that Danish word over and over. It's pronounced hoo-gah, and refers to a feeling of contentment and satisfaction, often by reflection.
It's so clean you could probably lick the floor of their 7-Elevens. (But please don't.)
You can have high expectations for a visit, because they'll be met—exceeded, even. From the organic options to the city beaches, the clean design to the hygge-happy bike culture, Copenhagen will redefine how you view "the way life should be."
Here's how to spend four perfect days in Copenhagen.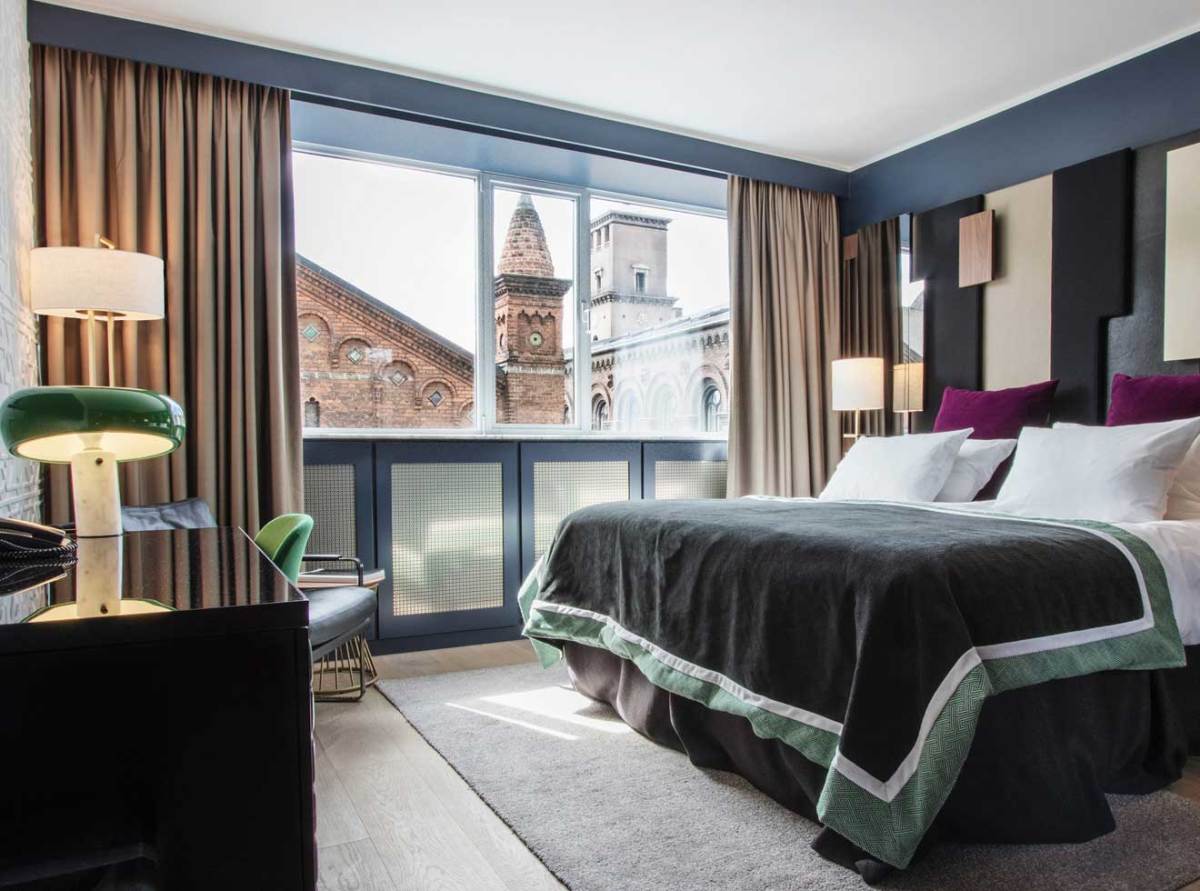 Where to Stay in Copenhagen
Pronounced "Saint" Petri, this hotel sits beside a church of the same name in Copenhagen's Latin Quarter. But the only thing religious about this hotel is that it's a temple of Scandinavian design. Skt. Petri reopened in 2017 with vivid greens and deep magentas, metal detailing, and geometric patterns adorning the floors, walls, and furniture. Take the escalator past the concierge when you walk in. You'll arrive, mouth agape, at the grandiose foyer—with its glass atrium—where a restaurant-bar buzzes with guests. There's a garden courtyard and private dining off to either side. The building, a heritage-listed property, was once a department store and you can see the framework of it here, with a modern redesign. At the concierge level, the hotel is connected to the fine restaurant P Eatery, which offers deconstructed fine dining: They serve modern, sustainable Nordic cuisine, prepared within eyeshot of their guests. The rooms incorporate more of the same colors and materials.
Where Skt. Petri delights with color and design, Kong Arthur takes a different approach to world-class hospitality. You'll find it tucked away in a cobblestone alley, facing the tiny Peblinge Sø to the west. The aesthetics here are whites and soft tones, and it feels like a charming provincial reprieve just outside the city center. Visit the lobby to relax by the fireplace, or come down for a free daily cocktail between 5p.m. and 6p.m. Take your time and mingle with other guests. It's a wonderful touch that instantly makes Hotel Kong Arthur feel homey. There are four restaurants onsite—one for a Nordic seasonal breakfast, plus one each of Italian, Japanese, and Spanish cuisine. Kong Arthur (Kong means king) is complete with a key drop, refurbished wooden stairs, and a modern-yet-medieval charm. You would almost expect to find it in Bruges or Brittany, but here it is in Copenhagen.
Thursday: The Best Meal, First
After settling into your hotel, head to your dinner reservations—and make it a fancy first bite. You won't see the two-Michelin-star Noma anywhere on this itinerary because of its exorbitant cost and, honestly, because it's paved the way for so many other fresh, exciting options—Nordic or not. The best one is Restaurant Alouette for many reasons. American chefs Nick Curtin and Andrew Valenzuela prepare a rotating five-course menu, with optional wine pairings, in a full-turnover, twice-nightly seating from Thursday to Saturday. It's thrilling to just locate the restaurant, which is in a former pencil factory in Copenhagen's industrial Islands Brygge neighborhood. You have to round a corner into a small lot, where either of the chefs—or their all-smiles staff—will greet you and guide you up the elevator, through a graffiti-covered door, then into the stunning, mirror-lined, open-kitchen dining room. It feels so speakeasy-secretive. The menu spans American, French, Japanese, and Danish dining, among other fares. And by comparison to other experiences in town, this one offers the most at a reasonable price. (You're still in Denmark, of course; but you won't have to take out a second mortgage to have your finest meal in Copenhagen.)
Friday: Tourist Day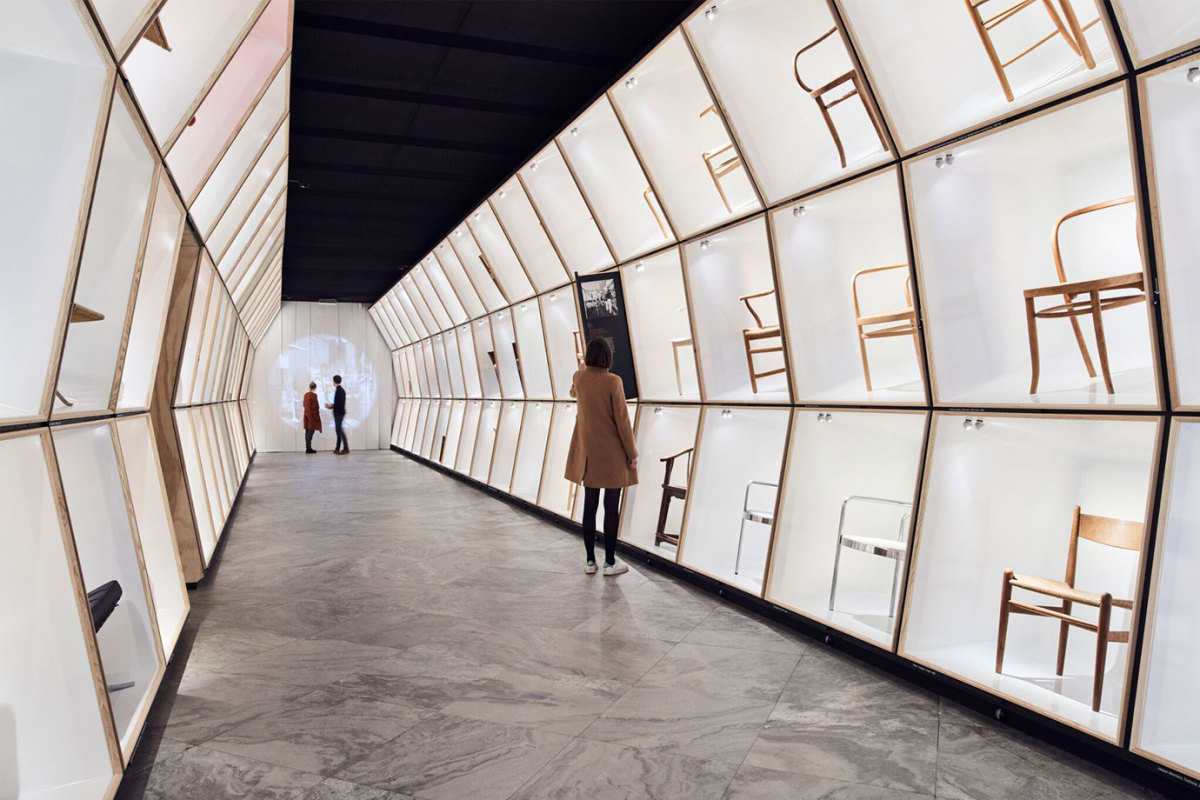 I think this is the best day to knock out some of the most popular sights, and it can be done in one fell swoop on foot or bike. The famous Nyhavn harbor with its colorful houses is a good place to start. It's packed with bodies and selfie-takers, but you've got to do it, even just once. From there you can walk over the bridge Inderhavnsbroen to the food market and choose from any number of pop-up vendors.
I'd recommend a cheeseburger from the Gasoline Grill stand, but you'll also see a visit to their original namesake location later in the itinerary. Alternatively, get some smoked ribs or cold beers, or stop into Restaurant Barr for something a bit more posh and quiet.
From here, head back across the bridge, then north to Amalienborg and Amalie Garden—the royal palaces and grounds of Denmark, fitted with statues and marching guards. Go inside for a tour through the past two centuries of royalty, or get on your way to the Designmuseum Denmark for art and design exhibitions spanning objects, graphics, interiors, and more. You're in the design capital of Europe, if not the world, so this one is obvious.
Next is a pit stop at the bronze Little Mermaid statue at Langelinie pier (the author of The Little Mermaid, Hans Christian Andersen, is Danish). She's little indeed—just four feet tall on her rock, but is as much a beacon for Copenhagen as Lady Liberty is for New York.
Then cap the afternoon by meandering through Kastellet, the star-shaped 17th century fortress. Enter from the north by the Mermaid, and take a leisurely stroll on the grounds and around the grassy perimeter. With ducks swimming in its ponds and views of the city from the north, this is a peaceful cap to the packed afternoon.
Now, on the way home, you have to stop for a burger at Gasoline Grill, a single-pump gas station that now sells burgers fast-food style until they run out for the day. (And they do.) The little restaurant is blowing up fast, and just opened its third location; but you want to go to this original one, at Landgreven 10. Order the butter burger, which melts in your mouth like, well, butter. And get the truffle fries. We have goosebumps recalling this meal, and many have called it the best burger in the world.
Tonight, grab a craft cocktail at Balderdash, a beer or whiskey at Black Swan, or wine at Nebbiolo. Tomorrow can be crazier if you want it to be, but you'll just need a nightcap tonight.
Saturday: Bikes, Beaches, Beer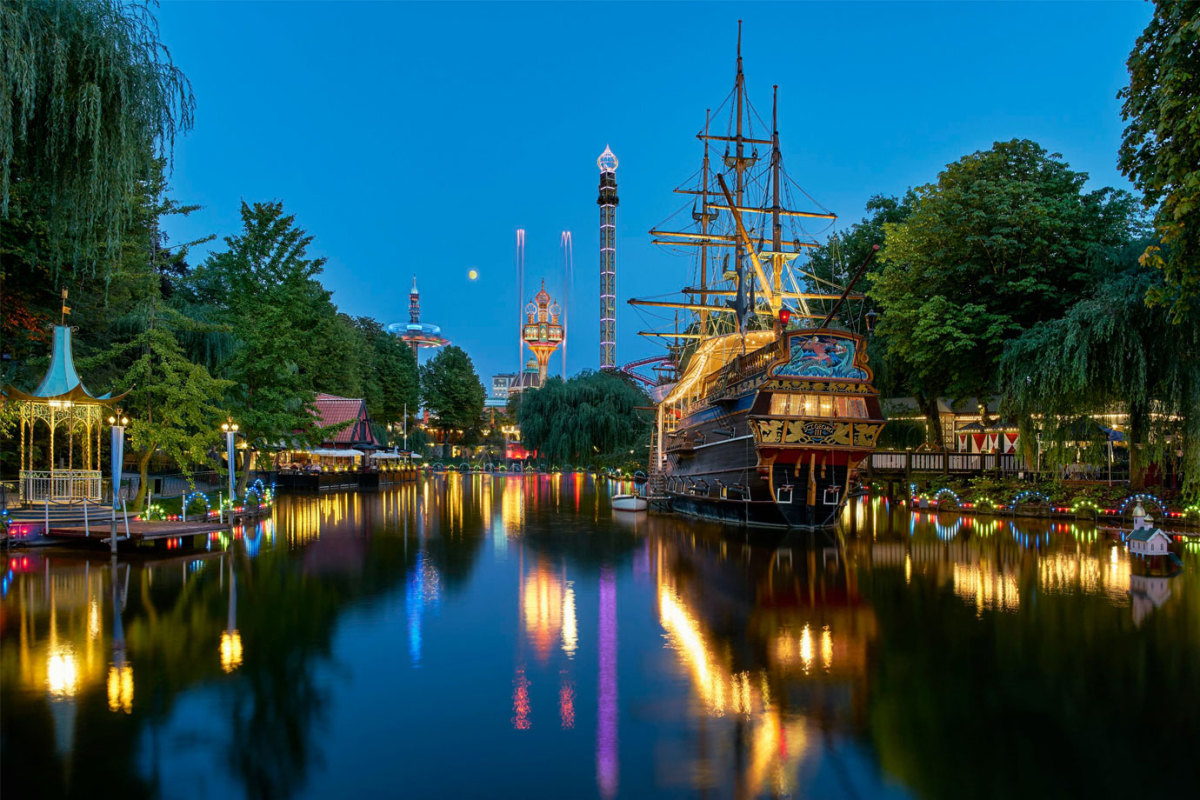 Today is much more straightforward: renting bikes, relaxing by the water, and getting buzzed. Pedal your way across the canals, into Christianshavn and up toward the Reffen street market. Along the way, you'll want to stop for photos of beautiful churches, scenic panoramas, cozy beach scouting, seafood lunch at La Banchina, or fresh baked goods at Lille Bakery. Get a beer at Mikkeller Baghavn (which means Mikkeler Backyard, and is the brewery's secondary, equally adored location).
Then just chill by the water. Here, or at any nook you found along the way. There are dozens of options, and you'll be alongside the locals. It's not a sprawling, sandy beach, but there are grassy banks as well as harbor-front sunbathing real estate to be occupied. (You'll see the Little Mermaid across the water too, since now you're on the peninsula opposite her.) Lounge the afternoon away, with plenty of noshes nearby to refuel. We also suggest you stop by Kultur Tårnet, the old copper bridge tower at Knippelsbro that's now a café and cultural center. Come for the food, stay for the view, and whatever presentation is happening, be it music, lectures, pop-up gastronomy. (Check their calendar in case you need to book for ticketed events.)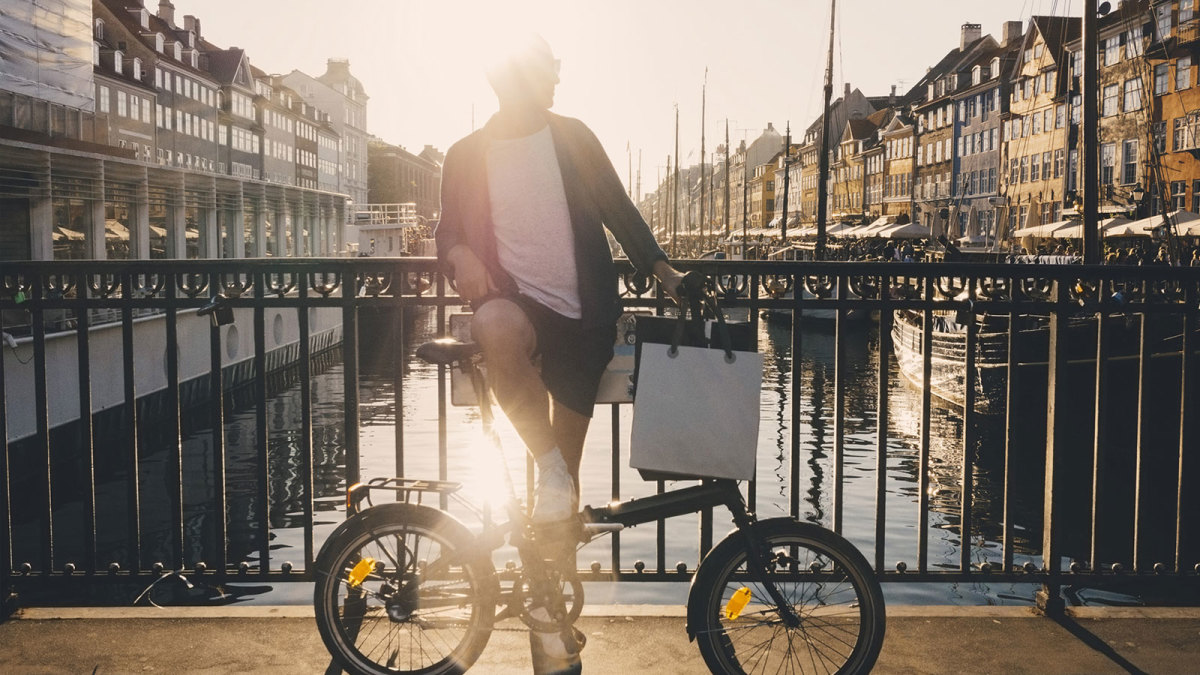 As for the evening, if it's spring or summer, you should stroll through the Tivoli Gardens if you so fancy. It's an amusement park that also hosts numerous cultural events, like concerts and festivals, plus dozens of onsite dining options. The park is open March 24-September 23, much of October-December; and almost all of February (starting 2019). You could eat your way through it for dinner, though we suggest you head slightly southwest and spend the rest of your evening at Warpigs Brewpub (for beef and beer), or mother Italian for sourdough seawater pizza. If you want to dance with the cool hipsters of Copenhagen, walk a few paces to the Icelandic Jolene Bar. It's a fun spot with a club-like dance floor, house or hiphop DJs, and a queer-friendly, young crowd.
If you want to dance late, take a car up to Culture Box after midnight or 1a.m. and dance underground to techno, electronic, or house music from ubercool flown-in DJs. Sundays are fairly quiet in town, so this is the night to stay out late.
Sunday: Take It Slow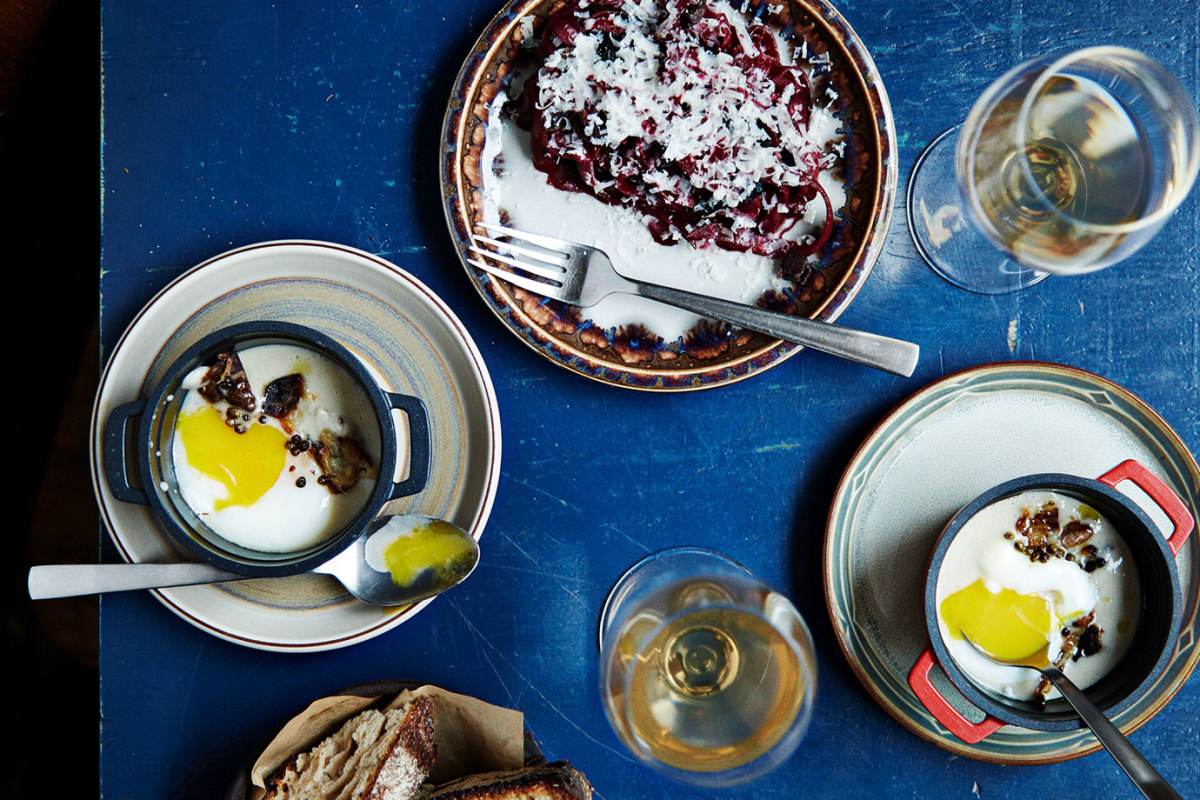 No ambition today? Start the day late with a walk to Nørrebo. Your target is Manfreds, the buzzed-about, mostly vegetarian restaurant that also serves killer tartar. Order the chef's special for the day, a garden-fresh, five-course lunch that was probably picked that morning. The chefs often wing it based on what ingredients they have available, so it's always unique and always creative. (Get a side of tartare to start.)
Walk down the street for ice cream at Istid afterward, then back up the street to the main Mikkeller & Friends Brewery. Then, while there's still daylight, make your way back into the center on foot, but take a route through the Assistens Cemetery. It has humbling tree-lined paths, tons of nooks, and makes you question why American cemeteries are so sacred and sorrowful. The Danes are picnicking round in this cemetery, celebrating life lived, not life lost. It's one of the many reminders you'll have on this visit that they look at things through a different lens here.
Exit the cemetery through the northeast, and walk up to Bæst (like Beast), for a family-style Danish dinner—it's as fresh from the farm as your lunch at Manfreds. You'll be plenty soaked from all the day drinking, but a pint-sized nightcap at Ørsted Ølbar across the bridge will be a good way to conclude, especially since it's on your way back into the center. Just keep an eye on the clock, because they close at 11p.m. on Sundays.
Monday: Mandatory Shopping
It's your last (half) day in town, so it's time to amass a few souvenirs—or at least pretend you made an effort to peruse the design shops. We'll make it easy on you, too—you can stick to the city center and hit most of the big spots, coming away at least with a few ideas for your home, if not any goods to tote back.
For cool Scandi-Euro clothes (lots of casual streetwear, that is), take a look at ARKET, Norse Store Men's, and Wood Wood. For home design, HAY is the coolest for furniture or embellishments; Stilleben can outfit you with ceramics, artwork, or lighting; and Illums Bolighus is a one-stop shop department store for Danish housewares. You should check out the big mall Magasin du Nord nearby, too, for stellar sales. (Most of these places can give you a tax-free receipt for customs, too.)
If you've got one last Danish meal in you, make it Selma. The menu is seasonal and is likely to change from our visit to yours, but hopefully you can get the rosehip herring, as well as the 26- and 18-month-aged cheese plate.
For access to exclusive gear videos, celebrity interviews, and more, subscribe on YouTube!