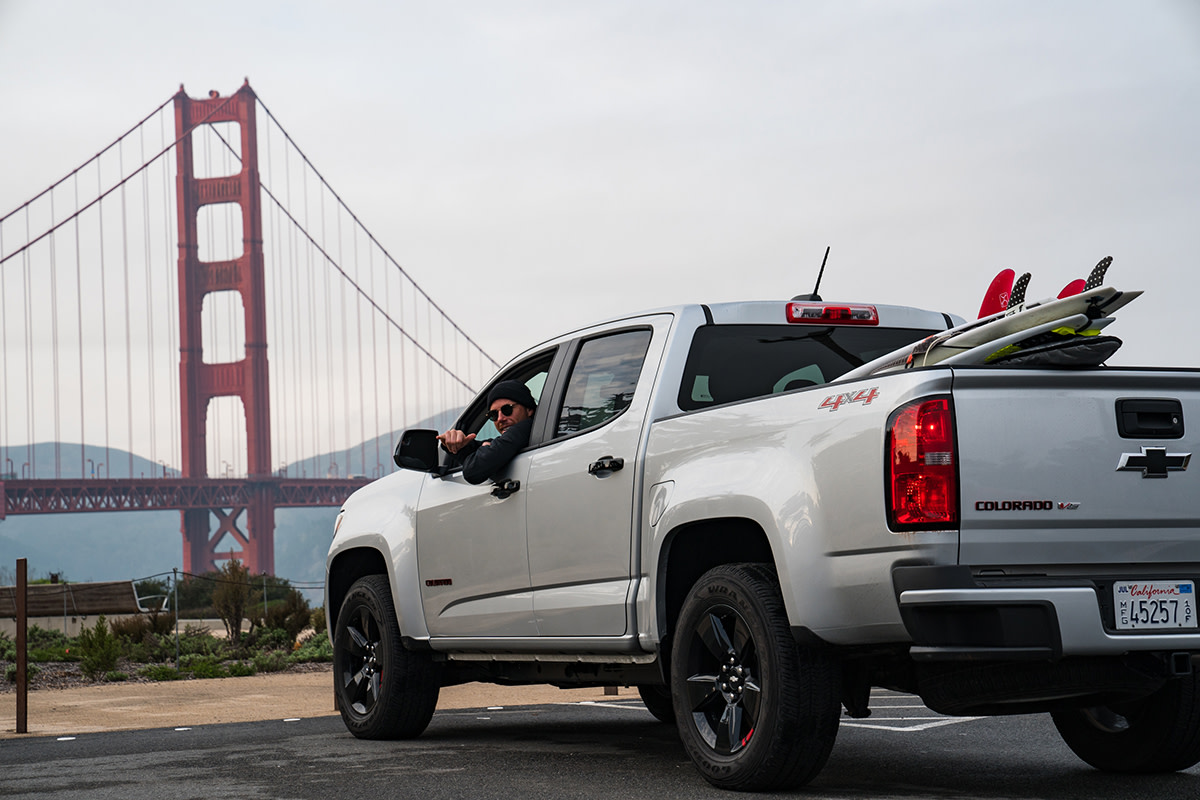 Strike missions are some of the best ways to travel. There's excitement in the spontaneity of a last-minute decision to escape your normal life, knowing that there is limited time and there are only tentative plans, but that the objective just cannot be passed up. We eschew obligations back home and rush away to pursue fleeting opportunities.
For California surfers this winter, solid swells were some of those fleeting opportunities. And so when a big northwest swell lined up to hit Northern California in late January, San Diego surfer Pat Millin and photographer Troy Brajkovich weren't about to miss it.
Here's Brajkovich's Dispatch from Highway 1 between San Francisco and Santa Cruz:
It looked like waves would be good everywhere between Santa Barbara and San Francisco. We didn't know what we were going to do until midnight the night before. We decided to drive through the night and start up in San Francisco.
We woke up to the city view from the Tenderloin district. It was like waking up in another world after coming from sleepy Encinitas. We had driven all night in the rain, and the misty morning with the air totally still told us that we were going to get some decent conditions.

Pat prepped his boards in the early morning light. We stopped for coffee and took in some local culture before heading to Ocean Beach.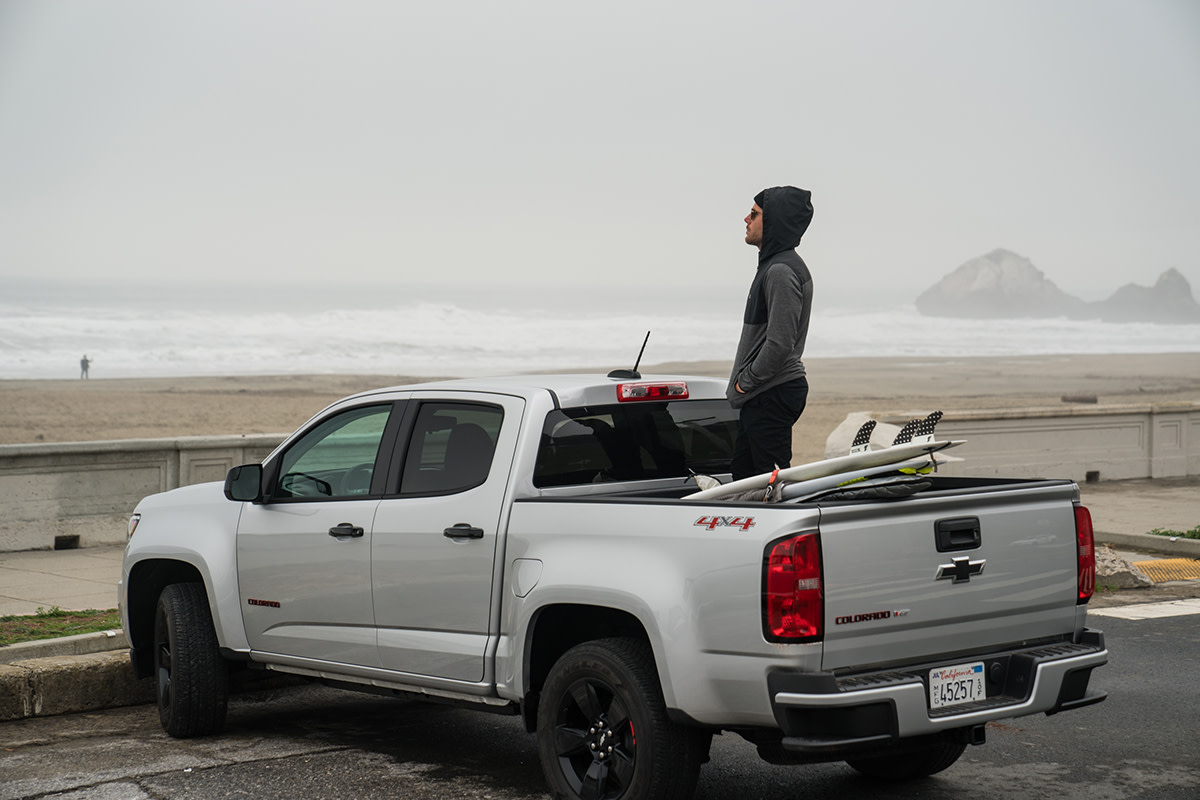 We originally had our sights set on Ocean Beach, but that morning it was out of control. It had been epic three days before, but we could barely see through the fog, and what we could see was a mess.

With Ocean Beach that big, we figured everywhere else could be working, and decided to check Fort Point.
We immediately saw from the truck that it was worth going out.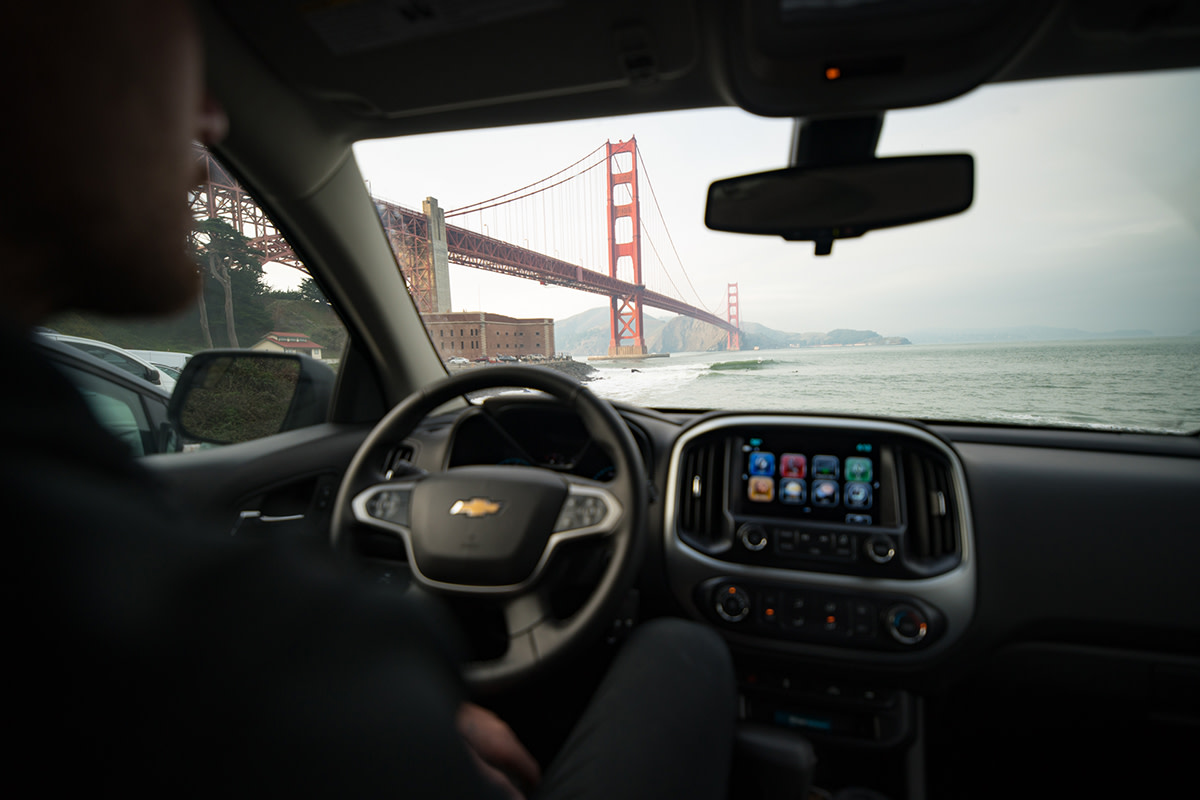 To see the Golden Gate Bridge disappearing into the morning fog with waves wrapping under it and peeling under this novelty of a setup, it was really a sight to see as a surfer.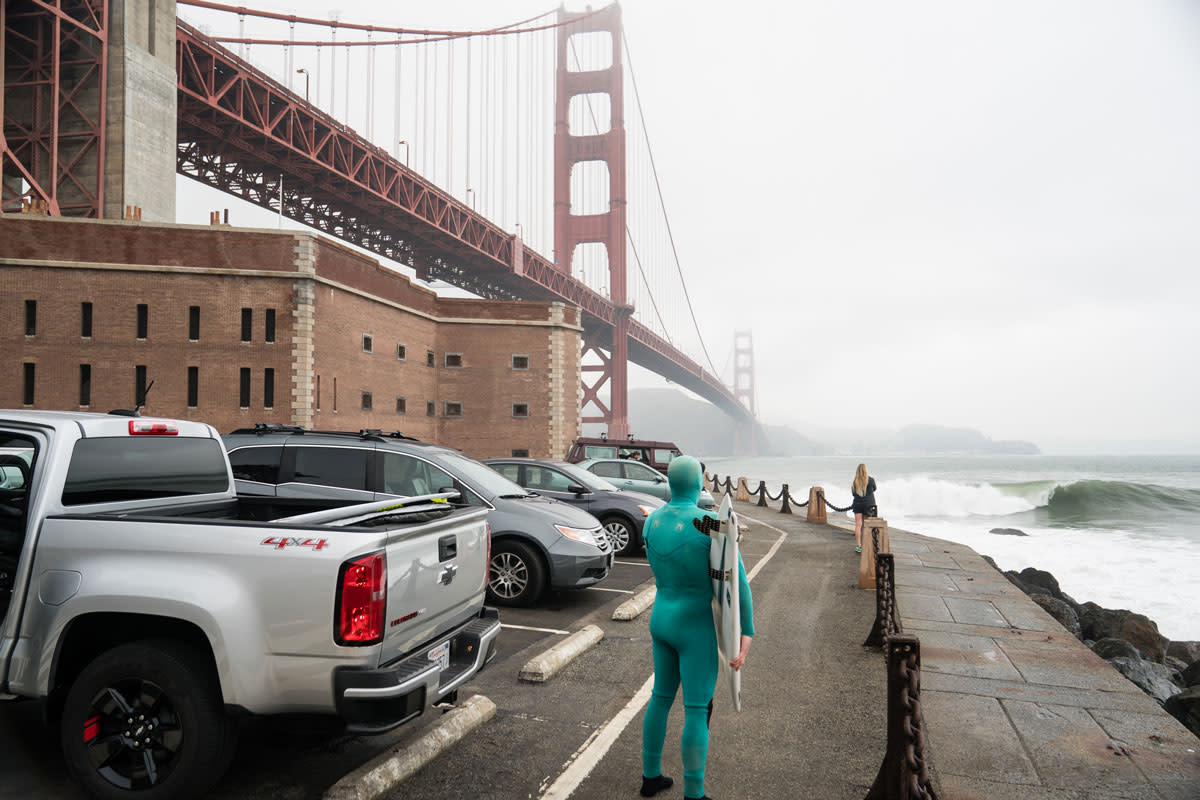 Fort Point is such a one-of-a-kind wave, with views of the Marin Headlands and the entire city. It was such a trip to be able to sit in the lineup and still be close enough to talk to the tourists. I realized a lot of people who were watching were perhaps seeing surfing for the first time.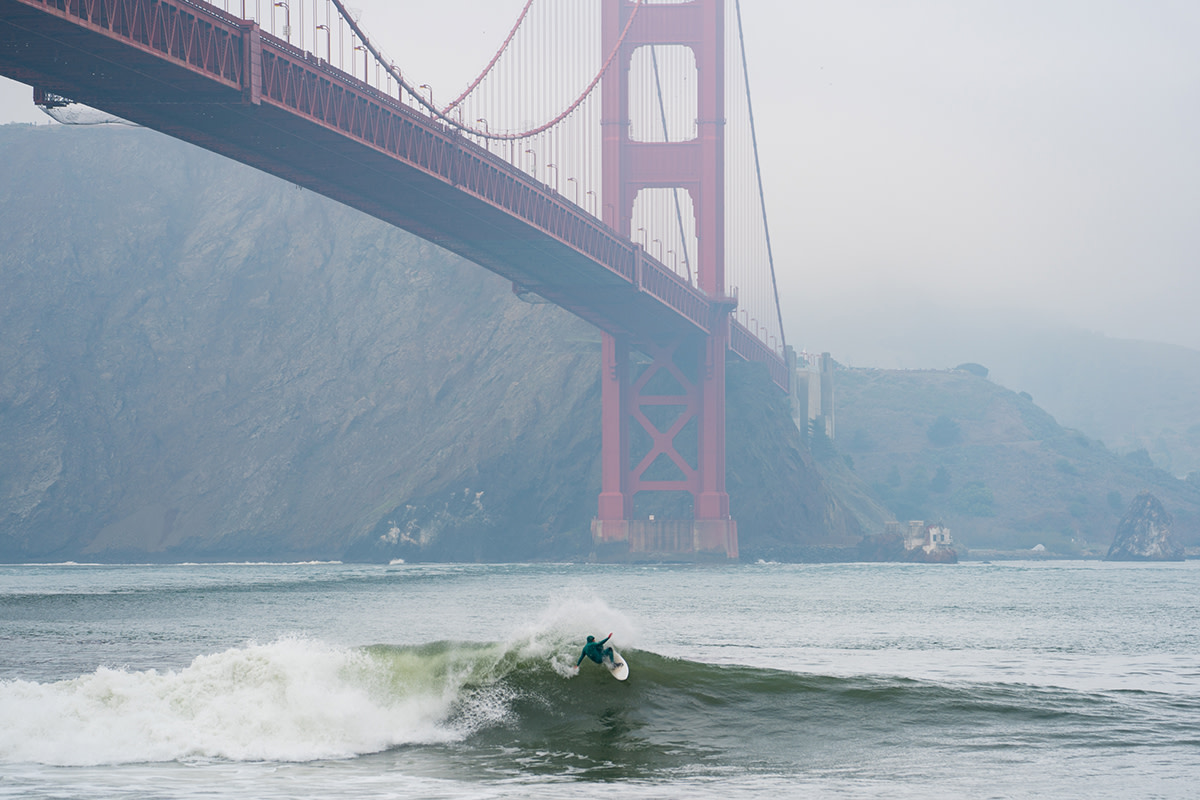 It was the middle of winter and the days were short, so by the time we surfed and ate the day was already almost over. We went to check another spot in the city … but just to observe.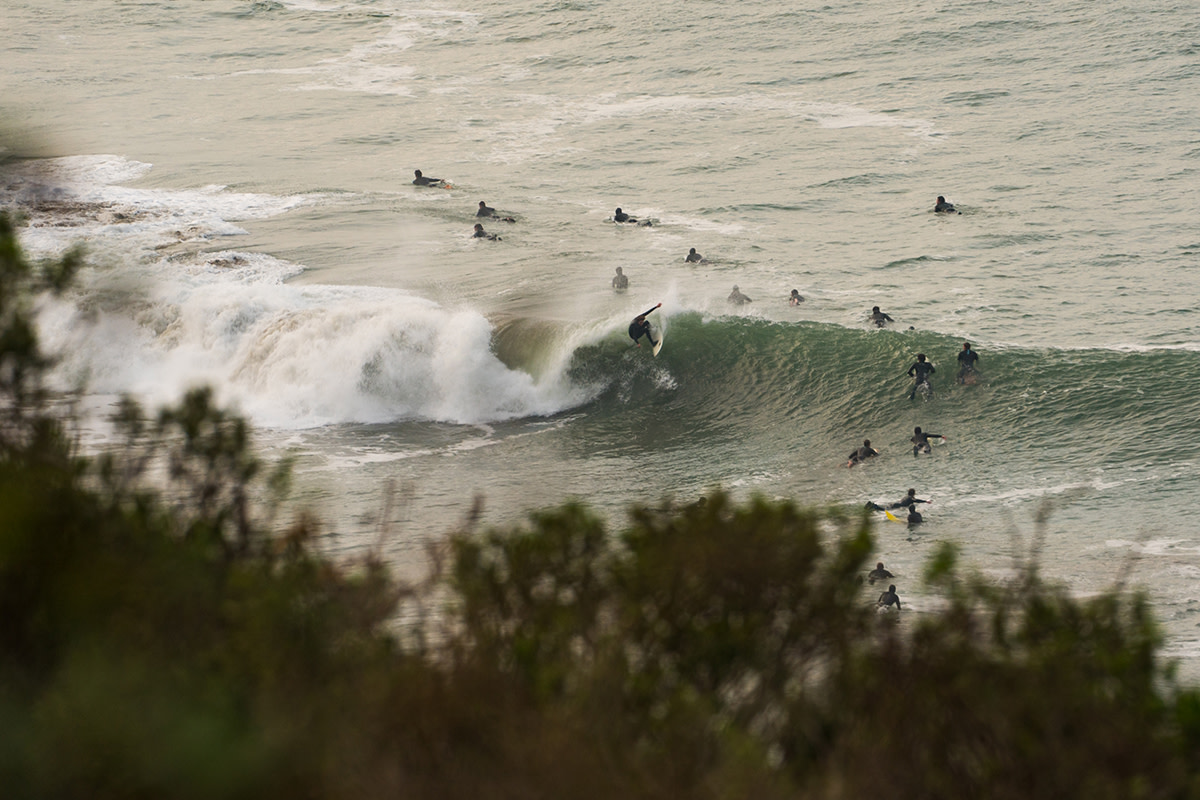 It was crowded, but it was cool to see it working after checking it so many times in my life. It probably only works a few times a year.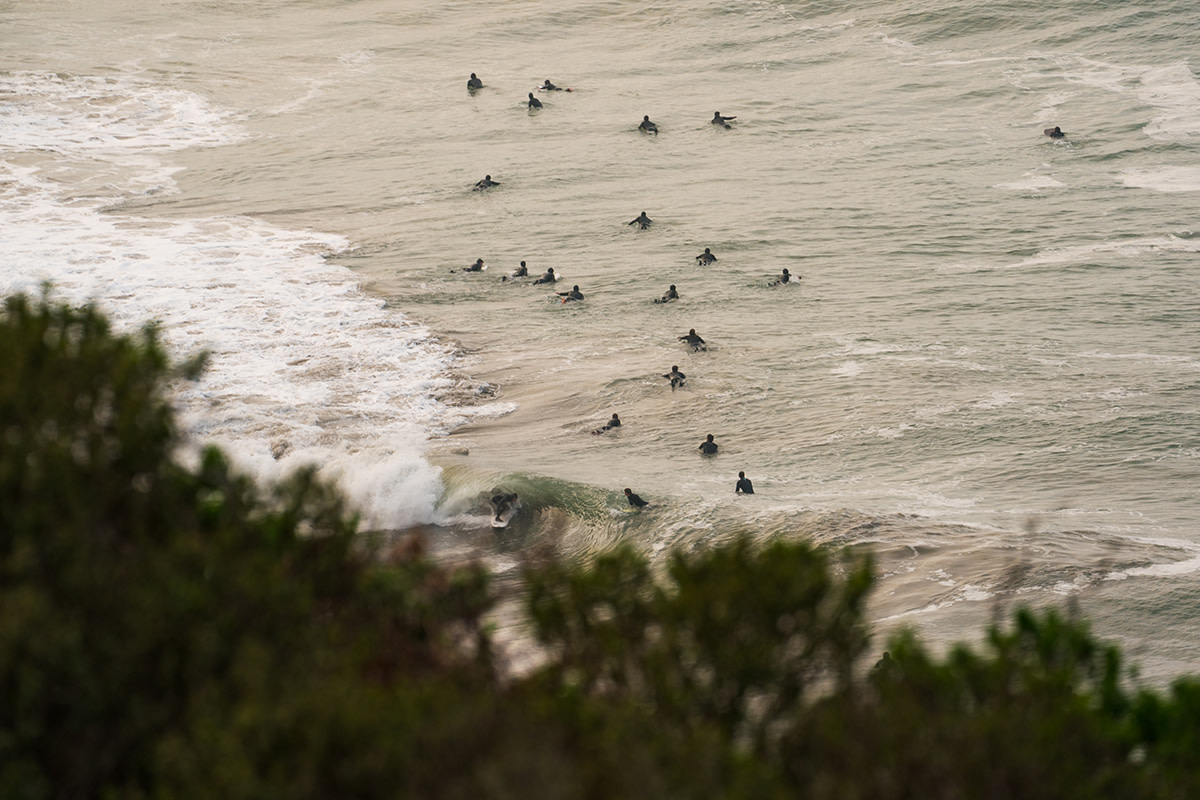 We got our stuff together and started heading down Highway 1, unsure of where we would end up. We pitched a tent on a pull-off spot in Davenport. We wanted to be near Mavericks so we could check it in the morning. A friend joined us at the campsite in his old Vanagon camper.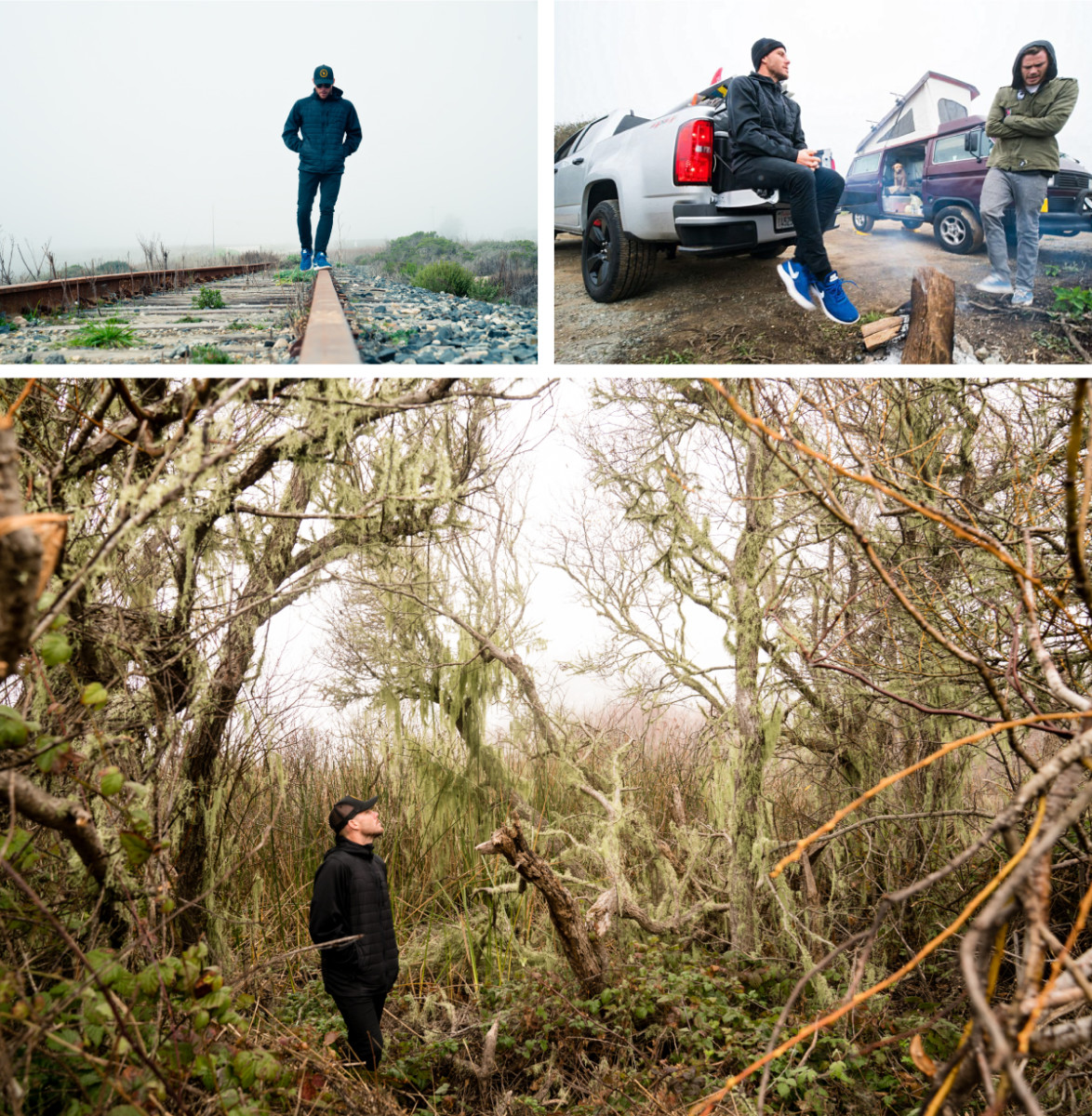 The morning was so foggy we couldn't even see the water. We were hoping to surf off the grid a bit, so we checked a couple spots on the way, but the swell was so big that everywhere was kind of out of control.
The coastline is gorgeous between Half Moon Bay and Santa Cruz, it feels like a whole other continent from Southern California.
We stopped in Santa Cruz and ran into Nat Young who was paddling out at Pleasure Point.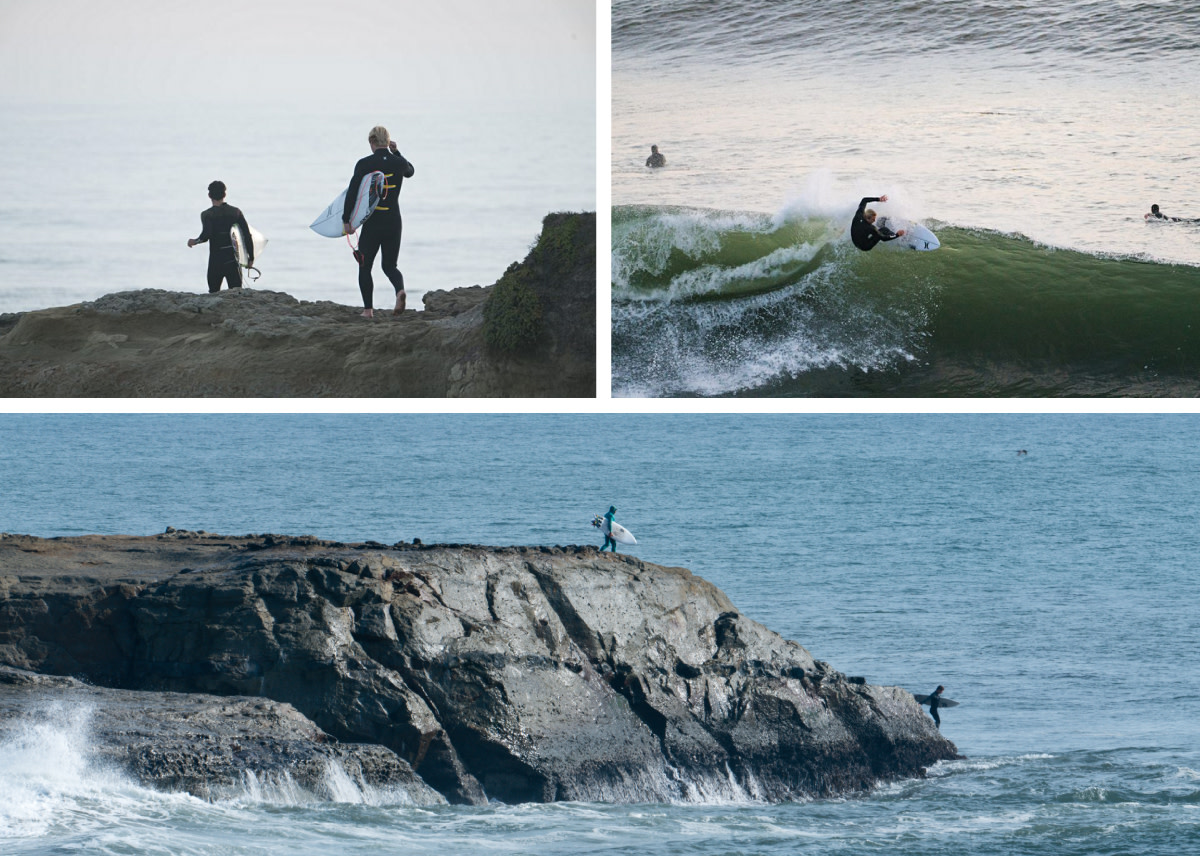 There was an outside A-frame working because there was so much swell, and the lefts were even better than the rights.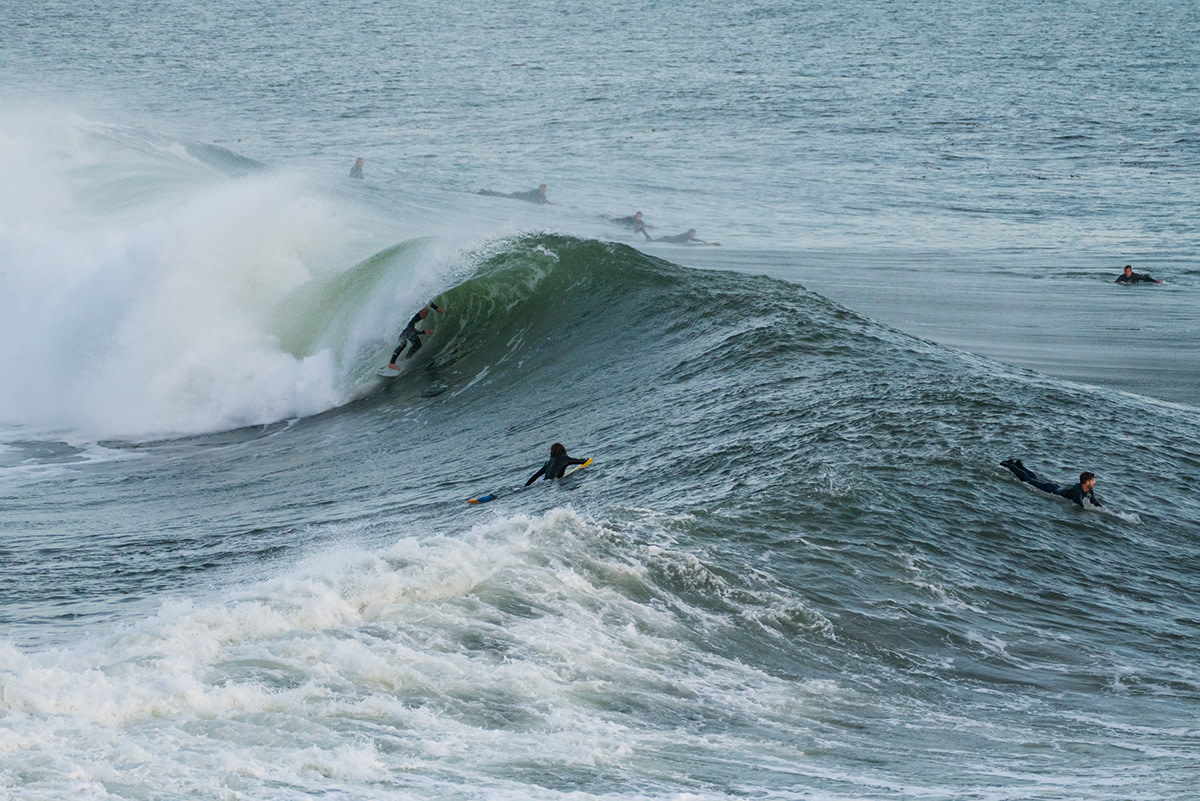 It was cool to drive through Santa Cruz and see every single potential spot working. When the waves are pumping in Santa Cruz, it's like a citywide event. If you're not surfing, you're on the cliff watching. It's part of the Santa Cruz culture.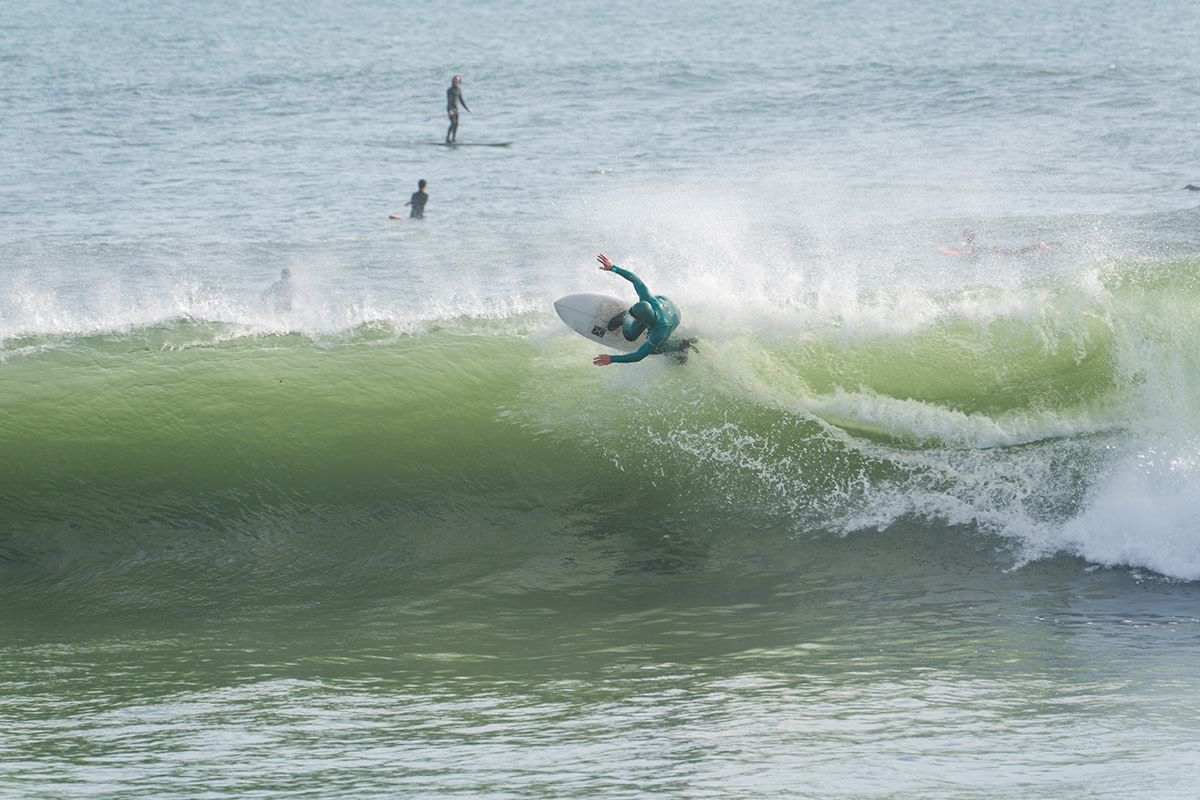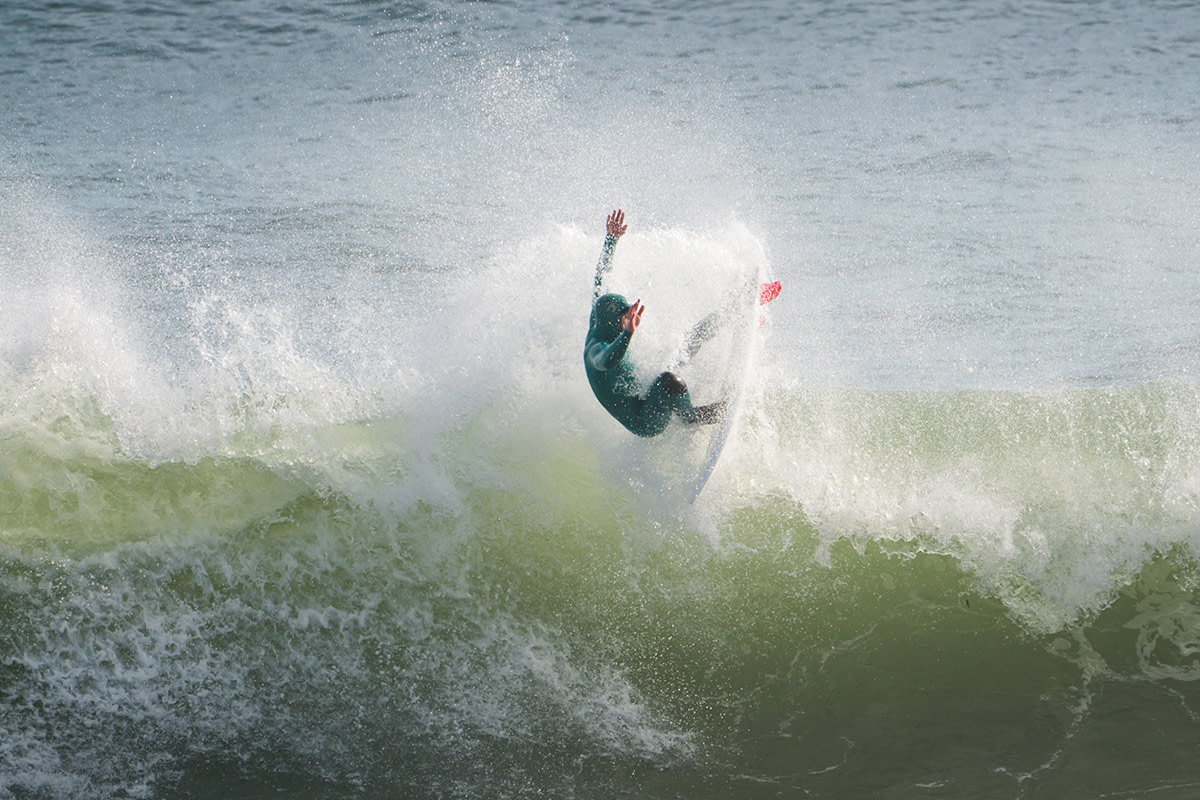 We surfed all morning. Pat had to be at work the next day and we had to rush home as soon as we got out of the water, but not without a couple of stops on the way back down.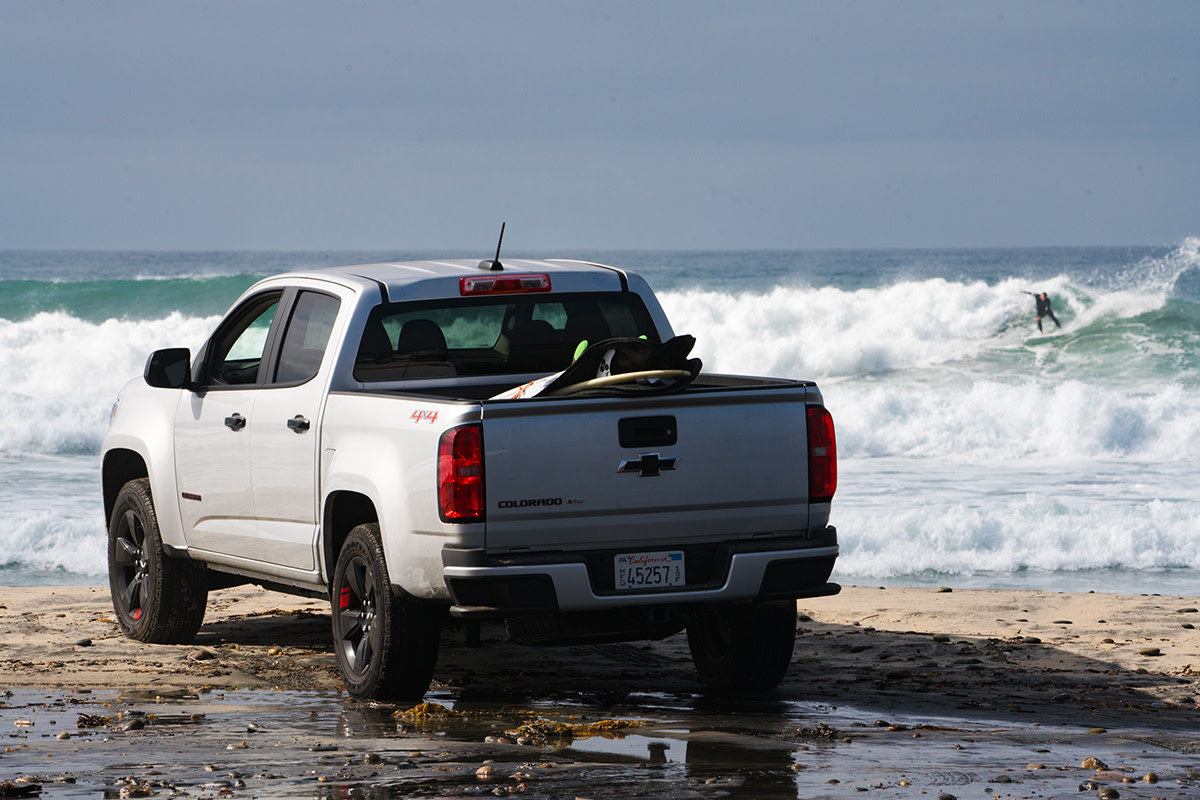 We'd surfed waves we'd never ridden, and returned to a few that we never tire of. The long drive was worth every moment spent in the water.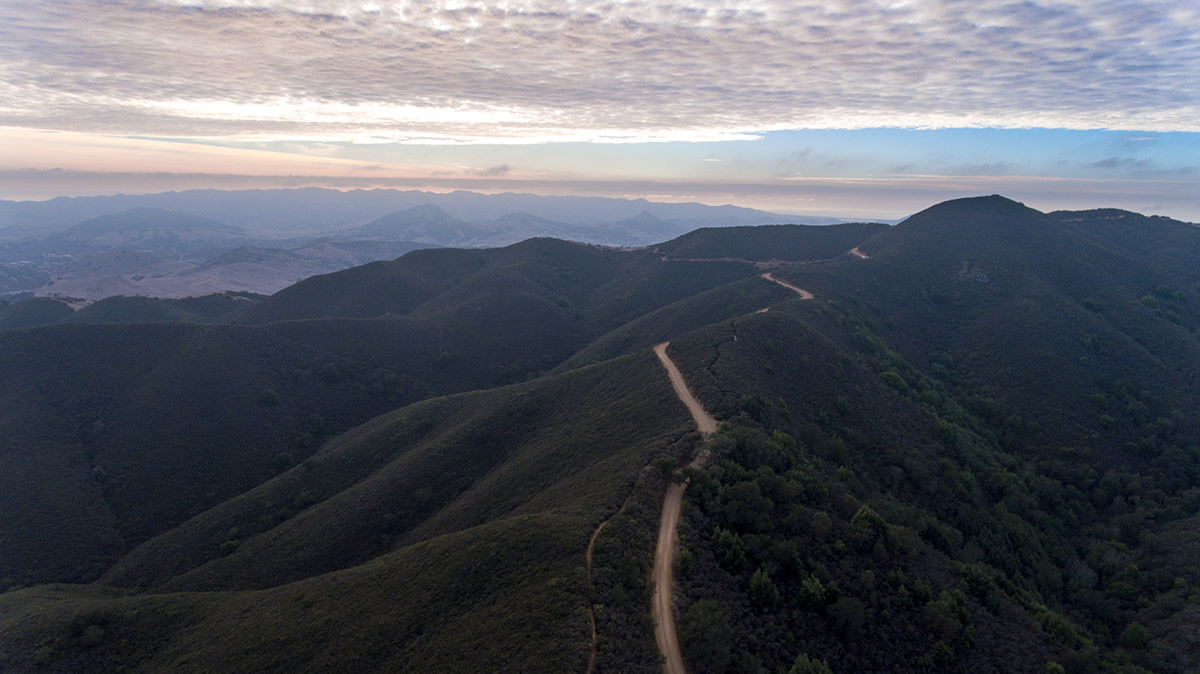 All photos by Troy Brakovich. Travel supported by Chevy and the 2018 Chevy Colorado.
For access to exclusive gear videos, celebrity interviews, and more, subscribe on YouTube!