Branded Content
Do North: Unlock the Wonders of a Canada Ski Vacation
This article was produced in partnership with Ski.com
While whooshing down Whistler's famous chutes, Norquay's fast groomers, or Tremblant's pristine tree-lined slopes, it's easy to see why Canada claims some of the world's best skiing. The resorts nestled within British Columbia, Alberta (aka the Canadian Rockies), and Québec are winter wonderlands with well-deserved, near-mythical status.
There are myriad reasons for U.S.-based skiers to head north. Chief among them: untracked powder, varied terrain, and the iconic après-ski experience. During the Covid-19 shutdown, travel across the border was difficult, if not impossible. Many Canadian ski resorts took advantage of that slow spell and made major improvements by way of new high-speed lifts, advanced grooming machines, and refurbished lodges and restaurants. Now, you can easily fly (or drive) across the border. Just don't forget your vaccine card.
Plus, the U.S. to Canadian dollar exchange rate has rarely been better for American tourists; you're getting about 25 percent more for your money, so plan on staying a few extra days. You'll be glad you did.
Moreover, early season predictions suggest Canada is staged to have a stellar snow season. This is only the third time in the last 50 years with three consecutive La Niña weather patterns, according to the World Meteorological Organization. This means plenty of snow to the north.
Adventure feeds the soul and new playgrounds sharpen your shredding prowess, so get your legs in shape, find your wax kit, and plan for the best ski season to date. Here's how to enjoy the best of Canada's slopes.
Before you go: Travelers who are not fully vaccinated against COVID-19 must provide proof of a valid pre-entry test result when entering Canada by air, land, or water. You must input results from your pre-entry test, as well as contact and travel details, in ArriveCAN 72 hours before arrival. Upon arrival, you must complete two COVID-19 tests. See all the COVID-19 testing and quarantine requirements to enter Canada here.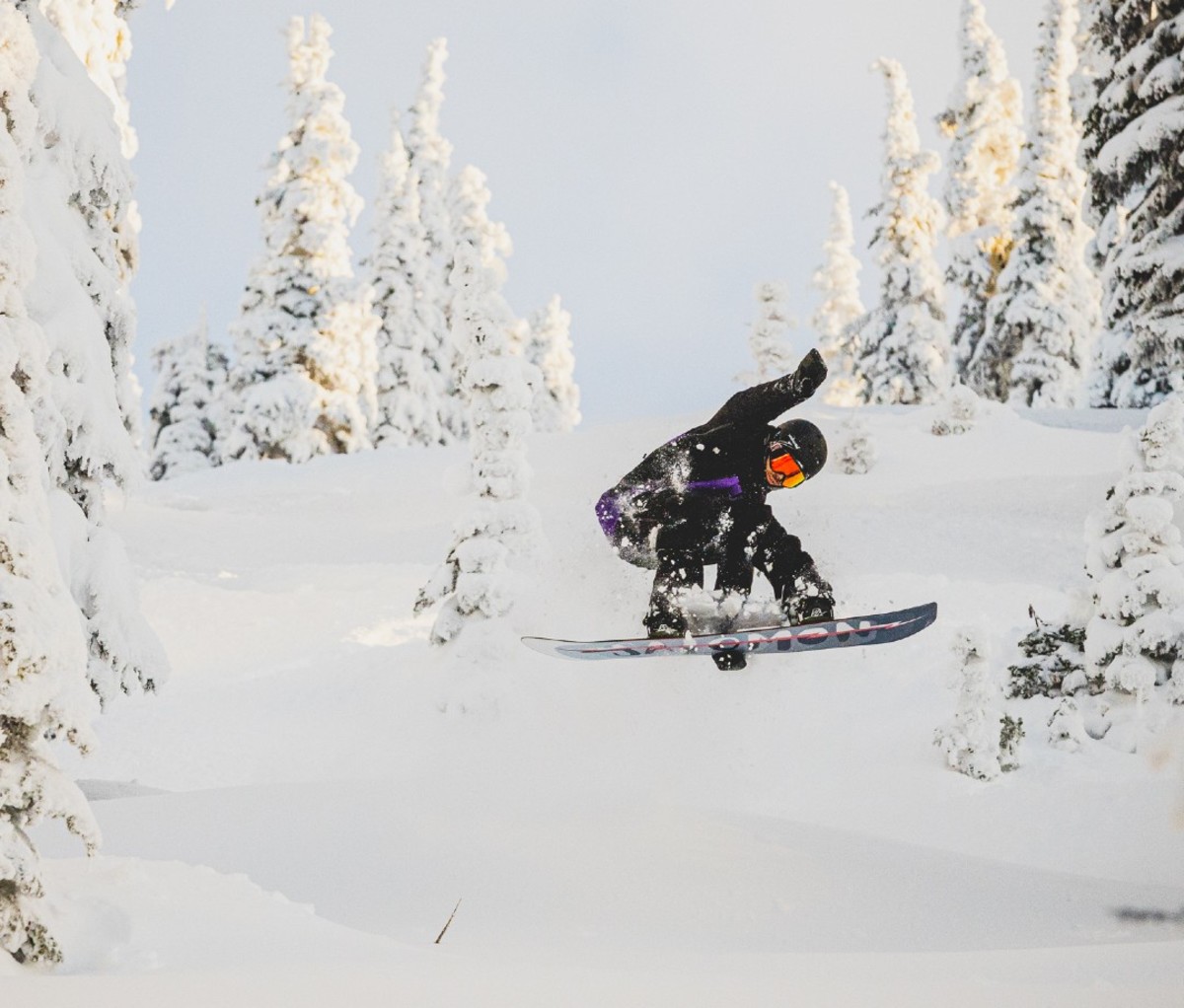 The Powder Highway
The term "Powder Highway" might be a brilliant marketing tool, but the area lives up to its name. Eight resorts in British Columbia's Kootenay Rockies comprise this legendary circuit. (There are also great heli and cat ski options.) This is the capital of steep and deep, with dependable snow from late November through early May. The towns are hip, lift lines light, and lodging plentiful, whether you're seeking hostels or luxury hotels. Many of the resorts even offer winter camping spots for RVs and vans. Keep an eye out for early-season bargains on tickets and lodging.
You can pick a single spot for a week-long vacation or follow the storm cycles for the most optimal conditions if you don't mind driving (all resorts are within a six hours' drive of one other). There are many great spots to ski along the Powder Highway, but you gotta ski it to believe it.
1. Red Mountain Resort
Red Mountain Resort (aka RED) has 3,850 acres of pristine terrain with an average of 25 feet of snow annually. For $10 per run—yes, really—you can go cat skiing. There's a new lodge at the base of Topping Creek chair with full food and beverage service. Lodging options abound from boutique hotels to modern hostels. Your ace in the hole is The Constella cabins, completely overhauled for the 2022-23 ski season. The six cabins, named after constellations, back up to Paradise Basin for primo ski-in/ski-out access. There's a central clubhouse where you can have your fill of espresso and a belly-warming breakfast in the morning before moseying out to the lift.
Learn More
2. Whitewater Ski Resort
For unfettered ripping without the distraction of electronics, Whitewater is the place. There's more than 40 feet of snow annually, gorgeous glades, and no cell service or Wi-Fi. There are 10 RV spots (plus camping in the summer) and a lodge that's open year-round. The vertical drop is the real deal, with 2,044 feet over 2,367 acres. Four lifts service 81 runs, and cat- and tele-ski operators offer access to over 95,000 acres (and up to 20,000 feet of vert per day). Vanlifers should check out the new Hummingbird Lodge and Campground, scheduled to open in March.
Learn More
3. Fernie Alpine Resort
Serious powderhounds know Fernie. The resort gets about 37 feet of snow annually and its 2,500 acres of terrain include bowls with plenty of steeps and secret stashes. The Polar Peak chairlift accesses the 3,550-foot summit of one of the highest peaks in the Lizard Range. Feeling more leisurely? Head to the White Rabbit on Siberia Ridge for some long glade groomers. There are new snowmaking and grooming capabilities, which should allow early-season schussing. Don't miss the newly reopened Ice Bar at the Lizard Creek Lodge. You can belly up to a true ice bar to sample vodkas donning provided Helly Hansen parkas. And if you're looking for a place to rest your head that doesn't break the bank, nab a Deluxe Pod Room at Raging Elk International Hostel for half the price of a hotel. Its motto is "Spend a night, not a fortune."
Learn More
4. Panorama Mountain Resort
In addition to 130 runs over 3,000 acres of wildly diverse terrain, this ski-in/ski out resort has an abundance of lodging. Condos are spacious, and the slope-style hot tubs are glorious for après lounging. New for this season is The Approach, a 104-room refurbished lodge with single rooms and suites designed for the modern adventurer. Bonus activities at Panorama Mountain Resort include fat-tire bike rentals and private heli-ski tours in the legendary Purcells.
Learn More
5. Kicking Horse Mountain Resort
Tucked between the Purcell and Rocky Mountain ranges near Golden, Kicking Horse has more than 3,500 acres, 121 runs, four alpine bowls, and five lifts. The resort is known for its 85 chutes and big mountain conditions. The "Champagne Powder Capital of Canada" gets about 24 feet of the white stuff annually. To ensure early season turns, the resort has expanded its grooming capabilities. This year, Kicking Horse is hoping to host the Freeworld Qualifier "Wrangle the Chute," the only North American stop on the tour.
Learn More
6. Revelstoke Mountain Resort
Once the mecca for backcountry and heli heads, the iconic destination now has game-changing lift access. Revelstoke Mountain Resort gets bragging rights for most vertical in North America (5,260 feet), and its 3,121 acres include two alpine bowls and 75 runs. Despite the abundance of expert terrain, the Stellar Chair is ideal for beginner and intermediate skiers. For a bird's-eye view of the resort, sign up for a tandem paragliding tour. You take off and land on your skis.
Learn More
7. Kimberley Alpine Resort
Kimberley Alpine Resort has a mere 13 feet of annual snowfall, but the night skiing alone makes it a must-visit destination. The North Star Express Quad provides quick laps on beautiful groomers across 1,800 acres, day and night. The resort, tucked between the towering peaks of the Purcell and Rocky Mountains, provides a mellow, family-friendly atmosphere. Other standouts: There's a new up-tracking zone for skinning; aspiring ski instructors can check out Snowminds, an international instructor apprenticeship training program; and there's a new distillery and craft brewery, Bootleg Spirits and Grist and Mash, respectively, to help you unwind after a day on the slopes.
Learn More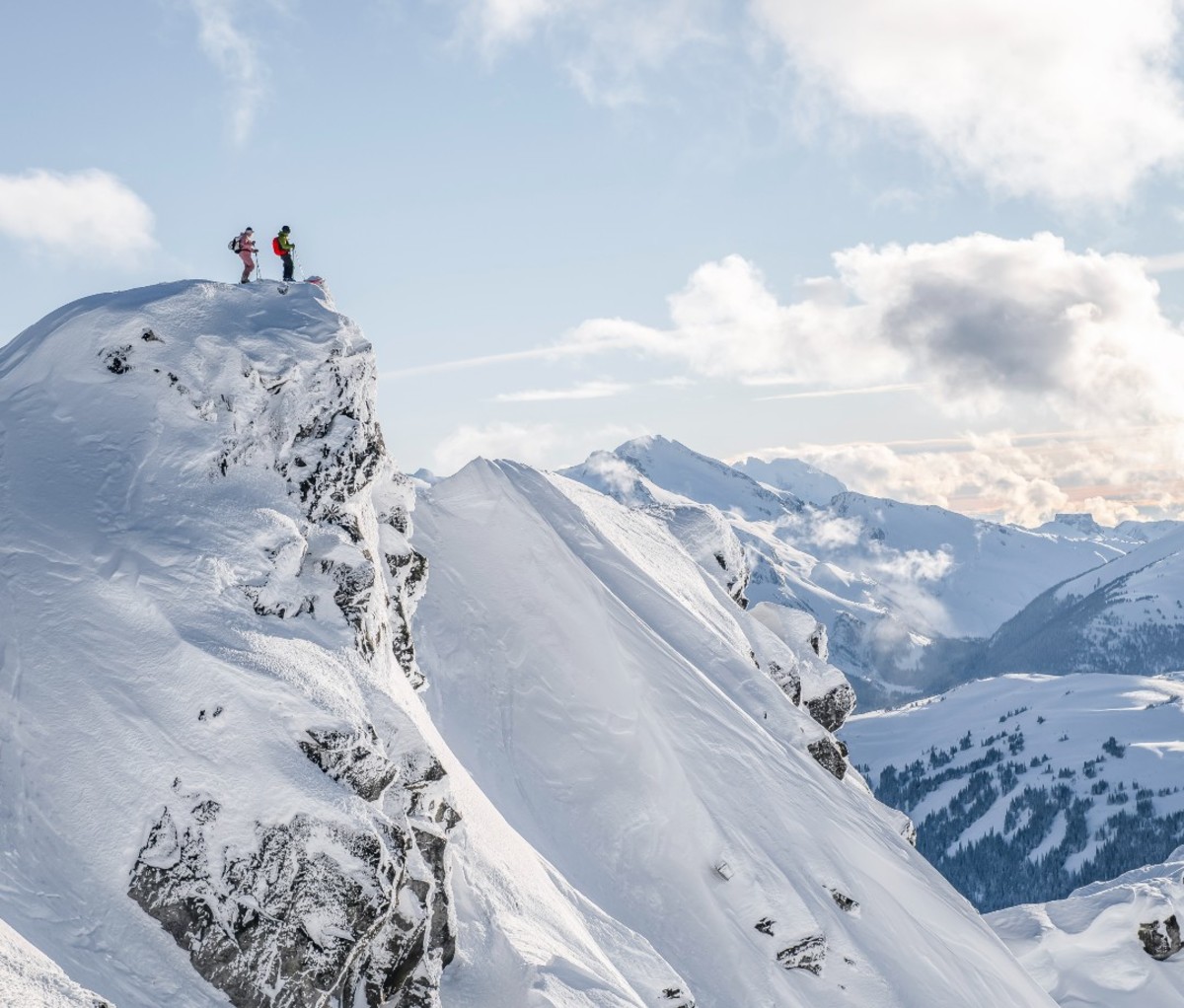 The Rest of British Columbia
BC is a big province, with more territory than France and Germany combined. While the coastal mountains to the west and the eastern border (aka the Canadian Rockies) get well-deserved publicity, don't forget there's excellent skiing to be had in the heartland.
1. Whistler Blackcomb
You get two mountains (Whistler and Blackcomb) for the price of one, with more than 200 runs over 8,171 acres of terrain and nearly 40 feet of annual snow. There's plenty for skiers of all abilities, and most lifts offer beginner and advanced alternatives, so parties can split up according to ability, then meet back at the base. What sets the resort apart are 16 alpine bowls and three glaciers. The best introduction to Whistler's precipitous off-piste terrain are the one- and two-day Extremely Canadian Steep Skiing Clinics. They'll guide you to spots you probably wouldn't ski otherwise and provide tips on technique.
Learn More
2. Apex Mountain Resort
Tucked into the heart of the Okanagan Valley, Apex Mountain is a cozy resort that's off the beaten tourist path. The full-service resort only gets about 20 feet of snow per season, but it's got an excellent variety of glades, bowls, and terrain parks. There are four lifts on 1,112 acres, and affordable ski-in/ski-out options. The area boasts an NHL-sized outdoor hockey rink and a .6-mile ice skating loop.
Learn More
3. Sun Peaks Resort
Sun Peaks sports 4,270 acres of terrain, 138 runs, two alpine bowls and 13 lifts—not to mention it's run with internationally recognized environmental practices. Plus, there are many ski-in/ski-out lodging options. There's night skiing (and tubing), plus a unique Snow Limo for non-skiers who want to experience the thrill of the slopes. Guests are buckled into a sled that's controlled by a guide. New après-ski activities include axe throwing and yoga.
Learn More
4. Big White Ski Resort
Big White Ski Resort boasts Canada's largest ski-in/ski-out resort village (meaning you've got the pick of the litter in terms of accommodations) and 38 acres of well-lit terrain for night skiing. Much of the 25 feet of annual snowfall arrives in the form of dry Okanagan powder. There are 119 runs, serviced by 16 lifts, for a total of 2,765 skiable acres, plus 16 miles of cross-country ski and snowshoe trails.
Learn More
5. SilverStar Mountain Resort
Featuring four mountain faces with 3,282 skiable acres, SilverStar Mountain Resort has 12 lifts and 132 runs, but the secret sauce is the 1,900 acres of black and double black diamond runs on the backside. Stay in the mid-mountain lodging, with plenty of good grub and ridiculously easy lift access. Skiing here is great any time of year, but March is especially fun with the BC Winter Games (alpine, freestyle, and snowboarding) and the Seismic Fest.
Learn More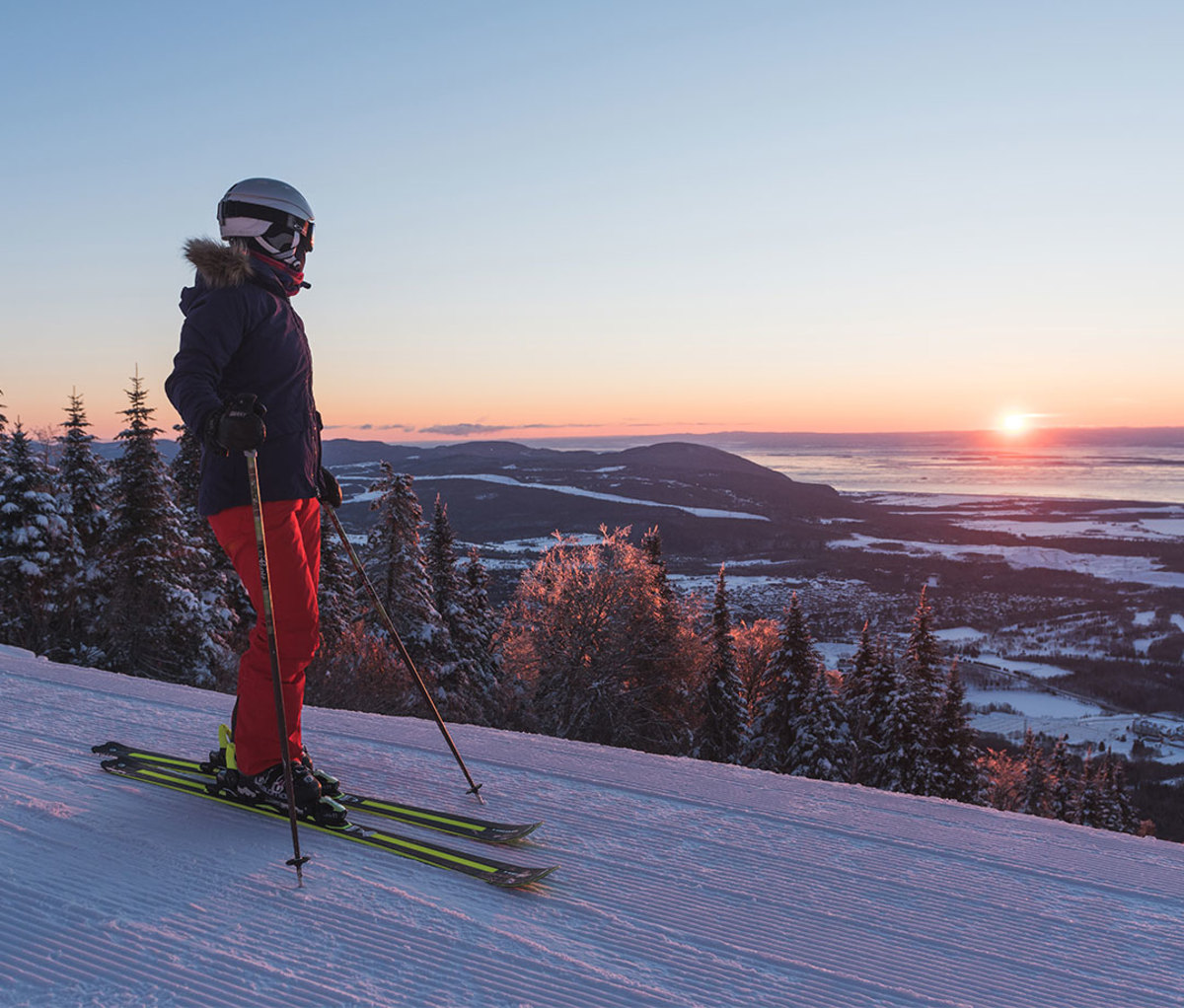 Eastern Canada
In terms of beauty, skiing in eastern Canada is hard to beat. You may not find the abundant powder and steeps typical of resorts to the west, but what makes Québec an attractive ski destination is its long, sweeping groomers; picturesque towns; and dependable snow, since many resorts have excellent snowmaking machines and grooming. Plus, the French parlance makes everything more fun. Skiing has been a staple in Québec for decades. The region has had time to perfect the ski experience with well-appointed lodging, excellent shopping, and a more Euro-style aprés scene.
1. Tremblant Resort
Just a seven-hour drive from NYC, Mont Tremblant is as close as you can get to a European ski-in/ski-out experience without leaving North America. Tremblant is the highest peak in the Laurentians region, with 102 runs and dependable snow conditions due to an extensive snowmaking and grooming program. On rest days, you can wander the pedestrian village with its plentiful shops, restaurants, and bars. The interior water park is worth a visit, too. Revamping the food scene has been a focus this year, with more locally sourced cuisine available at restaurants.
Learn More
2. Mont Sainte-Anne
This resort near the old, fortified city of Québec is well worth a trip. While there's only 547 skiable acres at Mont Sainte-Anne, the vertical drop is over 2,000 feet. That's impressive considering the summit is at 2,625 feet. The natural snowfall is abundant, with 209 inches annually. Most of the runs are easy to intermediate, but there's enough advanced and even some extreme action to keep even the best skiers beaming. We love the night skiing, with 19 well-lit runs. The resort has one high-speed gondola, four quad chairs, and two double T-bars. There are three lodges and spectacular views.
Learn More
3. Club Med Québec
Club Med Québec offers an all-inclusive ski experience. The resort includes more than 300 acres of gentle slopes with views of the St. Lawrence River and surrounding mountains. The unique waterfront mountain resort has deluxe ski-in/ski-out accommodations that are designed for families, adventure seekers, and wellness travelers. There are more than 300 rooms, including a private Exclusive Collection (5-star) luxury space. The price includes lift tickets, immersive group ski adventures, and locally inspired culinary experiences. To soothe aching legs, there's a heated pool, outdoor jacuzzi, and Nordic-inspired spa.
Learn More
Alberta
Most people are familiar with Banff and Jasper National Parks as summer playgrounds. What you might not know is the area is home to some of the sweetest ski resorts in North America. You can ski Banff Sunshine, Lake Louise Ski Resort, Mt. Norquay, and Marmot Basin over the course of a single trip. All four areas have unique vibes, spectacular terrain, and different weather patterns. And, on rest days, you can tour the parks, visit local hot springs, or stroll through the picturesque villages of Canmore, Banff, Lake Louise, and Jasper.
New this season in the Canadian Rockies mega-playground: Marmot Basin is joining SkiBig3 resorts on the Mountain Collective pass. The single pass includes seriously discounted skiing at four resorts: Banff Sunshine, Lake Louise Ski Resort, Mt. Norquay, and Marmot Basin. You can travel to Alberta and stay at three spectacular Fairmont Properties—Jasper Park Lodge, Banff Springs, and the Chateau Lake Louise—which offer world-class architecture, service, and elegance.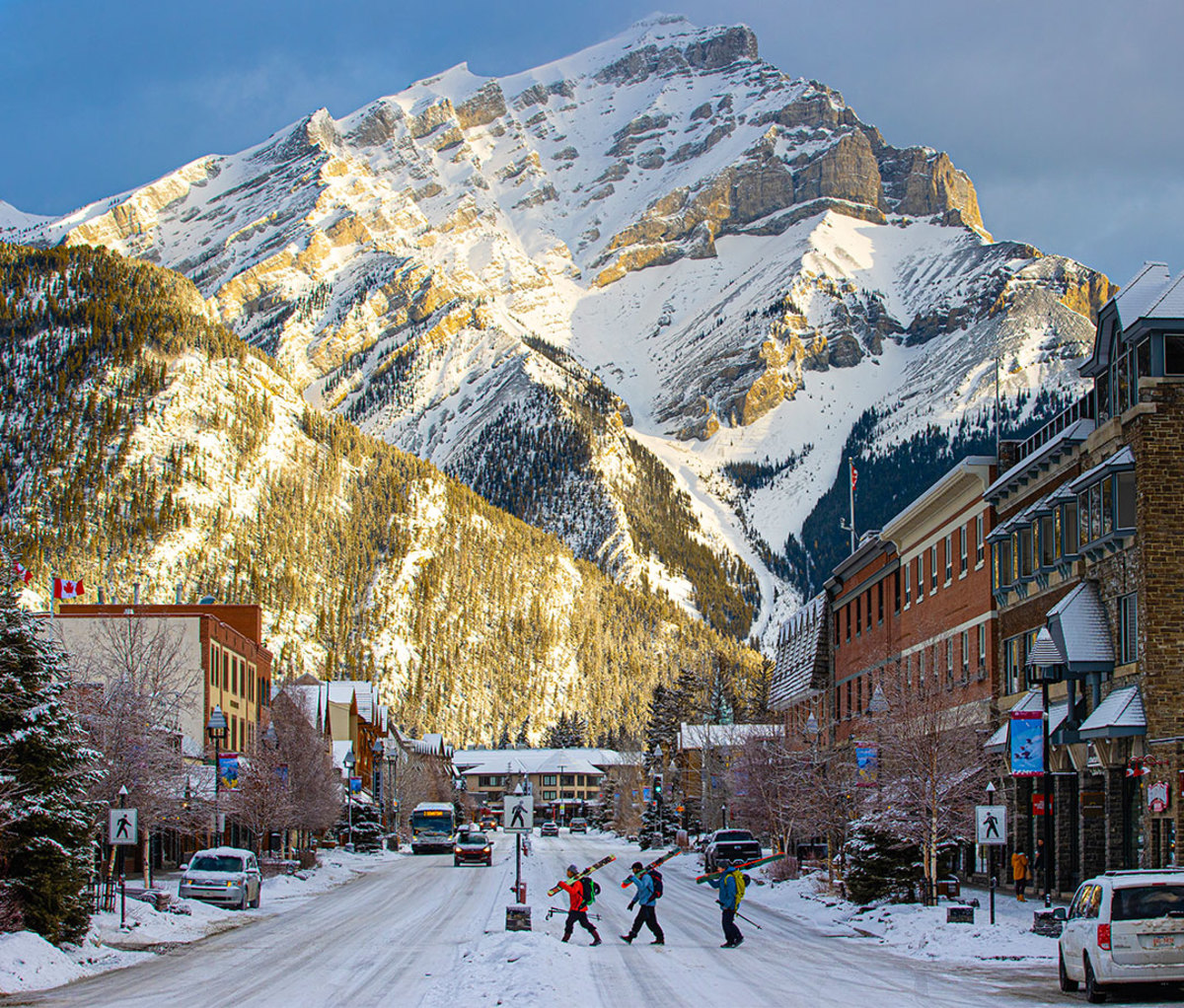 SkiBig3: Banff Sunshine, Lake Louise Ski Resort, and Mt. Norquay
The three resorts are located within Banff National Park and together offer 7,748 acres of terrain, two gondolas, 27 chairlifts and 30 feet of feather-light, dry Canadian Rockies powder annually—all accessible with one SkiBig3 Lift Ticket. Banff National Park is known for its castellated peaks, abundant wildlife and, of course, the bustling town of Banff and wilderness village Lake Louise. Each of the SkiBig3 resorts offer unique experiences and views. Expect all the restaurants, bars, and patios to be open and in full swing this season.
Learn More
1. Banff Sunshine
There's a reason Sunshine is included in this resort's name. In addition to some of Canada's best snow, you can expect plenty of bluebird days. The resort includes three mountains with an unbelievable variety of terrain. For the ultimate ski in/ski out experience, stay mid-mountain at the Sunshine Mountain Lodge. You take the gondola up and luggage transfer is provided for the cost of the room. There's no better spot for first laps. Oh, and if you care to make friends, hit up the 30-person hot tub.
2. Lake Louise Ski Resort
Lake Louise Ski Resort sports excellent advanced terrain, especially with the introduction of the 480-acre West Bowl free ride zone in 2020. For winter 2022-23, the resort is opening Juniper Express Chair for its first full season of operations. The chairlift, and its five dedicated blue trails, is a gentle and accessible progression zone, ideal for beginner skiers.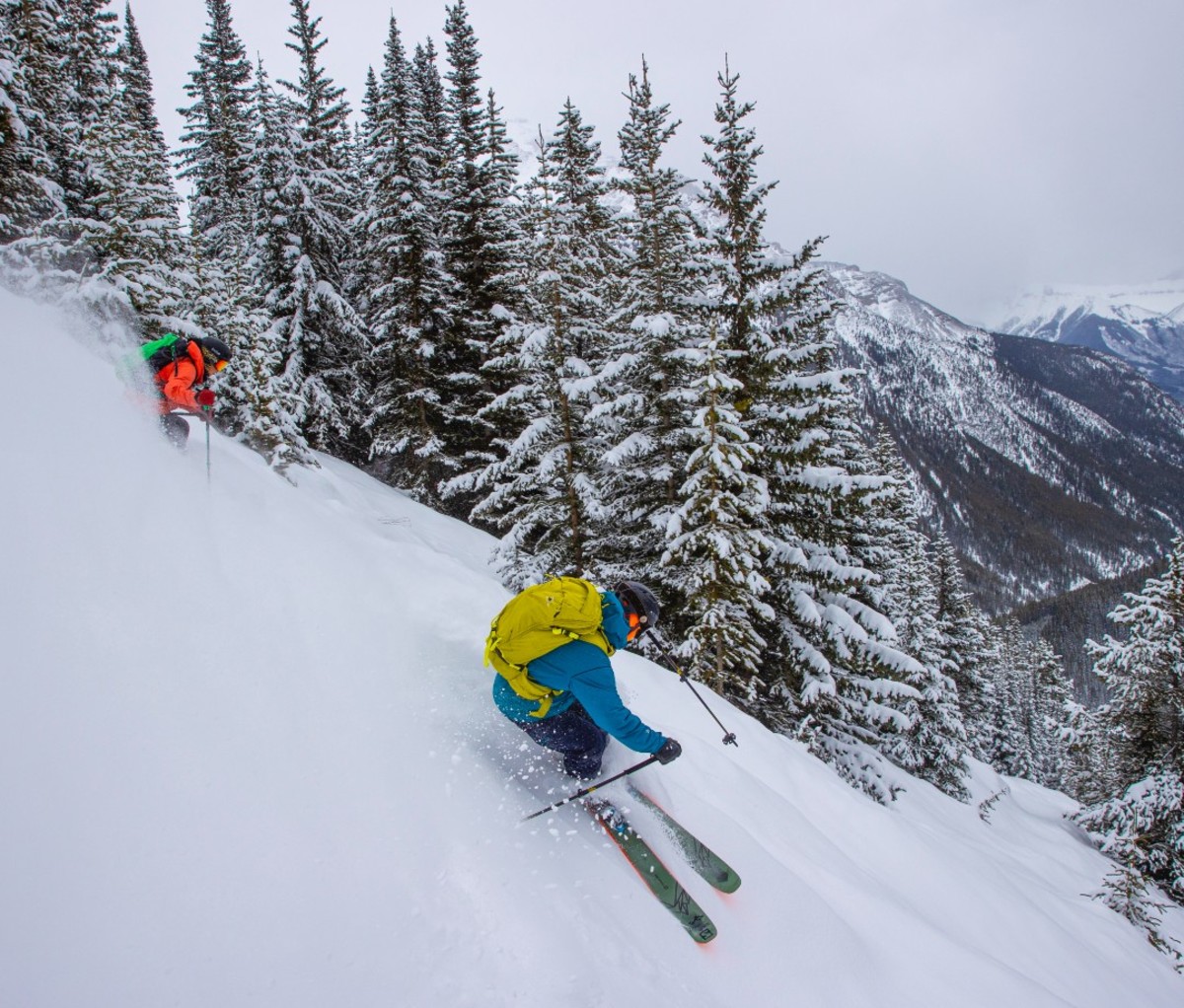 3. Mt. Norquay
Mt. Norquay is only 10 minutes from Banff and excellent for laying down some turns after a leisurely breakfast in town. It's well-suited to families with young kids and skiers of all abilities. Alternatively, you can spend the day touring Banff then head up for night skiing and some après fun. Mt. Norquay was the first ski area in the Canadian Rockies, and there's a sense of history that comes with every turn.
4. Marmot Basin
Marmot Basin in Jasper National Park is a haven for people who seek short lift lines and an escape from more touristy destinations. With 1,720 acres of skiing, it has the highest base elevation of any major Canadian ski area (5,570 feet) and more than 170 inches of annual snowfall. There are seven lifts plus three chalet-style lodges for refueling. Marmot Basin is now included in the Mountain Collective, which includes 48 free days (two at each of the 24 destinations), including six other Canadian resorts: Le Massif de Charlevoix, Banff Sunshine, Lake Louise Ski Resort, Revelstoke, Panorama, and Sun Peaks. Plus, you get 50 percent off additional days at Mountain Collective resorts and 50 percent off Mt. Norquay.
Learn More
Make It Happen
Planning a ski trip can be unnecessarily complicated, especially if you're bringing along friends and family. To simplify matters and bring in tons of local know-how, Ski.com offers a curated approach to planning your adventure. It's basically a one-stop shop that removes the guesswork and takes the heavy lifting off your shoulders.
The site offers 65 mountain travel experts who have intimate knowledge of each ski resort. (Considering the average tenure of their experts is 20 years or more, that's a lot of expertise!) One team is exclusively dedicated to Canada—so whether you want something a little off the grid or a must-visit, bucket-list destination—these are the people who can pull together the perfect itinerary.
The beauty of the service is that the cost is paid by the resorts and other retail partners. Experts take care of the travel planning (flights, rentals, ski school, lift tickets, and lodging) and get results that are dialed into your group's ability, budget, and preferred activities—often at a lower price than you could find yourself.
Plus, you get 24/7 support during your trip. It's a nifty way to focus on training and prepping your gear, rather than sitting in front of a computer going down endless rabbit holes. The next time you're planning a bachelor party, family getaway, date weekend, or guys' trip, check out Ski.com's extensive wealth of knowledge and check in to powder paradise.
Book Now
For access to exclusive gear videos, celebrity interviews, and more, subscribe on YouTube!