Travel
Find Your Next Great Getaway at Salmon Falls Resort in Ketchikan, Alaska
Sitting in a sea kayak just offshore of Salmon Falls Resort in Ketchikan, Alaska, I watch slack jawed as a ring of large bubbles break the surface beneath my paddle.
"Stop paddling and stay still," my guide, Grayson, says, stern but excited. "He's coming up fast."
The "he" Grayson's referring to is a large humpback whale. It probably weighs close to 30 tons and measures roughly 50 feet long. And he's currently swimming rapidly towards the surface, mouth unhinged wide, gathering thousands of small herring fish he's corralled with those expertly blown bubbles.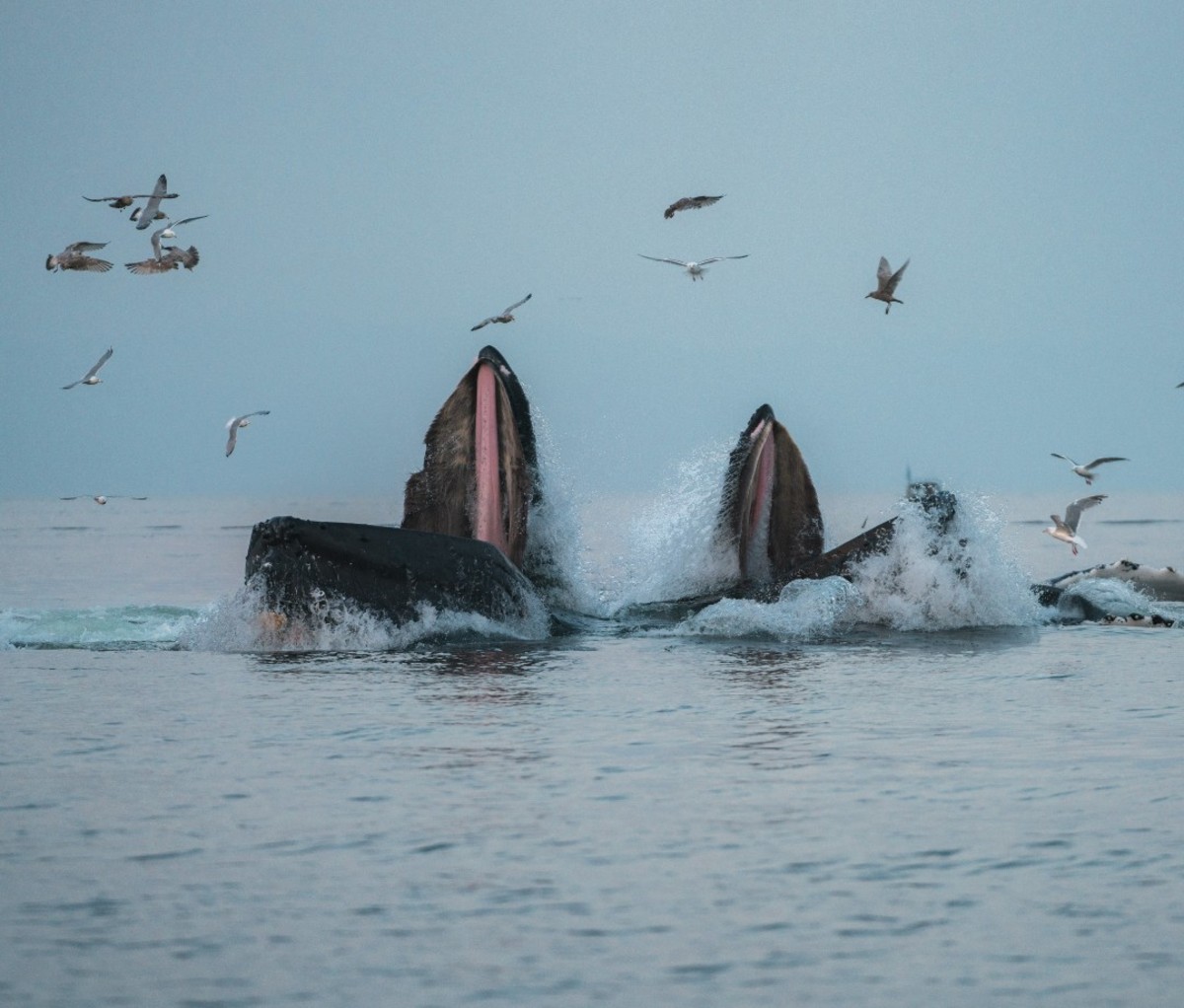 Then I see him—a murky black and gray shadow shifting beneath the deep-blue ocean. He breaks the surface, launching out of the water in spectacular fashion. I'm close enough to see the individual herring leaping out of his barnacle-encrusted mouth. He closes his mouth, swallows the fish, then bobs peacefully for a moment at the surface, spinning in a languid circle and twirling his pectoral fin above the water before diving back down to do it all over again.
It takes more than a few breaths and a couple expletives of amazement to regain my composure after such an incredibly close encounter. The next time the whale lunges out of the water, it's my mom's kayak that's right next to him. Watching her reaction being so close to this jaw-dropping display of nature's beauty is even better than seeing it myself.
Fishing in Southeast Alaska
We've been up in Ketchikan at Salmon Falls Resort for a couple days, fishing the bountiful waters of Southeast Alaska for Chinook (king) and Coho (silver) salmon along with halibut and the occasional Pacific cod. My mom loves to fish, but had never been fishing in Alaska or caught a halibut or salmon before yesterday, when she expertly checked both off her bucket list. Today is our day off from fishing, and by the time we see the whale, it's already been one for the books.
We woke early, feasted on the immaculate breakfast buffet Salmon Falls lays out every morning, comprising belly-warming biscuits and gravy, sausage, and eggs as well as lighter fare like pastries, granola, and yogurt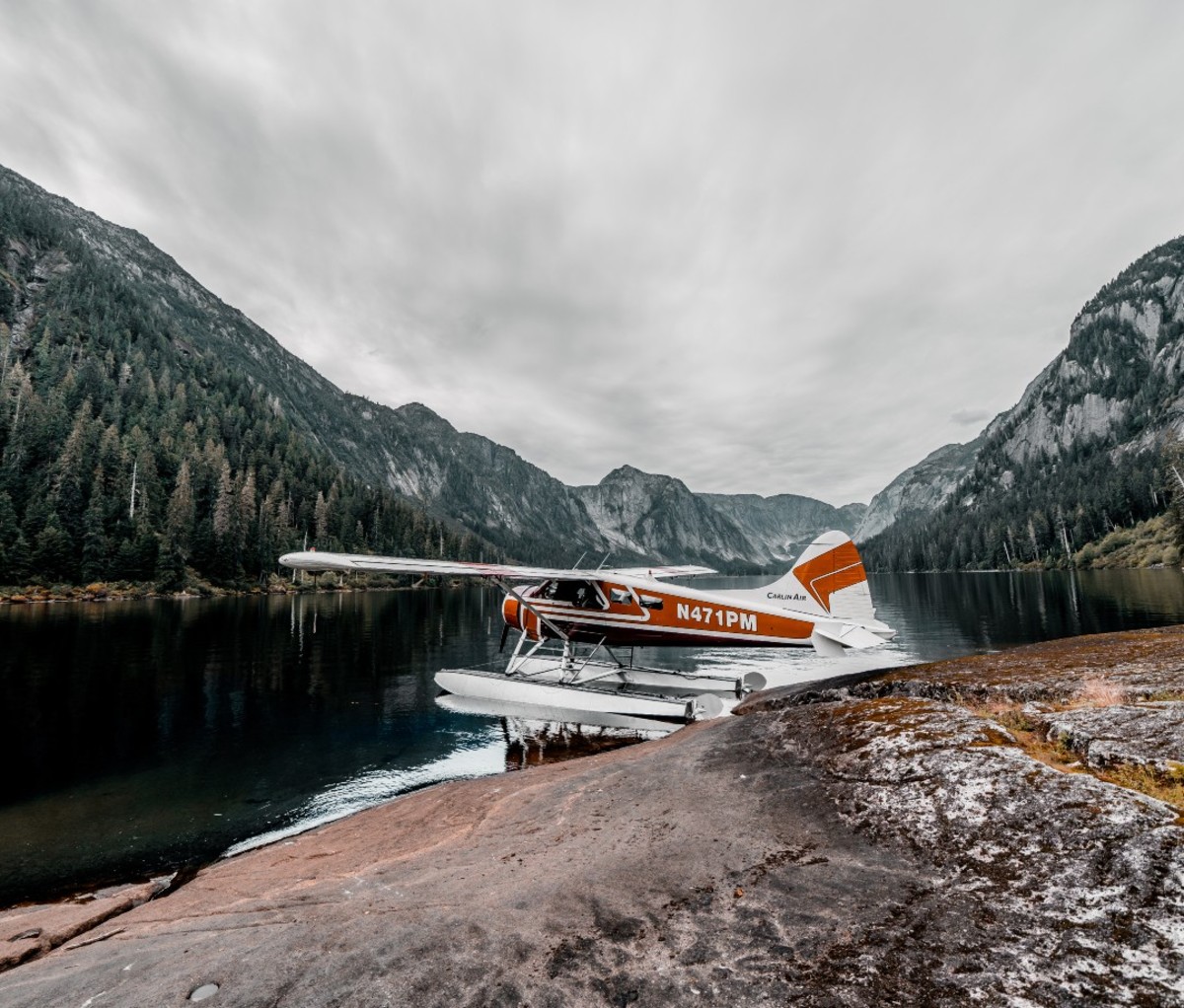 At 8 a.m., we were down at the dock, stepping onto a vintage Beaver float plane for an airborne tour of the Misty Fjords National Monument with Carlin Air.
As our pilot dipped and turned, soaring above the many shades of green, the expansive beauty of the area revealed itself. Massive cliffs rose up from the deep water. Hanging valleys high in the mountains wrapped around freshwater lakes as waterfalls tumbled down from them to the sea below.
We landed on one of those sparkling lakes, skimming across the glassy water from one edge to the other. We stepped off the plane and onto a small island. The solitude here is rousing. There's a stillness that makes you realize how remote and far away you are.
Courtesy of Salmon Falls Resort
Exploring Salmon Falls Resort
After the float plane dropped us back off at the dock a couple hours later, we immediately headed out into the coastal rainforest for a hike to stretch our legs. Following a well-maintained path, we wandered among giant cedar trees, forded crystal clear creeks, and traced pristine shorelines that surround Salmon Falls Resort.
We break for lunch, relishing halibut fish and chips. Sated and reenergized, we arrive at Ketchikan Kayaks to meet Grayson for more wildlife viewing. His eyes scan with computer-like precision. He points out a bald eagle's nest with a couple of eaglets in it, a harbor seal rookery, and a barking Steller sea lion. We snack on locally smoked salmon and wild blueberries and thimbleberries that Grayson harvested earlier that morning as he regales the group with stories of adventures.
The evening is filled with live music on the resort's expansive outdoor patio. Fresh oysters from Hump Island Oyster Co. are shared alongside locally brewed beer from Bawden Street Brewery.
Courtesy of Salmon Falls Resort
Back to the boat and Seattle
The next day, we're back on the boat, fishing for halibut and salmon. Salmon Falls has some great guides who know the area well and work really hard to make sure you catch fish. My mom spends the day singing her fishing songs, reeling in powerful and weighty halibut, and laughing as the Coho salmon jump and twist at the end of her line while whales breach in the distance. It's almost unbelievable.
By the time it's time to go home, we have 62 pounds of fresh fish fillets. The resort takes care of all the fish processing, flash-freezing and tightly packing our haul in wax-sealed boxes. We could check them directly onto our Alaska Airlines flight back to Seattle.
We stayed at The State Hotel, a new spot downtown just a short distance from the legendary Pike Place Market. The hotel kept the fish in their walk-in freezer for us while we explored the market. We did mental math, calculating just how much those 62 pounds of fish would cost us here…
When I told the fish mongers at Pike Place we already had plenty of fish, they good-naturedly told me we could have saved some cash and time if we'd just bought them here, which may be true, I said, but then we wouldn't have gotten to reel them in ourselves. And for anyone who loves to fish, that tug is the real drug we're after when it comes to fishing. They laughed and my mom couldn't stop repeating her favorite new saying, "The tug is the drug!"
Yes indeed, the tug is the drug.
For access to exclusive gear videos, celebrity interviews, and more, subscribe on YouTube!