Asheville may be North Carolina's most famous mountain hotspot, but it's not the only one the state has to offer.
While the following small mountain towns have the natural charm people love, they also boast the same sort of history, culture and outdoor adventure that put Asheville on the must-visit map.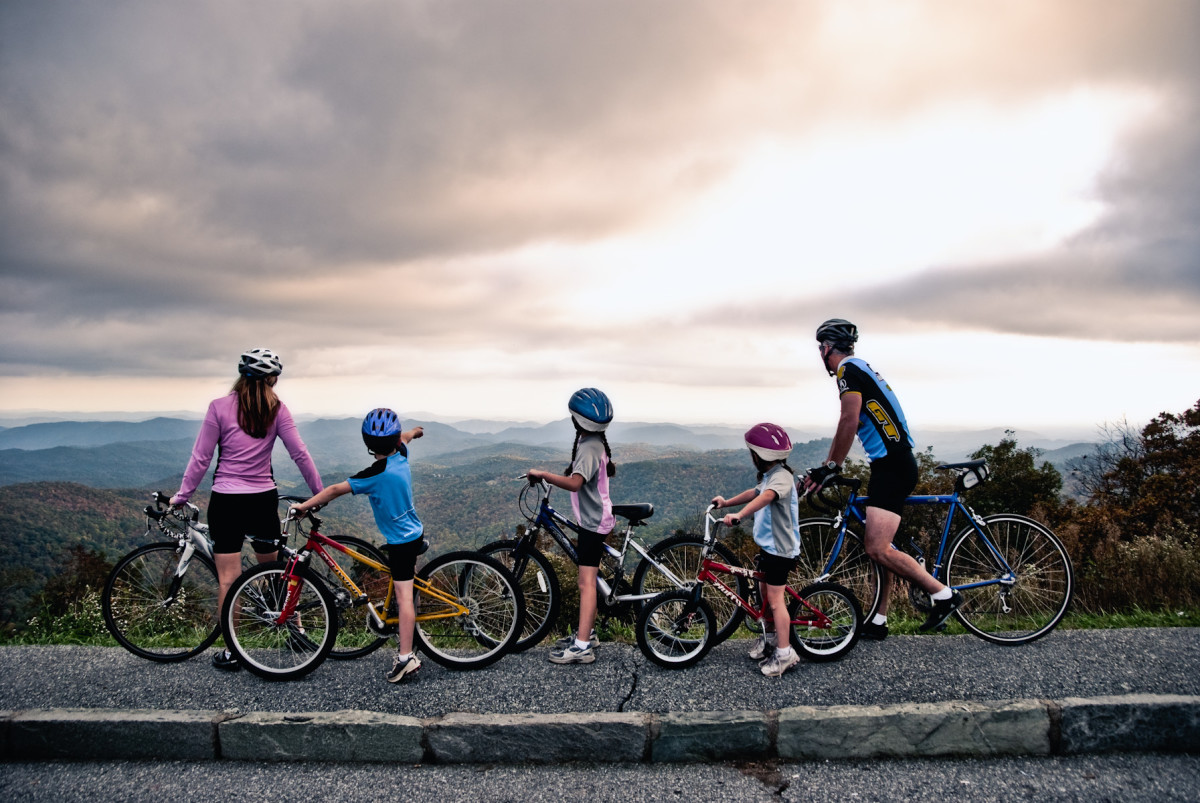 Don't be fooled by this college town. At fewer than 20,000 people, Boone has all the downtown bustle of any larger city and more outdoor action.
Local outfitters offer individual or family boat rentals as well as guided day trips, so go canoe or kayak the New River, designated a National Wild and Scenic River in 1976, or take to the flatwater for a day of high-class trout fishing.
RELATED: Beech & Boone, two coolest emerging MTB spots in North Carolina
Then there's Grandfather Mountain, the Blue Ridge region's tallest mountain and the world's only privately owned international biosphere reserve. Look out at 360-degree views of ridgelines from Mile-High Swinging Bridge thousands of feet above the Carolina Piedmont.
Downtown Boone retains that nostalgic feel of early days with its antique shops, restaurants and boutiques. After walking around, grab some great food for a good cause at the Farm Cafe, a nonprofit restaurant whose mission is serving everyone, regardless of means, to end hunger in the area.
Feel extra good seven minutes down the road with a beer or cider tasting at Appalachian Mountain Brewery, which sustainably brews quality beer to support the community of the Appalachian Mountains.
Finish the day at a beautiful outdoor theater watching stories of the Carolina Backcountry's settlers. "Horn in the West" is an account of events centered around Daniel Boone and the fight for American independence.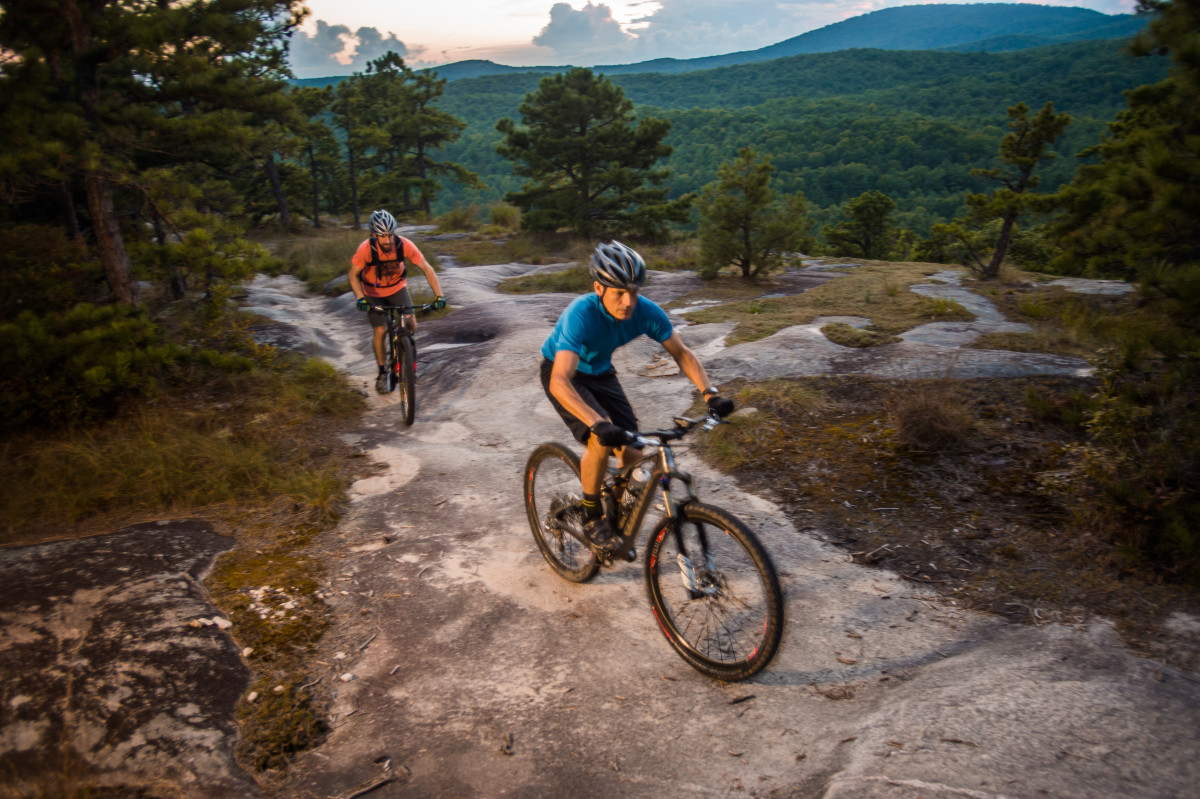 This town of roughly 8,000 people lies at the heart of what is known as the
Land of Waterfalls
: Transylvania County.
Looking Glass Falls, 15 minutes northwest, is one of America's most iconic and well-known waterfalls, an easier hike than most and a good taste of what the area has to offer.
Those looking for more action can check out some of the Southeast's finest mountain biking trails. Hit Pisgah National Forest for hard moves, DuPont State Recreational Forest for different trails or Bent Creek for mellow riding.
If the forests are Brevard's heart, the music scene is its soul. Brevard Music Center joins acclaimed musicians and faculty with over 400 of the world's rising classical music students at the Summer Festival's 80 concerts.
Listen to every style of music, from opera and symphony to gospel, blues and even pop, at an open-air venue by the lake. Almost half of their concerts are free to the public, and lawn seats otherwise start at $15.
It's all about
climbing
around this small mountain town. Link up with a
Fox Mountain guide
to climb at Chimney Rock proper or do your own thing at Rumbling Bald.
Rumbling Bald Climbing Access is a local gem for world-class bouldering and sport and trad climbing. Go in winter or fall for 1,500 bouldering problems in this non-fee, free-access side of Chimney Rock State Park. The Friends of Chimney Rock State Park make this access happen through fundraising, volunteer work days and educational programs.
RELATED: 6 things to do in Western North Carolina (besides drink beer)
It may not seem like much compared the boutique-style restaurants on the main stretch of Chimney Rock, but the Geneva Riverside Tiki Bar & Grill is the place to go after a day of paddling, climbing or even riding the winding roads on your motorcycle. As one Google Maps reviewer posted, "It's cool as heck." After stuffing yourself on the famous fried pickles, order a burger with their large seasoned fries.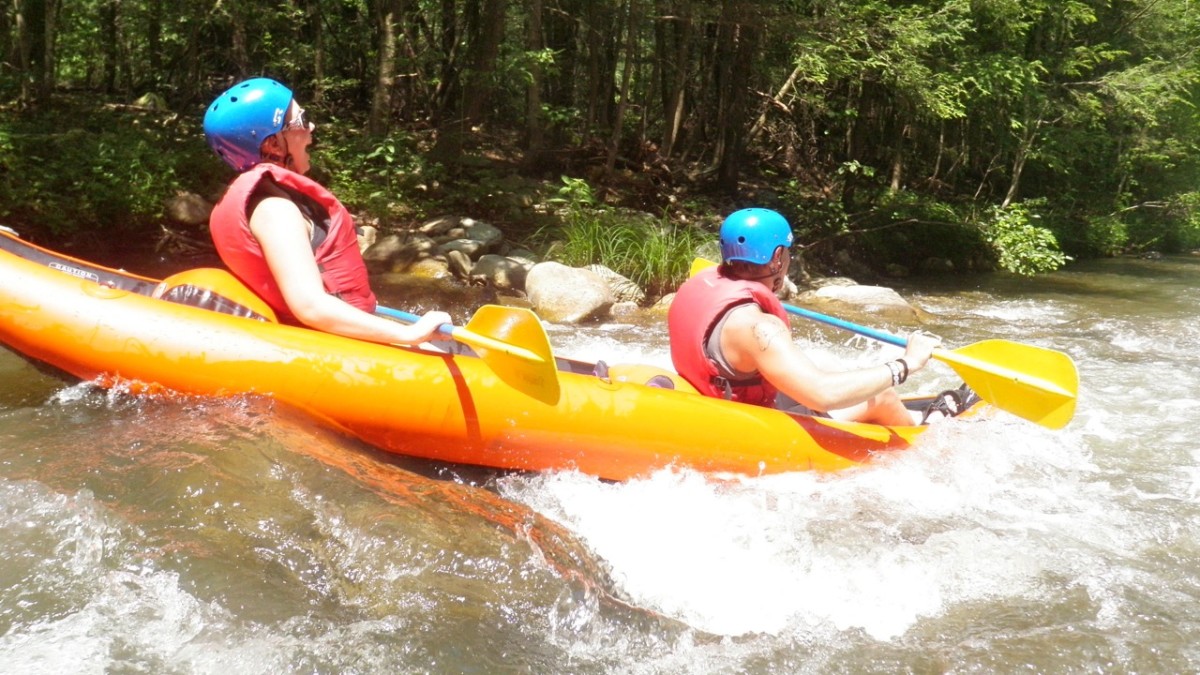 Water is where it's at in Saluda — specifically whitewater. The Green River is famed among paddlers throughout the world for the steep and isolated Class V rapids in the Narrows section. One of the world's oldest paddling races, aptly called
The Green Race
, brings hundreds of boaters from local icons like Pat Keller and Adriene Levknecht to international world champions like Mike Dawson and Eric Deguil.
But the beauty of the Green River is that everyone can enjoy it. Those wishing to see the race in November can hike in at the section's best part, Gorilla Rapid, and see boaters huck themselves 18 feet off a narrow shoot of a waterfall. Those wanting some river action themselves can hook up with Green River Adventures for a guided inflatable raft trip or kayak instructions for the Class III to IV whitewater section on the Upper Green. Others just wanting a lazy afternoon in the sun can enjoy a tube float down the Lower Green.
After the day outside, be sure to stop in the town of Saluda for eclectic food. The Purple Onion is the place for a unique mountain twist on traditional high-end cuisine, like Sunburst Mountain trout baguette with kale and cabbage slaw, caper dill remoulade and tomato.
On the
Great Smoky Mountains National Park
's southern side, Bryson City is laid-back but action packed.
RELATED: Downhill skateboarding video shows the hypnotic beauty of North Carolina
Head 20 minutes west of Bryson City to the Nantahala Outdoor Center, home to the 2013 Freestyle World Championships. Several rafting companies offer kid-friendly trips down the Class II to III Nantahala River. A pavilion under the shade of towering tulip poplars, oaks and other native tree species provides a great environment to watch friends and family paddle down the rapids or view athletes practice the latest freestyle moves.
Hiking trails abound in the area too, which you can hit before making your way back to Bryson City for a stroll through its cute downtown and some grub at The Filling Station Deli Shop or fine cuisine at The Cork & Bean Bistro.
The article was originally published on Canoe & Kayak
For access to exclusive gear videos, celebrity interviews, and more, subscribe on YouTube!