Riding the Americas
Army Vets First to Complete Motorcycle Trip From Alaska to South America Entirely Over Land
Four U.S. Army vets had a plan so crazy it just might work: saddle up for a 19,000-mile journey by motorcycle, from Alaska to the tip of South America, and become the first team to do it entirely over land.
IT WAS ALWAYS GOING to be a crapshoot, getting permission to negotiate the Darien Gap, a 100-mile stretch of nearly impenetrable jungle that straddles the border between Panama and Colombia. Even after nearly two years of emailing and communicating with Seafront, the agency in charge of protecting Panama's borders, Wayne Mitchell had received no clear answer. So there was only one way to find out if he and his three buddies could score an OK to cross through the Gap with their motorcycles: Drive down from Alaska and ask.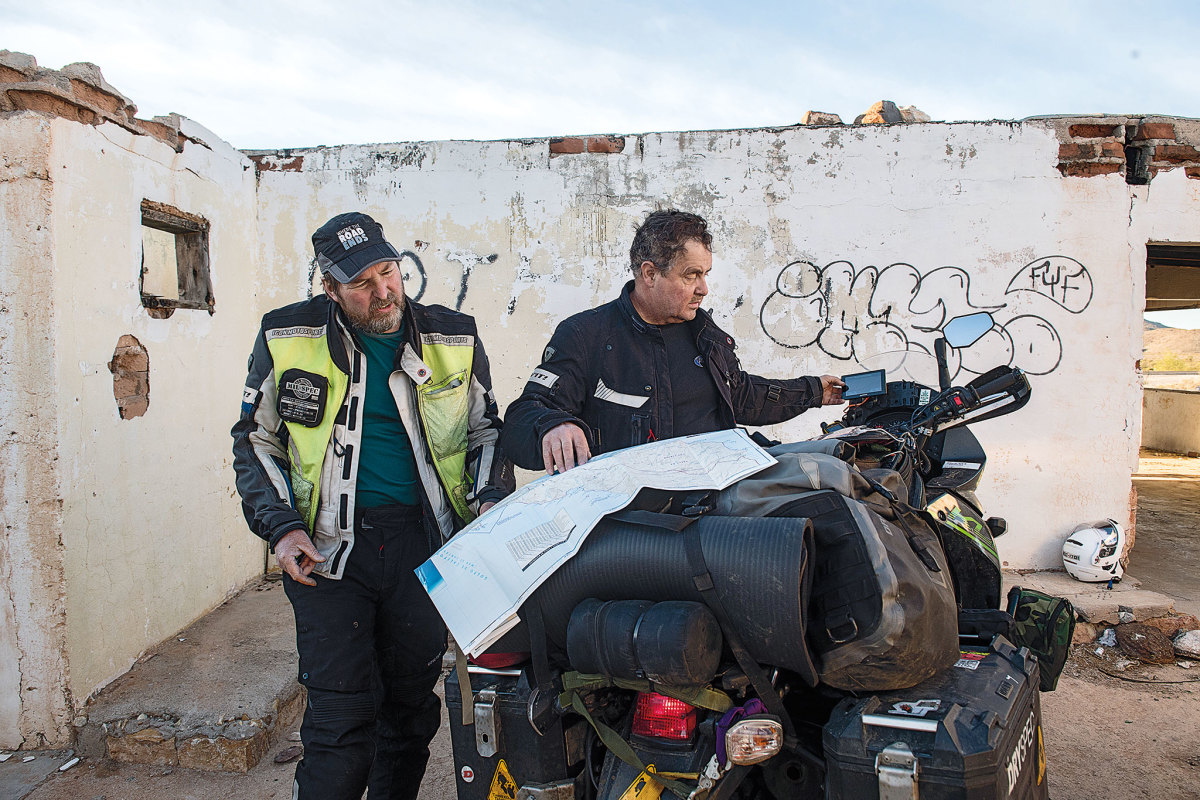 "I was hoping I'd have time to shave and put on some clean clothes for this," says Mitchell, standing outside Senafront's office in downtown Panama City, having driven 250 miles this morning under the hot equatorial sun. "But I guess that's not going to happen."
For 43-year-old Mitchell and his teammates—Mike Eastham, 50; Simon Edwards, 54; and Rich Doering, 59; all of them U.S. Army vets, all fighting like hell against the pangs of middle age—this was the moment of truth. It was the day they would know whether their long-shot gambit to ride their Kawasaki KLRs from Deadhorse, Alaska, to Ushuaia, Argentina, would fly. So far they'd covered 9,618 miles, having passed through Canada, the U. S., Mexico, and Central America.
The Gap, besides its political uncertainty, would also likely be the team's biggest physical challenge. For starters, it's a dense, unforgiving jungle, and it's the only break in the Pan American Highway. Plus, it's heavily guarded by Senafront officers, who are fond of turning away anyone for just about any reason.
Last year, for example, six men from the British military tried to be the first to complete the same journey. But citing danger from drug runners, human smugglers, and groups of lawless bandidos, local authorities denied the Brits access to the Darien region at the last minute. The men were forced to fly themselves and their motorcycles over the jungle, leaving the coveted first-ever, entirely overland distinction still up for grabs.
So as the Americans are led into the office of Senafront's deputy director general, it feels like a coin flip is going to decide their fate. Instead, it's about as easy as it gets. The man stands from his desk and smiles and then, speaking through a translator, says: "Today there is peace between the Colombians and the FARC," the guerrilla army that once ruled the Gap with a bloody fist. "So you can go into the jungle."
"Thank you, sir," Mitchell says. As a gesture of gratitude, he hands over a Gerber knife, a gift from the team's primary sponsor. Among other things, Gerber supplied the group with a 9,400-pound cargo van that they affectionately call the Black Boar. It's following along with the three-man camera crew that's filming for a future documentary.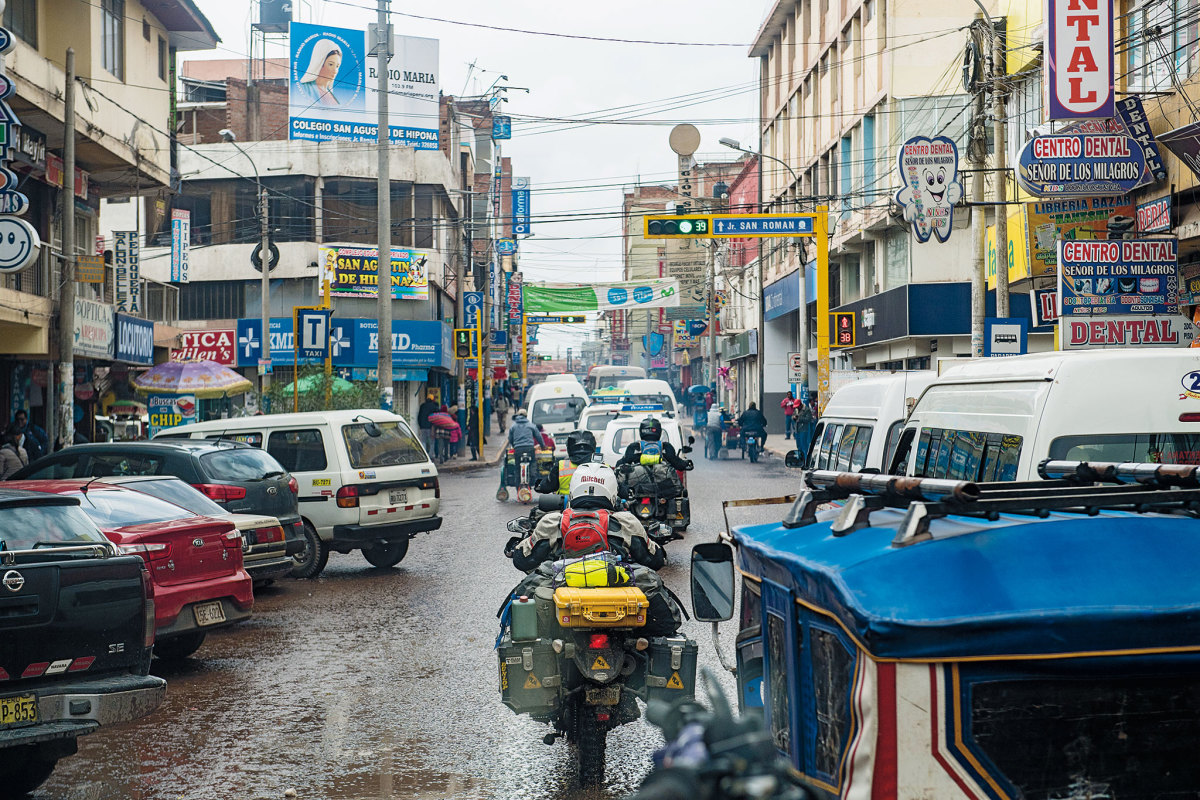 Back at the hostel, the team sits down with a local fixer, a Frenchman named Michel, who helped set up the meeting with Senafront and is now corralling indigenous Kuna men to guide the team through the Gap. Surrounded by backpacking Germans sipping cervezas in lounge chairs, Michel spreads out a map and opens a file folder filled with legal documents. He collects passport numbers and creates a plan to pass along to Senafront officers in Yaviza, where the Gap begins. He assures the team that they'll have dugout canoes ready to carry them along the rivers that lead into and out of the jungle. "The boats are used to carrying 40,000 plantains," says Michael. "So they can carry your motor."
"Our bikes weigh about 450 pounds," says Mitchell, anticipating trouble.
"That's your problem, not mine," Michel replies.
Edwards laughs. Doering drops his head onto the table. Eastham, who's been to Panama a dozen times for military jungle training, listens intently. He's the only one who truly understands what it's like in there.
"I know how miserable it will be," he says. "I think it will be eye-opening to everyone else."
Turning back to the map, Michel tells the guys where to move fast to avoid conflict and where it's safe to set up camp. Then he snaps his file closed, wishes them luck, and leaves. Suddenly the guys seem buoyed by optimism.
"A year ago this sounded impossible," says Mitchell. "Now it might actually happen."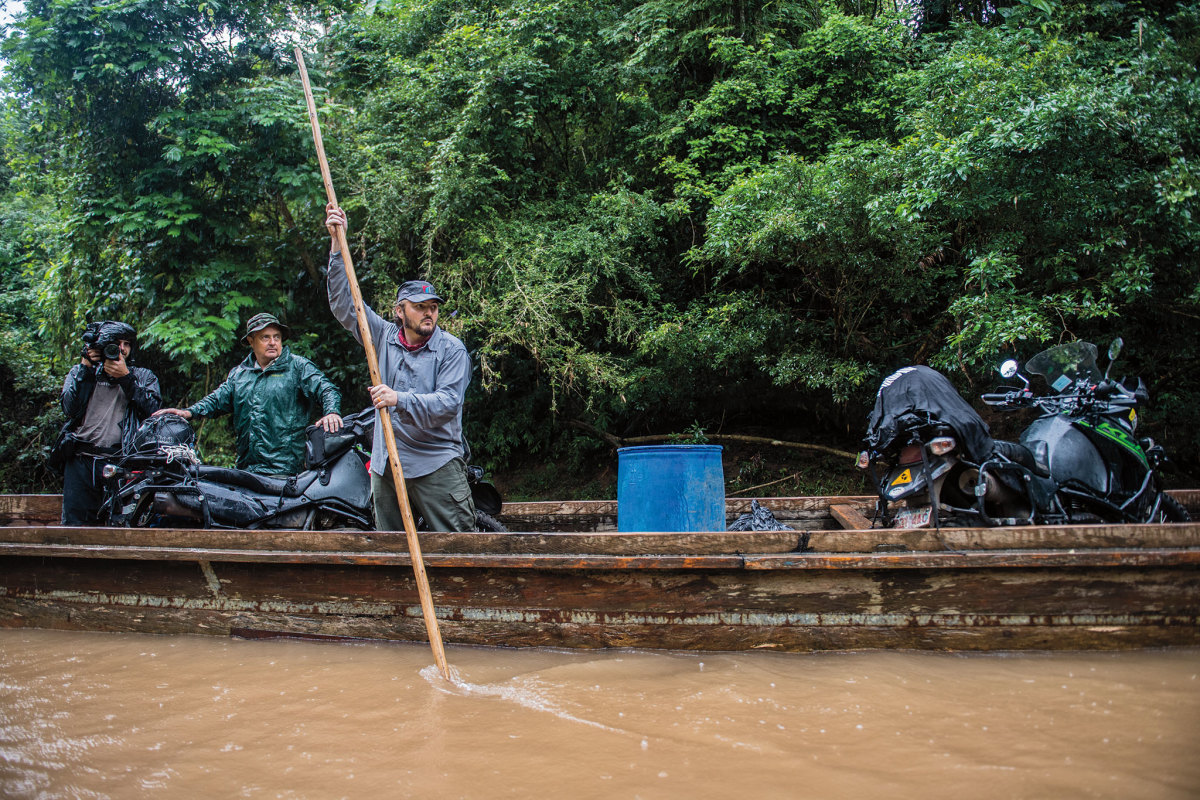 THE IDEA FOR THE MISSION goes back 14 years, when Mitchell was in charge of a platoon at Camp Victory in Iraq. One afternoon he turned to Eastham, one of his squad leaders, and said: "Wouldn't it be great if we took motorcycles all the way from Alaska to Argentina? We'd drive right through the Darien Gap!"
Eastham knew the jungle was hell on earth, full of poisonous snakes and insects, long stretches without water, and no logical passage for a convoy of fully loaded touring motorcycles.
"Fuck no," he replied.
Still, Mitchell wouldn't let it go. The idea was too intoxicating.
"Americans are so used to driving wherever they want to go, and as it turns out, you literally can't drive to South America," he says now. "That idea was fascinating to me."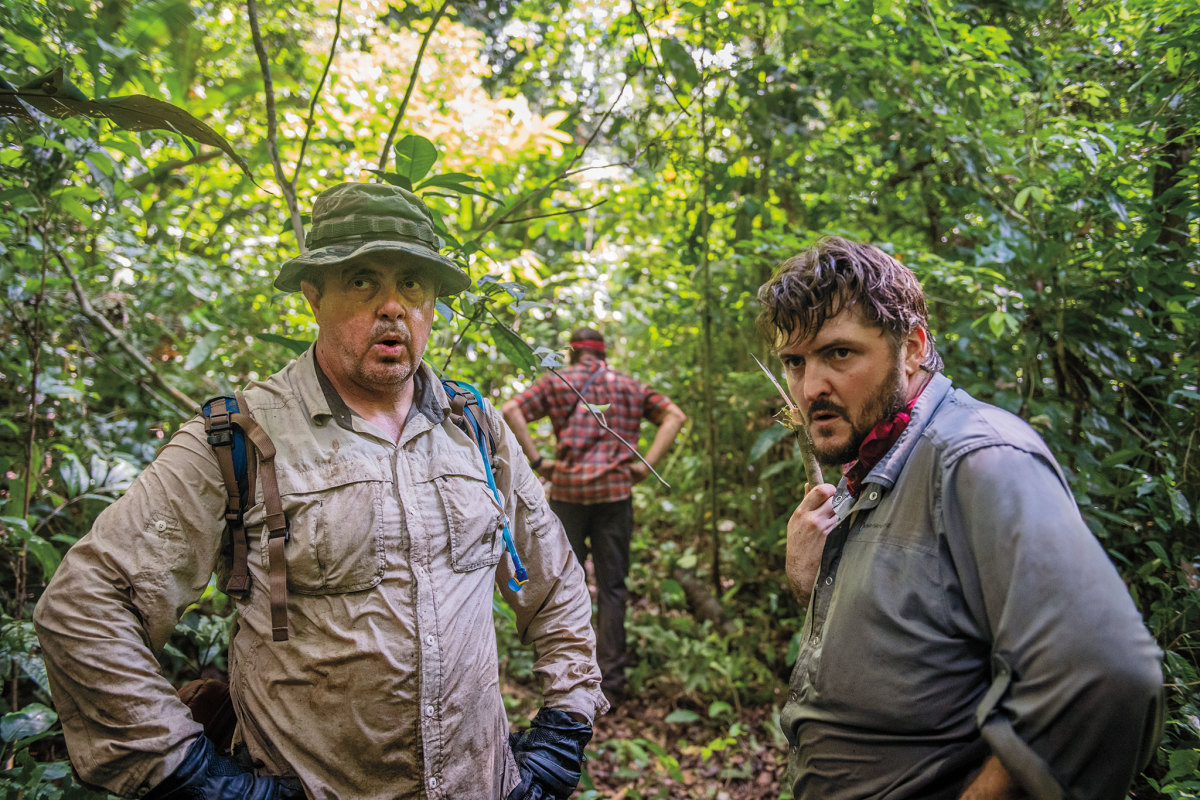 After the initial conversation, Mitchell called Eastham every six months to present a new angle on the trip. By the time Eastham was set to retire from the Army, he was on board. By 2015, the guys had begun planning in earnest. First, they recruited a couple of other veterans. Then they put together a support crew—two cameramen and a driver—who could document the journey. And finally, they pulled together sponsors to help with gear and funding. The whole trip, they figured, would cost $150,000.
Adventures of this scale tend to have clear motives, but for the veterans' two-continent tour, which they dubbed "Where the Road Ends," the goal was simple: Complete the mission. If there was a higher meaning, it would have to reveal itself on the way or afterward—or maybe never.
"The big question for each rider is why they're doing this," says Jake Hambly, 24, the videographer and de facto director. "These guys can't really answer that if you ask them. I've tried."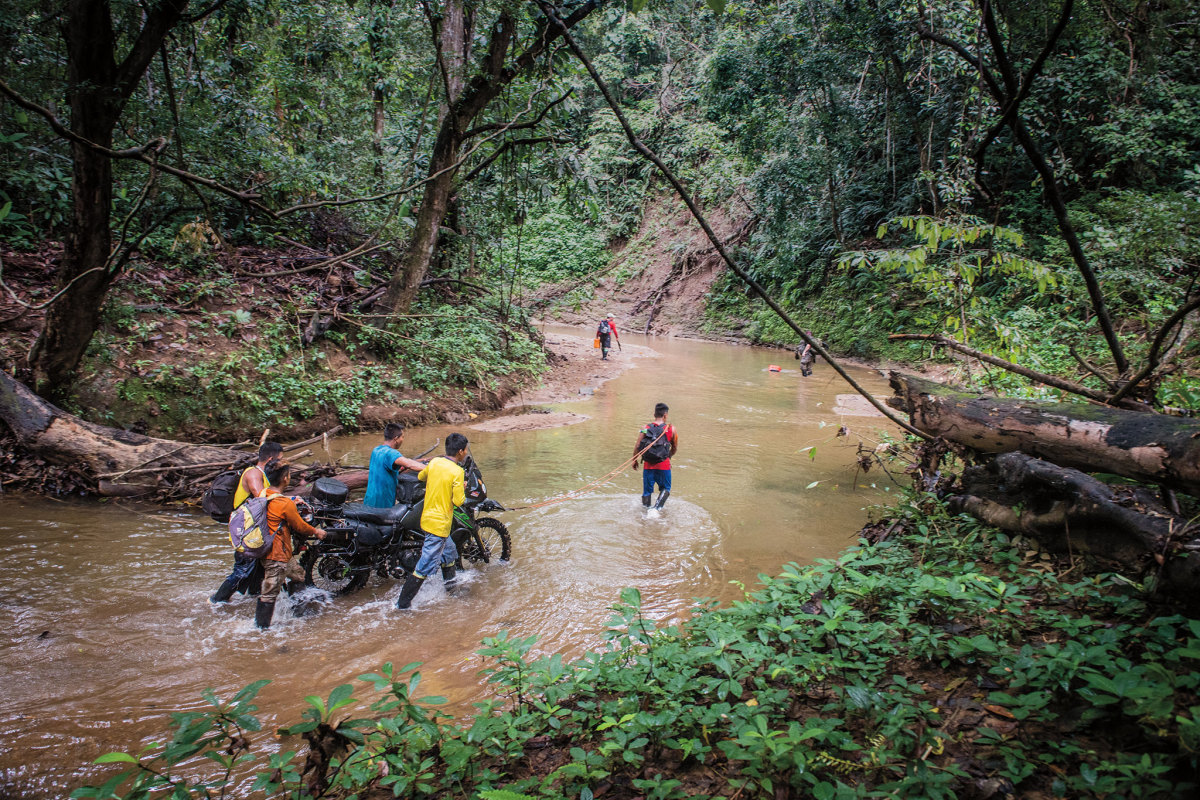 Inside the Black Boar, driving down Panama's Highway 1 after a pre-Gap munitions run—rubber boots, toothpaste, five packs of citrus wet wipes—the guys offer a look into the struggles of life after the military.
"I joined the army when I was 18, and that's all I did for 22 years," says Mitchell. "It's hard to get out of that environment and go into a government job."
"Honestly, I don't think I've ever been a better person than I was when I was in Afghanistan," says Edwards. "I was on my game, all the time. But you get home and suddenly your partner wants to go out. But crowds creep you out, and noises creep you out. Your relationship's falling apart, and you have to make sense of it."
The big question for each rider is why they're doing this. These guys can't really answer that if you ask them. I've tried.
After his yearlong deployment, Edwards' girlfriend left. And in the seemingly low-stakes life of a civilian, he felt his mind slipping.
"I called up my team sergeant and said, 'I think I'm in trouble,'" he says. "'I'm fucking hearing shit. I'm thinking about sandbagging my house.'"
The Where the Road Ends guys all know veterans who failed to find purpose in civilian life.
"You see these guys who put on a hundred pounds, and they just sit on the couch and watch TV and drink," says Edwards. "I don't even go into the VFWs. It's just a bunch of soggy old fuckers sitting around talking about their glory days in the war."
Groups like the Heroes Project and Veterans Expeditions demonstrate how exposure to wilderness can help former soldiers cope with life after war. Their success makes it easy to see Where the Road Ends as a form of self-medication. The guys aren't just checking off miles. They're dosing themselves with the adversity, danger, and teamwork they need to keep their shit together.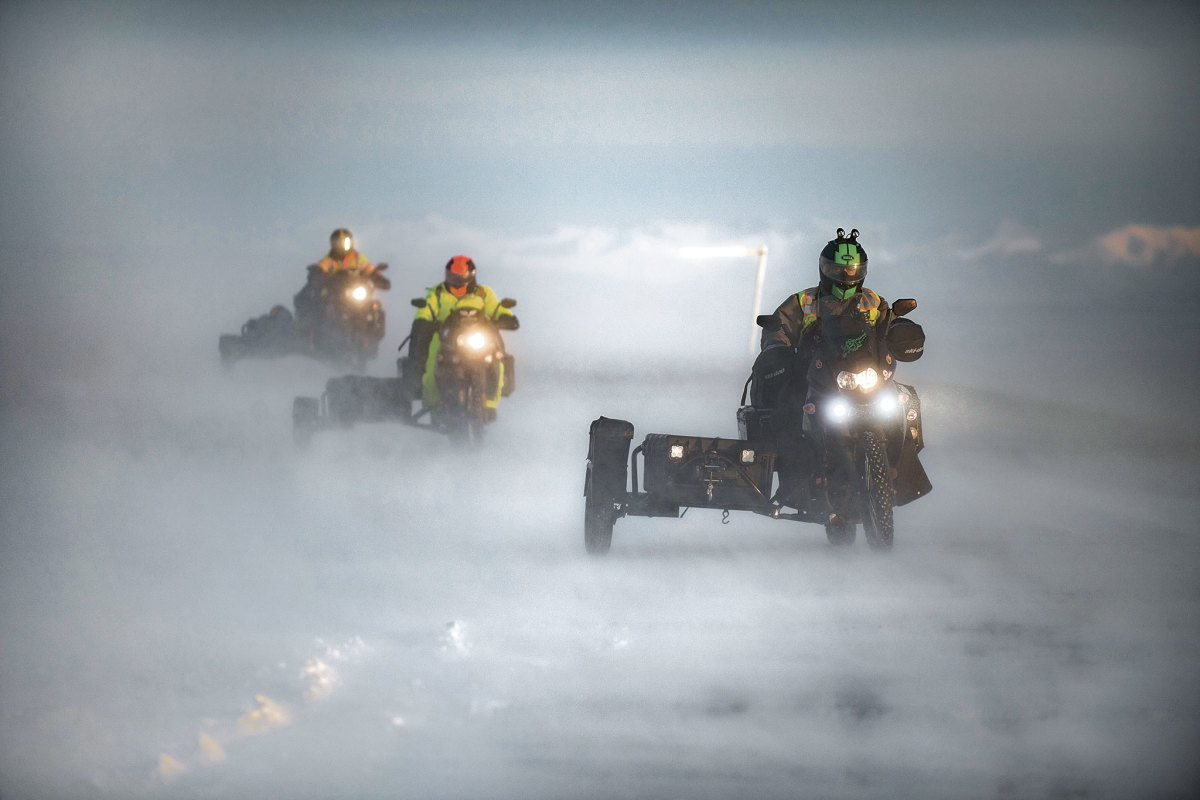 "We've all seen and done horrible things," says Mitchell. "You shouldn't ever have to take somebody's life, but the reality of it is that when you're in this job, you see death."
If this trip accomplishes one thing, even if the team's members are reluctant to say so explicitly, it's to provide a new way to frame the experience of life after military service.
"To be honest, I'm tired of hearing about post-traumatic stress," says Mitchell. "You can use the skills that you learned in the military to make the rest of your life more rewarding. We don't want our time in the military to be the one defining thing in our lives."
So on Veterans Day, Nov. 11, the four former U.S. Army men set out on 650cc dual-sport motorcycles fixed with custom sidecars to provide the stability they'd need during the first leg of the journey. In order to reach the Darien Gap during Panama's dry season, they had to start in the dead of the Alaskan winter, where 35-mile-per-hour winds blasted sheets of snow so thick they could see only the ghost of the pavement in front of them.
"I didn't think we had a prayer of getting through," says Edwards.
And day one only hardened his doubt. They were 135 miles north of the Arctic Circle, just starting up 4,739-foot Atigun Pass, when Edwards' electrical system malfunctioned amid the snowstorm.
"I had no headlight, no taillight—nothing," he says.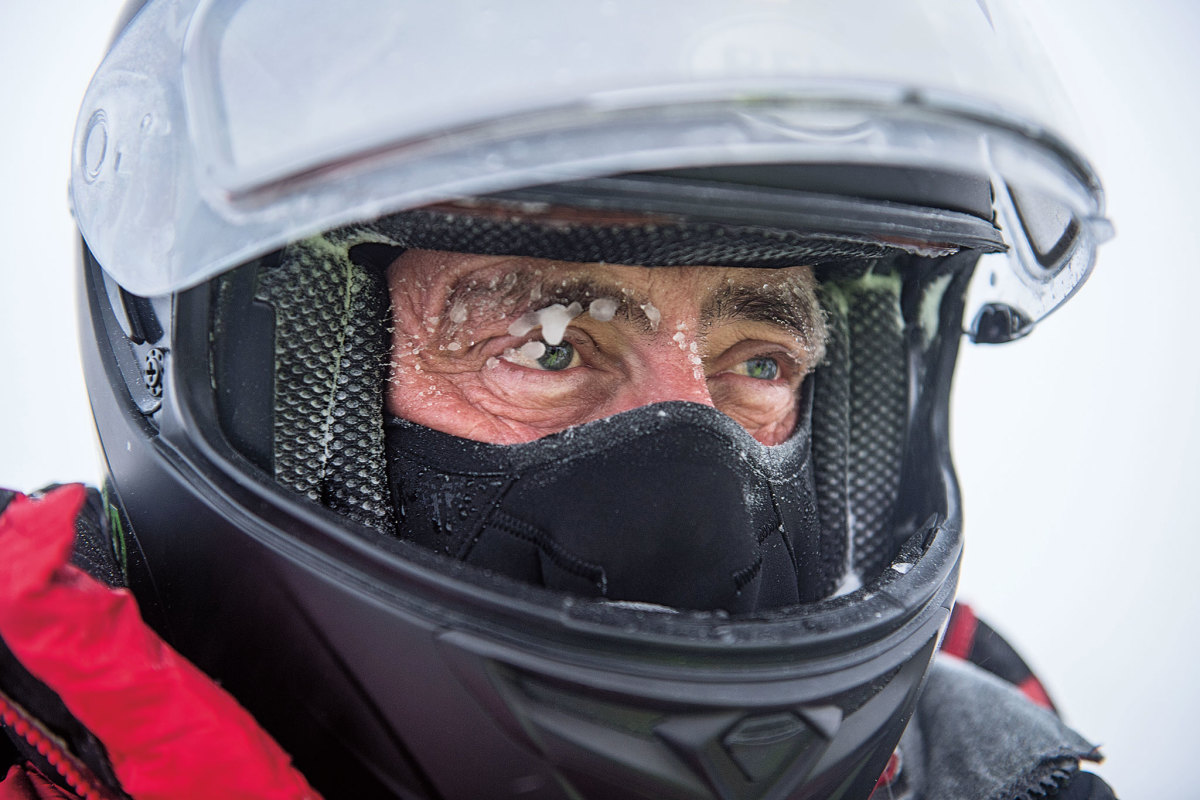 They started taking shelter in their tents when a truck rolled up.
"You guys got the latest weather?" asked the driver, a security guard from a nearby oil-pump station. "It's just building."
The temperature was expected to dive deeper into the negatives, and the winds would soon reach 50 miles per hour.
"You make it to Atigun, that might be your best shot," said the guard.
So after drilling fresh studs into their tires, the team drove on with Edwards navigating by the glow of Mitchell's taillight, the only thing he could see. They made it out of the wind and fixed the bike's electrical system. But a few days later, in British Columbia, a car hit ice, skid out of control, and smashed into Doering. The collision crushed the bike's radiator assembly and tore off a turn signal, and Doering was rushed to the hospital in the back of an ambulance. X-rays revealed no broken bones, but Doering was rattled. Afterward, he struggled to keep up with the group on the twisty roller-coaster roads in northern California.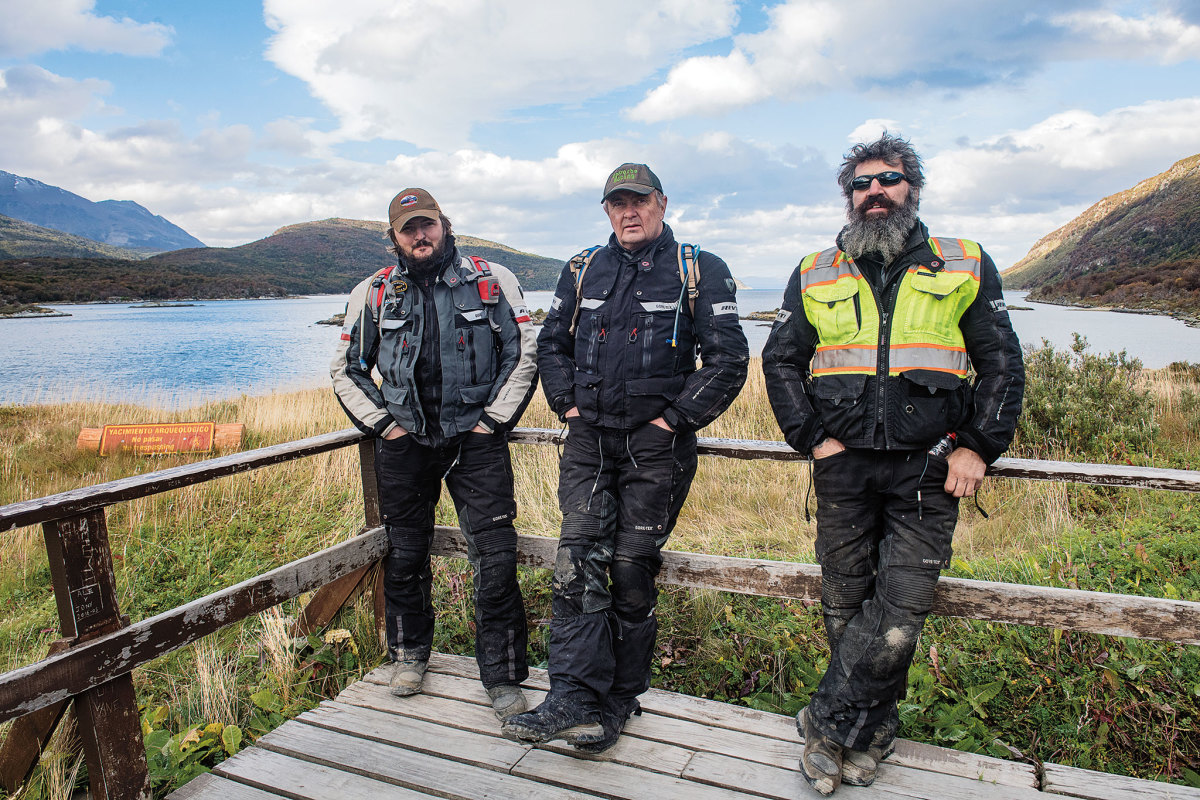 But if near catastrophes were common, so were moments of encouragement. In Costa Rica, a Kawasaki owner's club threw a rowdy party in their honor. In El Salvador, a stranger invited them to spend a couple of recovery days at his coffee plantation in the mountains. They'd experienced highs and lows, but none of them felt completely prepared for the jungle that lay ahead.
"It's going to be fucking miserable," says Eastham.
IN THE END, they made it through, but they lost Doering. Mud as thick as concrete caked around his tires and burned out his clutch. And after the accident in British Columbia, he'd had enough. He left his bike in the jungle, backtracked out of the Gap, and flew home to Alaska. The next day, Mitchell and Edwards lost their clutches, too, which left only Eastham's motorcycle operable.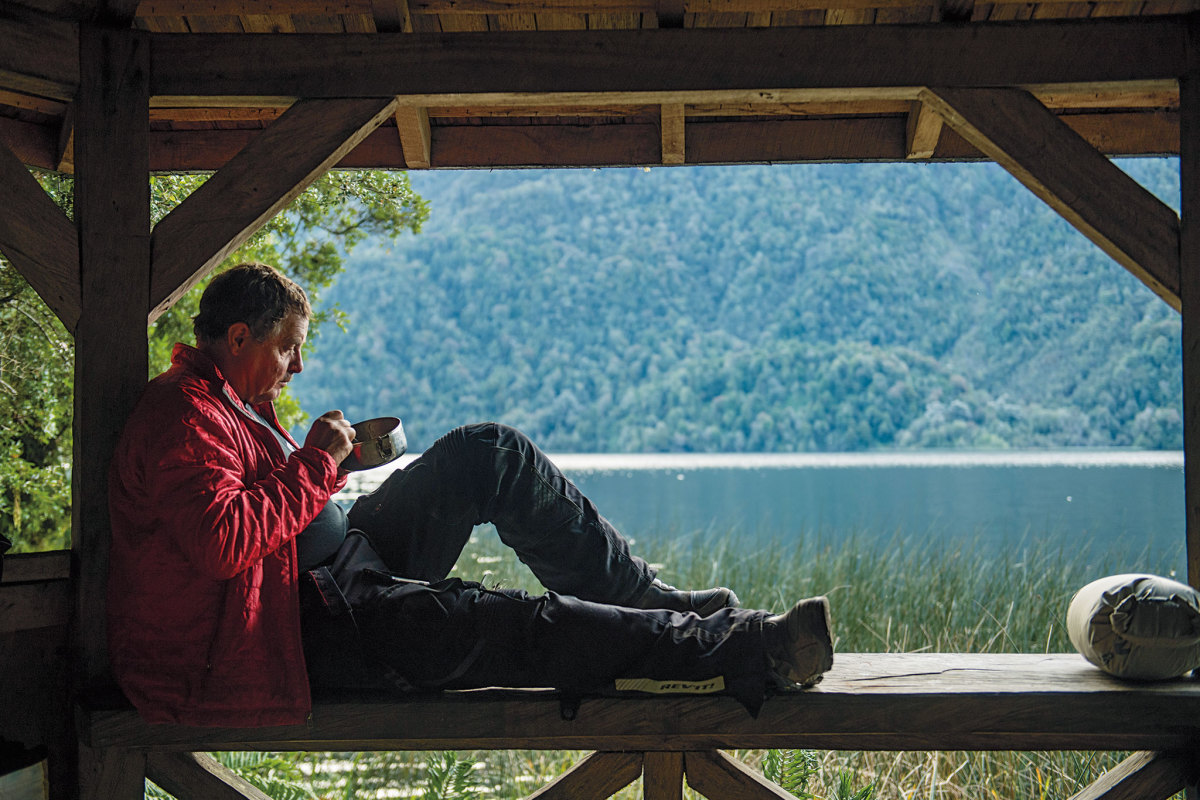 After discussing their options, the guys decided to keep moving. They'd come too far to turn back, and for the next six days, with the help of their Kuna guides, they pushed their bikes through the jungle. They strung rope bridges to sling the machines over ravines, and they loaded them into canoes in places where the river was deep enough to float. By the time they reached Turbo, the Colombian city on the southern side of the Gap, they'd exhausted their resolve. They holed up for 10 days of recovery, and when finally they were back on the road, they'd lost nearly three weeks to pre- and post-jungle logistics.
So the last six weeks were a sprint to the finish. Mitchell, Edwards, and Eastham had jobs and families to return to, and they'd need to cover 240 miles a day to finish on time. They passed through the Andes Mountains and the Atacama Desert, the driest place on earth. They detoured to see Machu Picchu, but otherwise stayed the course. On March 27, they reached Ushuaia, making them the first people to ride the entire length of the two continents on motorcycle in one continuous trip. Over five months, they'd ridden nearly 19,000 miles and covered the entirety of North and South America. They'd seen temperatures as low as –18 and as high as 100 as they passed through mountains, deserts, arctic cold, and sweltering tropical heat. During the journey, they'd had four birthdays. They'd dealt with smashed radiators, electrical shorts, and countless hours negotiating with border agents. By their estimate, 30 percent of their time was spent dealing with setbacks and adjustments.
"There were times I wanted to quit," says Edwards. "Like, we're going to get killed for something stupid. But then you get a good night's sleep, and a good meal, and you're over it."
They kept going, driven by an idea as elusive as it was powerful: All men suffer, but smart men choose how they suffer. They don't do it quietly or alone. They do it heroically, among brothers, with engines revved high and roaring.
"There are guys sitting at home watching a football game, drinking a beer, and talking about the good old days in the war," says Edwards. "And then there are guys out doing the next, best, exciting thing. I want to be the latter."
For access to exclusive gear videos, celebrity interviews, and more, subscribe on YouTube!