You know that feeling of anxiety that sets in when you visit a foreign city for the first time? The fear that you won't see it all, or that you'll never get the hang of things in this unfamiliar place? That fear doesn't exist in Florence. You simply sense the excitement in others as you wait in the taxi line. It feels like you're in a queue at Disney World, only now Florence is arguably the happiest place on earth. These people cannot wait to get into it, to see it for themselves. And this is the Florence travel guide to help you see it all.
So much of the how the modern world thinks—from art to politics to philosophy to religion—can trace itself to Florence. Dante, the Medici, Michelangelo, Brunelleschi, Galileo—these are just some of the names you'll hear repeated on your visit. And you'll be humbled by the David, The Birth of Venus, the Duomo, the Ponte Vecchio, high-quality (and low-cost) Chianti, and more.
Florence is for the young spirits and old souls, with Italy's renowned hospitality at your service and top-shelf cuisine on demand.
But rather than provide you with a strict itinerary, this Florence travel guide is a checklist of sorts. With this guide you can populate your map and schedule as you wish. Meander at your own will, and discover the Florence as you should: steadily, with appreciation. Savored, even.
Florence Travel Guide: Best Hotels to Stay
NH Collection Firenze Porta Rossa
A few minutes' walk from the Arno River and the Duomo, you'll find a giant open red door off the street, for which the five-star Firenze Porta Rossa is named. And it is something special: Porta Rossa is a 16th-century building with a 13th-century medieval tower. (You can rent the tower, if you're up for the 60-stair climb to the private apartment. It offers panoramic views of the entire city. You can even hire a private chef to dine with a view.)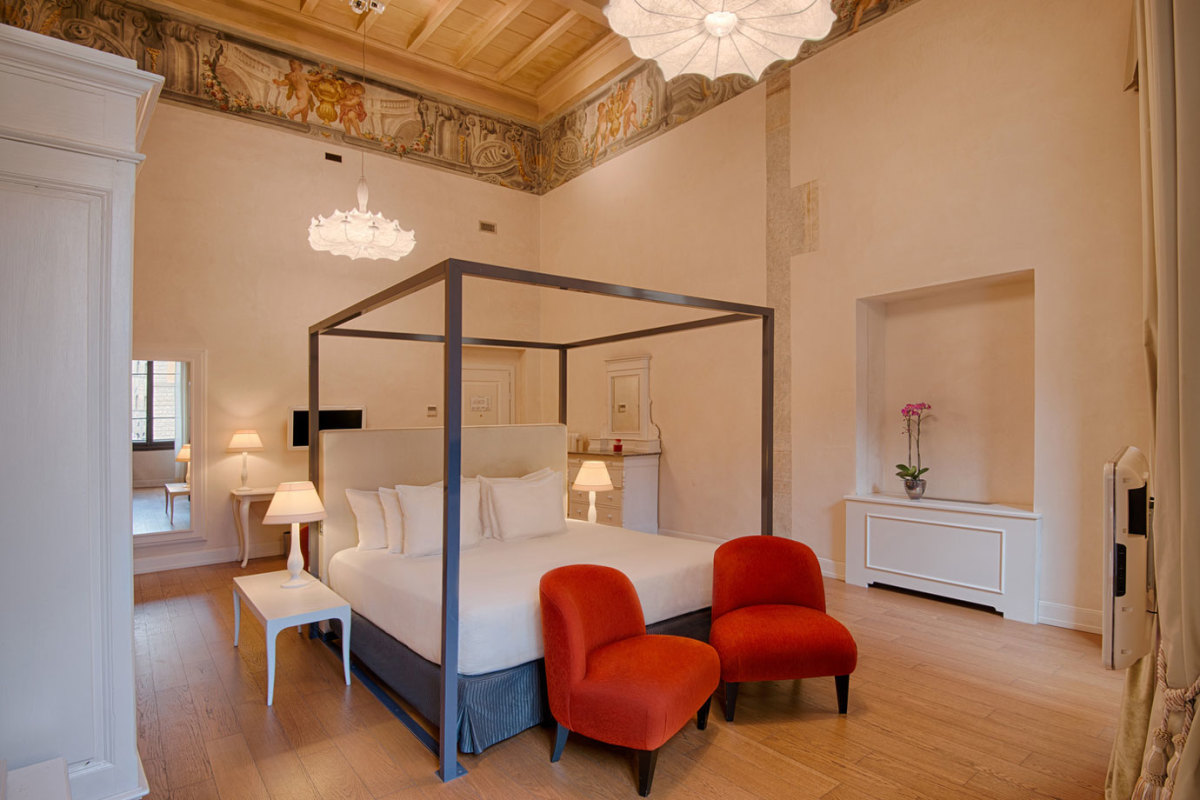 While most hotels come standardized—in which all rooms are like the others, save for a suite upgrade—this one is anything but. Every room has a different arrangement, each thoughtfully assembled to occupy its grand space. Porta Rossa is a marvel of uncovered original frescos, even within the 72 rooms themselves. Many of those abodes have some fantastic historical context, too. Mine (which is pictured here), was a filming location for the 1975 Mario Monicelli film, Amici Miei.
History aside—and that's pushing a lot aside—this hotel's furnishings, high ceilings, marble bathrooms, and rooms (again, every single one of them unlike the others) make this one of the most memorable hotels you'll ever encounter. Before you book, peruse the site for details on the rooms. Alternatively, call reception and discuss the nature of your trip. They'll help you pick the best one for you, since no two are alike. (It's kind of impossible to switch your room once you arrive, because each visit is so original.)
The Lungarno Collection: GALLERY Hotel Art
In Florence, 'five-star' may as well mean 'six-star.' The city's four-star offerings could compete with the best anywhere else in the world. And at the top of the four-star list in Firenze is the city's first design hotel—GALLERY Hotel Art—from the Ferragamo-owned Lungarno Collection. It sits just at the base of the Ponte Vecchio, but slightly tucked away into a quiet side street. (How that's possible in this part of town is baffling.)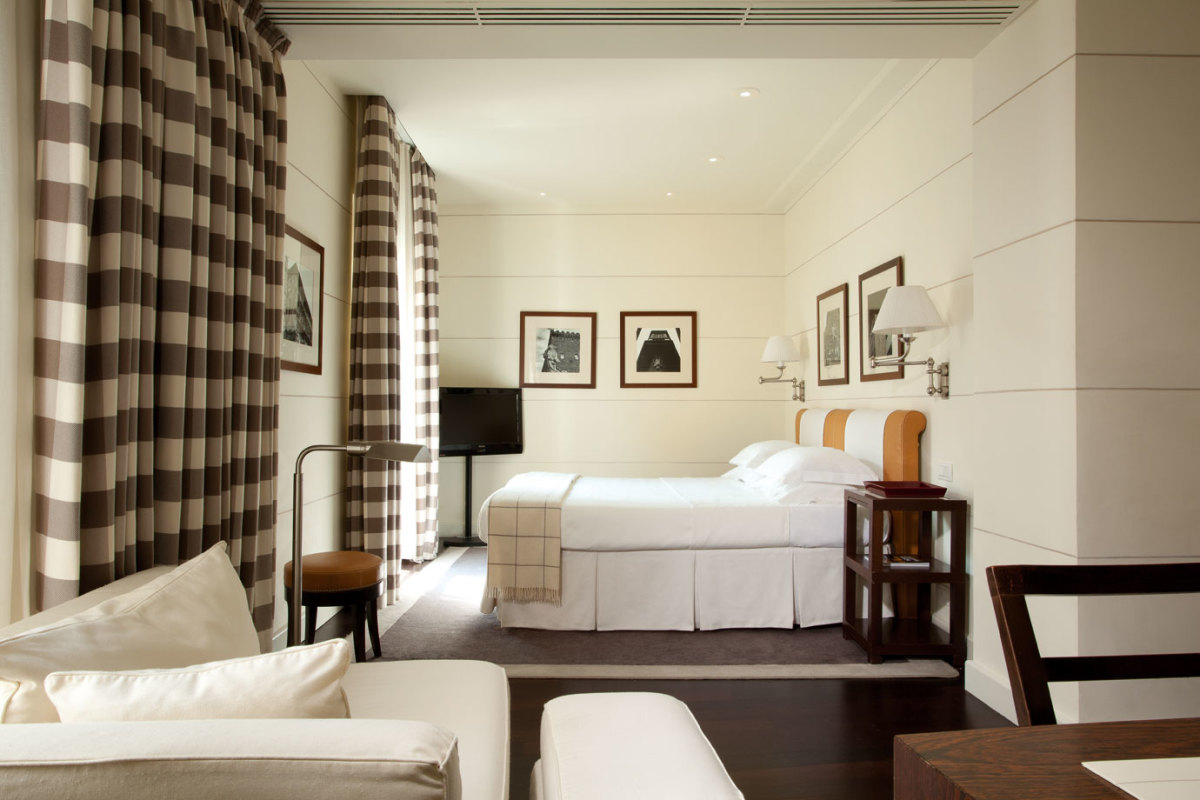 No modern detail is overlooked, from the boar-leather headboards and limestone bathrooms, to the art-adorned lobby and reading room. (Ask reception about the current exhibited art, as it often plays to a theme or celebration. And inquire about the façade install, which rotates frequently.) I ordered my complimentary breakfast to the balcony outside my room (as opposed to the super-king-sized bed), and ended the day with a nightcap at the onsite Fusion Bar & Restaurant, a Peruvian kitchen that employs Japanese technique (the word for that is "Nikkei" cuisine).
In this quiet corner of the bustling city—and directly across the River Arno—you'll find the other four hotels (four- and five-star) that round out the Lungarno Collection. Give them a call if you want to find the right one for your stay. Better yet, stay at GALLERY and then show your room key to tour the other public spaces. You can get breakfast at any of them, or enjoy a cocktail at La Terrazza (the terrace) atop neighboring Continentale.
Where to Eat and Drink in Florence
I could recommend 100 places. They're all in the winding, cobbled backstreets of the city center, or just outside of it. You won't have a hard time finding something authentic, but don't go in anywhere until you read reviews. (Of course, the best defense against a high-priced, canned-mushrooms knockoff is simply to ask the locals for their recommendations.)
I could also dive into a vocab lesson on the difference between trattorias, osterias, ristorantes, and enotecas. These days, they're all bending the rules and blending together anyway. Just know that enotecas used to serve only wine, but many have small tasting menus now. Ristorantes used to refer to formal and larger establishments, but the word has come to encompass both trattorias and osterias. And of those last two? Gosh, nobody can seem to cite the difference anymore. But those are the ones I suggest you watch for: Trattorias and osterias are usually family-run and more humble, with smaller and limited menus. They are the sweet spot for your visit.
Osteria del Cinghiale Bianco: You can't leave Florence without having wild boar, so why not go to the osteria named for it? (Technically its name is 'The White Boar'.) Order a Chianti with the wild boar and polenta.
Osteria Antica Mescita San Niccolò: This cozy dinner spot is just south of the river, en route to Piazzale Michelangelo. It's where you should order the massive Florentine steak you've heard rumors about (but don't order it alone, unless you're Shaq). A house chianti should pair well.
Cestello: If you came to this world-class city for some world-class fine dining, Cestello in Piazza di Cestello is among the best. And if you want top-shelf seafood, Cestello in Piazza di Cestello is among the best. The menu often evolves, but the pesce stays fresh, and the cozy ambiance persists with a warm bustle.
I Due Fratellini: Curb your midday pangs with a sandwich from this window shop, a longtime lunchtime staple. They have a roster of 30 sandwiches posted, though you can also make your own. Stick with the menu, I say, and order the #28 if you want the best. It's roasted prosciutto and heavy truffle cream, and it will haunt you by making inferior every sandwich you eat in the future. Oh, and they're a wine shop too. Get a glass, because when in Florence, or something.
Mercato Centrale: Just past the San Lorenzo street market is this indoor food hall that houses one of the city's Eataly grocery shops. That's more of a footnote, because you'll also find some two-dozen vendors selling all kinds of Italian fare here, from a pasticceria to a pizzeria, and a cafeteria to an enoteca. Go with your group, and everyone can get what they want—heck, even sushi, as a wildcard—and meet for lunch among the 500 seats.
Happy Hour in Piazza Santo Spirito: This is where Florence's hipsters and college crowds gather, and the piazza is lined various bars and restaurants, each with outdoor seating. Come after 7 p.m. (for "aperitivo" hour), order your Aperol spritz and nuts (or potato chips), kick the few pigeons that grovel near your feet, and then order another round. (Also, if you want a fun, not-overly done Instagram for the minitrek south across the river, pose in front of the ginormous doors of Basilica di Santo Spirito at the north of the square, for a humorous play on scale.)
Cantinetta Antinori Wine Tasting: The storied Tuscan label Antinori runs this wine bar in the ground floor of the family's 15th-century mansion. You can experience a Tuscan wine tasting—pairings and all—without leaving the city.
The Best Gelato in Florence: The title is hotly contested, of course, but mark your map for Gelateria Santa Trinita, Gelateria dei Neri, and Perché no round out your gelato to-do list. Get back to me with your favorite of the three.
What to See and Do in Florence
Florence is small and concentrated, with most of its historical attractions located near or along the River Arno. And while this is a Florence travel guide, not Florentine History 101, I suggest you populate your map with all of the following, and hit them as you pass by, or book ahead for private museums, when possible.
Also: One service I highly recommend is Get Your Guide, which allows you to book expert tour guides for various attractions. At the museums specifically, this allows you to enter a separate line (often no queue at all), as the guides are certified (so your money buys you time and expertise). Best of all, they'll give you the full understanding of the art, the artists, and the historical context. This is a city where a guide (or at least a good guidebook) is important. So come prepared, or else a lot of it will be lost on you.
In roughly descending order (it's all debatable), here are the essentials for your visit to Florence. Note that on the first Monday of each month, many of the attractions will be closed, and some museums are closed every Monday.
Il Duomo: Technically, Florence's world-famous church is named the Cattedrale di Santa Maria del Fiore. It's probably also the first thing you think of when you imagine Florence. Regardless of what you call it, this enormous Gothic cathedral and its Renaissance-era, Filippo-Brunelleschi-designed dome are at the heart of it all. You can buy a pass to tour the baptistery, cathedral, bell tower, dome, and onsite Museo dell'Opera del Duomo. But if you plan to include the dome tour in that agenda, you need to book ahead. Pro tip: If you want to see Il Duomo up close but without paying full freight or standing in the line, just get a ticket to the bell tower.
Piazza della Signoria: Located in front of Palazzo Vecchio (town hall), this square was the site of numerous major political milestones. It now houses remnants of eras past, with statues like towering Nettuno (Neptune), Hercules and Cacus, and a replica of David. (There are more than a few replicas in town, and you'll encounter the real one yet.) The piazza also houses the open-air gallery Loggia dei Lanzi, with masterpieces like Perseo (holding the head of Medusa) and the haunting Rape of the Sabines.
The Uffizi Gallery: The Uffizi is the most important art museum you need to visit in Florence, if not all of Italy. It's Renaissance heaven, with its da Vincis, Michelangelos, and Botticellis—most notably the latter's The Birth of Venus.
Galleria dell'Accademia: This sculpture gallery houses an impressive collection, all dwarfed by Michelangelo's original David. There's something in the way the statue is lit, and how it's framed in the space. Seeing the David is a religious moment, no matter how many replicas you've encountered. It is completely godly.
Santa Croce: Pay homage to the greats at this 13th-century basilica. It's the burial site for Michelangelo, Machiavelli, and Galileo, and has an empty sarcophagus memorial for Dante. Don't leave without admiring the frescoes in each chapel, or the gilded limestone Annunciation by Donatello.
Ponte Vecchio: Walking on this bridge is somewhat underwhelming, since it's a bunch of overpriced (but very nice) jewelry. (It feels like you're walking through the diamond district of Manhattan.) The bridge is more iconic from afar, as seen one bridge over east or west.
Palazzo Pitti: This palace was a Medici residence until the end of their dynasty, then was turned into the residence of the Tuscan heads of state. It now houses Renaissance and modern art, as well as exhibitions displaying Medici-era costumes, living quarters, silver, and more.
Medici Chapels and Basilica di San Lorenzo: The Medici mausoleums are here, as San Lorenzo was their "home" church. It's outfitted with Michelangelo sculptures and details, as well as a sacristy by Brunelleschi. (The Medici were no slouches, even in death.)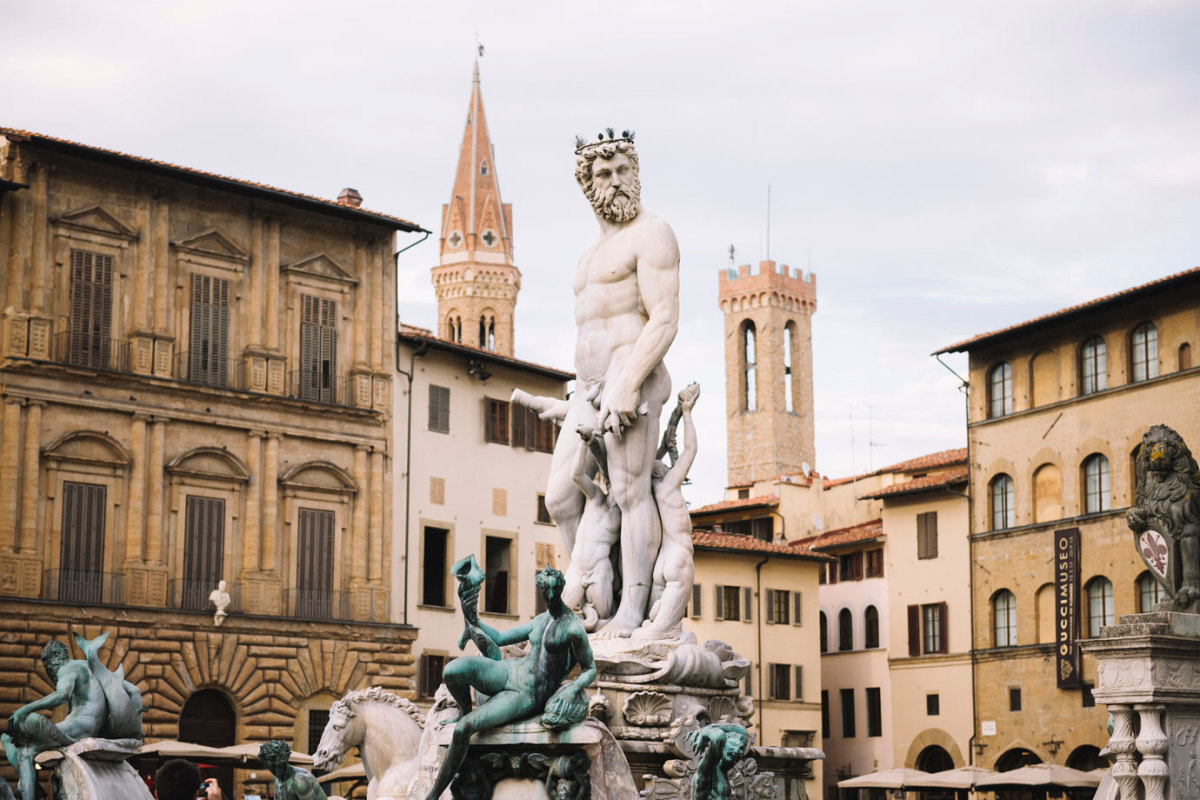 Piazzale Michelangelo and San Miniato al Monte: Hike up to the Piazzale for a gorgeous panorama of Florence from the south. The walk takes 20 minutes, but that last uphill stretch is a doozy in the heat. You'll see another David replica up here. If you can spare another hour, trek a few minutes further uphill to the Romanesque, 11th-century church San Miniato al Monte, and meander the Cimitero delle Porte Sante, the jaw-droppingly beautiful cemetery behind the church.
Lungarno: Essentially, it means "Arno riverfront walk." Do that. First in the day, then at night. Be charmed.
Mercado di San Lorenzo: Just outside the Basilica di San Lorenzo is this artisan market, where you can stock up on souvenirs like silk ties and scarves, jewelry, textiles, and more.
Boboli Gardens: Extending from Pitti Palace, this huge Medici-era sculpture garden is home to Neptune's Fountain, The Abundance, a porcelain museum, an amphitheater, and plenty more to discover as you stroll.
Piazza della Repubblica: This Roman square is the pulse of Florence's commercial center, and is worth a pit stop. Ride the merry-go-round, get an espresso along the perimeter (standing at the bar, of course), or marvel at the street artists replicating famous works of art in the sidewalk.
Bargello: This building has been through it. It's from the mid 13th century, and was the police headquarters, a former prison, and the site of many sieges and public executions. But…now it houses lots of Gothic art. Cute!
Palazzo Strozzi: The Strozzis were the sworn enemies of the Medici, and Filippo Strozzi built this beast to be bigger than his rivals' palace. Now—and you'll notice a theme—the building houses art. This one is home to lots of performance art, temporary interactive exhibitions, education programming for kids, but just as many oohs and ahhs from the peanut gallery as passersby marvel at the 15th-century detailing.
Oltrarno: The neighborhood housing Piazza Santo Spirito and Florence's young people, college students, and artists. This is where you get a sense of the future in a city otherwise focused on the past.
Porcellino in Mercato Nuovo: Wild boar is a must-eat in Florence, and this bronze fountain boar statue by Pietro Tacca is a must-touch. It's just behind the street vendors at Mercato Nuovo. It's tradition to drop a coin in the boar's mouth and watch it fall into the fountain, while simultaneously stroking its snout for good luck.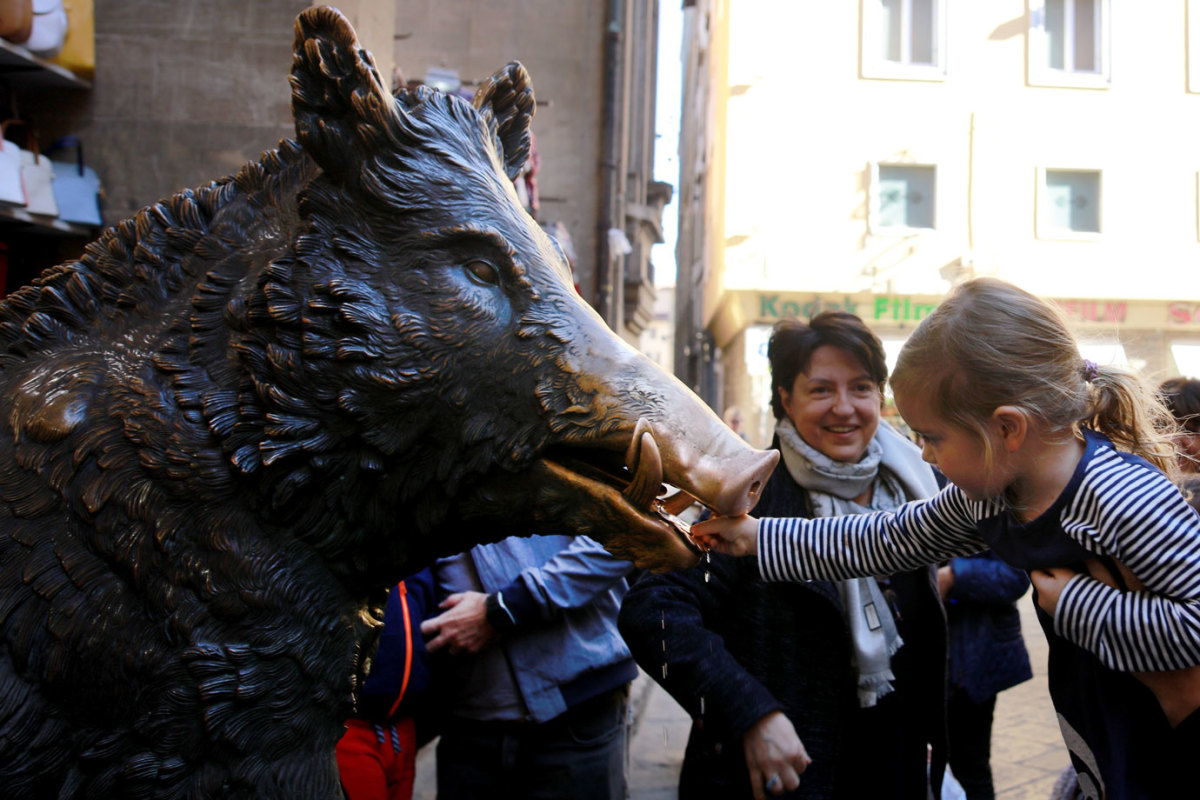 Santa Maria Novella: Another Gothic architectural masterpiece, with a 13th-century convent and Brunelleschi-designed interiors. Look for Masaccio's Trinity painting as you enter from the side, and Giotto's magnificent, gold-lined Crucifix overhead.
Museo Galileo: You can also take a detour south in the city to Villa Il Gioiello, where Galileo lived the last 10 years of his life under house arrest by the Inquisition. (He died there in 1642). You can schedule private tours (and a shuttle) with the Museo Galileo to the property.
Gucci Gardens and the Ferragamo Museum: These historic Italian houses have rotating exhibits that somehow tie into the brand's history and traditions. (An "Italians in Hollywood" exhibit centered on shoemaker Salvatore Ferragamo's influences on the film industry after relocating to Los Angeles.) If the exhibits aren't of interest—they can be hit or miss—at least peruse the merch at the flagship stores. Whether you're the target demo or not, those handbags and pumps are as artful as the rest of this town.
Day Trips from Florence
I'd bet you only need three days to conquer Florence, depending on your time in museums and waiting in lines. (Again, book ahead when you can!) Besides, you're in the heart of Tuscany, and there's plenty you can do with that extra day. Here are some things to consider:
Pisa: Let's be honest, you're traveling here to take an Instagram photo. And yeah, you should probably see the Leaning Tower in your lifetime. So it's worth the haul, and certainly worth the likes.
Siena and San Gimignano: With their meandering and hilly side streets, these two cities (or town, in the latter's case) make a smart pairing for a day trip south of Florence. You can climb the towers of the walled-in San Gimignano, or learn about the 17 contrades of Siena. Citizens pledge allegiance to these "houses," almost like a giant prideful fraternity war. The tension comes to a head twice each summer in the town's famous horse race, the Palio di Siena, in the central Piazza del Campo.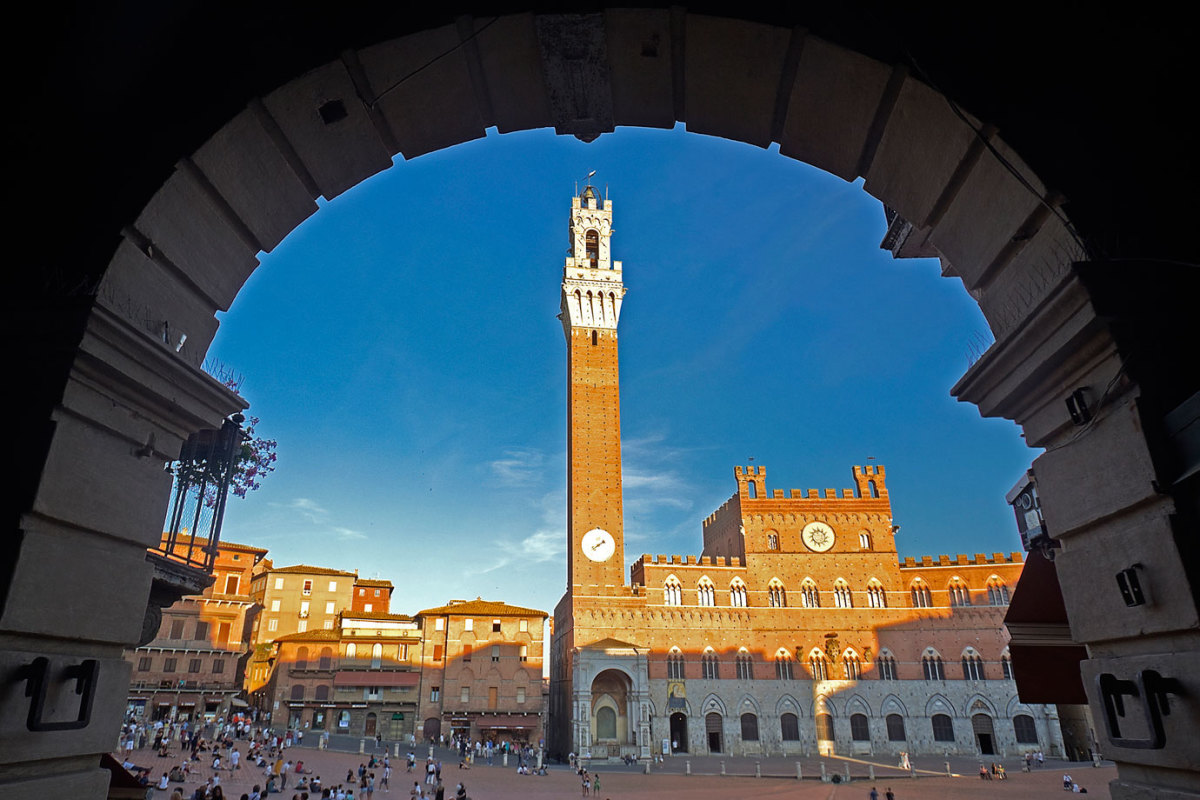 Fiesole: If Etruscan and Roman ruins are your jam, then Fiesole is the bread on which it is spread. (The Villa Medici is incredible, too. Book ahead.)
Tuscan wine tour: Last but certainly not least. You're in the heart of Tuscany, why not try Chianti from the source? Two of the most popular vineyards are Antinori Chianti Classico and Barone Ricasoli, but if you want a more comprehensive regional tour, the Super Chianti Day Trip comes recommended by a local concierge as a thorough experience through Chianti and Chianti Classico.
You can use Wikifortravel to search and compare prices for Covid testing locations in Florence prior to your trip back home.
For access to exclusive gear videos, celebrity interviews, and more, subscribe on YouTube!