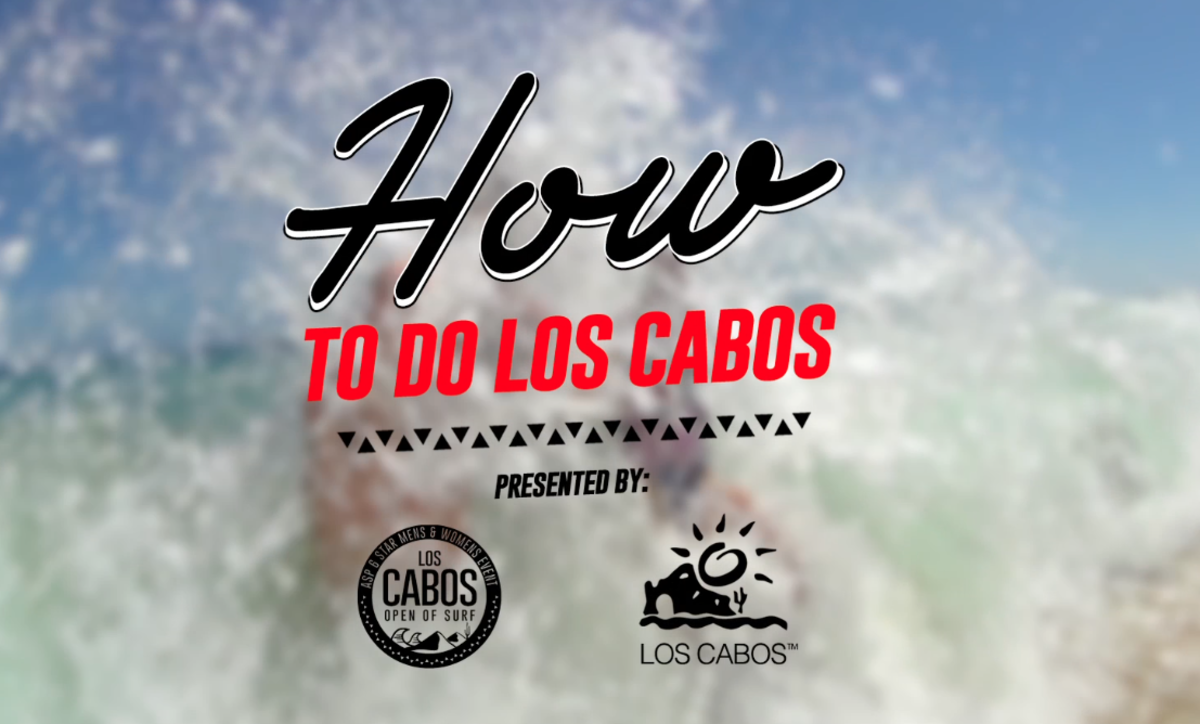 Los Cabos, Mexico, has been a favorite destination for traveling surfers since the early '70s. With an endless variety of waves to choose from as well as plenty of extracurricular activities for out-of-water fun, Los Cabos is the go-to trip for surfers in need of a quick weekend getaway or an extended soul-surf mission. Just a short flight from Southern California, the Los Cabos region is known for its great year-round weather, warm, clean water, inviting local culture and cuisine, world-class fishing, incredible resorts, and, of course, its raging nightlife. With south-swell season coming in hot, and with Mexico's biggest surf event, the Los Cabos Open of Surf, kicking off in June, we figured it was the perfect time to get you prepped and ready for your own trip down to the awesome Los Cabos area.

Shot on location in Los Cabos and hosted by GrindTV's Chris Cote and professional surfer Anastasia Ashley, this is your guide to a fun-packed three-day trip to Los Cabos. Get your sunblock ready: It's time to hit the tip of Baja, see the sights, surf the waves, eat the food, and soak up the sun!
Where: Los Cabos is located at the southernmost tip of the Baja Peninsula, about an hour-and-a-half flight from San Diego. There are three main regions of Los Cabos: the East Cape, the Corridor (San Jose del Cabo), and Cabo San Lucas.
When: Primetime south-swell season is June through September in Los Cabos. Consistent waves and favorable winds persist in these months, as well as hot temperatures that mainly hover in the 90s, with water temps between 70 and 80 degrees.
Who: Surfers and sun lovers of any age and skill level. The waves in Los Cabos range from long, soft pointbreaks to dumping beachbreaks to rocky reef peaks offering up waves suitable for beginner to expert surfers.
How: Fly into Los Cabos International Airport, then rent a car or take a shuttle to your hotel or destination. Camping is available on the East Cape, as well as numerous private home rentals.
How much: A weekend trip to Los Cabos can be an inexpensive affair, with flights from Southern California usually going between $300 and $500 round trip. Cheap hotels are readily available as well. On the flip side, Los Cabos is a high roller's dream, with some of the best golf resorts in the world and mansions that would make Jay-Z question if he could afford a stay or not. When you land at the Los Cabos airport, the lineup of private jets will tell you that you're in a baller's paradise, but when you buy a $1 beer at a cool little beach bar, you'll realize that anyone can afford Los Cabos.
What to bring: Standard shortboard, fish shortboard, trunks, wetsuit top, short-arm fullsuit or fullsuit for the Pacific side (for dawn patrol and/or windy days). Sunblock, sunglasses, hat, wax. You do need a passport for travel to Mexico. One of the best parts about traveling to Los Cabos is the simplicity, and if you forget something, no worries: There are plenty of surf shops for whatever you may have forgotten.
More from GrindTV
Living local: Salt Gypsy's guide to the Maldives islands
Hometown guide with pro skateboarder Ryan Sheckler
For access to exclusive gear videos, celebrity interviews, and more, subscribe on YouTube!