Branded Content
How to Explore the Best of West Virginia's State Parks and Forests This Fall
This article was produced in partnership with West Virginia Tourism
You often hear West Virginia referred to as "wild and wonderful." That's not just a catchy tagline. The Mountain State overflows with outdoor excursions, cozy cabin hideaways, and dazzling fall foliage that'll leave you speechless. Ancient highland ridges, plunging canyons, glimmering lakes, dense forests, and other natural wonders make up this tapestry of terrestrial treasures.
As the third-most forested state in the country, you're invited to roam more than 1.5 million acres of unspoiled parks and public lands—meaning your next adventure is never too far away. With 35 state parks, plus nine state forests and three rail trails, Almost Heaven is a spellbinding escape that ticks all the boxes.
Over the last two years, over $150 million has been put into renovations to upgrade all lodging facilities. Whether you're into "roughing it" at rustic campsites packed with heart-racing thrills, or looking for a more relaxed and refined retreat, you'll find it all in West Virginia's pristine wilderness.
To get your wheels turning, we've compiled some of the top State Parks and Forests where you can soak in all the seasonal glory this fall. We've even tied in some winter travel inspiration. So, what are you waiting for? Start planning your autumnal escape to reconnect with nature and finally get that fresh air fix you've been craving.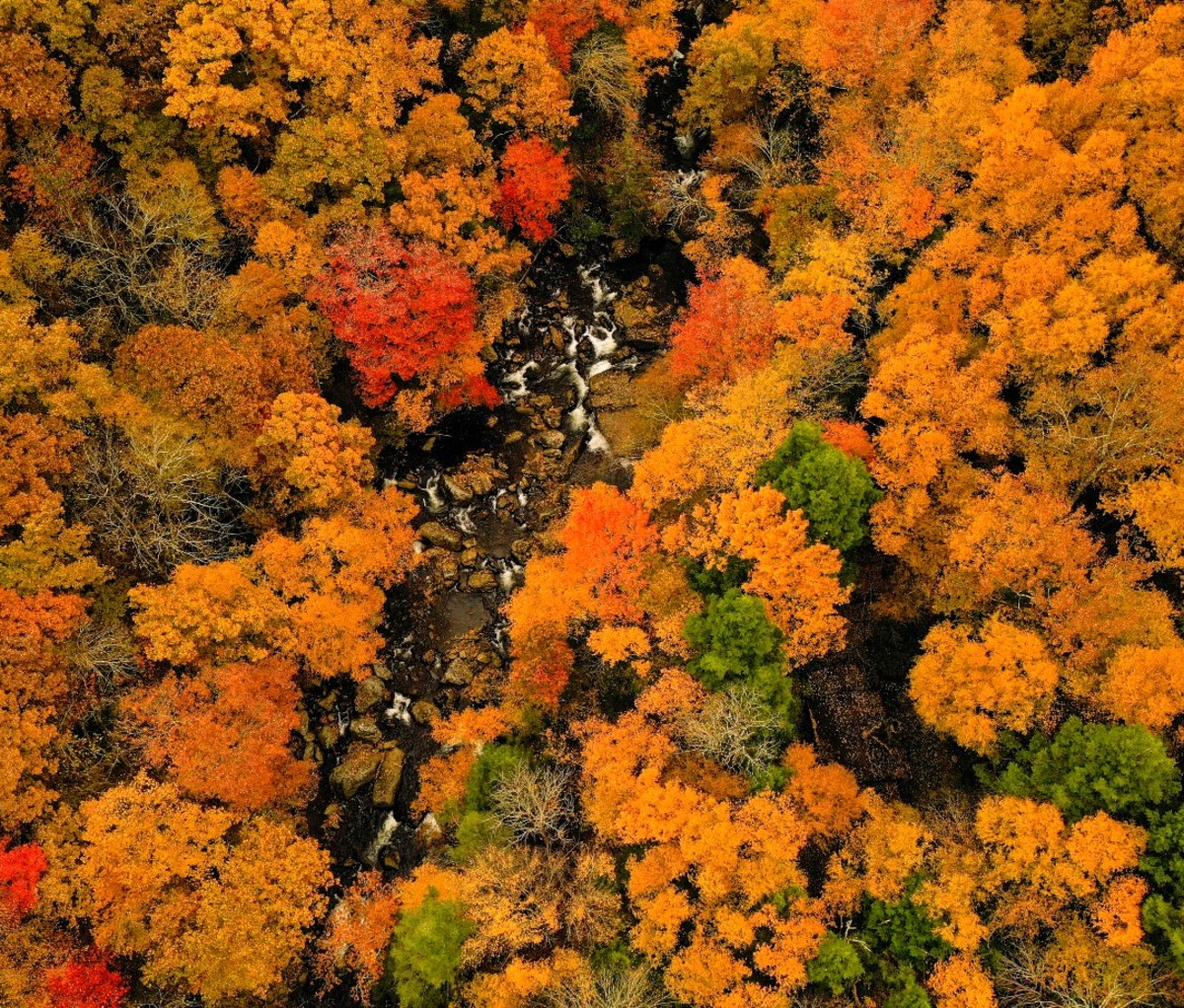 1. Babcock State Park
Looking for a picture-perfect getaway? Be sure to bookmark Babcock State Park. Undoubtedly one of the most iconic spots in West Virginia is Glade Creek Grist Mill. Hovering above rushing cascades, this fully functioning replica of the original Cooper's Mill was completed in 1976 using upcycled parts from three other mills that once dotted the state. With fall foliage on full display, the scene looks like a real-life Thomas Kinkade painting. You can even fly your drone to snap the quintessential shot—just stop by the park office beforehand to get the greenlight.
What to do: Sprawling across 4,127 acres (and just a 30-minute drive from the New River Gorge National Park and Preserve, the nation's newest national park), Babcock State Park is teeming with adventure. There are 15 hiking trails to pick from, mostly easy to moderate in terms of difficulty. Hit the 2.5-mile Narrow Gauge Trail to follow along the now-defunct Mann's Creek Railway. For a more challenging route, check out the 2-mile Ridge Top Trail, replete with steep uphill climbs and some of the highest elevations in the park. Mountain biking is also allowed on many of the trails. For an aquatic adventure, head over to the 19-acre Boley Lake. Fishermen can reel in trout, largemouth bass, bluegill, and more. You can also rent paddleboats, rowboats, and canoes seasonally at the Boley Lake Marina.
Where to stay: Babcock State Park is especially popular with camping enthusiasts. The 52-unit campground can accommodate tents and trailers, with 28 of the sites offering electric hookups, including four accessible sites. Visitors can also book one of the park's 28 wood or stone cabin rentals. The first 13 are strung along Glade Creek—just a stone's throw from the legendary grist mill—while the remaining structures are nestled deeper into the park. The ADA-accessible Vacation cabins serve up modern interiors and amenities like heating, air conditioning, gas fireplaces, televisions, microwaves, and more; while the Legacy cabins (built by the Civilian Conservation Corps in the 1930s) are a touch more rustic, but feature multiple-room floorplans with electricity and water. Alternatively, you can snag one of the wood-frame Economy cabins, which come with bunkbeds and combine the bedroom with the living and dining rooms. If you're planning to bring your four-legged friend, 13 cabins are designated pet-friendly.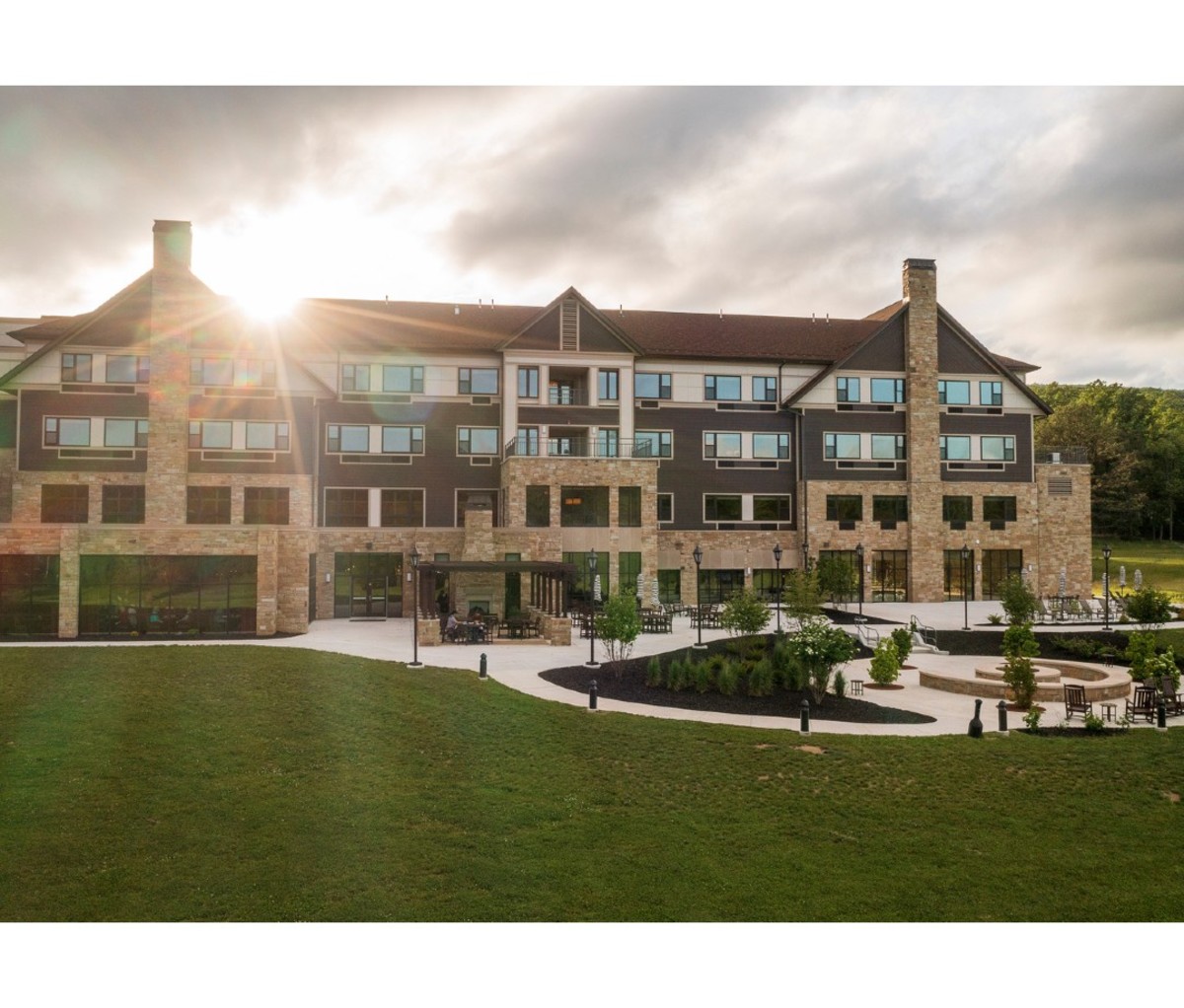 2. Cacapon Resort State Park
West Virginia's Eastern Panhandle remains a popular escape thanks to its epic scenery, historic points of interest, and convenient proximity to hubs like Baltimore and Washington, D.C. This captivating region is also home to Cacapon Resort State Park. Tucked away in a folded mountain ridge, this park encompasses more than 6,000 acres and tends to lure lovebirds, history buffs, daredevils, and families. A visit here is like a choose-your-own-adventure getaway. Whether you're chasing a wild, untamed experience or seeking a more laid-back, restorative vibe, you're bound to find it here. Bonus: It's only about an hour from the Beltway.
What to do: For a rugged retreat, take advantage of the park's challenging single-track biking trails, marked by mountain switchbacks and varying terrain. Hikers can take off on nine different trails that wind over 23 miles. Trek up to the Cacapon Mountain observation deck (one of the state's most Instagrammable spots) to get jaw-dropping overlooks of West Virginia, Virginia, Maryland, and Pennsylvania all at once. You can also explore the park on horseback. Triple-C Outfitters is a family-run riding stable that's been offering guided tours in the region for more than two decades. Golfers flock to the park to play the 18-hole championship course, which features 73 sand bunkers and a commanding double green that's over 100 yards wide. Designed by famed golf course architect Robert Trent Jones, Sr., it ranks among the top 130 best-designed courses in the country. You can also grab a few buddies for some friendly competition. Game courts for tennis, basketball, sand volleyball, and even wobble clay shooting are available.
Where to stay: Searching for a sophisticated stay? The recently renovated 124-room Cacapon Resort is the newest lodge in the West Virginia State Parks System. The luxury property offers indoor and outdoor dining plus the full-service Healing Waters Spa. Fun fact: The area is known for its rejuvenating mineral springs and the name "Cacapon" is derived from a Shawnee word meaning "medicine waters." The park also has a collection of cabins in four different styles to customize your stay: Vacation, Legacy, Classic, and Economy. The advantages depend on which category you book, but they all offer the basics, like running water, electricity, fully equipped kitchens, and showers. There's also The Old Inn, a palatial 12-room cabin that sleeps up to 32 people. Its impressive claim to fame is being the very first lodge in the West Virginia State Parks System.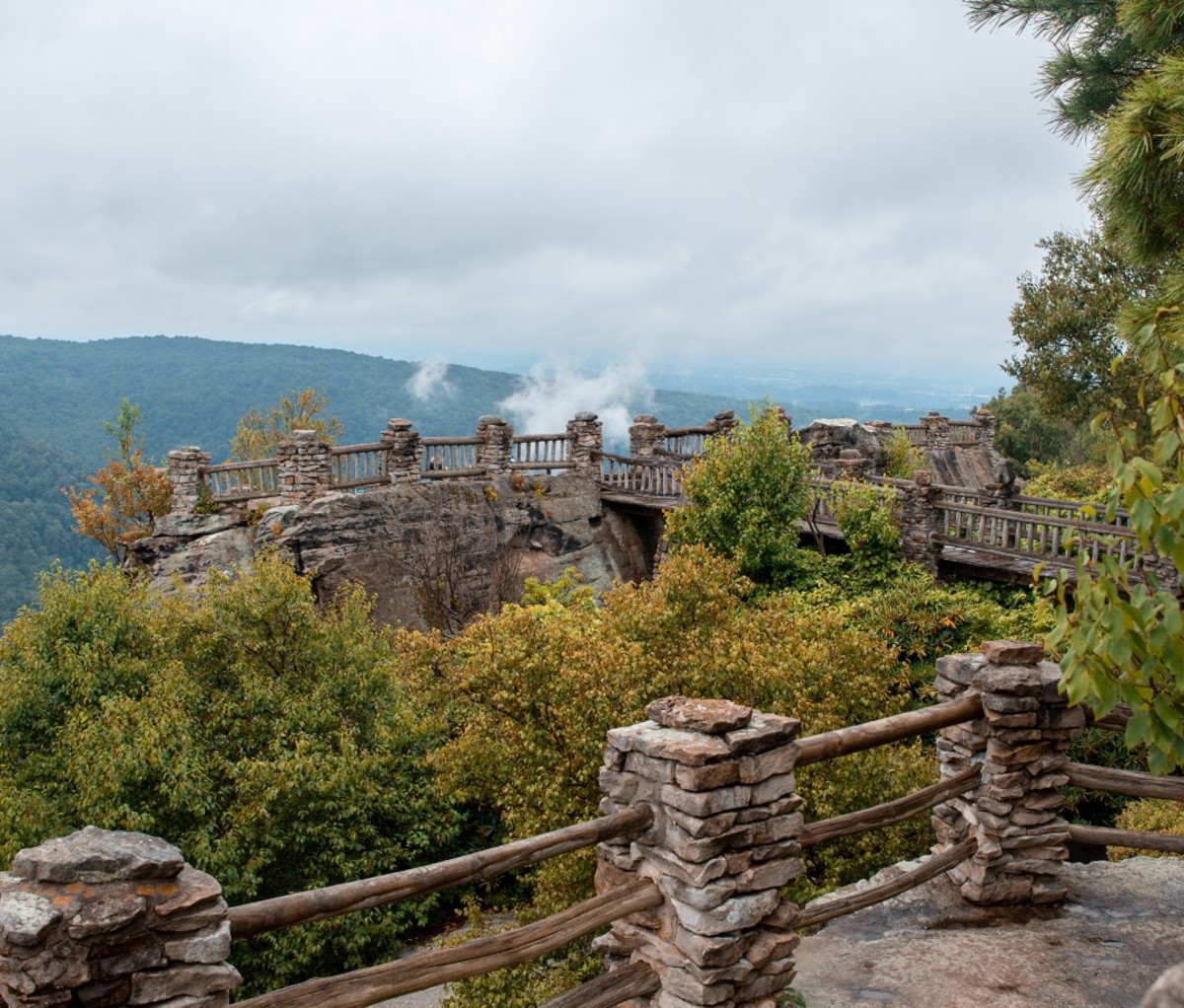 3. Coopers Rock State Forest
When it comes to dishing out truly astounding vistas, Coopers Rock State Forest doesn't mess around. There's a reason it's so well-known (and well-loved by locals and visitors alike). Located near bustling Morgantown, deep in the heart of Mountaineer Country, Coopers Rock State Forest is a wild, weathered playground. It's a top spot for West Virginia leaf peeping thanks to its panoramic canyon gorge views. As autumn comes to an end, visitors swap their hiking boots for cross-country skis to take advantage of the park's snow-covered trails.
What to do: Explore nearly 50 miles of well-maintained trails that carve through the scenic 12,747-acre forest. For a glimpse back in time, follow the Henry Clay Iron Furnace Trail, which leads intrepid trekkers to a massive stone structure formerly used for iron production in the 1800s. Licensed hunting and fishing in the six-acre, trout-filled pond are time-honored pastimes here. Staggering sandstone overhangs also draw climbers and bouldering buffs. And the nearby Cheat River is a prominent whitewater rafting destination with Class IV rapids.
Where to stay: Coopers Rock encompasses two campgrounds, each with 25 individual sites. The pet-friendly McCollum Campground is ideal for smaller RVs and tents, offering electric, Wi-Fi, showers, and outside faucets. The Rhododendron Campground is the more primitive option. Trailers are prohibited and sites are best suited for tents and hammocks. But each site comes with its own firepit—perfect for swapping ghost stories around the crackling flames. Alternatively, you can stay at a number of properties just beyond the forest's borders. You'll find Lakeview Golf Resort & Spa sitting on 500 sprawling acres with two unique championship golf courses. Other perks include a world-class fitness center, indoor and outdoor pools, plus easy access to all the charms of Morgantown. With overlooks of the Monongahela River, the Morgantown Marriott at Waterfront Place is another solid option. This award-winning property is known for its stellar service and boasts 207 rooms and suites with a modern organic design. Don't miss Bourbon Prime, the on-site restaurant that celebrates the Appalachian spirit and highlights locally sourced and seasonal ingredients.
4. Tomlinson Run State Park
Live out your family camping dreams this fall at Tomlinson Run State Park, roughly 40 miles from Pittsburgh. Locals joke that it's West Virginia's "top" state park, because it occupies the foremost tip of the Northern Panhandle (just a few miles from Pittsburgh). Located along the Ohio River, the heavily forested hideaway covers nearly 1,400 pristine acres. Rolling hills, untouched wilderness, and craggy sandstone cliffs make this park a nature-lover's paradise. But it's also home to some of the best camping in the Mountain State with tons to do. It's worth adding to any bucket list—especially when the fall colors hit their peak.
What to do: This kid-friendly park offers plenty of recreational activities fit for the whole family. Seasonal offerings like kayak and paddleboat rentals, miniature golf, and a swimming pool (complete with a snack bar and 182-foot waterslide) are especially popular with little ones during the hot summer months. The park also has numerous picnic shelters, perfect for staging a memorable afternoon outing as the temperatures start to dip. Afterwards, stroll along six designated trails through woodland hills and wildflower meadows. And for a quirky road trip pit-stop, don't miss the "World's Largest Teapot" standing 14-feet tall in the nearby town of Chester.
Where to stay: At the end of the day, the park's real draw is its impressive campground. Tomlinson Run rose to fame for its pair of unique yurts. Each of the circular, weather-tight tents sleep up to five guests and come with everything you need for a cozy, unforgettable stay, including a cooler, propone stove, lantern, and cookware. For the purists, there are also 55 traditional campsites (39 offer electric hookups) plus three fully furnished Camper Cabins (two of which have electricity). And for a true off-the-grid experience, ask about their rustic camping area. The campground features a contact station, convenience store, dump station, and bathhouses with shower and laundry facilities onsite.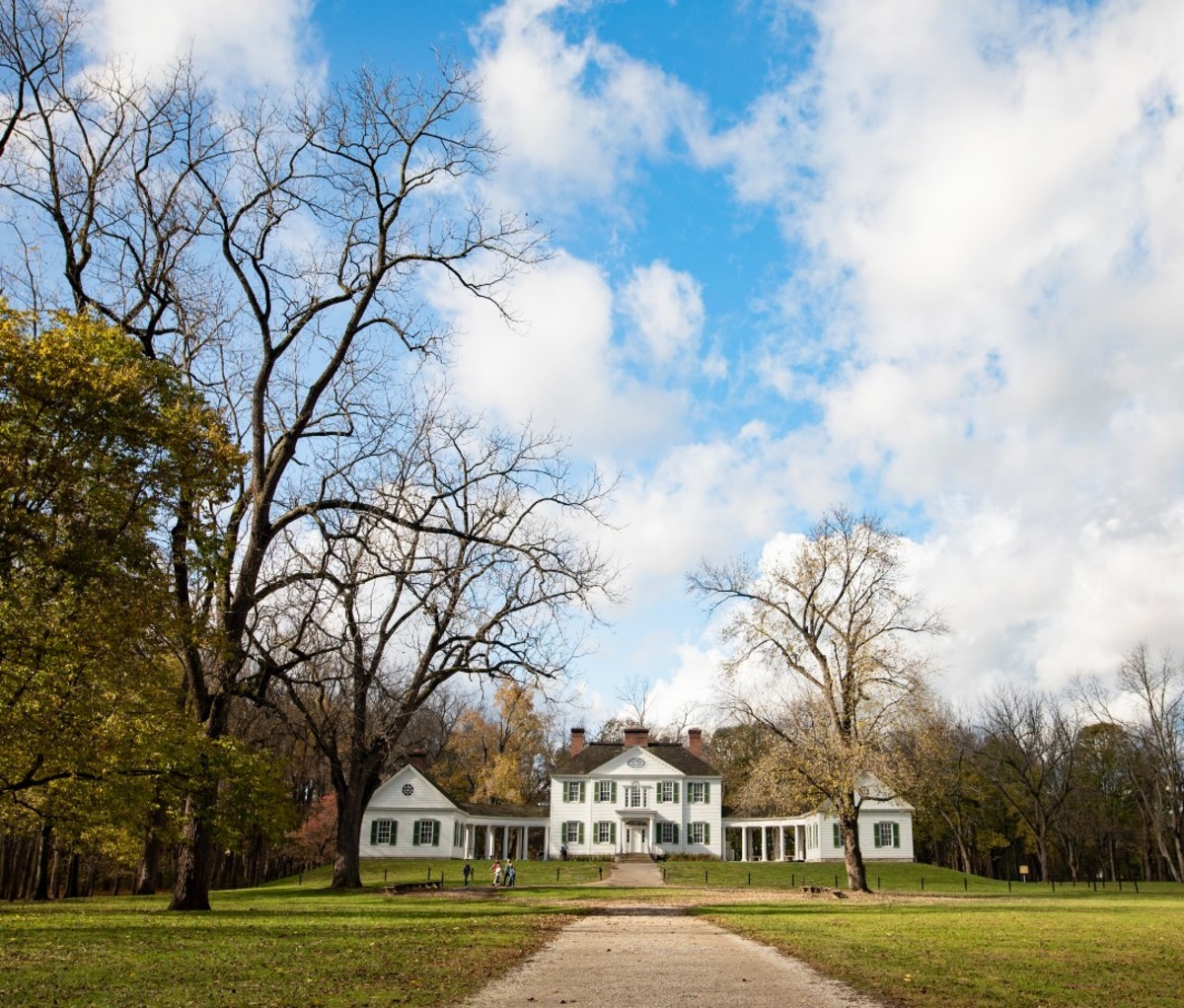 5. Blennerhassett Island Historical State Park
This selection may be small, but it certainly packs a punch. Located on a 500-acre island in the Ohio River, Blennerhassett Island Historical State Park is only accessible by boat. Luckily, it only takes a 20-minute sternwheeler riverboat ride from Parkersburg to reach its shores. The island's Palladian mansion is the main attraction, constructed as a detailed replica of the original estate that once stood in its place. Completed in 1800, the Blennerhassett Mansion was widely considered the most beautiful home in West Virginia, until it burned to the ground in 1811. Today, more than 40,000 history buffs venture to the island every year to learn more about its provocative past.
What to do: After reaching Blennerhassett Island, people typically explore the meticulous grounds and join a guided tour of the stately mansion. Horse-drawn carriage rides add to the historic park's bygone era charm and make for an especially romantic activity. Visitors can even bring a bike over on the riverboat (or rent one on the island) to pedal their way throughout the park. Back on the mainland, Parkersburg is home to the Blennerhassett Museum of Regional History. The time capsule is jam-packed with three floors of memorabilia, ranging from prehistoric tools to military weaponry and other priceless relics.
Where to stay: While Blennerhassett Island unfortunately doesn't provide any overnight accommodations, there are multiple campsites nearby. North Bend State Park and Cheat Canyon Campground are tried-and-true alternatives. The picturesque city of Parkersburg is also home to the Blennerhassett Hotel—one of West Virginia's coolest boutique properties. The lavish 86-room property has been welcoming guests for more than a century, and it's just steps from the dynamic downtown Arts District.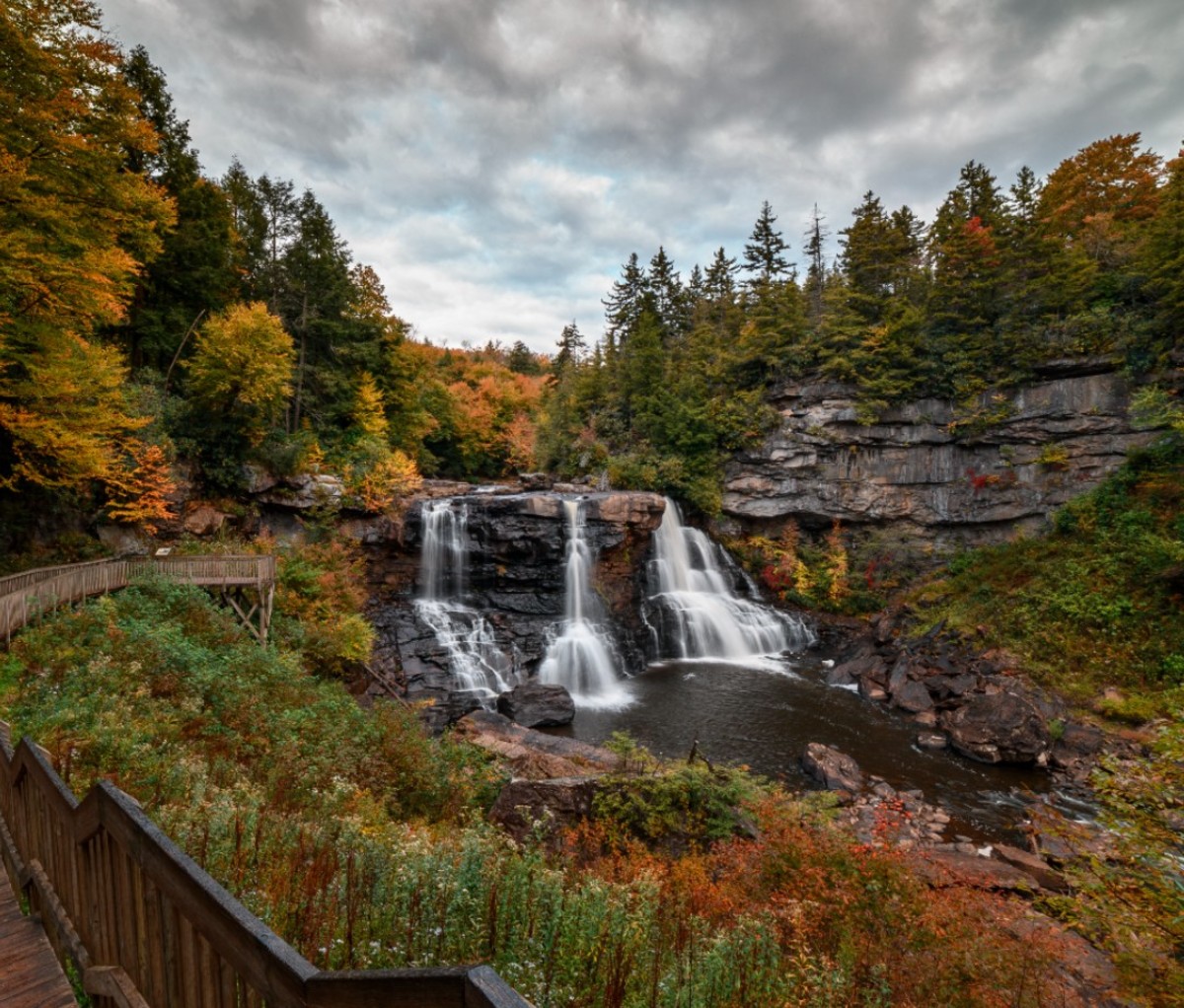 6. Blackwater Falls State Park
If you're looking to weave a spooky stop into your fall getaway itinerary, look no further than Blackwater Falls State Park. As the moniker hints, this destination is named for its rushing waters that famously run black (well, more like coffee-brown). Although the effect adds a sinister flair, there's a perfectly natural and non-nefarious explanation. Tannins from falling red spruce and hemlock needles tint the waters a dark amber color year-round. But for more than 100 years, these unusual waterfalls have lured curious travelers by their beauty. Nestled in the Potomac Highlands, the 2,358-acre park boasts some of the state's most photographed spots, including Lindy Point, Elakala Falls, and Pendleton Point Overlook.
What to do: Known for being one of the best state parks in West Virginia, Blackwater Falls boasts more than 20 miles of hiking and biking trails. Pendleton Lake invites all sorts of watersports, including stand up paddleboarding, canoeing, and kayaking, with weekend rentals available after Labor Day. It's also a serene spot to catch bass, bluegill, trout, and channel catfish (just make sure you have an active fishing license). In the winter months, don't miss the Blackwater Falls Sled Run. The brisk mountain air combined with frosted evergreens and powdery trails are prime for skiing, sledding, and snowshoeing. There's even a 14,000-foot Wonder Carpet conveyor, the longest on the East Coast.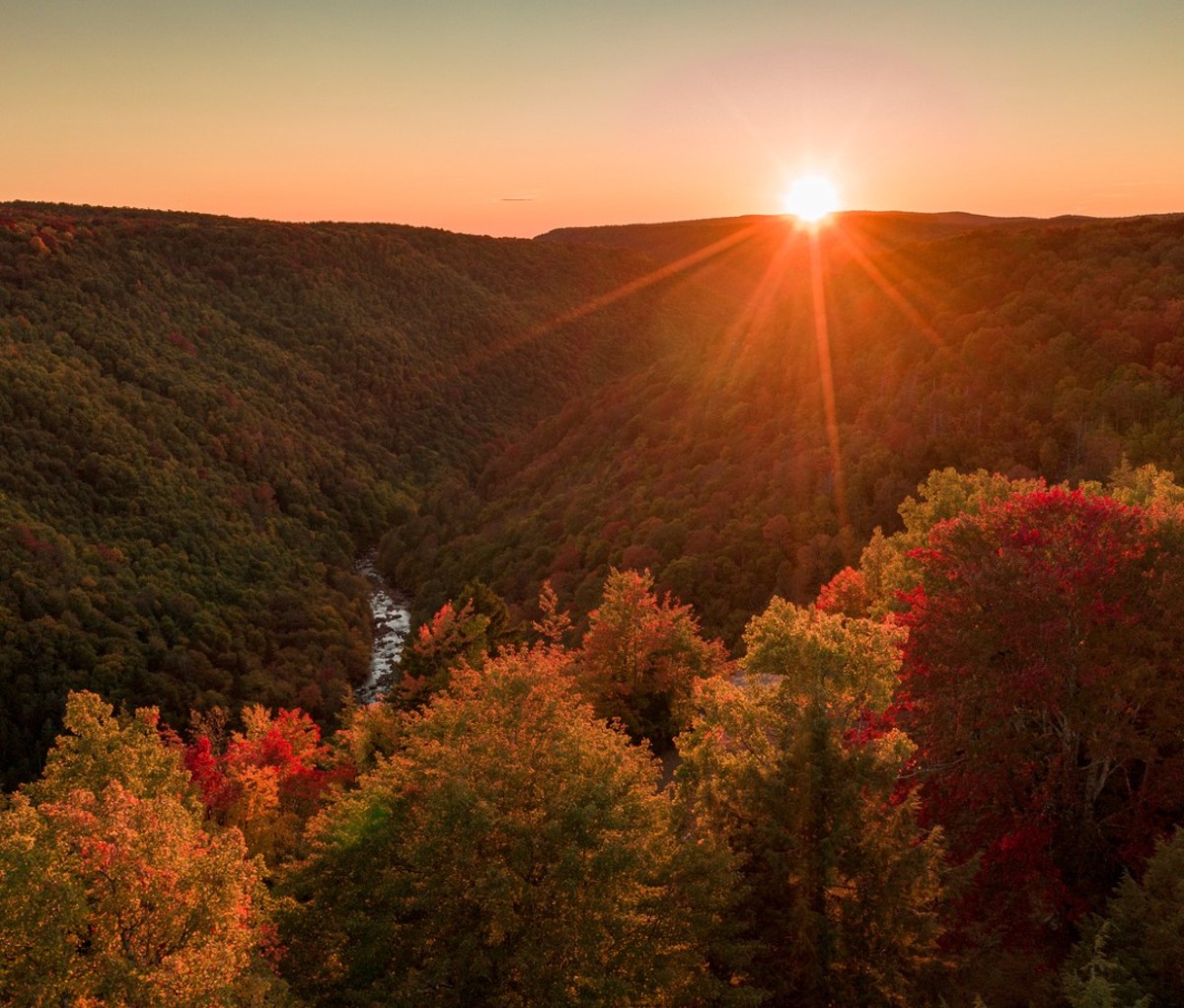 Where to stay: Located on Blackwater Canyon's south rim, guests can spend the night at the park's 54-room lodge. The comfortable retreat was built in the 1950s and offers sweeping vistas of the forest and gorge below. For a more low-key escape, book a room at its sister lodge, located about 20 minutes away in Canaan Valley Resort State Park. To get the full experience, Blackwater Falls also has a range of fully furnished cabins available year-round, including a mix of Classic and Vacation styles. You'll also find Tentrr campsites within the park. These pre-set canvas tents are perched on their own wooden platforms and come decked out with queen-sized memory foam mattresses, propane heaters, fire pits, grills, solar showers, and more.
7. Seneca State Forest
Are you a fan of superlatives? If so, set your sights on Seneca State Forest, West Virginia's oldest and largest state forest. Located in Pocahontas County (nicknamed "nature's mountain playground"), this rugged pocket features more than 12,800 acres of verdant woodlands that wow onlookers all season long. Bordered by the iconic Greenbrier River, the forest keeps thrill seekers entertained with an array of outdoor excursions—but it's also the perfect spot to lay low, appreciate the solitude, and reconnect with Mother Nature.
What to do: The top activities within Seneca State Forest include hiking and biking along the 12 challenging trails. The Allegheny and Greenbrier River Trails also cut through the secluded escape and can be accessed from the forest. Hunting is another prevalent pursuit, thanks to the numerous deer, bear, turkey, and other small game in the area. Meanwhile, anglers head to Seneca Lake, which is stocked with trout in the fall. Approximately 15 miles from the forest, visitors can also scope out Cass Scenic Railroad State Park and experience a quintessential mountain rail trail onboard a historic Shay locomotive.
Where to stay: Visitors may come for the peace and quiet, but they stay for the 65-foot Thorny Mountain Fire Tower. The soaring structure dates back to 1928 and is still standing tall. Nowadays, visitors can book an overnight stay atop the rustic outpost and enjoy sweeping 360-degree views of the park. It's a fan favorite for a reason. There are also eight log cabins that give guests a taste of pioneer life. Without electricity or running water, it's an enchanting autumnal sanctuary for anyone in need of a digital detox. Or, snag one of the 10 expansive campsites, which can accommodate RVs up to 28 feet.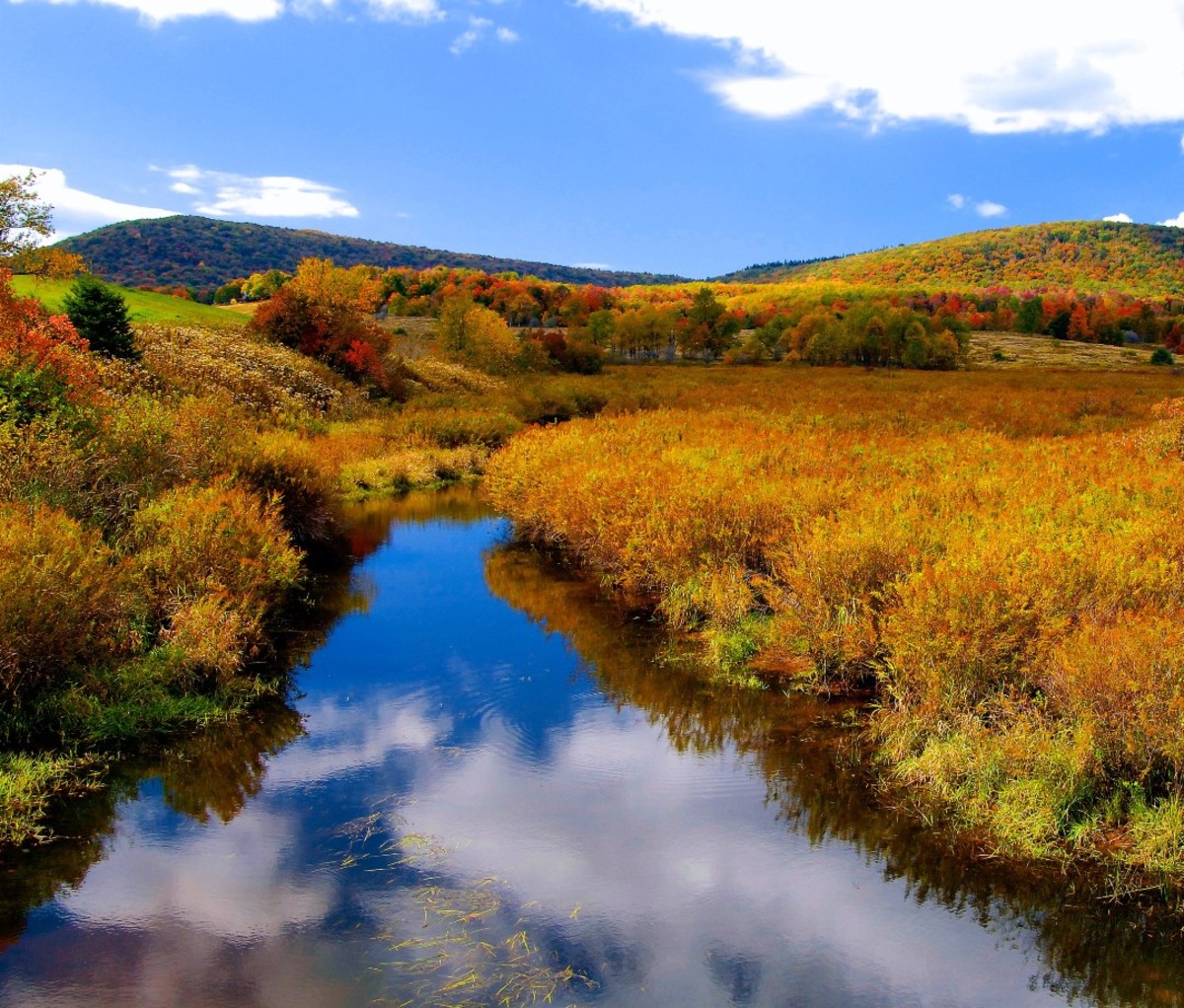 8. Canaan Valley Resort State Park
Suspended on a plateau in the Allegheny Mountains, this four-season state park is a dream destination for any guys' getaway or family vacation. Canaan Valley State Resort Park was established in 1963, when a generous resident willed just over 6,000 acres to the state for recreational use. A few years later, the park unveiled its ski slopes on the 4,420-foot Weiss Knob, marking the state's first ski resort and igniting a new industry in the Mountain State. Come September, it's also one of the first regions in West Virginia to show signs of the changing leaves, before the lands become blanketed in fresh snow all winter long.
What to do: With its unparalleled natural beauty, there are infinite ways to explore the great outdoors in Canaan Valley Resort State Park. One of the top draws is the 18-hole, par 72 golf course designed by Geoffrey Cornish. The park also has 18 miles of wide-open hiking and biking trails that vary in difficulty, as well as a 6.2-mile NICA certified mountain bike trail (built to International Mountain Bicycling Association standards). The nearby Canaan Valley National Wildlife Refuge offers fishing and an on-site archery range featuring five ground-level shooting lanes to practice your aim. Clay shooting is also available at the Sporting Range. Due to its high elevation and annual snowfall of 180 inches, the park sees flocks of downhill skiers and snowboarders looking to carve up the 47 trails every winter.
Where to stay: The modern lodge at Canaan Valley Resort State Park gives visitors a polished-yet-rustic experience with never-ending mountain views. There are 160 guest rooms and suites to pick from, plus perks like a full-service restaurant, sleek lounge, state-of-the-art fitness center, health spa, gaming arcade, and indoor and outdoor swimming pools. There's also a range of cozy cabins and cottages dispersed throughout the park, which grant guests access to all the resort's aforementioned amenities. If that's not your speed, scope out the park's 34 paved campsites with full hookups. While you're in the area, it's worth extending your stay to explore other nearby gems, like the Smoke Hole Caverns, the Monongahela National Forest, and Dolly Sods Wilderness Area.