Deep in the woods of western Maine, you can find a newly cut, 2.8-mile mountain bike trail called Oak Knoll. This is not your typical rock-littered, root-studded New England mountain bike terrain. The dirt base of Oak Knoll is soft and smooth, with banks on the countless switchbacks rising three to four feet high. Most importantly, it leads to a luxurious hut, Stratton Brook Hut, part of an eco-lodge circuit that's currently being built. 
RELATED: 50 Last-Minute Summer Vacation Ideas
Seven years after Poplar Springs Hut was first built in Carrabassett Valley, a nonprofit group, Maine Huts & Trails, is making good on its lofty goal to build 12 eco-lodges in the Maine wilderness. There are now four huts in the system across a 45-mile span, each of them connected by singletrack. Work on the next hut is expected to start in approximately two years. A consortium of big-name players such as L.L. Bean, New Balance (who run two factories in Maine), and the Sugarloaf Ski Area are now financial supporters. And the Carrabassett Valley New England Mountain Biking Association (NEMBA) is using the latest round of funding to create some of the finest singletrack trails in New England.
Similar lodgings, like the historic AMC Huts in the White Mountains of New Hampshire, are humble compared to these private huts, that go for roughly the same price. Rates in summer and fall are $81 a night per person for members, $90 a night per person non-members. Kids 17 and under are $40 for members, and $45 for non-members. Rates include lodging and three meals. They offer private rooms, showers, and an impressive selection of Maine microbrews. The Stratton Brook Hut, for example, offers Baxter Stowaway IPAs in their common fridge, which you can take with you to the vista. There, a lone bench looks out on a wide swath of uninterrupted wilderness, including the 4,000-foot peaks that make up the Bigelow Range.
Back down by the trailhead, singletrack runs branch from the Narrow Gauge Pathway, a rail trail that hugs the Carrabassett River. Grassy Loops is a nice warm-up on soft dirt through a meadow of high grass. Meade is a gem of a trail that lines the banks of the river, bopping up and down around tall pines and over roots and rock bridges. Sargent and Crocker Town are more technical runs, with short uphill and downhill turns thrown into the mix.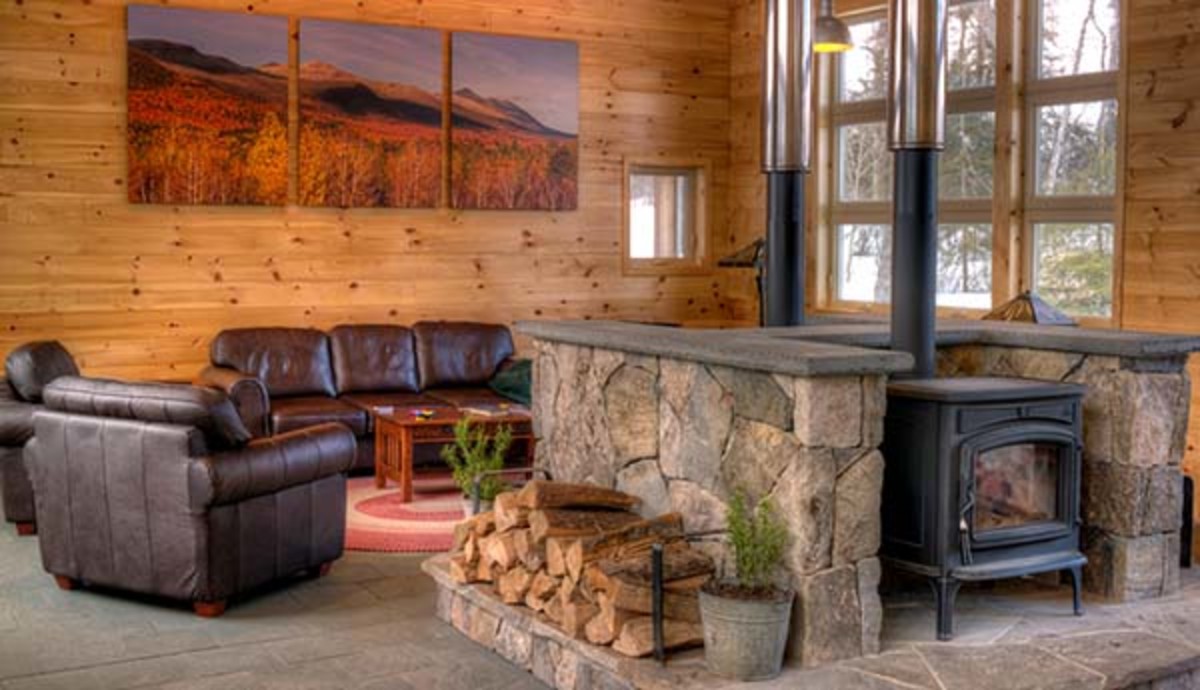 Thanks to solar energy and 80 cords of firewood, the huts are completely off the grid. (Photograph by John Orcutt)
MH&T currently has 1,450 members, and dues go straight to trail maintenance. (Membership isn't required and simply reduces the price each night.) You have the option to mountain bike, hike, paddle, or, in the winter, cross-country ski. All four huts are located near majestic viewpoints like the cherished sunsets over Flagstaff Lake, a five-minute walk from the hut, or mighty Grand Falls, where a wide stretch of water rushes down the rocks close to the Grand Falls Hut. So far, bike and foot traffic is minimal, but you'd be wise to get here before word spreads. 
More information:
Maine Huts & Trails
496 Main Street, Unit C
Kingfield, ME 04947
(207) 265-2400
For access to exclusive gear videos, celebrity interviews, and more, subscribe on YouTube!