With each turn, Istanbul takes on a new face. You can cruise on the Bosphorus; peruse spice and textile markets; humble yourself inside the city's enormous mosques, or go underground in its cisterns (both some 1500 years old); steam away the afternoon in a hammam; or gorge on baked goods, dips, and döners—without ever leaving the city.
Each neighborhood takes on its own identity, too. One minute, you're waterfront, beaming at the bridge and inner-city coastal road that recalls downtown San Francisco. The next you can be at the hills of Nisantasi, which feel like Lisbon. The high concentration of time-tested monuments evokes Rome or Paris. That's not to say Istanbul isn't its own marvelous, unforgettable experience. "Unforgettable" is guaranteed, especially if you follow this guide. We've highlighted enough activities for a four-day weekend, or more.
Note: Americans need a visa to visit Turkey. Don't forget to apply for (and print) it before you go. It's fast, easy, and inexpensive.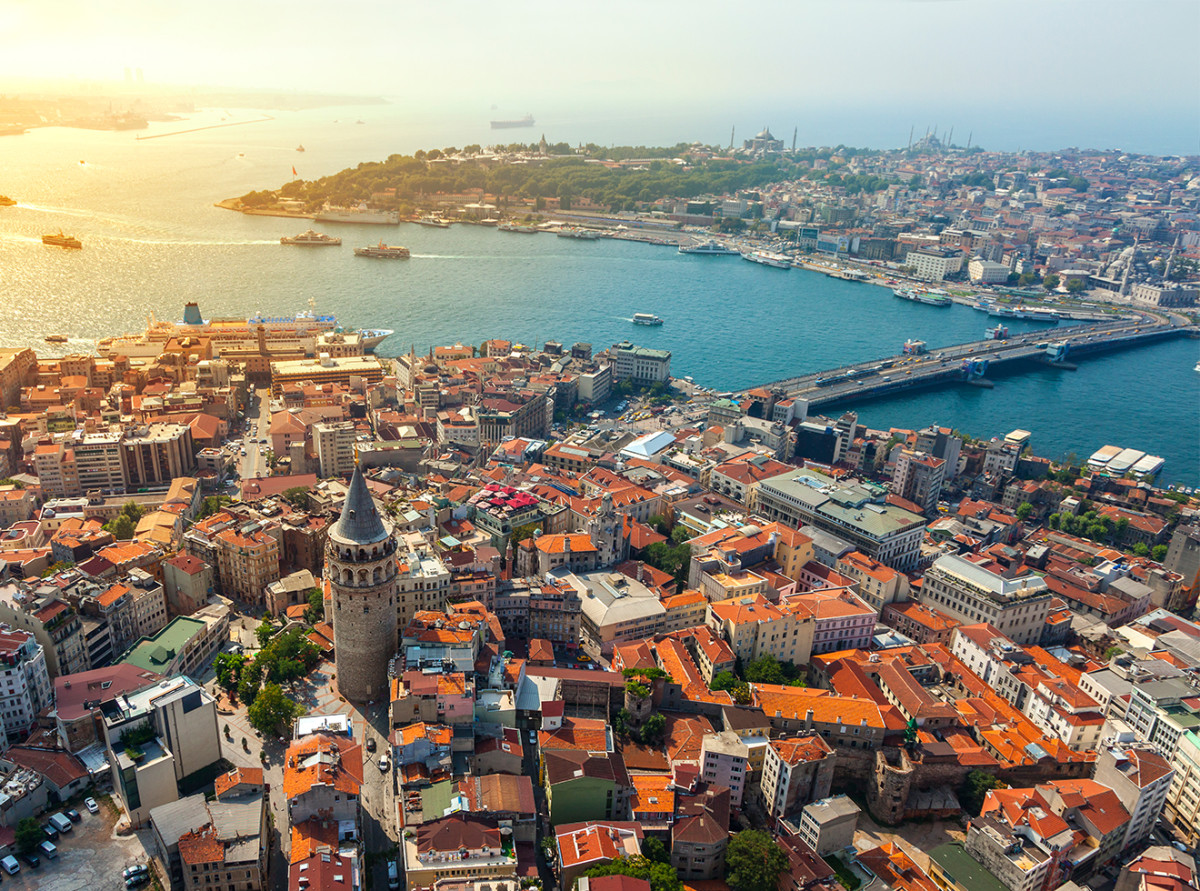 Where to Stay
Istanbul is sprawled out, so the most important aspect of your stay is the location. Ubers are cheap and plentiful (they have giant limo-like vans, which are particularly humorous for a two-person trek), but you can still spend 20 minutes just trying to get from one side of your neighborhood to the other. We don't advise staying on the sleepier Asian side, since it's best reserved for a day trip. Stick to European Istanbul, which is north across the estuary bridge from the major monuments.
If you want to be on pulse with the 20s and 30s crowd, stick to Nisantasi. It's a boutique-lined grid of narrow streets and steep grades, with plenty of options for dinner, nightlife, commerce, and confections. Sofa Hotel checks all the boxes: beautiful accommodations, central location, hospitable staff, and fine dining (top-floor Mediterranean restaurant Frankie has unbelievable views, no less).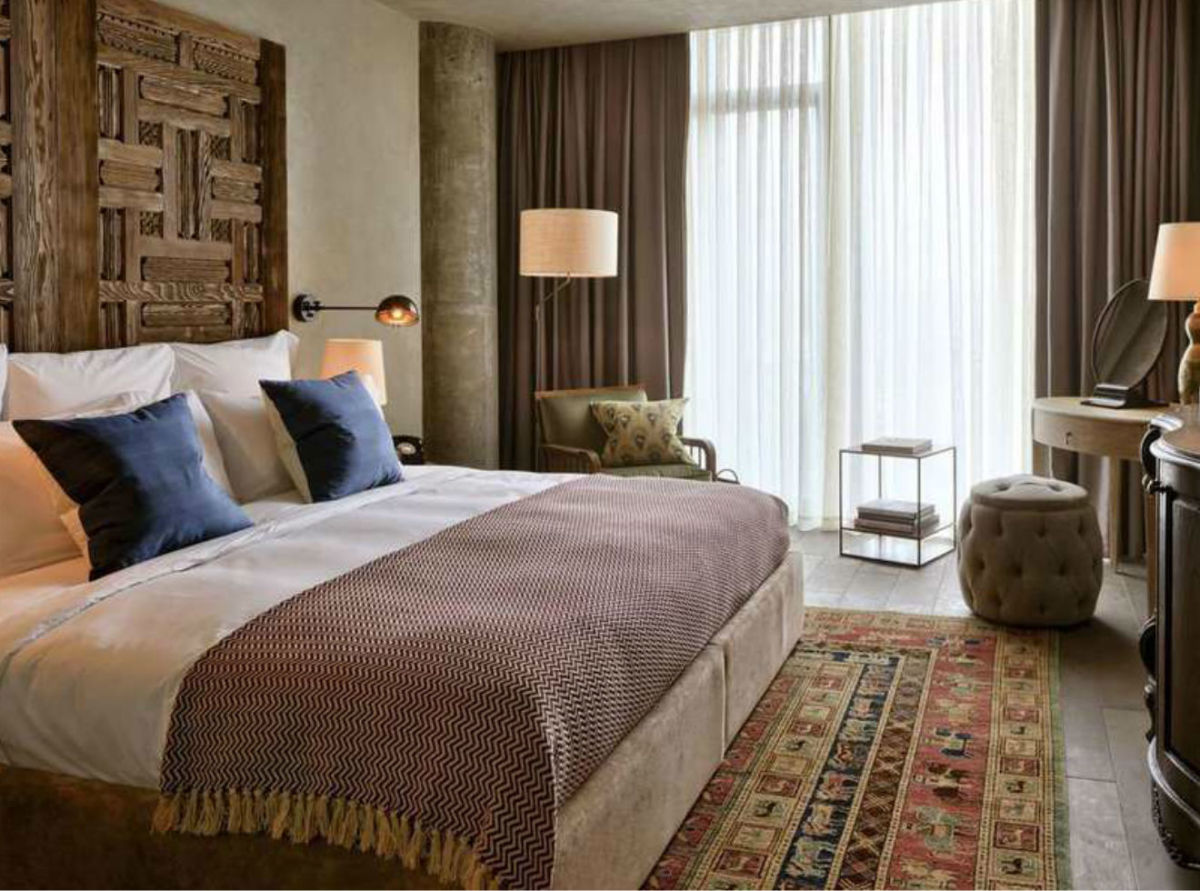 If you want to be closer to the attractions and in the mix with other tourists, then look in Beyoglu. It's still across the bridge from the major museums, mosques, and markets, but in the throngs of foot-trafficked shops and boutiques. And, if you want to be surrounded by a young see-and-be-seen international crowd, then Soho House Istanbul is your best bet. It's one of the costlier picks for the city (though you can get a "tiny" room for roughly $130; and as far as Soho House rates go, it's one of the best deals on their roster). Guests have access to the gym, hammam, and spa, plus its various club lounges, so it's easy to tailor everything to your needs.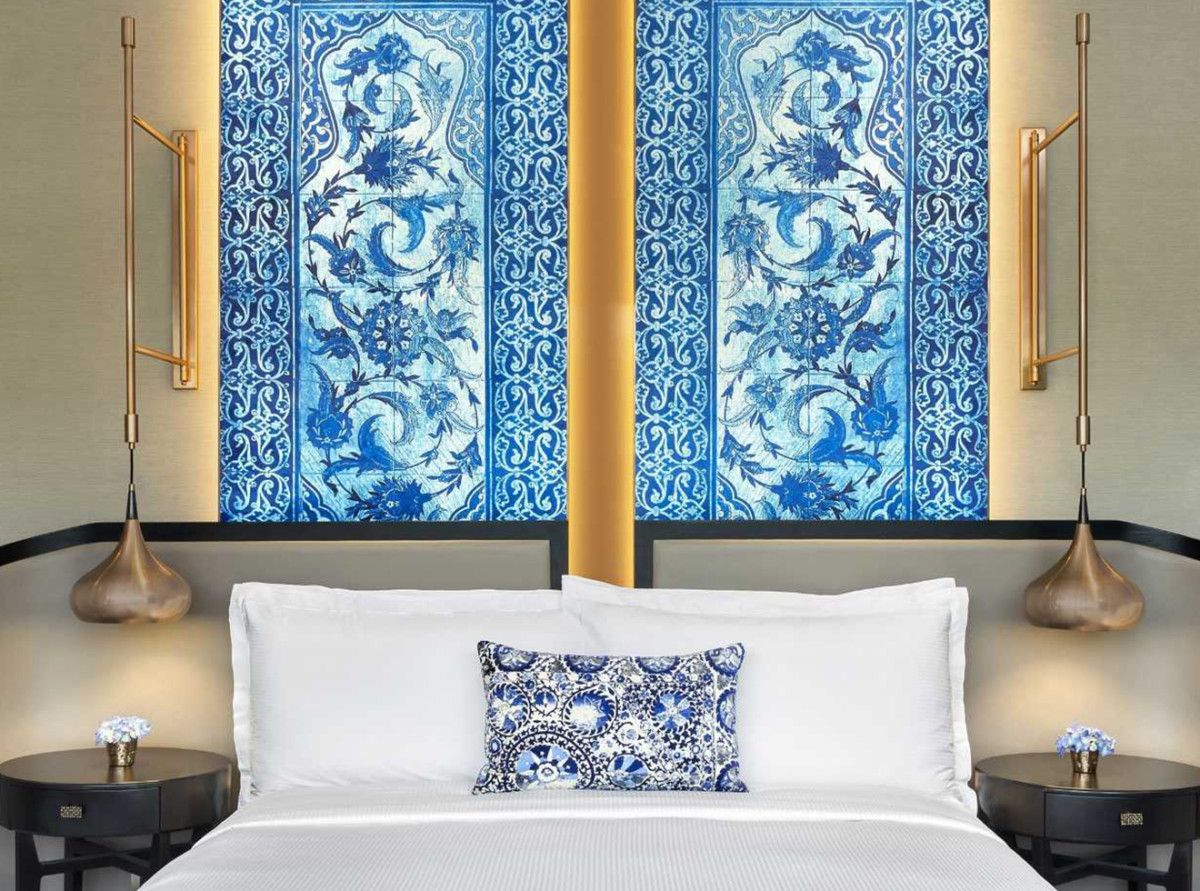 Lastly, tucked between Nisantasi and Beyoglu—and towering over it all—is the newly refurbished Ritz-Carlton Istanbul. You know what you get with The Ritz-Carlton: an elevated reprieve, which is especially soothing in a city as manic as Istanbul. The hotel has Ottoman-inspired design details, like Anatolian ceramics and velvet or silk fabrics, an open-air spa with Bosphorus views, on-site hammam, panoramic Bleu Lounge Terrace, and exquisite Atelier Real Food restaurant (with an open kitchen, French rotisserie, as well as 150 local and international wines). Best of all, you can pick which view you want from your room or suite, whether it's a pano of the river or green park sprawl and bustling city.
Best Restaurants in Istanbul
First things first: The food.
To be fair, every restaurant in Istanbul is better than any restaurant everywhere else. You can step into any kebab shop or bakery for a quick hit of bliss. But here are some of the more exciting sit-down spots that will highlight your visit.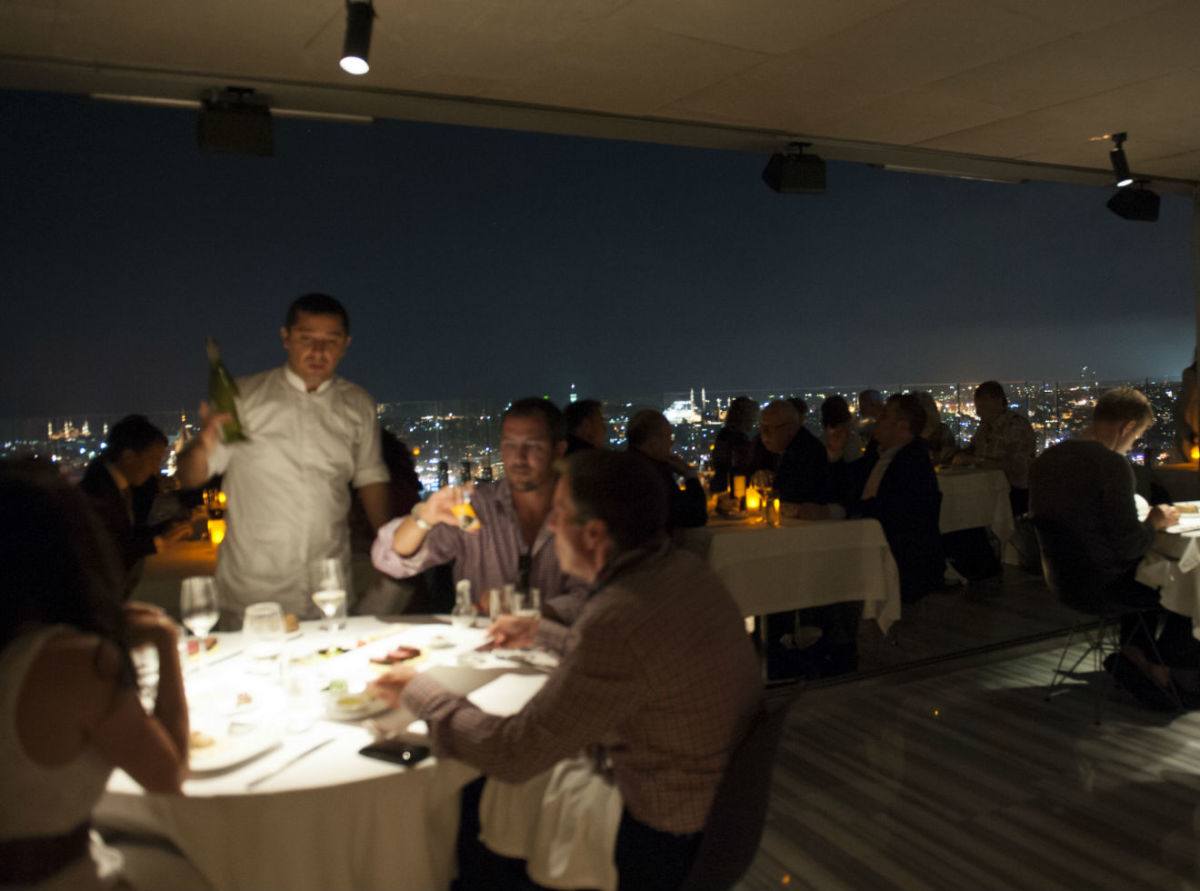 For a date:
Mikla: This is arguably the city's best restaurant, and the one behind the "New Anatolian Kitchen" manifesto. Mikla's views are as amazing as the food itself.
Fiko Ocakbasi: Have a low-key, not-so-expensive date in this bustling spot, realizing all your Turkish cuisine dreams—just order a platter that has it all.
Mürver: Surf and turf, Turkish style. (Smoked, spiced, sliced, yogurt-ed…)
Vogue: Open-air Mediterranean dining (and sushi, too) with panoramic Bosphorus views.
Papermoon: Ok, it's not Turkish, but maybe you want a break from it. Here's a world-class Italian pick instead.
Wine and cocktails:
5 Kat: Rooftop views to pair with wine. Come before the dinner crowd, maybe 5 p.m., after a long day of touristing.
Klein Garten: A rooftop dance party (converted from a panoramic restaurant just before the mingling commences). It's got a younger, hip vibe.
Lucca: Great for a quick bite, happy hour, or a nightcap—all with Istanbul's hipster crowd.
Any: Colorful, flavorful cocktails—with a fun crowd to match. (Check their calendar for a DJ schedule.)
Alexandra: Low-lit bar with craft cocktails and an electric pulse. Best for your dark liquors.
Backbar: Funk, soul, and disco vibes with delicious craft cocktails.
Traditional Turkish:
Karaköy Lokantasi: It ain't fancy, and that's the point. Eat your heart out.
Best Breakfasts:
Brekkie: Your excuse to sneak away to the Asian side of Istanbul for a Sunday morning. (Honestly, it's unlikely you'll go over, otherwise.) Sandwiches, croissants, cookies, and more to enjoy. Meander up the street to the shops enjoyed by the academic crowd.
Backyard: Good for any meal, but best for a morning quiche and carbs.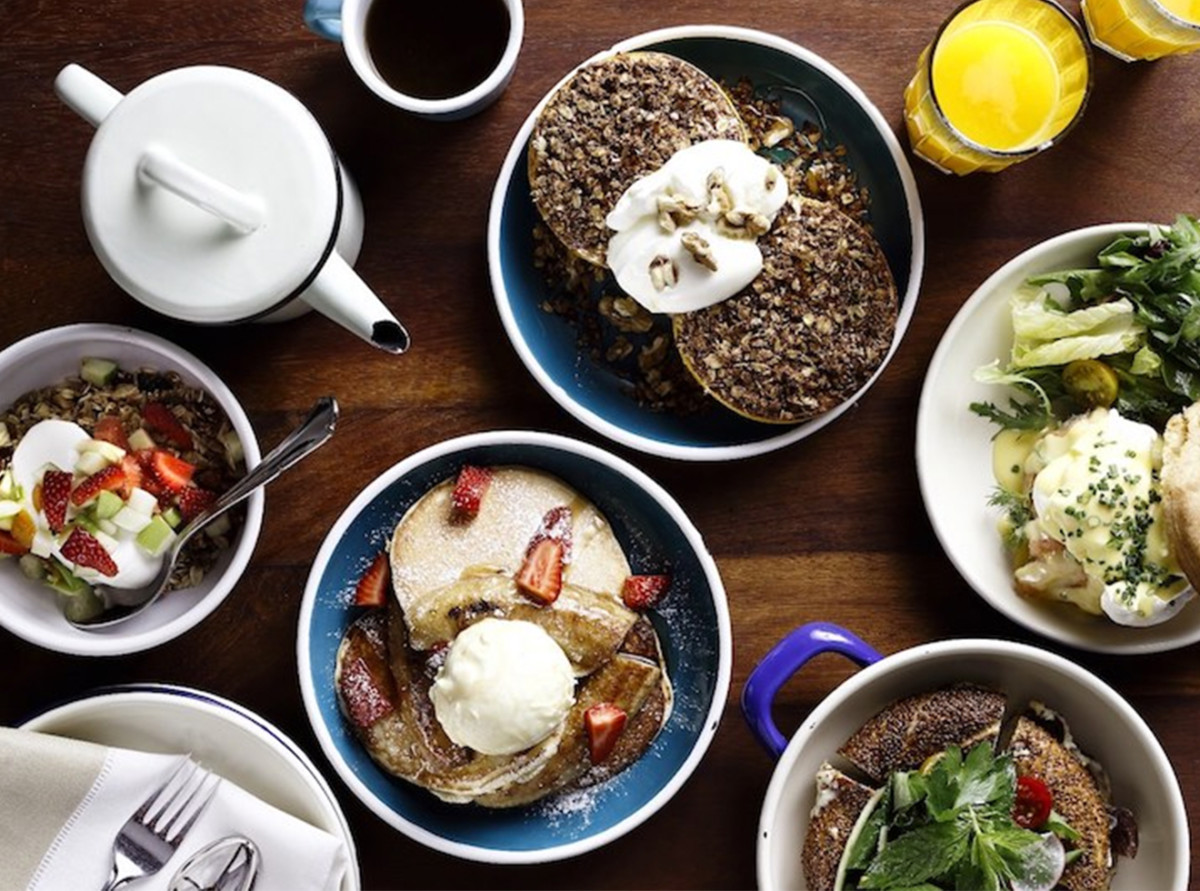 Lokma: Fresh local ingredients, sweet desserts, and a front-row seat beside the Bosphorus.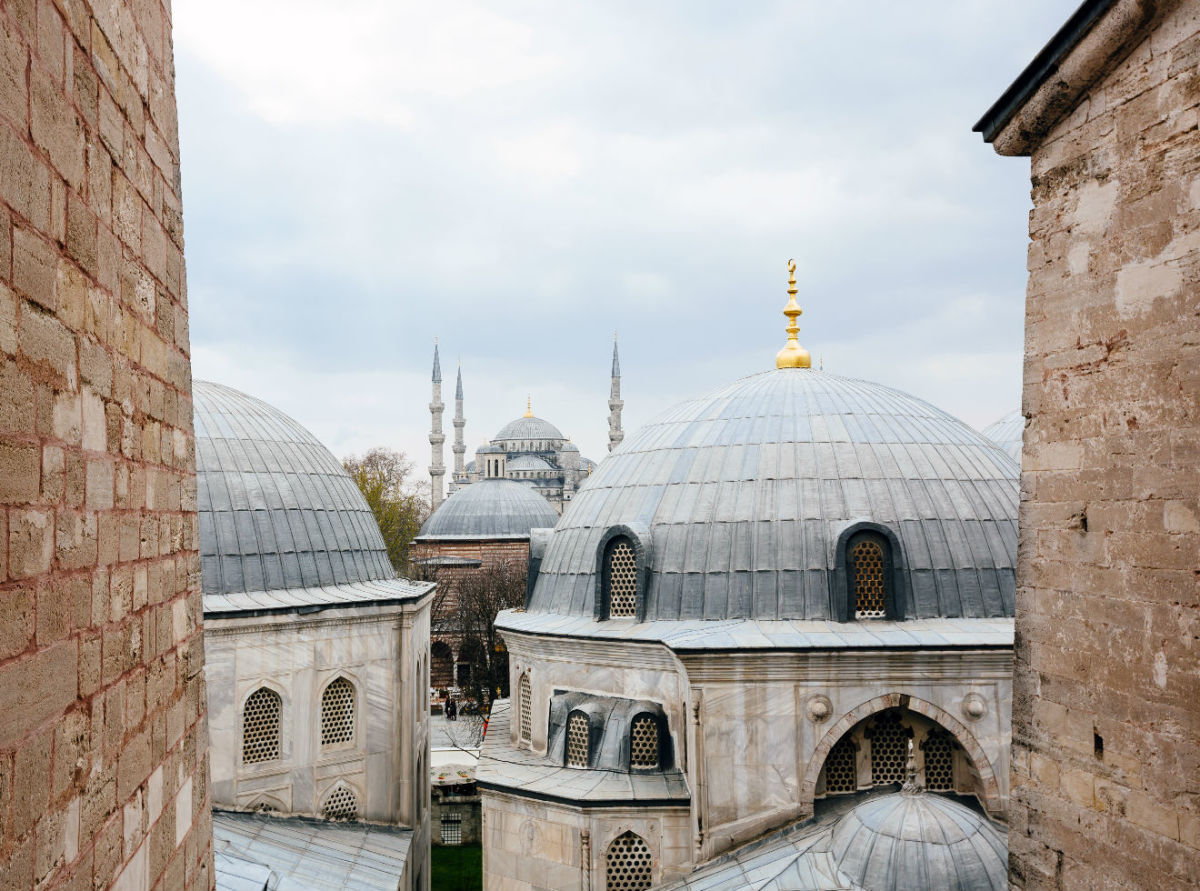 What to Do in Istanbul
Hagia Sophia: An enormous Byzantine church founded in 537 A.D., turned mosque in 1453, turned museum in 1935. Although it's not actively utilized for worship now, Hagia Sophia is on par with Notre Dame or St. Peter's Cathedral in its grandeur. Don't miss it. (You might consider visiting Chora Church, another Byzantine marvel.)
Blue Mosque (Sultan Ahmed Mosque): A few minutes from Hagia Sophia, the city's most visited mosque, the Blue Mosque, welcomes travelers during non-worship hours. (Check their schedule. If you aren't dressed accordingly, they'll give you free cloths to help cover up.) If you visit a second (active) mosque, make it Suleymaniye.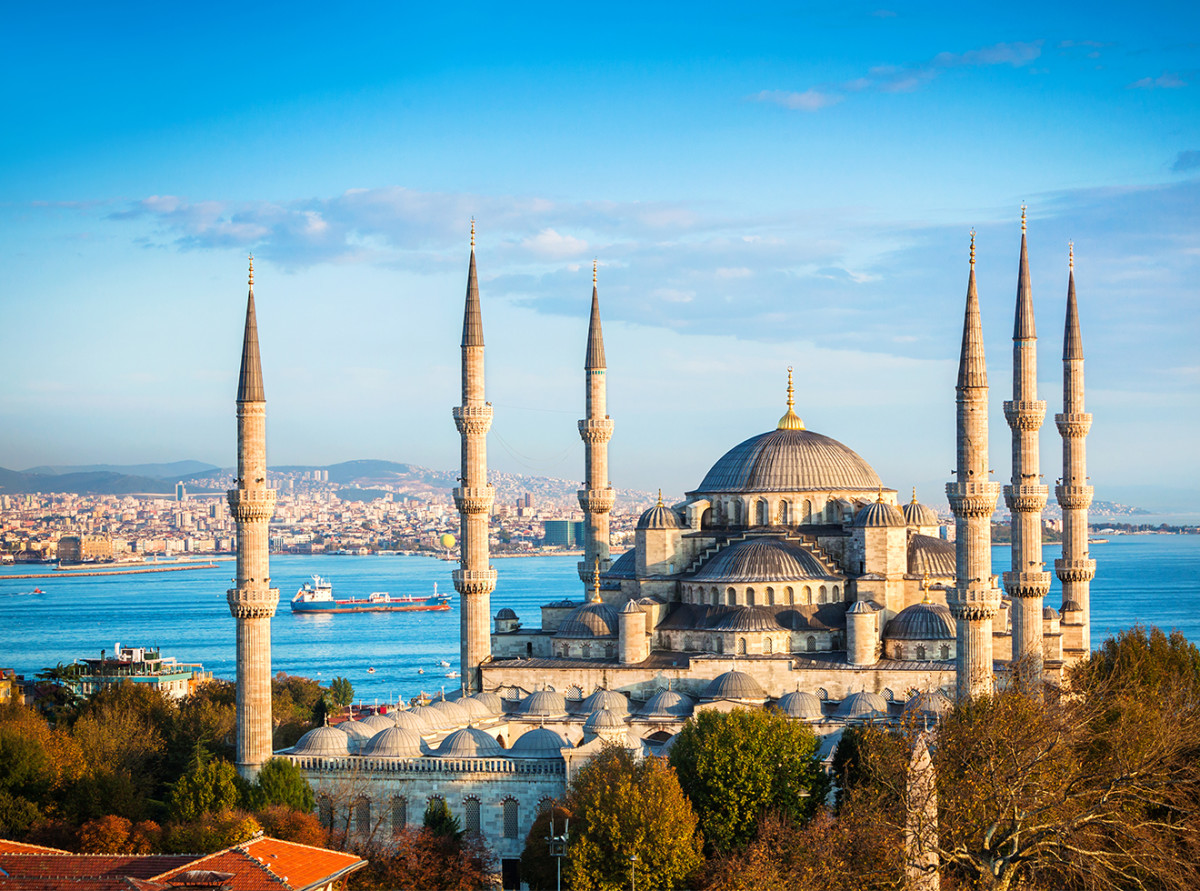 Grand Bazaar and Spice Market: Dust off your bargaining skills and head to the Grand Bazaar, where you can get nearly all of your souvenirs—from jewelry to textiles to ceramics. Nearby is the equally remarkable spice market, where you can stock up on culinary and herbal takeaways.
Bosphorus Yacht Cruise or Princes' Islands Tour: If you want to get out of the city for a respite, then you can easily make a day trip out of a private yacht cruise (and inexpensively at that) or a tour of picturesque Princes' Islands to the southeast. (It feels like Turkey with a splash of southern charm.) Our recommended vendors are linked above; the yachts can get you far enough out of the mix to swimmable water (the Bosphorus itself is fairly dirty).
Hammams: Perfect for couples, friends, or solo travelers, hammams are a terrific way to relax while experiencing one of Turkey's most famous traditions. It's a steam bath, with options to get a cleansing body ritual, like an all-over exfoliation. You've got many hammams to pick from. Treat yourself to a reservation at a well-tended-to facility, like Kılıç Ali Paşa. It might be 450 years old, but on the inside it feels new and inviting. It's also one of the biggest hammam domes in the city.
Topkapi Palace: Once the official residence of Sultans, as well as the Ottoman administration, Topkapi is now a history museum, housing treasures like textiles, silverwares, paintings, and war relics.
Cisterna Basilica: Once the sustenance of the city, this underground "Sunken Palace" is an architectural wonder.
Hippodrome of Constantinople: A public square near the Blue Mosque, this was once the social and sporting center of Istanbul (formerly known as Constantinople). Look for lasting relics from that era—obelisks and a serpentine column.
Taksim Square and Istiklal Caddesi: The main shopping thoroughfares in town, with bigger-name brands. Interesting in theory, though the best shopping is further south, in Beyoglu and the boutiques near Galata Tower.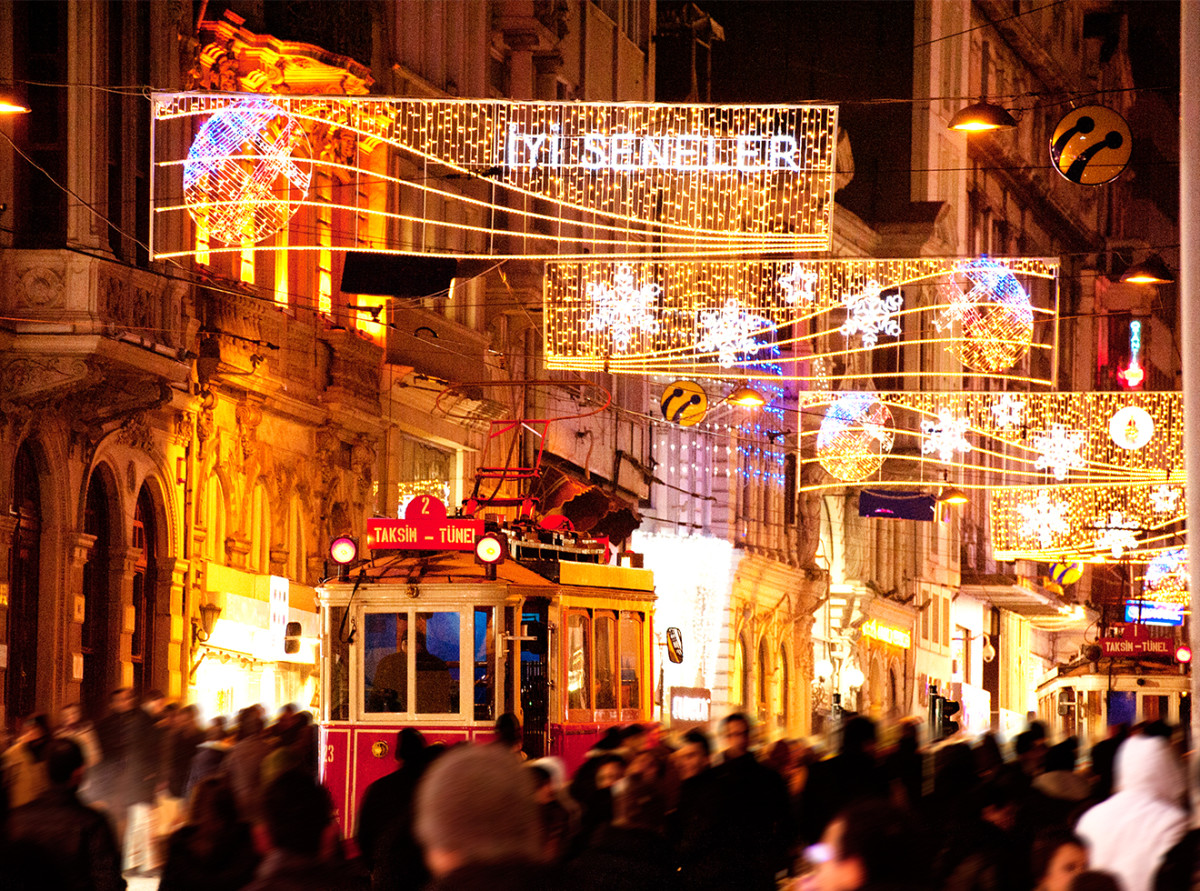 Galata Tower: A 1500-year-old watch tower, welcoming visitors who want to see panoramas of the city.
Sakıp Sabancı Museum (SSM): An exquisite art and design museum, sadly in the shadow of the city's other offerings.
Istanbul Modern: Shorefront contemporary and modern art museum.
Dolmabahçe Palace: Former (and final) Sultan residence, now offering property and grounds tours.
Gülhane Park: Luscious, colorful hillside park bordering Topkapi Palace and offering Bosphorus views.
Archaeological Museum: Prepare for an hour of saying "holy crap!" to yourself after you see the various artifacts housed inside this museum—one of the city's most underrated stops.
Sunday in Moda: You may not make it over to the Asian side of Istanbul if you aren't going out of your way to do so. A Sunday morning is the perfect occasion to cruise around Moda neighborhood with the collegiate crowd. For lack of better comparison, it's like the Brooklyn to European Istanbul's Manhattan, and a nice excuse to drive across the bridge and say you visited two continents in one visit. Target Brekkie for brunch or Story Coffee for a sandwich and java before you stroll to the waterfront side streets.
For access to exclusive gear videos, celebrity interviews, and more, subscribe on YouTube!