Just for a minute, put aside everything you know about the Galápagos Islands. Forget that your parents are the only people with the free time, natural-history jones, and ready cash required for a visit. Or that gas-guzzling cruise ships are the primary mode of transport around the archipelago 600 miles off mainland Ecuador. Now imagine digging a paddle into 70-degree turquoise-colored water to propel your kayak along a two-mile stretch of yellow sand that no tourist has ever stepped foot on, while a group of young sea lions darts and somersaults in your wake. Follow that with a snorkel with green sea turtles and a hike among prickly pear cacti and 25-pound iguanas.
This is the Galápagos experience delivered up by Colorado-based Natural Habitat Expeditions, which is one of the only outfitters that leads sea-kayaking trips in this chain of 19 volcanic islands strewn along the equator. The new adrenaline-filled trips are anything but a typical Galápagos tour.  Being in kayaks allows paddles to get even closer to the wildlife than most tourists. "We'll push the envelope from sunup to sundown," said Olaf Malver, the company's Danish owner, who leads expedition-style paddling trips in the world's most dramatically beautiful landscapes.
Olaf was talking to our group as we assembled in a café on the island of San Cristóbal last May to prepare for our weeklong trip. He briefed us on the itinerary as we gathered around a map. A 52-foot catamaran would be our base of operations; we would sail through the southern and central islands, stopping at seven of them for hiking, snorkeling, and sea-kayaking excursions. This route would let us view the greatest amount of endemic wildlife species and explore the best variety of terrain. The land would be very arid — a deficit of potable water is likely the reason the islands remained largely uninhabited by humans over the years. But the primary obstacle would be the winds and ocean currents that shoot up through the Pacific from Antarctica. "The only way we can do this is to work as a team," Olaf said. Our group — among us five kayaking veterans, two outdoorsmen with some paddling experience, and one complete beginner — nodded enthusiastically. We were up to the challenge.
One hundred and seventy years after the round-the-world floating science experiment that formed the basis for Darwin's theory of evolution and that he detailed in his memoir, The Voyage of the Beagle, the Galápagos remain among the best-preserved chunks of land in any developing nation. It's largely because of Darwin that conservation came early here: Ecuador protected parts of the archipelago in 1935 and declared 97 percent of the islands a national park in 1959. Wildlife continues to be a top priority: To minimize human impact, a law was passed in 1998 essentially barring further immigration to the Galápagos (residents are already restricted to living outside park boundaries).
Tourism infrastructure is limited to just a few dozen hotels and guesthouses; in fact, the majority of the 100,000-plus tourists who come each year spend more time offshore than on. They buy berths on cruise ships that zoom around the archipelago, offering buffet dining and a chance to see the farther-flung islands. Thanks to a special partnership with a local operator, Natural Habitat Expeditions leads extended sea-kayaking trips throughout the islands.
Malver is optimistic that paddling will flourish in the Galápagos. Not only does it allow for more intimate wildlife experiences — kayakers can come face to face with birds and sea lions — but the catamaran can also access inlets and coves that are too shallow for the bigger ships. His small-crafted clients can glide along the mangroves of Santa María or get up close to the two basaltic monoliths of Kicker Rock, which rise 300 feet above the water.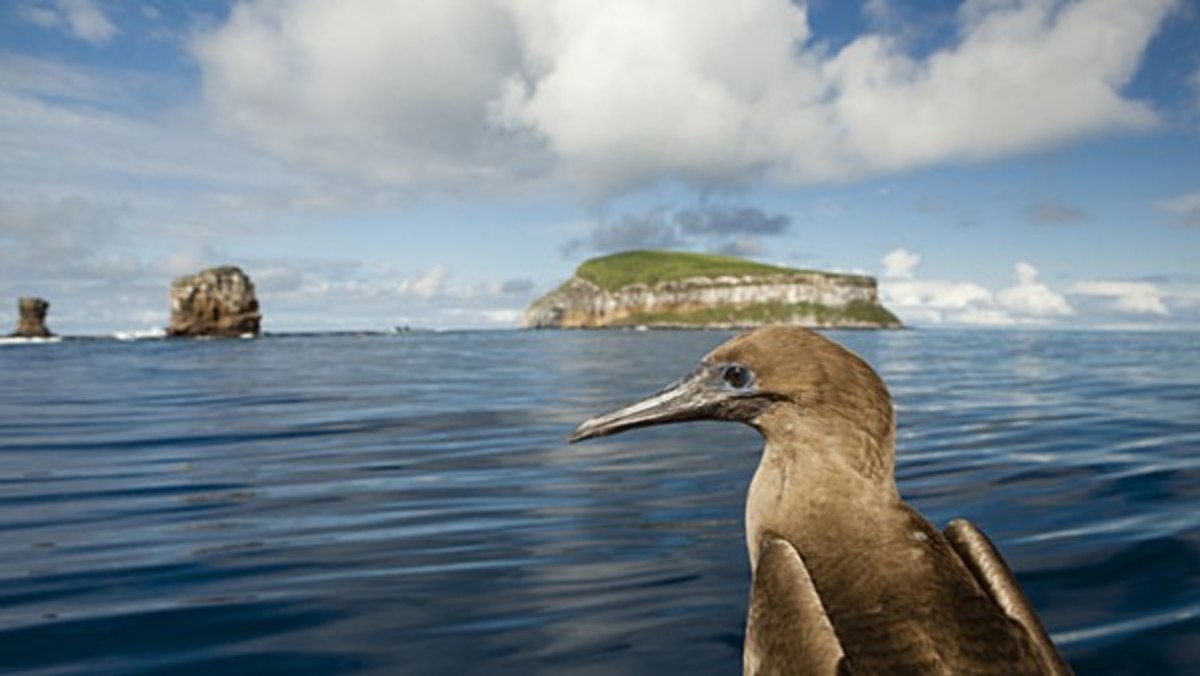 (A Blue-footed Booby. Photograph by Michele Westmorland / Getty Images)
On our first day, Olaf assigned me to a double kayak with Steve, a photographer from Northern California. I would be the navigator and he would be the "machine." I smugly anticipated plying the water gingerly and shooting award-winning photos of blue-footed boobies; Steve, meanwhile, would paddle his heart out. We launched ourselves from a white-sand beach on San Cristóbal into shallow water protected by an outer island. I familiarized myself with the boat's foot-pedal steering system and Steve struggled to get his rhythm. We headed for a bay where black frigate birds, whose brilliant oversize necks resemble inflated red balloons, were perched in the trees on shore. After 20 minutes, Steve leaned left, lost his balance, and kept going — capsizing the boat. My machine had already malfunctioned.
"This is adventure!" Olaf exclaimed as he helped fish us out of the water.
Steve and I wiggled back into the boat and continued along the coast. As a team we were off to a precarious start, particularly considering that we faced a serious challenge after lunch: a difficult paddle to Kicker Rock in the open ocean, exposed to those forbidding Antarctic currents.
Back on the catamaran, we lounged on deck cushions or napped in our cramped but cozy cabins until lunchtime, when our chef Eddy served us a hearty soup of potatoes, cilantro, and cheese. Afterward we strapped on our life vests and hats and slathered on sunblock. It was time for Kicker Rock. We'd be paddling three to four hours under the equatorial sun. This time, Olaf paired me with Eric Stiller, who had an impeccable paddling pedigree. He owns the Manhattan Kayak Company and spends about 250 days a year on the water. Not only was Eric a built-in instructor, he had also once attempted to paddle around Australia — the entire country — so I was pretty confident he'd have the machine portion covered, too.
Eric and I struck out ahead of the rest of the group, making incredibly good time. He showed me how to engage my entire body in my stroke, generating a surprising amount of power. To our right was San Cristóbal Island. At this distance we could see its 2,400-foot highlands covered by pale-green cloud forest. To our left was the open ocean. The light played a strange trick here: The silver equatorial sky met the silver ocean, making the horizon line barely discernible and giving off the impression that the giant space to the west just might swallow us up. But we focused on our objective, which was straight ahead to the north. The closer we got, the more the two giant monoliths took on the form of a lion. (Kicker Rock is also called León Dormido, or Sleeping Lion.)
In just a couple hours' time, Eric and I were within half a mile of the slumbering lion, navigator and machine in perfect compliance with Olaf's teamwork ethos. And we could see the split between its head and the rest of his body — a 50-foot gap. As we waited for the rest of the group to catch up, we peered up at blue-footed boobies roosting in the rocks. Then finally, altogether as a team, like we'd agreed, we charged through the space in the rocks, which towered hundreds of feet above us.
But we weren't quite done. Olaf had an idea. What if we attempted to shoot through a much narrower crack in the rocks: this one only about 10 feet wide and covered in sharp barnacles? We'd have to paddle with the surf, hoping to keep our inflatable boats away from the sharp fangs of the barnacles. We were up for the challenge.
Olaf went first, navigating through the gap toward a big rock in the middle of the passage. He paused for the surf to churn through, then broke to the right. Eric and I followed. We glided slowly through the space in the rocks and were immediately enveloped in darkness. The sound of the waves slapping against the walls ricocheted and echoed. I hadn't realized this was actually a cave. The barnacles jutted menacingly toward us. But Eric's steering was impeccable, and as we edged toward the rock, a perfectly timed wave pushed us through to the other side and back into the sunshine. Directly to our left, two young sea lions basked on the flanks of León Dormido.
Olaf greeted us with a grin. "That's only been done a few times before," he announced proudly. "How can you be sure?" I asked. "Because hardly anyone gets to kayak out here," he reminded me. Oh, right. It's really not my parents' Galápagos — not even for a second.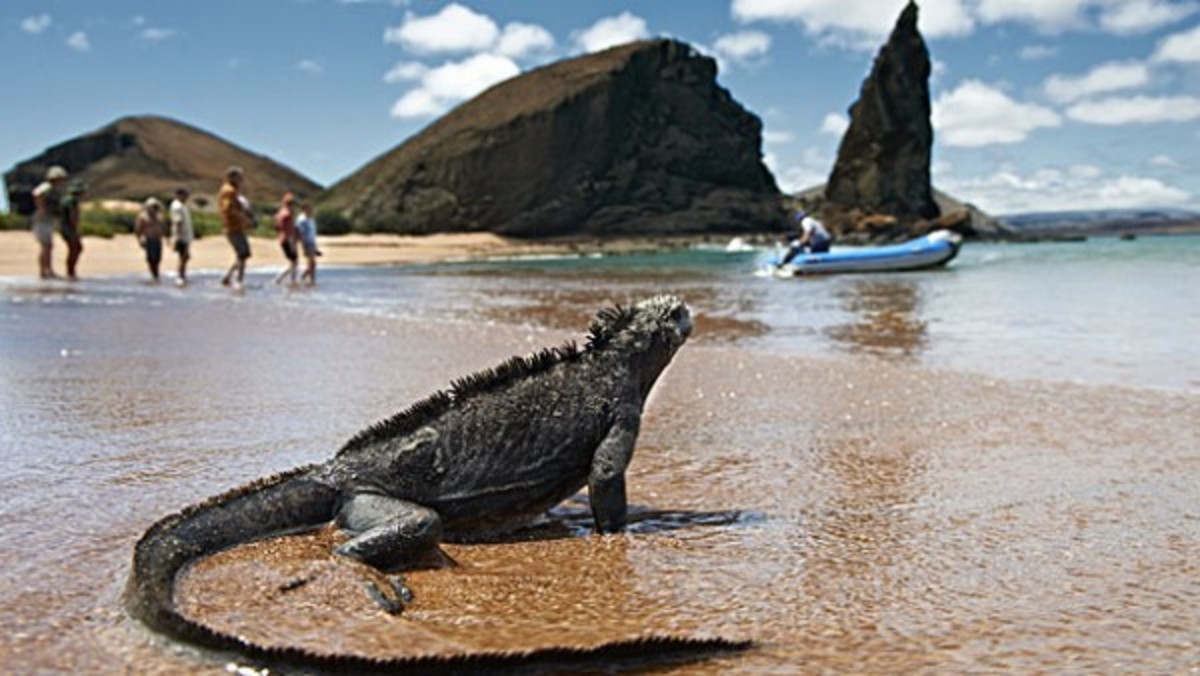 (A sea iguana watches tourists. Photograph by Juergen Ritterbach / Getty Images)
Over the next few days we settled into a routine — swim, kayak, snorkel, hike, swim — and each day the scenery and wildlife were more astounding than the one before. During a late-afternoon hike on Punta Suárez, we watched hundreds of albatross zoom in for their nightly landing at what's been dubbed "Albatross Airport" — a field alongside 200-foot black rock cliffs that plunge into the roiling sea. We picked our way through a football-field-size stretch of flatland with scores of blue-footed boobies protecting their small white eggs and strutting their feet in a comical mating ritual. Another time, we snorkeled at Devil's Crown, a sunken volcanic caldera. We saw a black-tip shark, a sea turtle, and a parrot fish as we made our way around a black rock against the current and finally collapsed on a perfect sliver of white sand. "I feel like I'm in an adventure race," said Mary Plunkett, a 26-year-old Northern Californian in our group, referring to the non-stop activities that filled our days. At night, we'd sleep on deck under the stars while the crew navigated us to the next island, and we'd wake up in a new bay, surrounded by sea turtles surfacing to gasp for air, reef sharks lurking in the aquamarine flats, or a pair of diminutive Galápagos penguins swimming frenetically by.
On the sixth day, we explored Santiago Island, where scenes from the film Master and Commander were shot. Olaf told us it would be the most beautiful scenery of the trip. We started with a hike on the island, leaving from a black-sand beach to explore tide pools crawling with agile black marine iguanas. Then we did a little snorkeling off the beach, accompanied by a young sea lion and two giant sea turtles. Back on the boat, we ate lunch and prepared for a long paddle from James Bay to Buccaneer Cove.
Martin Sundberg, a photographer and experienced paddler from Berkeley, and I started out slowly alongside Santiago's palagonite cliffs. The cliffs rose gradually in height, from as low as a one-story building to a hulking 500 feet. Soon we saw carved-out holes that reminded me of the cliff-dwellings at New Mexico's Bandelier National Monument. By now it was late afternoon and the equatorial moon had begun to rise behind the burnt-orange cliffs and a brown-sand beach — more like a moonscape than anything I'd seen on earth. I had been prepared for the wildlife and the physical rigors of this trip, but the scenery — much of it bypassed by the tour boats — caught me completely off-guard. We continued on to a cliff wall that looked like the Grand Canyon, awash in Georgia O'Keeffe's full palette, with blue-footed boobies perched in crevasses and crawling with red-and-blue Sally lightfoot crabs, to Buccaneer Cove, where walls and spires of a deep burnt-maroon hue led to a beach of the same color. All of us — Olaf included — agreed that we'd never seen sand like this anywhere else in the world.
Just then our catamaran appeared from around the point at the end of the cove, beckoning us back on board. I lingered as long as I could, taking a swim before Martin and I pushed away from the island. We stopped in a cave for a moment of total silence, broken by the slapping of waves against the rust-colored walls, and then, just as we caught a refracted wave and shot out of the cove, the bark of a sea lion sent us sprinting straight for the boat, paddling like mad in perfect unison into the sunset.
For access to exclusive gear videos, celebrity interviews, and more, subscribe on YouTube!