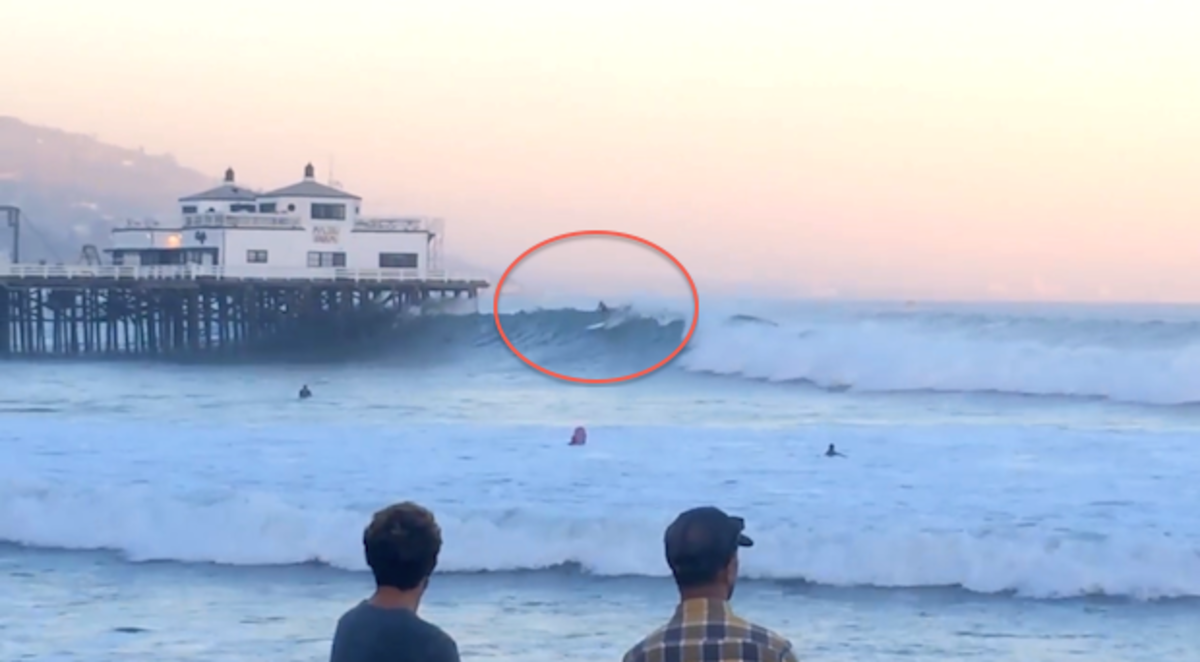 Laird Hamilton, a legendary big-wave surfer, made headlines Wednesday by helping to rescue a surfer in distress in enormous surf at Surfrider State Beach in Malibu.
But it's what Hamilton did Tuesday evening that has captured the attention of surfers  monitoring highlights during a powerful swell generated by Hurricane Marie, off Mexico about 1,000 miles away.
Hamilton shot the pier on one of the larger set waves, and it was captured on video.
<iframe width="620″ height="340″ src="//www.youtube.com/embed/ZPO1zpDqQ8I?feature=player_detailpage" frameborder="0″ allowfullscreen></iframe>
Wave faces measured to about 15 feet at the iconic surf spot, thanks to the raw power of Hurricane Marie, which earlier in the week attained Category 5 status.
On Wednesday, Hamilton, who owns homes in Hawaii and Malibu, was on the beach when he spotted a surfer who had lost his board and was clearly in distress. Hamilton swam out and helped pull the man to shore, with the assistance of two others.
"Oh, he was happy, he was thankful," Hamilton told ABC News. "His eyes were big and he was appreciative that he was back on the land."
As for shooting the pier, a feat that involves surfing between dense wooden support beams from one side of the pier to the other, it's obviously dangerous. But not so dangerous, perhaps, for someone of Hamilton's stature (most people refer to him simply as Laird).
The footage shows Laird, who was on a standup-paddleboard, catching one of the larger set waves and riding it toward the pier. The wave was so large that it almost scraped the bottom of the pier.
"The guy's nuts," says the person videotaping, moments before Laird shoots through the pillars without incident, drawing applause from the beach.
Hurricane Marie  is weakening rapidly, but the largest swell to hit Southern California in years is expected to last into the weekend.
–Find Pete Thomas on Facebook and Twitter
More on GrindTV
Surfers brave massive waves at the Wedge
5 of surfing's deadliest surf spots
5 most influential big-wave surfers of all time
For access to exclusive gear videos, celebrity interviews, and more, subscribe on YouTube!