South of Madrid's Plaza Mayor is a giant hole in the ground where a 16th-century barley market once stood. When Spain was booming a decade ago, the site was earmarked to become a modern sports complex and shopping center. The 2008 financial crisis put an end to that, leaving behind little more than a layer of concrete. But this being Madrid, it soon became a place to congregate: Local artists painted murals on the corrugated fence, assembled wooden bleachers for open-air concerts, and planted a community garden. It's been rebranded El Campo de Cebada (the Barley Field) and is now one of the most popular hangouts downtown.
"This is one of Madrid's biggest fuckups," a journalist told me, detailing the layers of graft and broken promises that doomed the megamall. From where I stood among a few hundred people, soaking up the sun and listening to a Spanish crooner, it seemed like a perfect example of the wild ingenuity that makes this one of the most exciting cities in Europe. Dig a hole in the ground, and people will find a way to turn it into a party.
That resilient festive spirit has been part of the city's DNA for half a millennium, and these days, it's energizing the capital with affordable new spots to eat and drink and explore. "Surprisingly, the crisis has been a very good time for cultural Madrid," says Jesús Ruiz Mantilla, an arts and culture reporter for the national daily El País. "Something huge has convinced people that we need cultural creativity."
Day 1: Food and Drink
Any given meal in Madrid can feel like a holiday. Lunch is at 2, tapas are at 5, and dinner's at 9, and the city's 3.2 million residents all seem to go out at once, seeking cured ham, olives, and anchovies with countless glasses of wine and beer. "Things are done on clockwork," says the U.S. ambassador to Spain, James Costos, who moved here from Los Angeles, where he was an executive at HBO. "It's a sense that people really do want to gather."
On my first afternoon, a friend took me to Barrio de las Letras, a tree-lined literary quarter once home to Cervantes and a favorite haunt of Hemingway's. Baby-faced college students and old men in newsboy caps sat around small outdoor tables, conspiring over wine and cigarettes. At a newer tapas spot called TriCiclo, a stylish crowd was shoulder to shoulder. We squeezed through the crush to a counter along one wall and ate supreme whitefish ceviche with our stomachs touching the rims of our plates.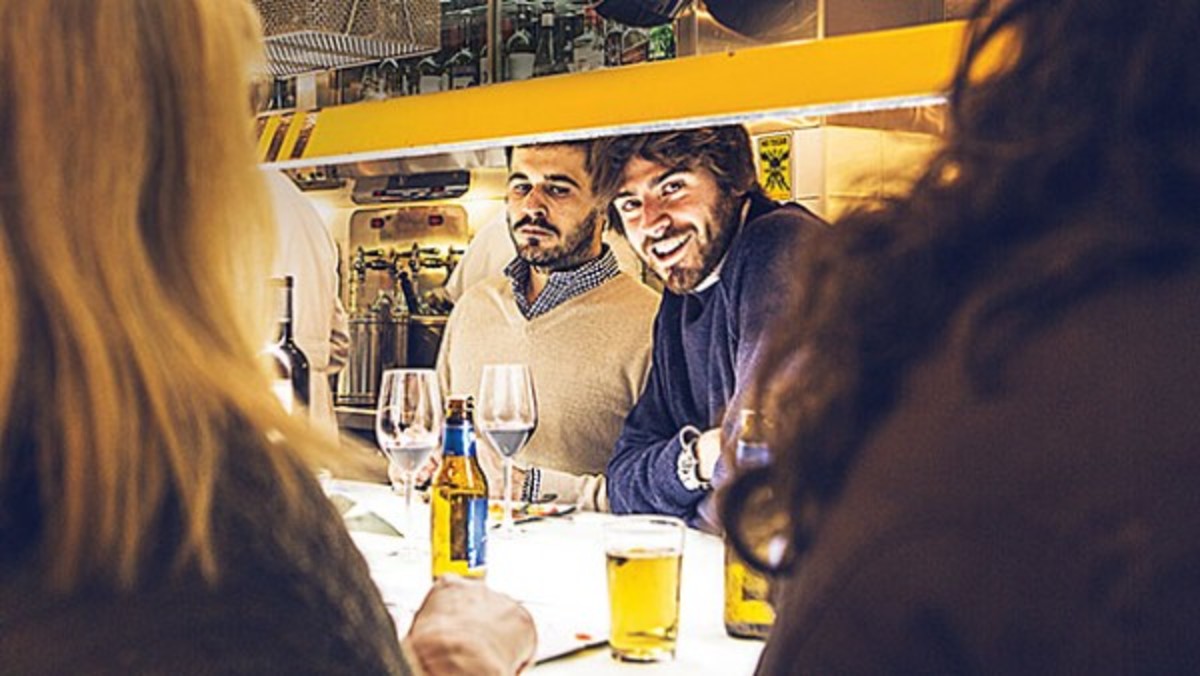 (Groups eat around a center table at Sala de Despiece.)
"This is jaleo," my friend explained, using the Spanish word for ruckus, which in Madrid refers to the joyful buzz of a throng. "People here love going to the same place all at once." A few hours later, there was a sudden change in the streets: People everywhere were locking their heavy doors, climbing into rows of cabs, and streaming down the sidewalks. Dinnertime. More jaleo.
Naturally, we headed off, too, and to the best restaurant I visited here, Sala de Despiece. Designed to look like a butcher shop, with meat hooks hanging from the ceiling, this new spot from one of the city's best chefs, Javier Bonet, slings inventive cuts like grilled ox with sweet lard. The room was so full that other patrons were enlisted to pass glasses of wine and plates of marbled beef carpaccio above their heads to the intended diners.
Of course, Madrileños love to gather over drinks, too: There are supposedly more bars per capita here than in any other city in Europe. The neighborhood of Malasaña, just north of the center, is a major hub for nightlife. This is where Pedro Almodóvar started a film revolution after the death of Franco in 1975. It's now where hordes go for generously poured gin and tonics, by far the city's favorite cocktail. Many of the area's haunts are distinguished by the music they play (TupperWare is indie; the Penta is pop; Mercurio is classic rock), but there's no sense of age division inside. "The last two generations were the first to grow up in a democracy," says 50-year-old Ruiz Mantilla at El País. "We have a very strong sense of liberty and openness."
Day 2: Old and New Culture
East of Barrio de las Letras is the Museo Nacional del Prado, the 450,000-square-foot centerpiece of Madrid's three big museums, known as the Golden Triangle of Art. Within a few blocks you can stand before masterpieces from every period of European history. The Reina Sofía, a modern-art mecca fashioned from a decommissioned hospital, is home to Picasso's Guernica, plus a few dozen examples of the surrealist movement launched by longtime Madrid resident Salvador Dalí.
Madrid has a way with abandoned industrial buildings. Before the bubble burst, a decaying power plant and the bloodstained stockyards of an old slaughterhouse were transformed into world-class art showcases. In the neighborhood of Lavapiés, which is home to a diverse mix of immigrants and hipsters, a shuttered tobacco factory (La Tabacalera) was going to be another national museum. But when the developer ran out of cash, guerilla artists occupied the arched brick interior. It's now a self-organized arts center that occasionally hosts hip-hop dance parties. "That's the spirit of this tremendous time," says Ruiz Mantilla. "These huge spaces to spend a weekend with friends are everywhere."
RELATED: A Spanish Paella Recipe, For Beginners

Day 3: A Sunday Tradition
Madrid takes Sunday seriously, and the neighborhood of La Latina is the place to spend it. "Old friends will meet at the same taperia every week," says Francisco Sánchez Rivas, an investment banker and bon vivant. "They don't even call each other in the morning." The most famous stop is the very old-school Casa Lucio. "That's where all the visiting luminaries go — Clinton, Blair, all those guys," says Sánchez Rivas. He prefers nearby Juanalaloca, where the tortilla española (egg-and-potato pie) is among the best in town, and a butterfish sashimi with silky white-truffle sauce is breathtaking. "This is the best restaurant in La Latina," he says, sopping sauce with a slab of bread. "And this is its best dish."
We finish brunch around sunset. Sánchez Rivas' wife gets a plastic cup for what's left of her wine, which she finishes with a cigarette outside. We stroll past the domed rotunda of Iglesia de San Andrés and onto the sandy slope of Plaza de la Paja, where people sunbathe in the summer. On the northern end is a secret garden in a high-walled courtyard, and a narrow passageway leading into a warren of outdoor cafés. We wander between gas lamps, searching for the next spot to grab a drink.
For access to exclusive gear videos, celebrity interviews, and more, subscribe on YouTube!