When I think about my time spent in northern Washington, one theme resurfaces over and over again: the quiet solitude. At times, it was so intense it was almost unnerving: a welcomed, yet unfamiliar sensation from the constant drone that has come to form everyday life.
Floating on a pristine, glassy surface, the only disturbances in the echoey silence were paddles moving slowly and hypnotically through water, a distant osprey's flight overhead, and at times, some words exchanged between my canoe-mate and I, startling me back into reality.
It was exactly what I needed, but somehow felt borderline eerie – this simple back-and-forth of movement, coupled only with my thoughts and the expansiveness that is North Cascades National Park, with its vast peaks towering majestically (although somewhat shrouded by wildfire smoke from neighboring states).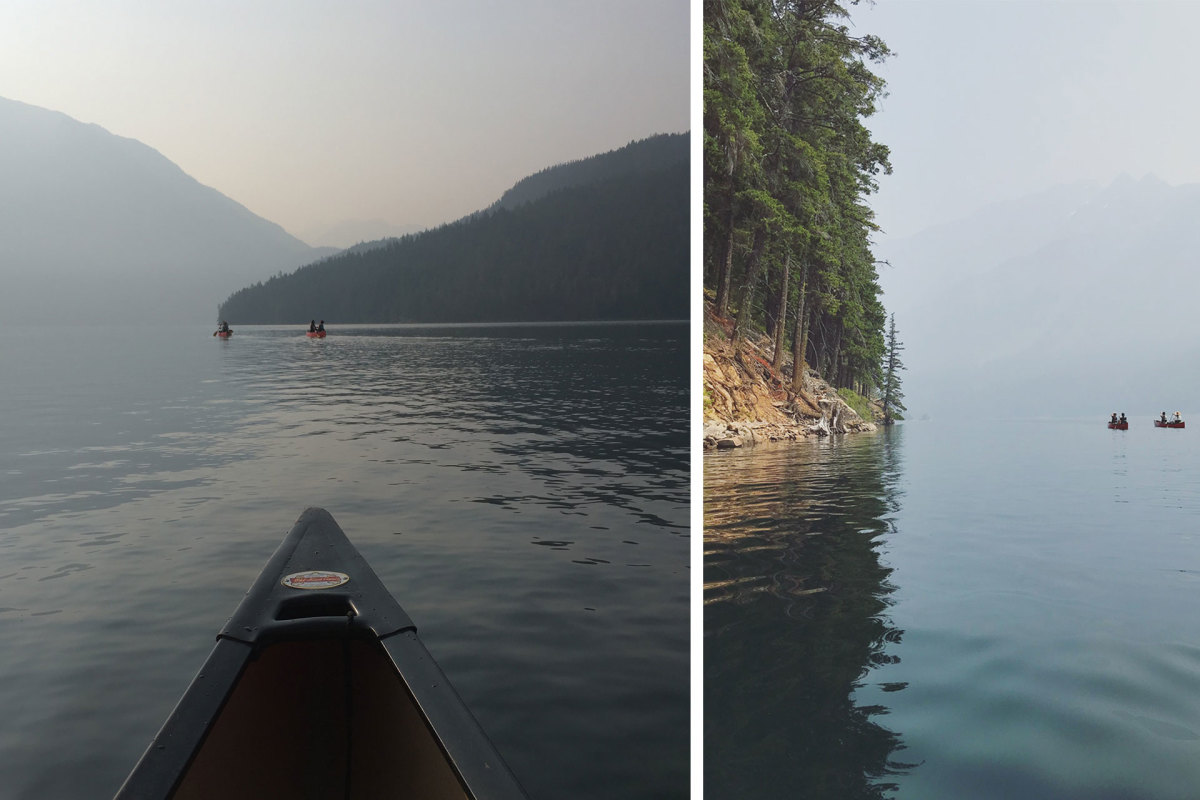 What is this world where cell service is accepted as nonexistent, and people go about their business chopping wood, setting up camp and casting leisurely lines into what feels like infinite miles of lake? It's simply nature. It is Ross Lake: a place that embodies the essence of a past time, a simpler time, and a way of life that is quite possibly only achievable these days at remote locations such as this.
We laughed at the fact that this trip could be likened to a kids' summer camp. But all jokes aside, it is shocking how much you can learn about a group of strangers brought together in nature for just 48 hours when the luxury of pulling out your iPhone to "Google" something is not an option.
My phone died within the first 12 hours of the trip, and after experiencing the full range of emotions – panic, disbelief ("The home button still won't work? How can this be?") and finally acceptance – I felt free. Truth be told, I hadn't had a respite, sans laptop or some other form of digital connection, that exceeded 24 hours … in nearly a decade.
Now, exceedingly close to the U.S./Canada border, in territory where great writers like Jack Kerouac once took sabbatical to regenerate and foster new ideas, I reconnected with my childlike spirit, reminiscent of spending time with my family, canoeing and fishing on quiet lakes in a different-yet-similar northern region.
It was beautifully nostalgic and inspiring, all at once.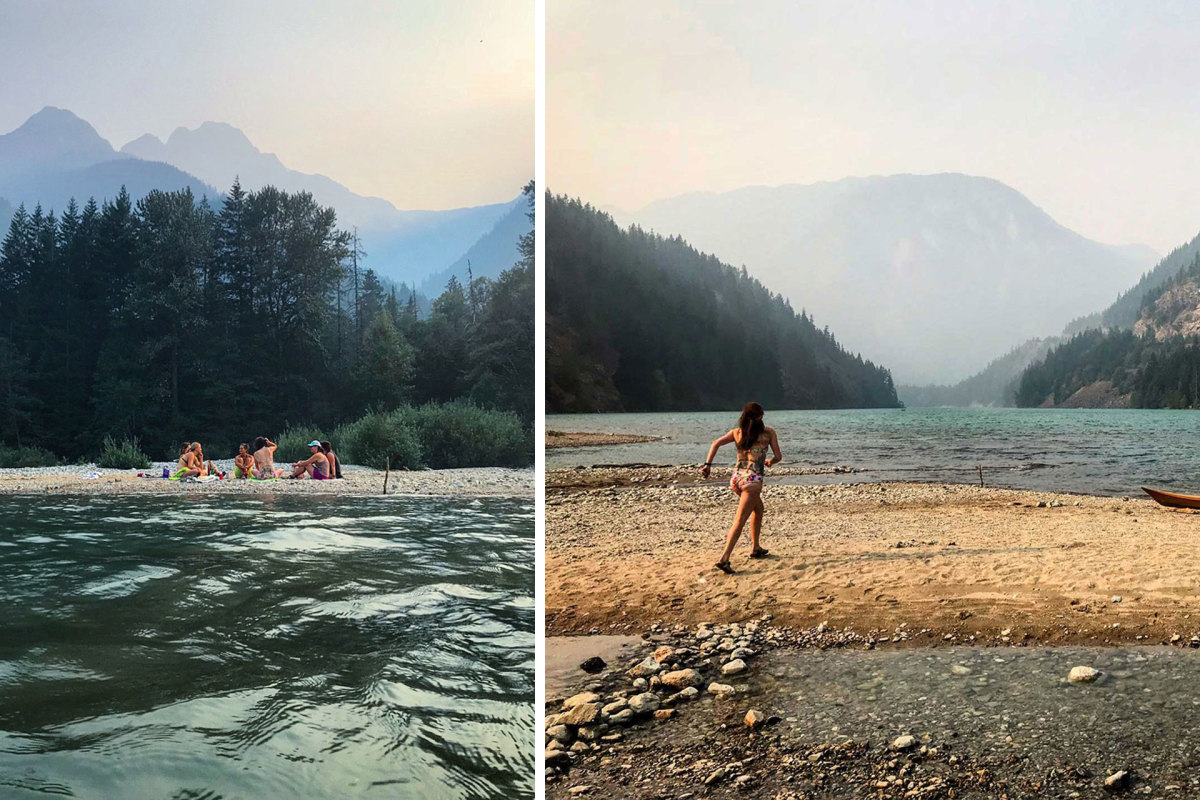 For me, it was the simplicity of this trip that spoke volumes. As my eyes adjusted to the deep darkness on the first evening at our campsite at quiet Diablo Lake, just steps from the bright blue and frigid glacial waters, the importance of what I was embarking on hit me – it's a feeling that could be shared millions of times, but that one only knows once they are experiencing it firsthand.
We rose early the next morning (fueled by coffee and delicious egg and veggie scrambles made by our backcountry guide) and set out on the road.
After some scouting, we hitched a ride four miles up a winding single-lane pass to the Ross Lake Dam Trailhead. We hiked into an old-growth forest of western hemlock, red cedar and Douglas fir, following a rambling dirt trail down switchbacks and over rushing waterfalls. Lost in a meditative state, I was in wonder of this primeval ecological habitat.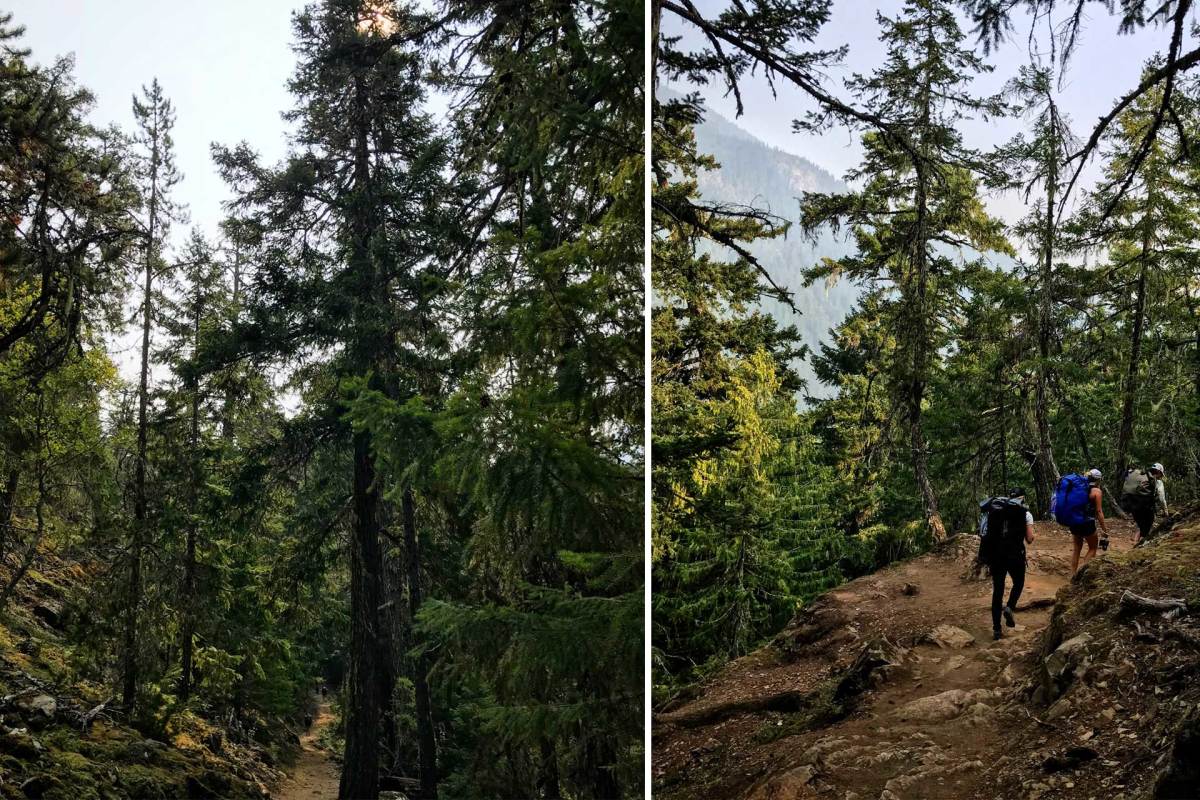 At the bottom of the one-mile trail, Ross Lake presented itself and we stepped into an alternate reality for the next 24 hours.
Saddling our massive dry packs into four canoes, we set out on the lake toward Big Beaver campground, a nearly five-mile paddle one way, stopping at Cougar Island for a quick reprieve, a snack and a swim to cool off from our mid-day efforts.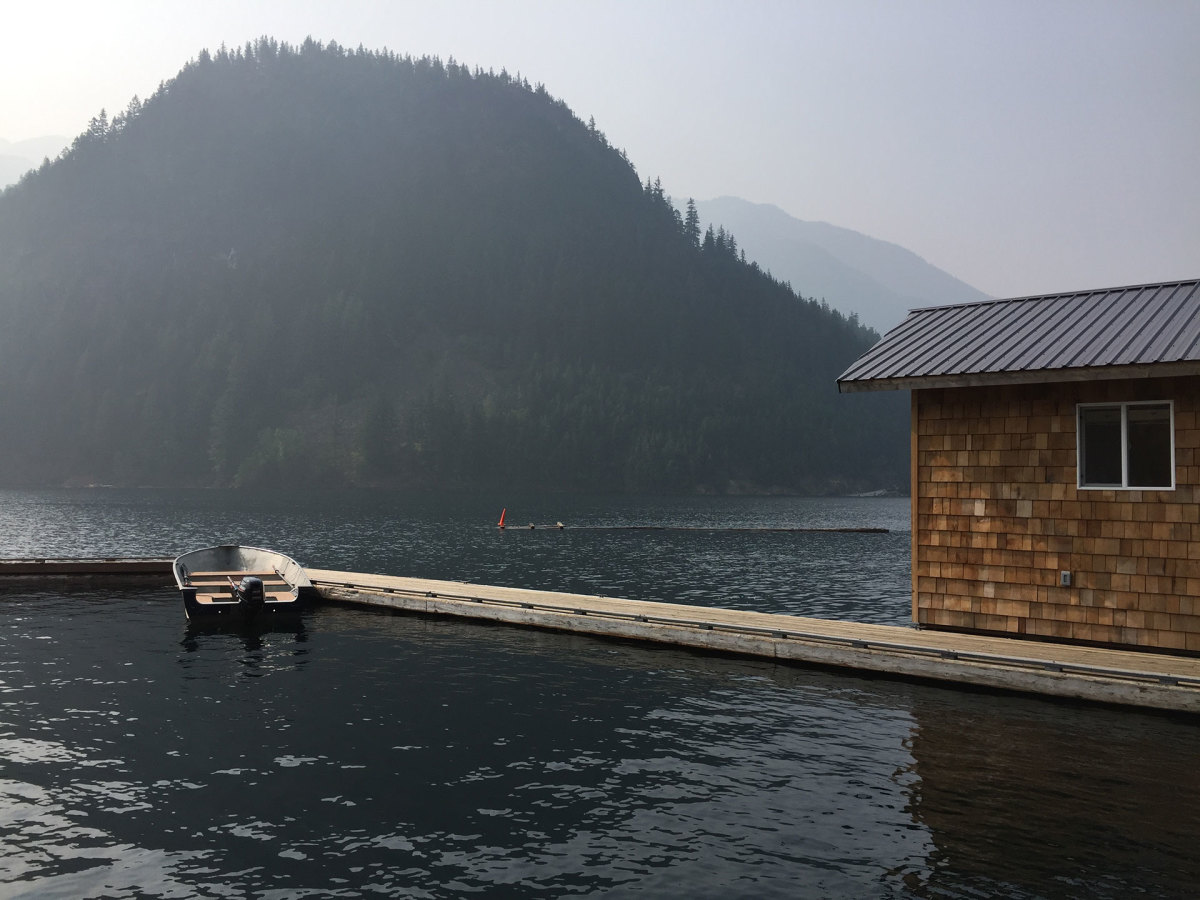 There was something final about pushing off from the dock at Ross Lake Resort (a quaint grouping of cabins built in the 1950s, floating on a series of docks at the edge of the water). A few summer staff and guests sitting in Adirondack chairs (listening to what I guessed to be the only radio station available) lazily watched as we drifted out and around the bend, to even further northern reaches of the lake. Our last connection to society – we were now on our own in the wilderness.
It was a shift in the way time moved. Docking our canoes, and pitching our tents within a canopy of dense trees, took mere minutes, and then … the afternoon stretched unhurriedly before us. I set out on the mostly flat Big Beaver trail that seemed to stretch on forever, the forest taking on what seemed like a life of its own, with ancient trees covered in moss and eventually the dirt path so overgrown in ferns that I turned back for fear of disappearing so completely into this forest that I wouldn't find my way back.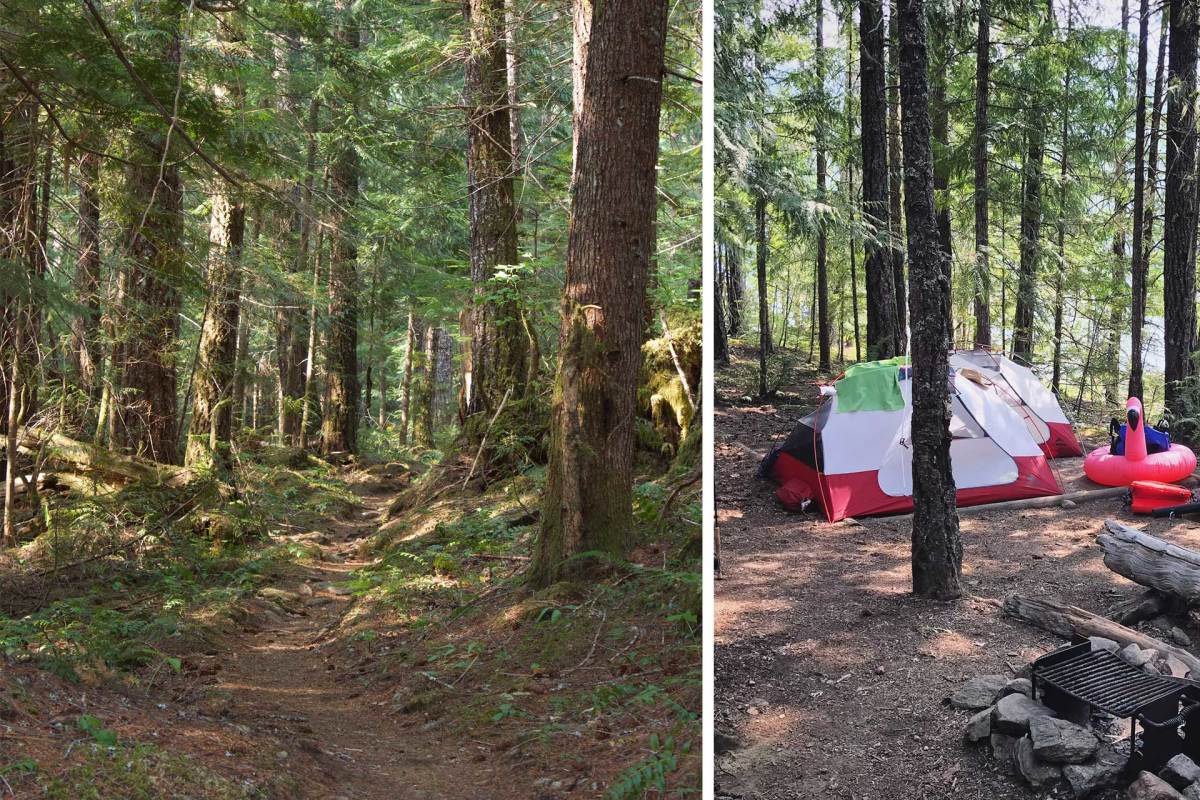 Big Beaver trail stretches on for about 10 more miles before intersecting with Little Beaver trail and another nearly 15 miles to Little Beaver campground, farther north along Ross Lake. "A tunnel of green," the meandering trail is enveloped in groves of old-growth red cedar trees – some more than 15 feet in diameter and 1,000 years old – with clear, sparkling streams and lush undergrowth. Although I didn't make it that far, the trail crosses Big Beaver Creek on a steel bridge, and enters into Big Beaver Marsh – designated as a Research Natural Area for its rare unspoiled vegetation and wildlife such as beaver, otter, ducks, and the occasional black bear or deer.
Back at camp, I stumbled down to the lake's edge and waded out into the crystal clear depths, dunking my head under the clean, cool surface. A few in our group had paddled out just beyond and were casting lines. Later, we'd all regroup after dinner on the dock for an impromptu yoga session led by a yogi in our midst, more fly fishing, and to watch as the dusk slowly crept in, the light seemingly outlasting its normally-allotted daily allowance by hours upon hours.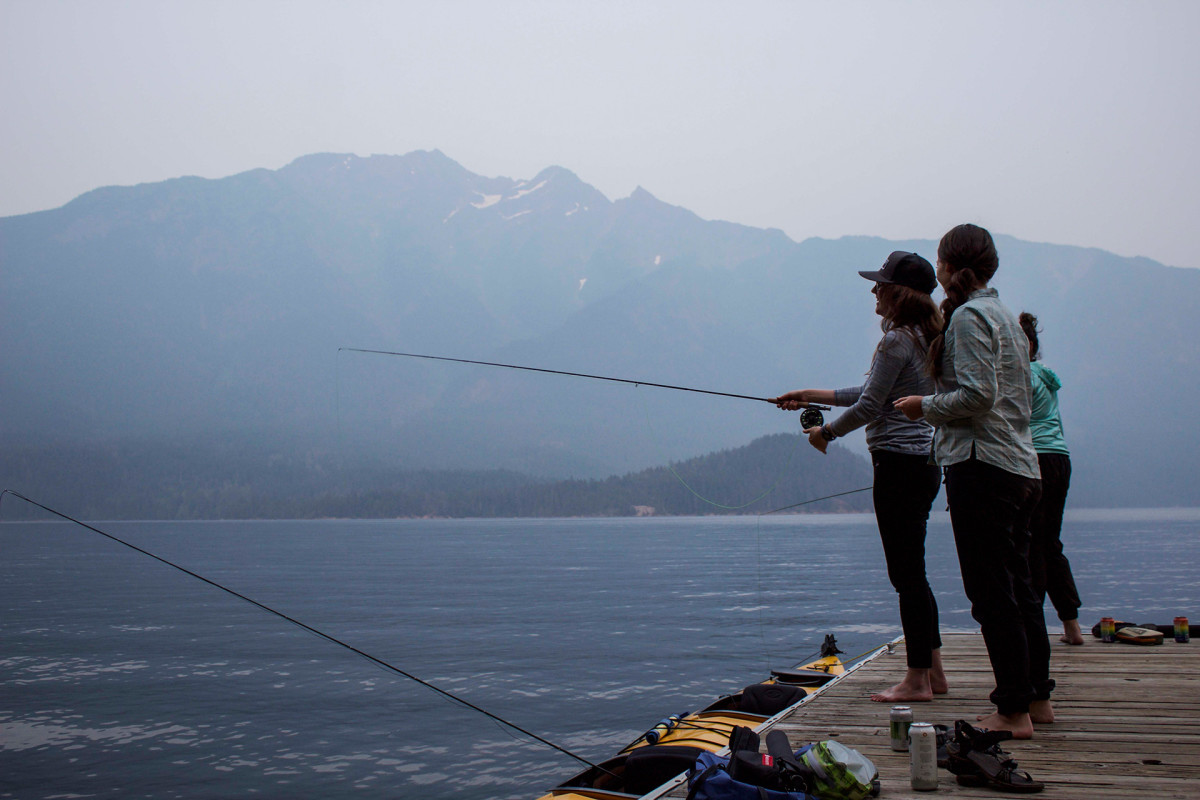 Later that night, in complete darkness, snuggled into our sleeping bags as evening temperatures dipped into the 40s, the sound of the far-off creek rushing out into the lake lulled us to sleep.
When I set out on the trip, I worried that I'd be away for too long. Away from the responsibilities that I needed to fulfill, the daily demands of life. But as we paddled the five miles back out the following morning, my heart felt heavy knowing that it was already over.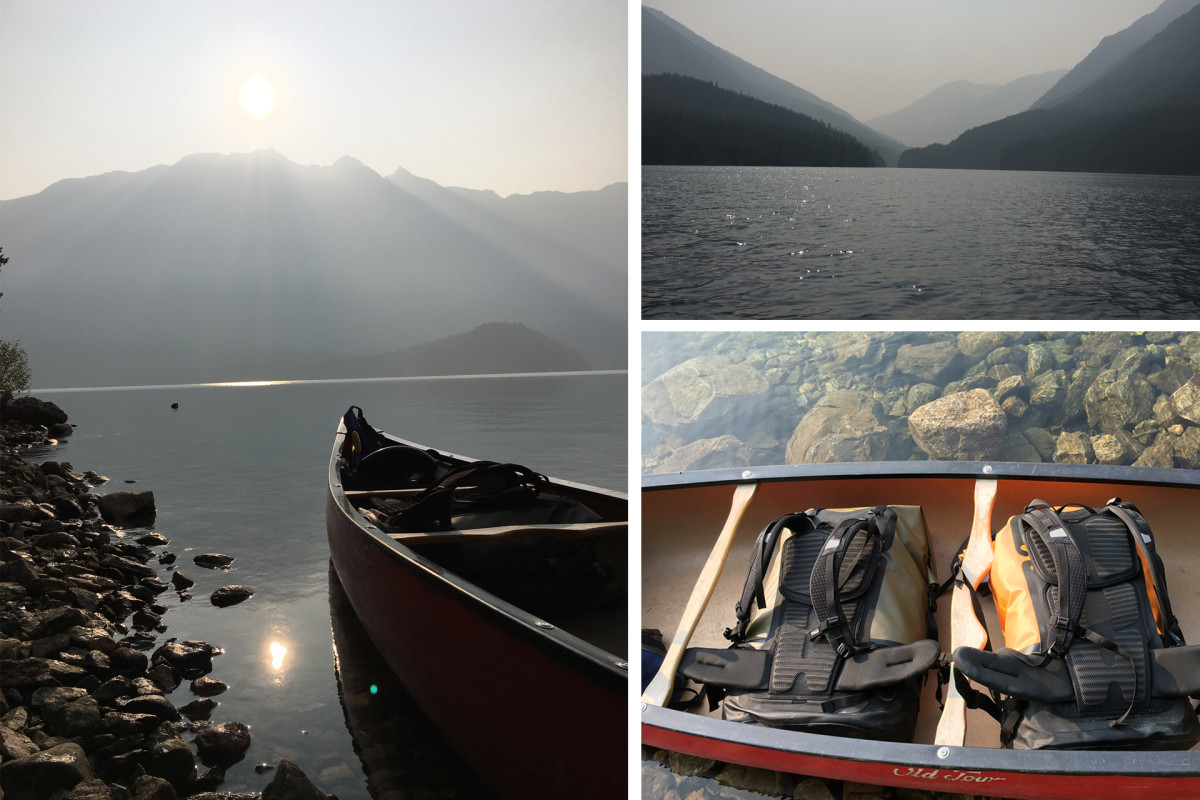 My time in the North Cascades may have been brief but it reshaped my present thoughts, and the priorities in my immediate future. Digging around at the bottom of my pack, I'd all but nearly misplaced the items I had clinged to only two days ago. It's crazy how much a quick blip on the radar can reset your perspective.
Powering back on was a powerful moment, as we all sat in silence – tired, sweaty and happily-content to have just completed a long journey, and now parting ways with Ross Lake and the park. Sometimes coming back to reality is harsh; one of us announced to the group (as her delayed news feed updated her) that Aretha Franklin had passed away. I scrolled through the first of many emails and read through tears that a co-worker, after an 18-month battle with cancer, had also left us while I'd been off the grid.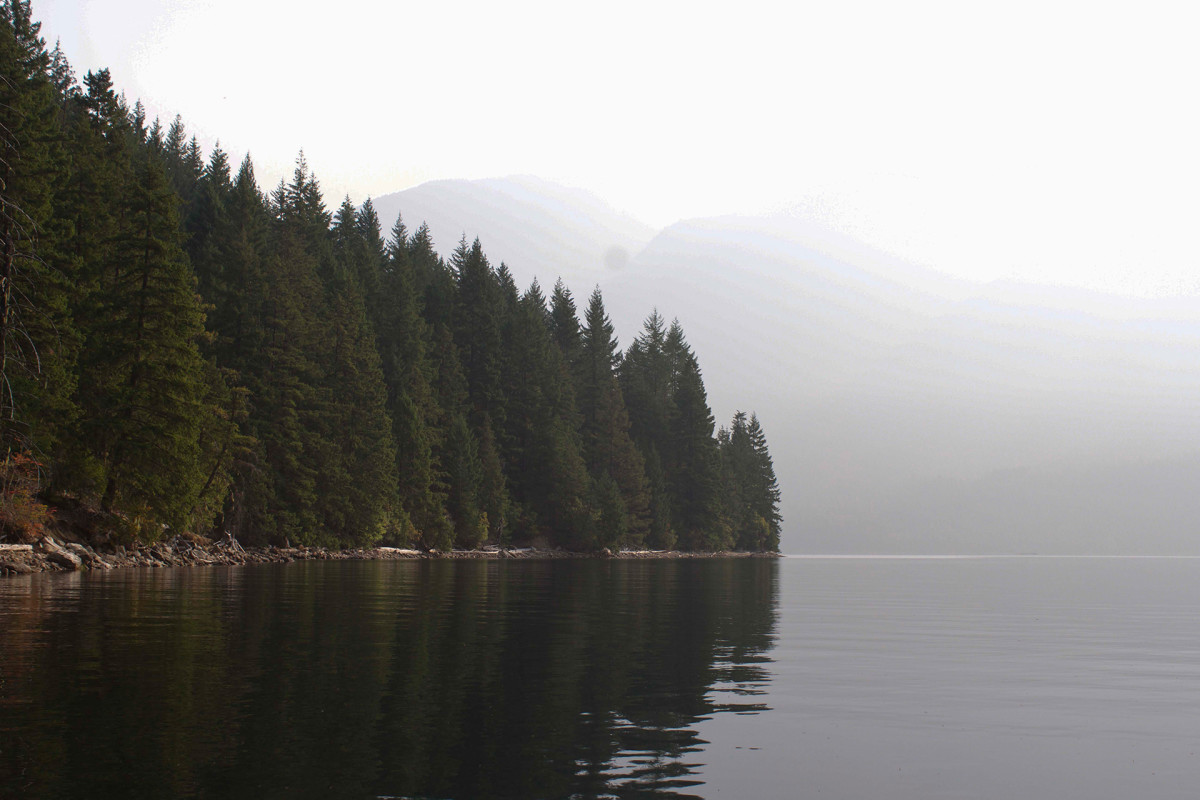 Re-intergration with city life later that evening in Seattle slowly eased us out of what can only be described as a bucket-list-level experience. All the immediate demands, ups and downs of our life were still there. But somehow a newly instilled sense of calm had crept in, a restored energy for life – heading back to the noise, with the knowledge that I could always plan another trip like this one, in the very near future.
Photos by Stefanie Walters, Nicole Qualtieri, Natalie Synhavsky, Melissa McGibbon and Kailee Bradstreet.
For access to exclusive gear videos, celebrity interviews, and more, subscribe on YouTube!