At the bar, my friends and I play a game—borrowed from the surrealists—called Exquisite Corpse. You fold a paper napkin over several times. Then you divide up a body: one person gets the head, another the torso, a third the legs. Each player draws their part, folds it over, pass it along. Without the other parties knowing the whole, the figure takes shape. The result can be an ungodly monster, a nonsensical beast, or an oddly perfect agreement. Usually, it is somewhere in between.
Recently, in Miami, a similar experiment occurred, but with a building and on a massive scale, with the Museum Garage.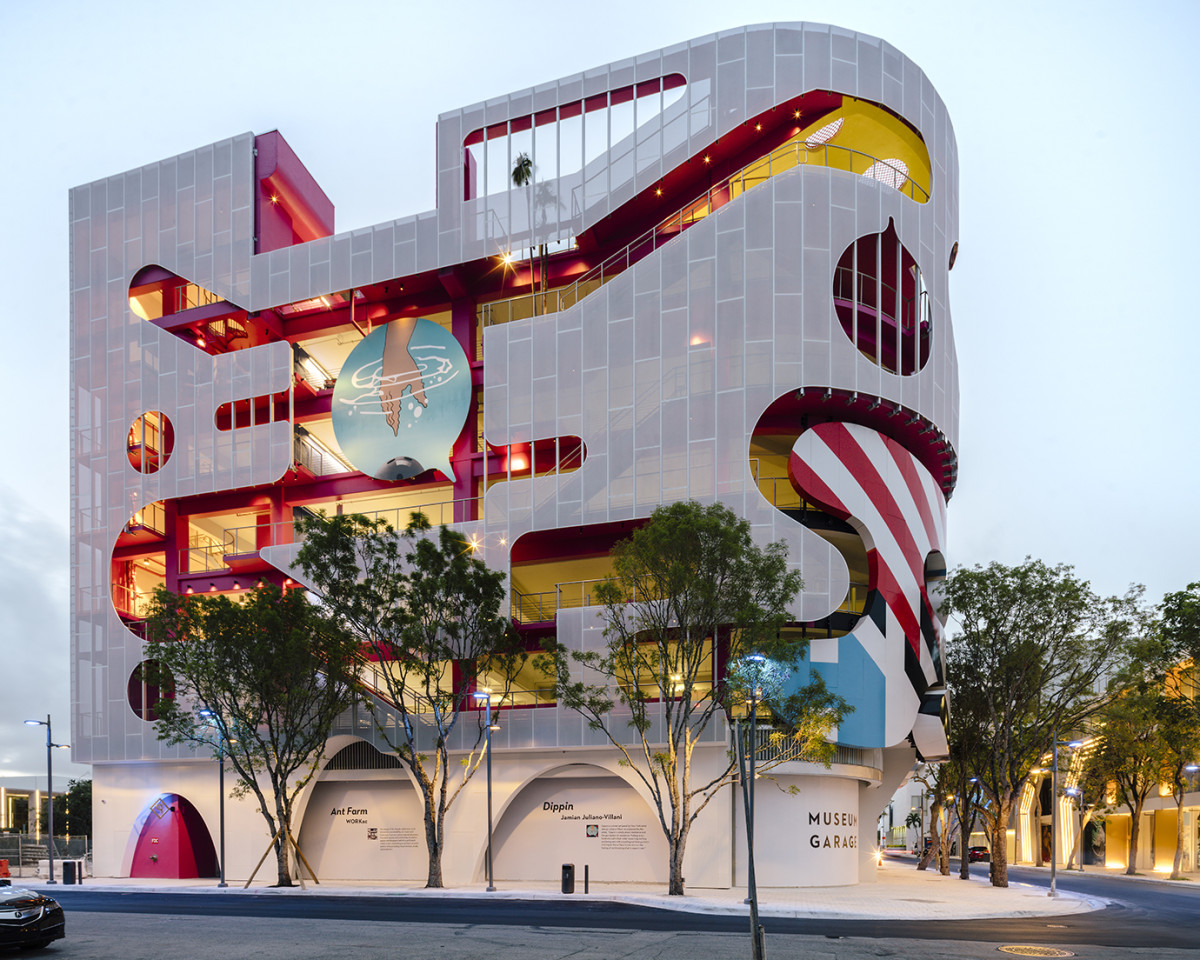 The garage, literally a seven-story parking garage at Northeast First Avenue and Northeast 41st Street in Miami's famed Design District, is the brainchild of Terence Riley, the former chief curator of architecture and design at MoMA. Craig Robins, the developer who's built or rebuilt much of the District, hired Riley, who then commissioned five architects to build a section of the garage's facade, without ever knowing what the others were building.
"Parking garages are big, and they're not especially loved," said Riley at the garage's opening earlier this year. Frequently, architects and artists are asked to iterate the visual consequence of a necessary thing." With this in mind, and his surrealist spin on collaborative design, Riley set about finding his five artists and designers, and the grand game began.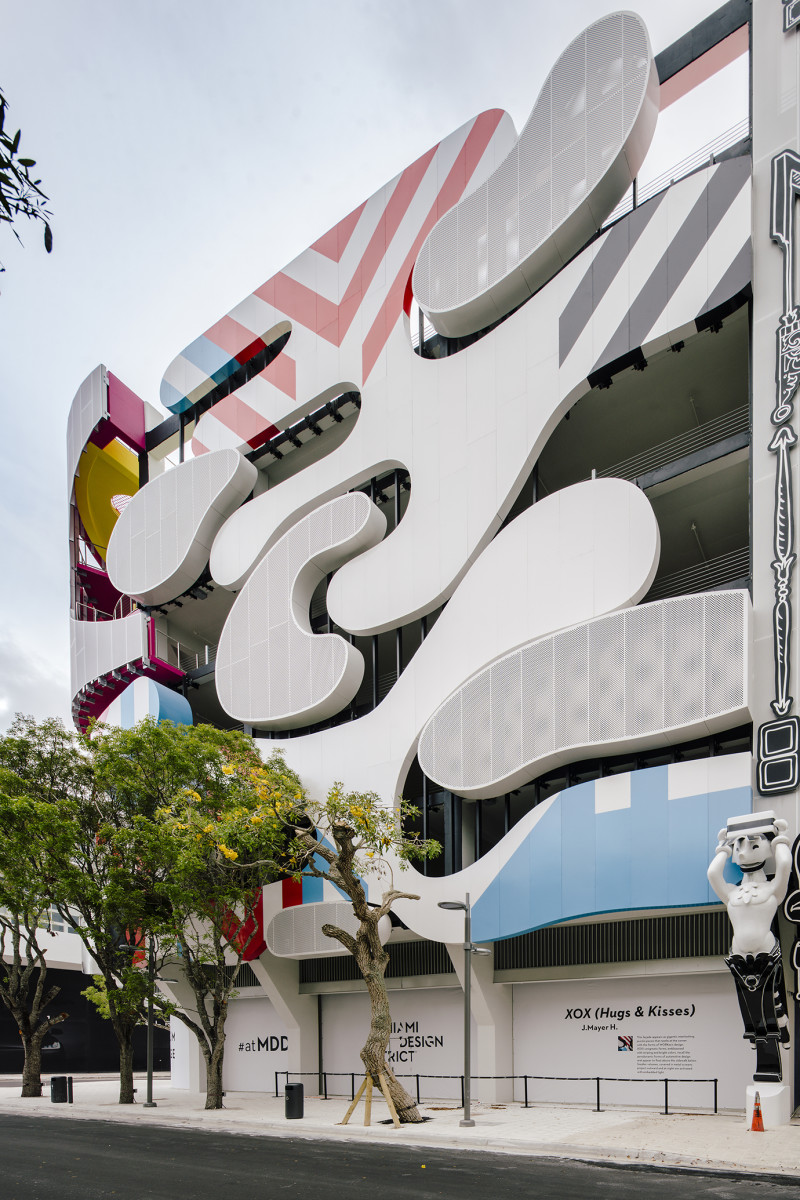 Riley's own facade, built in conjunction with his firm, Keenan/Riley, is by far the most successful. It's a trompe l'oeil, geometric latticework called "Barricade," inspired by the orange-and-red plastic barricades that demarc Miami's non-stop construction zones. It's a play on the city's development and Museum Garage's place within it. Another attractive element is "Ant Farm," designed by New York City-based firm WORKac. "We are architects, but also urbanists," said Amale Andraos, who led the WORKac team. "We think about how the Design District has transformed from car culture to street life." People coming together, working to build something larger, hence: "Ant Farm," a pattern of 2D tunnels weaving their way through a rectangular patterned background—which itself becomes like liquid continents, glowing pink at night (a nod to Miami Vice's palette the architects could not resist).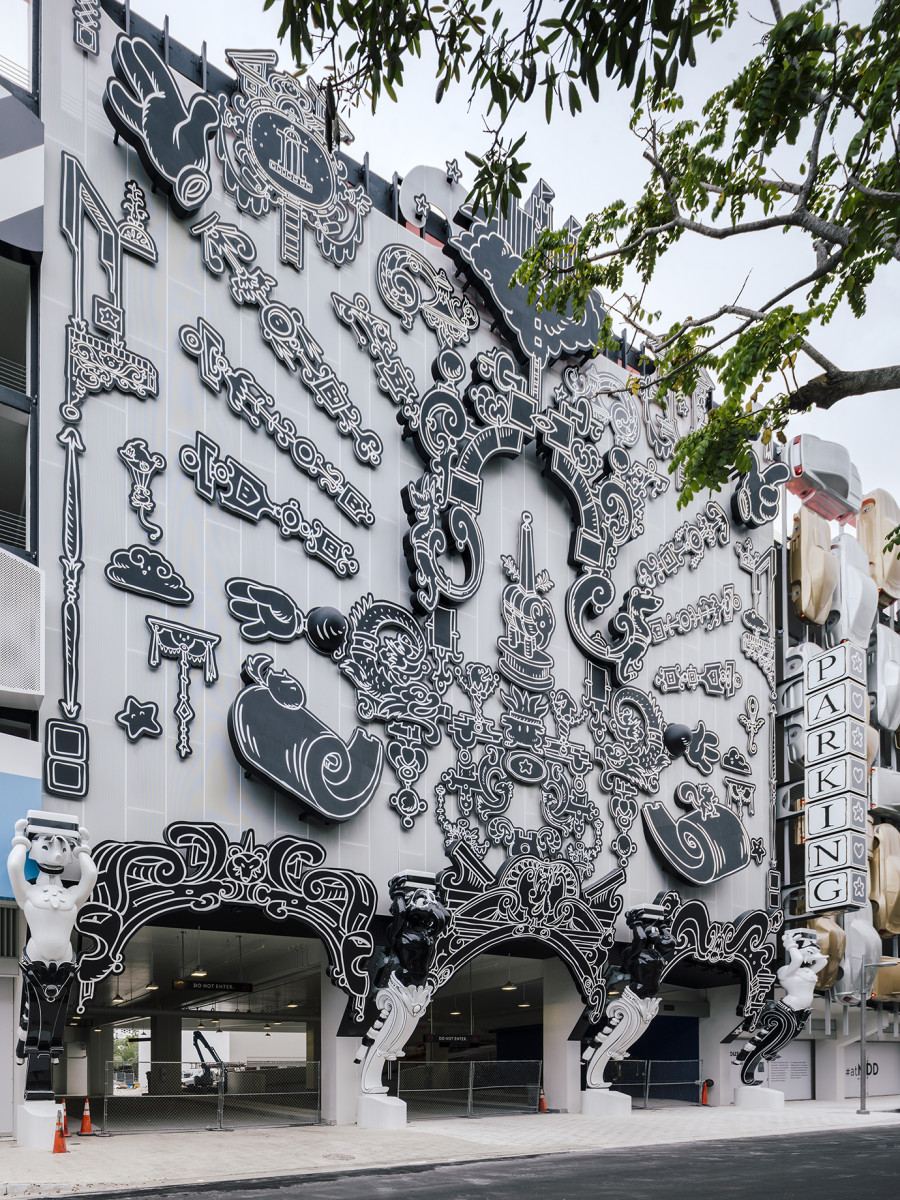 Other sections—like "Serious Play," a mish-mash of Nicolas Buffe's childhood influences sculpted in a baroque style, as if to create a silly sample of Dante's gates of hell—work less well, both on their own and with their neighbors than "Ant Farm," which merrily hugs its neighbor, J. Mayer. H's "XOX" puzzle pieces.
All in all, the structure adds playfulness, and some color, to a district that can feel closer to Rodeo Drive than any kind of cultural center.
"It think it's for everyone who is sophisticated and appreciates creativity," says Robins. "We have two museums, both of which are free to the public. We have an amazing collection of art and architecture and design that you can walk around and see. There are amazing shops. We want it to go to all different price points."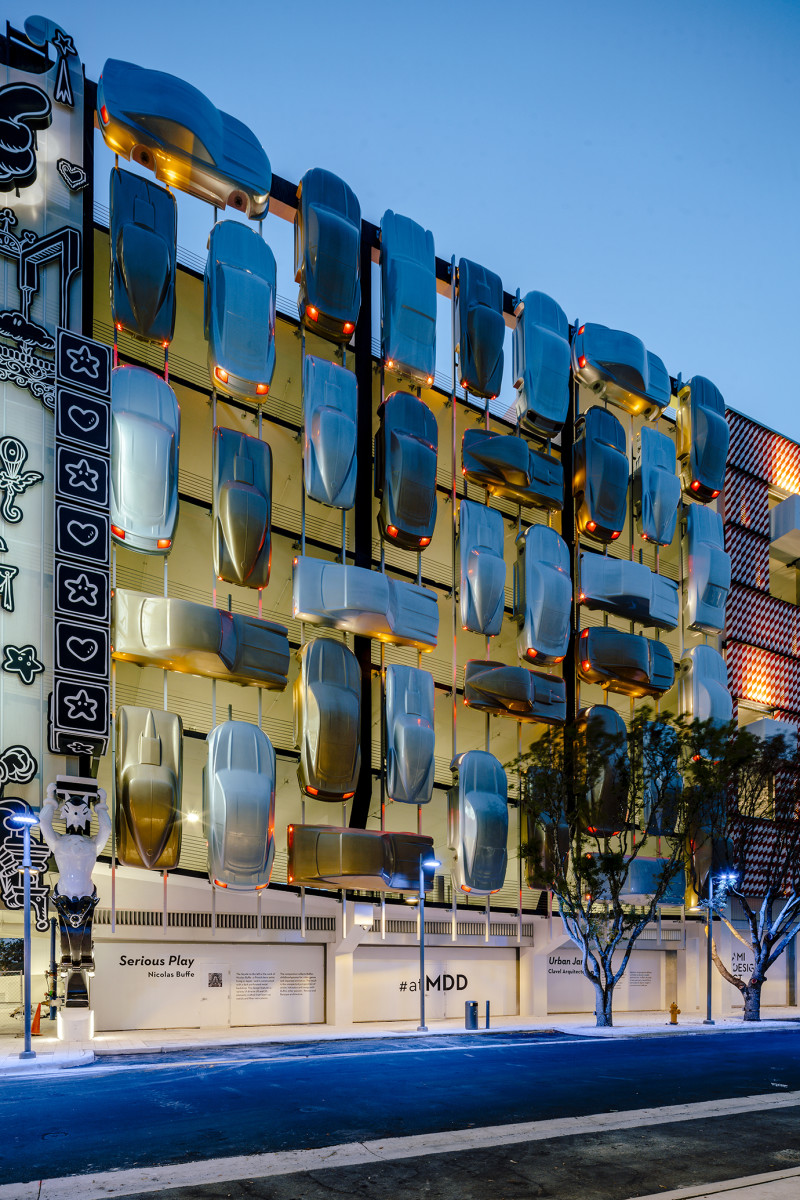 That may be true, but a quick look at the Design District section of Mr. Robins website—reveals a shortlist of brand names that speaks to one price point only afforded by the one percent: Gucci and Saint Laurent, Fendi…Harry Winston, Céline, Giorgio Armani, Versace, Givenchy, Tiffany & Co. Who wouldn't want these brands? The problem becomes, when discussing art and development, whether this is art for the people or decoration for what amounts to a very fancy mall?
"Not at all," says Robins. "If you look at the entirety, the museums, the coffee shops; we just opened this amazing incubator for chefs and restaurants. Every weekend on Friday Emilio Estefan does a free concert that's open to the public. Thousands of people come. Having the power and support of these great fashion companies has given us more resources to do something for everybody."
Should that be the case, they'll have plenty of places to park.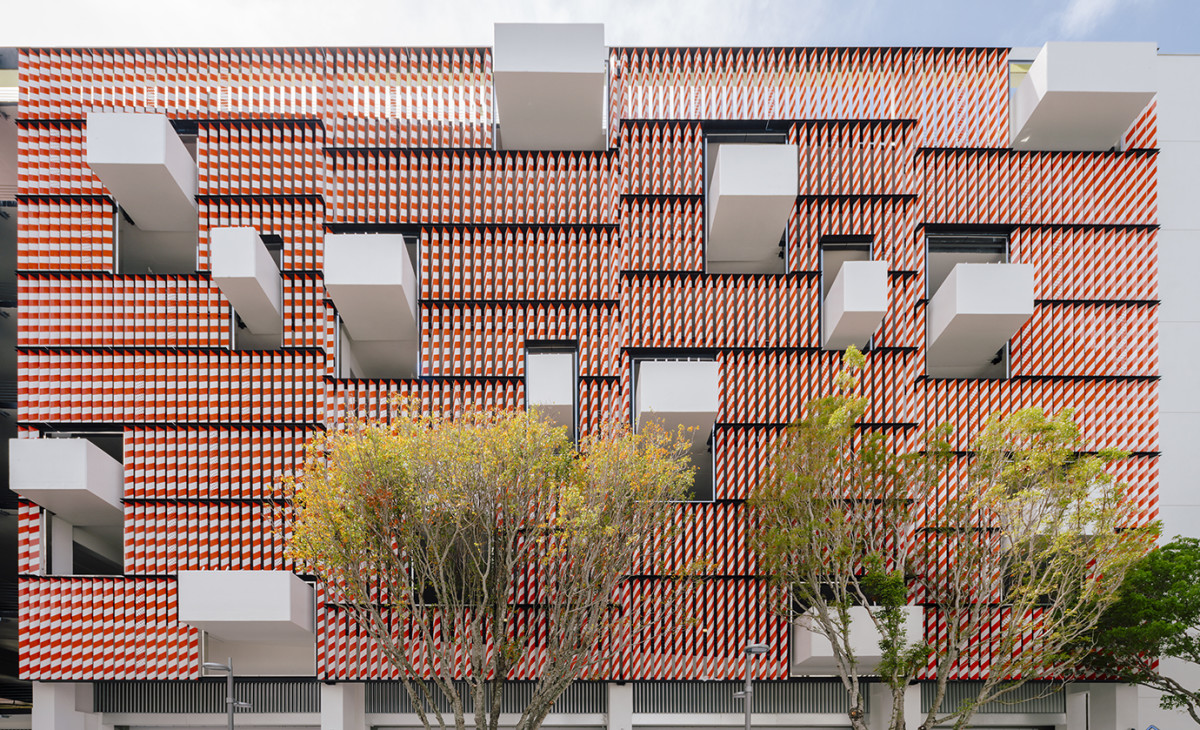 For access to exclusive gear videos, celebrity interviews, and more, subscribe on YouTube!