The word Bavarian brings a specific image to mind, and I'm happy to tell you that it's a very accurate depiction. Munich is every bit the picture-perfect, beer-guzzling, carb-hungry, nature-loving metro you want it to be—and not just during Oktoberfest. And this is the Munich travel guide to see it all.
Your visit to the Bavarian state capital will be highlighted by beer halls and gardens, heavy and irresistible comfort foods, expansive greenery, Baroque architecture, history lessons at every turn, lots of BMWs, and many more beer halls and gardens (that last part was worth repeating).
It's a lot to pack into a four-day weekend, but you're gonna do it. This itinerary will help you prioritize the trip, too—so that you can leave feeling satiated on Bavarian culture, and a little drunk off the lager.
Munich Travel Guide: Where to Stay
The Charles
Situated between Munich's central train station and botanical gardens, The Charles' location is enough of a selling point. It gives you far more than just a perfect location, though. Its stately rooms are a sanctuary from the city.
You can start your day with breakfast on the quiet, lush patio of onsite restaurant Sophia's, or unwind at night with live music at the bar. And, in true Rocco Forte fashion, the onsite spa, pool, and fitness center are worth your stay alone. Their 120 sq. meter lap looks like it was plucked from a Hungarian bathing house, and a visit to their steam room or Finnish sauna will melt away the stresses of traveling.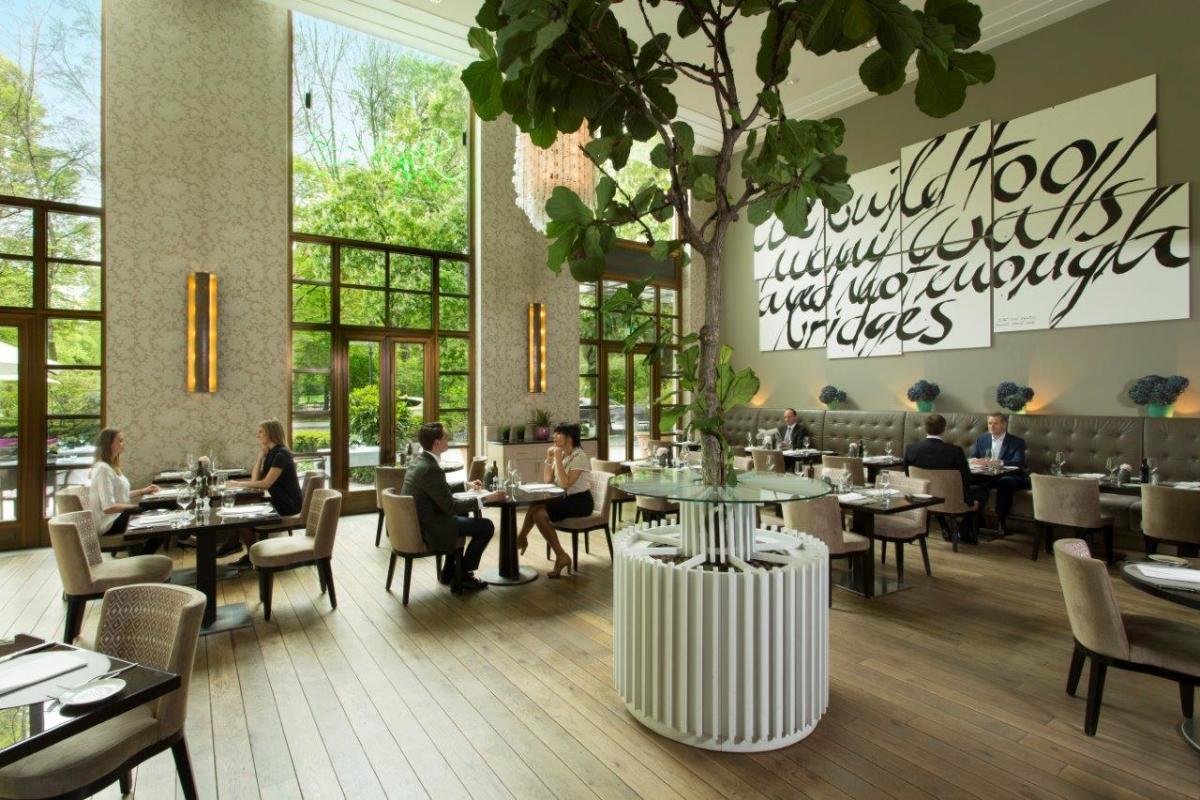 One thing I love about The Charles (and all Rocco Forte hotels): They outfit each room with families in mind. If you travel with the kids, you'll find extra amenities just for them—kids' newspapers and comment cards, Teddy turndown service, some in-house programming, and even tailored spa treatments just for them.
Hotel München Palace
Another accessible 5-star option is Hotel München Palace, which also gets great marks for its location, but for the opposite reason. It's more tucked away, a few kilometers east of the city center, but just barely east of the Isar River and Englischer Garten. You're equidistant to Old Town, extremely close to that stunning park (rent bikes for free from the front desk!), and snuggled among a dozen bustling beer halls and cozy restaurants. While the Palace's no-extra-charge mini-bars are a huge win, you should still have a nightcap in their speakeasy-style bar. (And make time for a coffee or tea in their pristine private garden or terrace.) This is where I'd stay if I were on my honeymoon in Munich—particularly their private onsite residence for exactly that.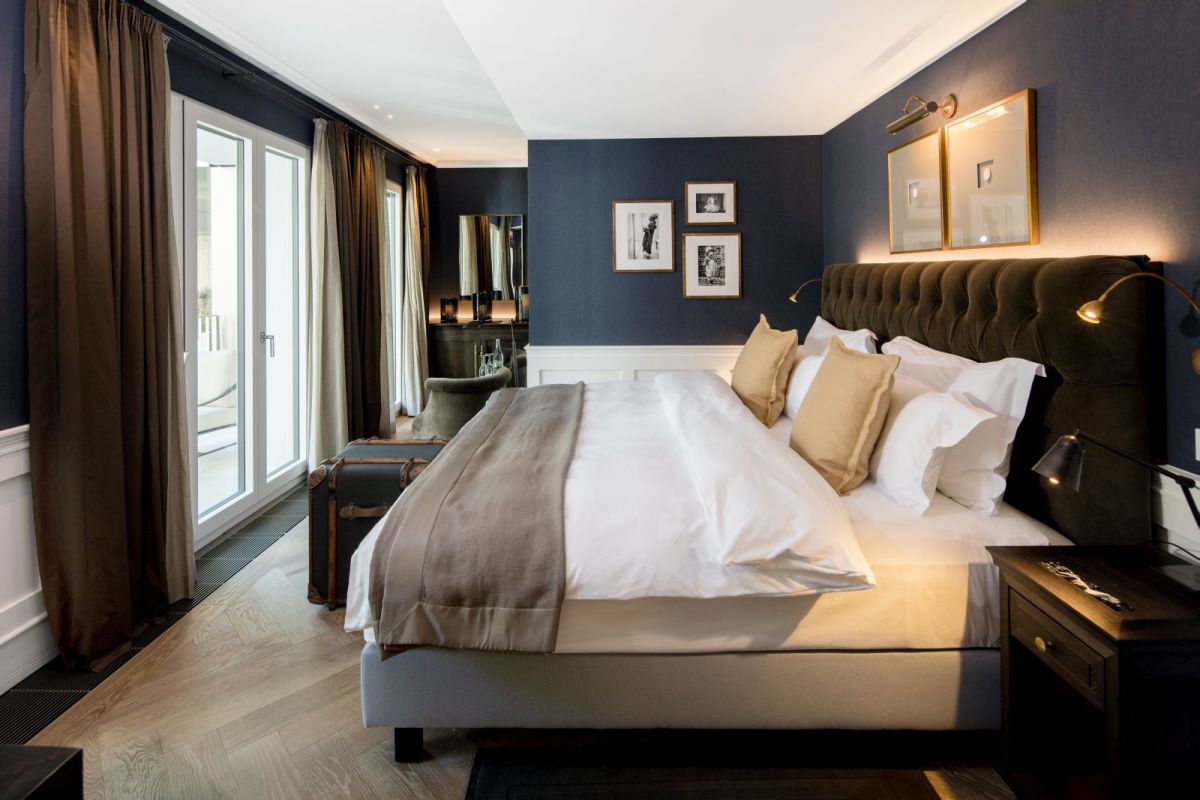 If you're a smoker, you can request one of their few smoking rooms, too—a rarity these days, but also something they'll avoid for you if you prefer the clean-air alternative (the vast majority of their impeccable property).
Thursday: Beer Me.
Evening
Go big right away: Walk over to the city center, Marienplatz. Here you can meander the side streets of Old Town, though you'll be back here again tomorrow. Before you sit down for dinner, stop by the gothic, WWII-bombed Frauenkirche (The Church of Our Lady), the New and Old Town Halls both, and the enormous St. Peter's Church.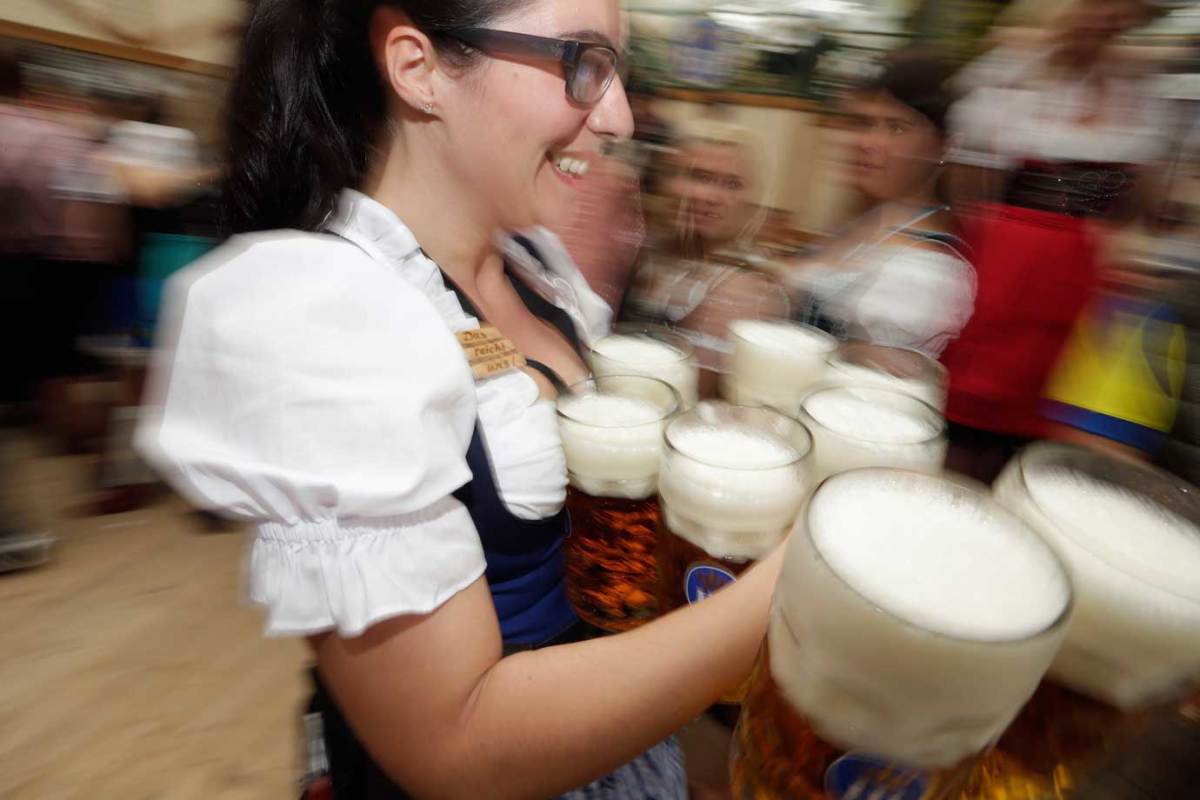 Then cozy into Hofbräuhaus Münich, an enormous Bavarian beer hall (three stories, with capacity for thousands). It's a bit chaotic, but in the way you want it to be. Order giant pretzels from the dirndl-clad vendors while music from the Bavarian band echoes throughout the hall. Get roast beef and dumplings smothered in gravy for dinner, and drink from mugs as big as your thighs. You don't need reservations for the main beer hall, Schwemme, nor the beer garden.
…Welcome to Bavaria!
Friday: Munich in a Nutshell
Morning: Englischer Garten
Get breakfast from the regal, highly regarded, and reasonably priced Café Luitpold by Odeonsplatz.
Then, rent bikes (your hotel may have some), and pedal up to Surfwelle at the south end of Englischer Garten to see urban (more or less professional) surfers battling the manmade current in the Eisbach River. Try to surf it yourself at your own risk. Otherwise, marvel at the fact that it exists year round, and that it's not something you expected to see in the heart of Bavaria.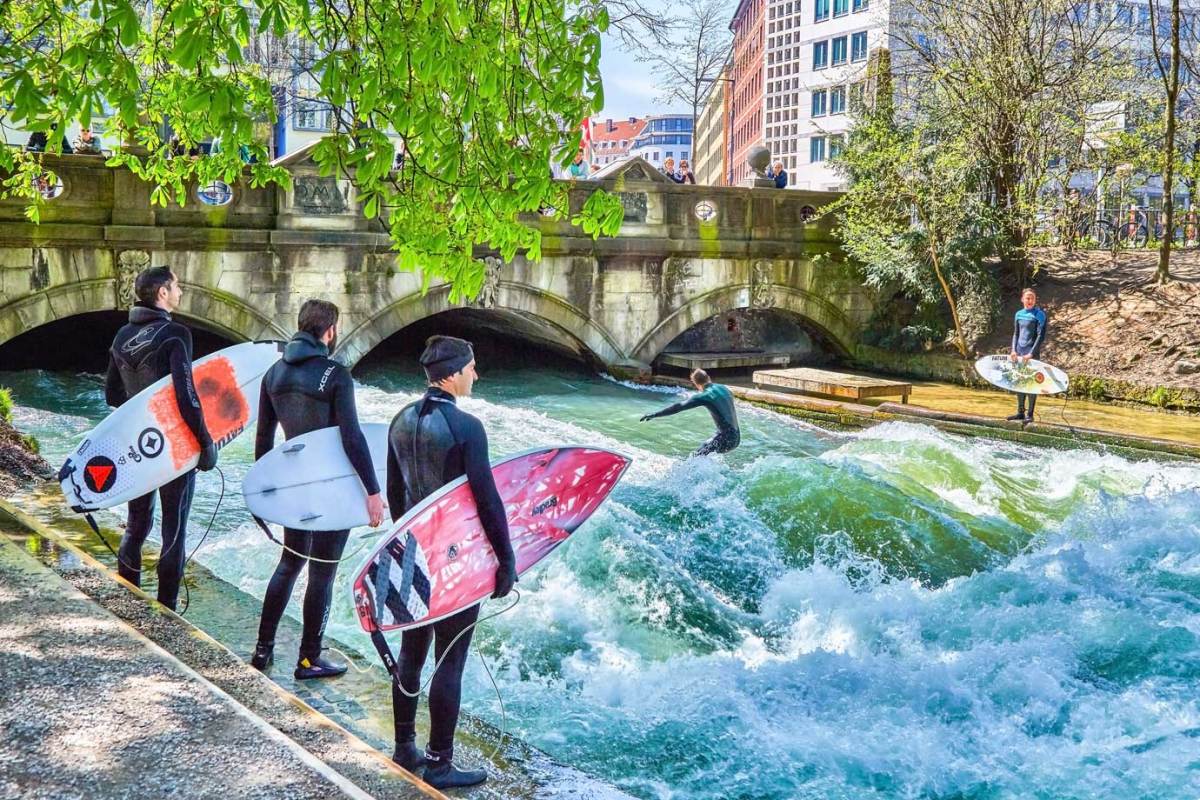 Next, steer your bike into the park, and just cruise up and down its nearly thousand-acre expanse. It's got all sorts of treats in store for you: Chinese tower and beer garden, Greek hilltop temple Monopteros, Japanese garden and teahouse, nude sunbathers (be respectful and don't take photos), giant fields, and riverside running or biking paths. The best surprise by faaaaaar, however, is the enormous flock of sheep that grazes near Hirschau (just plug that into Google Maps and pedal towards it). There must be a thousand of them, just baaaah-ing at each other, and you'll even see a rogue goat or two. We stayed and chuckled at the scene for a good half hour, laughing like teenagers at the various sheep calls, because what the hell?
Surfers, Japanese teahouses, and sheep? This park rules.
Afternoon: To Market
Get yourself back to the Old Town at center, to Viktualienmarkt near Marienplatz. You'll be able to sample foods from numerous Bavarian farmers for lunch, before you peruse the city's commercial center. (You saw some of this last night, but haven't explored it all just yet.)
Then, when you're done, stop by the Beer and Oktoberfest Museum, which is in the city's oldest (700-year-old) town house. It's all in the name: You can learn about the origins of Oktoberfest as well as the history of (mostly Bavarian) beer production. The tour ends with a beer tasting. Of course.
Evening: Beer Halls, Part II (of Many)
Hooray, more beer! You can settle down in the Biergarten Viktualienmarkt if you don't want to venture far, or even pedal back up to the Chinese Tower in the park, since it's at the center of a beer garden (which is likely far more populous now than it was this morning).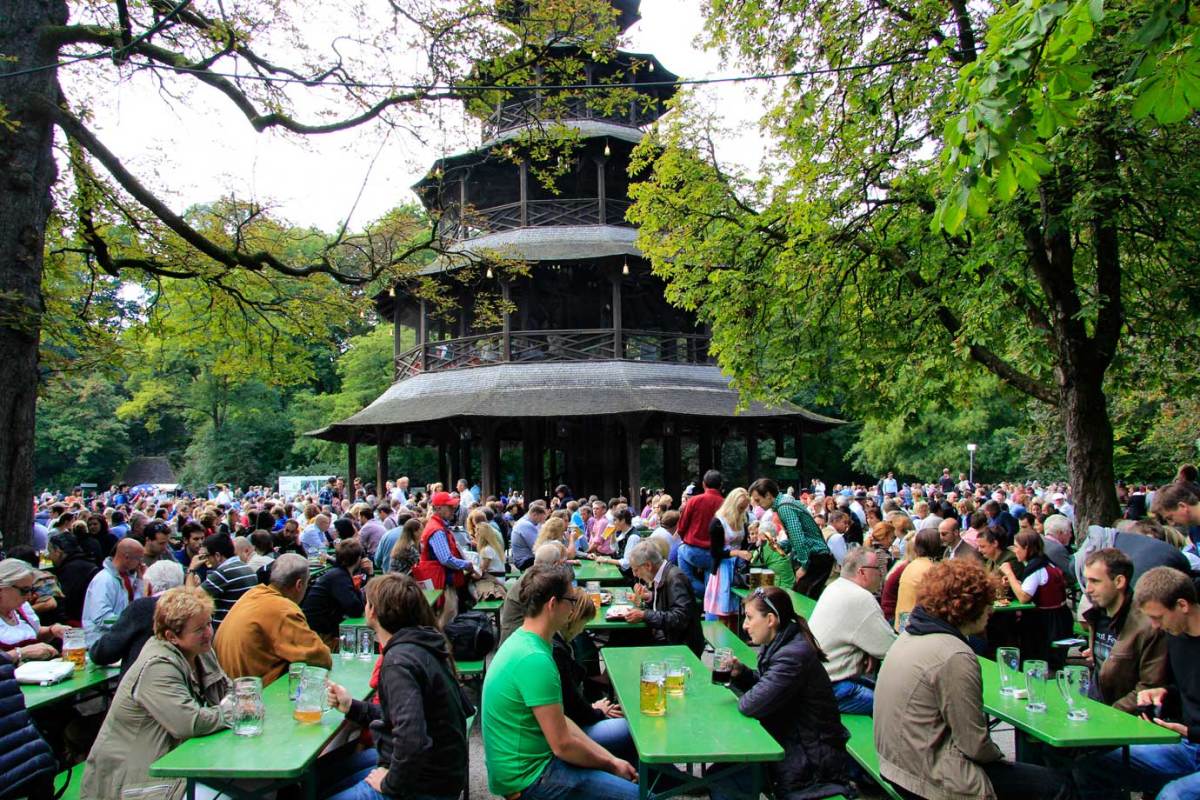 Then, your beer hall tour continues with a visit to 200-centuries-old Augustiner-Keller, just northwest of the Hauptbahnof (central train station). Hooray, carbs!
Saturday: Castles, Cars, and Concerts
Morning: A Jaunt to Nymphenberg
After hotel breakfast, take the S-bahn and 17 Tram out to Nymphenberg Palace for the morning. It's a 17th-century Baroque marvel, the former getaway residence of Bavaria's rulers. (Just as Versailles was for French royals.) You can tour the castle grounds, hunting lodge, and bathing house, or take a gondola around the canal. Allocate five hours for the round trip, or more if you're really into this kind of stuff.
Afternoon: BMW Up Close

It's ambitious to suggest this after a trip to Nymphenburg, so pick and choose as you please. But if you're up for it, now's a good time to visit BMW Welt (the museum beside Bavarian Motor Works global headquarters), in the northwest corner of Munich near the Olympic park. Here you can see the BMW's contributions to automotive advancements, as well as the evolution of their own top sport and consumer models. Enthusiast or not, you can do the round trip in about three or four hours max.
Evening: Mozart in the Jungle

Book your 6:30 p.m. tickets to the Serenade at Residenz München, the former royal-palace-turned-museum, with its theater, church, and courtyards. Every Thursday and Saturday, members of the Munich Philharmonic and Bavarian Radio Symphony Orchestra play the classics: Bach, Vivaldi, Handel, Haydn, Mozart, Beethoven, and Schubert. This takes place in the main chapel on the royal grounds, where Mozart himself has performed.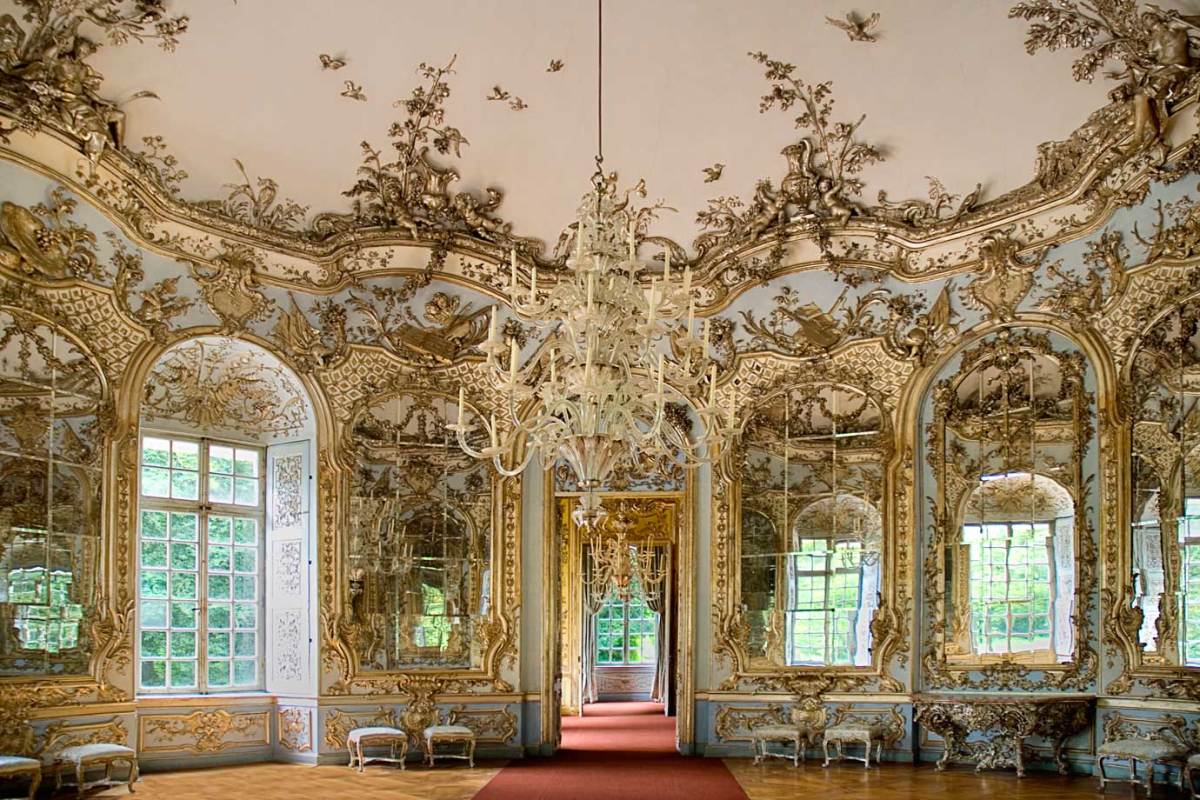 If you miss out on that—or you'd prefer world-class ballet, opera, or the Bavarian orchestra—check the calendar at Bayerische Staatsoper (the Bavarian State Theater). You can find numerous events throughout the week, though many Saturday performances begin around 7 p.m.
After the show, it's off to another beer hall and garden! (It's too perfect not to do this for every dinner here. Come on.) This time: Hofbräukeller am Wiener Platz (not to be confused with Hofbräuhaus Münich from Thursday), southeast of the park Maximiliensanlagen, open til midnight.
Sunday: History Lessons
Morning: Museums of Munich

Most of Munich's museums are side by side in the "Museum Quarter" at the center of town. This makes it easy to pick a couple different ones and spend a few hours ingesting art and history without having to shuttle across town. They're almost all closed on Mondays, so Sunday morning is a great and somewhat quiet time to visit; most are open from 10 a.m. to 6 p.m.
You could make a morning of the Pinakothek collections, though the Pinakothek der Moderne is my favorite. The Pinakothek Alte, or Old Gallery, has paintings from the Middle Ages, Renaissance, and such. The Neue Pinakothek, or New Gallery, features European Art like Impressionism and Art Nouveau. Then, the Moderne features modern and contemporary design, art, and architecture from this and last century. Last is the Museum Brandhorst, which is more of a proper modern art collection, with mainstays like Andy Warhol and Damien Hirst.
If Bavarian history interests you, walk east past Englischer Garten to the Bavarian National Museum for exhibitions and artifacts, open til 5 p.m.
Or, if you've ever dreamt of riding Falkor the Dragon from The Neverending Story (yes, you read that correctly), then pop on over to Bavaria Filmstadt, where you can check out all sorts of iconic film set pieces and props.
Afternoon: Dachau

I hesitated on whether or not to include this in the itinerary—the same way many locals will hesitate if you glorify the tourist experience—but I believe it's important to see and contextualize a concentration camp, at least once in one's life. Outside of Munich, a short half-hour metro ride away, is one of the most notorious ones, Dachau, which is now a memorial to those who were interned and murdered there under the Nazi regime.
It makes for a bleak afternoon. But it's a sobering reminder of what happened, and what must not happen again. The team behind this memorial has done a fine job of commemorating the many victims of the atrocity, telling their stories, as well as explaining and depicting the facilities in uncensored yet considerate ways.
You can allot five hours round-trip with the self-guided audio tour (the only thing that will cost you a penny on site, at just a few Euros). This gives you enough time to tour the grounds, but note that they close at 5 p.m. When you go in, start with the museum, just to the right of the main iron gate. (It's past the visitors' center, which is where you'll buy your audio guide.) The museum will set up everything you need to know before you walk through the rest of the site.
Evening: Bavarian Comfort Food
You're not going to be so terribly depressed after the tour, but you probably won't be in the mood for revelry. (That's why I think Sunday is the best day for this.)
So tonight, let's skip the beer hall, but still wind down with some Bavarian comforts: Go to Steinheil 16 for a quieter ambiance, plus Grade-A schnitzel and spaetzle. And beer, of course. We aren't forgoing that.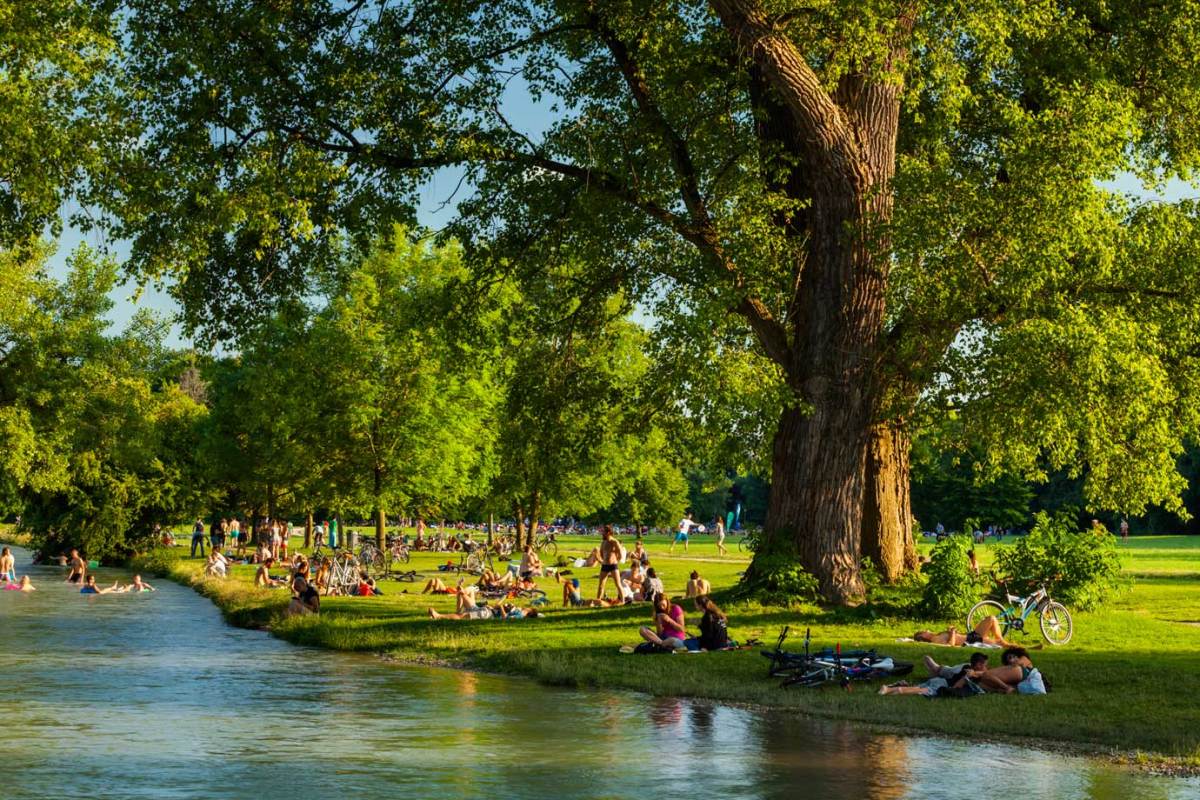 Monday: Hipsterville
You've soaked up lots of history and traditions on your visit, so why not cap it off with a glance into the future? That is, at the youth: Go south to Glockenbach, with the roundabout park Gärtnerplatz as your primary landmark. This is where you can find Munich's young people, local designers, hip bistros and boutiques, and the ahead-of-the-curve LGBTQ crowds.
You can enjoy the final breakfast of the trip at Tractenvogl. It's one of the few places you'll find open on a Monday—but one of the best brunches any day of the week. Then, peruse the boutiques and café crowds before heading back to the hotel for your bags.
For access to exclusive gear videos, celebrity interviews, and more, subscribe on YouTube!