Travel
'Outlander' Stars Sam Heughan and Graham McTavish Think Kilts Are the Perfect Ice Breaker
Outlander stars Sam Heughan and Graham McTavish want to tour Scotland with you. You can't hole up in a camper van with them (even though that's the road trip of our dreams), but you can get pretty close. During a time when travel is at a standstill, the Scottish actors are offering the world a charming introduction to their home country—and all the Highland life has to offer—with Men in Kilts. Their new series pays homage to their costuming in Outlander, but they also just love the traditional garment.
"I think everyone should wear a kilt at least once," says Heughan, who was born in the Southern Uplands. Though not exclusively worn in the series, the wool pleats show up throughout their wayward adventures biking through rolling hills, partaking in Scottish dance, and competing in Highland Games like the hammer throw. "They're actually very functional." McTavish agrees. "It's liberating—and you never have a bad evening in a kilt."
Men's Journal sat down virtually with Heughan and McTavish to chat about filming their buddy travelogue, fitness on the road and, of course, whisky.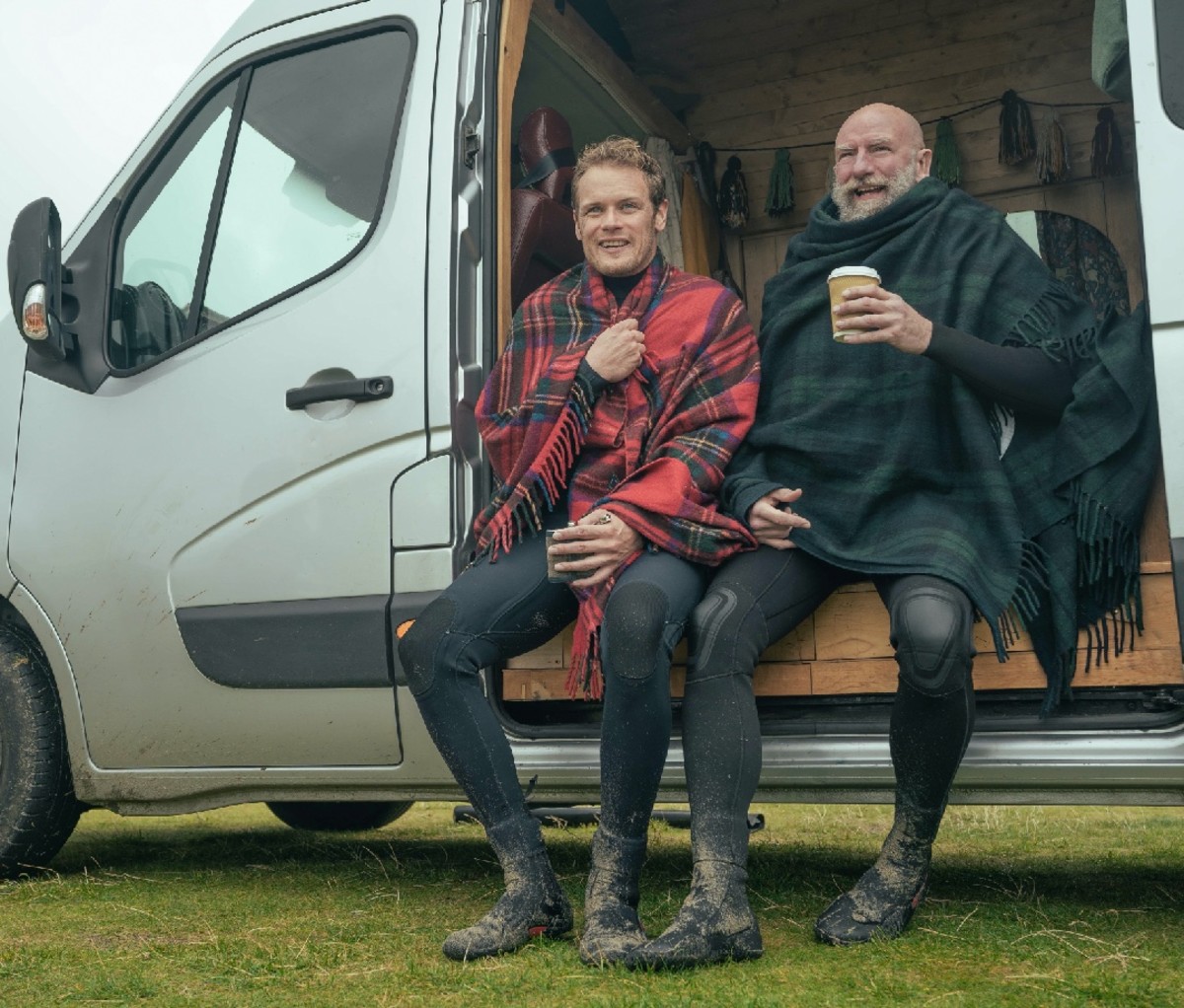 Men's Journal: You've covered some serious ground in Men in Kilts. What's been your favorite location while filming?
Sam Heughan: Outlander really helped steer the direction of Men in Kilts and helped bring the show to fruition. During that time, I met some great characters and was seeing a lot of great places I wanted to share with people. Picking a favorite Outlander location is hard, because we've gone to so many great castles and ancient buildings. But Kinloch Rannoch—which is where we have the stone circle in the show meant to replicate the Calanais Standing Stones—is really stunning and magical. It's also where great things happen for Jamie and Claire in the show, like when she goes to the future. Schiehallion is the name of the mountain, which means "Fairy Hill of the Caledonians," and that seems appropriate because it feels like a really special place. We ended up visiting the actual Calanais Standing Stones while filming Men in Kilts.
Graham McTavish: For me, it's probably Doune Castle, which is Castle Leoch in the show. It's where we began the show in a way. It's the home of my character, Dougal, and because we were inside this ancient castle with so much history, it immediately informed everything we did. Getting to touch real walls that had been standing there since the 15th century was hugely helpful to what we were filming. And I have very happy memories of being in that castle while working on this show.
"you never have a bad evening in a kilt."
What were some highlights of touring Scotland in a camper van?
SH: That van was actually the second van we had. We shot a pilot for the series in a van we named "The Sassenach," but it broke down, so we had to replace it with this newfangled one, which I'll admit was more comfortable. We decked it out with a bunch of memorabilia for Graham to feel at home. It wasn't necessarily fun to drive, though. It was rather unwieldily and large, and that was particularly complicated because the roads in Scotland can be quite small. That made the experience a bit terrifying from time to time.
GM: Yes. We were on some single-track roads, which were a bit tight. It was hard for us to reverse in the van, if not impossible, on some of those drives. Occasionally we would come across a group of obstinate sheep or fellow motorists who simply refused to move until we explained to them, laboriously, that we weren't going anywhere. Eventually they'd get the hint they needed to back up or move. There were a few moments like that, but it was all part of the fun. The very fact we were in a van like that created this atmosphere of spontaneity. We didn't know what was going to happen next. I also find it incredible we didn't break down more often.
SH: Or hit anything!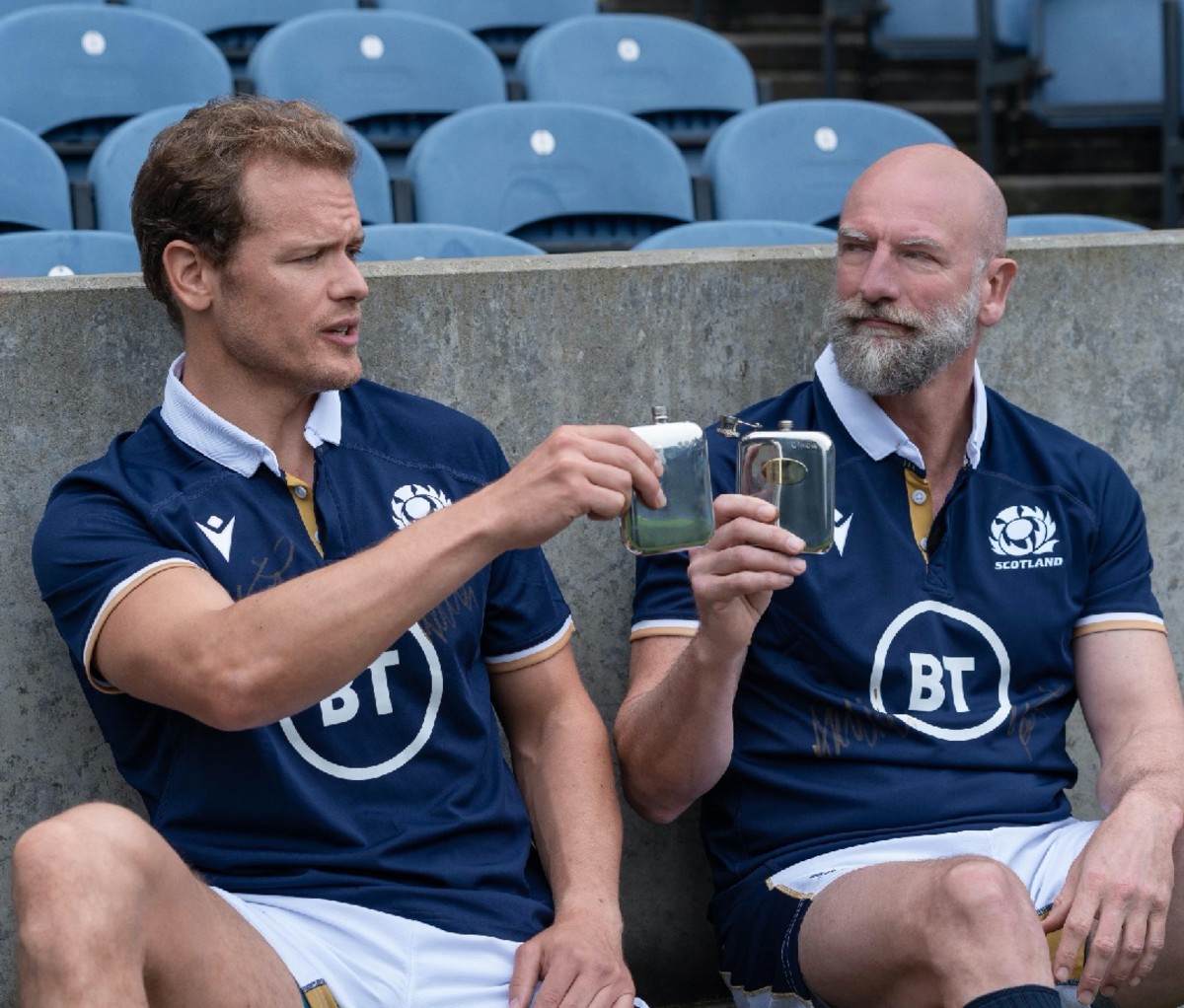 You're pretty physical guys. Did you do any workouts together on the road?
SH: I brought two kettlebells with me, and I'd do workouts in the morning. They may be the best equipment to take on the road. I don't think our driver, who drove us to set or around if we had too much whisky, was too fond of those kettlebells. I'd put them in my rucksack and whenever he tried to help us out with the bags, they'd hit him. He eventually learned not to help with that bag…I remember doing a workout one morning—and my room was right next to Graham's—and I could hear him having breakfast, making coffee. And there I was in the middle of a grueling workout thinking, I've done this all wrong. I should have taken it a little easier.
GM: Really? Good for you! I wasn't as disciplined as Sam. I didn't really get in any regular workouts, and actually found the day to be a workout in one way or another.
SH: They were very physical days. Driving can take a lot out of you, then we'd go cycling around the countryside, climbing up hills, or out on the water. There was always a lot to get through.
Are either of you a morning person? How did you guys keep the energy up?
GM: Well, I would say Sam is a morning, afternoon, and evening person. I'm more of a just-before-going-to-bed kind of person. So it worked out well that he was able to keep me motivated and inspired throughout the day. Because he never flags, he really doesn't, it's extraordinary. He never complains, which makes me complain, and feel like I need to complain even more.
SH: We were on a tight schedule. There was a great amount of distance to travel. I think we caught five different ferries to get through this trip. The last leg was especially hard: We went all the way from the Inverness down to Edinburgh. It's necessary to have plenty of snacks and good company to survive that kind of journey.
What was one of the more remote locations you guys made it out to during the show?
SH: The Isle of Lewis is a bit difficult to get to, and there's a long ferry you have to ride to get there. It's very remote, and there are no trees on the island, because the winds are so strong. It's kind of a lunar landscape. There's a stone circle that's been there for thousands of years. You start to wonder how they were even able to get those giant stones on there. It's a pretty fascinating place.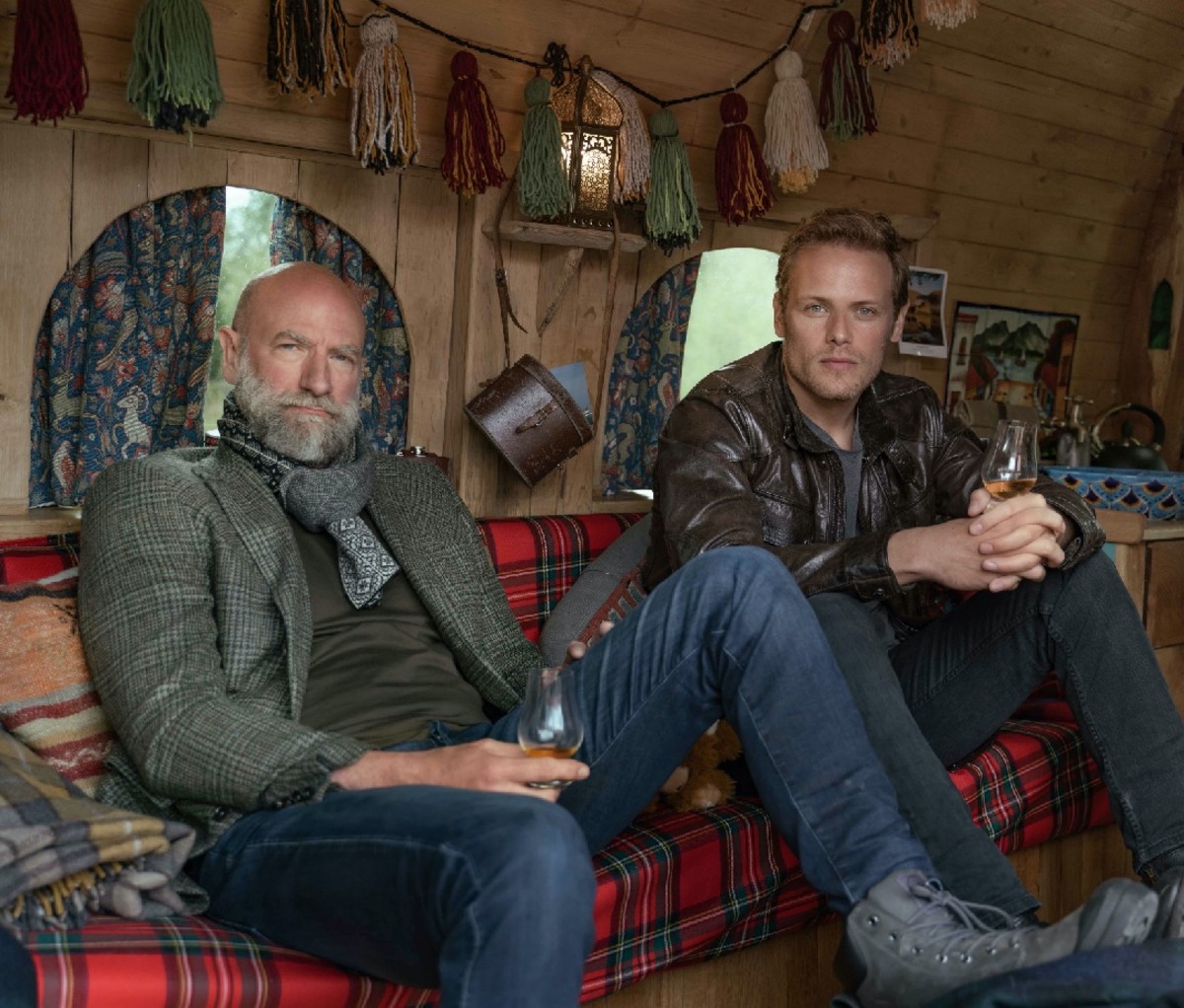 Understandably you guys drink a lot of whisky on the trip. Did you wait til 5 p.m. to take out the dram glasses?
GM: Sam likes to drink it any time of day.
SH: That was going to be my answer! [Laughs]. But honestly, there's something about drinking whisky in Scotland that doesn't feel like day drinking. It feels like something else. There were a number of distilleries we wanted to visit. Of course we had to go to Islay, as it's kind of the home of smoky whisky and that's the product people associate Scottish whisky with. Getting to dig up peat during our trip to the Laphroaig distillery was special. For the food, we were fortunate to have all these amazing chefs invite us to visit them.
GM: It was just tremendous, and Scottish food is truly special. Getting to go out on a fishing boat was especially exciting for me—to get our own fresh seafood and throw it straight on the grill. Doing that with an incredible chef like Tony Singh was truly special. It was a beautiful day all around.
SM: I still have dreams about that seafood. It was delicious.
Did you stash any particular whisky in the van?
SH: We had a constant stash in the back of the camper van. There's a whisky that fits with any situation that arises. We're actually working on a new release of my whisky The Sassenach that'll be coming out soon; it's been delayed a bit because of Brexit and COVID-19. We hope to have something out in the next month or so in the United States.
GM: Sam would have flasks of whisky stashed all over his person. It's incredible where he was able to hide them. I didn't know he was carrying half the time.
SH: I have flasks specially built for me that fit ergonomically to my body. There's always an emergency one I have hidden away very well.
Now that Men in Kilts is coming out, are you guys hungry for more?
GM: [Laughs]. I'd love to do more. I think we both would.
SH: We've barely scratched the surface of Scotland, but we've also discussed the rest of the world. There are so many Scottish ties to different countries like America, Canada, Australia, and New Zealand just to name a few. These are all places I could see us riding our tandem bicycle around. That is, if Graham can pedal that far.
Would you be taking your kilts abroad with you?
GM: Oh yeah.
SH: Absolutely. We have to. It's the perfect ice breaker isn't it?
Men in Kilts comes out on February 14th on Starz
For access to exclusive gear videos, celebrity interviews, and more, subscribe on YouTube!