Looking to go far, far away for your next vacation? Heading to Australia might be the destination for you.
The region offers a little bit of everything you might be looking for: pristine beaches, prime surfing spots, outdoor adventures, coral reef snorkeling, camping in the Outback, cities with beautiful landmarks, wine tours, and, of course, a wildlife safari or two. With all those options, it might be hard to figure out just exactly where you should go and what you should do while in Australia.
To make things a little easier, Men's Journal spoke with Australian golfer Adam Scott about some of the best places to check out while traveling Down Under.
"It's always great to go back to Australia when I can," Scott told Men's Journal. "I haven't lived there regularly for 20 years because of golf, but it remains one of my favorite places to travel. It's a beautiful country and there's a lot to explore beyond the usual tourist stuff in Australia."
Here's Scott's guide to having a great trip.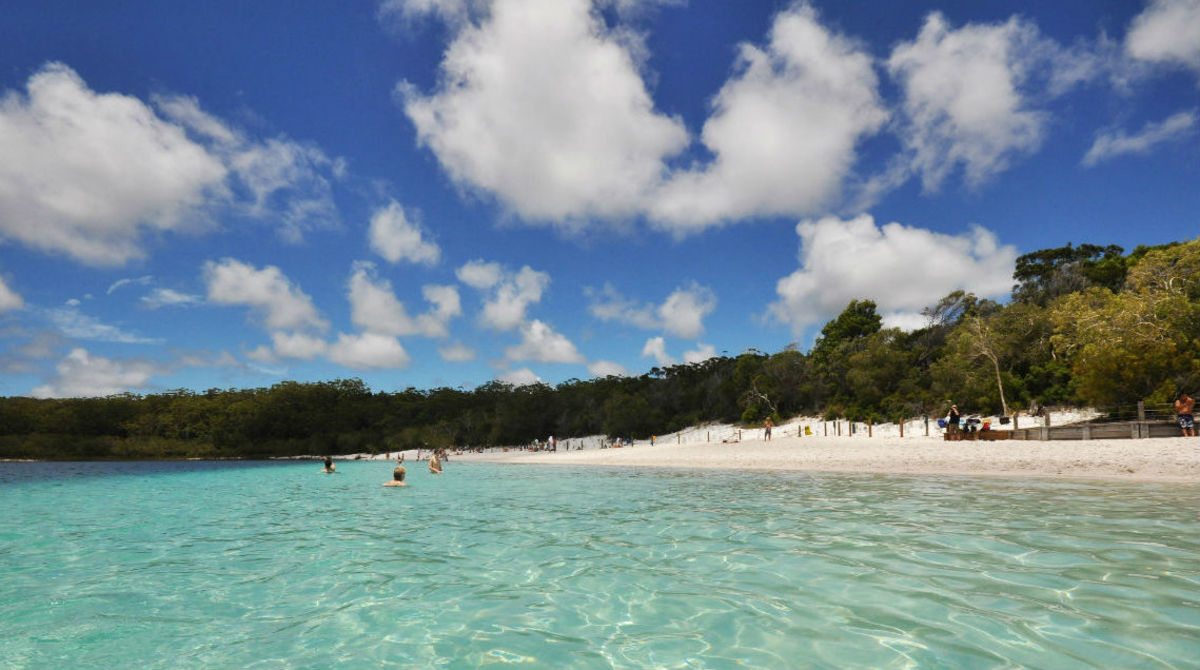 Beaches, Wildlife, and More: Fraser Island
"Up near where I live just above the Sunshine Coast is a place called Fraser Island," Scott says. "It's one of the largest sand islands in the world. There are lots of beaches, dingoes, and other animals, so you get to see some of that without going to the Outback."
Another option: Kangaroo Island, which is located about four hours from Adelaide. The island has protected nature reserves, and the Kangaroo Island Wilderness Trail is open to the public and includes a number of different campgrounds and wildlife. There's also Platypus Waterholes Walk, Cape Younghusband, and the Kelly Hill Caves, along with some iconic Australian landmarks like the Admirals Arch and Remarkable Rocks. Check out more on the island here.
City Fun: Sydney and Melbourne
"Melbourne and Sydney are both great," Scott says. "The cities have a lot of their own culture and great things to see. The museums, the opera house, lots of great restaurants, and other activities to do. The big cities in Australia definitely have a lot to offer."
If you're planning to go to Sydney, a great time of year to do it is on Australia Day, which is on January 26. Sydney has the Australia Day Regatta, which is the oldest continuously conducted annual sailing regatta in the world, along with all kinds of great beers, bars, restaurants, and beaches. We listed the celebration as one of the 10 wildest celebrations in the world. For food, one of the best steakhouses in the world is located right in Sydney at the Rockpool Bar & Grill, which has cuts of Wagyu beef, dry-aged steaks, and other options.
If you're going to Melbourne and want to take a bike trip, one of the most underrated rides is the route towards the summit of Mount Donna Buang. The ride will take you on the 35-mile Mt Donna Buang loop, which starts at the Cog Bike Café in Warburton, and you'll be able to get some amazing views of Melbourne, Yarra Valley, and the Victorian Alps.
Wine and More Wine: Adelaide
"Adelaide is a smaller city, and a really nice one," Scott says. "If you're into wine, it's really great, because the wineries outside Adelaide are fantastic. Australia's best red wine and some of its best white wine come from outside Adelaide, so I think you could keep yourself occupied out there for a few days if you like wine."
Another option to try in the Adelaide area? The Barossa Valley. Located about 40 miles from Adelaide, we previously picked Barossa as one of the best wine tasting tours you can take around the world. The area has a lot of local food options, perfect for pairing your wine with, including the Angaston Farmer's Market. Check out more about the area here.
Adventure in Nature: The Kakadu
"The Kakadu is one of the places on my bucket list for things in Australia," Scott says. "I haven't had the chance to do it yet, but it's supposed to be incredible. Lots of wildlife and historic things to see."
Located in the Northern Territory of Australia, Kakadu National Park has rivers, wetlands, and plenty of wildlife, including numerous species of birds, crocodiles, and turtles. The area has Aboriginal rock paintings that date back thousands of years, as well as a number of different campgrounds.
Best of the Rest: The Outback and the Beach 
"Heading to the Outback is quite an adventure in itself," Scott says. "Overall, Australia has some amazing beaches, fantastic spots along the ocean, and plenty to see inland in the Outback as well. And don't forget you can go see our friends in New Zealand."
Camping Option: Longitude 131. If you can't make it to the Kakadu, this spot is one of the world's best luxury camp sites. Located in Uluru-Kata Tjuta National Park, which also has Ayers Rock, you can take a number of tours in the area, visit gorges, and other Outback locales in the area. Longitude 131 has 15 hard-walled accommodations and a bunch of modern amenities, including WiFi, first-class food, Australian beers, as well as full-service spa treatments at a partner resort.
For access to exclusive gear videos, celebrity interviews, and more, subscribe on YouTube!