Since the late '90s, Alaska has been on the top of every serious skier and snowboarder's bucket list. Tall peaks, famously stable maritime snowpack, more heli operations than ski areas, and the promise of a life-changing day have made AK a must-hit. But Alaska is a big state, and mountains are only a part of it. Missing out on the ski trip of a lifetime is as easy as booking a flight to Fairbanks. Below, we offer a quick look at Alaska's five most popular ski and snowboard destinations. These only scratch the surface of the Alaska experience, which is why some devotees make it an annual pilgrimage. Alas, you need to start somewhere.
Anchorage/Girdwood
As the largest city with the largest airport in the state, Anchorage is the kicking-off point for many Alaska adventures. If you're experiencing Alaska for the first time, you don't really need to go much further. Alyeska, the only true destination ski resort in the state, is just an hour away in Girdwood and features all the comforts you'd expect at most Lower 48 ski destinations, such as a luxury hotel, nine lifts including two high-speed quads and a 60-person tram, and 2,500 vertical feet that gets covered in 650 inches of snow a year.
Chugach Powder Guides is based right in the Hotel Alyeska and offers a wide variety of heli-skiing opportunities, as well as cat skiing right from the resort. Days the weather is too inclement for helicopters are usually great resort-skiing days. Also, Girdwood is a legitimate ski town with charm, nice dining options, live music, and a number of chalets and houses you can rent if you are with a group or want to avoid the hotel vibe.
If you are looking to get deeper into the wilderness, the Tordrillo Lodge is a short seaplane flight from Ted Stevens International Airport. This backcountry lodge features a chef, massage therapist, hot tub, and, of course, heli skiing right out of the lodge.
There are also numerous touring and backcountry skiing options around Girdwood and Anchorage. Turnagain and Hatcher's passes are popular roadside attractions. If you're new to the area, it's advisable to get some local guidance. Even though you're accessing them by foot, both feature legitimate, big Alaskan terrain, so use caution.
Valdez
Considered the birthplace of the Alaska heli-skiing industry, Valdez is home to five different guided heli-ski operations. There is a proposal to put a ski area 4 miles outside of town, but for the time being, helicopters, snowcats, snowmobiles, or touring skis/splitboards are the only options for skiing in the Valdez/Thompson Pass area. All operations fly to similar terrain in the Chugach Mountains, but each offers different sets of amenities and lodging options. The heli-ski season runs from late February to early May. Every operation has great terrain and can offer the life-changing AK experience. Which one you choose depends on what you are looking for.
Valdez Heli Ski Guides, Alaska Rendezvous, and Black Ops Valdez all operate out of their own lodges. H2O Guides bases from the Best Western Valdez Harbor Inn in Valdez. Alaska Snowboard Guides is the most affordable option in Valdez, with packages catering to RVers, who can park for free at their base by Thompson Pass; they also have an inclusive option with a lodging partner in Valdez. For more information, check out our guide to Valdez heli-ski operations.
Most of the touring and snowmobile skiing takes place up on Thompson Pass, which is also the site of Tailgate Alaska, an annual party/snow session/contest where people show up to camp in RVs and ski and snowboard during the day.
Best accessed by commuter plane from Anchorage, the town of Valdez continues to evolve from an oil town to an oil-and-ski town. The original town was wiped out by a tsunami in the '60s, and by virtue Valdez lacks some of the Alaskan fishing-village charm you'll find in Cordova and Haines.
Cordova
The small fishing village of Cordova has two things going for it from a ski and snowboard perspective. The first is Points North Heli Skiing and the second is Mt. Eyak, a one-chair, city-owned ski area. When the seasons intersect, which is usually for a few weeks at the beginning of the heli season, Eyak is a fun down-day option for PNH guests. Prior to that, it's a great resource for local families, and a piece of ski history. The single chair is one of the first installed at Sun Valley, Idaho, back in early days of chairlift technology. The rest of the heli season, it serves as a kickoff point for down-day backcountry touring. From the ridge accessed from Eyak, you can ski down to Points North's home base, the Orca Lodge on Prince William Sound.
Points North charges based on heli time and is one of the most affordable all-inclusive heli-ski operations in the state. A seven-day trip includes meals, lodging, ground transportation, and four hours of flight time (about three days), and runs $5,575. If you use your four hours, you pay as you go at a rate of $975 an hour. There is no run guarantee at PNH, but any unused heli time is credited at 50 percent toward another trip within two years.
Get here by taking a commuter flight from Anchorage; once here, sit back and watch the otters play in the water as bald eagles look on.
Haines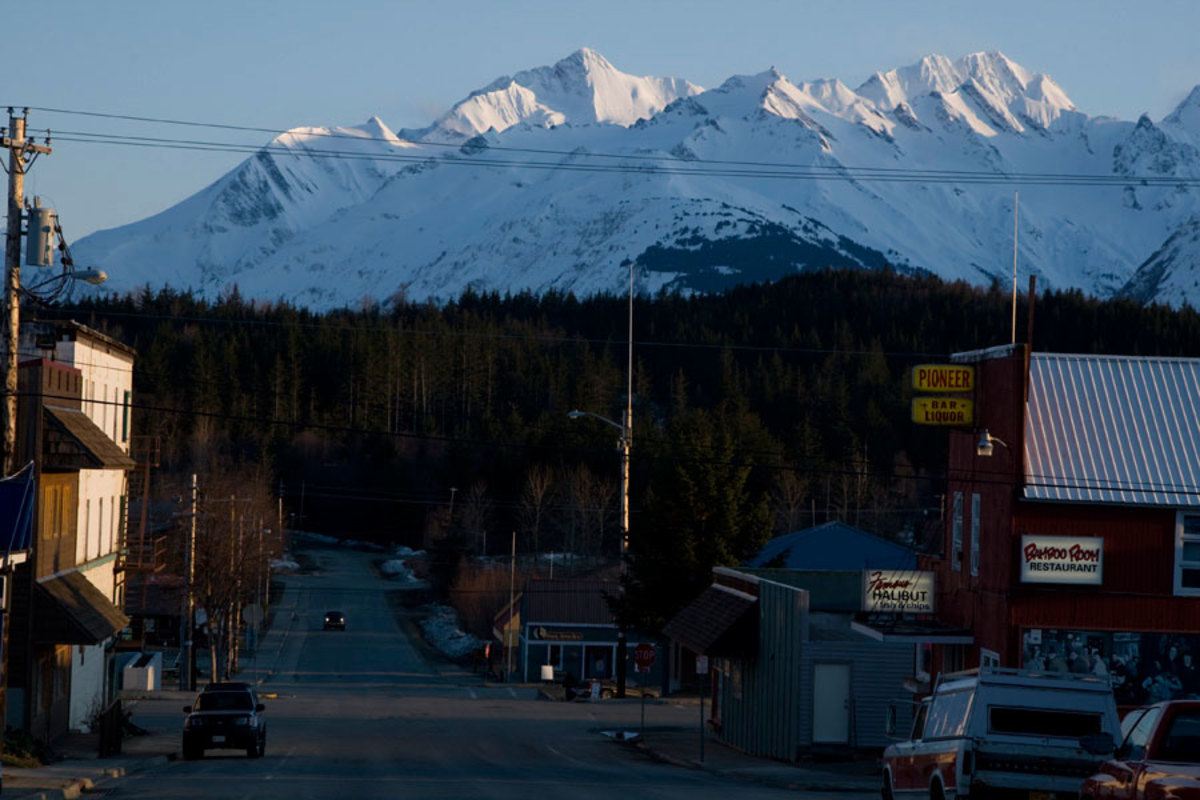 The most remote of Alaska's ski destinations, Haines is home to two heli-ski operations: Alaska Heli Skiing and South East Alaska Backcountry Adventures. Alaska Heli Skiing bills itself as a "no-frills" operation. Their stated goal is to get you into the Haines backcountry safely and at an inexpensive rate. They do, however, offer private lodging with a chef either at the site of the operation (33 miles out of town) or in town. There is also a ski-bum package where you live in shared housing and cook your own meals or stay in town and provide your own transportation to and from the heli operations. A seven-night package includes 30 runs and costs anywhere from $5,950 to $7,200.
SEABA bases just 3 miles out of town and operates from three different heli ports depending on weather. Most guests stay at the Fort Seward Lodge in Haines, though private houses are also available. SEABA doesn't offer an all-inclusive package. A seven-day heli-ski package starts at $5,000 and is billed by flight time (about four days' worth). Lodging at the Fort Seward ranges from $500 (double occupancy, shared bath) to $1,600 (single occupancy, kitchenette, private bath). SEABA also offers snowmobiles and cat skiing.
To get to Haines, fly into Juneau. From there, it's either a 35-minute small-plane flight or a four-and-a-half-hour ferry ride. Both offer amazing views of the surrounding mountain ranges.
Juneau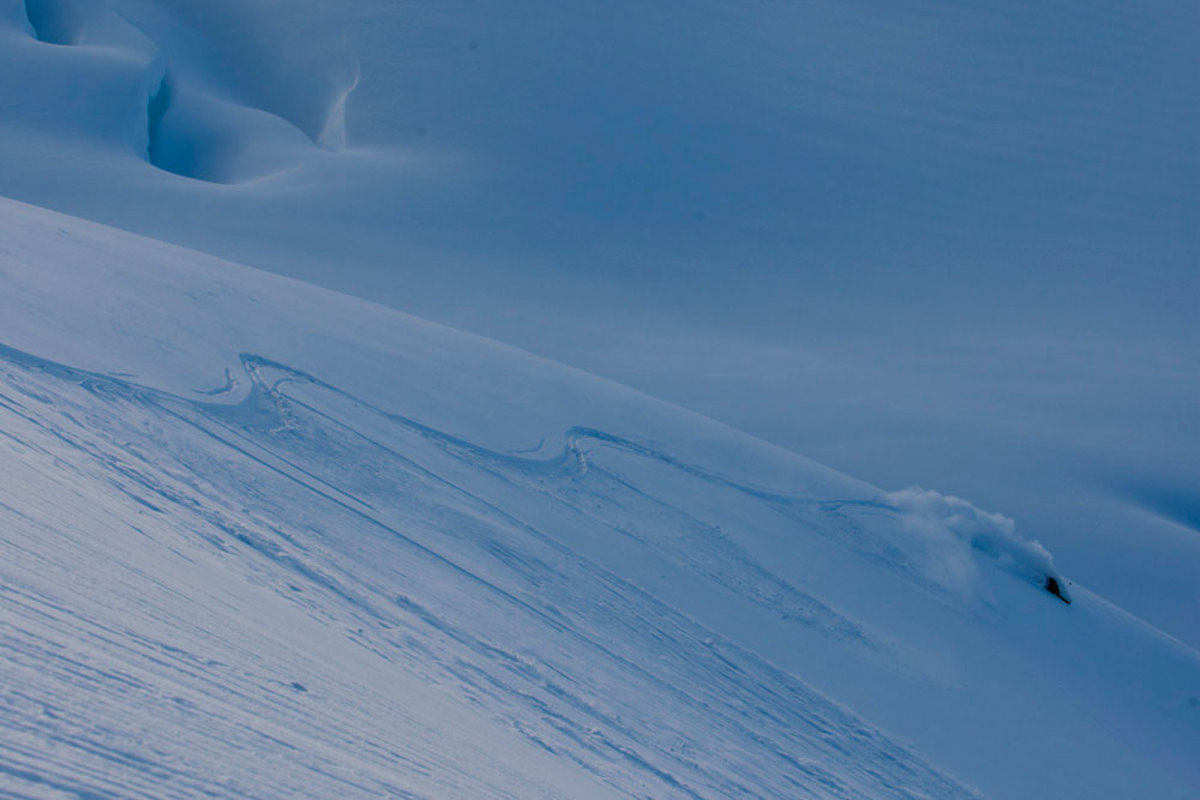 The state capital is often overlooked when talking about skiing in Alaska. Juneau, however, is home to Eaglecrest ski area and a heli operation, Alaska Powder Descents. A four-chair, city-owned ski area, Eaglecrest would be easy to ignore. A passionate local base, however, makes it an annual contender in Powder Magazine's Ski Town Throwdown, a social-media voting contest. Eaglecrest boasts more than 1,500 vertical feet, 640 acres of skiable terrain, and 350 inches of annual snow.
A seven-night package at APD includes two days at 22 heli runs, two days at Eaglecrest, ground transportation, and seven nights' lodging in a downtown Juneau hotel (meals are not included). Cost is $5,250. For those on a limited budget, APD offers a pay-per-run option ($150 to $175 per) as well as guided, helicopter-assisted backcountry touring ($175 per day, $300 for overnight).
More from GrindTV
Guide to Valdez, Alaska heli ski operators
Alaskan perfect wave discovery, revealed
You've never seen Alaskan skiing like this before
For access to exclusive gear videos, celebrity interviews, and more, subscribe on YouTube!