Branded Content
Reintroducing Tokyo: New 2022 Attractions That Are Worth a Trip
This article was produced in partnership with Tokyo Convention & Visitors Bureau
There are countless reasons why Tokyo has long topped the bucket lists of travelers worldwide. This sprawling metropolis is a mesmerizing juxtaposition, where old and new converge in perfect harmony. Tokyo's seemingly endless skyline is blanketed with ancient temples and shrines set against futuristic skyscrapers—all with Mount Fuji's striking silhouette looming in the distance.
Here, time-honored traditions mingle effortlessly with cutting-edge innovation. And just beneath its frenetic, neon-tinted surface awaits an infinite combination of sights, sounds, tastes, and experiences. For the uninitiated, it can all feel a bit overwhelming. But Tokyo's ever-evolving charm and endless possibilities are exactly what attract visitors from all walks of life. There's always something new to discover, and it's safe to say no two trips to Tokyo are ever the same.
As borders reopen and travel restrictions start lifting, many eager visitors are setting their sights on Japan's animated capital city. Of course, a lot has changed over the past couple years. So, to help you build an epic itinerary, we've rounded up some of the destination's most buzzed about openings. From hotels and immersive attractions to emerging entertainment districts, be sure to keep these new additions on your radar.
Copyright © Tokyo Convention & Visitors Bureau
Where to go: TOKYO Mizumachi
Tokyo is regarded as one of the top shopping cities in the world, thanks to fashion-forward districts like Ginza, Shinjuku, and Shibuya. But now, there's a new hot spot making a splash with locals and tourists alike. TOKYO Mizumachi (which translates to "water town") is a new waterfront development surrounded by the Sumida River, Kitajukken River, and Sumida Park.
Spread out beneath elevated railway tracks, this laid-back destination is teeming with an eclectic collection of storefronts, eateries, and a hotel concept. There's even a sports complex, complete with a cycling shop and massive bouldering wall. Divided into an East and West Zone, the project was conceived as a community-focused gathering place to connect the popular Asakusa district with the nearby TOKYO SKYTREE attraction. It's the perfect place to find a unique souvenir, grab a bite, and take a casual stroll while getting some fresh air.
While you're there: Be sure to visit Sensoji Temple in Asakusa. One of the most photographed landmarks in Tokyo, this beloved Buddhist temple is also the city's oldest. You'll instantly recognize its five-story pagoda. After, continue your shopping spree along Nakamise-dori, a famous street leading to the temple that houses about 100 additional shops and food stands.
Copyright © Tokyo Convention & Visitors Bureau
Where to go: Waters Takeshiba
After a series of COVID-19-induced delays, Waters Takeshiba has finally debuted to rave reviews. This multifaceted entertainment hub serves as an artistic enclave and cultural crossroads. Overlooking Tokyo Bay (just down the river from Asakusa), this downtown urban development project is easily accessible from both the JR Hamamatsu-cho Station and the Yurikamome Takeshiba Station.
The waterfront compound comprises three main facilities: Atre Takeshiba (a cozy shopping mall with a range of culinary concepts), Hotel Mesm Tokyo (a sleek retreat perched above the mall), and a theater for the Shiki Theatre Company (offering an impressive lineup of Broadway shows and performances). With its sweeping vistas and laid-back vibe, Waters Takeshiba offers a serene respite from the hustle and bustle of the city. Make sure to catch a ride on the water bus, which looks straight out of a James Bond movie.
While you're there: Carve out some time for the Hama-rikyu Gardens. Originally used as a 17th Century villa for nobility, the area was completely reimagined before opening to the public in 1946. The meticulously landscaped gardens are adjacent to Waters Takeshiba and cover more than 60 acres of green space. Here, visitors can stroll through the peonies and plum tree grove, partake in a tea-ceremony with fresh matcha, and witness Japanese falconry demonstrations.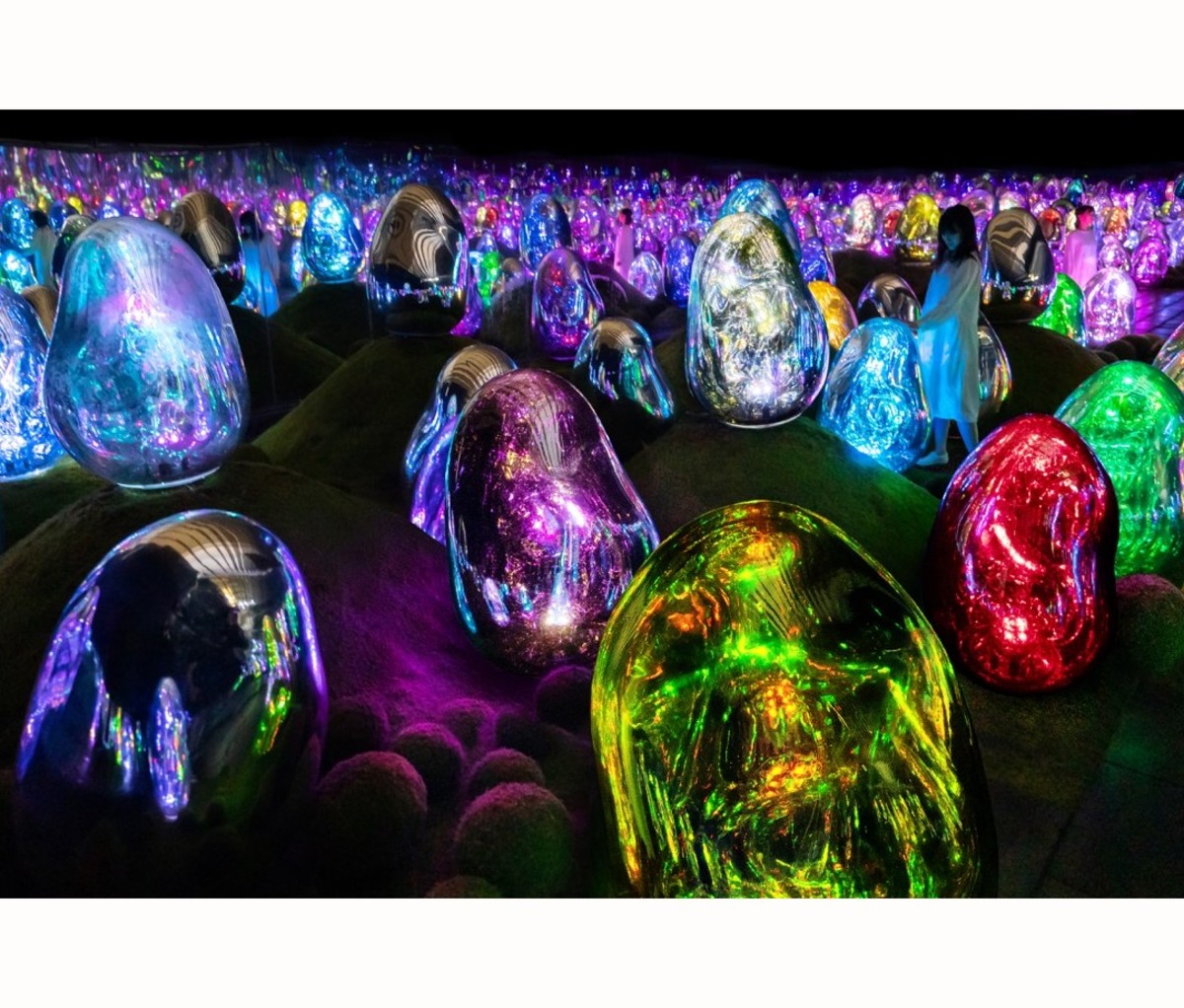 Where to go: teamLab Planets
Chances are you've seen someone on your Instagram feed exploring the otherworldly exhibitions dreamt up by the teamLab masterminds. Formed in Tokyo in 2001, this international art collective has built a loyal following thanks to its imaginative museums and creative popups around the globe. Last summer, the teamLab Planets TOKYO museum in Toyosu unveiled an ethereal installation called "Moss Garden of Resonating Microcosms—Solidified Light Color, Sunrise and Sunset."
The interactive outdoor piece changes throughout the day, morphs with the weather, and remains open rain or shine. The undulating landscape features illuminated ovoid sculptures as far as the eye can see. When tipped or pushed over, they'll bounce back up, emitting lights and sounds that flicker through different combinations. The installation is slated to remain on display through the end of 2023, but you can track their current and upcoming exhibitions on the teamLab website.
While you're there: Explore Koto City. Located on the city's eastern edge, this waterfront ward boasts some noteworthy attractions, including Kiyosumi Gardens, one of Tokyo's most beautiful strolling-style gardens, the Fukagawa Edo Museum (known for its full-scale replica of an Edo era town), and Toyosu Market, one of the largest fish markets in the world. Anime fans will also want to snap a photo in front of the 65-foot Unicorn Gundam Statue.
Copyright © Tokyo Convention & Visitors Bureau
Where to go: Shibuya Scramble Square
You've undoubtedly heard of Shibuya Scramble Crossing, crowned as the busiest intersection in the world. The moment the signal flashes green, the intersection erupts in activity as hundreds (and sometimes thousands) of pedestrians nimbly navigate the crosswalk. It's a scene made famous by works like Lost in Translation and The Fast and the Furious: Tokyo Drift. But now, the iconic spot features a brand new landmark: Shibuya Scramble Square.
Towering over 750 feet, this 47-story development broke records to become the tallest skyscraper in the Shibuya district (dethroning the Cerulean Tower). The impressive structure is jam-packed with more than 200 shops, slinging everything from books and electronics to clothing and handcrafted Japanese artwork. For the best views of the city, don't miss Shibuya SKY, a lofty, glass-walled observation deck located on the 14th, 45th, 46th, and rooftop floors. You'll be rewarded with unobstructed panoramas of Shibuya Scramble Crossing, TOKYO SKYTREE, and even Mount Fuji on clear days.
While you're there: Be sure to swing by Noh Theater in Cerulean Tower. Opened in 2001, this cultural center is tucked away on one of the basement levels of the Cerulean Tower Tokyu Hotel. You'll find a diverse mix of performances, ranging from traditional Japanese music and Rakugo storytelling to international concerts and ballets.
© Otemachi One Management Ltd.
Where to go: Otemachi One
Nestled in the heart of Tokyo's most prominent business and financial center, Otemachi One is the largest mixed-use development in the Otemachi district. Spanning two towers, the new project is a reminder of Tokyo's position at the forefront of technology and innovation. It's also another prime example of the city's old-meets-new identity. The shorter tower (standing at 525 feet or 160 meters) embraces the past with traditional Japanese architecture and classic woodworking details, while the taller tower (which rises over 656 feet or 200 meters) represents Tokyo's contemporary side with its futuristic façade of glimmering glass and steel.
Otemachi One houses various captains of industry, with companies like Dell, PwC, and UBS snatching up coveted office space. But public amenities include sprawling commercial areas outfitted with restaurants, retail establishments, and a new event space in Otemachi Mitsui Hall. In the mood to splurge? Book a lavish stay at the Four Seasons Hotel Tokyo at Otemachi, which recently opened on the highest floors of the 39-story tower. And in December 2022, the Otemachi One Gardens will officially debut. Encompassing more than 64,000-square-feet, the open-air plaza will feature a reflecting pool, year-round outdoor programming, and the preserved site of Masakado's Shrine.
While you're there: Plan to visit the Imperial Palace. Just a 10-minute walk from Tokyo Station, the palace serves as the royal residence of the Emperor of Japan, Naruhito. While you can't go inside, you can stroll the grounds, explore the East Gardens, and even break a sweat along the jogging route, which winds around the palace perimeter. But for the best experience, book a spot on the Imperial Palace Walking Tour (pro tip: skip the lines and make a reservation in advance through the Imperial Household Agency).
Copyright © Zukan Museum Ginza
Where to go: ZUKAN MUSEUM GINZA
Looking for an engaging adventure that your little ones will love? Tokyo is jam-packed with activities and attractions fit for the whole family, but you'll definitely want to spend a few hours at the ZUKAN MUSEUM GINZA. The interactive, digital museum debuted to widespread acclaim in July 2021, and it has only grown even more popular since. But don't fret—grown-ups are bound to be just as enchanted.
Located in the bustling Ginza district on the sixth floor of Tokyu Plaza Ginza, exploring the revolutionary hands-on attraction feels like you're stepping through the pages of an encyclopedia. Guests can submerge themselves in this living museum, where the world's natural wonders have been condensed to a walkable scale. Once inside, you'll use a mysterious navigation stone to guide your experience and learn more about this magical world. Immerse yourself in wondrous landscapes like forests, oceans, and savannas while getting up-close and personal with a variety of virtual wildlife. The projected creatures in each setting react in real-time to the movements of visitors (get too close, and they may run off), and the simulated settings morph with the weather and time of day. Seamlessly merging entertainment with educational elements, it makes for a truly unforgettable family-friendly adventure.
While you're there: Check out Tokyo's Edogawa City. It's just a 20-minute drive from the ZUKAN MUSEUM GINZA (but you'll want to budget more time if traveling by train). With scores of hidden gems, this under-the-radar ward has an irresistible grit. Pay a visit to Zentokuji Temple, a Nichiren Buddhist temple dating back to the 17th Century. Learn all about bonsai (the ancient Japanese art of growing and training miniature trees) by stopping by the Shunkaen Bonsai Museum. The no-cost Edogawa City Shizen Zoo is another popular draw, especially with families.
Copyright © The Nippon Foundation
Where to go: The Tokyo Toilet
Most urban explorers don't give too much thought to a city's public bathroom situation until nature calls. But in Tokyo, a team of creatives is flipping the script and putting toilets front and center with their latest immersive art program. Dubbed The Tokyo Toilet, 16 world-famous designers are revamping a series of 17 public restrooms throughout the Shibuya neighborhood. The overarching mission is to shift negative perceptions around public toilets by incorporating modern updates, innovative designs, and state-of-the-art technology—all qualities commonly associated with Tokyo. Each new-and-improved loo sports its own unique, upscale design, and the project will culminate in a new movie by German director Win Wenders.
For example, the toilets at Haru-no-Ogawa Community Park, designed by Shigeru Ban, feature see-through walls that only become opaque when locked and occupied. This idea of temporary privacy has already proven to incentivize users to keep these shared spaces clean and orderly. Nao Tamura designed another installation at Higashi Sanchome. Its striking red exterior and unconventional shape is a nod to origata, a traditional Japanese method of wrapping gifts. It also demonstrates how cities can flex their creativity and better utilize awkward plots of land that are typically ignored (which, in this case, was a small triangular area beside the train tracks).
While you're there: Venture to Meiji Jingu, just a 10-minute walk from the Harajuku Station. This Shinto shrine is one of Japan's most popular, welcoming more than three million attendees for hatsumode (the tradition of visiting a temple for the first time in the New Year). A massive torii gate marks the entrance to the densely forested site, covered in more than 100,000 trees. A winding trail cuts through the grounds leading visitors to the ornate shrine. It's so tranquil, you'll instantly forget you're only minutes away from Tokyo's liveliest districts.
For access to exclusive gear videos, celebrity interviews, and more, subscribe on YouTube!