Travel
The Best of Copenhagen's Bike Culture: Retracing the Tour de France Route
Denmark is celebrating far more than Jonas Vingegaard's exciting win in this year's Tour de France. While the Team Jumbo-Visma rider's victory marks the country's first yellow jersey since 1996, the country is also going gaga for hosting the bicycle race for the first time ever—having 10 Danes competing and officially pronouncing 2022 as its "Year of the Bicycle." Add the polka dot jersey in Stages 2 and 3 for local rider Magnus Cort Nielsen and it's a fairy book ending on par with anything beloved Danish author Hans Christian Andersen could script. What better time, then, to retrace the Tour's route through Viking country, while taking just a little more time than the riders did to smell the (yellow) roses along the way?
Setting out in August just a month after the Tour, our goal was to explore the first three stages with a few detours to take in the sights—rolling through Denmark's beautiful landscapes while touring its architecture, museums and castles, restaurants, ancient Viking sites, and more.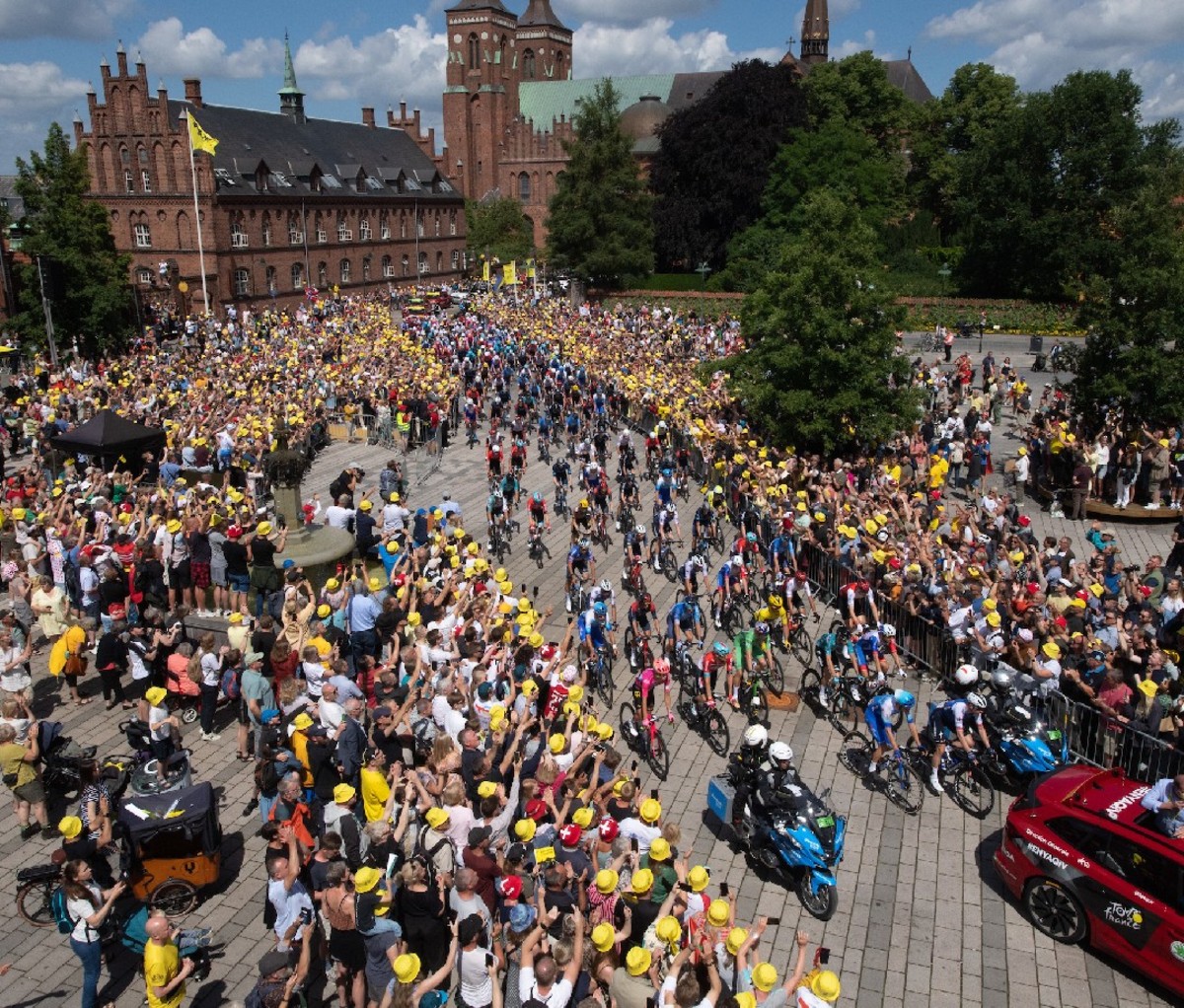 Lesson #1: Want to feel like a Dane? Hop on a bike. The country is literally obsessed with cycling. The signs emerge as soon as you step outside of the international airport in Copenhagen. Full bike racks line every wall (yes, people bike to the airport). On the metro to downtown, a millennial stashes a tiny breakdown bike under his seat. When we step out of the Nørreport metro station onto Frederiksborggade Avenue, bikes whoosh this way and that; we dodge them as we would cars in the Big Apple. And then you notice it—an almost eerie lack of traffic in this bike-obsessed country.
After making our way to Hotel Kong Arthur, located on historic Copenhagen Lakes on a cobblestoned alley, we make like the Danes and grab two hotel bikes to head out across Queen Louise's Bridge—the world's busiest bicycle street. Yes, hotels come with bikes, and bike shops come with hotels. At a café off Blagardsgade Avenue, we realize the place really is bike crazy—especially now with Vingegaard's win, which is taking the sport along for the ride. Two-wheeled travel has simply taken over. Sipping our Tuborg beers, we see bikes of all walks, from recumbents and other low-riders to breakdowns, those with carts in front and behind, and even those with seats suspended by weird webbing. It's like a scene from Dr. Seuss, from straight-backed bike-boozas to pedal-paloozas. If they're not being ridden, they're parked. Hundreds of bikes are angled next to each other in neat rows. Just beware the domino effect if you accidentally knock one over.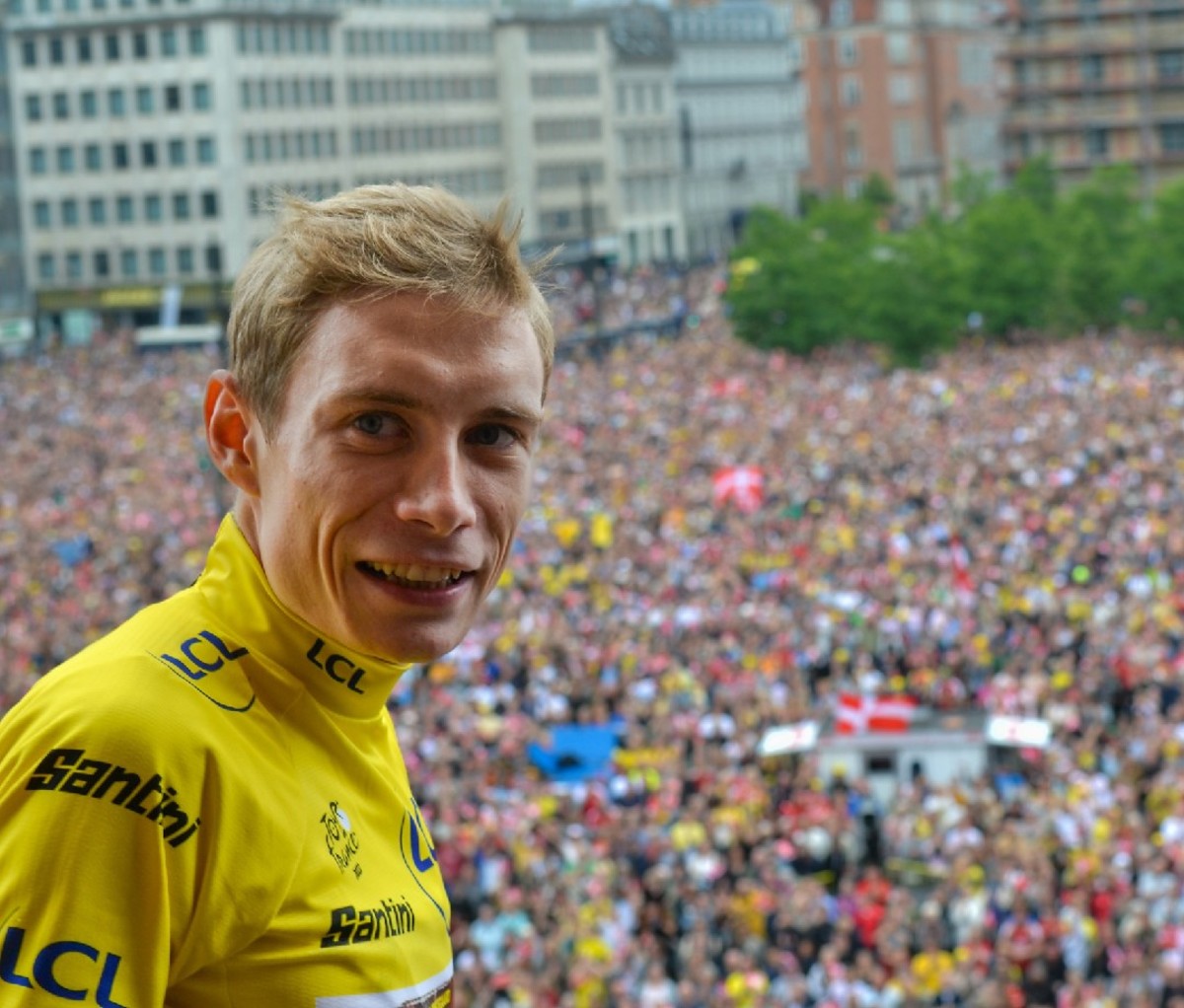 In the morning, we grab our bikes again to tour the Tour route with Christian Hougaard from Copenhagen Cycling. The reason biking is so popular here, he says, as we pedal away, is because the country "is totally flat, the infrastructure is great, and everything is close." And in the city, he adds, built before anyone even thought of cars, "we can get everywhere quicker by bike than by car." Plus, cars are heavily taxed and parking is expensive. "Only 30 percent of people in Copenhagen have one," he says. "Biking is much easier than walking, running, driving, getting on a bus, or catching a cab."
Thanks to the foresight of city architect Jan Gehl, now 80 and retired, the government has helped the cause by building bike-specific bridges and lanes while reducing car lanes. As we ride, Christian points out such bike-friendly features as bike lanes having their own curbs for protection from cars, their own speed bumps, and crosswalks and painted turn lanes. In some places, bikers even have their own traffic lights, as well as ankle-high metal rails so you don't have to disembark. Even the trash cans are positioned at a forward angle to toss in garbage as you ride by. Come winter, the bike lanes are plowed before car lanes. In school, kids earn bike training certificates at ages 6 and 10—and there's even a government-funded "bike playground" where children can practice, complete with mini-bike paths, traffic lights, and angled trash cans.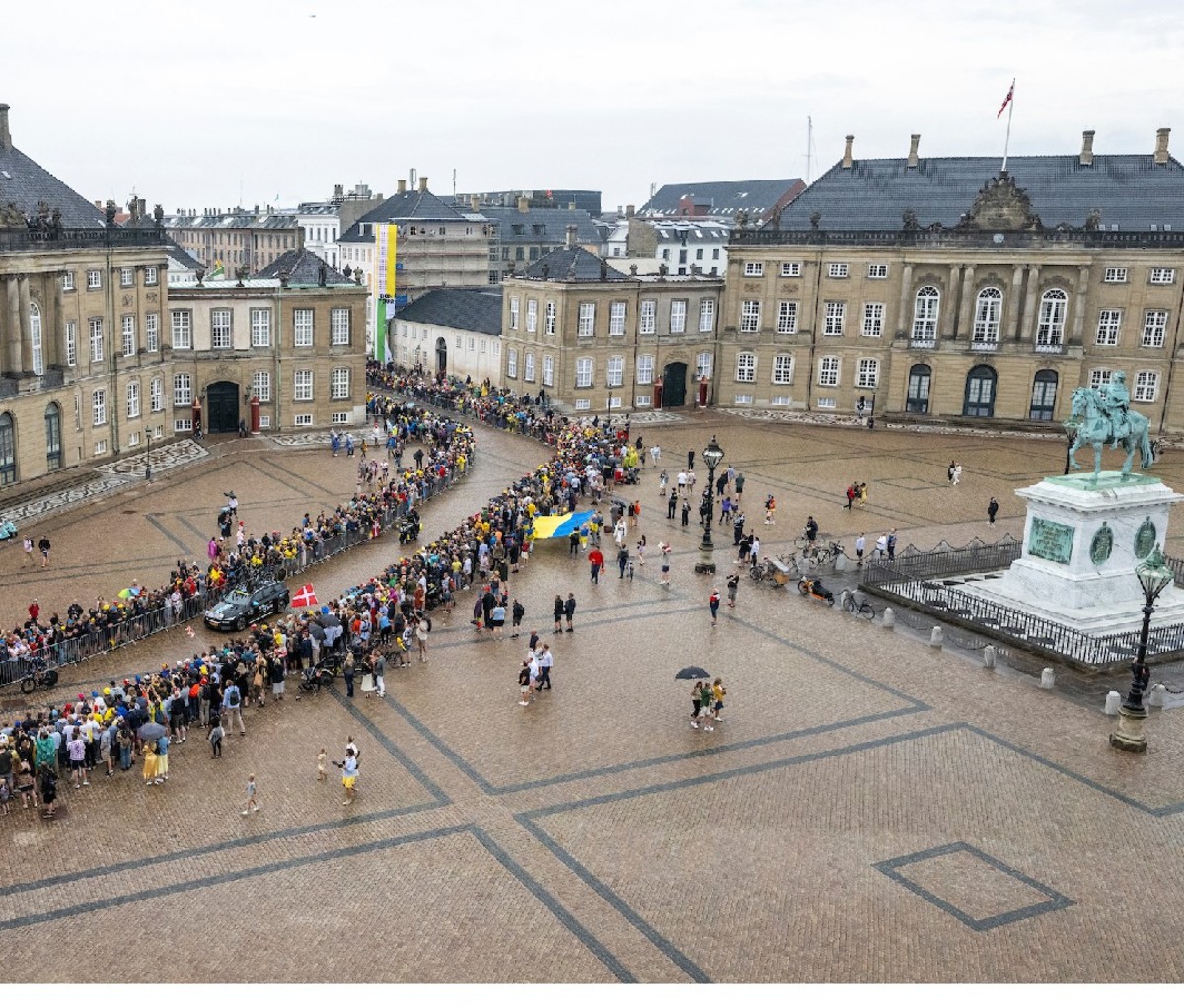 This early start, he adds, is a big reason Danes do so well racing. "We're used to sitting on bikes," he says. "It's not just exercise, it's locomotion." And no one steals them "because everyone has one" and there's little driver friction "because everyone rides." Here, you don't look over your shoulder for other cars, but other bikes.
Bikes are getting even more of a boost here with the government decreeing 2022 as the official "Year of the Bike"—celebrating a $458 million infrastructure plan to build even more bike lanes across the country. That's in addition to its existing 3,000 miles of existing cycling routes. Danes, studies show, bike a collective five million miles per day. Confirming that they don't take themselves too seriously, a PSA ad on TV encourages helmet use by showing a Viking readying for battle—and then his kid reminding him to wear his helmet.
All this investment has paid off, says Christian. There's less traffic, less pollution, and the Danish people are some of the happiest people on earth, with the lowest stress levels. "I think a big reason for that is because everyone here rides bikes," he adds.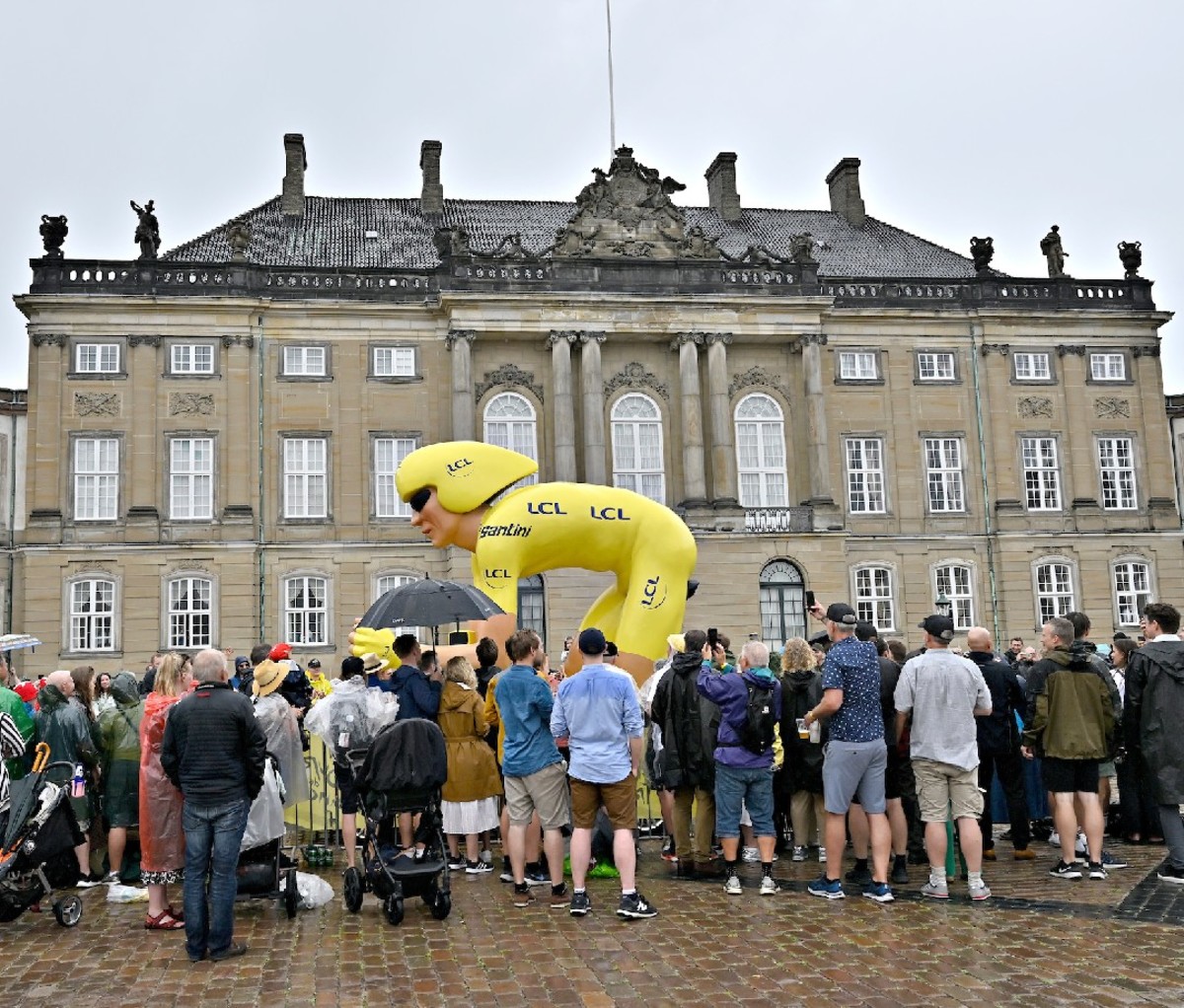 Christian leads us past the Torvehaller food market and points out the old wall from the 1600s that used to surround Copenhagen, built from stone quarried from what now are the lakes surrounding the city. A quick Vingegaard background comes next. He's from Denmark's west coast, Christian says, and used to be a fisherman. Riding in the wind is what's made him such a good climber. It wasn't until he posted the fastest Strava time in a climb in Spain's Pyrenees with a local team that Jumbo-Visma signed him. His wife's mother is a celebrity baker from Denmark TV, he says, saying he would always eat her cakes, no matter how bad they were.
From there, we take off following the 13.2-km Stage 1 Time Trial/Grand Depart route, which drew more than 600,000 spectators downtown. Not even the day's rain dampened their spirits.
Soon after, we cross Queen Louise's Bridge, which connects the city center with the trendy neighborhood Nørrebro. Around 40,000 cyclists cross it every day. A digital sign at its entrance reads 3,809 bikers already today, with 2,470,695 people riding it since January 1. I watch the numbers change as we add three more to the tally. We follow the Copenhagen Lakes until reaching the green oasis of Fælledparken—Copenhagen's largest park. The Tour was supposed to come to Denmark in 2021, Christian says, but it had to delay a year for COVID, which forced the European Soccer Championships to re-schedule then. The country is as soccer-crazed as it is for cycling. He points out the stadium as we ride by.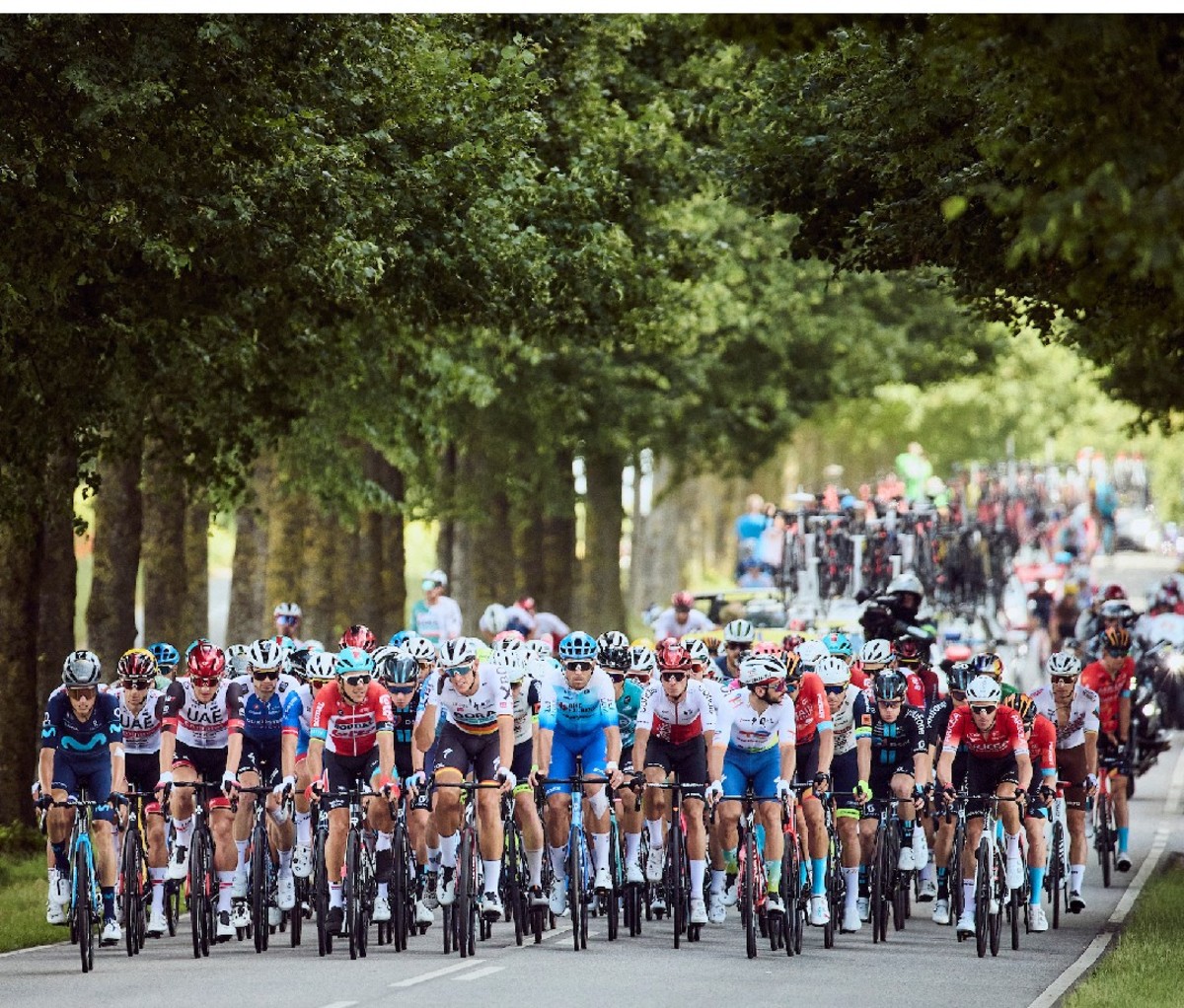 Rolling over team and rider names painted on the roads, we whiz by the historic Citadel of Copenhagen, built in 1662, before taking a sharp righthand turn at the Copenhagen Harbor, where the race day's rain caused a few crashes under the yearning eye of the Little Mermaid statue, celebrating the Hans Christian Andersen fairy tale. Progressing down the waterfront and Langelinie Pier, we turn on the narrow round-about encircling the Gefion Fountain, marveling how Tour riders negotiated the constriction. From there we proceed to the Rococo-style Royal Palace—a fitting tribute to the oldest monarchy in the world—where Denmark's Crown Prince Frederik watched the action. A statue of a horsebacked Frederico Quinto commands the center circle, where Tour riders jostled by on its cobblestones.
From there, we retrace the stage's route past the Marble Church, King's New Square, Royal Library and French Embassy, the latter likely not a coincidence. In the distance we spy Little Langebro, one of Copenhagen's many bicycle-specific bridges that have proven a boon to their neighborhood's economies. Christian bids us adieu when we stop for lunch. He's leaving tomorrow, he says, to compete in a 130-km, 4,000-vertical-meter bike race in Switzerland with a friend. His tour with us seems an easy warm-up.
Our lunch, at a hip restaurant called Esmee, is as regal as our cycling scenery, featuring French brasserie-styled dishes with a Nordic flair. Fried lobster toast with sesame and piment d'espelette, ceviche with zebra tomatoes and holy basil in a green chili sauce, and monk fish grilled with fricassee of bacon and bearre blanc fuel us for our own sprint to the stage's finish at City Hall square. It was Belgian Yves Lampaert who took the race's first yellow jersey, but that hardly diminished the fanfare. A quick stop at lush Tivoli Gardens, where more than 100,000 people turned out to celebrate Vingegaard's win, ushers us back to our hotel.
Courtesy Lars Moeller/VisitDenmark
A Nordic breakfast of too many items to list fuels our walk to the Europcar rental outlet for a 45-minute drive to Roskilde, site of the start of Stage 2. After checking into the Scandic Hotel—and, yes, picking up our bikes, this time three-speeds—we pedal away to the race's start at the City Center in front of Roskilde Cathedral, a UNESCO World Heritage Site. But first, a quick visit to Ragnarock, Denmark's museum of pop, rock and youth culture. Of particular interest: a tribute exhibit to the Roskilde Music Festival, Denmark's annual version of Woodstock, complete with the mud and debauchery—and a bucket-lifted video performance by a young Bono of U2 in 1982.
A blue-eyed, blonde-haired guide named Sarah guides us around the Gothic cathedral, built in 1200 and the official "royal burying" church for Denmark. Different architects have added onto it over its 800 years, she says, making it a sort of "living church" showcasing different styles. Queen Margrethe II will be buried there, joining 40 other Danish kings and queens buried there since the Middle Ages.
Next on our stage tour is a visit to the Viking Ship Museum, which includes five original Viking vessels from the 11th-century—two warships, two trading ships and a fishing ship, all made from local oak. They were found in the harbor, sunken with rocks to block other ships from entering. With multiple oar ports and trademark square sails, the trading ships had wide, deep keels for heavy loads while the warships, like the 30-meter "Glendalough Sea Stallion," have long, narrow, shallow keels for speed. Visitors sail and oar replicas out of the harbor, while a woodshop explains the difference between carvel (flush) and clinker (overlapped) building techniques. I take it all in on the clunker I'm riding.
If you don't come to Denmark for the biking, come for the breakfasts. This hits home again the next morning when a buffet of breads, vegetables, meats, cheeses, pancakes, eggs, yogurts, cereals, and more greet us. All that fuels our continuing journey along Stage 2 the next day when we take a short detour to Land of Legends, a 106-acre archaeological museum with a reconstruction of the largest Great Hall building ever found from the Viking era. Our guide Tania tells us tales of a real-life Lord of the Rings saga, the Swedish hero Beowolf, and more before we're left to our own to row boats, paddle dugouts, throw spears, shoot arrows, grind flour and bake biscuits, shop a Viking marketplace, and stroll an Iron Age village where families actually adorn costumes and live for six-days. It's a shame the Tour riders didn't get a chance to visit after passing just two kilometers away.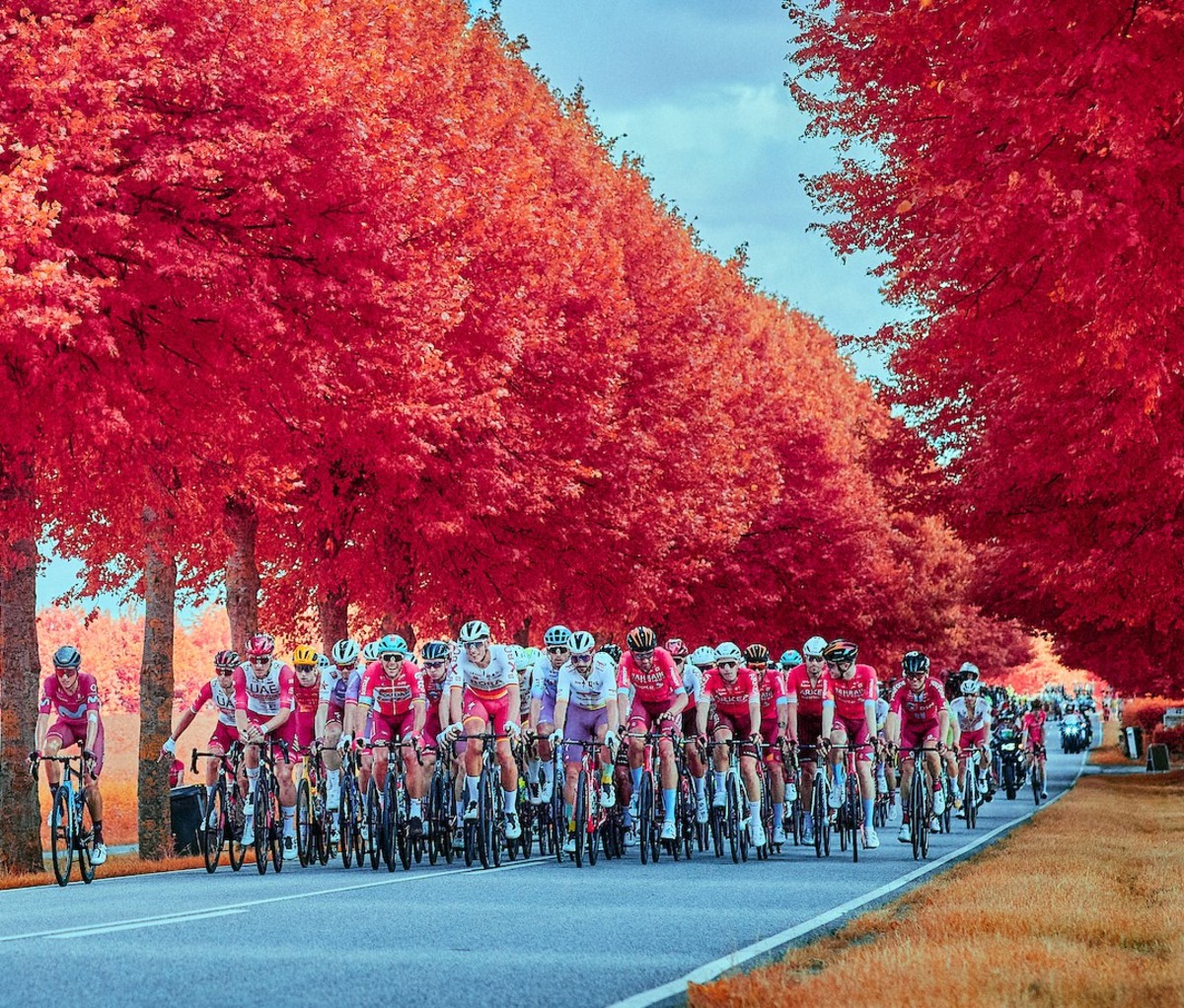 Back in the car, we parallel fjords and roll over gentle hills, making our way west, following the course's paint marks on the road. We detour from the route to visit Denmark's largest vineyard, Dyrehøj Vineyard, with 23,000 vines blanketing 20 acres on the narrow Røsnæs Peninsula. Meeting us is Tom Christiansen, a retired pig farmer who bought the land for the vineyard with his sister, Betina, in 2008. He's fresh back himself from an eight-day ride from Denmark to Paris. "He went from swine to vine," says his business partner Carl, who runs his own small vineyard in nearby Kalundborg. They have the same growing climate as northern Germany, Carl says, and while they grow 15 different varietals it's best for Solaris grapes, producing whites and sparkling wines. The fjord wards against frost and the peninsula, a giant glacial moraine leftover from the last ice age, offering great dry soil for grapes—a mix of sand and pebbles and clay down deep that holds water.
We walk across a rolling field of Solaris with healthy, dark, green leaves to a fiord on the vineyard's north side, whose winds sweep down from Sweden and Russia beyond. The fiord on the south borders one of Denmark's oldest preserves. Vineyard in Danish, Carl says, is "vingard," meaning "wine farm." Vingegaard, he adds, is similar, meaning "wing farm." "And he was flying when he rode through here," he says.
Afterwards, we hop on bikes to ride 20 kilometers around Røsnæs Peninsula, whose tip guards the entrance to the Baltic Sea and was a key strategic point for everyone from Vikings to Germans and Danes. Viking scouts would light a signal fire atop its hill to warn of passing ships, sparking a succession of others down the coast, while Danes used it as a lookout in the Napoleonic and other wars. From our vantage at the lighthouse, a look south unveils the Great Belt Bridge, which the Tour's riders crossed to end Stage 2.
After a stop by a swim beach on the peninsula's north shore, we return to the vineyard for dinner and wine tasting from its 25 different selections: a sparkling Secco from its Monarch grape, then a 2021 Solaris Bjornstrup and a Cuveé Rosé. The menu from its in-house restaurant is in Danish so it's hard to tell what all we're feasting on, but the courses complement the wines perfectly. Between bites and sips, the conversation turns from the Cold War and COVID to Elvis, politics, kids and, of course, wine. Carl also enlightens us that the Danish word for cheers—"Skol!"—came from the Viking era, when they'd chop a man's skull in half and then drink from it. We bed down at the Strandhotel Røsnæs on the peninsula's south side in nearby Kalundborg, voted Denmark's best beach hotel in 2021. I think about Carl's cheers lesson as I sever the top of my soft-boiled egg in the morning.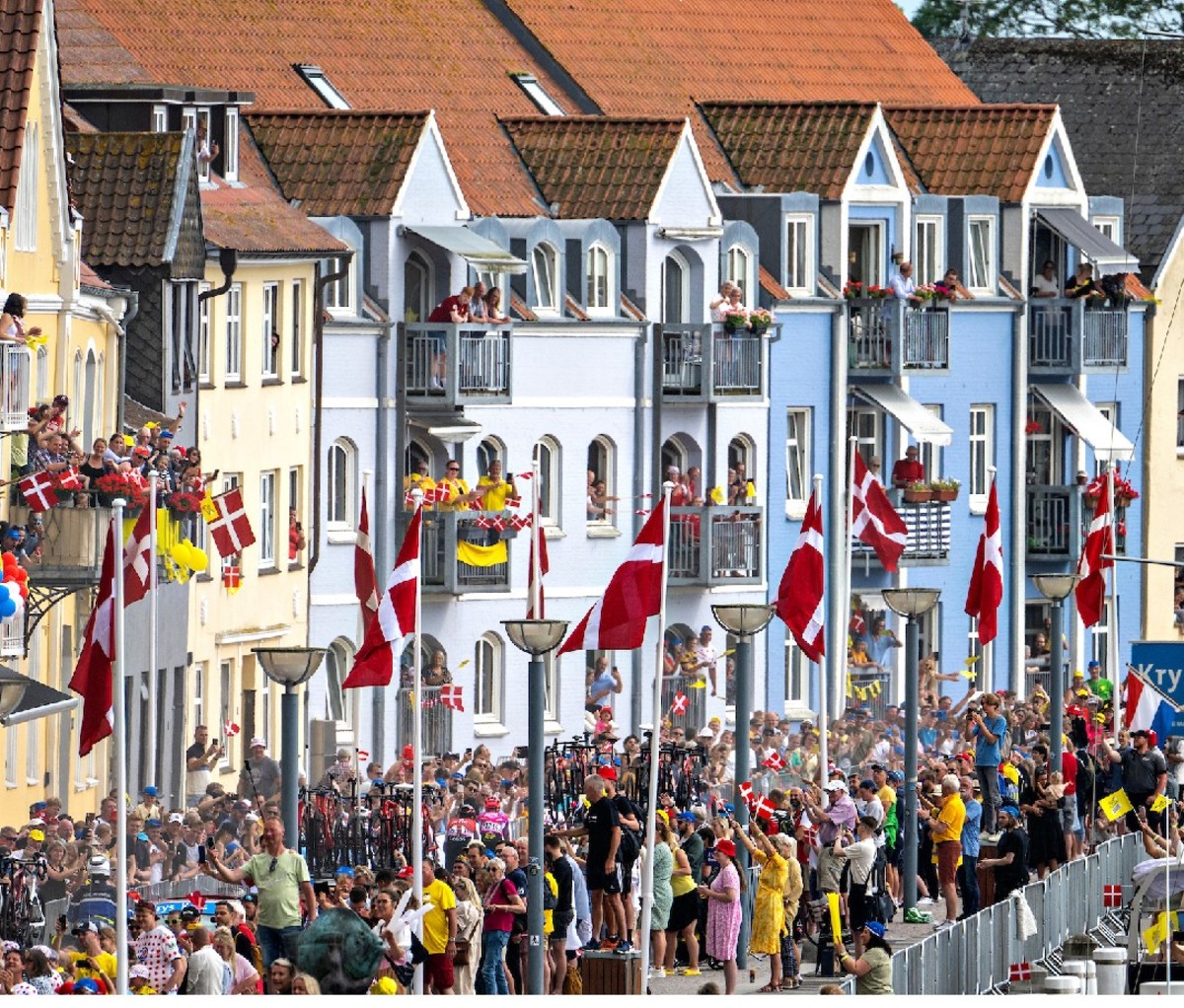 After a Mama Mia-like plunge off the hotel's dock into the ocean, we head toward Nyborg, the end of Stage 2 right after riders grueled across the 18-km Great Belt Bridge, the world's third largest suspension bridge. While fans were hoping for its customary winds to spice things up, on race day they subsided, leaving the riders to duke it out sans squalls. Sprinter Fabio Jakobsen of Quick-Step Alpha Vinyl grinded it out for the win, but the Danes cheered Denmark's Mads Pederson taking third and local rider Magnus Cort Nielsen winning the stage's three KoM climbs to wear the polka dot jersey into Stage 3.
While the racers finished in the shadow of the Dragsholm Castle, we head onto Vejle, marking the start of Stage 3. Toy company Lego was founded nearby, appropriate given the region's clay brick production, and it was all legs for the riders, serving up 182 kilometers of their hilliest riding yet. With more bike paths than you can shake your pump at, the town is our jump-off point to explore Denmark's final leg of the tour. We grab bikes from the hotel and cycle off to the historic Jelling Rune Stones in the town of Jelling. En route we see our most graphic Tour road artwork yet, much of it celebrating Vingegaard. We feel the energy seeing the graffiti, pedaling even harder.
The Tour whipped right by Denmark's official birth certificate. Included on UNESCO's World Heritage List, the stones mark the first recorded time the name Denmark ever appeared. In 950, Viking King Gorm the Old etched the kingdom's name into a giant stone, in tribute to his wife, Thyra, and officially making all the Danes Christians. Soon afterwards, his son, Harald Bluetooth, did so also. In a way, I muse, the etchings are like the team markings we see on the road, only they won't last nearly as long. A massive "stone ship" surrounds the mounds where the two kings were buried. In the museum, I hop on a stationary bike and try to outpedal a marauding group of Vikings in a clever green screen virtual display. A coffee and Viking-sized pork and cabbage sandwich at nearby Café Sejd power us through rolling fields lined with yellow-painted bikes and back to Vejle. We toast the day's ride ("Skol!") by biking downtown to a four-course meal topped by veal bavette with marinated eggplant with glazed onion and thyme sauce at the Madindustrien.
Heading out early in the morning, we follow the rest of Stage 3. The route took the riders right through the heart of yet another UNESCO World Heritage Site, Christiansfeld, a planned town built in 1773 by the Moravian Church. Like riders in the Tour, its architecture and layout are renowned worldwide, its straight-grid a stark contrast to the curves of other Medieval townships. In fact, the riders faced one of their sharpest turns of the Tour entering its cobblestone streets. The church's members celebrate water, music and above all, community, with no one more important than anyone else—even all of its graves carrying the same marble headstone. And they cherish open space, like breakout riders beating the pack. The region is also known for its "Honningkager" honey cakes, says our guide, Stein, who often bikes 30 kilometers from his home to work. It's a wonder Vingegaard didn't stop to sample one when racing by.
While plenty of yellow-painted clunker bikes rest against walls, none of the artists were allowed to paint the historic site's cobblestone streets. But the riders likely felt at home with the buildings' yellow walls, painted to protect their two-and-a-half-century-old bricks—all, that is, except the western walls, which are covered with birchwood siding to protect the bricks from the prevailing wind. Sampling wine and truffle toast at a wine festival downtown, I count seven others groups of bike-packers riding by. Clearly, it's on the list of places to pedal here.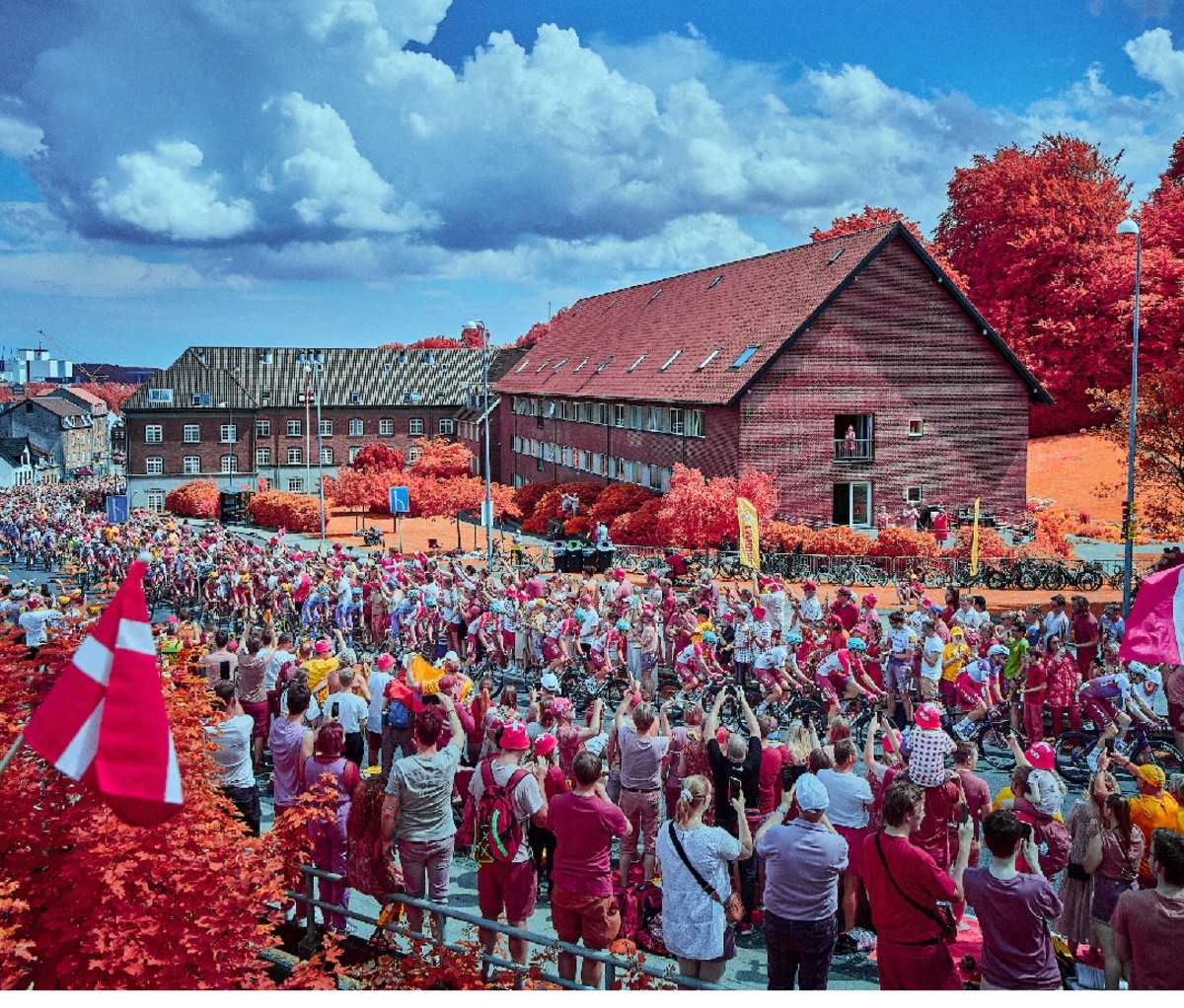 From there, we head to Sønderborg, the Sønderjylland region's largest city, located near the Danish-German border and site of the Stage 3 finish. On the drive, I notice bikes or bike racks on half of the cars we see on the highway. We stop at the seaside hamlet of Aabenraa, one of Denmark's oldest maritime towns, and hop on rail bikes for a hands-free break from normal riding. Trading turns pedaling and drinking Tuborg on a sidecar, we barely keep ahead of a Danish family behind us. But unlike the Tour, they can't pass us.
From there, a quick stop at the Frøslev Camp Museum farther south near the German border paints the grim reality of the country's German occupation during World War II. The camp housed 12,000 Danish members of the Resistance, deporting batches of prisoners to concentration camps in Germany. It makes the suffering of the Tour riders seem trivial. In Sønderborg, we grab our bikes again, meet our guide Gerda and ride to the harbor to tour the Sønderborg Castle, standing sentry-like over the city. Built in 1200 and protected by water of three sides—its own peloton, if you will—it's been through generations of genteel, even imprisoning Danish King Christian II from 1532 to 1549. From its top floor we see bike-bagged riders across the harbor on the 820-km Baltic Sea Bike Route, one of 12 national bike routes in the country.
We bike across the King Christian the 10th bridge and follow the Tour route past the battlefield site of the War of 1864, a cannon-fueled affair during which Denmark lost much of its land to Germany. It's almost analogous to Tadej Pogacar losing ground to Vingegaard in the later stages of the Tour, but Denmark regained its land after World War I. The way Vingegaard is riding, Pogacar might never get the yellow jersey back.
Coasting back down and across the bridge, we follow the Tour route by the waterfront of Hotel Alsik, a harbor-defining edifice designed by architect Frank Gehry—complete with a King-worthy, glass-walled "common view area" on the 16th floor. Then it's back down the harbor road, following the road graffiti, before riding the last few kilometers to Augustenborg Street, taking a sharp left and faux-sprinting to the finish. I throw up a peace sign overhead, emulating Dutch sprinter Dylan Groenewegen, who won the stage just ahead of Wout van Aert. But it was Vingegaard who would eventually ride into Paris's Champ Elysees 2,952.6 kilometers later as the overall winner.
Over dinner at the boutique Karikatur restaurant downtown, we celebrate our own retracing of the Tour's Danish legs. The five-course extravaganza pairs menu items with cocktails from the restaurant's own distillery—monkfish with fennel and citrus sauce, paired with pear liqueur, white port and cava; and tartare with pickled mustard seeds and roasted leek paired with Kalas gin, vermouth and ginger bitters. I can't imagine the kings at the castle imbibing any better, and I feel for the prisoners locked in its dungeon. With that, like Vikings toasting their victories, we clink our glasses of Kalas Rabarber with parsley oil, cucumber tonic, and citrus to Denmark, its throne-changing past, the Tour's throne changing to a Dane, and seeing some of the country's highlights the Danish way—from the seat of a bike. I can't help but remember Café Sejd owner Bjarne's words from Jelling: "It really was just like a story from Hans Christian Andersen—all the way down to the fairy tale ending."