Travel
Santa Barbara's Hotel Californian Epitomizes Coastal-Cool in the American Riviera
Santa Barbara has a coastal-cool ease that belies other beach-town destinations with an air of pretension and frenetic energy. Nestled between the Pacific Ocean and the foothills of the Santa Ynez Mountains, the city's lured Golden State residents and out-of-towners with its Mediterranean climate, booming viticulture, and laissez faire attitude. That's why Hotel Californian is our top pick if you're seeking a basecamp that materializes the magic of Central California. The waterfront property is a seaside retreat just a stone's throw from the beach and pier; bustling stores and eateries of State Street; and Funk Zone, Santa Barbara's buzzing food-and-drink scene.
Situated 90 minutes from Los Angeles, 20 minutes from the Santa Barbara Airport, and just a block from the Santa Barbara Amtrak Station, you can get to Hotel Californian by rental car (valet rate at Hotel Californian is $39 per night) or train. Here's what to expect from a stay at this 5-star hotel.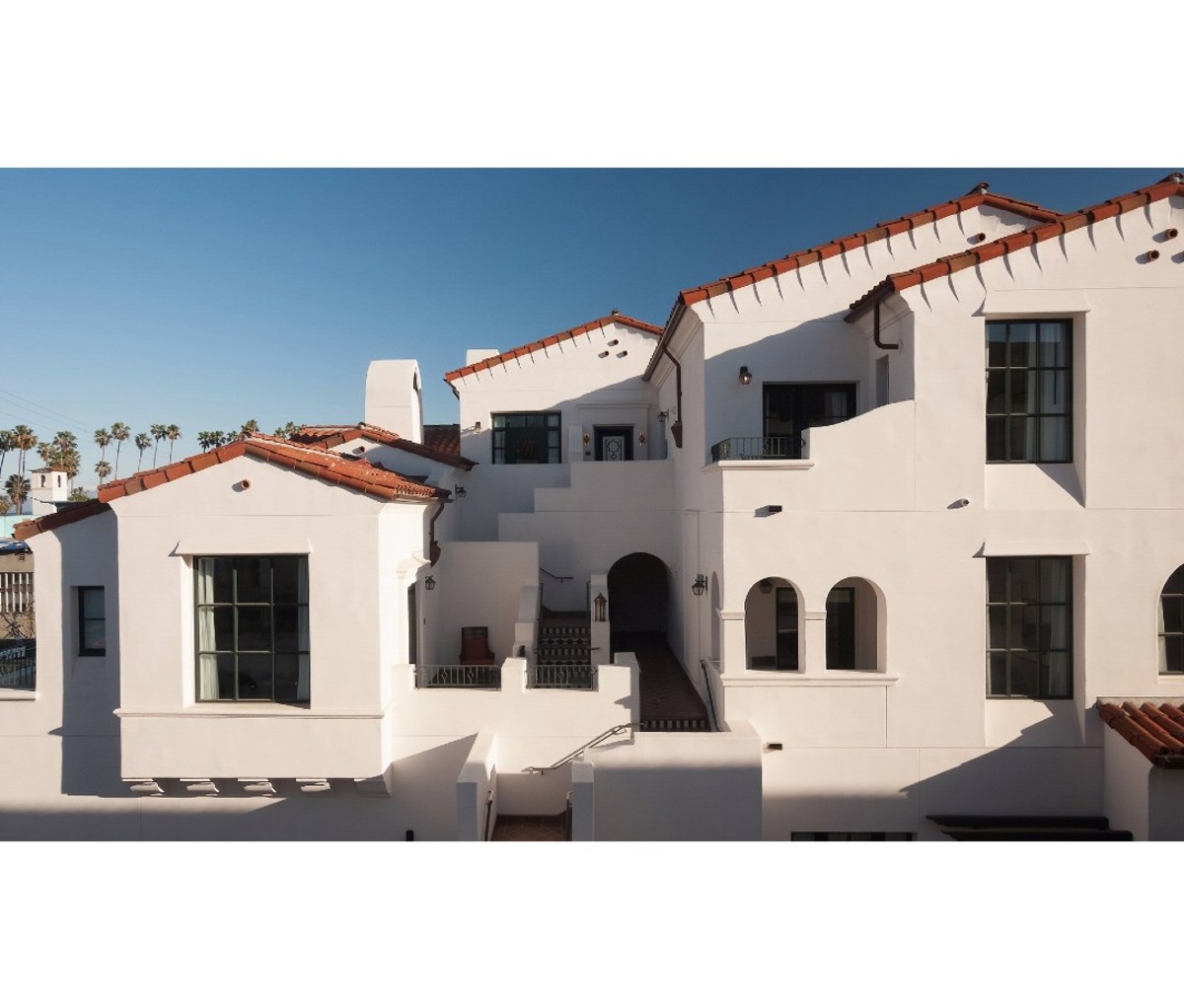 Accommodations that are anything but cookie-cutter
The Preferred property has 121 rooms across three buildings (Mason Building North, Mason Building South, and Californian Building) that imbue old-world glamour with a modern take on Spanish Colonial Revival architecture.
The façade mirrors that of the original Hotel Californian—low-pitched, terracotta-tiled roofs and white stucco walls—which was destroyed just 11 days after it opened in the 1925 earthquake. This style of architecture was a way to evoke an opulence and exoticism not yet known to the area, and offer a glimmer of Hollywood's romanticism—without all the preening. (The main entrance, where you check in, is on E Mason St., between State St. and Helena Ave.)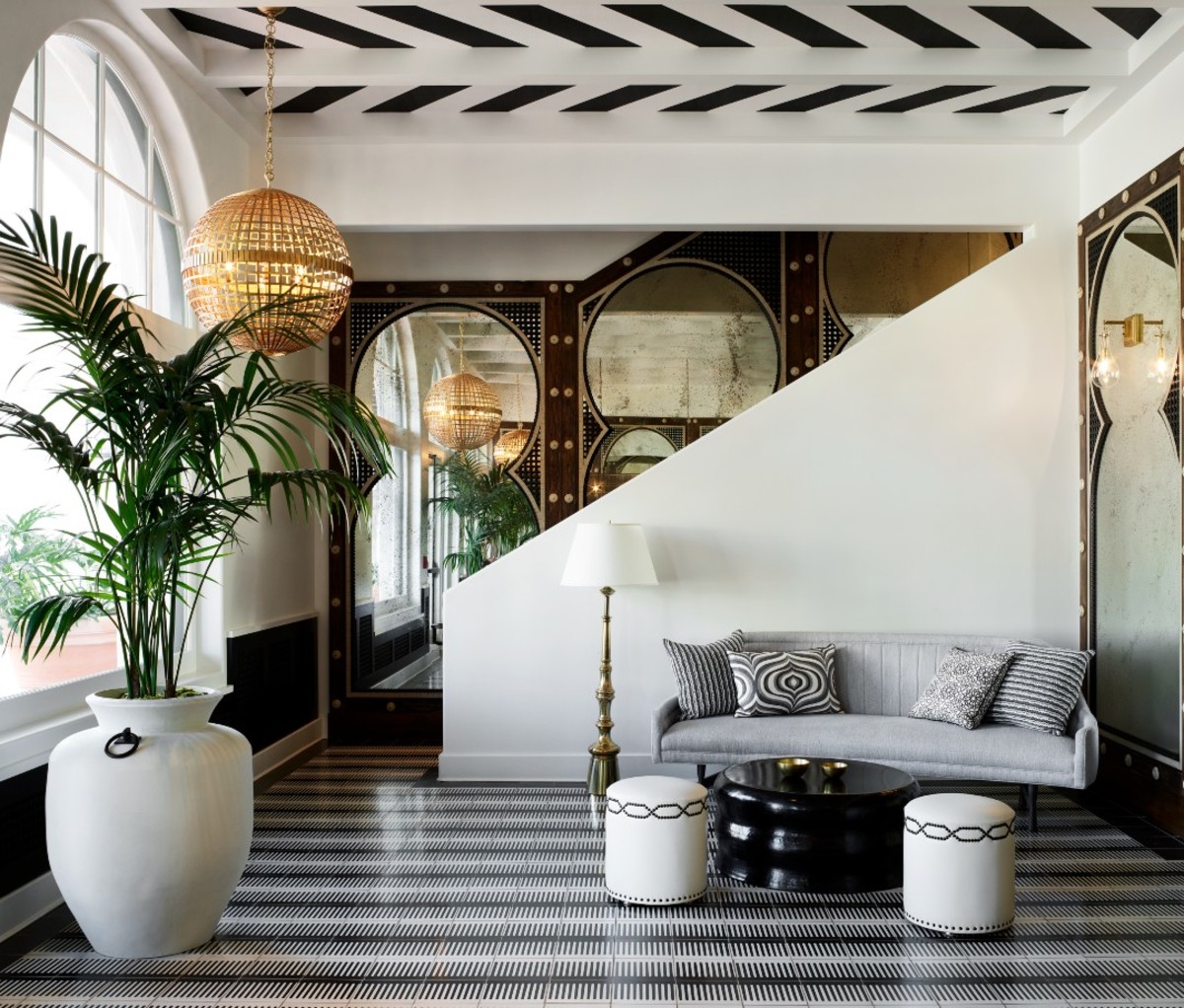 The interior has since enjoyed a total overhaul by interior designer Martyn Lawrence Bullard. The aesthetic marries references from Spain and Morocco. Plenty of arched doorways and windows let natural light pool into the lobby, Djinn Library Cocktail Bar, and suites. Luxe jewel-toned colors and materials are seen in velvet tufted benches, headboards, and armchairs. They add warmth and richness to the more than 1 million black-and-white hand-painted Moroccan tiles running along steps, walls, and baseboards. The rooms and suites are airy yet opulent, but nothing feels costumey or trite.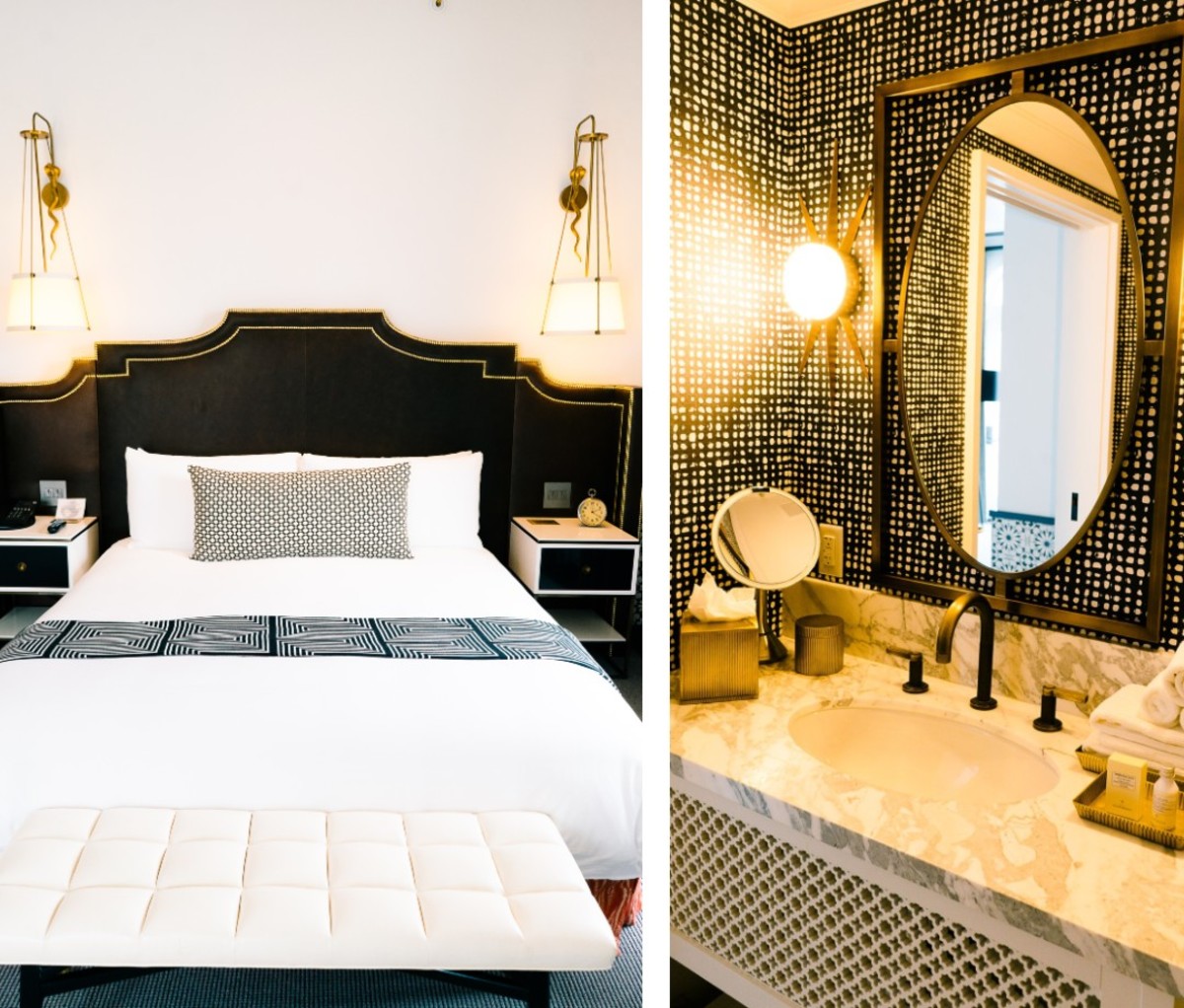 To further tie in the heritage of Spain and Morocco, rooms and suites are named after people, places, and things of cultural significance to both, such as medieval Spanish cities (think Sevilla, Granada, and Cordova); Moorish troubadours; the revered Tangier bar in Morocco, which played host to beatnik poets and illustrious writers like Allen Ginsberg, Jack Kerouac, and William Burroughs; as well as sestina, a type of poem with six stanzas of six lines, made popular at the time. The spaces pay homage to intrepid spirits and maintain the feel of intimate enclaves.
Some rooms have Juliet balconies suspended above courtyards or the oceanfront. Other deluxe corner rooms have dual balconies and fireplaces begging to be enjoyed with a glass of local wine included in the mini bar. Getting to the rooms in the main building requires an amble up stairs and passageways reminiscent of Spanish paseos, or walkways.
Exploring the grounds
Beyond the rooms, you can find respite in the brilliant white-and-blue Moroccan-style Majorelle spa. Choose among a variety of facials (including one specific to men's skincare) and massage types (Swedish, Thai, deep tissue, lymphatic drainage, and even craniosacral to relieve head and neck tension) with the option to choose your own aromatherapy blend from essential oils and gemstones.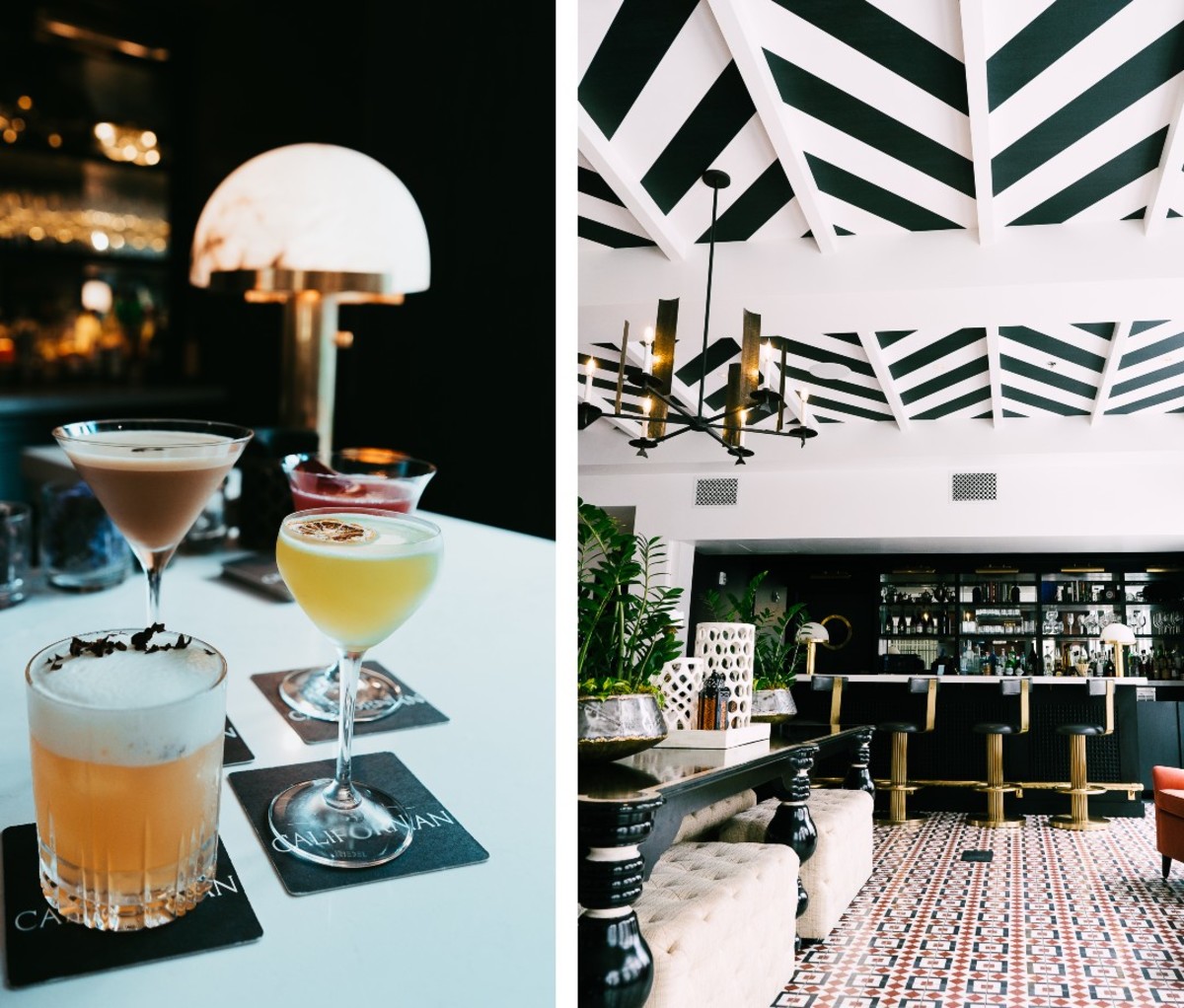 The aforementioned Djinn Library Cocktail Bar is a great spot for a pre-dinner beverage; it's sophisticated and moody yet not imposing. Naturally, the cocktail menu stays on theme with libations like Midnight in Morocco (Volcan Tequila, Violette, orgeat, lime, Luxardo Liqueur, Firewater Bitters) and A Djinn By Any Other Name: The Empress (Light House Gin, Lillet Blanc, St. Germain Lemon, rosewater syrup, bitters, egg white). Pair it with a wild rice falafel or octopus carpaccio.
If you happen to be staying during a full moon, pop down for the bar's HOWL event from 4 p.m. to 10 p.m. for craft cocktails by mixologist Devon Espinosa, tunes from down-tempo DJ (think ambient music), board games, and a Tarot card reader.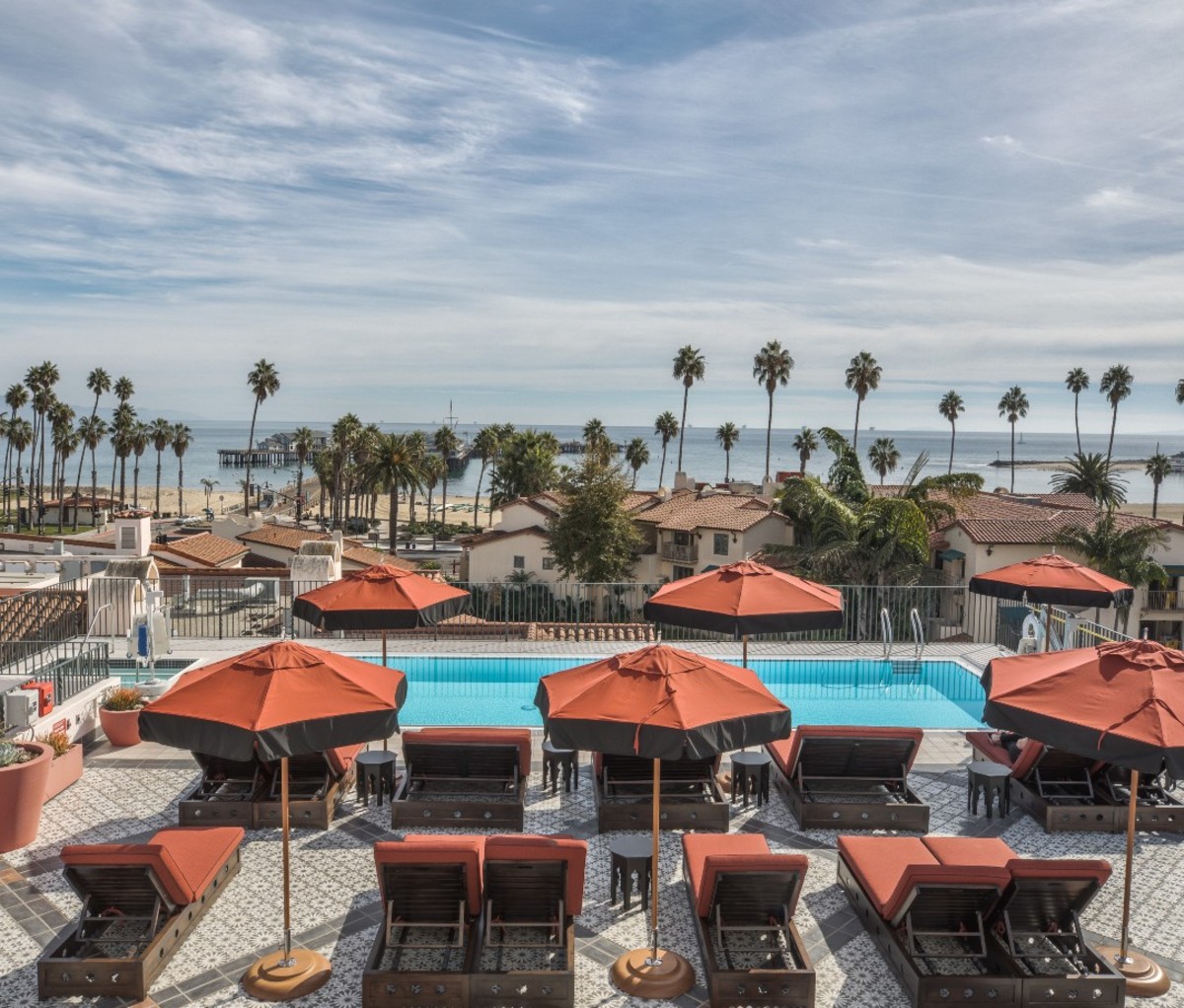 If your room is in Mason Building North or Mason Building South, walk across the street to the Californian Building to access the Mirador Rooftop Deck (a popular spot for weddings and other celebratory occasions). Here you'll find the Tan-Tan rooftop pool, complete with reclining loungers and day beds. Even during peak season (July), it doesn't get too packed, so you can enjoy ample views of the coastline and Santa Ynez Mountains from the pool or event deck. Should you lounge up an appetite, you can order food and drinks from Goat Tree's menu. As far as we're concerned, it doesn't get much more idyllic than palming a smashburger in one hand and a spicy marg in the other from an unparalleled vantage point.
But if you do fancy a more formal setting for food and drinks, you've got options.
Hotel Californian culinary experience, continued
The funk zone is peppered with tasting rooms, but pay a visit to The Society: State & Mason, Hotel Californian's intimate space on State Street. In 2021, the hotel was purchased by the Foley Entertainment Group, so a selection of vino from Foley Family Wines are on rotation. To immerse yourself fully, go for the Riviera Reserve Experience. Reservations are required and run $100 per person, and include a flight of four reserve wines paired with a selection of small bites from Hotel Californian Executive Chef Travis Watson.
"We are humbled and grateful to be locally owned, working alongside the esteemed Foley family and FEG team to further cement Central California as a world-class culinary destination," says Hotel Californian Managing Director Warren Nocon.
Top-to-bottom windows bring the outdoors in, fostering a sense of community that garners locals as well as tourists. The Society: State & Mason will also offer wine education classes, exclusive events, and winemaker dinners.
It's the first domino tip in a series of gastronomic pursuits.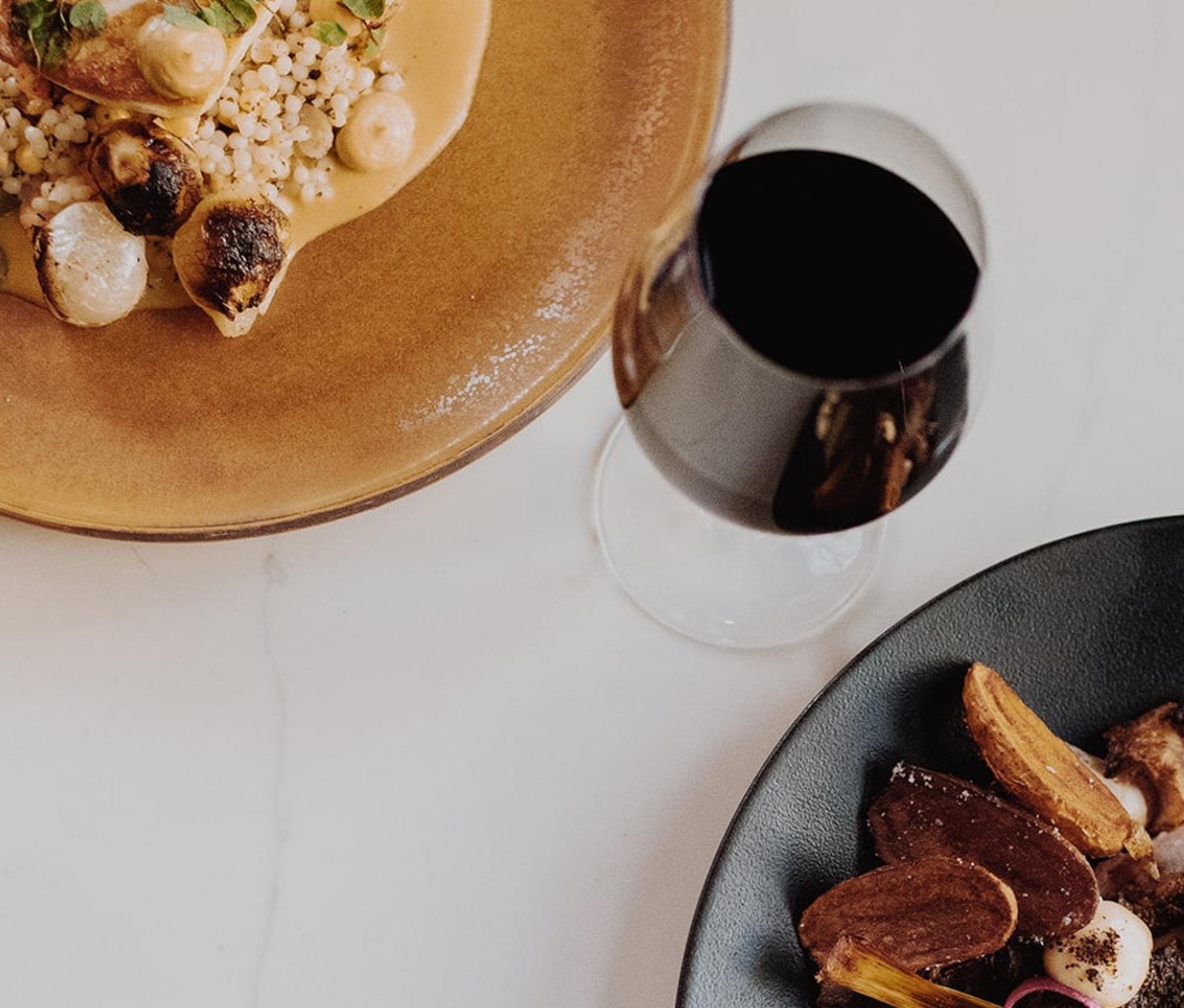 The Winemakers dinner at Blackbird is also not to be missed. The upscale restaurant similarly offers winemaker dinners spotlighting producers from the region—for instance, we got the pleasure of tasting a selection of wines from Sonoma's Chateau St. Jean led by the winemaker herself, Niki Williams. Similar to The Society: State & Mason's Riviera Reserve Experience, chef Travis Watson creates a bespoke multi-course dinner to complement the ever-changing lineup of wines.
The dinners occur once a month, and tickets start at $150 per person. Check the calendar of events for the date and featured winery each month.
If you don't happen to be visiting during one of the winemaker dinners, don't panic, Blackbird is equally as impressive on any other night of the week. Chef Watson's menu is an amalgamation of land and sea, offering West Coast oysters, local halibut and black cod, spring lamb tataki, and more. Mixologist Devon Espinosa has also designed the cocktail menu here with more cheeky elixirs, California beers on draft and, of course, wine from Foley Family Wines portfolio, which comprises 23 wineries worldwide.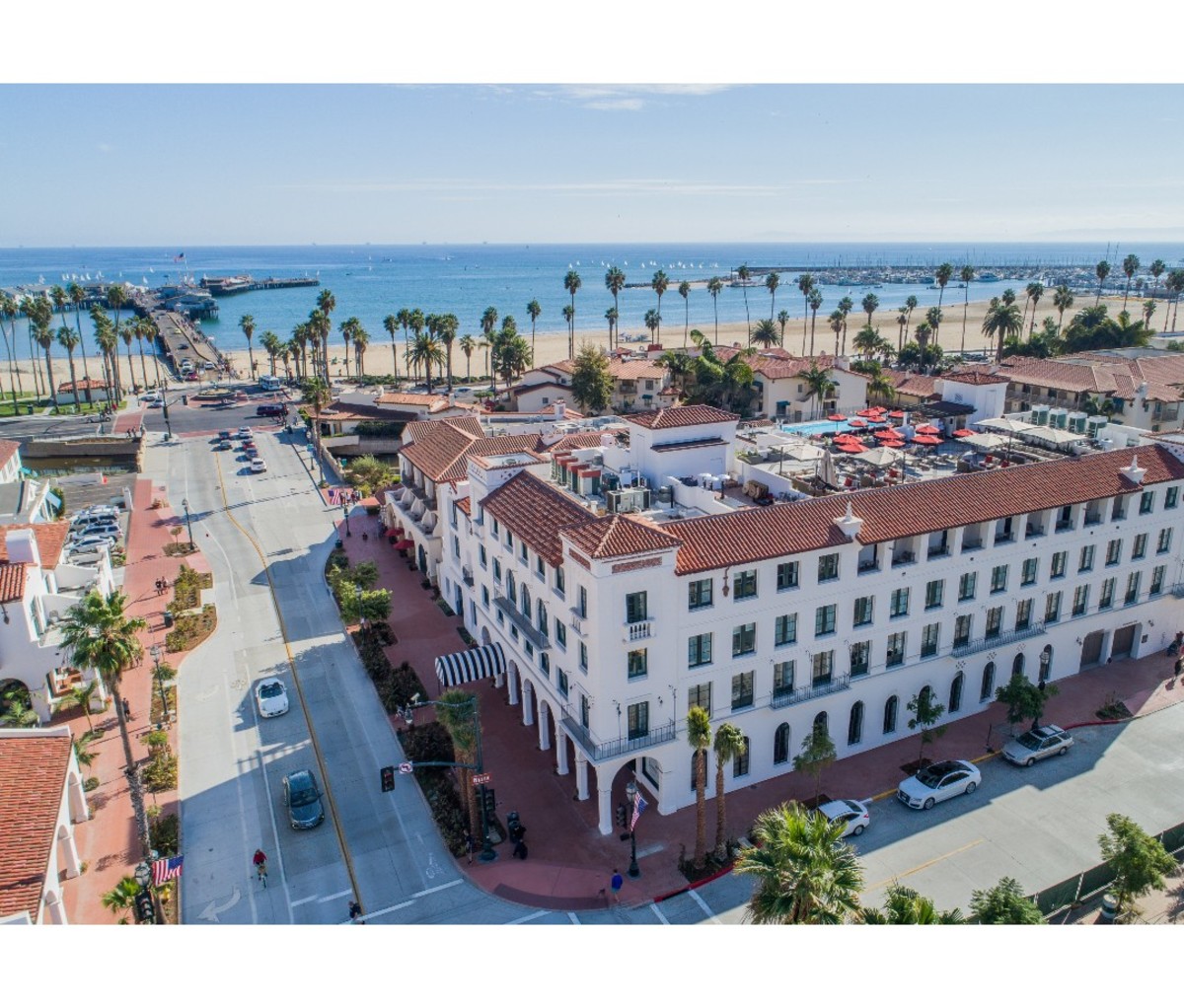 The perfect weekend in Santa Barbara
Come morning, grab breakfast or just a coffee at Goat Tree and stroll on the running and bike path that winds along the beachfront before the sun bakes off the cloud cover. As locals will tell you, during the summer months, warm desert winds mingle with the brisk ocean water, creating a blanket of fog in the morning that lingers just until noon, keeping Santa Barbara's summers temperate (of course it's moderate all year round, too). If you prefer a grab-and-go breakfast situation, you can't go wrong with an almond croissant from Renaud's Patisserie & Bistro or a smoothie, açaí bowl, or porridge bowl from Backyard Bowls. We also wouldn't stop you from going on a quest to find the best breakfast burrito in SB and dropping in at haunts like Super Cuca's and Lito's Mexican Food.
It's the perfect climate for morning hikes (highly recommend Hot Springs Canyon Trailhead). Come midday, book a two-hour charter cruise with Santa Barbara Sailing Center for up to six guests via Hotel Californian (lunch is packed onboard from Goat Tree). Nab a cone from McConnell's Fine Ice Creams a few doors down from the hotel when you return, then drop into a few local stores like Channel Island Surfboards and antique shop The Blue Door, then get ready for dinner. Definitely eat at one of the hotel's restaurants one night, then venture out the next day. For something casual yet absurdly tasty, hit up Loquita for fresh tapas and wood-fired grilled seafood. If you need good lunch recs, pop over to La Super-Rica Taqueria, a no-frills, world-famous taco joint or the Santa Barbara Public Market, the area's premier food hall.
After dinner, hit up the Funk Zone. Craft beer buffs should belly up to Lama Dog Tap Room + Bottle Shop; those who fancy cocktails can visit Test Pilot for tiki-style bevs and Pearl Social for something more upscale; and we urge you to make your way through the many tasting rooms, like Municipal Winemakers and Kunin Wines, to get a taste for Santa Barbara wine.
We know what you're thinking: paradise found.
Learn More and Book Now
For access to exclusive gear videos, celebrity interviews, and more, subscribe on YouTube!