Travel
Highlands, Distilleries, and Rebel Tartan Mills: The 4-Day Road Trip Through Scotland
A long weekend in Scotland requires some serious soul-searching. This country, which inhabits the northernmost part of the UK, has many faces and traditions. A four-day visit means you've got to prioritize. Do you want to meander the Lochs and veer into the isles and highlands? Or would you rather spare a car rental and hop among the pubs, castles, and football stadiums of Edinburgh and Glasgow? Do you fancy whisky and gin distillery tours, getting fitted for a kilt, or hitting the links in St. Andrews?
It's a lot to consider, and it'd be a sin to drive all the way through Scotland without stopping to savor the scenery, cuisine, and culture. So here are a few possible components to such a long-weekend trip—starting and ending in either Edinburgh or Glasgow. Combine them any which way, and cut your losses. On your next visit, you can dive further into the things you missed on your first pass.
One Day in Edinburgh or Glasgow
It's safe to assume that your trip originates and ends in one of these two cities. That being said, you might have to budget two days if you're experiencing them both. While it will limit what you can see and do on a road trip (to budget half your time to the cities), you'll have no shortage of history, dining, drinking, and entertainment in either place.
In short, Edinburgh has a lot more historic attractions, while Glasgow feels like a bigger, more dynamic organism. You can't compare them easily, so it's best to sample both. And if you plan to visit them both, it might be worth taking a train between the two, which is very cheap and only takes an hour.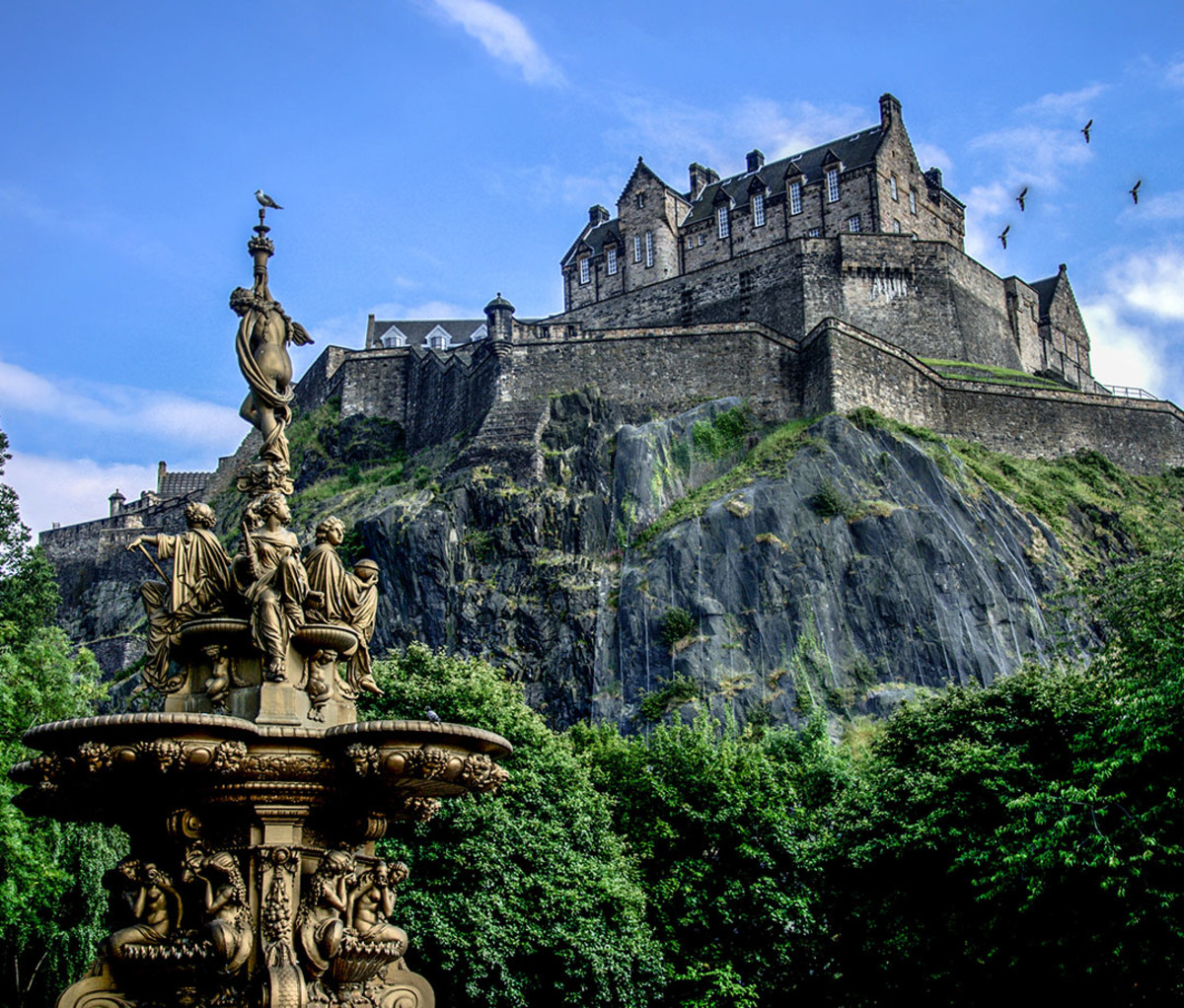 Where to Stay, Eat, Drink, and Go in Edinburgh
Stay between one of two properties. First is Market Street Hotel, which is right next to the train station and walking distance to the city's core attractions. It's a design / boutique hotel with furnishings that are simultaneously contemporary and inspired by Edinburgh's old-world charm. The rooms feel like well-adorned apartments, with colorful detail and thoughtful touches like tartan patterns and rainfall showers. You can even visit the nearby (and massive) Nuffield Gym for a $10 day pass as a member of the hotel. But wait until you see the facilities; pools, training stations, saunas, and more make it well worth the ten bucks.
Your other best bet is The Edinburgh Grand, which has luxuriously outfitted apartment-style rooms. The converted bank is decked with Malin + Goetz amenities, full kitchens (with washer/dryer, too), as well as living rooms with wraparound windows, fireplaces, and wood paneling. The basement gym (just past the former bank's vault) vials your own local membership, with personal trainers on hand and various classes that attract guests and locals alike. The grandiose lobby soars upward like an atrium, with a hypnotic and humbling view downward from each floor above. The icing on the cake is the onsite restaurant Hawksmoor, offering surf and turf in a bustling but fine-dining setting. Definitely book your meal ahead of time.
As for sites, the Edinburgh Castle is your primary destination for the day. You can spend an hour or three perusing its grounds, enjoying panoramas, or taking private tours to learn about its 9th-century history. Just be sure to arrive before 4 p.m. (the last entry allowed).
One exciting aspect of Scottish tradition is encountering all the people who are both preserving and disrupting it. Holyrood Distillery in Edinburgh is one such example, combining gin and whisky distilleries under one roof—and in the heart of the city. (Most distilleries are farther north in Scotland.) Holyrood just got its licenses in summer 2019, so you can be one of the earliest guests. Sample the ingredients that go into their recipes, or cozy up for a drink after your prearranged tour. It won't be until 2022 that you can taste their whisky, though, since Scottish whisky requires a minimum of three years in oak barrels.
Spend a couple hours exploring Old Town, stopping by St. Giles' Cathedral, meandering the steep closes ("closes" are narrow alleys), or explore the city's dark history with a tour of The Real Mary King's Close.
Retire with a lamb or steak dinner, plus a pint of beer or a few drams of whisky. The Devil's Advocate is a cozy, low-lit favorite in the heart of Old Town, a minute from your hotel. A reservation is recommended.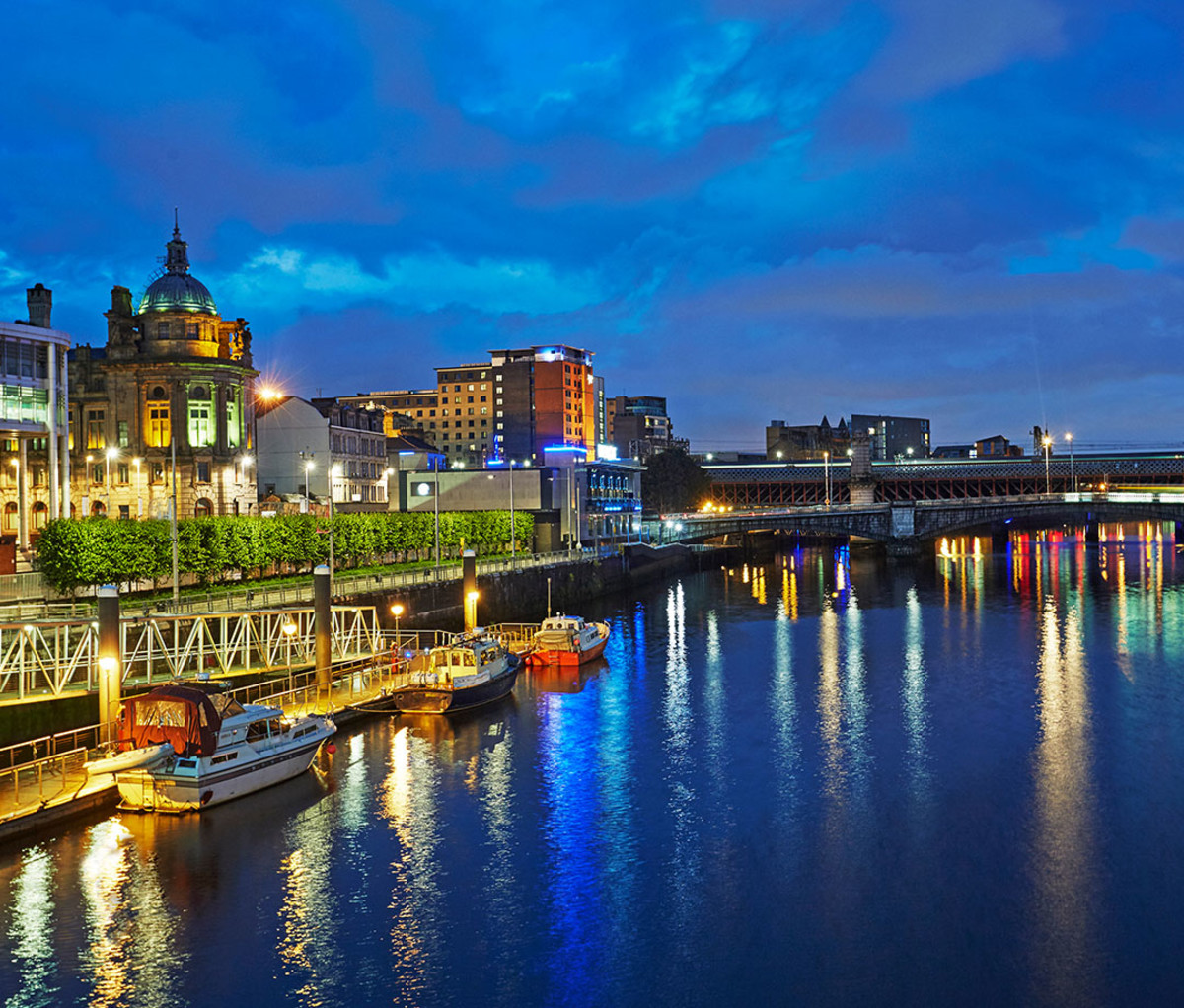 Where to Stay, Eat, Drink, and Go in Glasgow
Stay at the newly opened Native Glasgow, a standout apart-hotel in the heart of the city. The success of Native's 16 London properties led to this first one in Scotland. Native provides the kind of hospitality, local expertise, and modern decor that no BnB (nor Airbnb) could ever provide. For instance, they stock your kitchen for the stay, including morning breakfast. Highly suggested are the top-floor suites, with views overlooking the 18th-century George Square. Best of all is how friendly the hotel is on your pocketbook.
If you're cheeky enough to get a Scottish kilt, Glasgow is the place to do it. Arrange a fitting at MacGregor & MacDuff, where you'll learn all about the history of the kilt and its various patterns. They'll measure you for one, allow you to choose from hundreds of patterns, and will custom-make it within eight weeks.
If a football game suits you, then align your visit to a Celtic FC match. It's got a warm environment, akin to an MLB game, which might be partially attributed to the fact they don't sell alcohol in the stadium. (Hey, it's worth knowing this in advance.) But don't worry, you'll still learn plenty of Scottish curse-word slang from the rowdy fans.
Pick your poison, and visit a brewery or distillery that serves it in high supply, from the giant Tennent's brewery to Clydeside scotch distillery or the Wester Spirit rum distillery.
Cap the day with a visit to hip Finnieston, dense with pubs, restaurants, and concert venues. Our pick for dinner is The Gannet, serving Scottish prix fixe menus, with ingredients like Cairngorm deer and Shetland squid.
For the rest of your stay, either drive a three-day loop from Glencoe to Inverness to Aberdeen, or condense it into two-day treks to either Inverness or Aberdeen. It doesn't make a huge difference, if you're starting in Edinburgh or Glasgow, as they're both in the south of your core loop (Glasgow more central, Edinburgh more east).
Here's how to do either of those condensed two-day trips. If you want to do three days, it should be easy to combine them all and trim as you deem fit.
Car rental: Please note that since Scotland is part of the UK, you'll drive on the left side of the road. So it's worth investing in a high-quality rental that monitors things like lane-crossing alerts (since you might tend to drift to the right), and that can hug those fast Highland curves with aplomb. I'd recommend renting directly from the airports in either Edinburgh or Glasgow. From there, you can score a British Luxury Collection car from Hertz, which outfits you with a recent make Jaguar or Land Rover. It also includes pick-up options, unlimited mileage, and a make-model guarantee (so the car you rent is the one you actually get).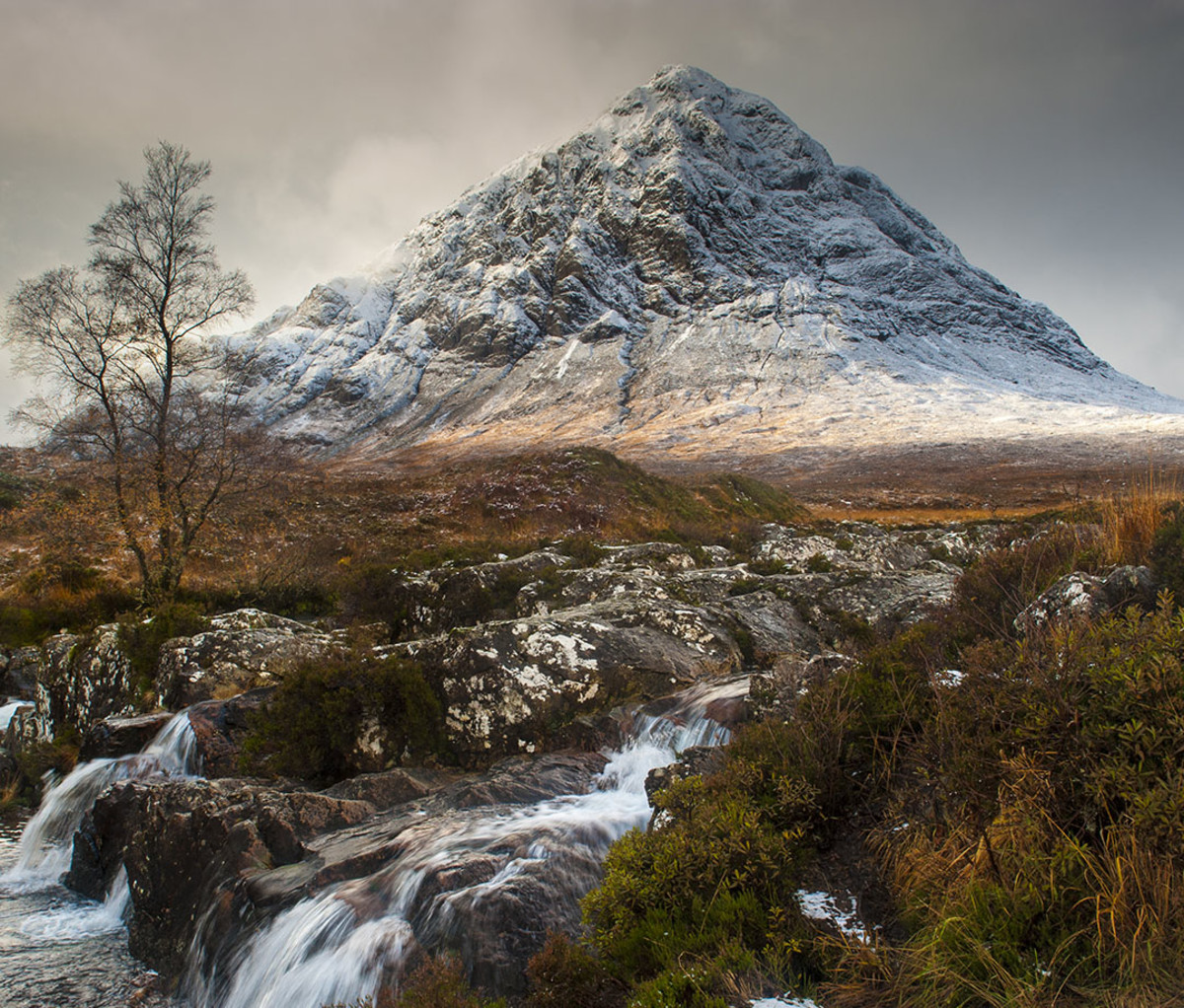 Route 1: Northwest Toward Inverness
Hiking, Highland Driving, Isle of Skye, and Rebel Tartan Mills
First, point your GPS toward Loch Lomond, where you'll hike Conic Hill for an hour. Plan ahead for the quintessential Scottish weather (fog, rain, clouds, etc.—it only emboldens the fresh, earthy smells and deep-green vegetation).
Continue onward to Glencoe, where you'll sleep for the first night. This drive is the destination—you'll gawk at the humbling Highlands and might need to pull over a few times to take it all in. I'd recommend turning off at Etive (you can tag "Etive Mor Waterfall" on Google Maps as a marker, though there's more than just that to explore). The road is unassuming and leads to streams, waterfalls, and quiet backroads if you want to see it all at a slower pace, away from the highway. Give an hour for that detour, then turn back to the main road and make your way to Glencoe.
You'll stay the night at homey Loch Leven Hotel and eat Scottish comforts onsite at the cozy and quaint Loch View Restaurant. You may want to go for a morning hike along the lake or its streams before departing the next day, to savor the lush Highland setting. Again, that's the core attraction here—the Highlands themselves.
The next day is a haul, but you'll start by driving to Isle of Skye—in particular, Kintail, among the Five Sisters mountain ridge. It's worth an entire day if that's in your logistical budget, but also necessary for a drive-thru and leg-stretching hike for the first half of your day. Consider booking a ranger-led hike for some historical and geographical context to the medieval architecture and fisherman's villages that dot the Isle.
Then, you'll finish the upward route to Inverness, passing the long western shore of Loch Ness just prior to arrival. (Yes, you should keep an eye out for Nessie, but also keep both eyes on the road.…) Book a room in the 17th-century mansion Brunchrew House Hotel, because why not?
You can visit the humble Inverness Castle or take a quiet stroll along the River Ness before dinner at the comfy-but-bustling Mustard Seed. Cap the night with a bar crawl on the same block, between live music at Hootananny, whisky at The Malt Room, and pints at Black Isle Brewing.
The next morning, if it's a weekday, stop by the Prickly Thistle Pop-Up Mill to buy authentic tartan fabrics from the tartan rebels. Prickly Thistle uses old-school machinery and tried-and-true weavers, while much of the industry has been automated and outsourced. Prickly Thistle also disrupts the industry by allowing customers to customize their tartans to their liking—against tradition that dictates your patterns should be based on family name or origins. While you won't be able to customize anything on the spot, you can learn about the production and get wheels turning on a custom order, while picking up something from their onsite shop for yourself. You can always contact them in advance if you have any other commercial inquiries or questions about your visit.
Today you'll drive south, back to Glasgow or Edinburgh. Give yourself five or six hours for that, routing through the stunning, mountainous Cairngorms National Park for your final soaking-up of the Highlands scenery. Pitstop through Stirling on your way back, for a tour of the expansive 15th-century Stirling Castle grounds just before arriving in Edinburgh or Glasgow. It sits at the divide between the lowlands and highlands, making it a significant fortress for the kingdom.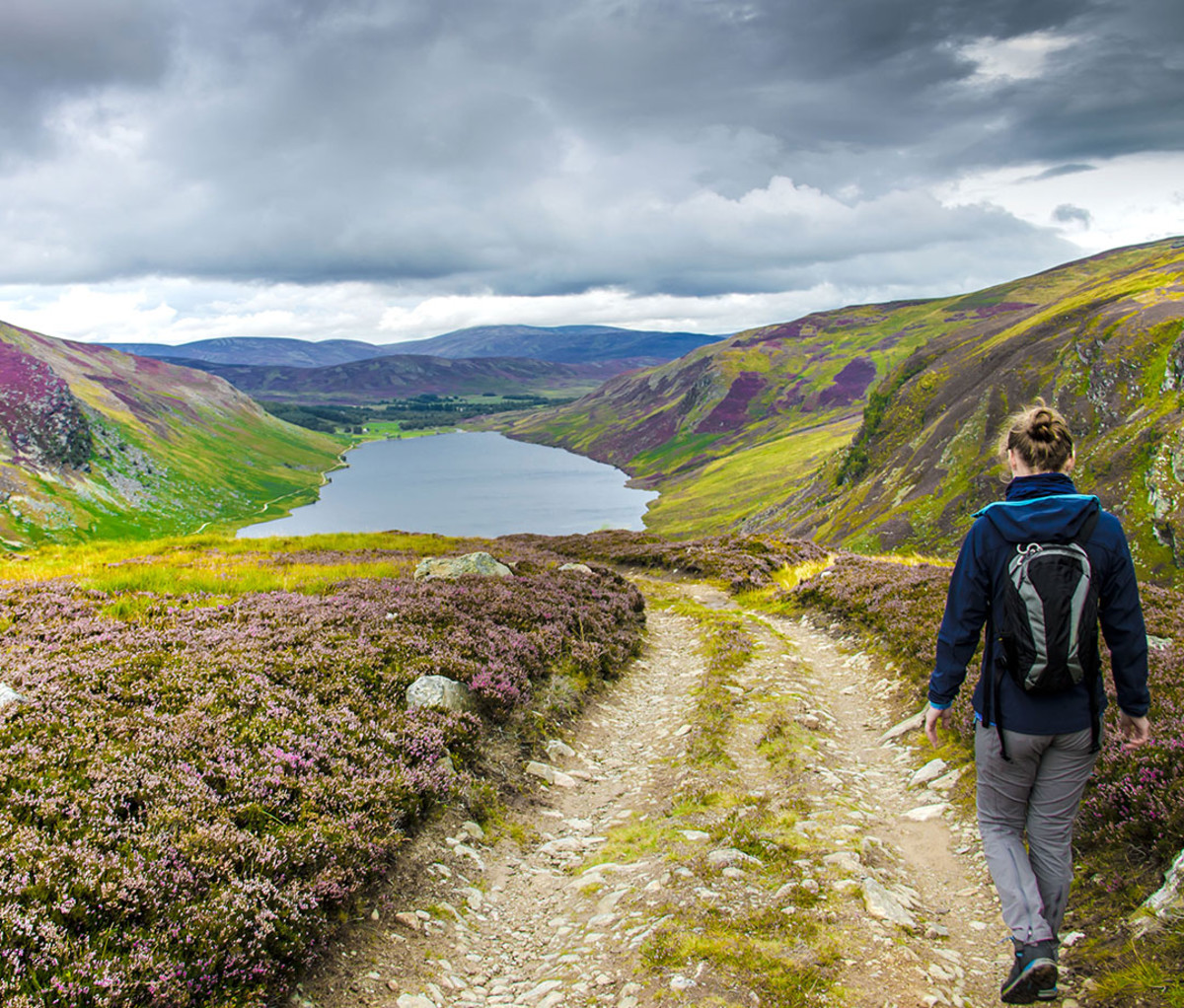 Route 2: Northeast Toward Aberdeen
St. Andrews Golfing, Macallan Distillery, and Cairngorm Driving
As an alternative to Route 1, you can point yourself to Scotland's eastern coast. Make the long-haul drive to Aberdeen on day one (all of two to three hours uninterrupted), with two or three possible stops along the way: First is Stirling Castle, which we already covered at the end of the Route 1 itinerary.
Second is St. Andrews, which is literally called "The Home of Golf." If you didn't know that already, then you can probably skip St. Andrews. If you did know that, then this is probably the highlight of your entire visit. Book a tee time at that link, and enjoy a round of golf that you'll remember for the rest of your life.
Another worthwhile stopping point is the quaint city of Perth. You can stop through the Fergusson Gallery or arrange a tour at Dewar's Aberfeldy Distillery. (Not such a hard sell, that one.)
By day's end, you'll be in Aberdeen. Like Inverness in Route 1, it's more of a stopping point than anything else. It's a beautiful city that juxtaposes old and new, however, be sure to peruse the city center. It's bustling with revelers on weekends, and BrewDog is a reliable spot for craft pints and a lowkey crowd. That's where you'll chase dinner, which itself should be at Cafe Harmony, for a nice Mediterranean break from all the hearty (but delicious) Scottish fare. Worry not, the beers will keep your trousers tight.
The next day, your destination is The Macallan distillery. Book ahead for your guided tour of their new eco-friendly and architecturally astounding facility. If you pick one distillery visit for your trip, stick a pin in this one. (The coolest part is how they built the brand-new building into the terrain, and have effectively hid it from view so that it doesn't disrupt the panoramic highland views.)
After that, you'll angle yourself back south through the Cairngorms, soaking up the greenery. You can follow highway A9 back into Perth, and down into Edinburgh or Glasgow, whichever is your end point.
For access to exclusive gear videos, celebrity interviews, and more, subscribe on YouTube!