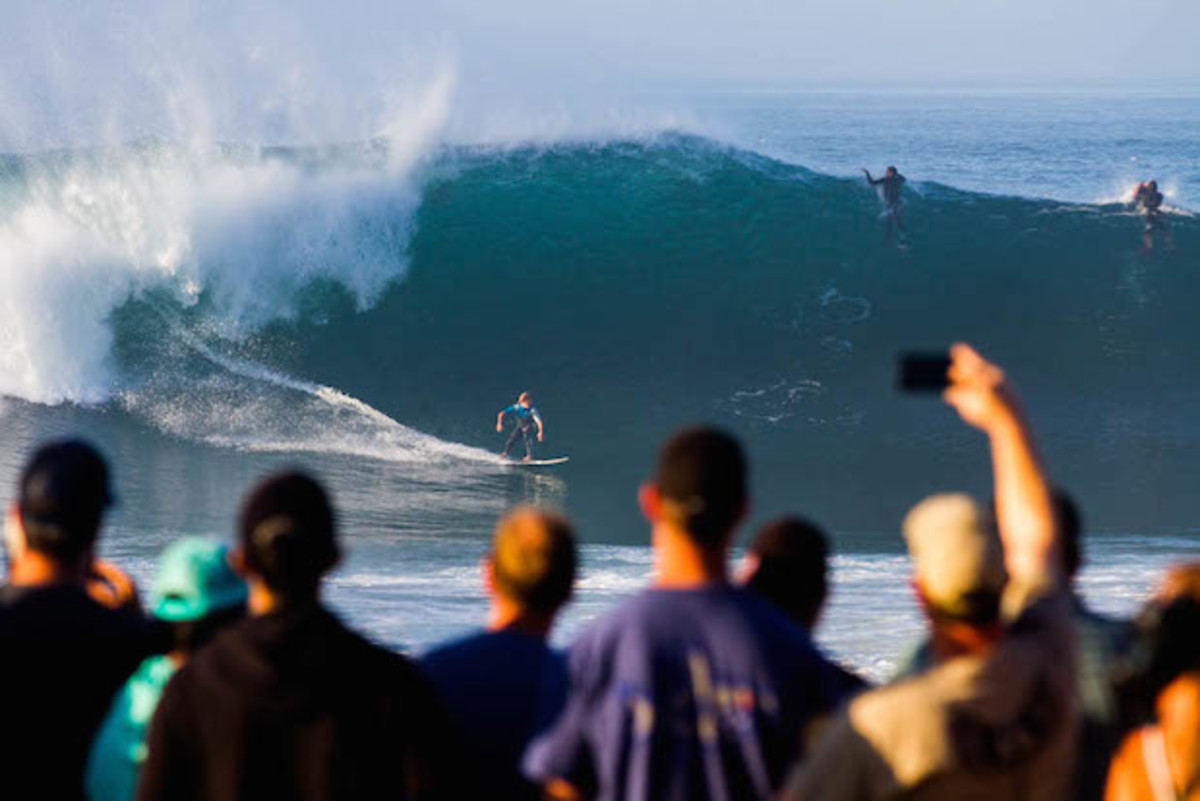 Of all the Southern California beaches receiving a pounding from surf generated by Hurricane Marie, the infamous Wedge in Newport Beach featured some of the largest waves and attracted by far the biggest crowds.
 An ambulance was parked on standby, serving to remind visitors of the danger that exists with each incoming set of breakers. (The ambulance would be needed.)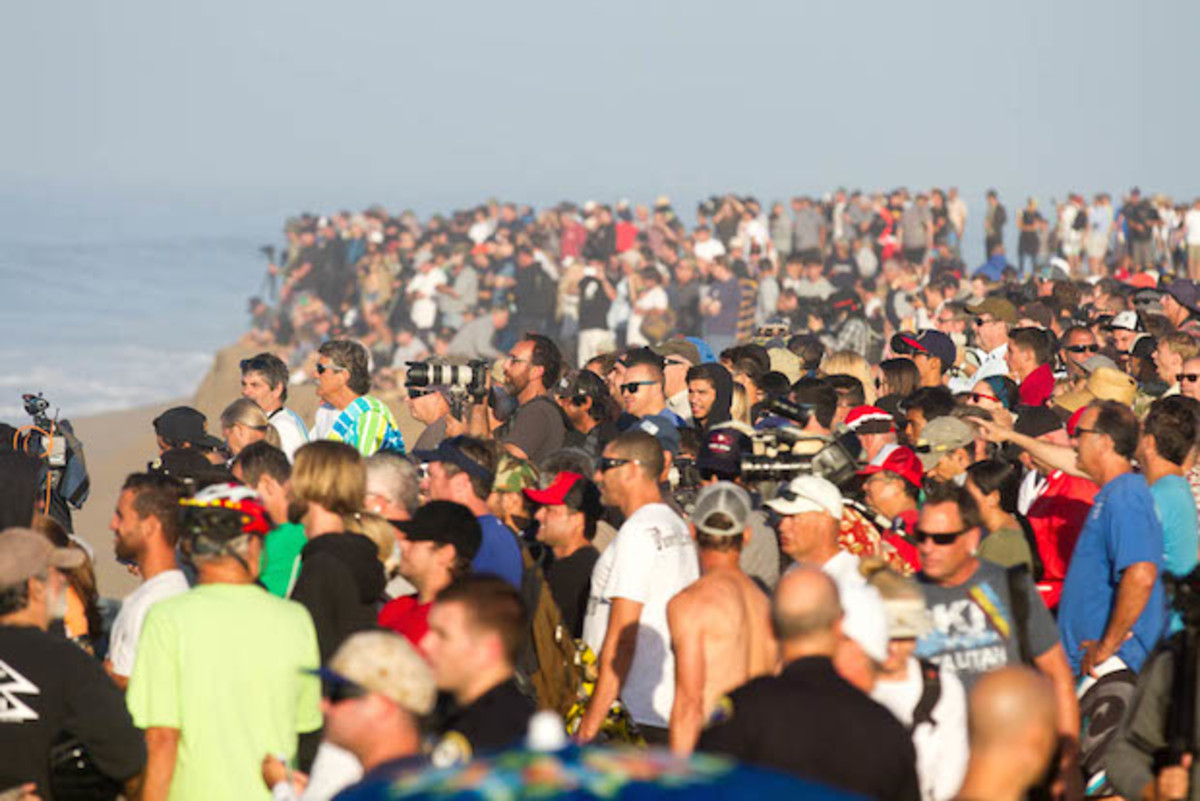 But surfers, bodyboarders and bodysurfers ventured out anyway, as the swell began to peak Tuesday afternoon, and again Wednesday morning, when wave faces measured to about 25 feet.
The hype surrounding Hurricane Marie had been growing since Sunday, when the storm reached Category 5 strength and was on a northwesterly course, perfectly poised to deliver some of the largest surf in about 10 years to south-facing beaches.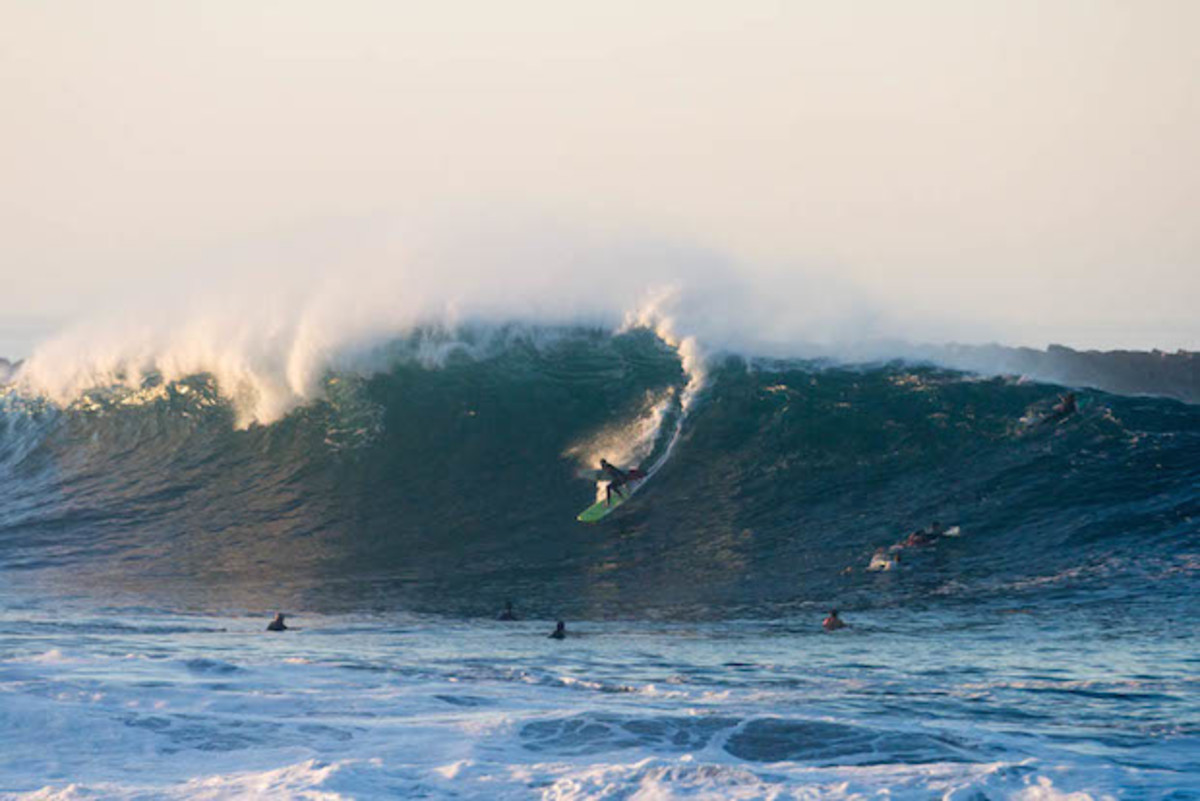 Late Tuesday morning, a surfer thought to be in his 40s was pronounced dead at Surfrider State Beach in Malibu, after being pulled from the water unconscious.
The Malibu Times reported that lifeguards had warned the man that conditions were increasingly rough, and for skilled surfers only, and that the man had drowned after being held under for a long period in the shore break. The cause of death, however, was not confirmed.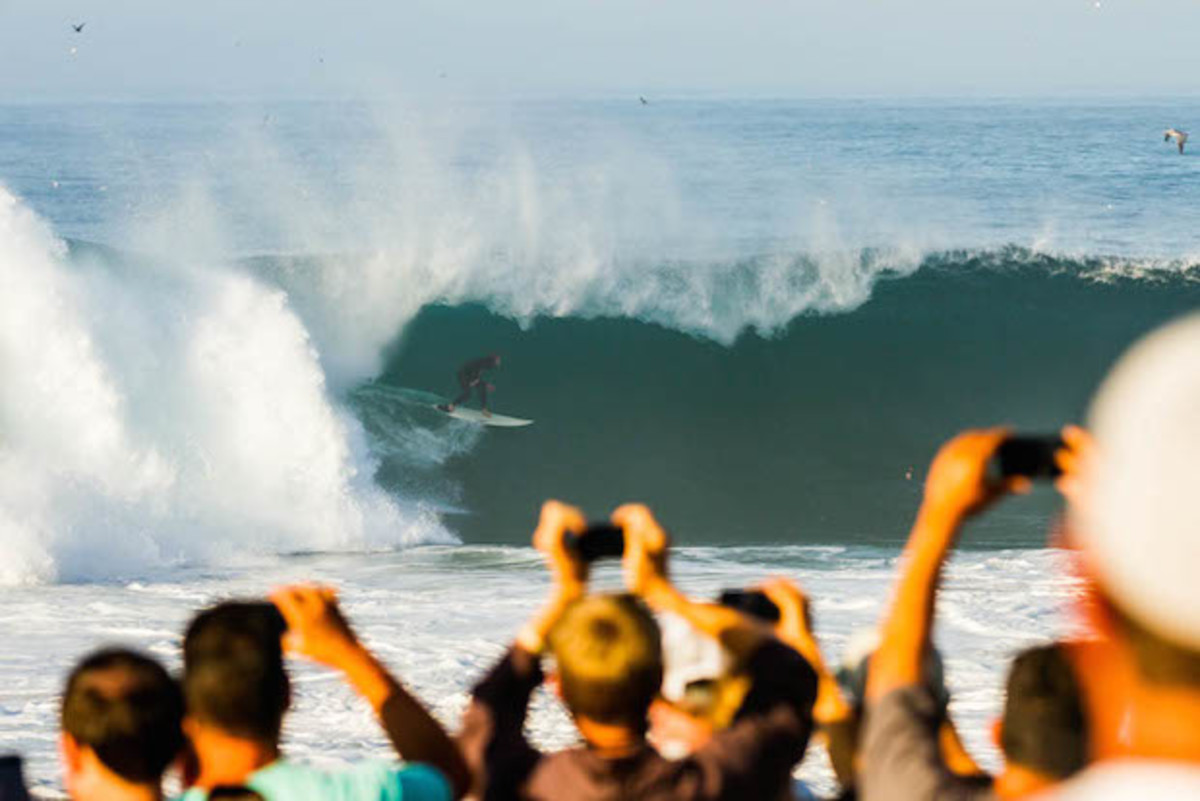 Laird Hamilton, a legendary big-wave surfer, helped rescue a stranded surfer Wednesday at Malibu.
The swell continued to build through Wednesday. Several piers were closed, either due to damage or merely as a precaution. In some areas, minor coastal flooding was associated with the swell and high tide.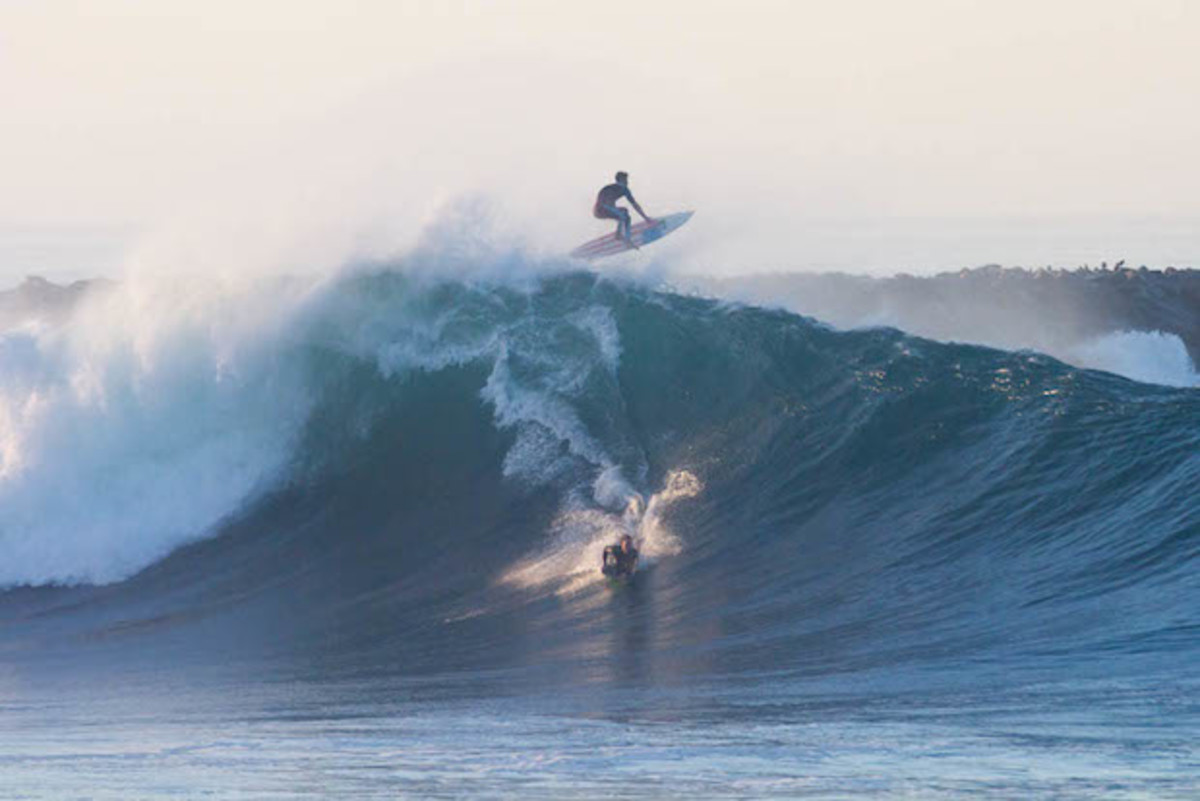 But the focus, for many, was on the big surf, and nowhere was this as apparent was at the Wedge, where a circus-like atmosphere prevailed. One city official placed the crowd at between 3,000 and 4,000.
"The Wedge is world famous for its size and its danger, but really everywhere up and down the coast is going to be dangerous for the next couple of days," Mike Halphide, a Newport Beach Fire Department captain, told KTLA. "We're really warning everyone coming down, whether you're a beginner or an expert, to really think twice and talk to a lifeguard before you go in because the conditions will just be so dangerous."  (The following Instagram video is via Joseph Carrig.)
<iframe src="//instagram.com/p/sNLi_NI47h/embed/" width="612″ height="710″ frameborder="0″ scrolling="no" allowtransparency="true"></iframe>
The Wedge is unique in that incoming swells are reflected off a jetty, creating another wave that meets with the next incoming swell in a wedge-like manner, forming a wave that jacks up and hurls its lip shoreward, creating a giant barrel and thunderous shore break.
Waves break only 15 to 25 yards from shore, allowing people to witness the action from up-close, and to actually feel the power of the breaking waves.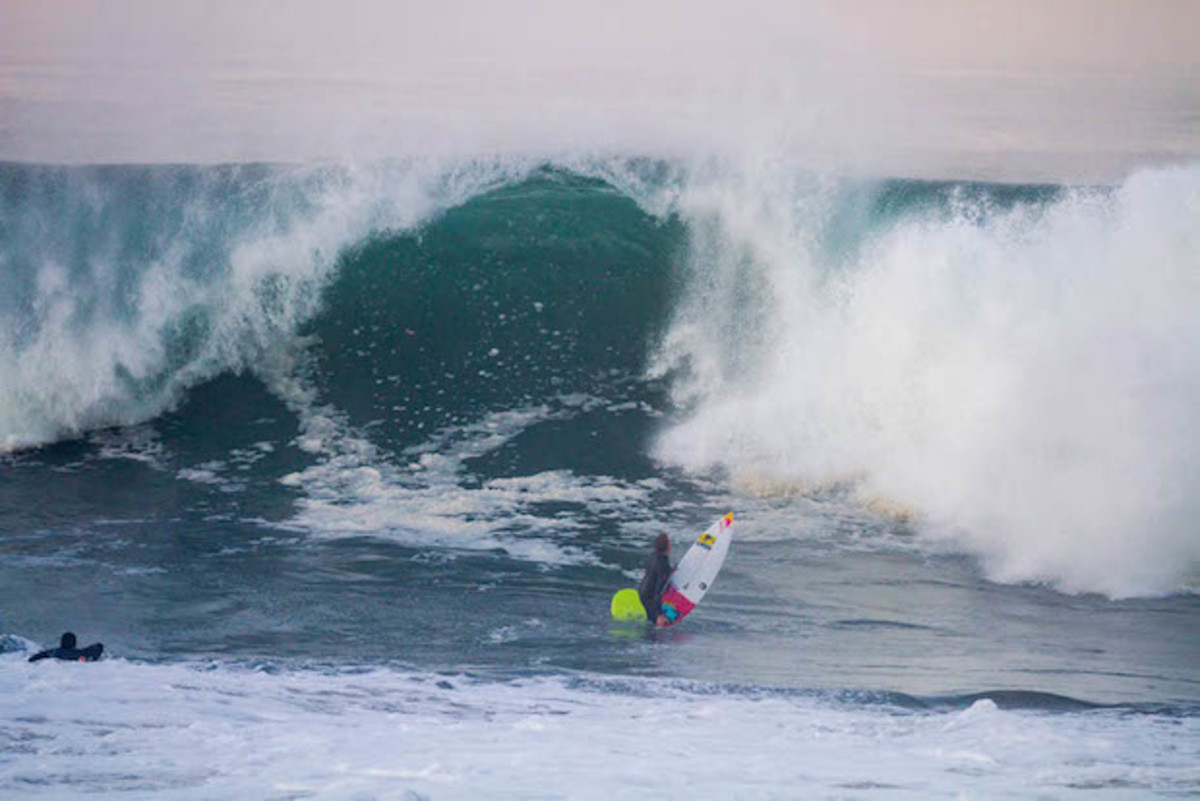 Lifeguards were kept busy, rescuing people from rip currents. At least one injury was reported, involving a bodyboarder who suffered a dislocated shoulder. He was carried to the ambulance via stretcher and taken to a nearby hospital.
Among the rescues was one involving a bodysurfer who struggled to tread water near the jetty. He was pulled to safety by a boat crew.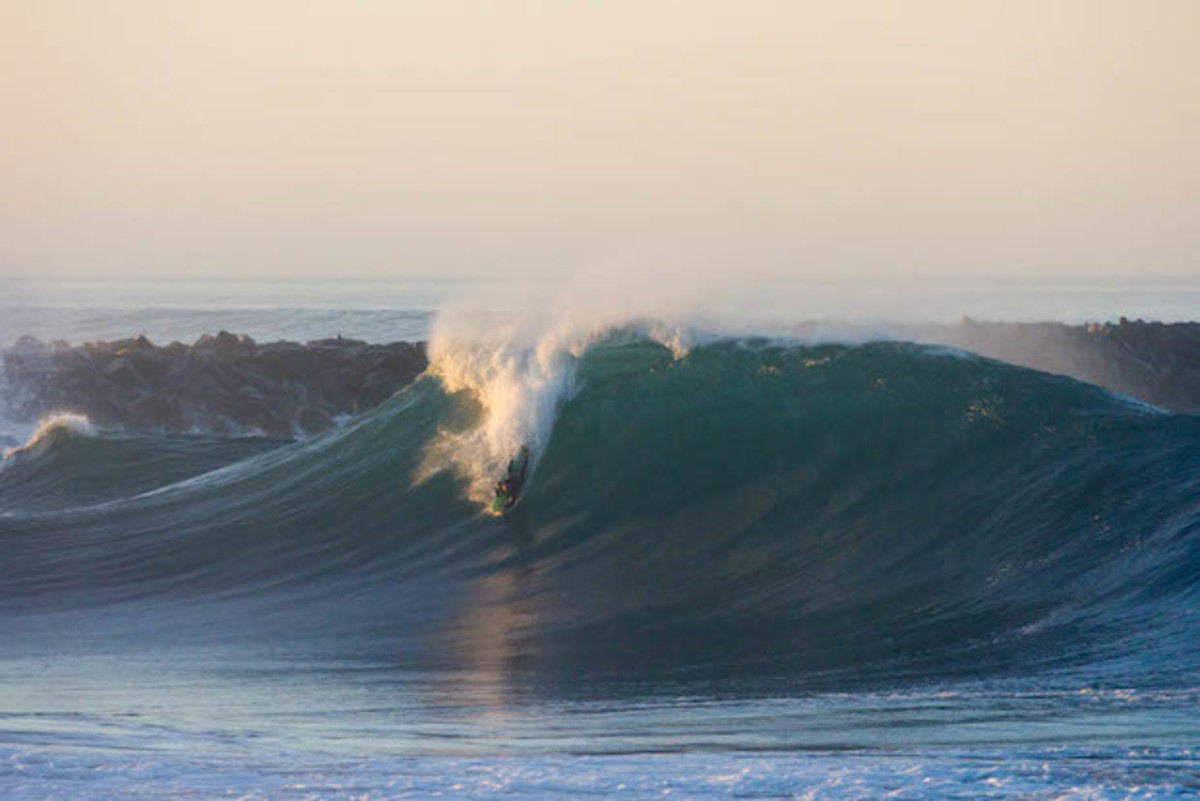 Among those who paddled out Wednesday at the Wedge was Jamie O'Brien, a pro surfer from Hawaii. O'Brien said the waves were similar to those at the world-famous Banzai Pipeline, his home break, on the Oahu's North Shore.
"The Wedge definitely gives you the same rush as Pipeline," O'Brien said. "There are some similarities, but at the Wedge you have to worry about the giant rock jetty—which is pretty hectic. The pounding you take when you fall at the Wedge is about the same as Pipeline, too, except that at Pipeline you have to deal with reef. But the sand at the Wedge is almost as hard as reef!"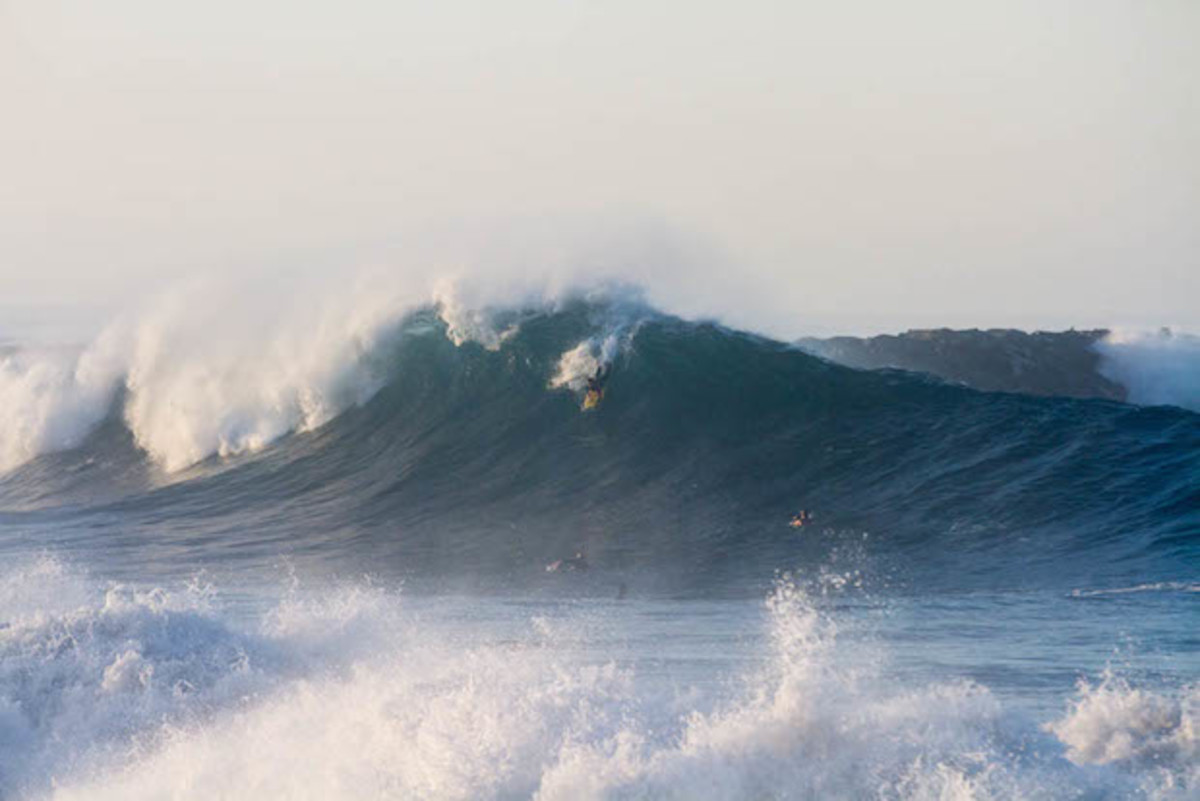 O'Brien added: "When I took my wetsuit off after surfing there were a couple cups of sand in there—I'm going to have sand in my ears and hair for a couple weeks after that sandblasting!"
Large waves are expected along south-facing beaches for the remainder of the week, but by the weekend conditions are expected to be much calmer.
–View more of John Lucarelli's photos on his website
–Find Pete Thomas on Facebook and Twitter
More on GrindTV
Laird Hamilton shoots the pier at Malibu
5 of surfing's deadliest surf spots
5 most influential big-wave surfers of all time
For access to exclusive gear videos, celebrity interviews, and more, subscribe on YouTube!