Let's be honest, Hawaiian vacations are more about beachside mai tais and overindulgent luaus than they are about backcountry adventures. And that's fine, but lei-bedecked travelers are missing out because Volcanoes National Park, spread across 520 square miles on the Big Island, has everything from tropical rain forests to a snowcapped peak and Kilauea volcano, which has been erupting continually since 1983.
"Of the 13 climate zones found on Earth," says ranger Jessica Ferracane, "11 are found on the Big Island, and seven are found in the park alone, so the diversity is extreme." That is to say there's more to explore here than in most mainland states. Plus, with Hawaiian Airlines, round-trip flights from Maui and Oahu are only $170—and less than an hour long—meaning you can access the park no matter which Hawaiian island you're lounging on.
Backcountry Camp on a White-Sand Beach
Volcanoes is brimming with worthy hikes, including a half-mile walk to a rain-forest-enshrouded lava tube, and a three-day epic to the summit of 13,677-foot Mauna Loa. But one of the best trails, which also has some of the fewest crowds, is the Puna Coast, an 11.3-miler that starts near ancient petroglyphs and ends at a white-sand beach surrounded by volcanic rock. "There's denim-blue ocean as wide as your imagination," says Ferracane. "And along the trail you can see these green, forest-covered cliffs that have been cleaved by black lava flow — it's as stunning as it gets." With a backcountry permit, you can camp under the palm trees and cool off in the Pacific. If not, stop at Apua Point, 6.6 miles in; you'll still have time to make it back to town for pre-dinner mai tais.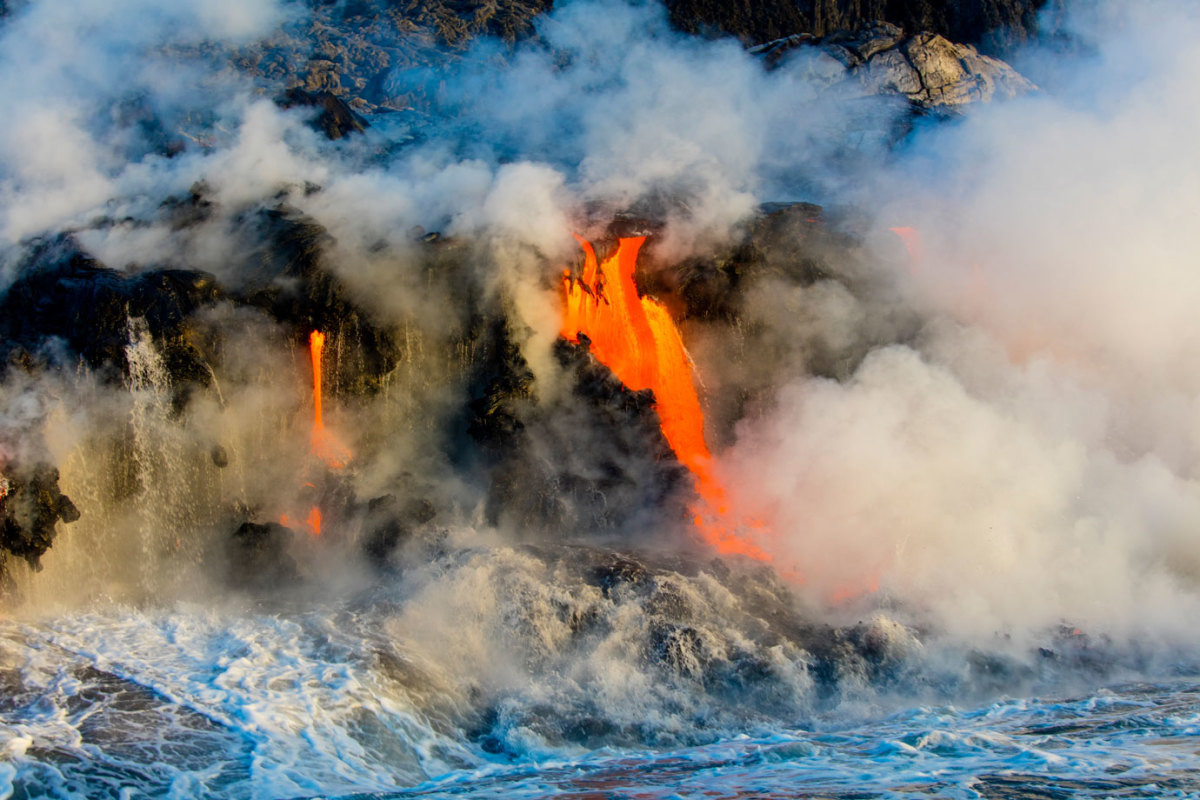 See the Lava Pool
There are few sights as unsettling or thrilling as watching the glow of magma belching from deep within the Earth. And there's no easier place to encounter it than Kilauea volcano: A lava lake inside the crater has been active since 2008, and it's viewable from multiple places along Crater Rim Drive. Of course, to fully experience the spectacle, you'll need to go when it's dark out. While most people tend to crowd around at sunset, a far better time is early morning, before the sun rises. You'll see that same reddish blaze, but because the wind is light, you'll also hear volcanic rocks exploding deep within the crater as superheated magma slowly rises and falls. "It sounds like giant surf breaking near shore," says Ferracane. "Many of us like to say it's Pele, the volcano goddess, speaking to us."
Can't Miss Detour: Green-Sand Beach
Red, white, black — beaches in Hawaii come in all colors. Even green, like the sands of Papakolea Beach, on the Big Island's south coast. They are rich in olivine, a mineral common in Hawaii's lava rocks that lends the beach its unmistakable hue — one of only a handful of such beaches on the planet. The undertow can be severe, so swimming is not advisable, but the three-mile hike crosses rugged pasturelands that seem more appropriate to Scotland than Hawaii.
Where to Stay
Most Big Island visitors stay on the Kona Coast, three hours from the park, a commute that leaves little time to explore. Instead, book a night or two in the town of Volcano, right at the park's entrance. If you can snag a room at the historic Volcano House, overlooking the crater, your bedtime light show will be brighter than the Las Vegas Strip. Otherwise, look to Volcano Village Lodge, a small resort with private cabins tucked into the rain forest.
Our expert: Jessica Ferracane, a lifelong resident of Hawaii, has worked in Volcanoes for five years. She's been visiting the park for two decades.
For access to exclusive gear videos, celebrity interviews, and more, subscribe on YouTube!