Zion National Park is a land of celebrated contrasts, where a seemingly desolate gorge hides hanging gardens, soaring waterfalls, lush valleys, and prismatic grottos ripe for exploration. "The park's spectacularly colored cliffs and deep canyons make it like no place else on earth," boasts Alyssa Baltrus, a veteran ranger who first fell in love with the park more than a decade ago. "And for a desert, Zion is actually abundant in water, making it an oasis for plants and animals." Indeed, this patch of high-desert tablelands, red walls, and tree-clad river valleys is home to 68 species of mammal and an astounding 207 species of birds, including soaring peregrine falcons and critically endangered California condors. Whether you seek solitude in the northwestern Kolob Canyons sector or adventure in the bowels of Zion Canyon, Baltrus says there's a reason why 3.65 million people made the pilgrimage to this remote pocket of southern Utah in 2015.
Hike to Angels Landing
Baltrus recommends the high adventure hike to Angels Landing as one of the park's "quintessential experiences" because it takes you along the exposed spine of a formation that juts right out into the center of Zion Canyon. Start at the Grotto Trailhead for a challenging 2.7-mile hike following the switchbacks of the much longer West Rim Trail through the eternally cold Refrigerator Canyon to Scout Lookout. From there, you'll branch off to the viewpoint at Angels Landing, where, at 1,500 feet above the canyon floor, you'll have a spectacular 360-degree panorama of the park. Scramble back to the trailhead or continue along the 16-mile West Rim Trail from Scout Lookout to extend the journey into a multiday backcountry adventure, registering in advance for one of nine secluded campsites along the way.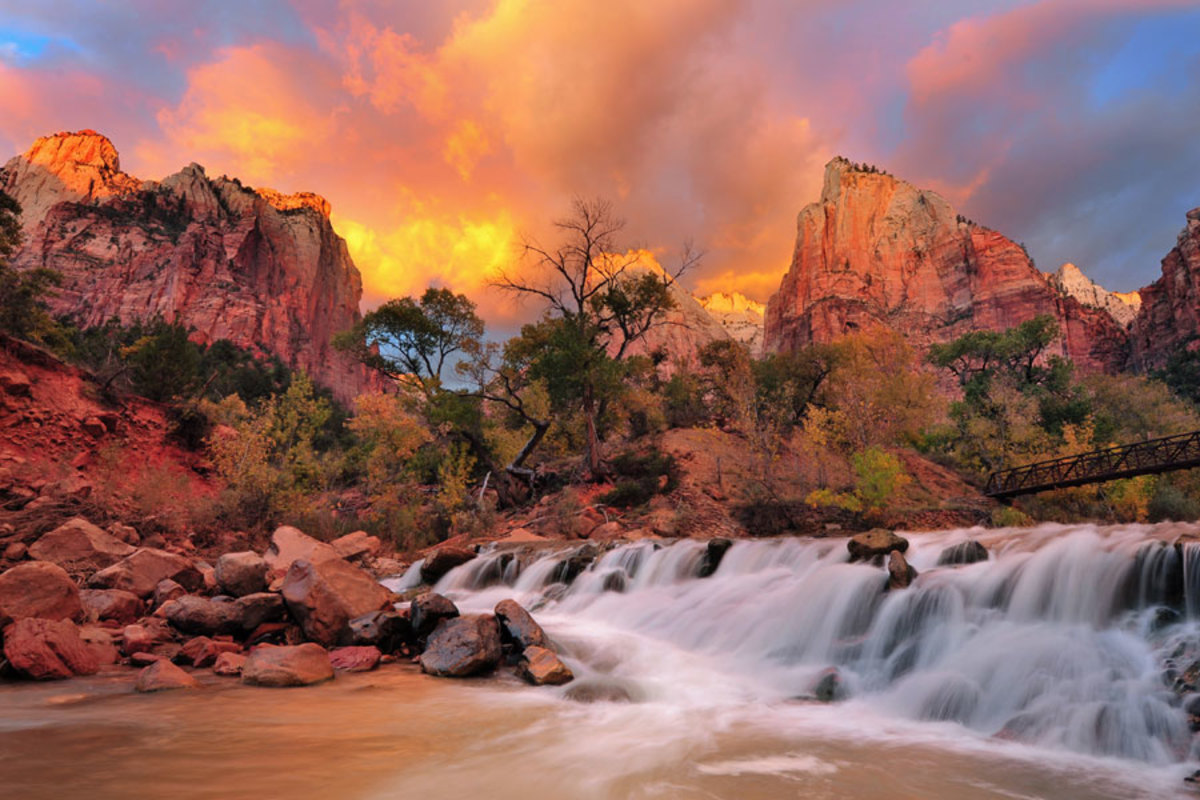 Dip Into a Slot Canyon
Baltrus says Zion has become a Mecca for adventure enthusiasts who want to try their hand at canyoneering, a high-octane sport that combines route finding and problem solving with hiking, rappelling, and swimming. A short trip into the lower end of The Narrows (near the natural amphitheater known as the Temple of Sinawava) makes a great introduction to the park's slot canyons, while those with more experience tend to prefer The Subway, a tight stretch of the Left Fork of North Creek that's like a fairytale version of a metro tunnel with emerald pools instead of sludge piles. Permits for the latter are distributed via a lottery system several months in advance due to its popularity.
Never been canyoneering before? Zion Rock Guides offers full-day guided tours in the park from $135 per person and instructional courses from $205 per person.
Bike Alongside the Virgin River
Zion is a rare park that not only has a mountain-biking trail, but also shuttles equipped with bike racks. The bike-friendly Pa'rus Trail follows the Virgin River from the South Entrance to Canyon Junction. From there, Baltrus advises that you take the shuttle (in operation from early April to late October) to the end of the road at Temple of Sinawava and ride the car-free Zion Canyon Scenic Drive eight miles back to where you started, checking out the park's rock stars (Weeping Rock and Court of the Patriarchs) along the way.
On rare occasions, when the flow of the Virgin River is over 150 cubic feet per second, you can also bring your kayak into the park. Baltrus says you'll need to get a permit from the Zion Canyon Wilderness Desk and make sure you possess the skills to tackle Class V whitewater if you plan on paddling through The Narrows.
Where to Stay
There are three campsite options in Zion, but if you prefer to rest your weary head on a hotel pillow, Zion Mountain Ranch in the park's eastern's mountains is a great bet. Choose from a variety of cabin options (though, will you really need 1,800 square feet with a backyard like this one?) and make sure to enjoy the food at the lodging's restaurant, where much of the food is grown on the property's organic gardens and aquaponic greenhouses.
For access to exclusive gear videos, celebrity interviews, and more, subscribe on YouTube!