UPDATE: In December, while enrolled in a four-month language course in Tehran, Matthew Trevithick was arrested by Iranian officials and held prisoner for 40 days. He was set free last week, but his release is not connected to the much-politicized U.S.-Iranian prisoner swap announced around the same time. He was never given a reason for his December arrest or his release. He has since returned to his home state of Massachusetts.
This was the best place to watch the air strikes," says Matt Trevithick. It's late June, and we've just parked Trevithick's black Peugeot on a small crest once known as "media hill," about a quarter-mile from the Syrian border inside Turkey. "CNN, ABC, NBC, BBC — they all had their cameras set up here," says Trevithick's business partner, Daniel Seckman.
Spread below us is the Syrian city of Kobane, where six months earlier the Islamic State (ISIS) laid siege to the city's Kurdish defenders. Now all is quiet. The camera crews have long since gone, after the Kurds held on with the support of U.S. air strikes. The surviving buildings are scarred by shrapnel, and their gutted windows stare back at us, empty as eye sockets. From our perch it looks like nothing is happening, but Trevithick and Seckman know better.
"The really interesting stuff happens once the world stops watching," says Trevithick.
Trevithick, 29, and Seckman, 32, are the co-founders of the Syrian Research and Evaluation Organization (SREO), one of the only outfits able to get on-the-ground info out of the country. They've come to Kobane to follow up on a survey of nearly a thousand residents they conducted three months earlier.
"After the battle," Trevithick tells me, "everyone knew the city would have to be rebuilt, but no one knew the scope of the destruction or what the residents needed."
Many assumed there would be a freshwater crisis, and several organizations even began to outline well-building projects. But SREO's report, released two weeks after the siege, identified fresh food as locals' main concern. NGOs quickly changed tack and began shipping in supplies.
SREO was able to preempt the food shortage simply by asking residents a series of basic questions: What is your most urgent need? (Fresh food: 88 percent of respondents.) Could local fighters have defended Kobane without air strikes? (Yes: 67 percent; no: 33 percent.) Will the West help to rebuild the city? (Yes: 40 percent; no: 60 percent.) It's a rudimentary service, but it's one that no one else is able, or perhaps willing, to offer in the midst of the ongoing civil war, which has claimed nearly a quarter of a million lives. Syria has become a black hole for information, and the few Westerners who dare go in — James Foley, Steven Sotloff — often disappear, only to reappear months later in videos documenting their executions.
Trevithick and Seckman, who founded SREO in 2013, acquire their information through an extensive network of contacts — enumerators, as they call them — that they've built up through carefully culled relationships and in-person introductions. It now includes hundreds of people from nearly every major Syrian city. The enumerators tend to come from the professional class (doctors, lawyers, teachers), and they're paid well, but often their motivation is altruistic.
"A lot of people think it's too dangerous to do comprehensive research here," says Seckman. "But if you have the networks, the information can get out."
Trevithick and Seckman met in 2010 while working as administrators at the American University of Afghanistan, a nonprofit coeducational institution that opened in 2006. A native New Englander, Trevithick once rowed crew at Boston University, and during a two-year stint at the American University in Sulaimani, Iraq, he helped start the country's first-ever rowing team. He began by driving a trailer with eight racing sculls more than 3,000 miles from Germany. Seckman, who lived for a decade in the Hindu Kush, spent his free time there creating an English-Nuristani dictionary, the first for the Afghan dialect.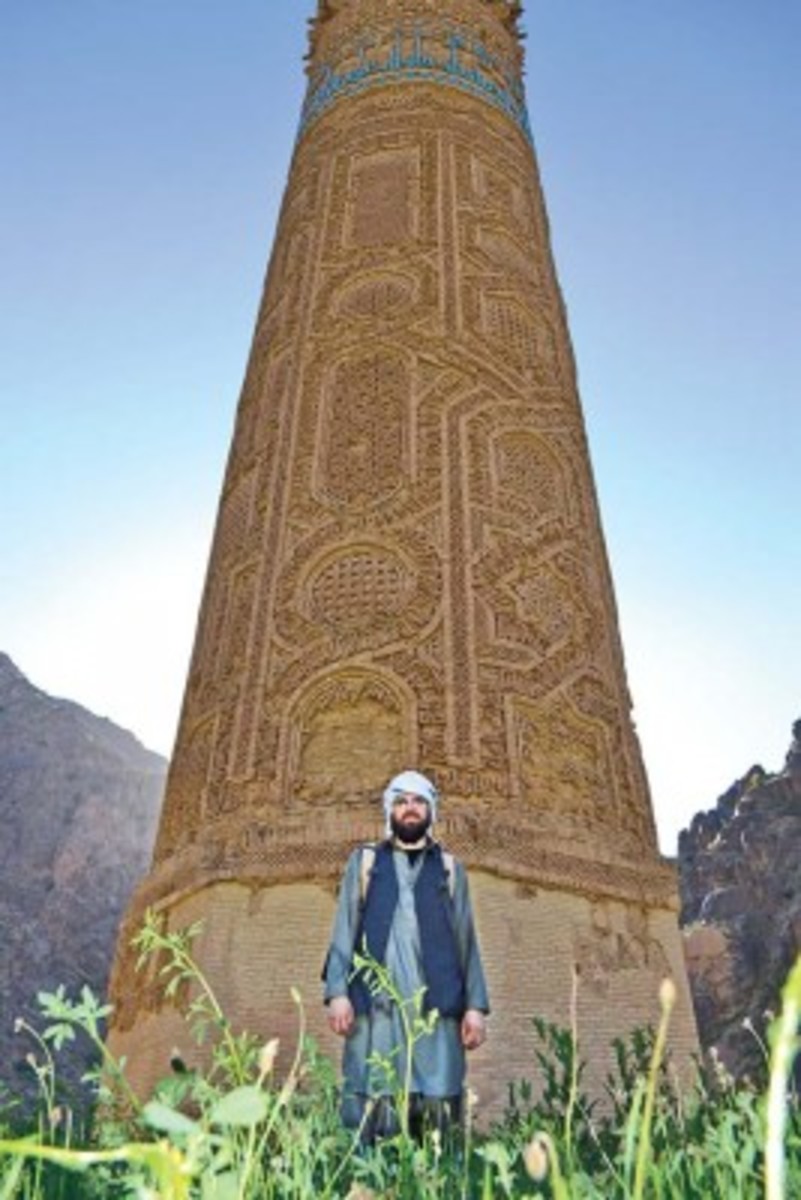 (Trevithick and Seckman became obsessed with traveling to the nearly inaccessible Ghor Province to visit a 12th-century minaret. Photograph Courtesy Daniel Seckman and Matt Trevithick)
In Kabul, the two friends shared an apartment downtown and spent most of their days behind desks, often longing for the adventures that were seemingly just outside the door. At the same time they witnessed firsthand the abuse and mismanagement of hundreds of millions of dollars in aid money. A favorite example was a $130,000 toilet: Locals constructed the building without any holes for plumbing. "No one thought to explain the project's purpose to the Afghans building it," Trevithick says.
So when the Syrian conflict exploded, in 2011, they saw the chance to start an organization that could hold the bloated field of international development accountable — and to have a new adventure to boot.
SREO's research is now being used to justify the allocation of tens of millions of dollars from both governmental and nongovernmental organizations; everyone from the U.S. State Department to Save the Children relies on its access to Syrian locals. Nicolette Boehland, a researcher on Syria at Amnesty International, calls its work "an essential view on developments inside of Syria." An official at the State Department says SREO is a valuable partner, and "with regard to the situation of looting and trafficking of cultural property from Syria and Iraq, the data that SREO is producing is truly enlightening."
Despite contracts adding up to more than a million dollars, SREO remains remarkably small. Its offices are a two-story cement house in a residential neighborhood in a city in southern Turkey. Trevithick and Seckman, two of the five full-time employees, sleep in the basement. Like the team at any startup, the barriers between work and life are nonexistent. "The only time I'm certain I'm not at work," Trevithick says, "is when I'm sleeping."
Stacked in the dining room are cheap PolyPad-brand tablets that hold the surveys used by their Syrian colleagues. "Depending on the project," Trevithick says, "our enumerators will be working in teahouses or going door-to-door or even stopping people in the streets." It's dangerous work, but so far none of their workers have been harmed.
After Kobane and media hill, the three of us pile into the Peugeot and head toward the Turkish town of Suruç, where Trevi­thick and Seckman have meetings. On the way, Trevithick tells me the story of their first trip together, in 2010. Trevithick had recently arrived in Afghanistan and had become fascinated by the Minaret of Jam, located in nearly inaccessible Ghor Province. "It's a unesco World Heritage Site," Trevithick says, "and I hadn't met a single person who had ever been to it." Built in the 12th century to commemorate a now obscure battle, it was once the tallest structure in the world. Determined to visit, Trevithick and Seckman put on local garb and set out in a rickety van, navigating through dodgy territory. Their van broke down. Their driver abandoned them. They slept in the homes of strangers.
"We couldn't quit," Trevithick says. "The minaret took on symbolic importance for us." After taking a week to travel the 400 miles, they made it to the minaret, a 213-foot-tall mud-brick obelisk with loops of blue-tiled Arabic script. "The minaret was impressive," says Trevithick, "but the journey was far more memorable."
Once in Suruç, a ramshackle town full of street vendors, we gather in a café with Shamsa, a 28-year-old student they met through a mutual friend. After some stock questions, Trevithick and Seckman ask her what they've come for: Would she be willing to work for them in Kobane? She says yes, and SREO's network expands by one. None of it seems particularly remarkable. But no one else is doing it. There's a reason for this, of course. A month after our meeting with Shamsa, and only a few hundred yards from this café, an ISIS-affiliated suicide bomber will detonate himself at a rally, killing 33 activists.
As we climb into the Peugeot for the return drive, my mind wanders back to the Minaret of Jam. "Why would someone build a minaret no one could get to?" I ask.
Seckman turns from the front seat. "After winning a battle," he says, "there's always a lot of wasteful spending."
For access to exclusive gear videos, celebrity interviews, and more, subscribe on YouTube!